When you imagine chocolate chip cookies, do you envision a soft, gooey cookie filled with lots of chocolate chips? Or how about a big, dense cookie? No matter your preference, there's a chocolate chip cookie here for everyone!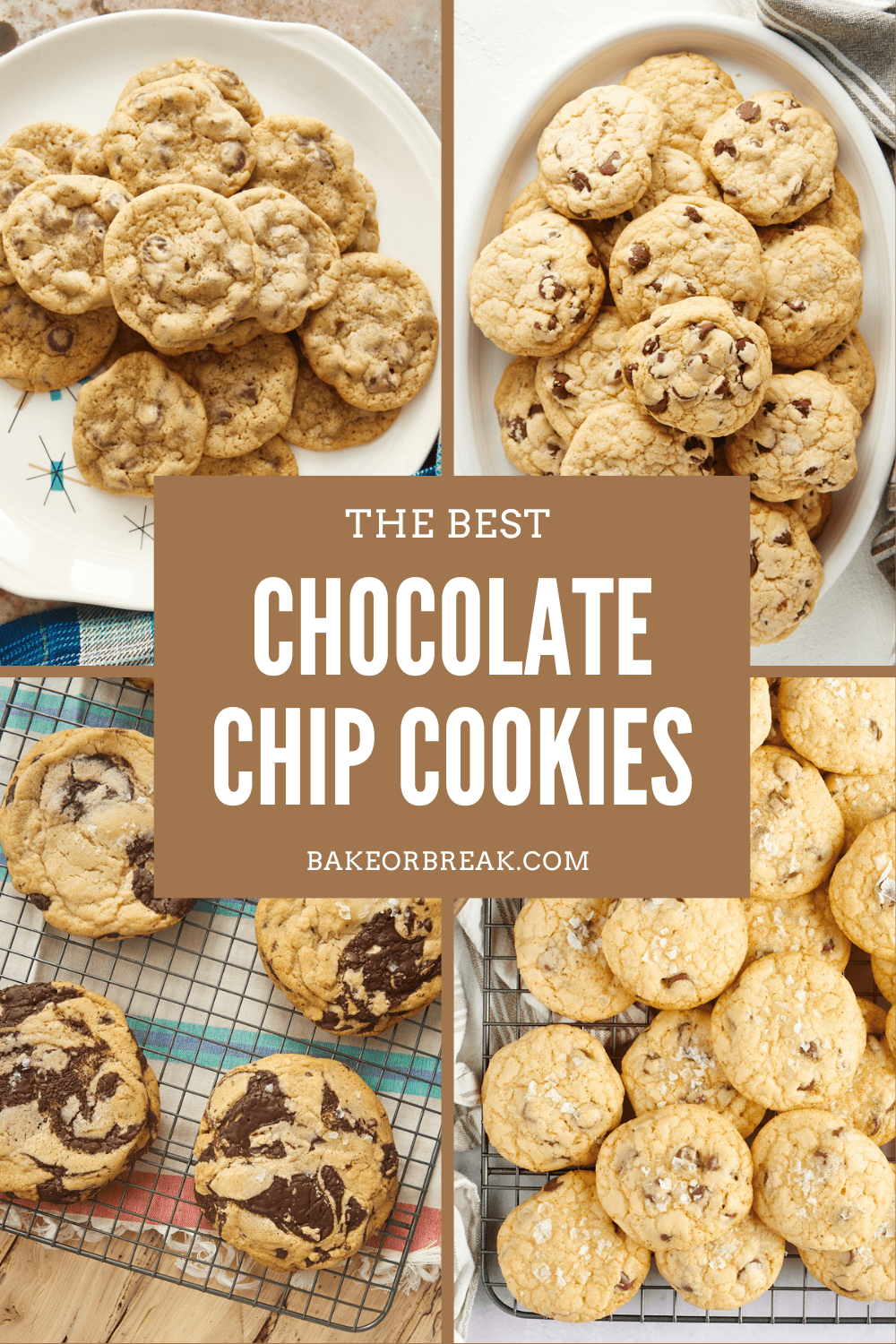 The Best Chocolate Chip Cookies
There's nothing quite like a warm, gooey chocolate chip cookie. And when it comes to the best chocolate chip cookie recipes, there are so many possibilities. Whether you prefer a classic recipe or something a little off the beaten cookie path, this list has you covered. I hope you'll find the perfect chocolate chip cookie recipe!
First, we'll get started with some tips about baking your best chocolate chip cookies, covering everything from the kind of chocolate you use to how to store your homemade cookies. But if you can't wait to get baking, you can jump straight to the recipes.
Why We Love Chocolate Chip Cookies
You won't find many people who are immune to the draw of really good chocolate chip cookies. They're such a perfect combination of simple vanilla cookie with little bits of chocolate studded throughout them. Chocolate and vanilla are a classic flavor pair, and that may not be more evident than in chocolate chip cookies!
And these cookies are perfect for so many occasions, from birthdays to bake sales to holidays to cookie swaps. Plus, so many of these recipes are a great baking project for bakers of all skill levels.
Before we get to the recipes, let's talk about some ways to make your chocolate chip cookies turn out perfectly!
Use Good Quality Chocolate
The quality of the chocolate you use really matters when that flavor is in focus. Quality doesn't have to mean expensive. Ultimately, it should taste good to you. If you wouldn't want to eat it on its own, you're not likely to enjoy it in a cookie. Learn more: A Baker's Guide to Chocolate
Using other quality ingredients will also go a long way toward making your chocolate chip cookies the best they can be. For best results, be sure to use good flour, butter, sugar, eggs, vanilla extract, and other ingredients, too. And take a minute to test your baking powder and baking soda for freshness before you get started.
Should Cookie Dough Be Chilled Before Baking?
Chilling cookie dough helps keep cookies from spreading too much as they bake and also allows the dough to relax so the cookies aren't tough. In addition, chilling dough can help the flavors meld together for a better flavor in the baked cookies.
However, not all cookie doughs require chilling. The recipe you're using should tell you whether or not to chill the dough. Even if it doesn't require chilling, you may want to chill the cookie dough briefly if your kitchen is particularly warm or if the dough seems too soft to handle.
All About Cookie Scoops
Most chocolate chip cookies are categorized as drop cookies. That simply means that the dough is portioned and dropped onto the baking sheet. A cookie scoop will help with this in a couple of ways. First of all, a scoop will speed up the process of portioning the dough. Secondly and most importantly, using a scoop will help ensure all of the cookies are the same size so they'll all bake evenly.
Cookie scoops are one of my favorite baking tools. They come in various sizes so you can get just the right size for your favorite recipes. Learn more: A Baker's Guide to Cookie Scoops
How Long to Bake Chocolate Chip Cookies
The recipe you're using to make chocolate chip cookies likely offers a time range for baking. That's because several things can affect the baking time – your oven's temperature, the pan you're using, even how often you open the oven door during baking.
Check the recipe for the cues it offers for assessing doneness. For classic-style chocolate chip cookies, you're usually looking for how brown the cookies are around the edges. Remember that the warm pan will continue baking the cookies for a bit after they come out of the oven. Done in the oven means over-done on the plate.
How to Cool Cookies
This may seem like an unnecessary topic, but it really matters! For most cookies, you'll have best results if you place the pan of freshly baked cookies on a wire rack to cool briefly. Then after a few minutes, transfer the cookies from the pan directly onto a wire rack to finish cooling. (If your recipe doesn't give you a time frame for this, check if they're sturdy enough to move after 5 minutes.)
The rack allows air to circulate around the pan to cool the cookies more quickly. That helps to prevent the carryover heat from the pan from turning your perfectly baked cookies into over-baked cookies. Learn more: Why Every Baker Needs Wire Cooling Racks
How to Store Chocolate Chip Cookies
Be sure to let the cookies cool completely before storing. Most chocolate chip cookies can be stored in an airtight container at room temperature for a few days. The longer they're stored, the more likely they are to become dry and hard.
Check your recipe for any specifics for storage. Because of ingredient differences, some cookies might require refrigeration or simply have a shorter shelf life.
How to Freeze Chocolate Chip Cookies
Once the cookies have cooled, most can be stored in the freezer. Place them in an airtight, freezer-safe container. Depending on the recipe, they can usually keep up to 3 months in the freezer. When you're ready to enjoy a homemade cookie, thaw them on the countertop for a couple of hours or overnight in the refrigerator.
Freezing Chocolate Chip Cookie Dough
Most cookie doughs can be frozen before baking, too. Portion the dough as directed in the recipe. Then place the balls of dough on a lined rimmed baking sheet and freeze until solid. That usually takes a couple of hours. Once frozen, transfer the cookie dough balls to a freezer-safe bag or container labeled with the name and date. When you're ready to bake the cookies, you can place the frozen dough balls on a baking sheet and bake as directed, adding a couple of extra minutes to the baking time.
More Tips for Baking Chocolate Chip Cookies
Here is some further reading for more helpful tips for making your chocolate chip cookies their very best.
Bake or Break's Best Chocolate Chip Cookies
Everyone's idea of what makes the best chocolate chip cookie recipe will vary. But these recipes cover a lot of cookie territory with different flavors and textures. Think how delicious it will be to bake a bunch of cookies to find your perfect recipe!