These Apple Cinnamon Muffins are the perfect fall treat. They're wonderfully flavorful, easy to make, and great for a grab-and-go breakfast or snack!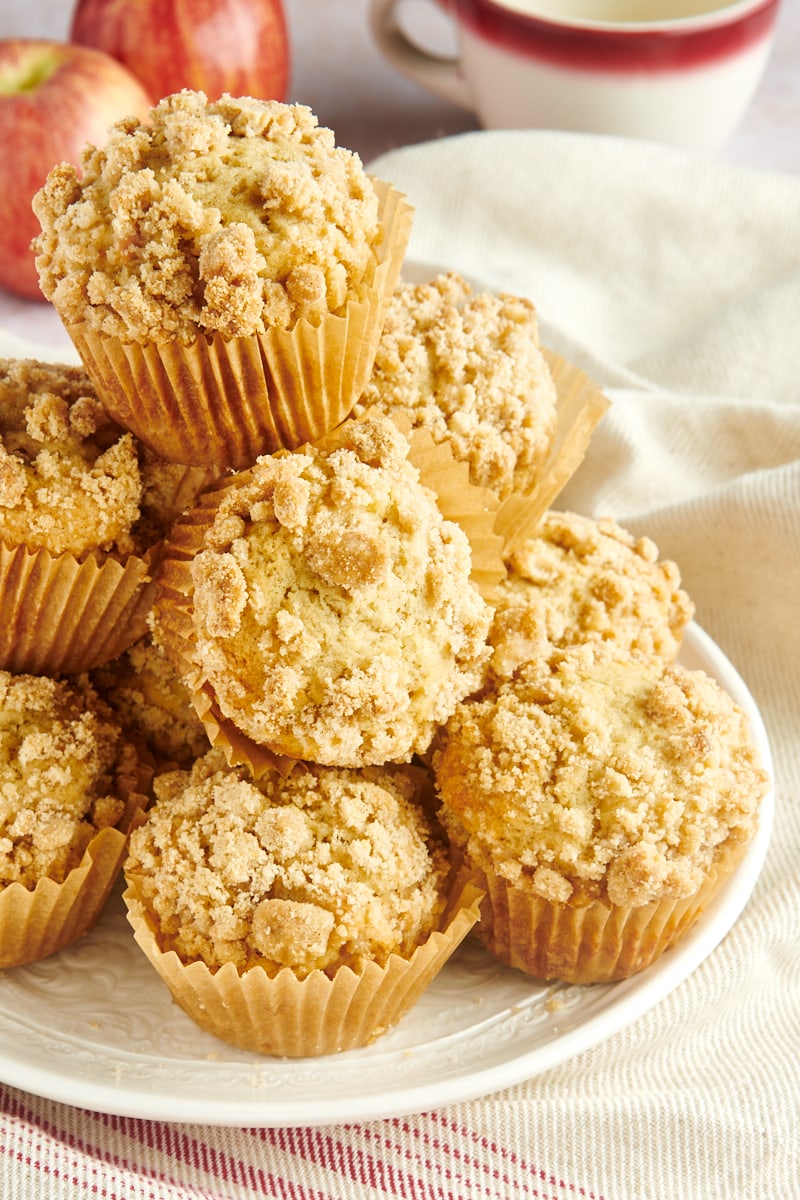 Apple Cinnamon Muffins with Crumb Topping
If there's a flavor combination that never fails to conjure thoughts of cool, crisp fall days, it's apple cinnamon. I know I can't get enough of it!
And these Apple Cinnamon Apples are such a perfect fall treat for a sweet breakfast treat or a snack. The muffins themselves are just sweet enough and filled with plenty of cinnamon and lots of little bites of apple. Topping the muffins is a simple crumb topping flavored with brown sugar and even more cinnamon.
Whip up a batch of these easy apple muffins this fall or anytime you're missing those glorious fall days. And if you're looking for more muffins to bake this fall, try Brown Butter Sour Cream Spice Muffins, Maple Nut Muffins, and Cinnamon Pecan Muffins, too!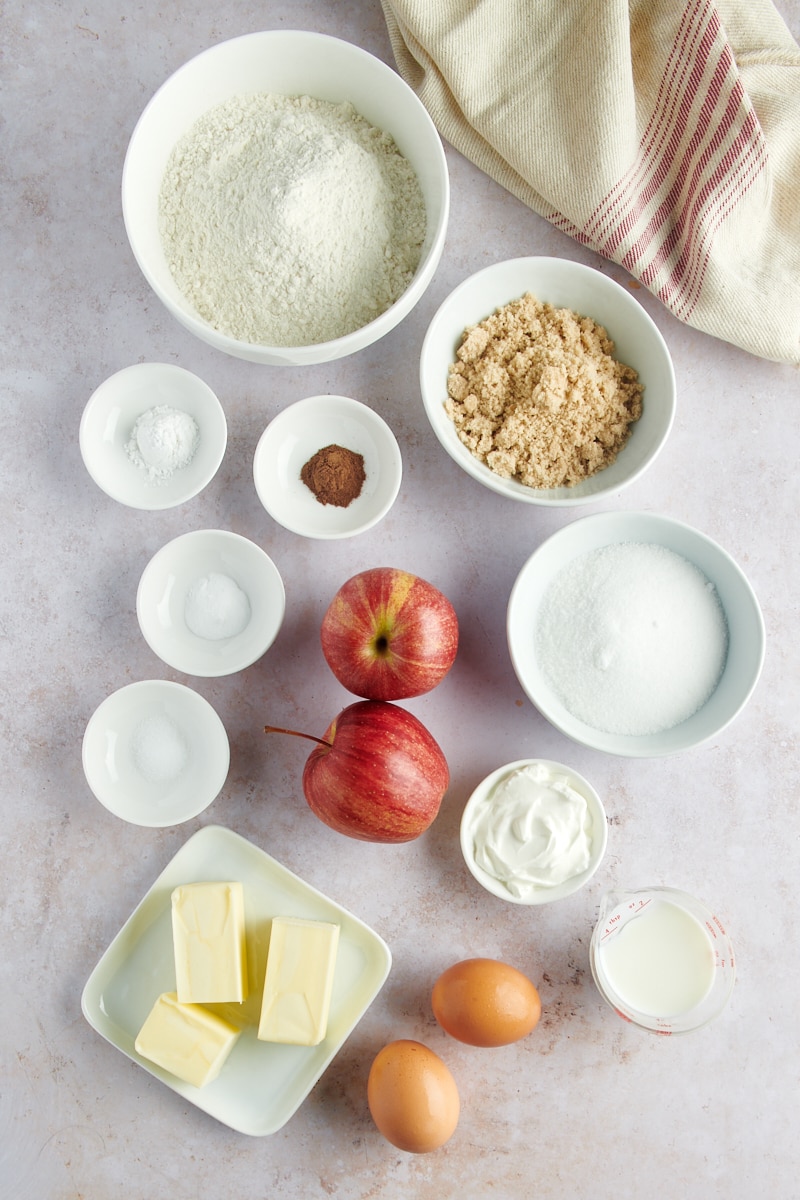 What You'll Need
Scroll down to the recipe card for ingredient quantities and full instructions. Here are some notes about the recipe ingredients.
All-purpose flour – You'll need flour for both the muffins and the topping. Measure by weight or use the spoon and sweep method. Learn more: How to Measure Flour
Granulated sugar
Brown sugar – There's brown sugar in the muffins and the topping. I prefer light brown sugar in these muffins, but you can use dark brown sugar if you prefer the bolder molasses flavor. Firmly pack it in the measuring cup or measure by weight.
Baking powder
Baking soda
Ground cinnamon
Salt
Unsalted butter – You'll need melted butter for the muffins as well as the topping. For the muffin batter, be sure to let the butter cool briefly so it's still warm but not hot.
Sour cream – Full-fat sour cream works best. You can also substitute Greek yogurt if you like.
Milk – I recommend baking with whole or 2% milk.
Eggs – Set out the eggs to allow them to come to room temperature.
Apples – Dice the apples into bite-size pieces. Depending on their size, you'll need 1 or 2 apples for this recipe.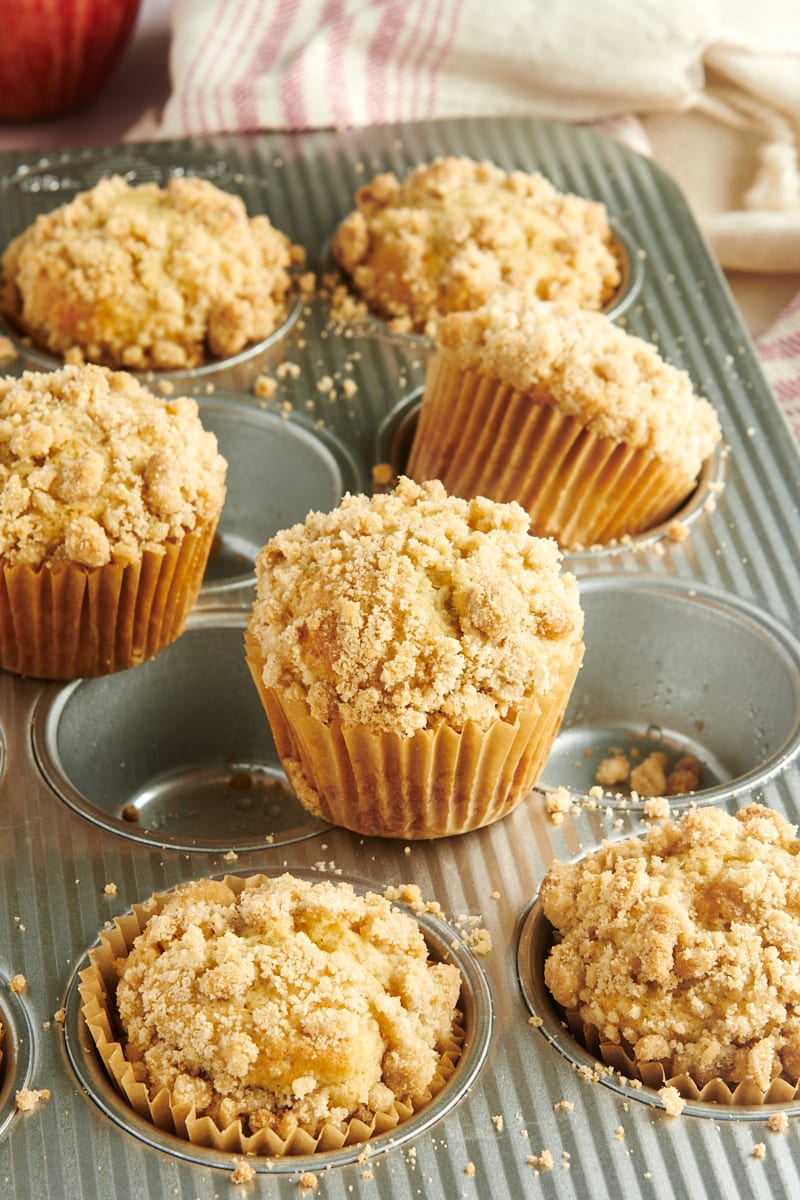 What Are the Best Apples for Muffins?
For baking, sturdy apples that hold their shape through baking are best. Apples that are too soft will lose their shape and become mushy. Some good choices you're likely to find at your grocery store are Fuji, Granny Smith, Gala, Honeycrisp, and Pink Lady. But there are lots of options that vary in both taste and texture. Learn more: The Best Apples for Baking
Should Apples Be Peeled for Baking?
For these Apple Cinnamon Muffins, you can peel the apples if you like, but it isn't necessary. The peel will soften as the muffins bake, so they won't be that noticeable in the finished muffins. But if you prefer, you can certainly peel the apples first.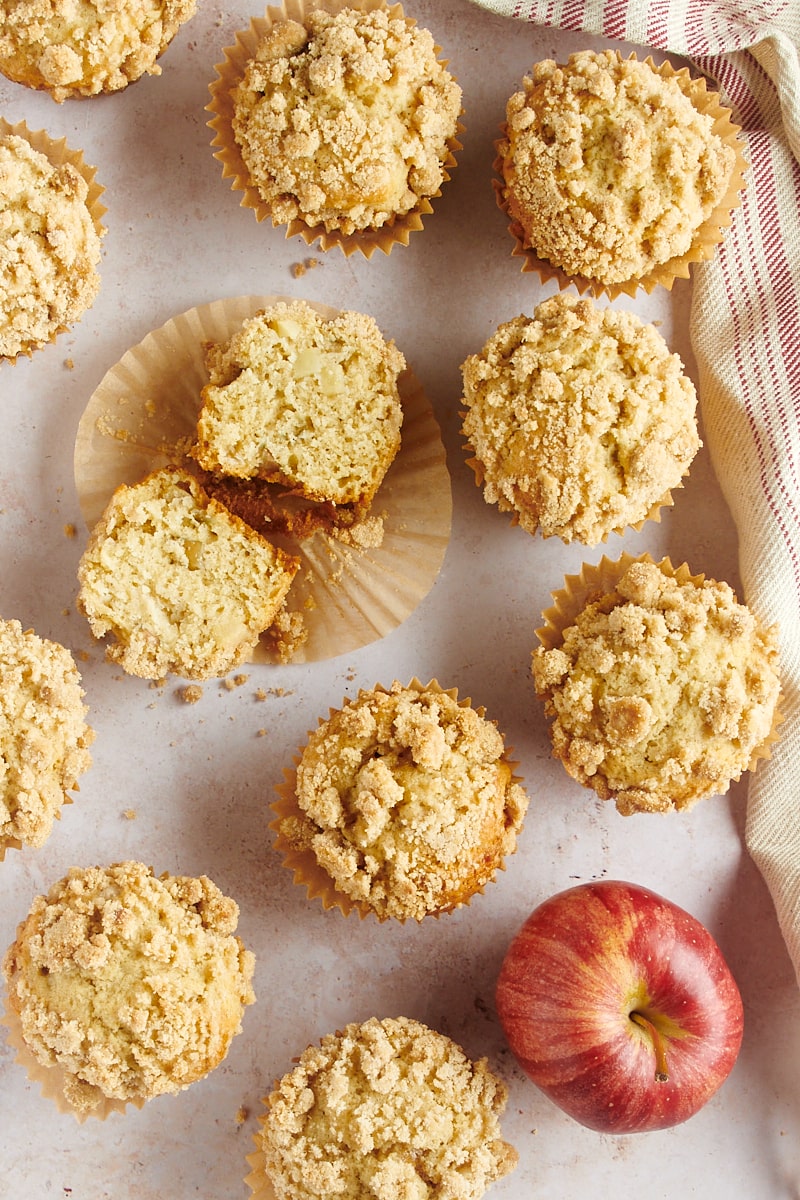 How to Make Apple Cinnamon Muffins
This muffin recipes mixes easily using the muffin method. You won't need any special equipment. Just grab a couple of bowls, a mixing spoon, and your muffin pan!
Prepare for baking. Heat the oven to 400°F. Line 12 standard muffin cups with paper liners. If you don't want to use liners, then grease the muffin cups with a cooking spray with flour like Baker's Joy or Pam Baking.
Make the topping. Stir together all of the topping ingredients except the butter. Add the butter and mix until the dry ingredients are moistened and the mixture forms crumbs. Set aside while you make the muffins.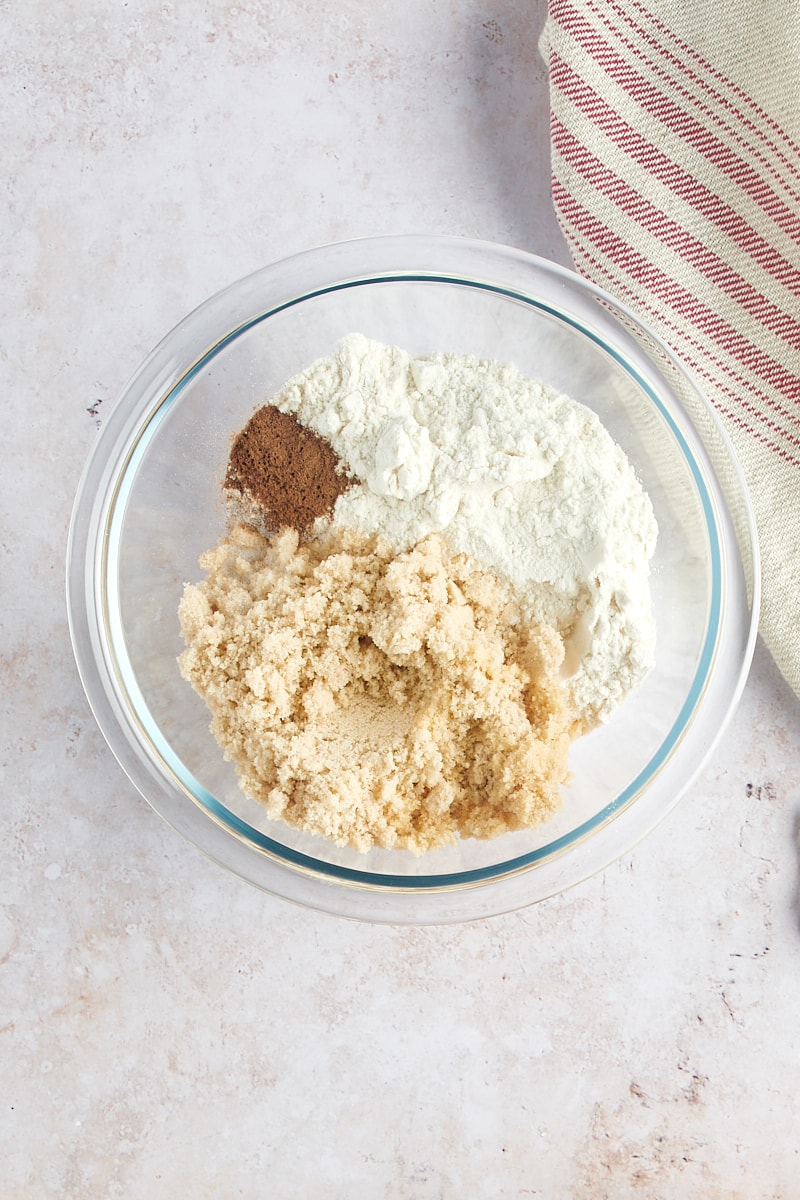 Begin making the muffin batter. Whisk together the flour, sugar, brown sugar, baking powder, baking soda, cinnamon and salt. Make a well in the center of the mixture.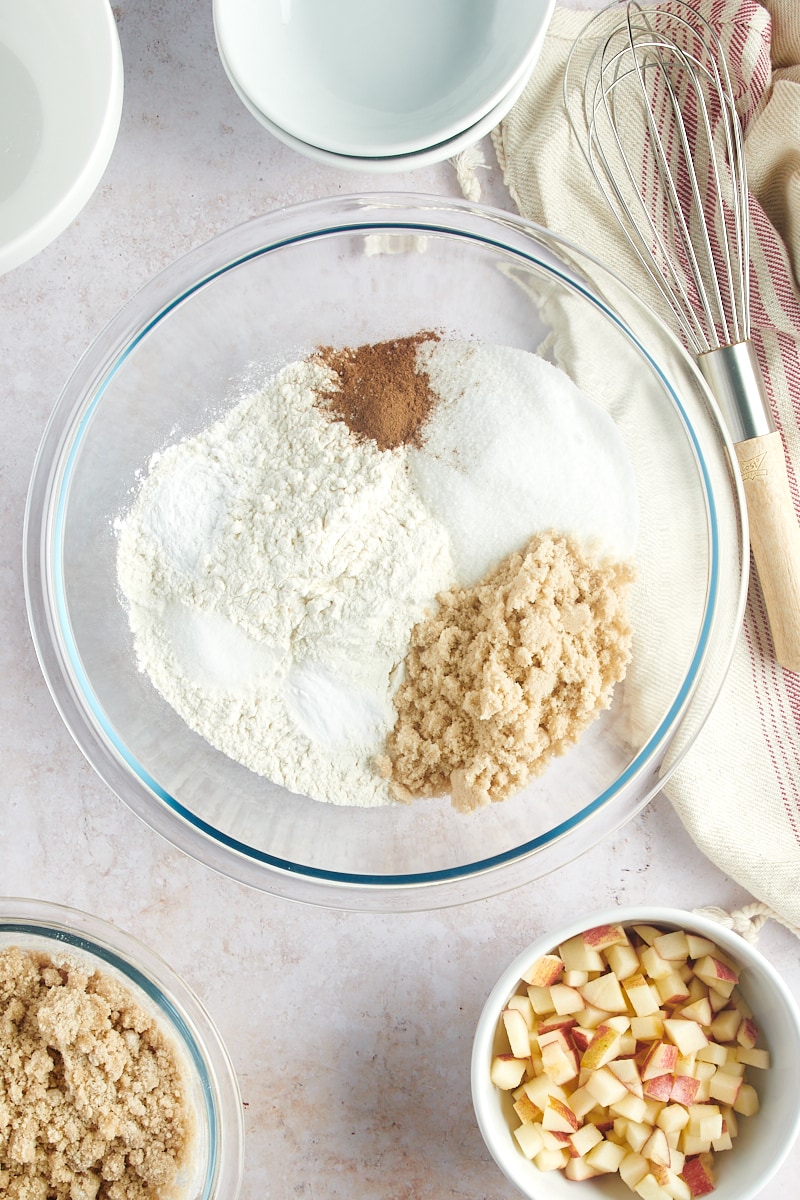 Combine the wet ingredients. In a separate bowl, mix together the melted butter, sour cream, milk, and eggs.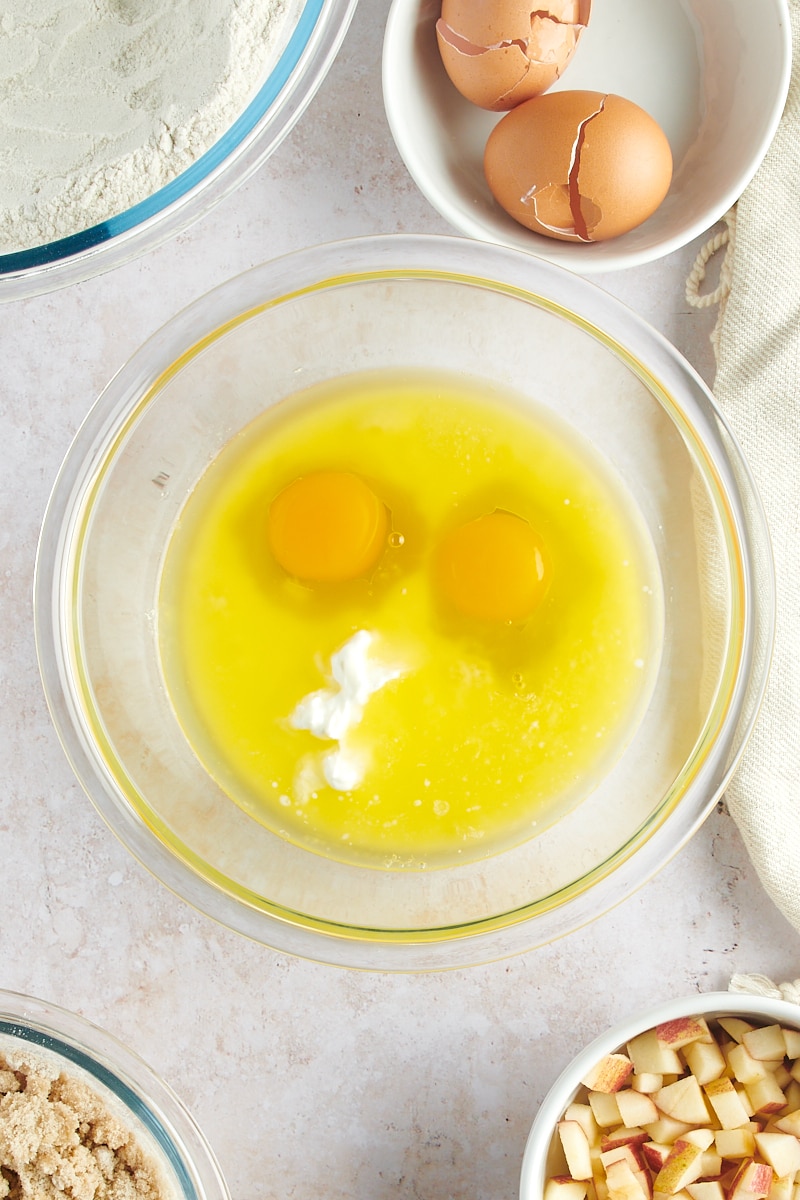 Add the wet ingredients to the dry ingredients. Pour the butter mixture into the well in the flour mixture. Stir just until combined or a few streaks of flour remain.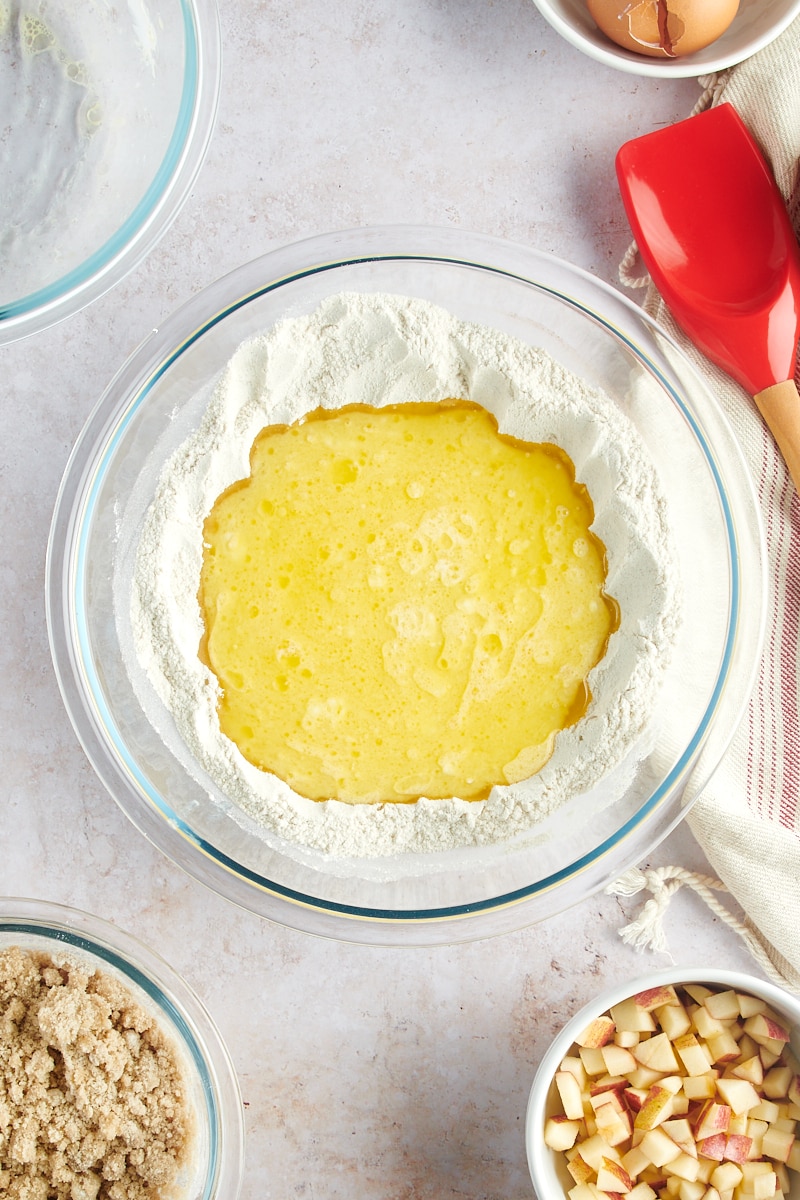 Add the apples. Fold the diced apples into the batter, mixing just until combined.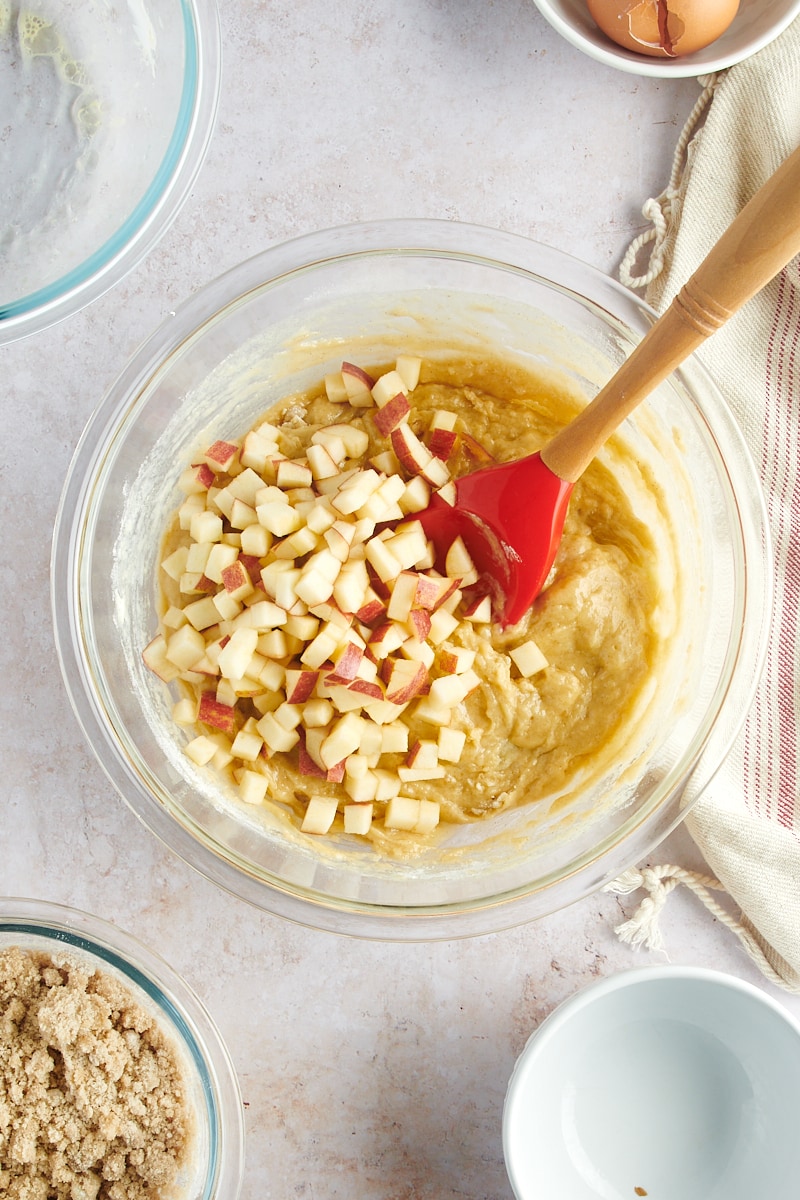 Portion and assemble. Divide the batter among the prepared muffin cups, using about 3 tablespoons of batter to fill each cup 3/4 full. Sprinkle the topping mixture over the top of each muffin.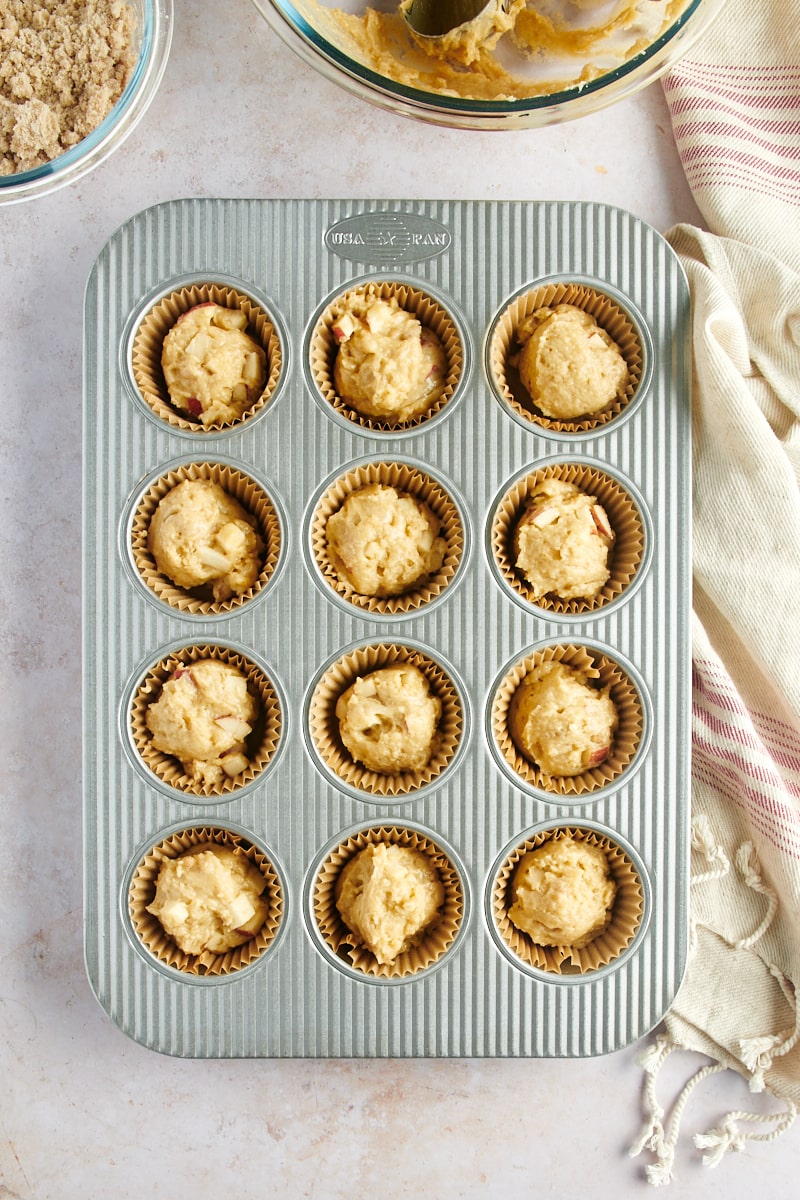 Bake. Place the muffin tin in the heated oven. Bake for 15 to 20 minutes, or until the tops are browned and a pick inserted into the center comes out clean.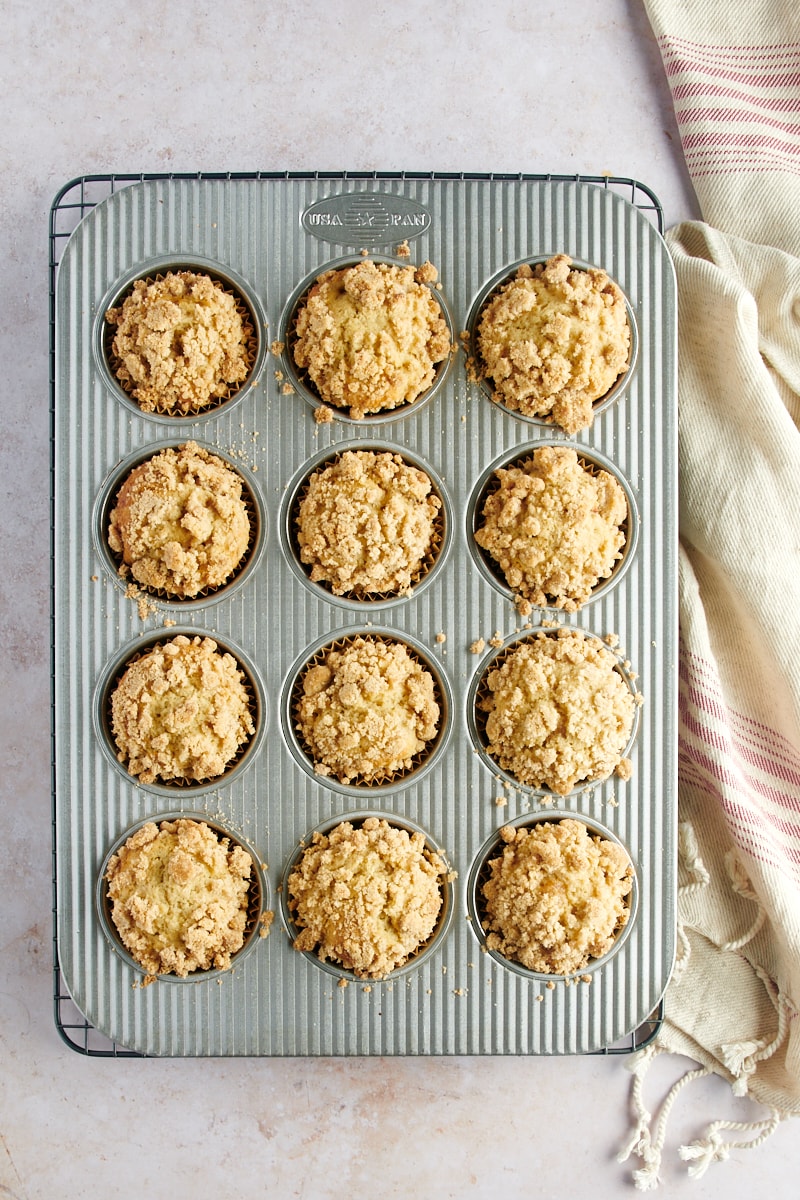 Cool. Place the pan on a wire rack, and allow the muffins to cool in the pan for 10 minutes. Then transfer the muffins from the pan directly onto a wire rack to continue cooling.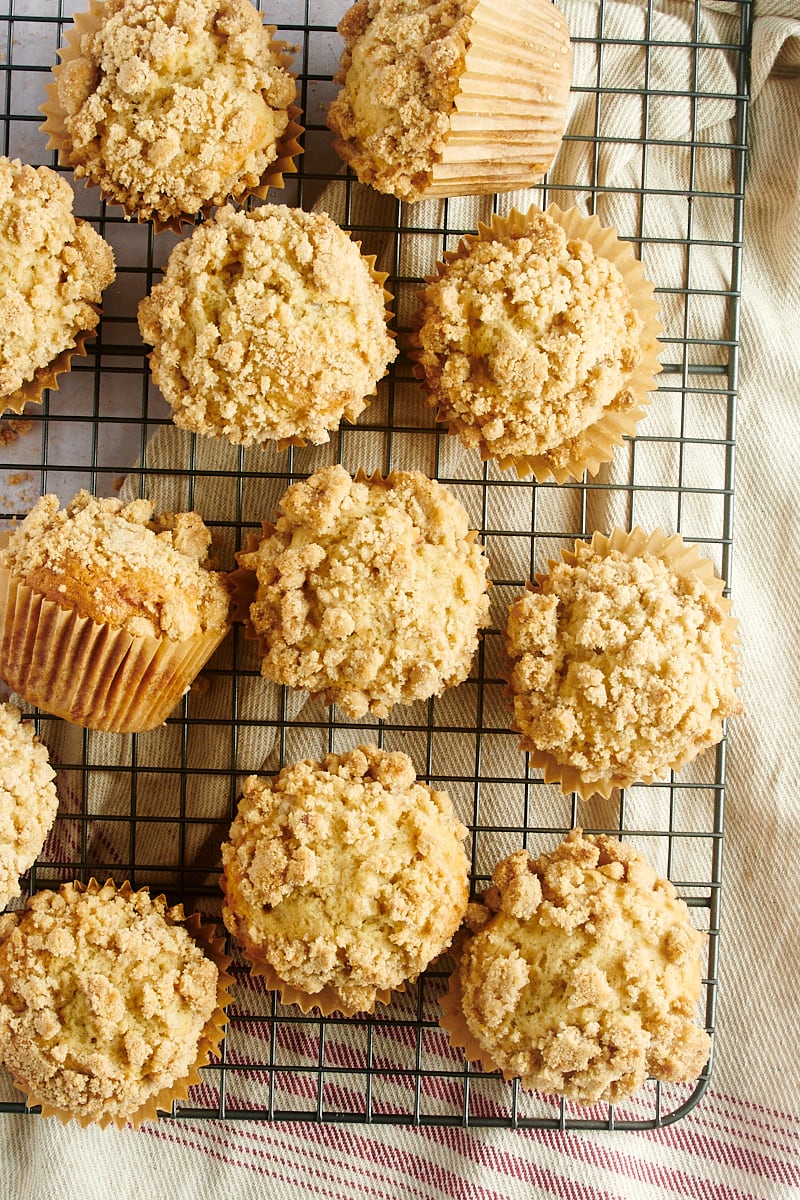 Tips for Success
These Apple Cinnamon Muffins are easy to make, but here are a few tips to help make sure yours turn out perfectly!
Use a light-colored metal pan. Your muffins will bake and brown more evenly.
Check your cinnamon. With plenty of cinnamon in both the muffins and the topping, be sure yours is fresh. If your cinnamon has been in your cabinet for quite a while, it may be time for a fresh jar. Give it a smell to see if it still has a strong aroma.
Don't over-mix. Too much mixing leads to a tough texture. Mix just until combined, or leave a few small streaks of flour. A slightly lumpy batter with a few small streaks of flour will smooth out during baking.
Prefer to make as a loaf? See my tips for converting muffins to loaves.
Want to simplify? Skip the topping for a quicker batch of muffins. For a simple topping, sprinkle the tops of the batter with cinnamon sugar before baking.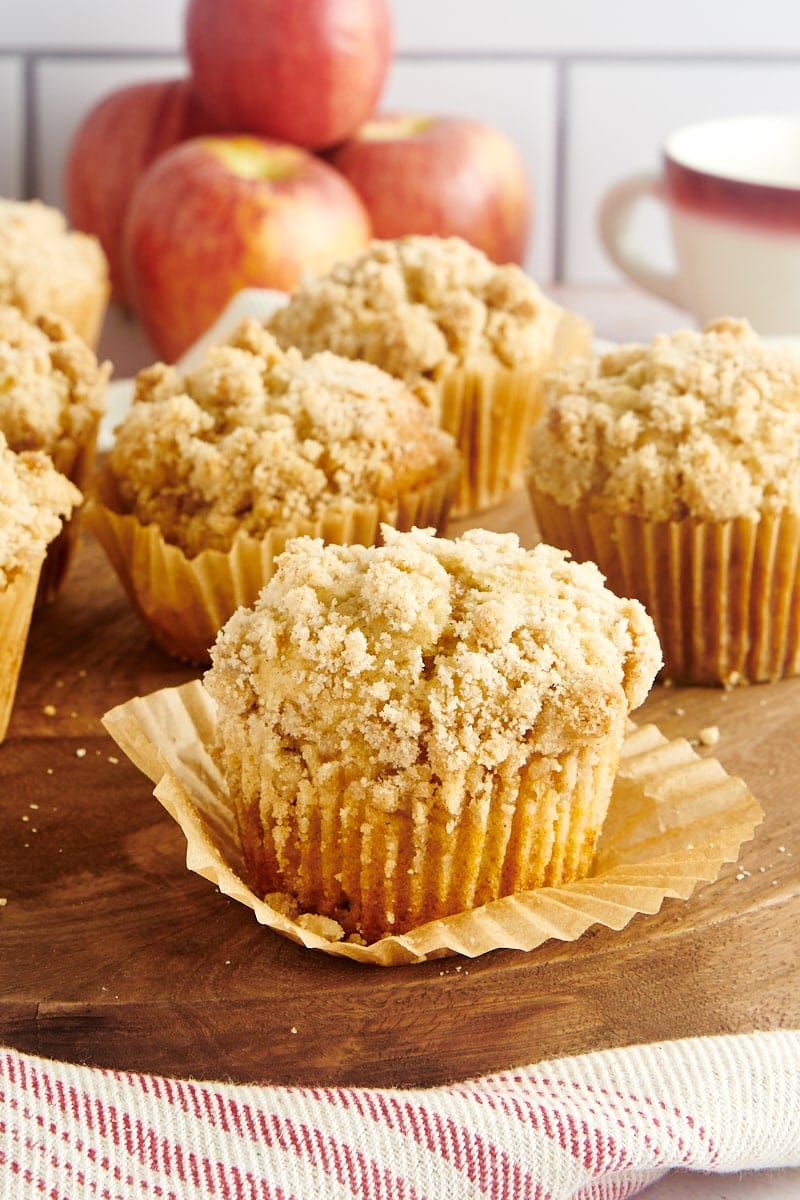 How to Store
After the muffins have cooled, place them in an airtight container. To help prevent them from getting soggy, you can use paper towels to line the container and between layers of muffins. The muffins should keep at room temperature up to 3 days.
Can Apple Cinnamon Muffins Be Frozen?
Yes, these muffins freeze very well. Place the cooled muffins in an airtight, freezer-safe container or bag. If you like, wrap each muffin in plastic wrap first for an easy way to grab one or two at a time. Properly stored, the muffins should keep in the freezer up to 3 months. Thaw for an hour or so at room temperature or warm briefly in the microwave.