Brown Butter Pear Crisp is a fall favorite with its wonderful flavor and ease of preparation. Get ready to make this one all through the season!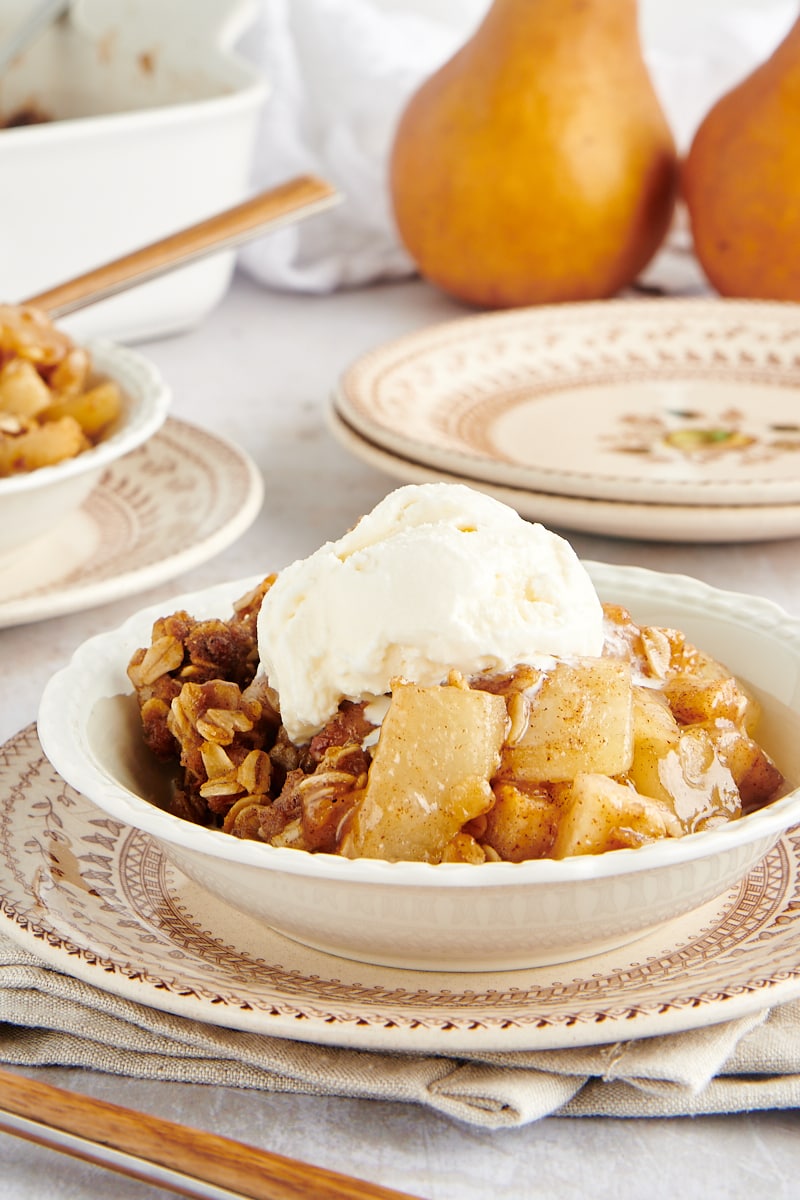 Easy Pear Crisp with Brown Butter Oat Topping
This amazingly delicious Brown Butter Pear Crisp is sure to become one of your favorite fall desserts. It has so much going for it that makes it deserving of a top spot on your list.
First of all, there are the pears. I know apples and pumpkin get lots of attention in the fall, but pears shouldn't get lost in the seasonal shuffle. Their sweetness and softness makes them a perfect starting point for this crisp.
Next, let's talk about brown butter. It's such a simple thing to do that adds so much rich, nutty flavor to the topping. That extra layer of flavor really makes this crisp something special.
Let's not forget all of these spices, either. One of the best things about fall desserts is using wonderful warm spices. This crisp uses some of the usual fall spices you're likely to be using this time of year, but feel free to change those if you have a favorite combination.
And last but certainly not least, this pear crisp recipe is easy to make! Sure, there's an extra step for browning the butter, but the whole process goes quickly. That simplicity makes it even more appealing!
If you love pears like I do, try Autumn Spice Pear Cobbler and Hazelnut Pear Bundt Cake next!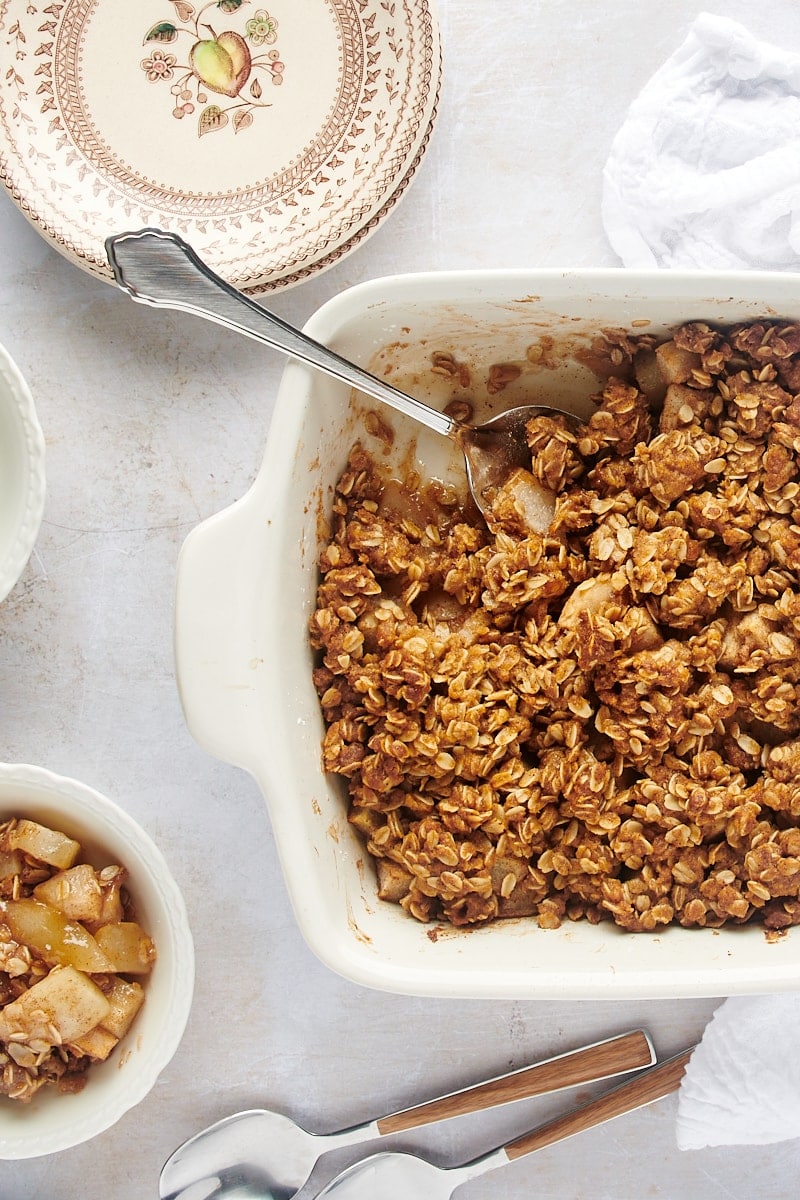 What You'll Need
Scroll down to the recipe card at the bottom of this post for ingredient quantities and full directions. Here are some helpful notes about the ingredients.
Pears – Depending on their size, you'll likely need 4 or 5 pears for this crisp. Cut them into small slices. See below for tips on choosing pears for baking.
Brown sugar – You'll need brown sugar for both the topping and the filling. I recommend light brown sugar, as dark brown sugar's flavor may be too strong for this crisp.
Cornstarch
Unsalted butter – You'll be browning the butter for the topping. See my notes about that in the tips section below.
Oats – I recommend old-fashioned rolled oats for the topping.
All-purpose flour
Cinnamon – There's cinnamon in both the topping and the filling for plenty of spiced flavor.
Ginger
Nutmeg
Salt
How to Choose Pears for Baking
My favorites for baking are Bosc, Bartlett, and Anjou pears. Of those, Bosc and Anjou tend to hold up better through baking, while Bartlett pears tend to become softer. You can use just one kind or a variety for this pear crisp.
Bake with your pears when they are firm-ripe. Check for ripeness by applying a little pressure near the stem. Firm-ripe pears will give just a bit when pressed in that area but remain firm elsewhere. If your pears aren't quite ripe yet, place them in a paper bag to speed up the ripening process.
Should Pears Be Peeled for Pear Crisp?
Whether or not you peel the pears is a matter of personal preference. The peels will usually soften enough during baking that they aren't noticeable, so it's not a requirement to peel them. However, I usually peel them quickly with a vegetable peeler before slicing for both the look and texture of the crisp.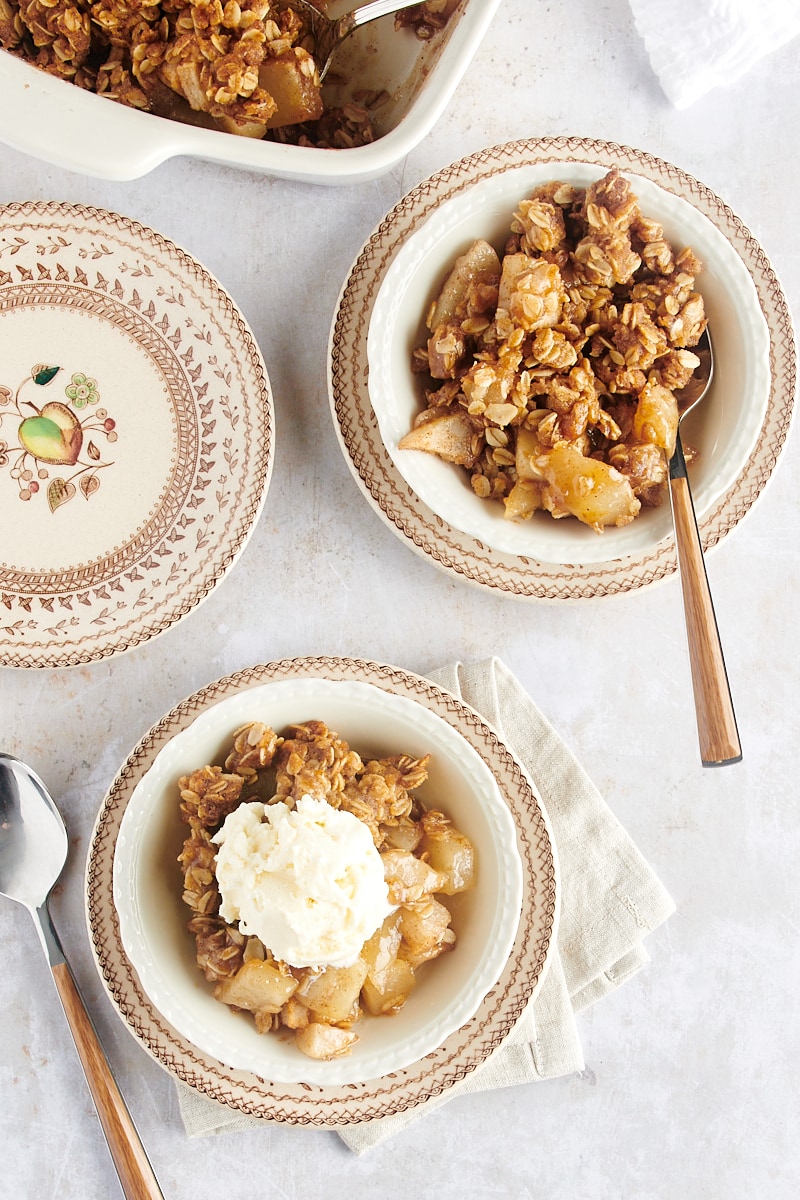 How to Make Brown Butter Pear Crisp
Prepare for baking. Heat the oven to 375°F. Butter a 2-quart baking dish.
Make the filling. Combine the sliced pears, 1/4 cup brown sugar, cornstarch, and 1/4 teaspoon cinnamon in a bowl or directly in the baking pan.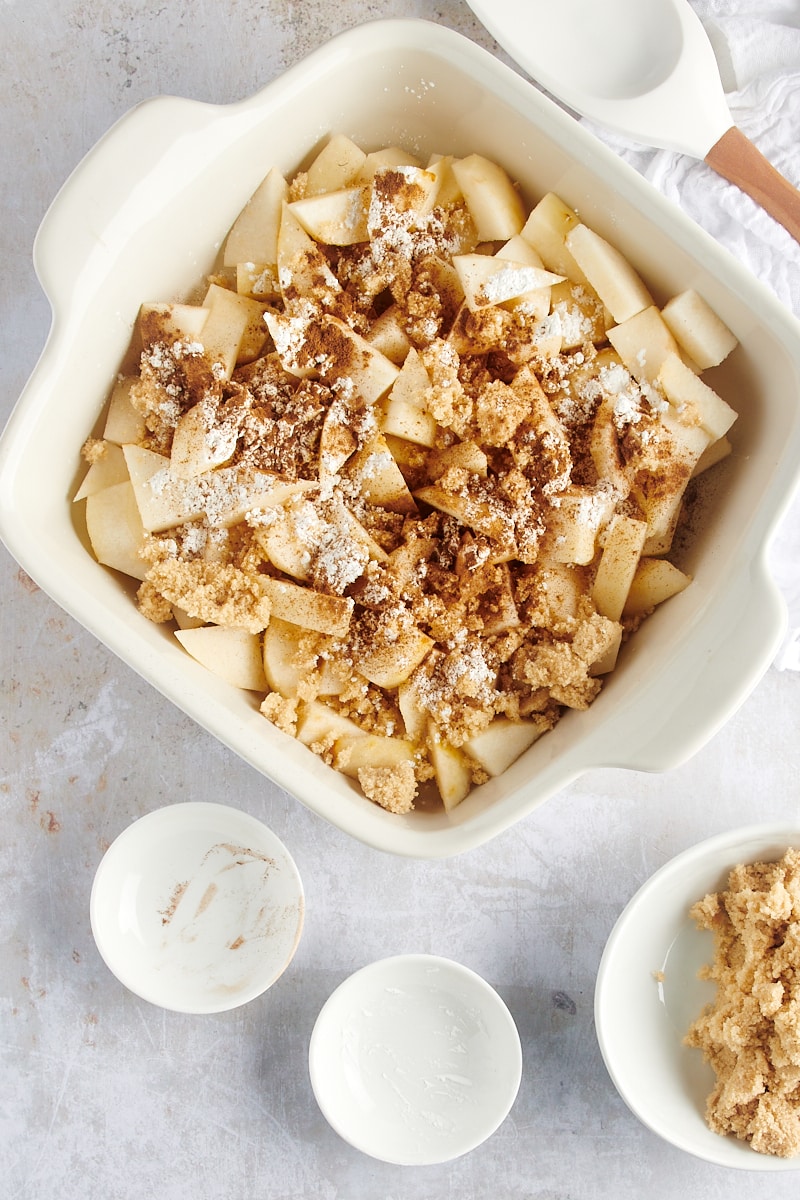 Brown the butter. Place the butter in a medium saucepan. Cook over medium heat, stirring frequently. When the butter melts and begins to foam, continue cooking until the foaming begins to subside and brown bits have formed in the bottom of the pan. Remove from the heat and allow to cool for a few minutes.
Begin making the topping. In a large bowl, combine the oats, 1/2 cup brown sugar, flour, 1 teaspoon cinnamon, ginger, nutmeg, and salt.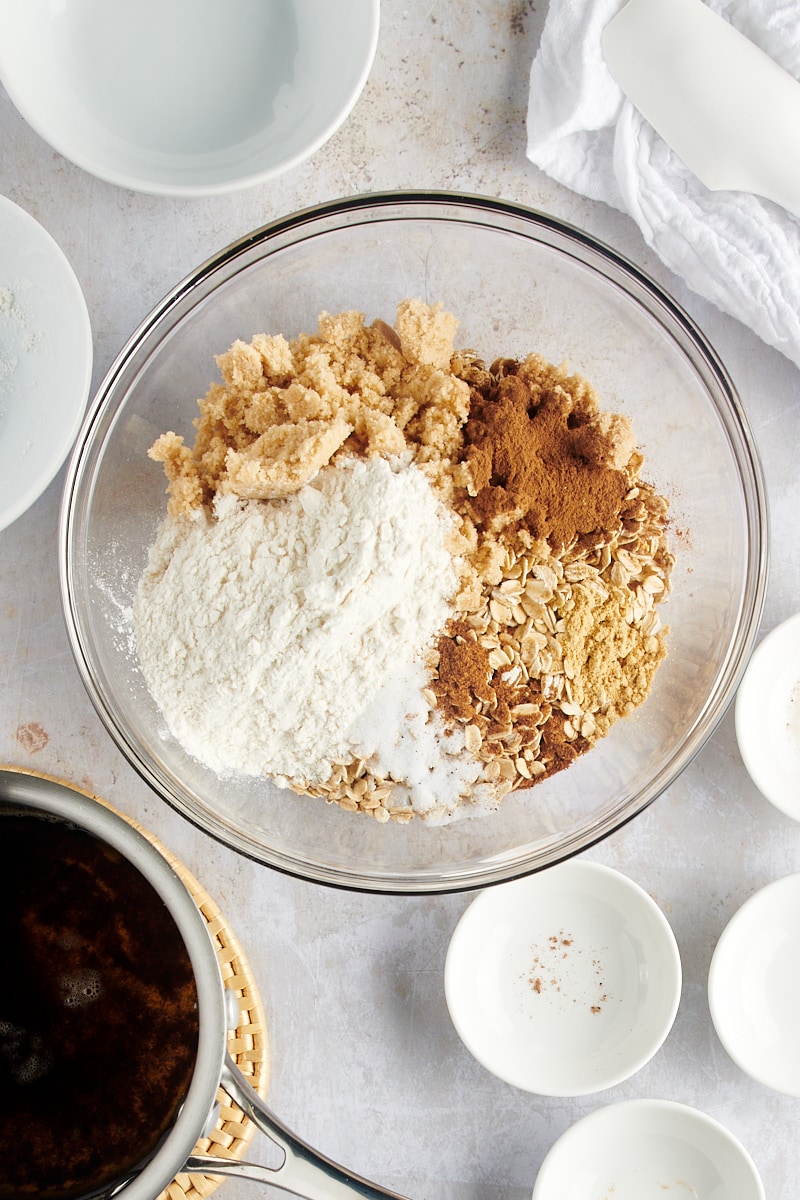 Finish the topping. Add the slightly cooled browned butter to the oat mixture, and stir just until combined and the mixture has formed into crumbs.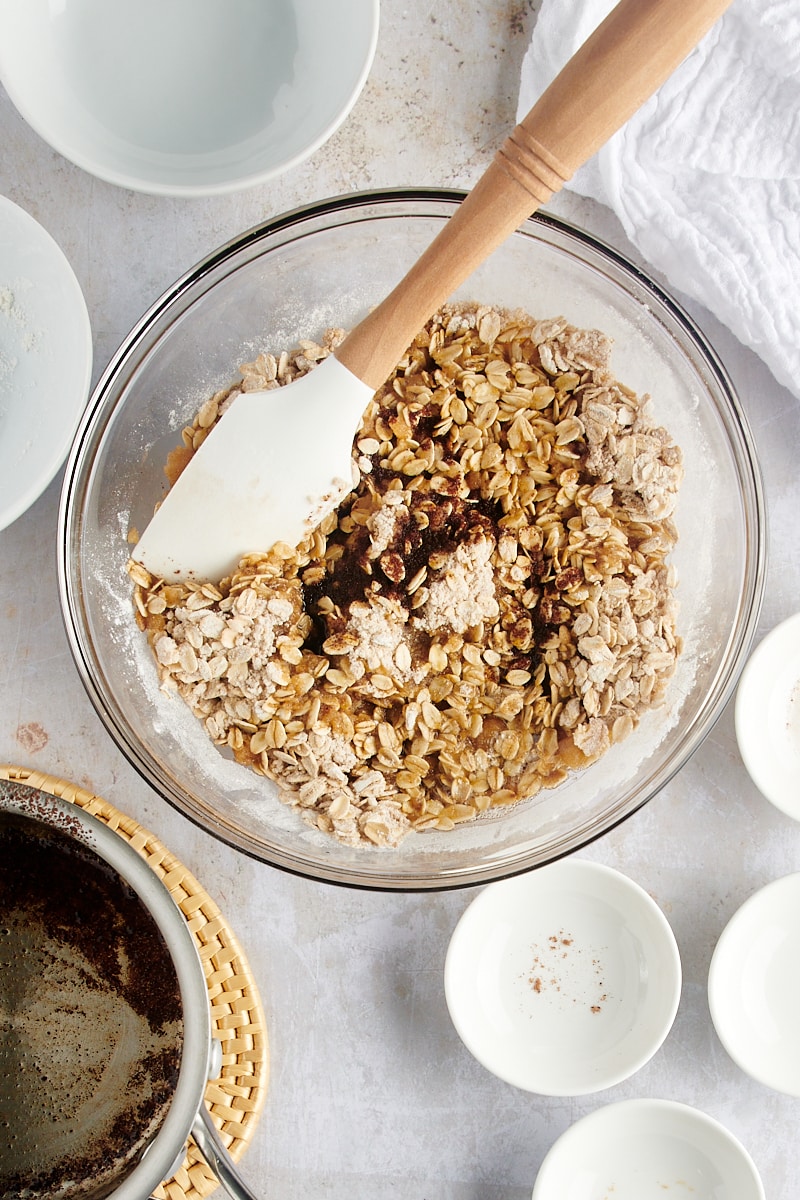 Assemble. If you mixed the filling in a bowl, transfer it to the baking pan. Drop the topping over the filling.
Bake. Place the pan in the heated oven, and bake 40 to 45 minutes. The crisp is ready to come out of the oven when the topping is golden brown and the filling is bubbly.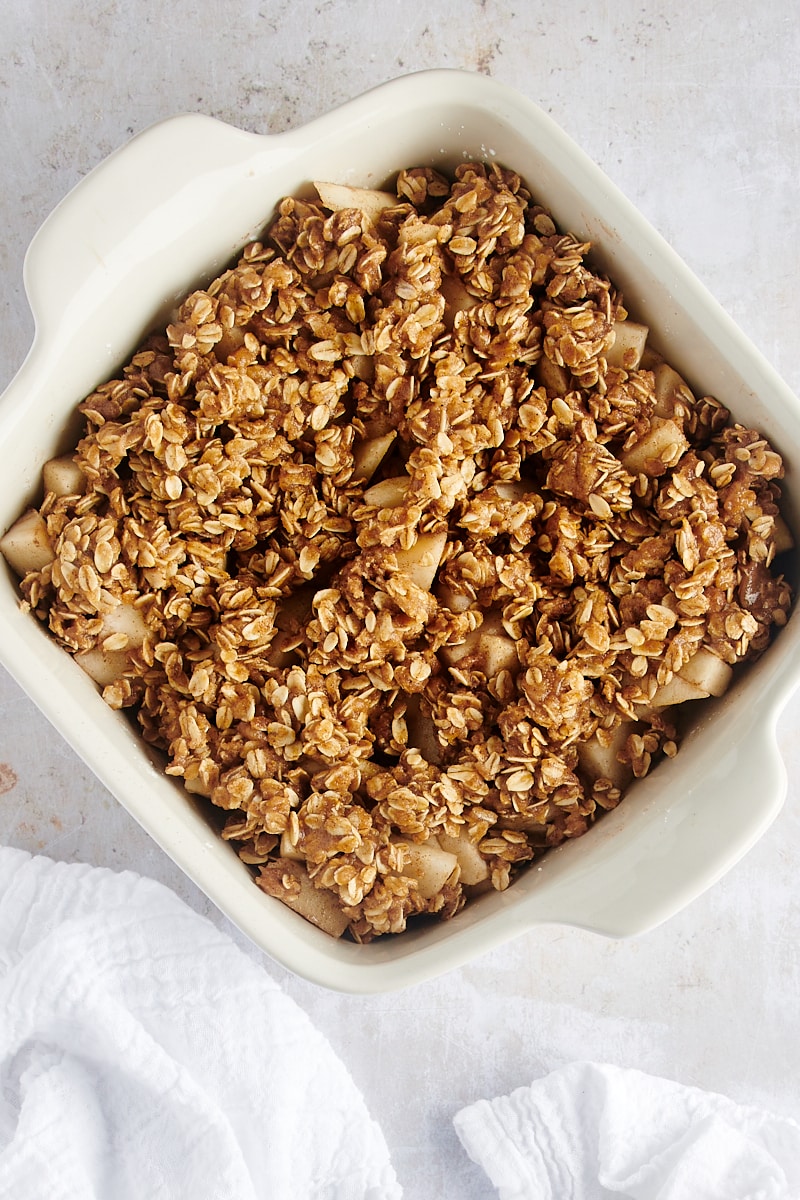 Cool. Place the pan on a wire rack and allow the crisp to cool slightly before serving.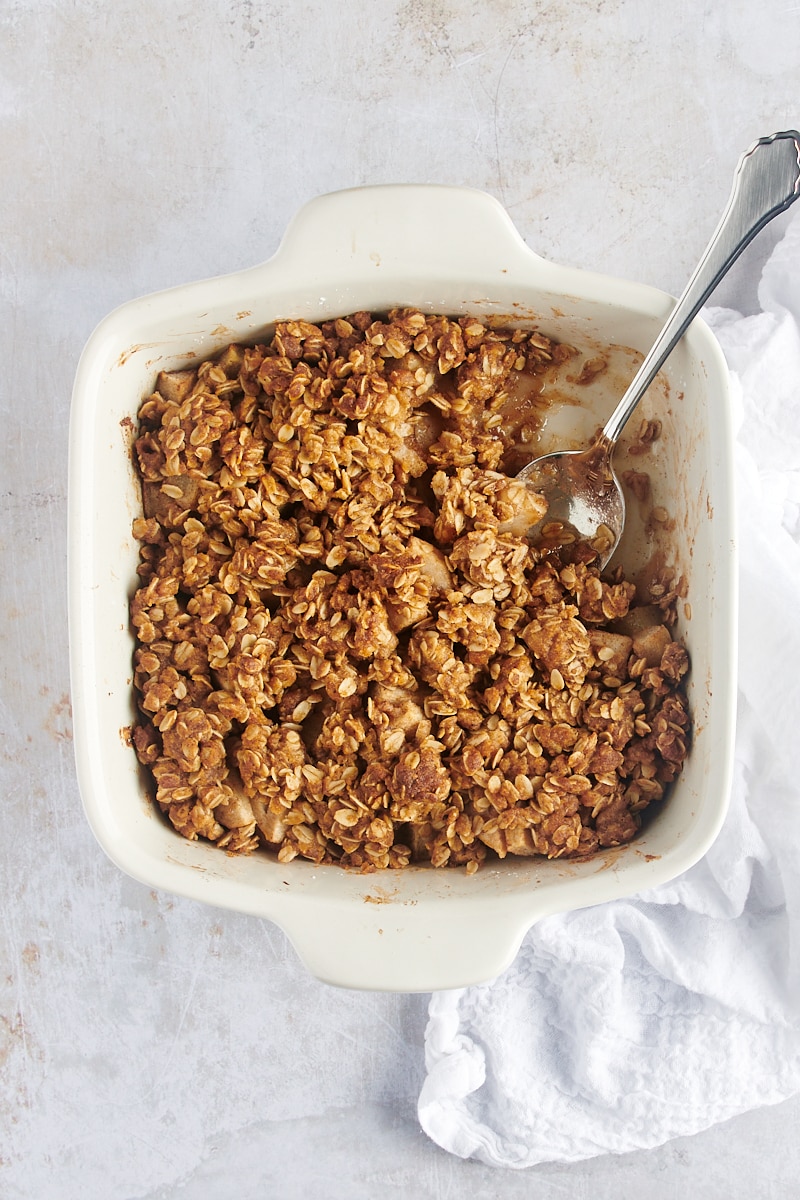 Tips for Success
Make sure your pan is large enough. The filling will become bubbly as it bakes, so be sure there's enough room between the topping and the upper rim of the pan. If you're worried about it bubbling over, place the pan on a rimmed baking sheet.
Browning butter. When browning butter, be sure not to walk away from it because it can go from browned to burned pretty quickly. Watch for the foaming to taper off and make sure the browned bits don't burn. You can also use your nose to note the nutty aroma that tells you it's ready.
Check your spices. If your spices have been in your cabinet for a while, they may have lost some of their flavor. If they don't smell strong and fresh, it's time to replace them.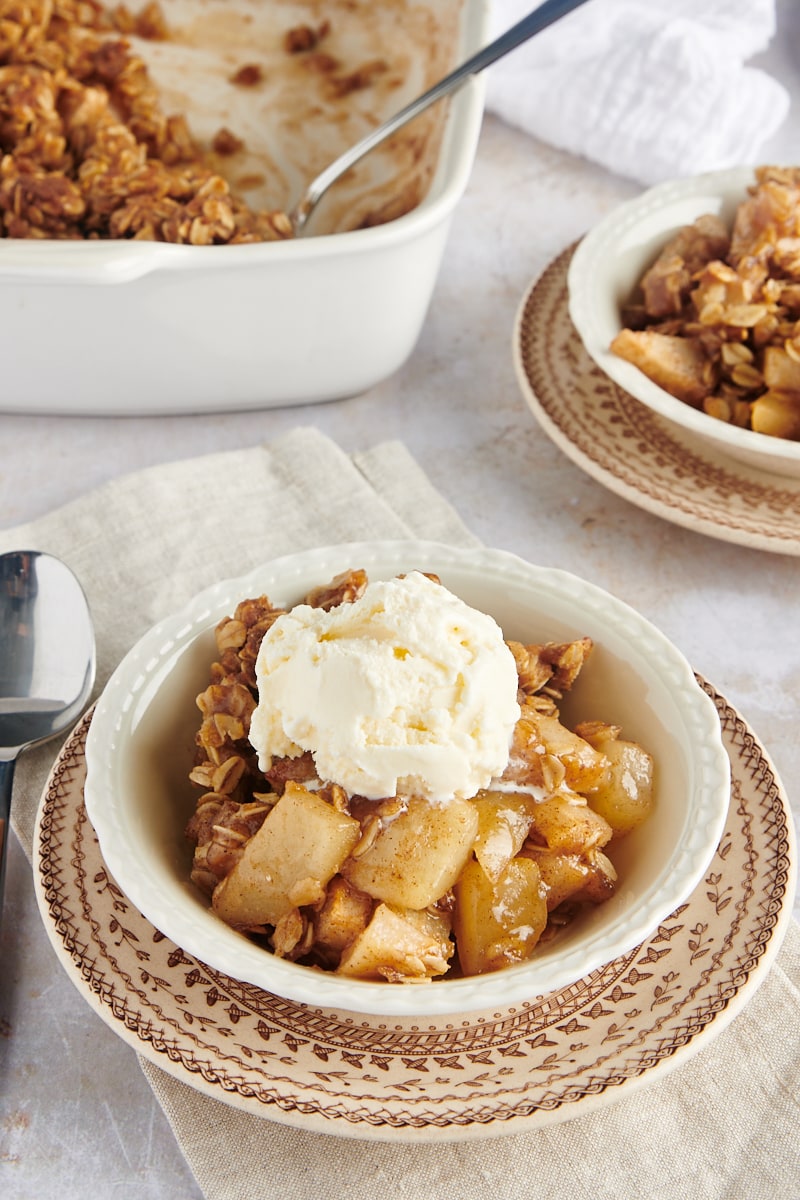 Serving Suggestions
Like most any fruit crisp, ice cream is a perfect topping. Go with classic vanilla ice cream, or try another flavor like butter pecan or caramel. Dress it up further with some chopped nuts or a drizzle of caramel sauce. Sweetened whipped cream is a great choice, too.
Ideas for Variations
It's simple to change the spices in this pear crisp. You can just stick with classic cinnamon to keep things simple. Or try a spice blend like my Fall Spice Blend in place of the spices in the recipe.
This crisp is also really good made with a combination of pears and apples. For tips for choosing apples for baking, see The Best Apples for Baking
If you'd like to add nuts, sprinkle a handful into the topping mixture. Walnuts, pecans, almonds, and hazelnuts are all good choices.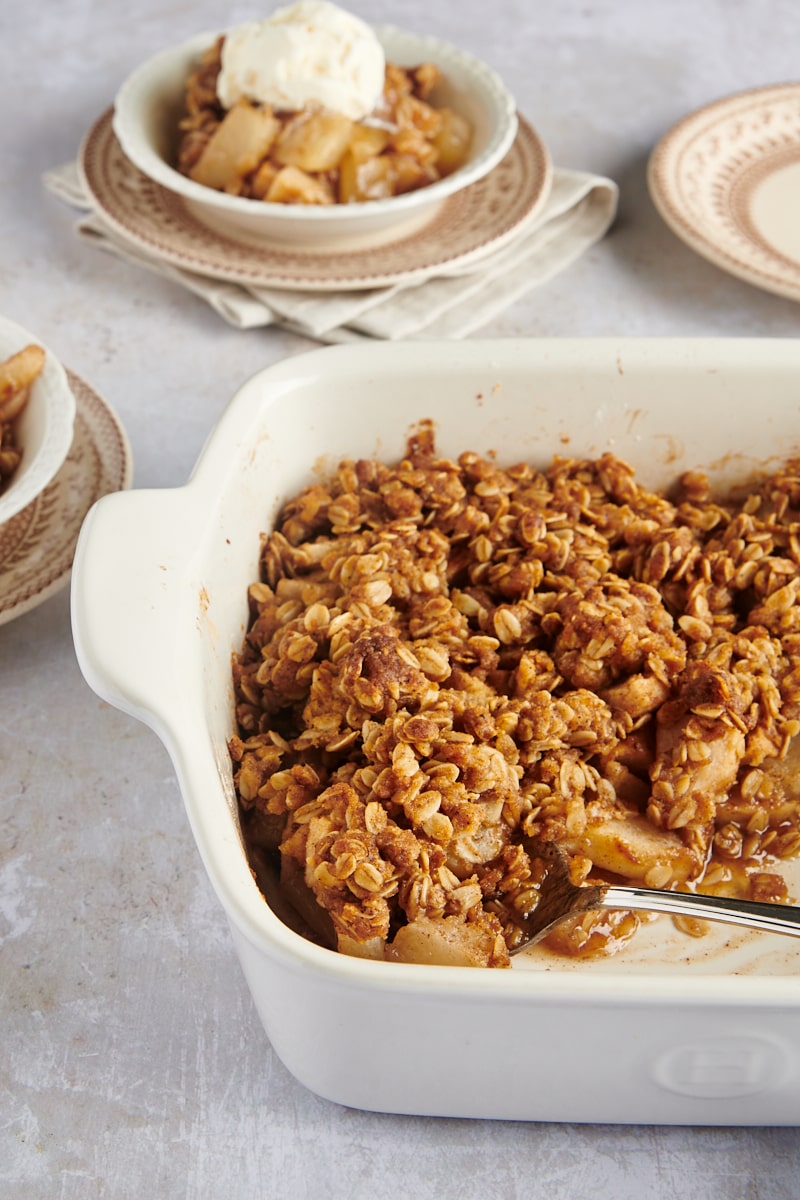 How to Store
After the pear crisp has cooled completely, it can be stored in an airtight container at room temperature up to 2 days or in the refrigerator up to 4 days. Reheat individual servings briefly in the microwave. If the crisp is in an oven-safe pan, then you can reheat it in a 350°F oven for a few minutes.
Can Pear Crisp Be Frozen?
Yes, you can freeze pear crisp. Place the cooled crisp in an airtight, freezer-safe container. Properly stored, it should keep in the freezer up to 3 months. Thaw overnight in the refrigerator, and then reheat as described above.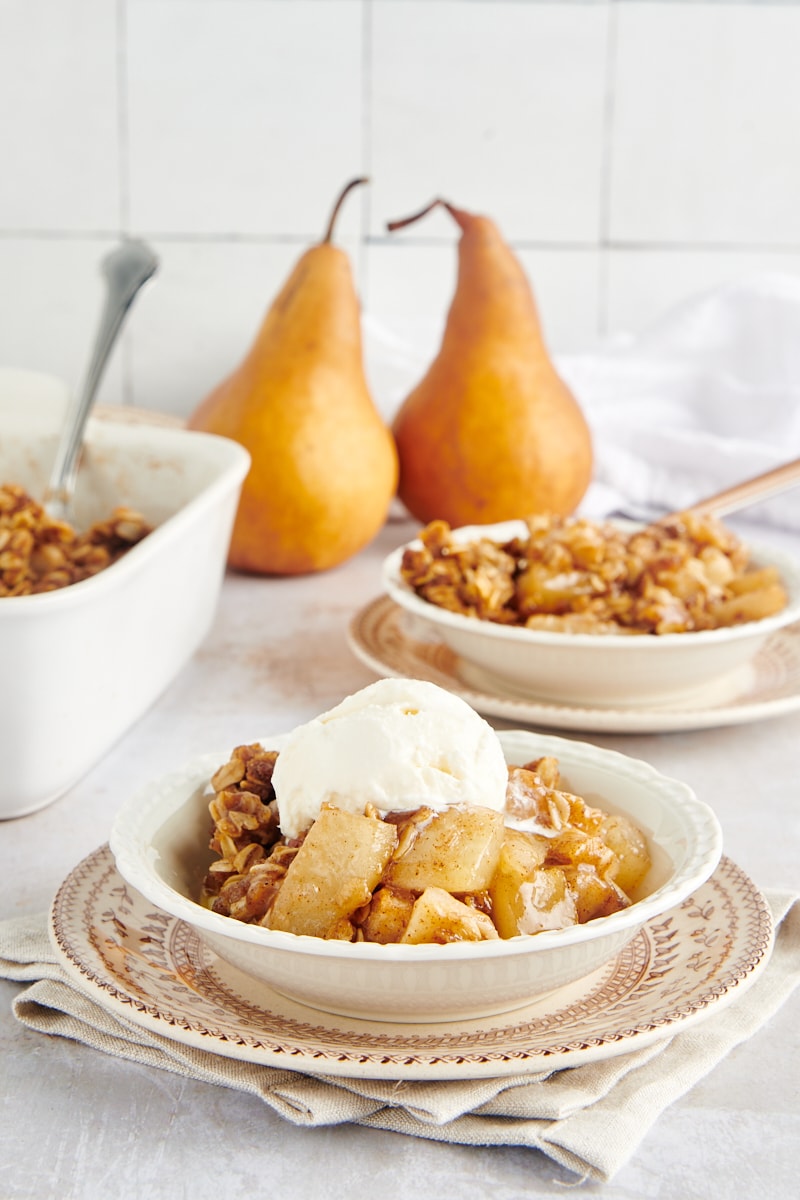 More Cozy Fall Desserts