Filled with big puddles of chocolate and chilled for optimal texture and flavor, Jacques Torres Chocolate Chip Cookies may very well be the ultimate chocolate chip cookie!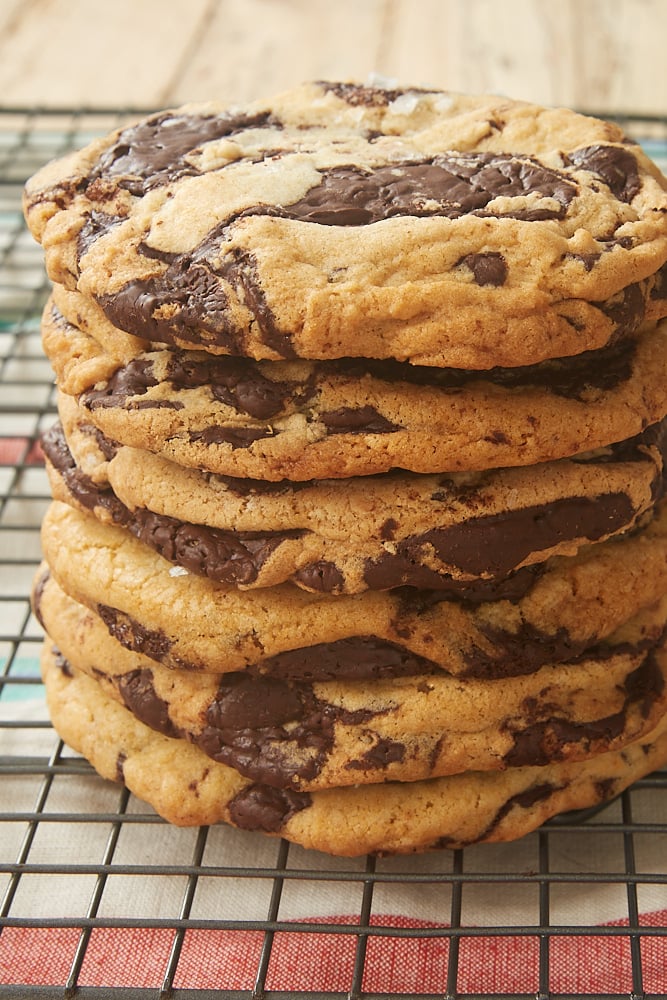 I'm not a fan of fussy recipes. I like to keep things as simple as possible. That is one of the reasons it has taken me years to get around to baking Jacques Torres chocolate chip cookies.
You may have seen these cookies discussed here and there after The New York Times sang their praises. They're big, thick cookies jam-packed with chocolate. But the recipe is exactly what I would call fussy. There are two kinds of flour, some odd ingredient measurements, and a lot of chilling time before you can even bake them. Now that I have made them, though, I can safely say that they are worth every ounce of fuss.
The other reason I had never made these famous cookies is that Jacques Torres' shop is literally just down the street. If I want a giant chocolate chip cookie, I can just walk down there and get it. And believe me, I have done just that many times.
One of the last times I devoured one of those cookies, I decided it was high time I tried baking them myself. I got out the two kinds of flour and even got the chocolate from Jacques Torres to try to replicate those big ol' cookies. I followed the recipe very closely in an attempt to make a fair comparison to the original.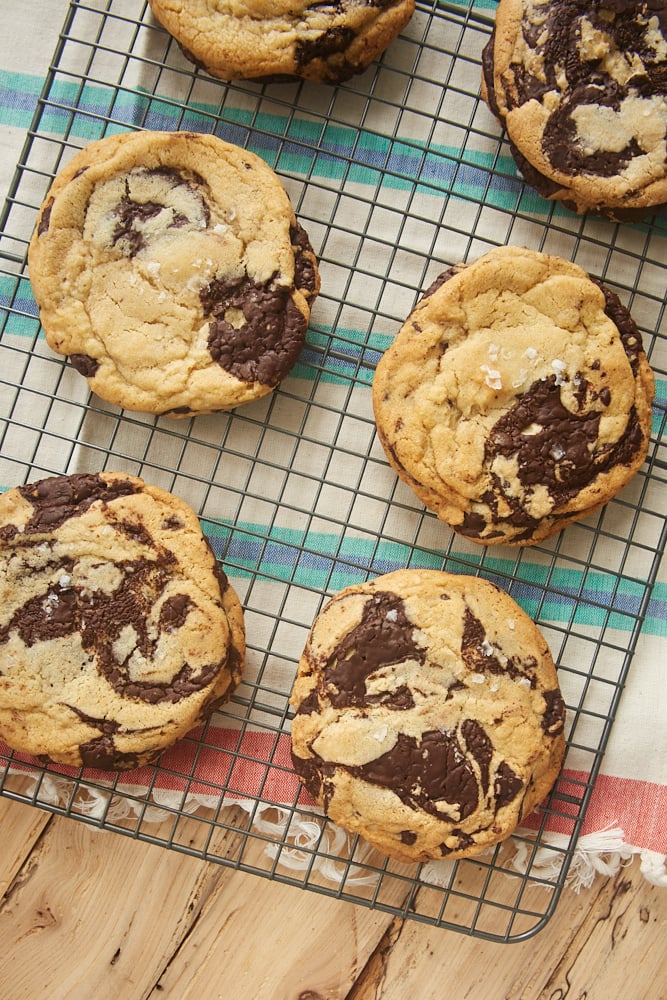 What Makes This Jacques Torres Chocolate Chip Cookie Recipe Work
Here's why this iconic recipe is so beloved among chocolate chip cookie fans:
The dough is chilled. That chilling time allows the flavors to meld together and become magical. The dry ingredients absorb some of the moisture from the wet ingredients, giving you a firm dough.
The measurements are precise. This is clearly a recipe that was designed for a kitchen scale, and the result is the ultimate chocolate chip cookie with perfectly balanced flavors and texture. There's a reason Jacques Torres chocolate chip cookies are famous!
They're not made with chocolate chips. For the chocolate in these cookies, the recipe recommends chocolate discs, which are sometimes called fèves. The chocolate discs melt as the cookies bake, spreading throughout the cookies into magical chocolate puddles.
The recipe uses two different flours. Bread flour and cake flour are unusual choices for cookies, but there's a method to this madness—bread flour has more gluten in it, giving the cookies a chewy texture, while cake flour contributes to the softness of these cookies.
There's more brown sugar than white sugar. This adds a note of caramel flavor, which is delightful in a chocolate chip cookie.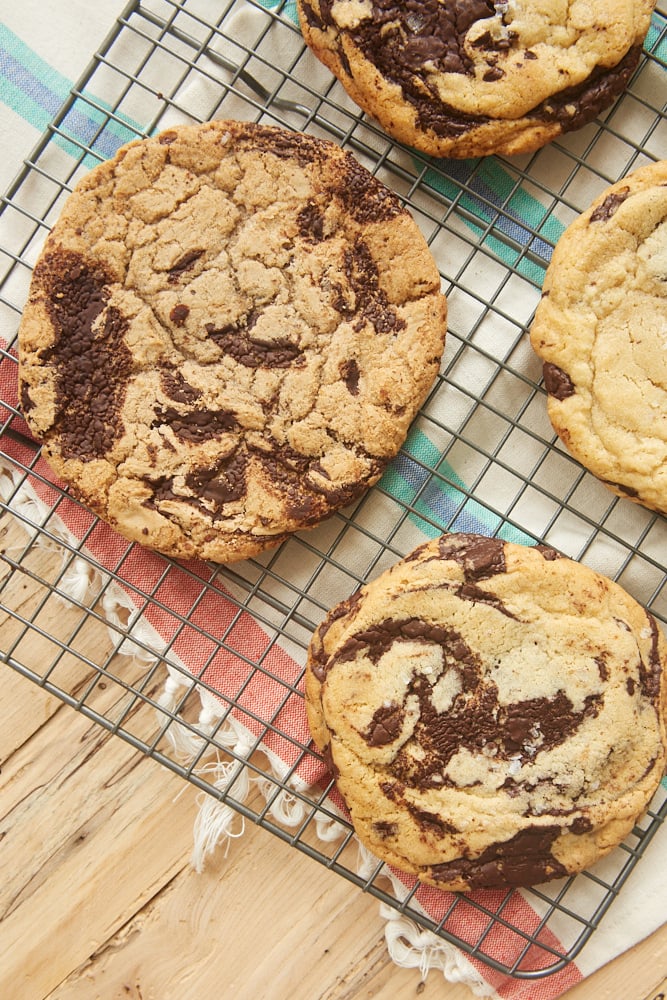 How These Homemade Jacques Torres Chocolate Chip Cookies Compare to the Original
I bought a few of the original Jacques Torres chocolate chip cookies from his shop to compare. You can see the store-bought kind alongside my version in the photo above. Honestly, we thought that the ones I baked were a little better, but that can be chalked up to freshness and small-batch baking. I'll still gladly enjoy one from his shop whenever I have the opportunity.
While there's some fussiness in making them, it all comes down to the cookies. And they are beyond amazing. The texture, the flavor, just the whole package is just fantastic. While I'd likely pick a simpler recipe when I've got a chocolate chip cookie craving (like my classic chewy chocolate chip cookies), I highly recommend baking a batch of Jacques Torres chocolate chip cookies when you want an all-out chocolate chip cookie experience.
What You'll Need
Scroll down to the recipe card to find the ingredient quantities and recipe instructions.
Cake flour – The combination of cake flour and bread flour instead of just using all-purpose flour is a big part of what makes this cookie recipe work. For both flours, be sure to measure accurately. A digital scale is the best way to measure, but you can use the spoon and sweep method if you don't have a scale. Learn more: How to Measure Flour
Bread flour
Baking powder
Baking soda
Salt
Unsalted butter – Let the butter soften at room temperature until it is still cool and holds a thumbprint when pressed. Learn more: How to Soften Butter
Light brown sugar – Pack this firmly in the measuring cup, or measure by weight.
Granulated sugar
Eggs – Let the eggs come to room temperature before mixing. I recommend baking with large eggs.
Vanilla extract
Bittersweet chocolate – I've made these cookies with both the Jacques Torres chocolate discs as well as Guittard. Both work well. If you don't have access to chocolate discs, I suggest roughly chopping chocolate bars instead of using chocolate chips. Look for about 60 percent cacao percentage.
Sea salt – This is sprinkled on top of the cookies before baking to give them a salty bite. If you don't have sea salt, another coarse salt will work. If you're not a sweet and salty fan, you can omit it.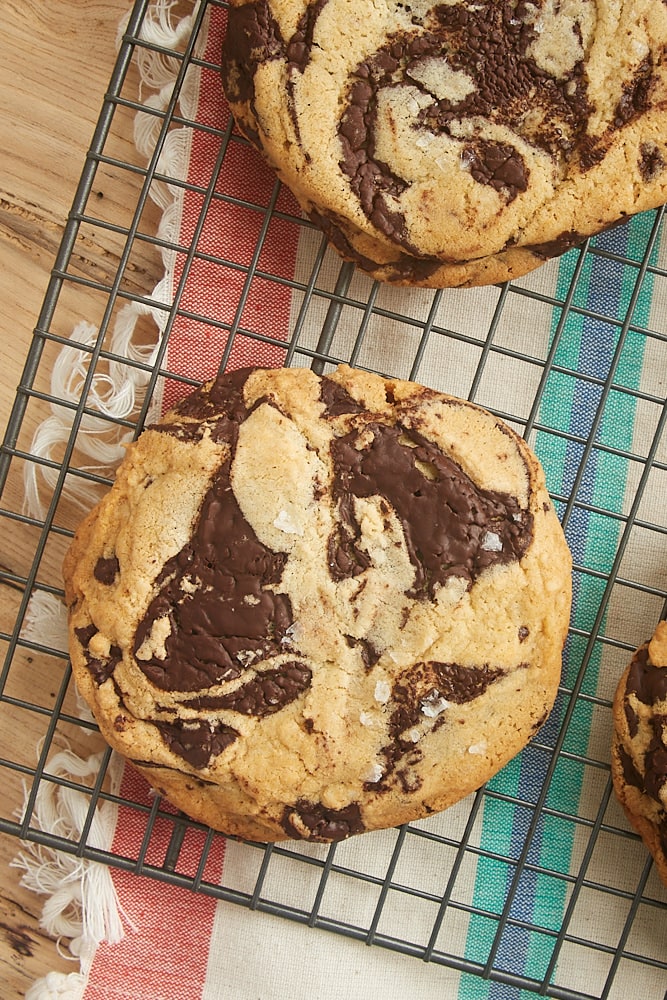 How to Make Jacques Torres Chocolate Chip Cookies
Mixing these cookies is simple, but be sure to factor the time for chilling into your baking plans.
Combine the dry ingredients. Whisk together the cake flour, bread flour, baking powder, baking soda, and salt in a medium bowl. You can sift these ingredients together if you prefer.
Combine the wet ingredients. Using an electric stand mixer with the paddle attachment, beat the butter, brown sugar, and sugar until they're fluffy and lightened in color. This should take about 5 minutes at medium speed. Mix in the eggs one at a time, beating well after each addition. Then mix in the vanilla.
Add the dry ingredients to the wet ingredients. With the mixer on low speed, add the flour mixture. Mix just until combined. This should take about 10 seconds or so.
Add the chocolate. Stir in the chocolate discs, taking care not to break them if possible.
Chill. Cover the dough in plastic wrap, pressing the plastic directly onto the dough. Refrigerate for 24 to 72 hours.
Prepare for baking. Heat the oven to 350°F. Line baking sheets with parchment paper or silicone liners.
Portion the dough. Divide the dough into portions weighing 3.5 ounces (99g) each. If you have a #14 or #16 cookie scoop (volume of about 4 tablespoons or 1/4 cup), that's a good place to start for the size and for shaping. From there, you can adjust on your scale as needed to get the right amount. Shape and place on the prepared pans, leaving a few inches between the cookies to allow for spreading.
Add the sea salt. Sprinkle the top of each cookie with a pinch or two of sea salt.
Bake. Place one pan at a time in the heated oven, and bake 18 to 20 minutes. The cookies should be golden brown but still soft. Repeat with the remaining cookie dough.
Cool. Place the pan on a wire rack, and allow the cookies to cool for 10 minutes. Then transfer the cookies from the pan directly onto the rack to cool completely.
More About the Chilling Time
I did a little experiment to see if chilling really makes a difference in these Jacques Torres chocolate chip cookies. The recipe recommends refrigerating the dough at least 24 hours and up to 72 hours. I baked the dough every 24 hours for 3 days and definitely found some differences.
The different chilling times basically present a scale of crispiness and chewiness with some flavor differences, too. The 24-hour cookies were crispier, whereas the 72-hour cookies were softer and chewier. The 48-hour cookies were in the middle of the scale, with soft cookies that had a crispy outside.
We thought the 48- and 72-hour Jacques Torres chocolate chip cookies had the best flavor. Honestly, I'd be happy with the cookies from either of those chilling times, which allows me some leeway in when I bake the dough if I've got some in the refrigerator. That's not to say the 24-hour cookies weren't really, really good. If you need cookies the next day, don't hesitate to trim the chilling time down to 24 hours. Honestly, you can't go wrong!
Tips for Success
Read over my baking tips for beginners, then follow these additional tips for perfect Jacques Torres chocolate chip cookies.
Use a kitchen scale if you have one. (And if you don't, you can get one pretty inexpensively. I have this scale and it serves me well.) You'll get a better result with accurate measurements, and it simplifies the whole process.
Make sure the cookies are uniform in size. Portion the balls of dough by weight; you'll get more evenly baked cookies if they're all the same size. If you don't have a kitchen scale, use a #14 or #16 scoop (about 1/4 cup) to get in the ballpark and then adjust from there as needed.
Invest in good chocolate. There are several brands of chocolate discs in grocery stores, with Guittard probably being the most available. I have also used Jacques Torres chocolate for the full experience, but any good brand will do. You won't get the same result from standard chocolate chips, so try to get chocolate discs if you can. Otherwise, I'd go with roughly chopped chocolate over chocolate chips. (Learn more: Types of Chocolate: A Home Baker's Guide)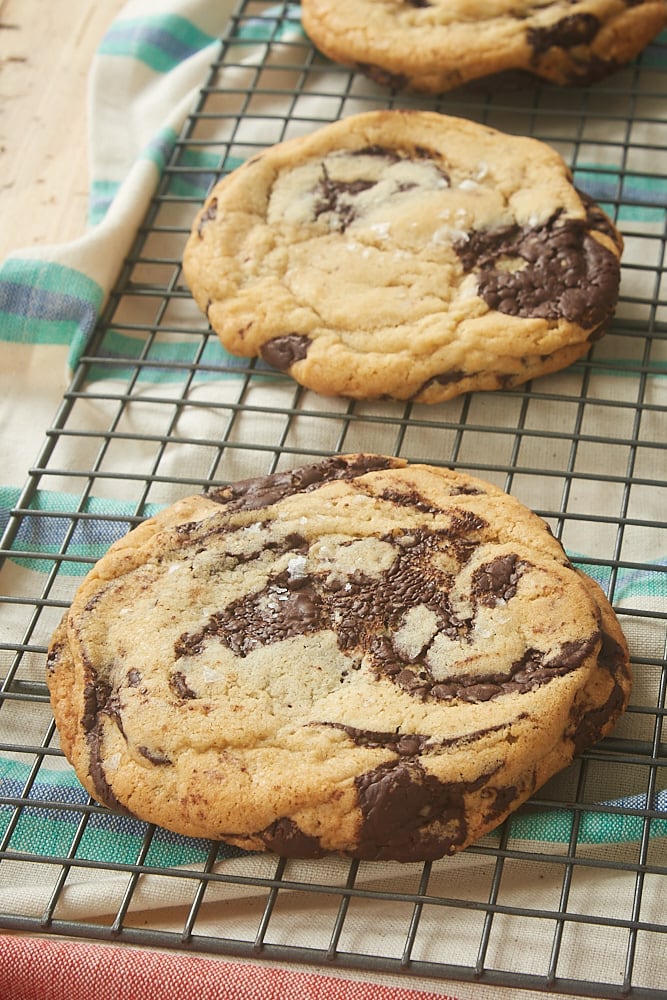 How to Store
Store your homemade Jacques Torres chocolate chip cookies in an airtight container at room temperature for up to a week.
Can This Recipe Be Frozen?
You can freeze baked cookies for up to 3 months. Wrap them individually or place them in an airtight container or zip-top bag. Let them thaw at room temperature, or microwave them for a few seconds at a time until they're warmed through.
More Chocolate Chip Cookie Recipes