Filled with big puddles of chocolate and chilled for optimal texture and flavor, Jacques Torres Chocolate Chip Cookies may very well be the ultimate chocolate chip cookie!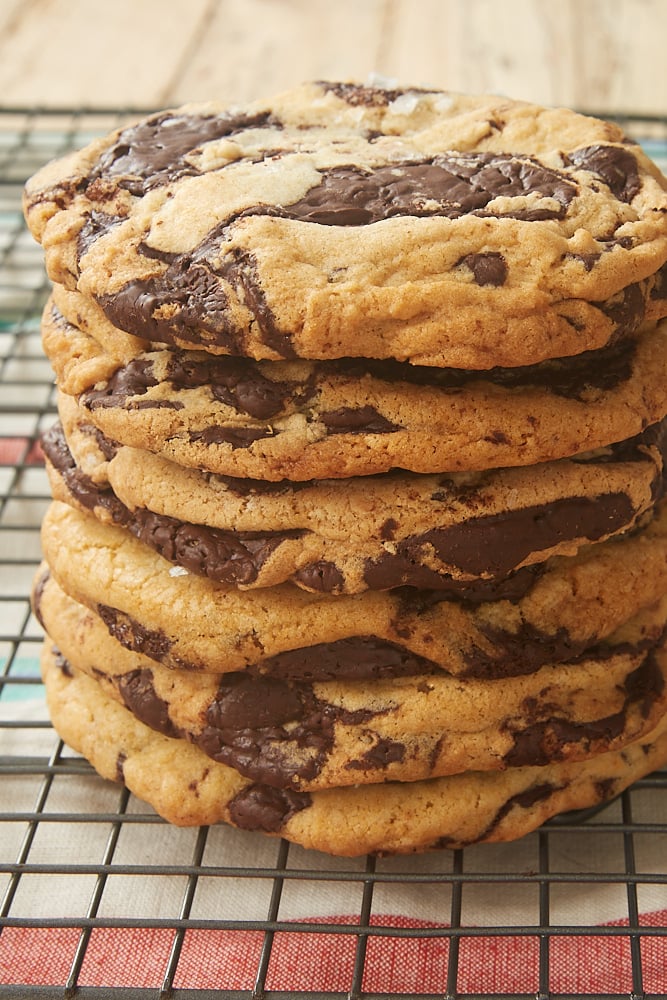 I'm not a fan of fussy recipes. I like to keep things as simple as possible. That is one of the reasons it has taken me years to get around to baking Jacques Torres Chocolate Chip Cookies.
What Makes These Cookies Different
You may have seen these cookies discussed here and there after The New York Times sang their praises. They're big, thick cookies jam-packed with chocolate. But the recipe is exactly what I would call fussy. There are two kinds of flour, some odd ingredient measurements, and a lot of chilling time before you can even bake them. Now that I have made them, though, I can safely say that they are worth every ounce of fuss.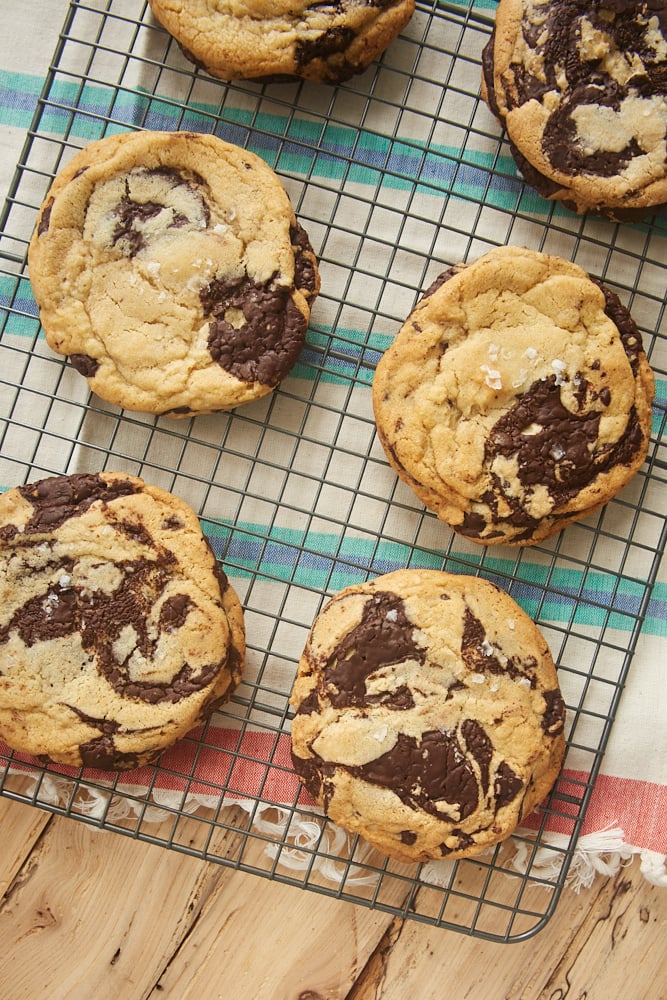 The other reason I had never made these famous cookies is that Jacques Torres' shop is literally just down the street. If I want a giant chocolate chip cookie, I can just walk down there and get it. And believe me, I have done just that many times.
One of the last times I devoured one of those cookies, I decided it was high time I tried baking them myself. I got out the two kinds of flour and even got the chocolate from Jacques Torres to try to replicate those big ol' cookies. I followed the recipe very closely in an attempt to make a fair comparison to the original.
Chill the Dough
I mentioned the long chilling time for the cookie dough, and I did a little experiment to see if it really makes a difference. The recipe recommends refrigerating the dough at least 24 hours and up to 72 hours. I baked the dough every 24 hours for 3 days and definitely found some differences.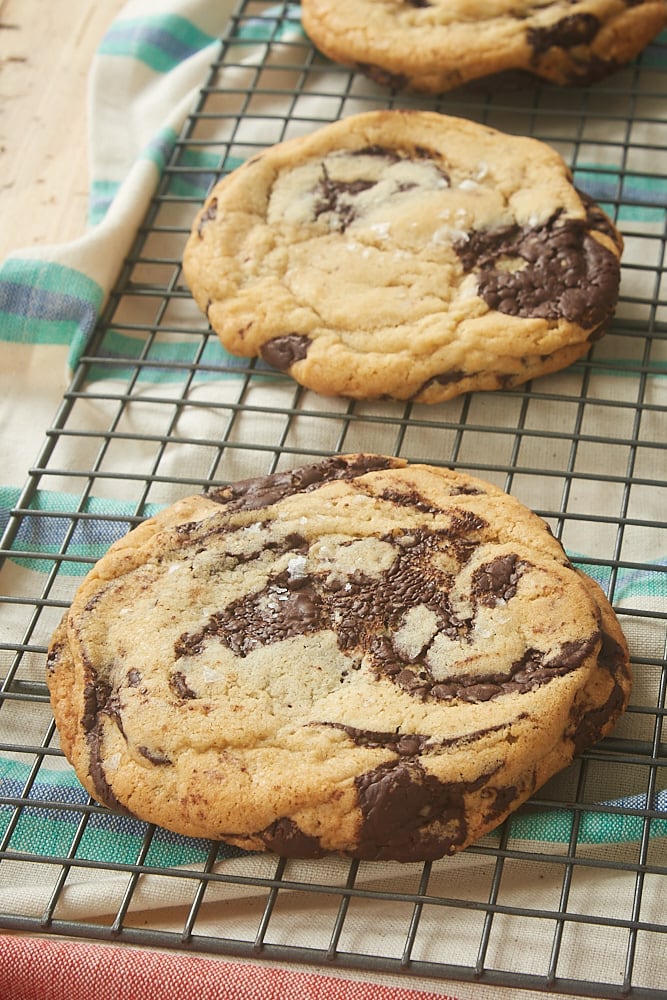 The different chilling times basically present a scale of crispiness and chewiness with some flavor differences, too. The 24-hour cookies were crispier, whereas the 72-hour cookies were softer and chewier. The 48-hour cookies were in the middle of the scale, with soft cookies that had a crispy outside.
We thought the 48- and 72-hour cookies had the best flavor. That chilling time allows the flavors to meld together and become magical. The dry ingredients absorb some of the moisture from the wet ingredients, giving you a firm dough. Honestly, I'd be happy with the cookies from either of those chilling times, which allows me some leeway in when I bake the dough if I've got some in the refrigerator. That's not to say the 24-hour cookies weren't really, really good. Honestly, you can't go wrong!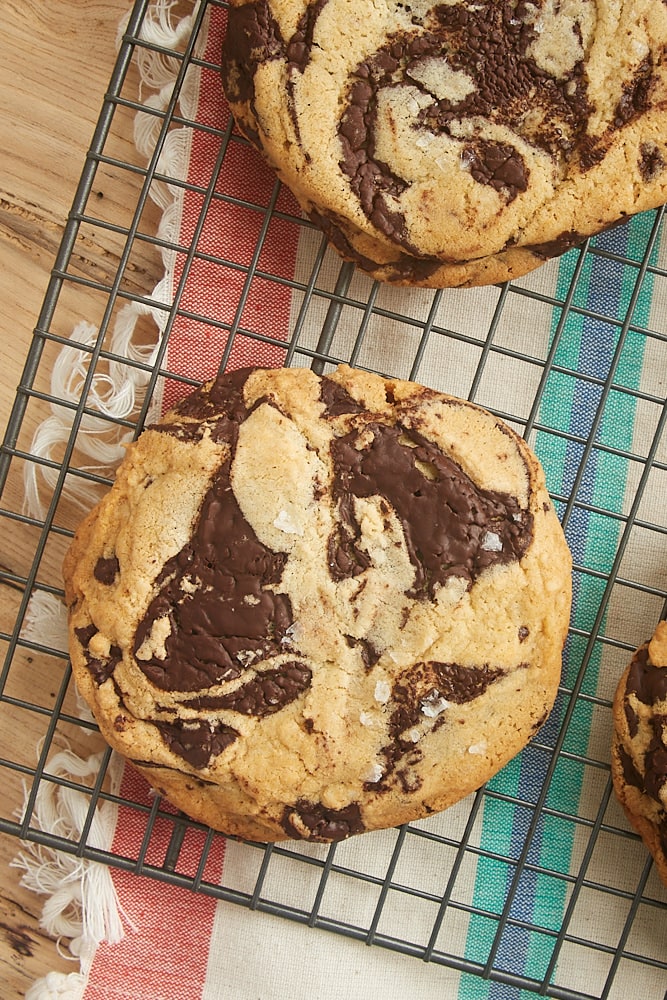 Measurements Matter
My tips for making these cookies are fairly simple. If you have a scale, this is definitely the time to use it to measure your ingredients. (And if you don't, you can get one pretty inexpensively. I have this scale and it serves me well.) You'll get a better result with accurate measurements, and it simplifies the whole process. I also highly recommend that you use a scale to portion the cookie dough. Again, it's easier and you'll get more evenly baked cookies if they're all the same size. Use a #14 or #16 scoop (about 1/4 cup) to get in the ballpark and then adjust from there as needed.
What Kind of Chocolate to Use
For the chocolate in these cookies, the recipe recommends chocolate discs. I usually have those in my pantry for when I need to melt chocolate. Those chocolate disks will melt as the cookies bake, spreading throughout the cookies into magical chocolate puddles. There are several brands available, with Guittard probably being the most available. I used Jacques Torres chocolate for the full experience, but any good brand will do. You won't get the same result from standard chocolate chips, so try to get chocolate discs if you can. Otherwise, I'd go with roughly chopped chocolate over chocolate chips.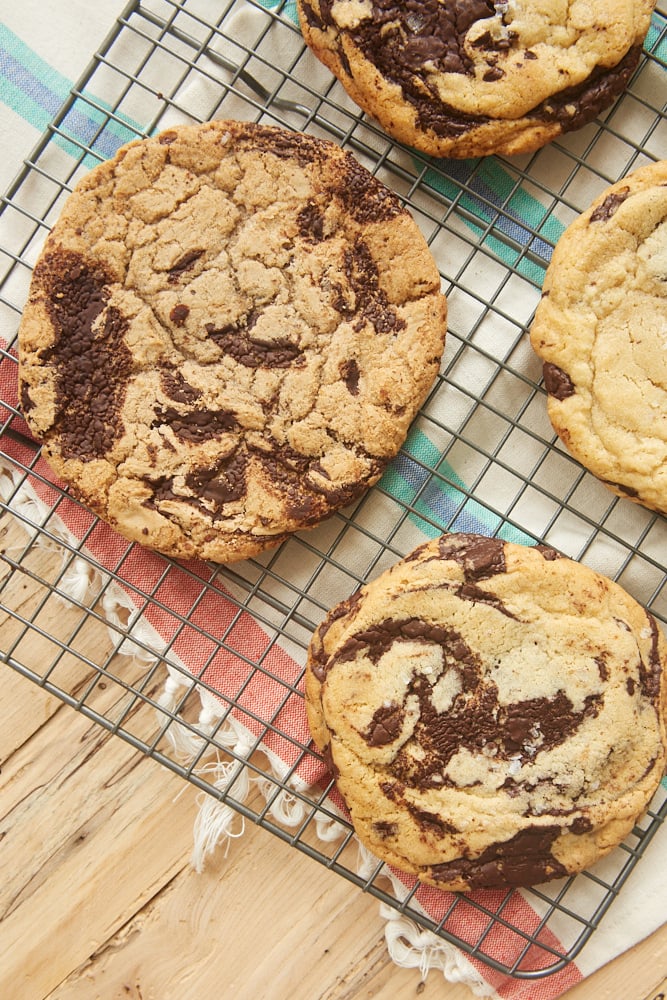 How They Compare to the Original
I got a few of the original Jacques Torres Chocolate Chip Cookies from his shop to compare. You can see the store-bought kind alongside my version in the photo above. Honestly, we thought that the ones I baked were a little better, but that can be chalked up to freshness and small-batch baking. I'll still gladly enjoy one from his shop whenever I have the opportunity.
This has been quite a lengthy discussion about a cookie, but there's plenty going on here to warrant it. While there's some fussiness in making them, it all comes down to the cookies. And they are beyond amazing. The texture, the flavor, just the whole package is just fantastic. While I'd likely pick a simpler recipe when I've got a chocolate chip cookie craving, I highly recommend baking a batch of Jacques Torres Chocolate Chip Cookies when you want an all-out chocolate chip cookie experience.
Find more cookie recipes in the Recipe Index.
More Chocolate Chip Cookie Recipes