These easy mini chocolate chip cookies are tiny bites of deliciousness. Be warned, though: they are addictive!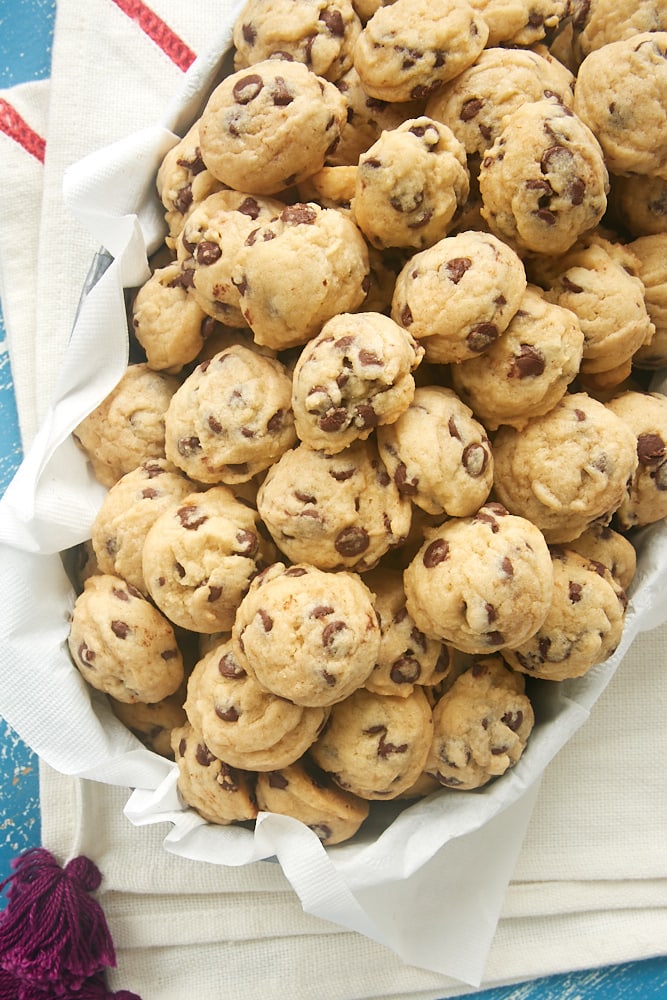 Irresistible Mini Cookies Perfect for Gifting!
How adorable are these teeny tiny cookies?!? You know I've got a thing for mini desserts, and I honestly don't know how I've waited so long to share mini chocolate chip cookies with you.
These mini chocolate chip cookies are a bite-size variation of my go-to chocolate chip cookie recipe, which serves as a starting point for many of the chocolate chip cookie variations I bake, from chewy chocolate chip cookies to my giant chocolate chip cookie. This recipe is whittled down to have no frills or gimmicks. They're just really good chocolate chip cookies!
Eating these cookies is a bit of a double-edged sword. Their tiny size gives you the illusion of portion control, but I'll warn you that it's easy to just pop one after the other into your mouth until you've lost track of how many you've eaten. I'm sure you'll find plenty of restraint, but I also recommend not sitting within arm's reach of a big bowl of these. It's a bit too easy to grab just. one. more. cookie.
These mini chocolate chip cookies are great for times you want to share an easy dessert. Set out a big bowl of these when you're entertaining a crowd for a help-yourself sweet treat. They're also great for gifts. These little bags pictured here hold about 6 cookies each for a homemade thank you or favor. I think you'll find that these little cookies are just the thing for so many occasions!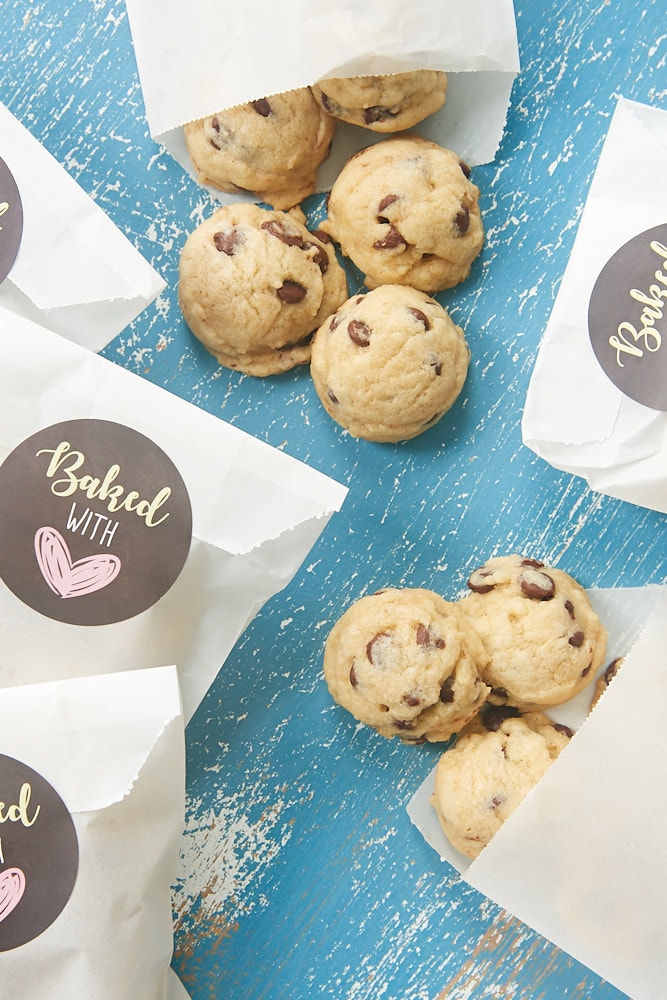 What You'll Need
Scroll down to the recipe card to find the ingredient quantities and recipe instructions.
Can I Substitute Regular Chocolate Chips for Mini Chocolate Chips?
You'll want to use mini chocolate chips here; regular chocolate chips would overwhelm these little cookies. If you only have regular chocolate chips or even chocolate discs or bars, try chopping them into smaller pieces to mimic the size of mini chips.
How to Make Mini Chocolate Chip Cookies
If you've made other chocolate chip cookie recipes before, the technique here will be nothing new. The only difference is the size!
Prepare. Preheat your oven to 350°F and line baking sheets with parchment paper or silicone liners.
Mix the dry ingredients. Whisk the flour, baking powder, baking soda, and salt in a mixing bowl.
Mix the wet ingredients. Use an electric mixer on medium speed to cream the butter and sugar until they're light and fluffy. Beat in the eggs one at a time, followed by the vanilla.
Finish the batter. Reduce the mixer speed to low, then slowly add the dry ingredients, mixing just until combined. Fold in the chocolate chips.
Bake. Drop the dough by half-tablespoon portions onto the prepared pans. Bake for 7 to 9 minutes, or until the cookies are lightly browned.
Cool. Let the cookies cool on the pan on a wire rack for 5 minutes. Then, transfer the cookies directly to the wire rack to finish cooling. (Learn more: Why Every Baker Needs Wire Cooling Racks)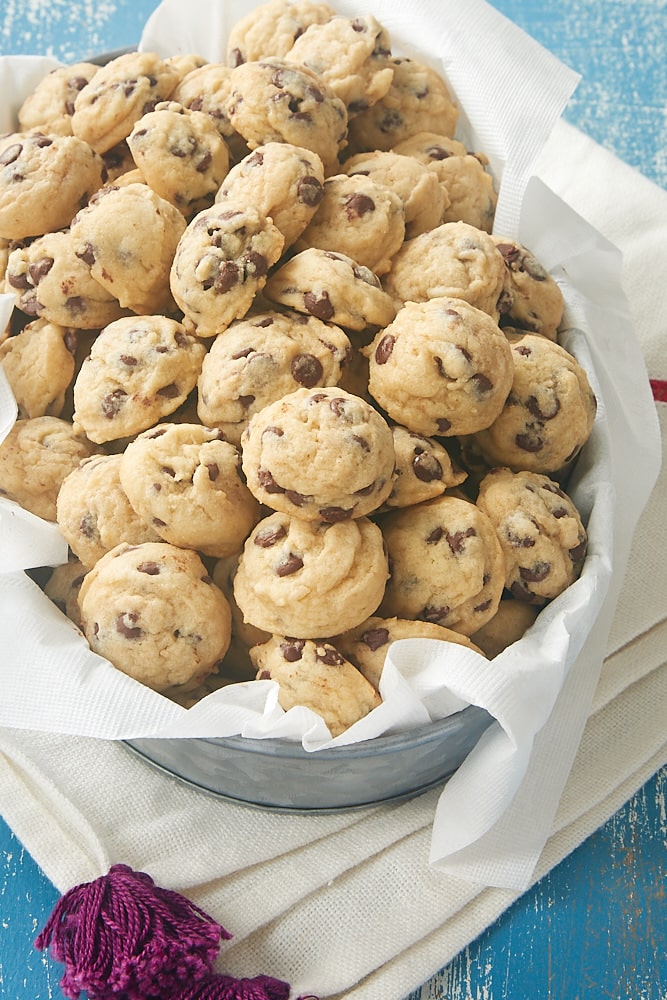 Tips for Success
Read over my baking tips for beginners, then follow these additional tips for perfect mini chocolate chip cookies:
Prevent spreading. Keep the dough refrigerated between batches, and if you have to reuse your baking sheets, be sure to let them cool before starting the next batch. Not only will this keep the cookies from spreading, but it will prevent the bottoms from over-baking.
Use a cookie scoop. I use a half-tablespoon scoop to portion the dough for these cookies. I always recommend using a cookie scoop for drop cookies, but I feel it's really important with these little guys. You'll get consistent sizing to help make sure that they all bake evenly.
Save some dough for later. This recipe makes A LOT of cookies. I can tell you from experience that scooping fatigue is a real thing. You can certainly scale the recipe down to suit your needs, but I like to make a full batch and keep some portioned, unbaked cookie dough in the freezer for those times you need a little something sweet. (See How to Freeze Drop Cookie Dough for my tips.)
Variations
You can replace some of the mini chocolate chips with chopped pecans and walnuts if you like a little nutty flavor and crunch in your cookies.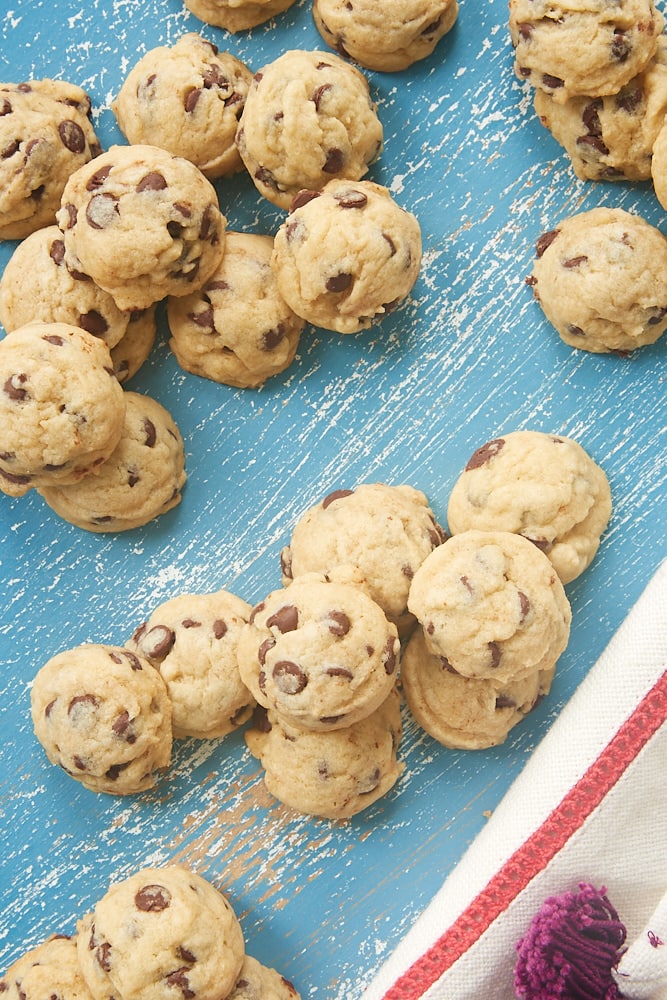 How to Store
Store any leftover mini chocolate chip cookies in an airtight container at room temperature up to 3 days.
Can This Recipe Be Frozen?
For longer storage, mini chocolate chip cookies can be frozen up to 3 months in a freezer-safe container or bag. Thaw on the countertop before serving.
The cookie dough also freezes well up for to 3 months. Just portion and freeze until solid, then transfer to a freezer-safe container.
More Mini Chocolate Desserts