This fun, tasty Chocolate Chip Cookie Cake is not only a breeze to make but also a surefire way to elevate your celebrations, big and small!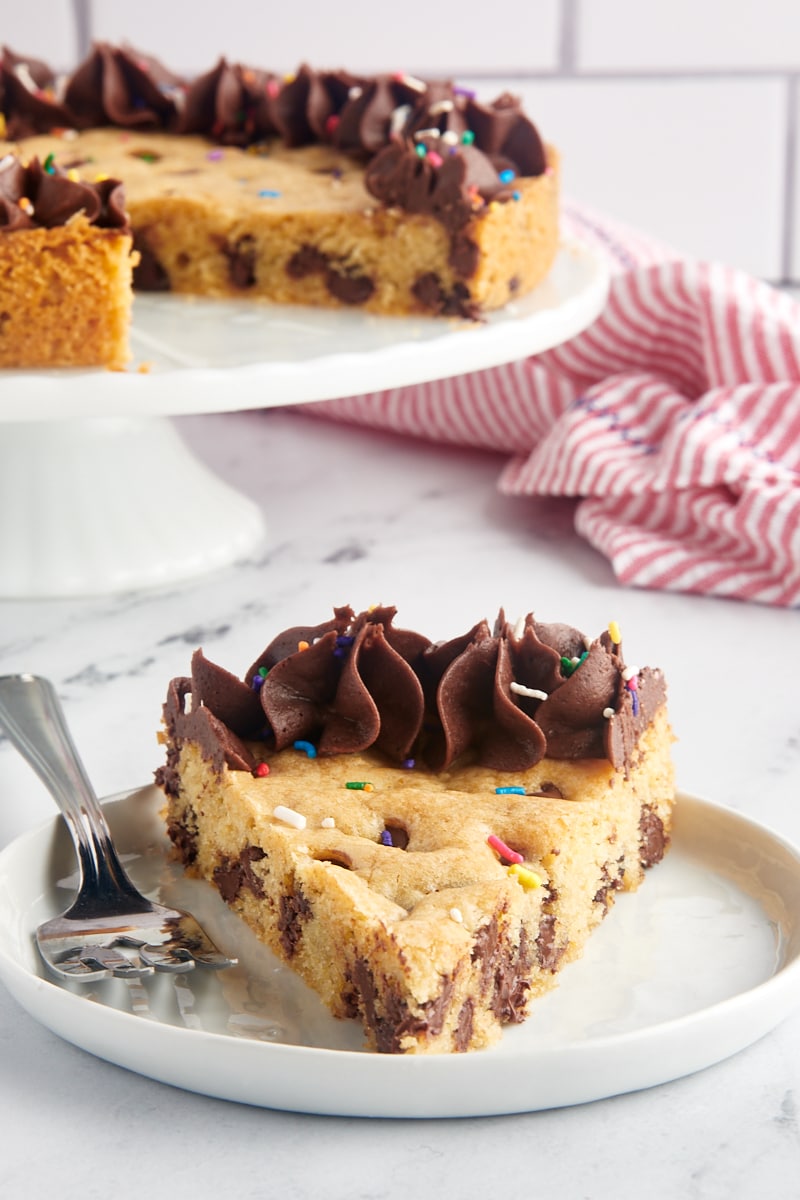 Homemade Chocolate Chip Cookie Cake
When it comes to desserts that combine simplicity with crowd-pleasing appeal, few treats can hold a candle to a chocolate chip cookie cake. The combination of sweet, soft, chocolate-y cookie with the undeniable charm of a homemade dessert is irresistible.
I'm guessing most of us have had one of those cookie cakes from mall cookie stores or supermarket bakeries. While those are great, this homemade version is about a thousand times better. And it's wonderfully easy to make, too.
This is just the kind of dessert that can turn most any ordinary day into a celebration! It's also likely to be requested again and again. Get ready to make this chocolate chip cookie cake on repeat!
Looking for a more traditional chocolate chip cookie recipe? Try chewy chocolate chip cookies, small batch chocolate chip cookies, or brown sugar oatmeal chocolate chip cookies.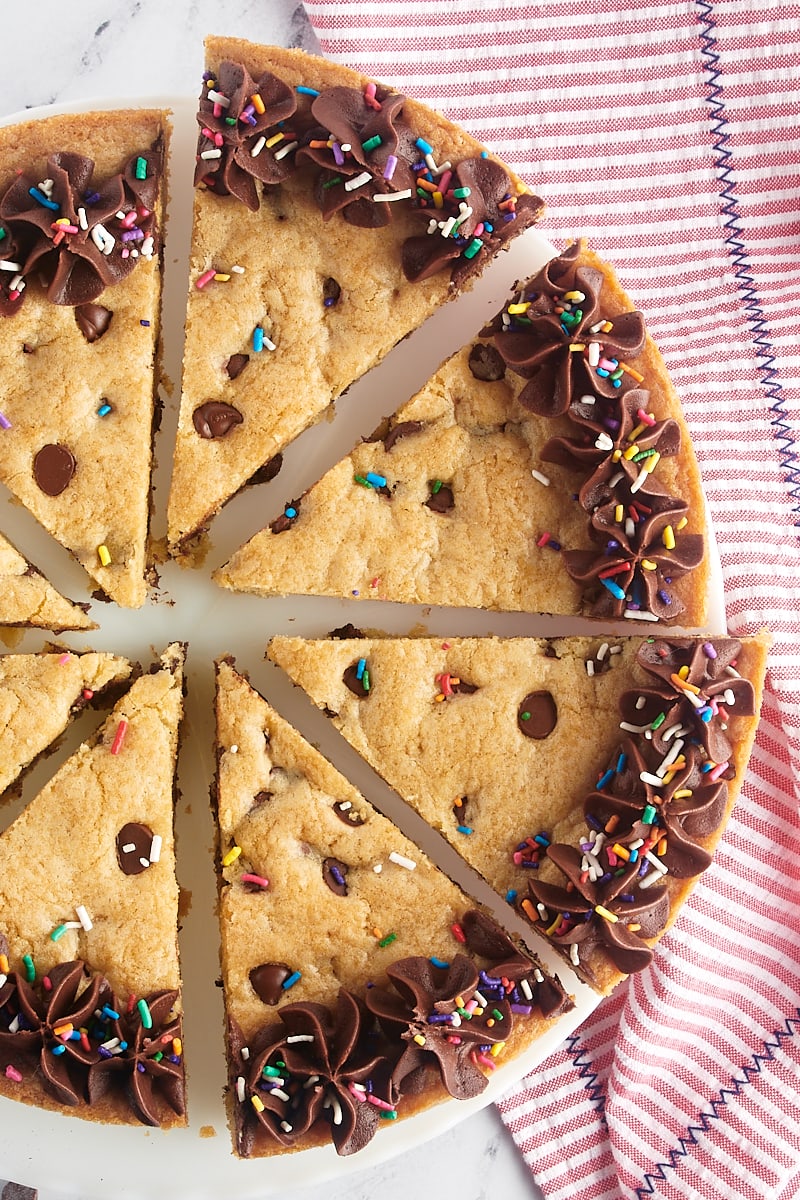 Why You'll Love this Chocolate Chip Cookie Cake Recipe
Very easy to make. Seriously, this is one easy recipe made with basic baking ingredients.
Quick, too. There's no chilling and no fussy steps. You'll have this cookie cake mixed and in the oven in a matter of minutes.
Soft texture. This is not just any old cookie baked in a cake pan; it's especially designed to create a soft, cake-like texture.
Worthy of a celebration. Add a little frosting and some sprinkles, and you've got a pretty, happy dessert that's perfect for celebrating a birthday, a new job, a random Tuesday, or any other reason you can conjure!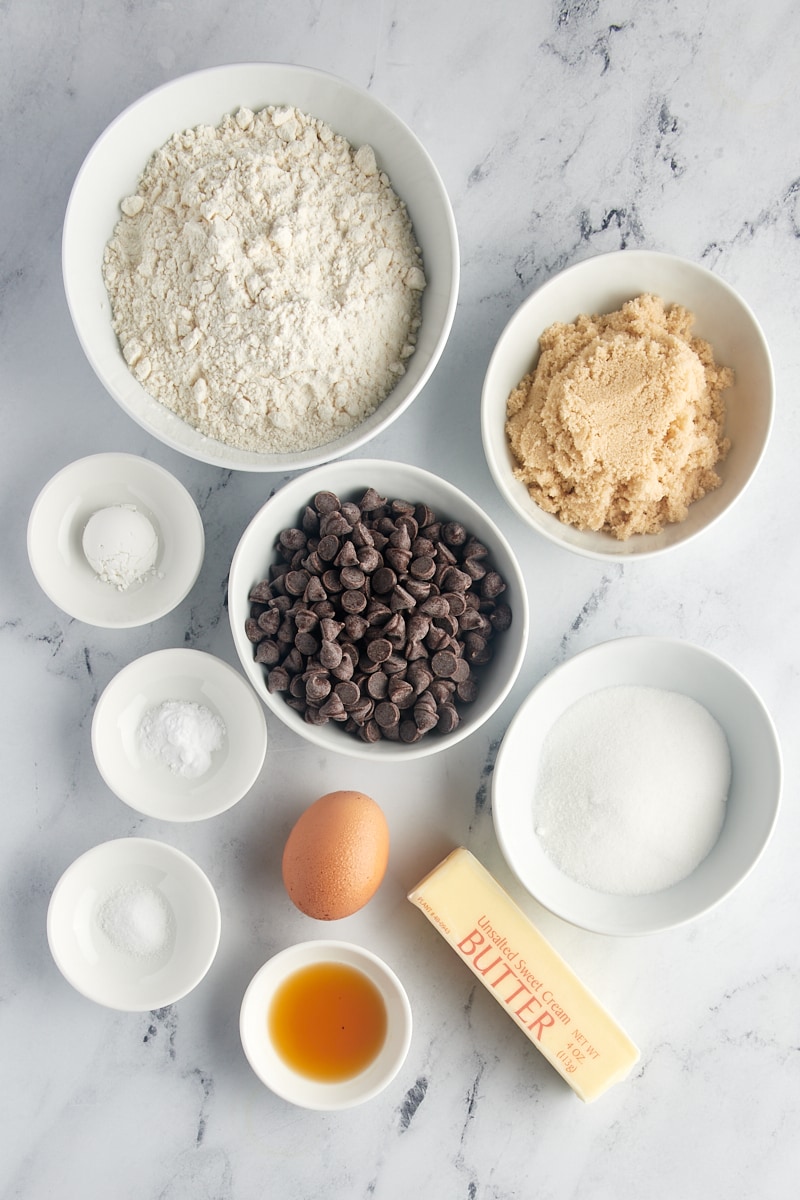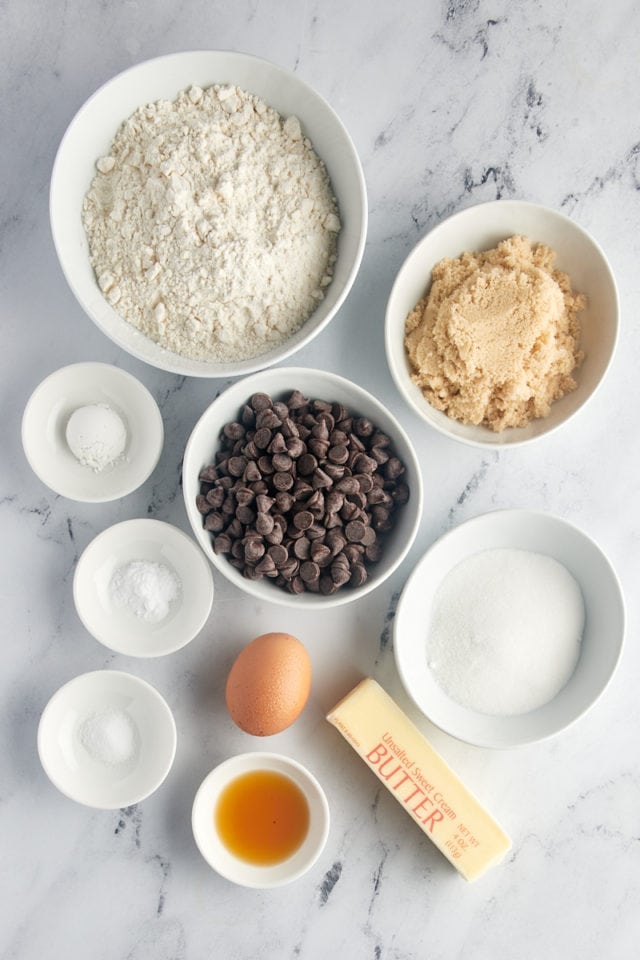 What You'll Need
See the recipe card at the bottom of this post for ingredient quantities and full instructions. Here are some notes about the ingredients you'll need to make your chocolate chip cookie cake.
For the cookie cake:
All-purpose flour – Measure by weight or use the spoon and sweep method. Learn more: How to Measure Flour
Cornstarch – This helps give this cookie cake its soft texture.
Baking soda
Salt
Unsalted butter – Using melted butter contributes to the chewy, soft texture. After melting it, let it cool until it's still warm but not hot.
Brown sugar – This also helps make this cookie cake nicely soft. I recommend light brown sugar here. Be sure it's firmly packed or (even better) measure by weight.
Granulated sugar
Egg – Set this out before baking so it can come to room temperature.
Vanilla extract
Chocolate chips – I like semisweet chocolate chips for a traditional take, but you can use milk chocolate, bittersweet, white chocolate, or a combination.
For the frosting:
Unsalted butter – Let this soften at room temperature before mixing. Learn more: How to Soften Butter
Confectioners' sugar – This is also called powdered sugar. You may want to sift the sugar, especially if yours is lumpy.
Cocoa powder – Use unsweetened cocoa powder, not the sweetened kind used for making hot chocolate.
Heavy cream – You can use milk instead, but expect a slightly different consistency.
Vanilla extract
Salt
Sprinkles! – These are optional, of course, but add a happy burst of color for your celebration!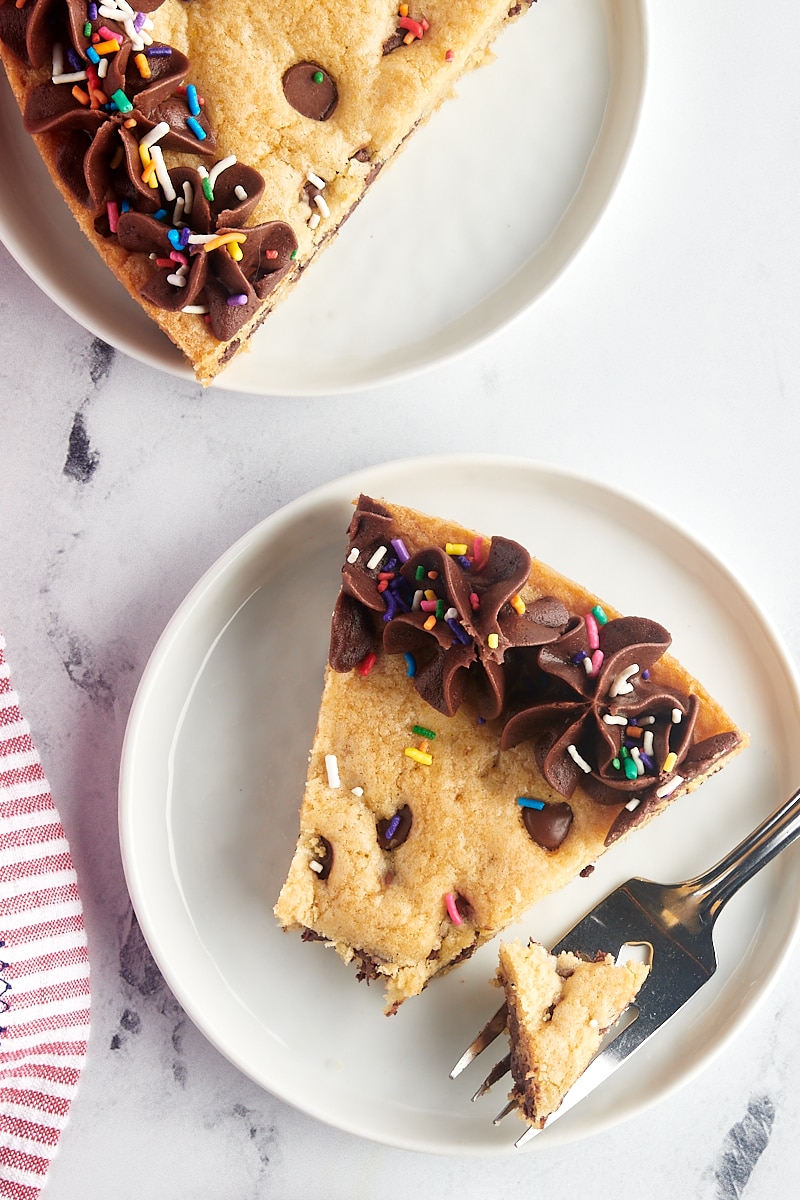 How to Make a Chocolate Chip Cookie Cake
This chocolate chip cookie cake is an easy baking project for bakers of all skill levels. Here's what you'll need to do:
Make the Cookie Cake
Prepare for baking. Heat the oven to 350°F. Grease a 9-inch round cake pan. If you like, first line the bottom of the pan with parchment paper.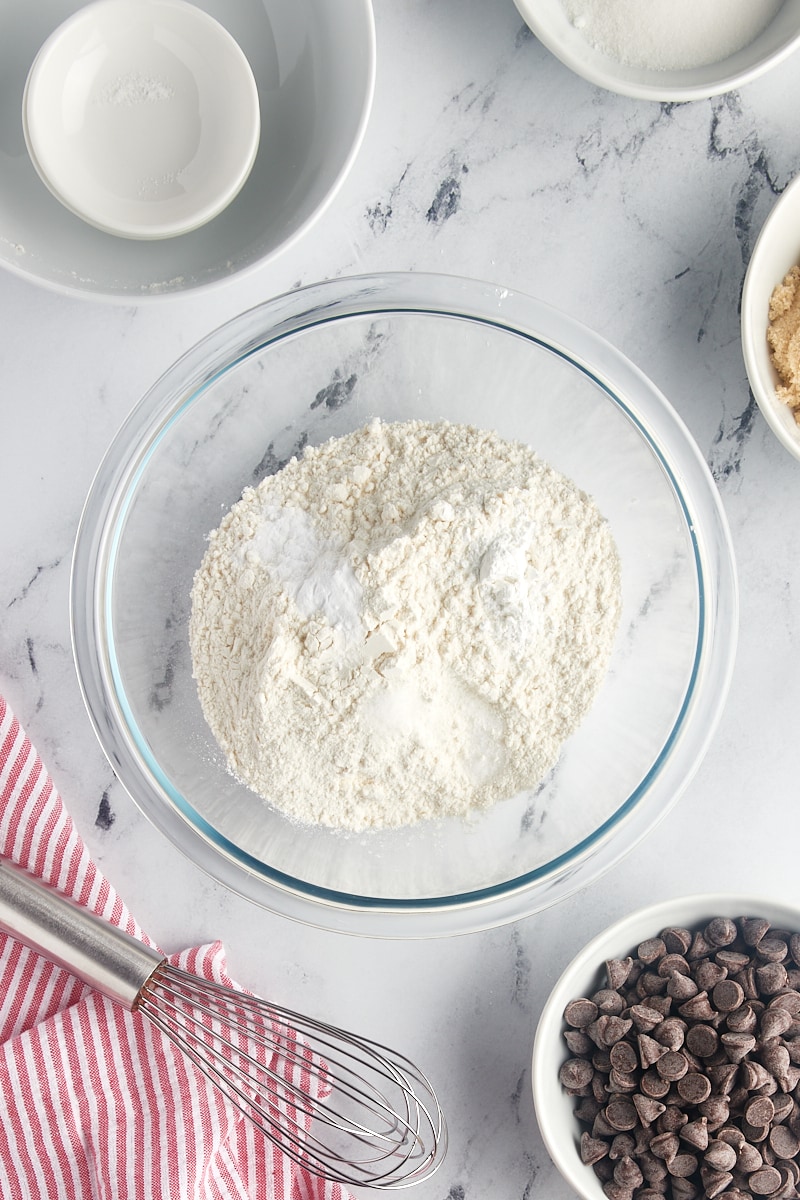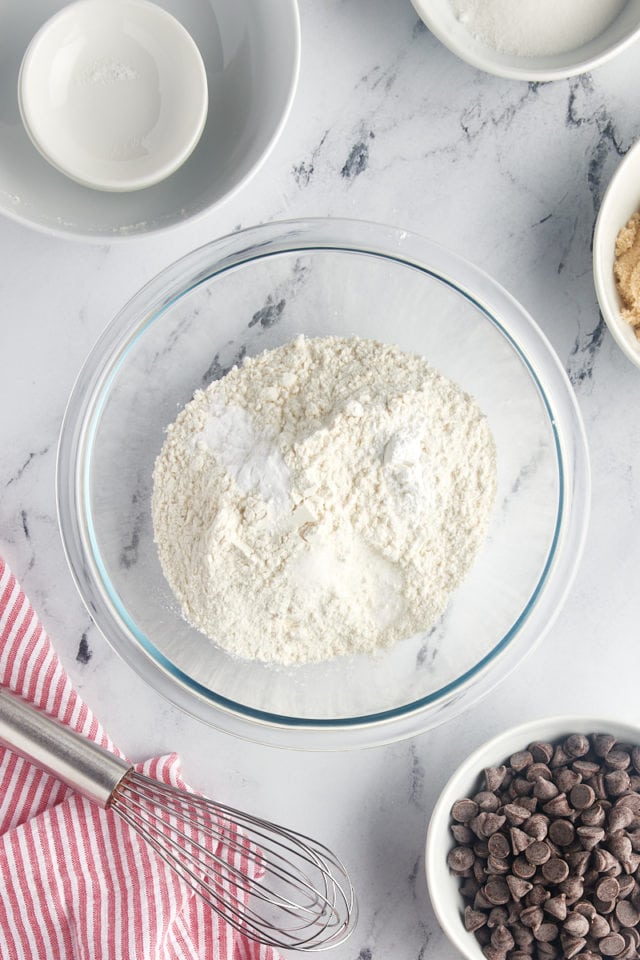 Combine the dry ingredients. Whisk together the flour, cornstarch, baking soda, and salt.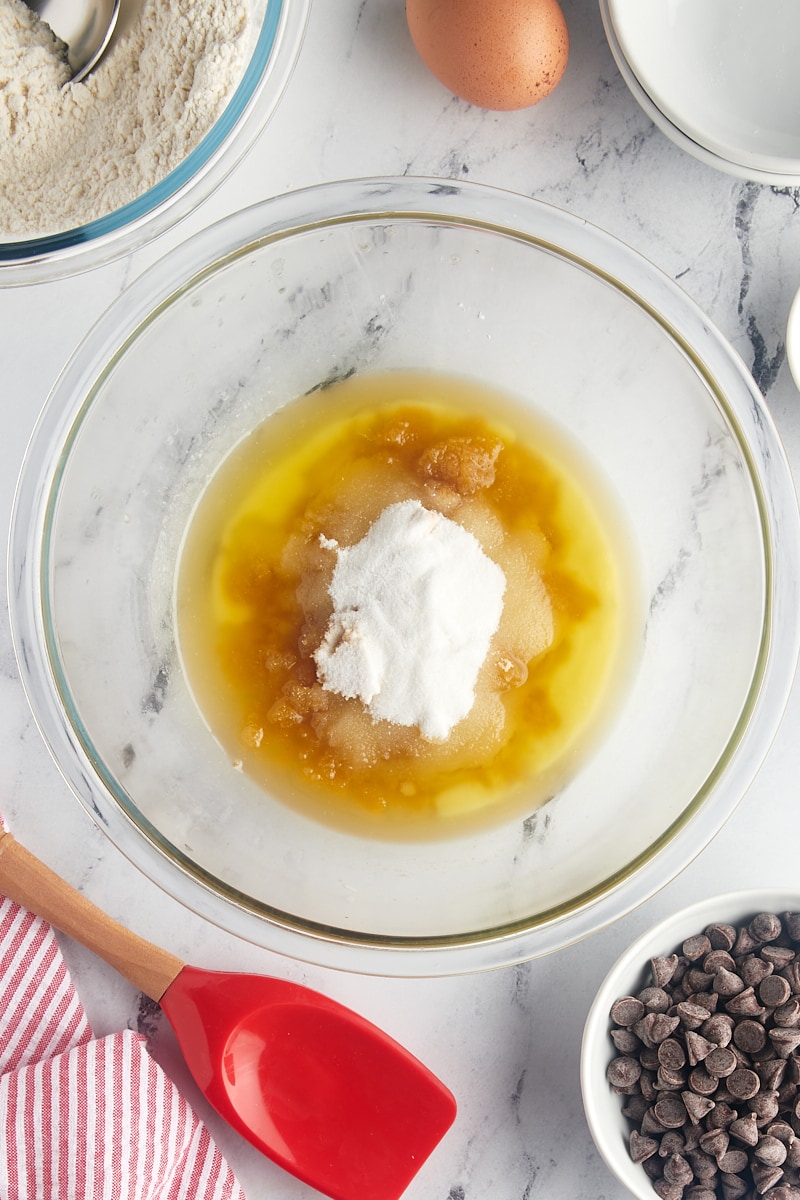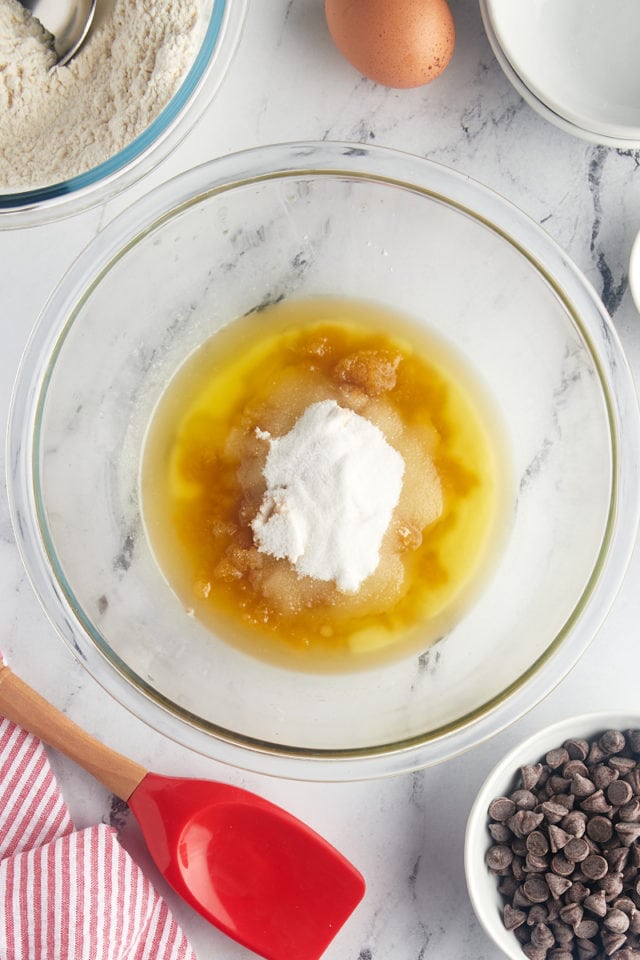 Combine the wet ingredients. Stir together the butter, brown sugar, and sugar in a large mixing bowl until thoroughly mixed. Add the egg and vanilla, and mix until combined.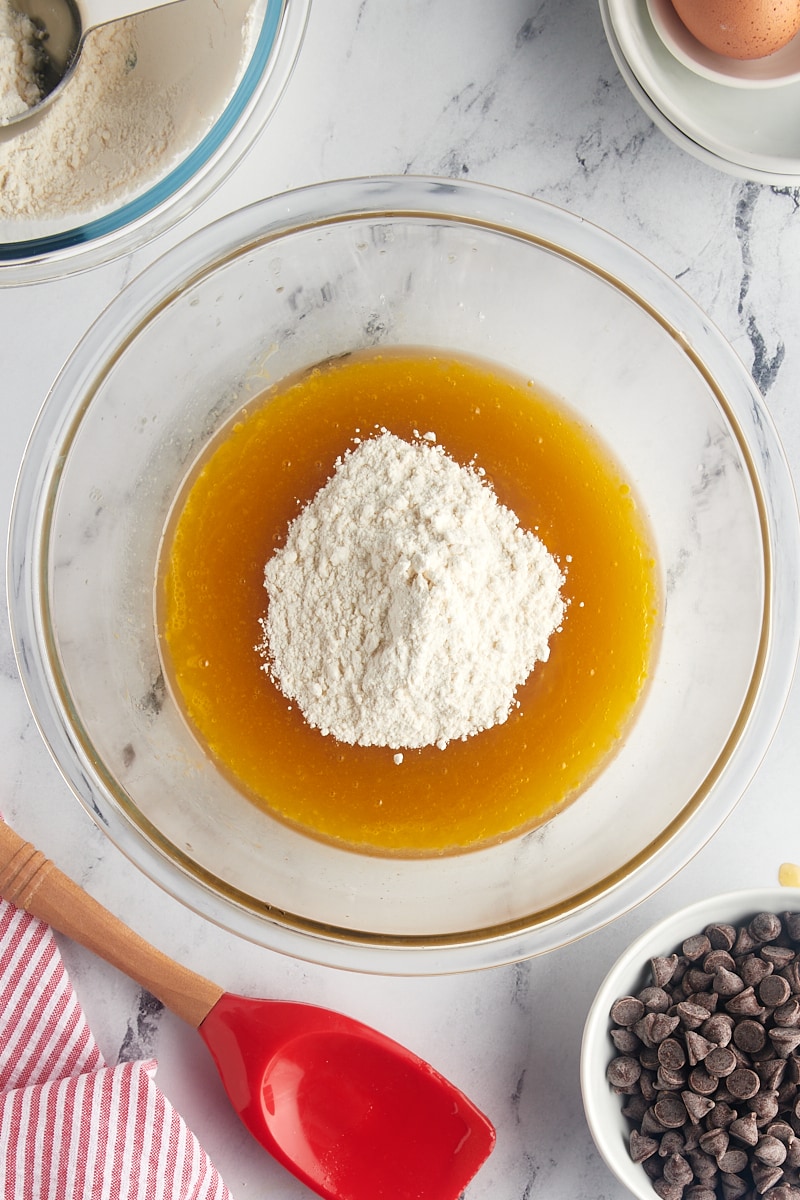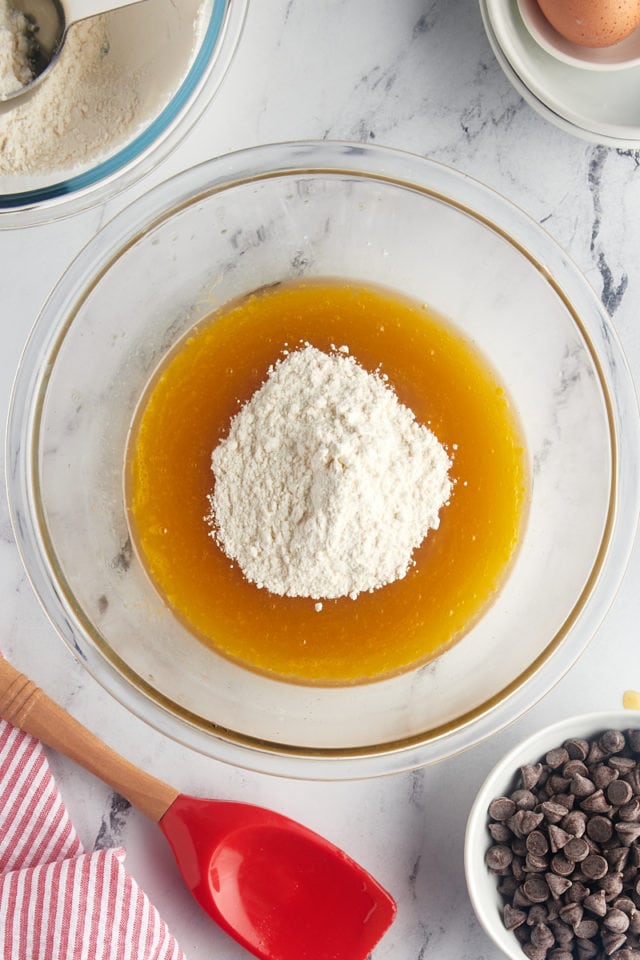 Finish mixing. Gradually stir the flour mixture into the butter mixture. Don't over-mix; mix just until combined or a few small streaks of flour remain. Stir in the chocolate chips.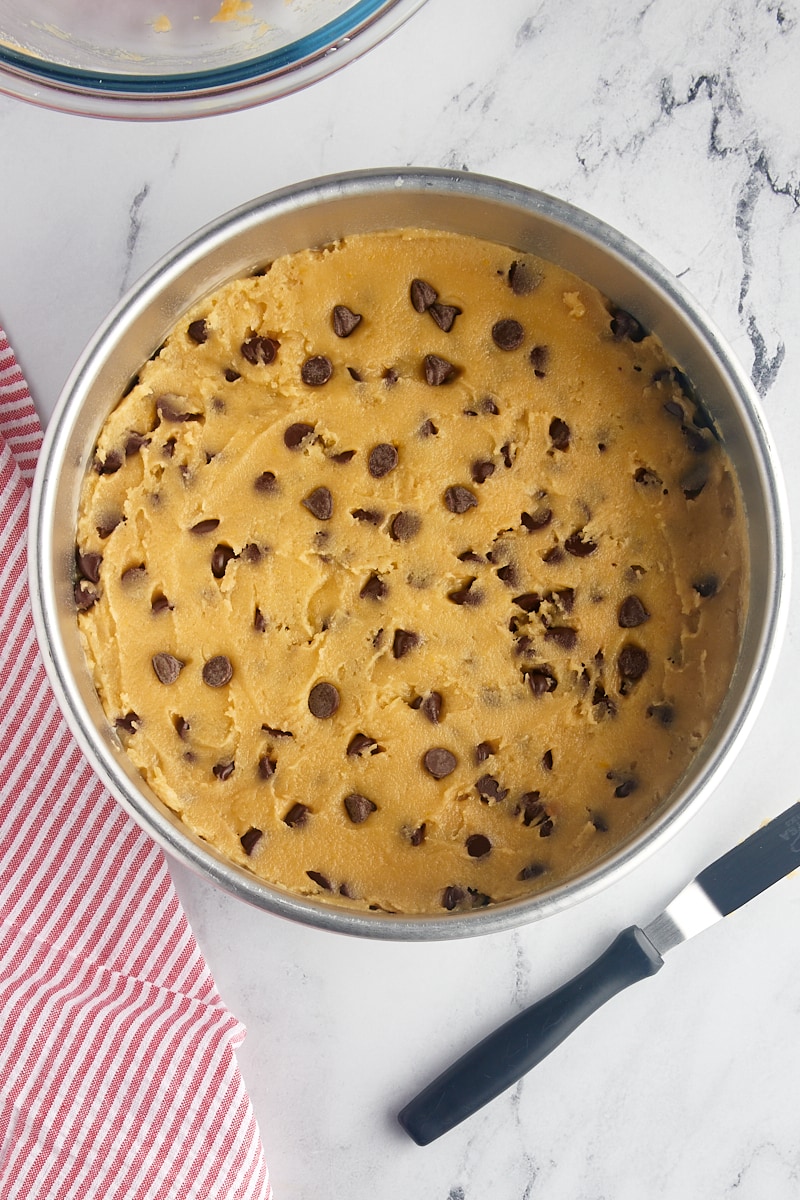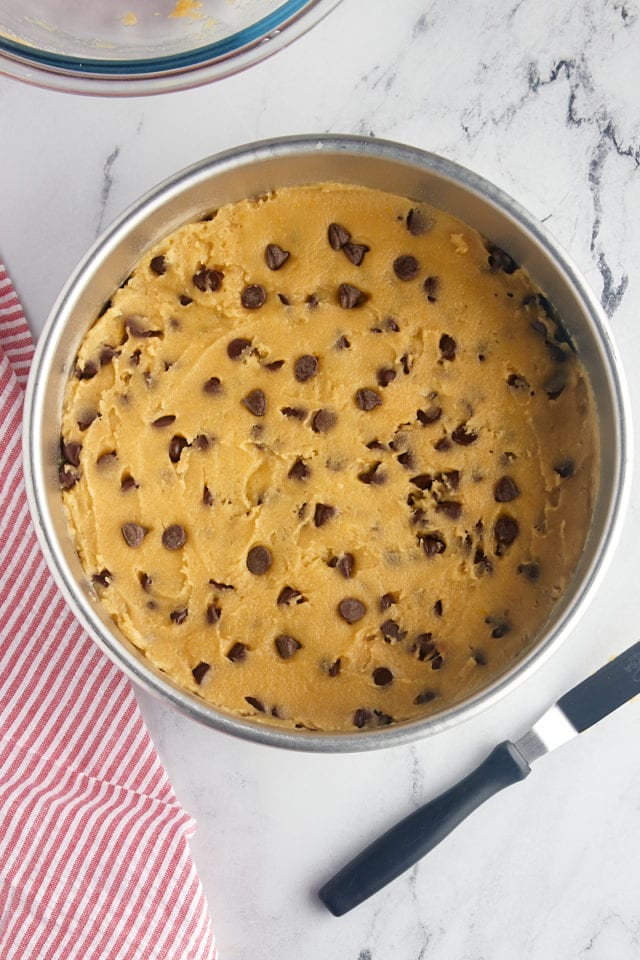 Bake. Spread the cookie dough evenly in the prepared pan, and bake for 20 to 25 minutes or until the cookie cake is golden brown and appears set.
Cool. Place the pan on a wire rack, and allow it to cool completely before removing it from the pan.
Make the Frosting and Decorate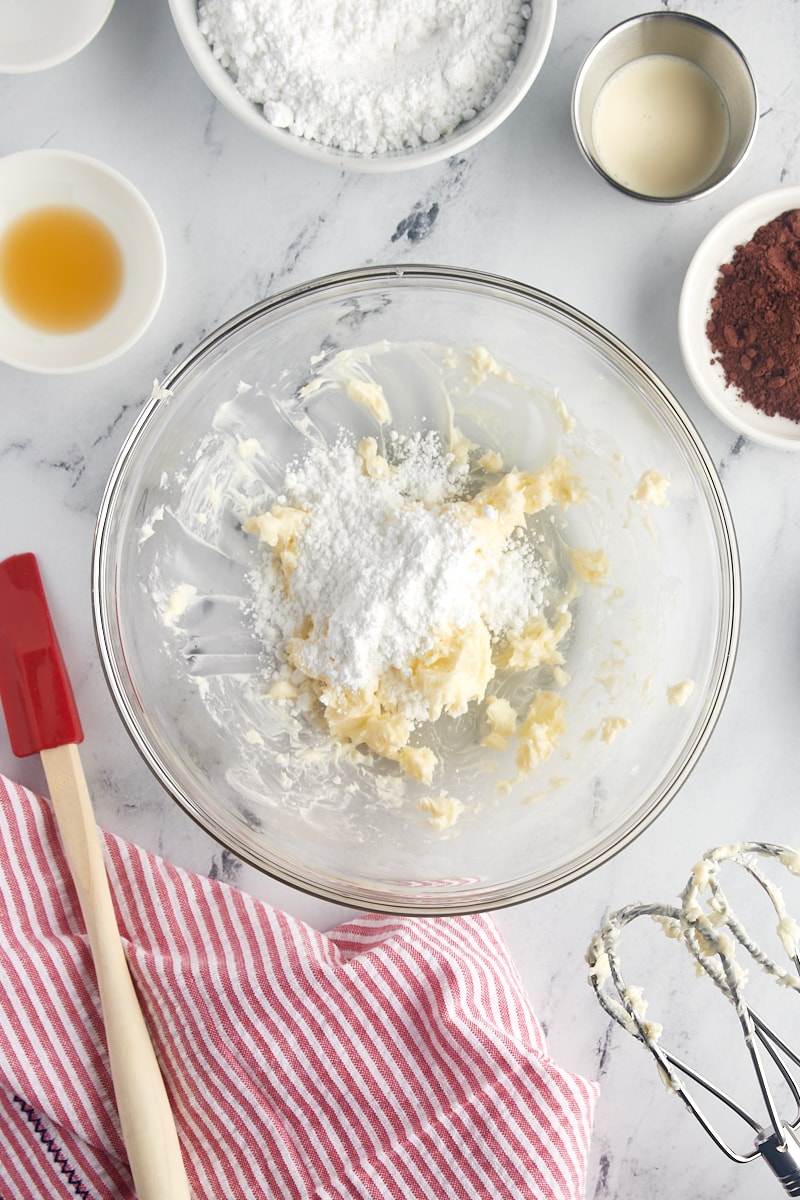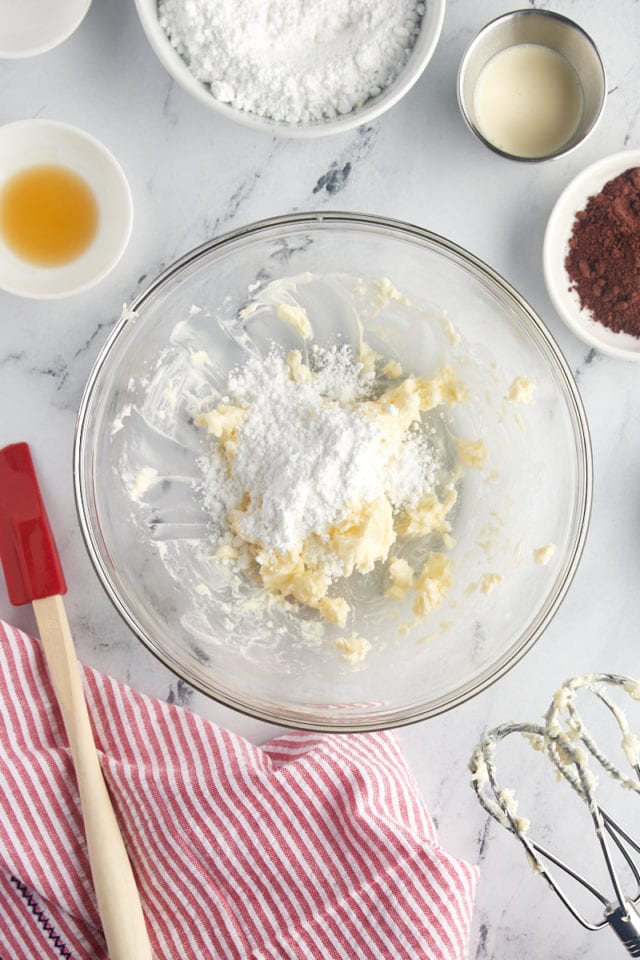 Mix the ingredients. With an electric mixer on medium speed, beat the butter until it's creamy. Continue mixing, gradually adding the confectioners' sugar, cocoa powder, 1/2 tablespoon cream, vanilla, and salt. Mix until thoroughly combined and fluffy. If needed, add more cream in small amounts until the frosting is the consistency you want.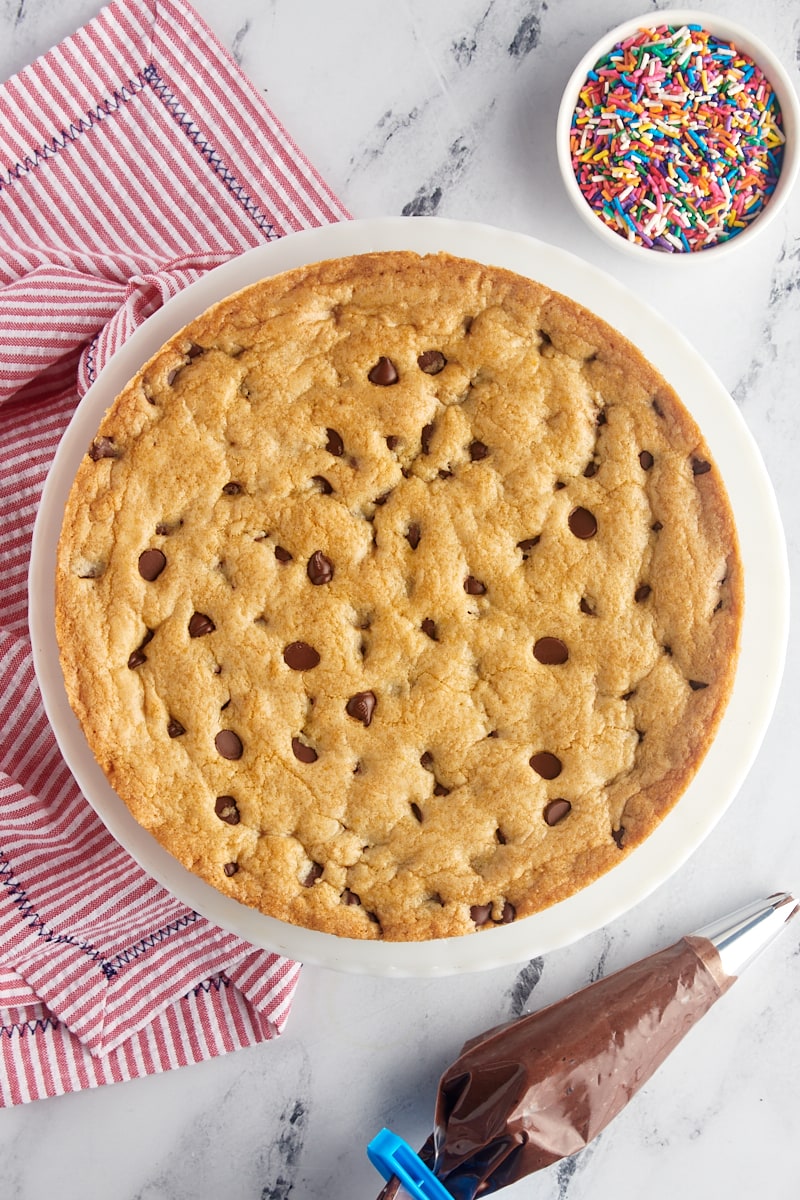 Decorate the cake. Transfer the frosting to a piping bag, and pipe the frosting onto the cooled cake. Garnish with sprinkles.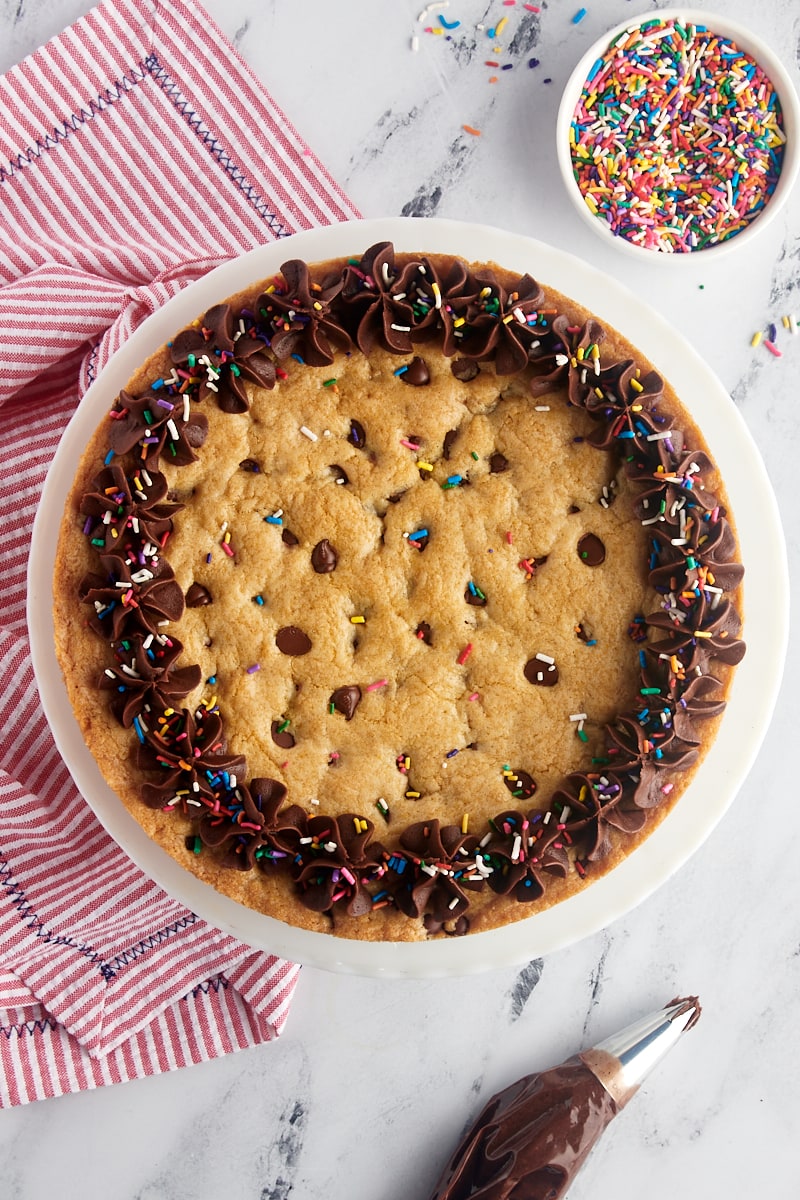 Tips for Success
You'll love how easy it is to make this chocolate chip cookie cake! Here are some tips to help make sure yours turns out perfectly.
Don't over-mix. Too much mixing creates a tough texture.
Spread evenly. You want the cookie cake to be flat and even when baked, so take a minute to make sure that's it's evenly spread in the pan.
Don't over-bake. Otherwise, the cookie will lose its soft texture. It should be a nice golden brown and appear set.
No piping bag? Use a zip-top plastic bag with a corner snipped to simulate a piping bag.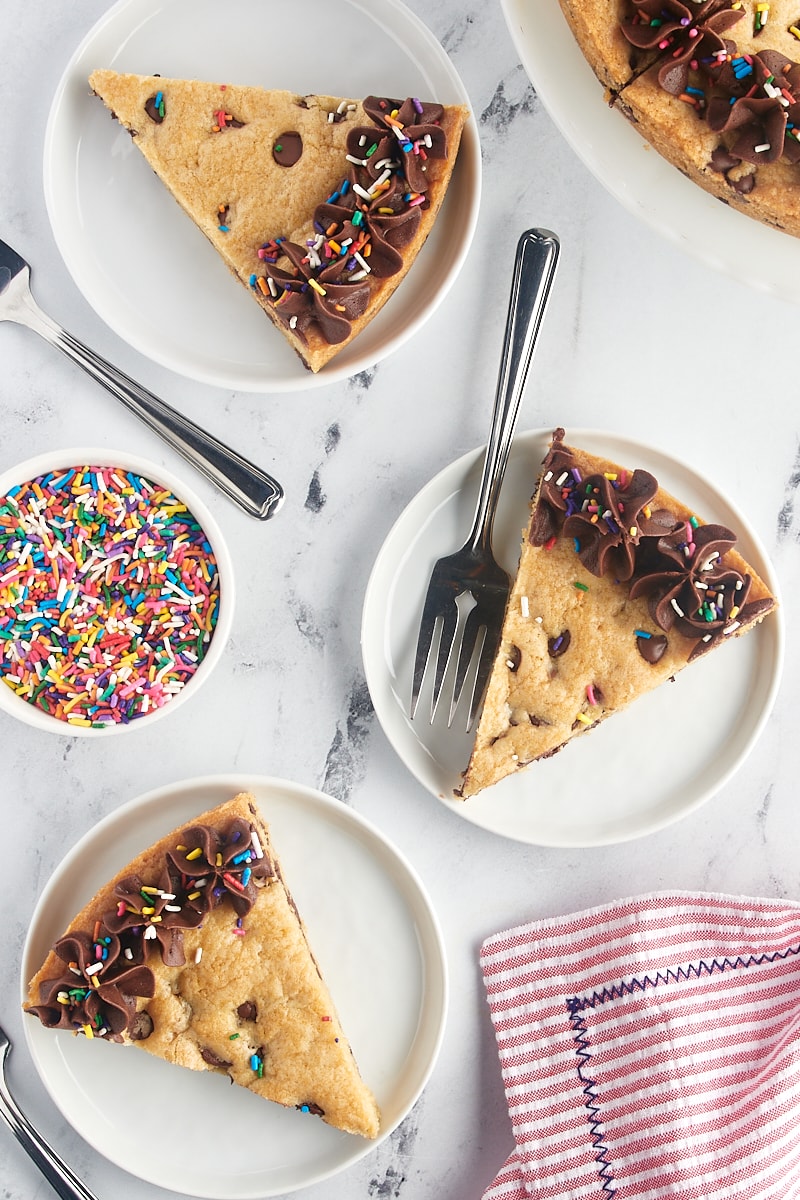 Ideas for Variations
There are plenty of ways to make this cookie cake your own. The easiest way is to change the add-ins from just chocolate chips to another favorite baking chip or a combination. Or try adding nuts, toffee bits, dried fruit, or any of your other preferred cookie add-ins. Just keep the proportions the same, and you're golden!
You can also change the frosting if you like. I have a soft spot for chocolate, so that's my usual choice. But a simple vanilla buttercream (like the one with my frosting-filled thumbprint cookies) works really well, too. You can even add a bit of food coloring for a vibrant twist. Or leave it unfrosted for a simpler dessert.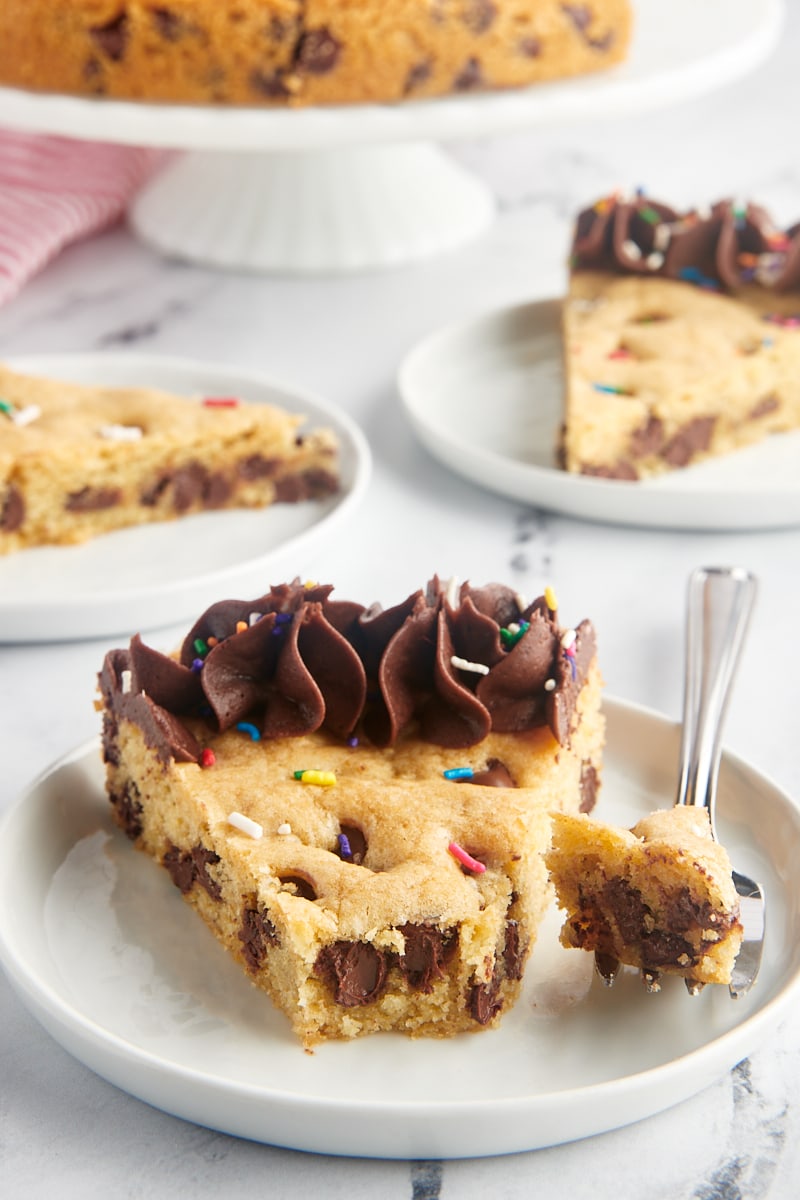 How to Store
Store this chocolate chip cookie cake in an airtight container at room temperature up to 3 days. If you're storing individual slices, store them in a single layer to keep the frosting looking its best. You can also store the cookie and make the frosting when you're ready to serve.
Can This Dessert Be Frozen?
Yes, you can freeze this chocolate chip cookie cake. If you want to freeze it with the frosting, first place the whole cake or individual slices on a rimmed baking sheet and freeze until the frosting has solidified (about 2-3 hours). Then transfer to an airtight, freezer-safe container. Thaw for an hour or so at room temperature before serving. You can also store the unfrosted cookie cake well-wrapped in the freezer.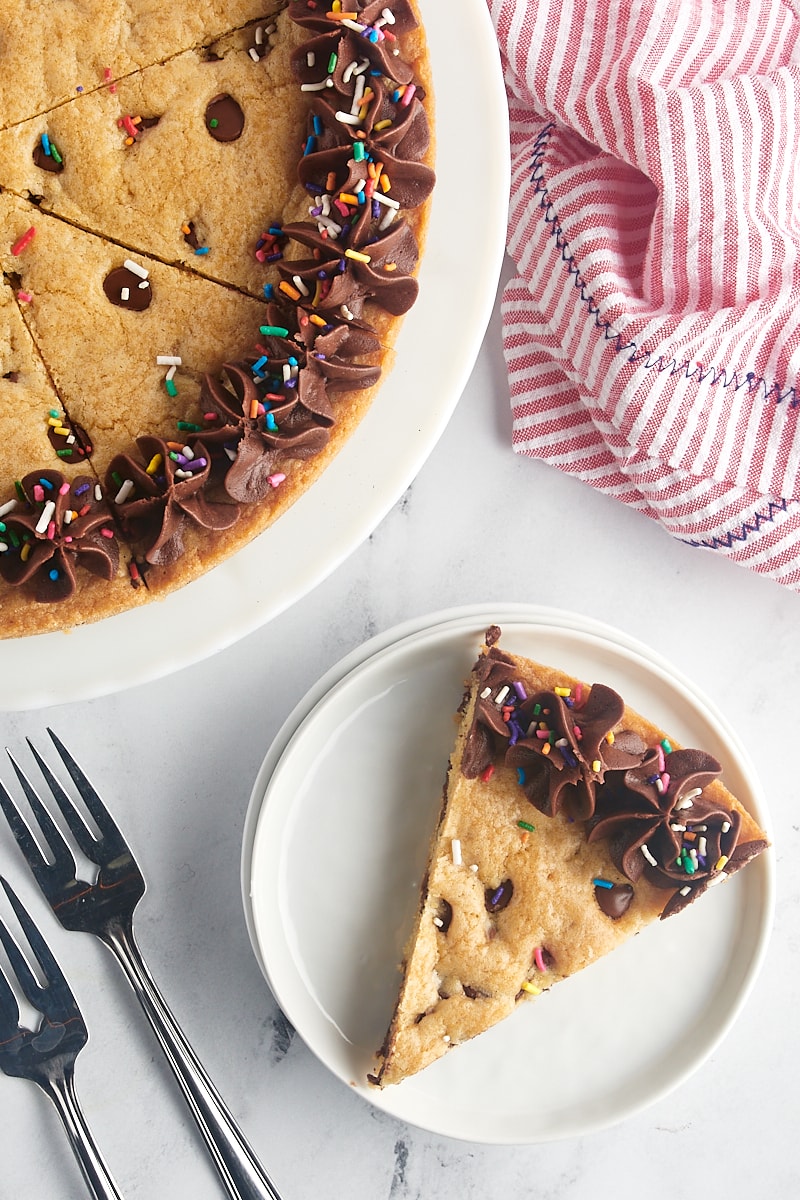 More Celebration Desserts