Want to make homemade cookies, but not ready to commit to a big batch of them? Scale down dessert and make a small batch of chocolate chip cookies!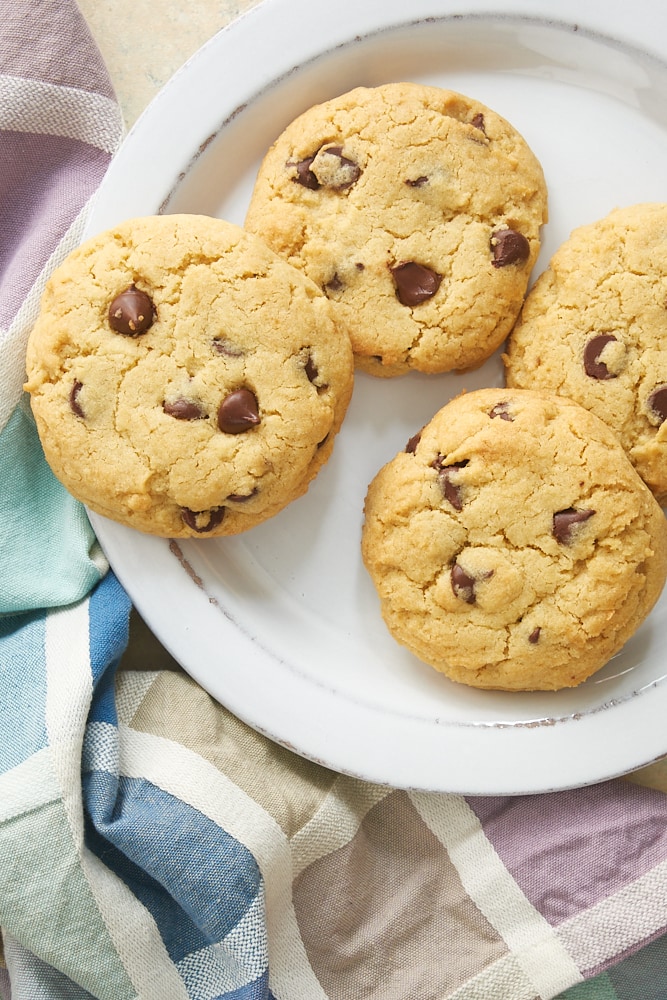 Chewy Small Batch Chocolate Chip Cookies
Do you sometimes find yourself craving cookies but don't want to make a big batch? That's where these Small Batch Chocolate Chip Cookies come in. This recipe is a great way to make a handful of cookies to feed a few (or just you, ahem, speaking from experience!).
This is a scaled-down version of my go-to base chocolate chip cookie recipe. It makes soft and chewy chocolate chip cookies that come out perfectly every time! If you like a no-fuss chocolate chip cookie, then I think you'll be pleased with them. I keep things simple with just chocolate chips added to the dough, but you can easily add some nuts or another add-in if you like.
If you find yourself baking for a smaller crowd frequently, keep these Small Batch Chocolate Chip Cookies in mind. They're quick and easy to mix with ingredients you probably have in your kitchen. And they'll happily satisfy your craving for a homemade chocolate chip cookie fresh from the oven!
If you like these cookies, be sure to see all of my small batch recipes!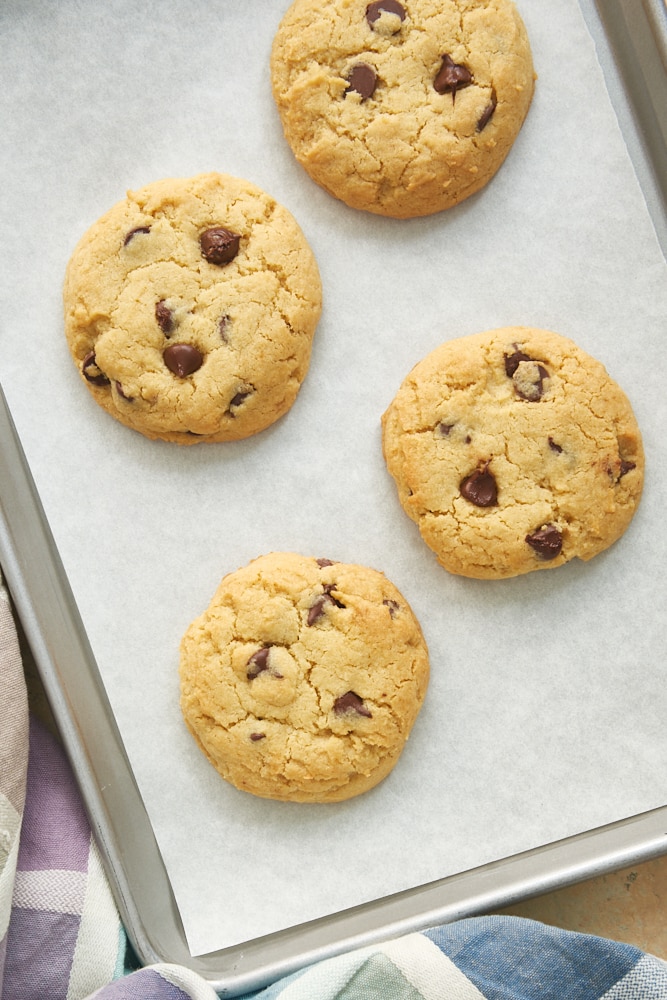 How Many Cookies Are in a Small Batch?
This recipe makes about 12 tablespoons of dough, so you can divvy that up however you like. For the cookies pictured here, I made 4 large cookies using a 3-tablespoon scoop. Those 12 tablespoons divide easily into anywhere between 3 and 12 cookies. Just use a different size scoop to get the size of cookies you want. (See my guide to cookie scoops if you need some help choosing one.)
Do I Need to Chill the Cookie Dough?
Another wonderful thing about this recipe? No need to chill the dough! I don't know about you, but when I'm in a small batch cookie frame of mind it's usually because I want cookies pronto. The dough for these cookies comes together quickly and then you can get right to baking.
What You'll Need
See the recipe card at the bottom of this post for ingredient quantities and full instructions. Here are some notes about the ingredients you'll need to make these small batch chocolate chip cookies.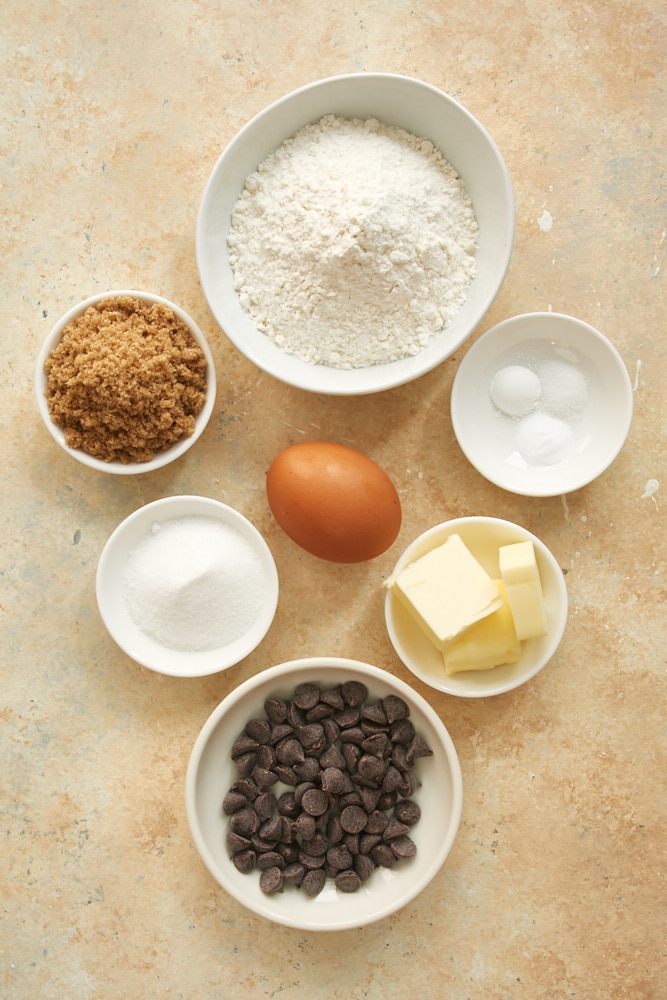 All-purpose flour – Measure by weight for best results. Learn more: How to Measure Flour
Baking powder
Baking soda
Salt
Unsalted butter – Let the butter soften at room temperature before mixing. Learn more: How to Soften Butter
Brown sugar – I prefer light brown sugar here, but you can use dark brown sugar if you prefer its bolder flavor. Learn more: Light Brown Sugar vs Dark Brown Sugar
Granulated sugar
Egg yolk – Eggs separate more easily when they're cold, so do that first and then let the yolk sit at room temperature while you gather the other ingredients. If you don't want the egg white to go to waste, make a half batch of coconut macaroons or brownie brittle.
Vanilla extract
Chocolate chips – I usually prefer semisweet chocolate chips, but you can use milk chocolate, bittersweet chocolate, or a combination.
How to Make Small Batch Chocolate Chip Cookies
These cookies come together quickly and easily. Perfect for those times you're craving homemade chocolate chip cookies!
Prepare for baking. Heat the oven to 350°F. Line a small baking sheet with parchment paper or a silicone liner.
Combine the dry ingredients. Whisk together the flour, baking powder, baking soda, and salt.
Combine the wet ingredients. With an electric mixer on medium speed, beat the butter, brown sugar, and sugar until fluffy and lightened in color. Mix in the egg yolk and vanilla.
Finish mixing. With the mixer on low speed, gradually add the flour mixture to the butter mixture. Mix just until combined or a few small streaks of flour remain. Stir in the chocolate chips.
Portion and bake. Divide the dough into equally sized portions (see the note about sizes in the tips section below), roll into balls, and place the dough balls on the prepared pan. Flatten the tops of each cookie slightly. Bake 14 to 16 minutes, or until golden brown.
Cool. Place the pan on a wire rack, and allow the cookies to cool for 5 minutes before transferring them from the pan directly onto a wire rack.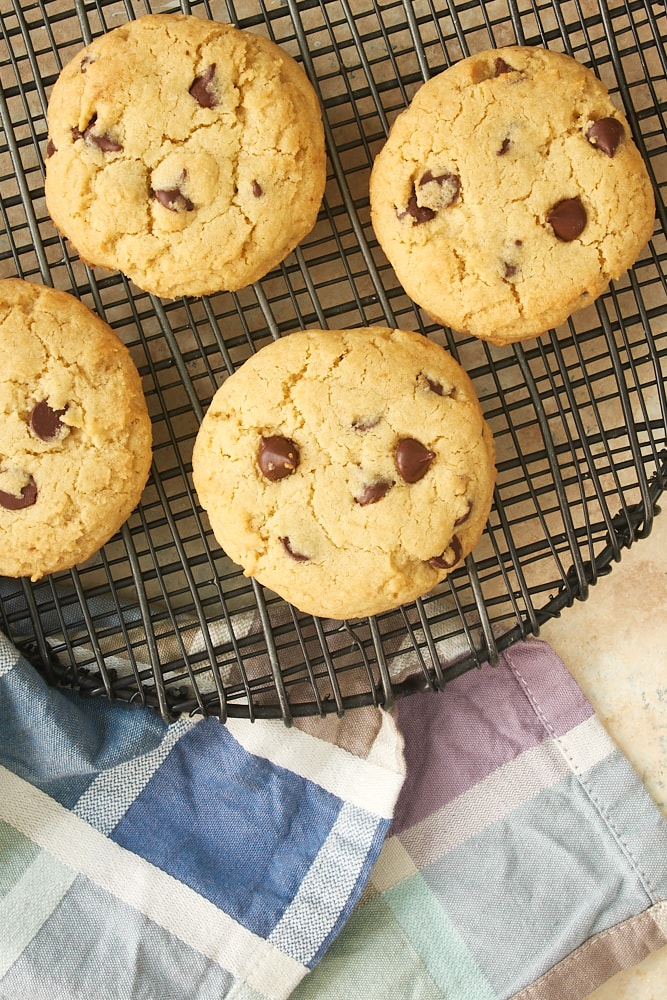 Tips for Success
Measure accurately. Use a scale to measure by weight if possible. With these small proportions, any error in measuring will be magnified. If you don't yet have a digital scale, use the spoon and sweep method for the flour and be sure to pack the brown sugar firmly.
Be mindful of egg sizes. Did you know that the size designation for eggs is based on the weight of the entire dozen? That means that there may be some eggs smaller than others. That can definitely be an issue when using just one egg yolk. If the dough isn't coming together well after you add the egg yolk, try adding a small amount of the egg white or even just water until the dough begins to come together. (If you're wondering, a large egg yolk weighs about 18g.)
Use a cookie scoop. You'll get uniformly sized cookies, which means they'll bake evenly. Use a 3-tablespoon scoop for 4 cookies, a 2-tablespoon scoop for 6 cookies, or a 1-tablespoon scoop for 12 cookies.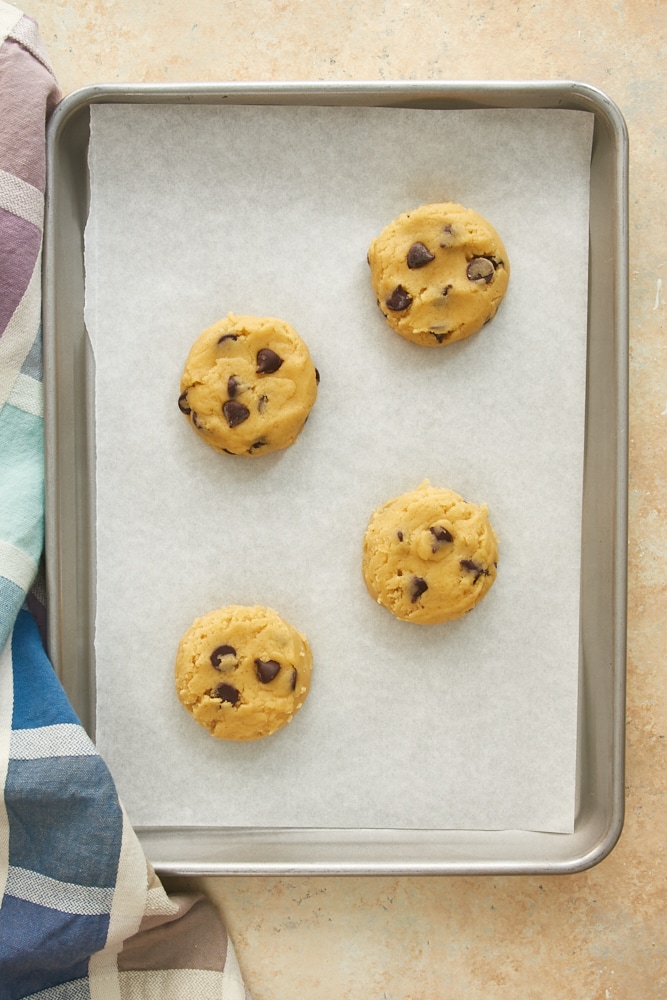 Don't Forget to Flatten the Tops of the Cookies
As you can see from the photos above, these cookies don't spread much during baking. Flattening them slightly before baking will help their shape and also help them bake more evenly.
Mix-In Ideas
There are so many variations you can try with these cookies. Add some chopped nuts (like pecans or walnuts) in place of some of the chocolate chips. Or try a mix of semisweet and milk chocolate. How about some dried cranberries? Or a simple sprinkle of coarse salt on top? The possibilities are seemingly endless! Just keep the total amount of mix-ins the same. Have fun with your favorite flavor combinations!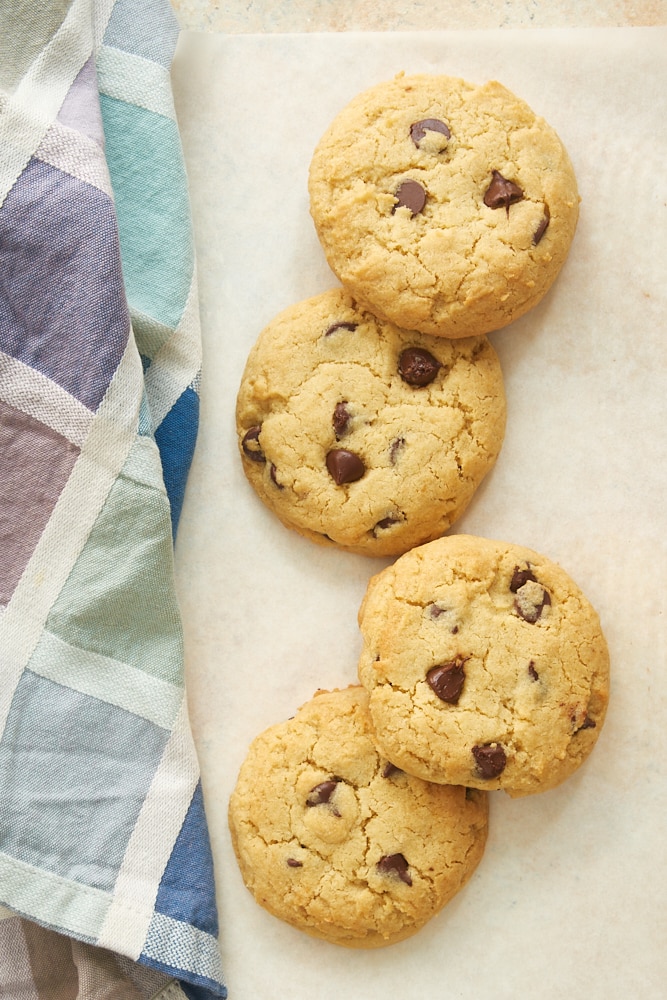 How to Store
After the cookies have cooled, place them in an airtight container and store at room temperature. They should keep up to 3 days. For longer storage, place the cookies in a freezer-safe container and freeze up to 3 months.
More Chocolate Chip Cookie Recipes