These soft, chewy Greek Yogurt Chocolate Chip Cookies have the classic flavor we all love plus a tangy kick!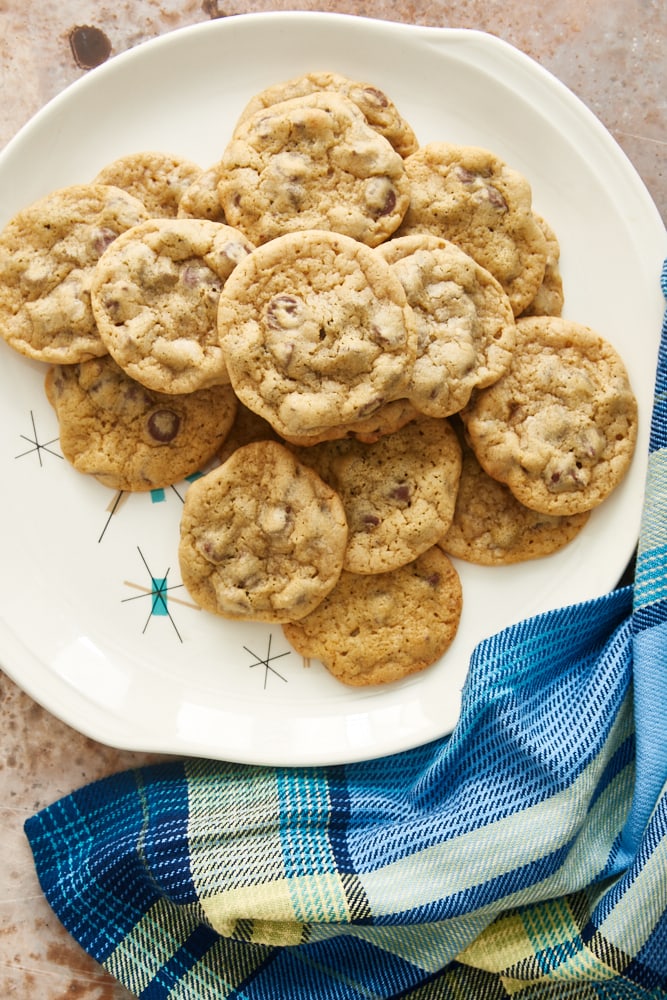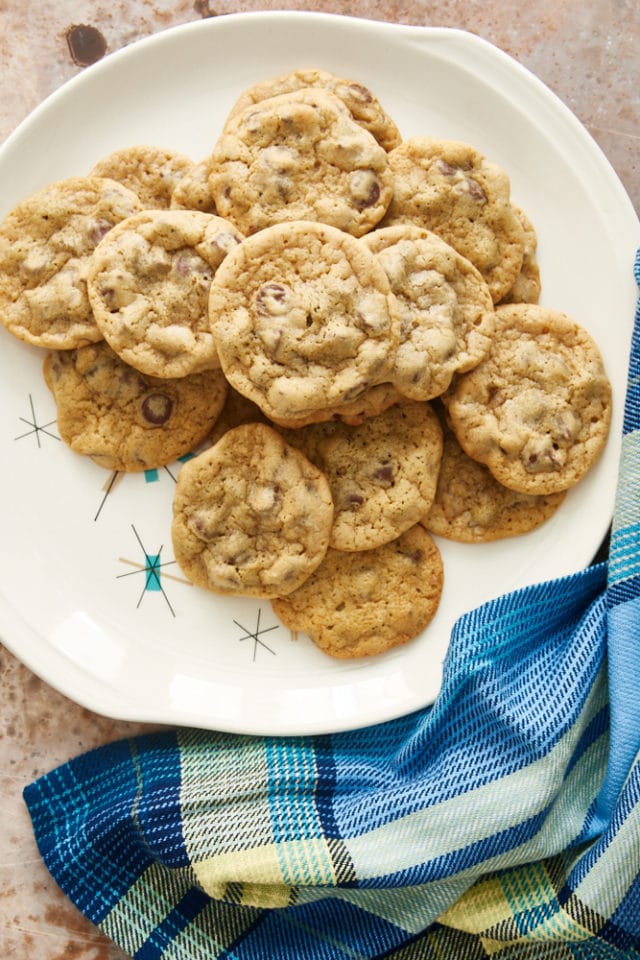 Greek Yogurt Chocolate Chip Cookies
As you might guess, I keep a good stock of baking supplies in my kitchen, but there are also a few non-baking items that I always keep on-hand as well. One of those is yogurt.
In addition to being a great snack, yogurt is also great for baking. In the case of these Greek Yogurt Chocolate Chip Cookies, it does a fantastic job of standing in for some of the usual butter in the recipe.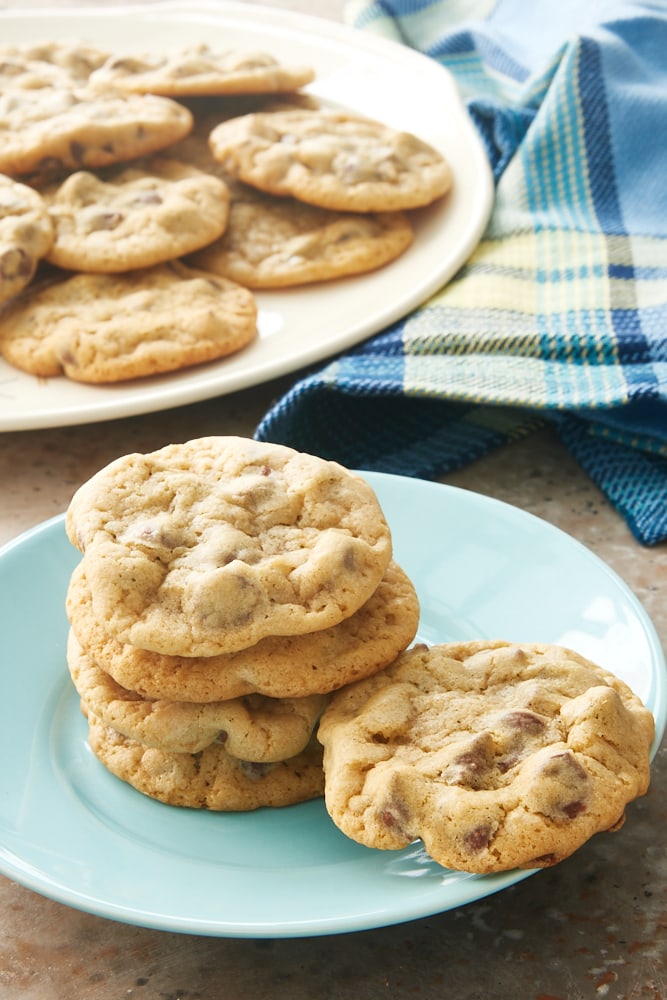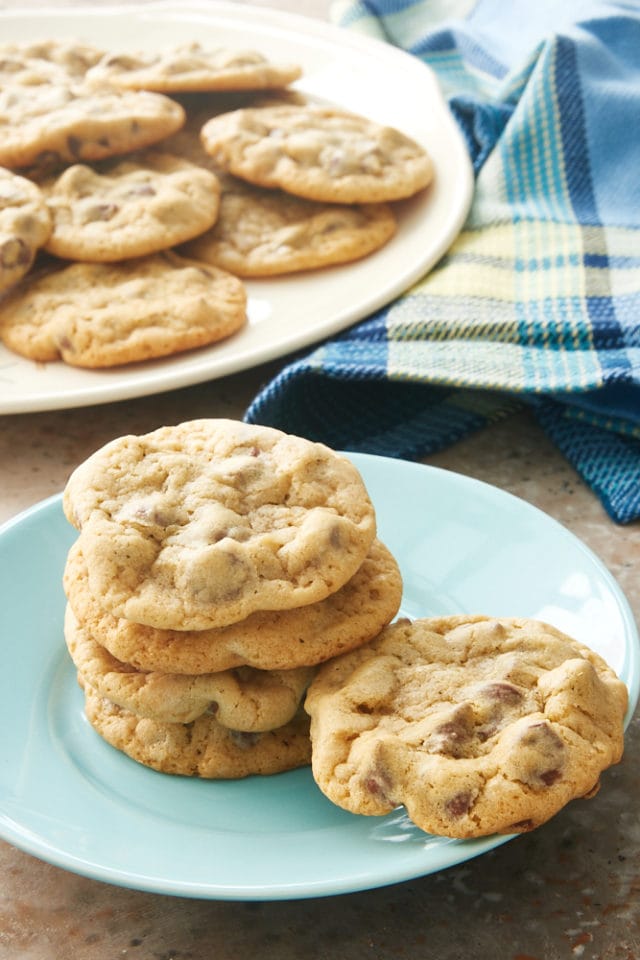 Why substitute Greek yogurt for butter?
My approach to baking is a traditional one. I don't seek ways to make things healthier or to accomodate special diets. I view baked goods as an occasional indulgence to enjoy thoroughly. Everything in moderation, right?
That being said, Greek yogurt is a good substitute for butter in many baked goods if you're looking to make your baking a little less indulgent. It's lower in fat and calories than butter but still does some of what butter does in baking.
Or maybe you've just got a craving for homemade cookies but you're low on butter.
Greek yogurt also provides a tangy flavor to your baked goods. Think of it like adding buttermilk or sour cream to other baked goods.
In these Greek Yogurt Chocolate Chip Cookies, you get the best of what both butter and yogurt have to offer. In fact, many of you may adopt this as a favorite cookie recipe!
Why not substitute Greek yogurt for all of the butter?
You'll notice that this recipe still has butter in addition to the yogurt. That's because butter serves a purpose in baked goods. Several purposes, actually. In addition to flavor, butter also does a lot for the texture and consistency of baked goods.
The partial substitution is also due to what Greek yogurt brings to the cookie dough. With more added, these cookies would be quite dense. Yogurt also adds moisture, so that can be problematic as well.
If this recipe used only butter in it, it would likely have 1 cup. Instead, it has 1/2 cup of butter and 1/4 cup Greek yogurt. That gives us enough butter to help these cookies keep their shapes and have a soft texture.
This is not to say that there aren't cookie recipes out there made with all Greek yogurt and no butter. But for my preferences, I like a combination of the two. You get the feel and taste of a classic chocolate chip cookie but with half the butter.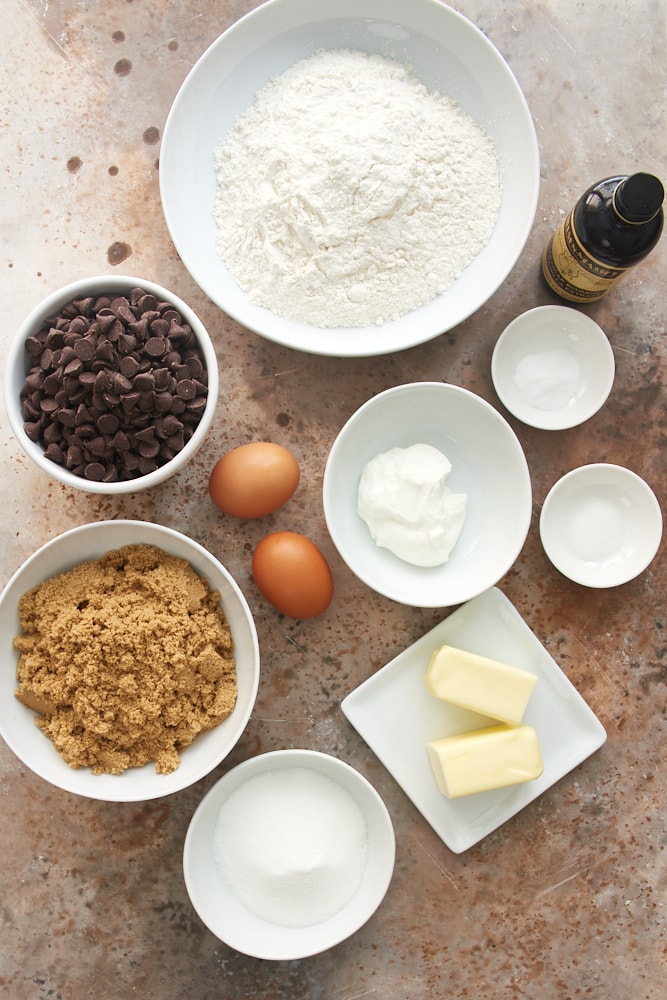 Tips for Success
Measure accurately. Use a kitchen scale to measure by weight if possible. Otherwise, spoon and sweep.
Use light-colored baking pans. Dark pans will bake the bottoms of the cookies faster and possibly cause over-spreading.
The dough will be soft and sticky. Because of the addition of Greek yogurt, this dough is a little different than you might expect from a traditional cookie dough.
The dough doesn't need to be chilled before baking. You can go straight from mixing to scooping. If you do want to chill the dough, let it sit at room temperature for 10-15 minutes before scooping.
Use a cookie scoop. Not only will a cookie scoop make portioning the dough quicker and easier, but it will also make uniformly sized cookies so that they'll all bake evenly. For this recipe, I most often use a #50 scoop, which holds a bit more than a tablespoon of dough. For more about cookie scoops, see A Baker's Guide to Cookie Scoops.
Don't over-bake. Keep an eye on the cookies and take them out of the oven when they're golden. Remember that the carry-over heat from the pan will continue baking them once they're out of the oven. The cookies will be puffy, but they'll fall and settle as they cool.
Let baking pans cool between batches. If you're reusing baking pans for baking these cookies, be sure to let them cool completely before using again. A too-warm pan will warm the cookie dough and likely make the cookies spread too much and bake more quickly.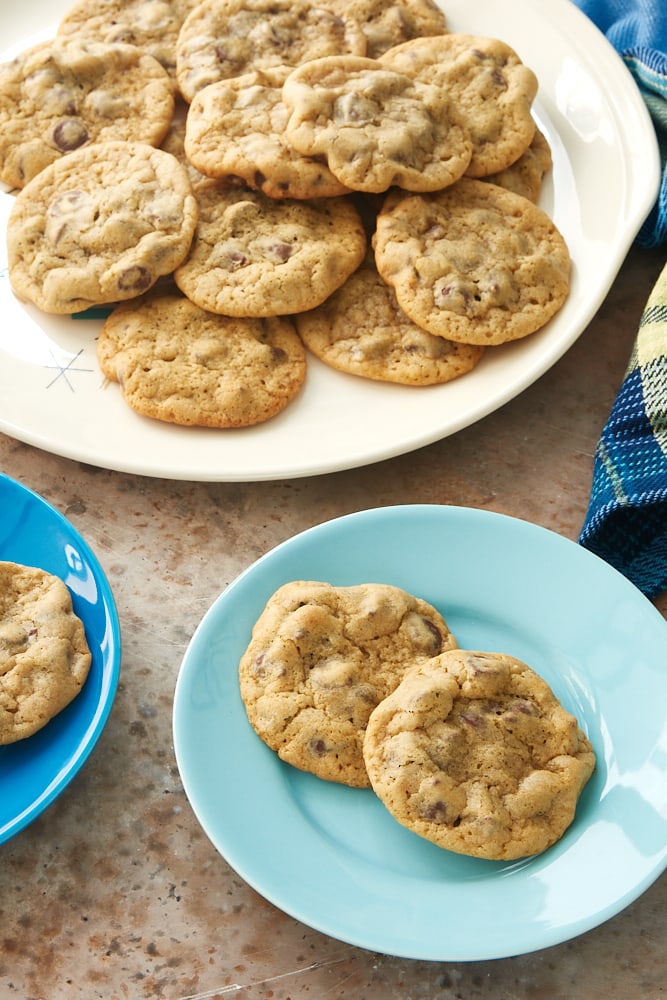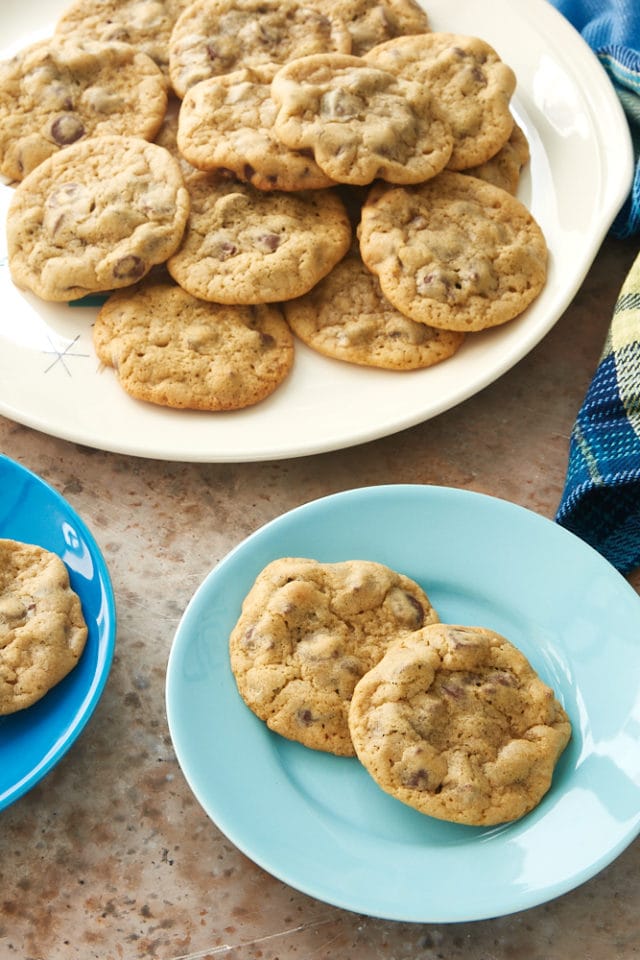 Whether you're counting calories or just want to try a new twist on chocolate chip cookies, these Greek Yogurt Chocolate Chip Cookies are worthy of a spot in your baking rotation. Soft, chewy, and flavorful, these cookies are sure to please!
More Chocolate Chip Cookie Recipes
Can't get enough chocolate chip cookies? Try Cream Cheese Chocolate Chip Cookies, Coconut Almond Chocolate Chip Cookies, and Mini Chocolate Chip Cookies, too!
How to Make Greek Yogurt Chocolate Chip Cookies