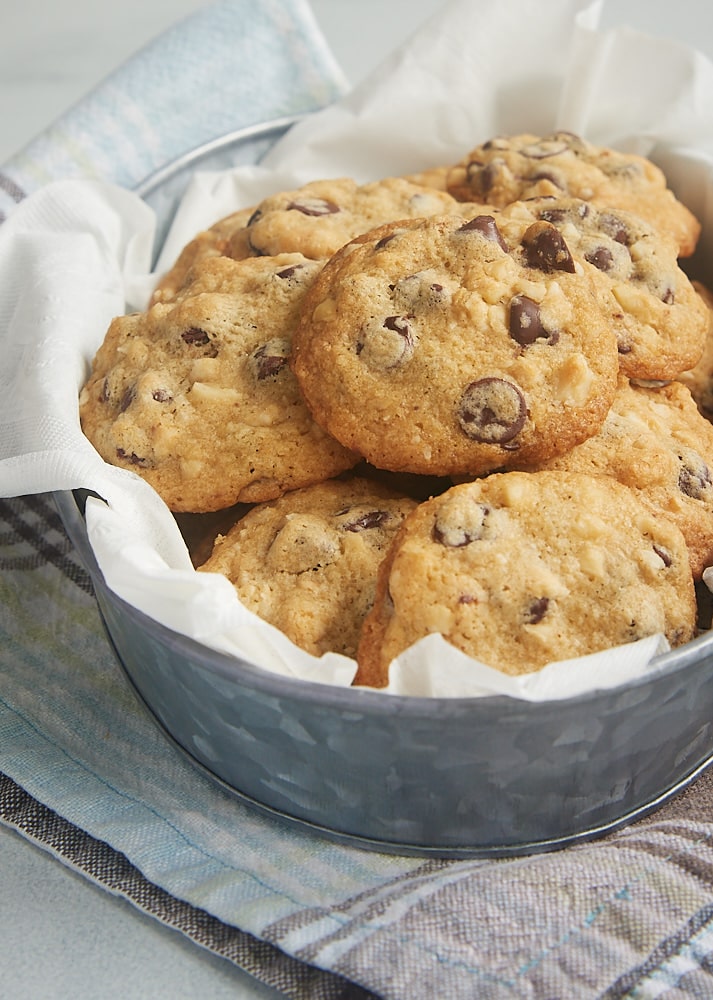 As much as I love classic chocolate chip cookies, I'm always eager to try something that makes them a bit different. In the case of these Hazelnut Chocolate Chip Cookies, it's the addition of one of my favorite nuts, hazelnuts.
That's enough all on its own, but these cookies go a step further with the addition of hazelnut-flavored liqueur. That turns a common childhood favorite into a fantastic adults-only treat!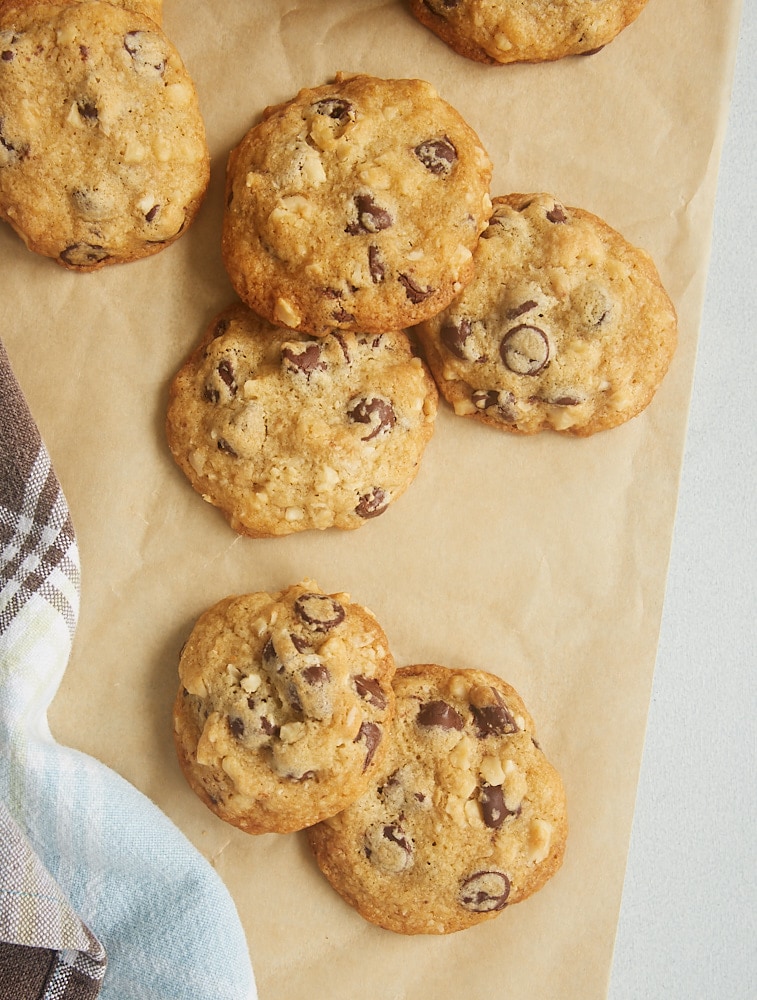 This recipe is a variation of one from a favorite cookbook. Nick Malgieri's Chocolate is a wonderful ode to my favorite flavor. It has a recipe for a very similar cookie made with rum, but I wanted to go all-out with the hazelnuts for my version of these cookies.
I absolutely adore hazelnuts and hazelnut liqueur, so all of that flavor being front and center makes these a big, big winner for me. Of course, you can easily substitute another nut and liqueur if you like. Or, for those of you wanting to skip the liqueur, you can substitute vanilla or almond extract. I'd try about 1 & 1/2 teaspoons of your favored extract.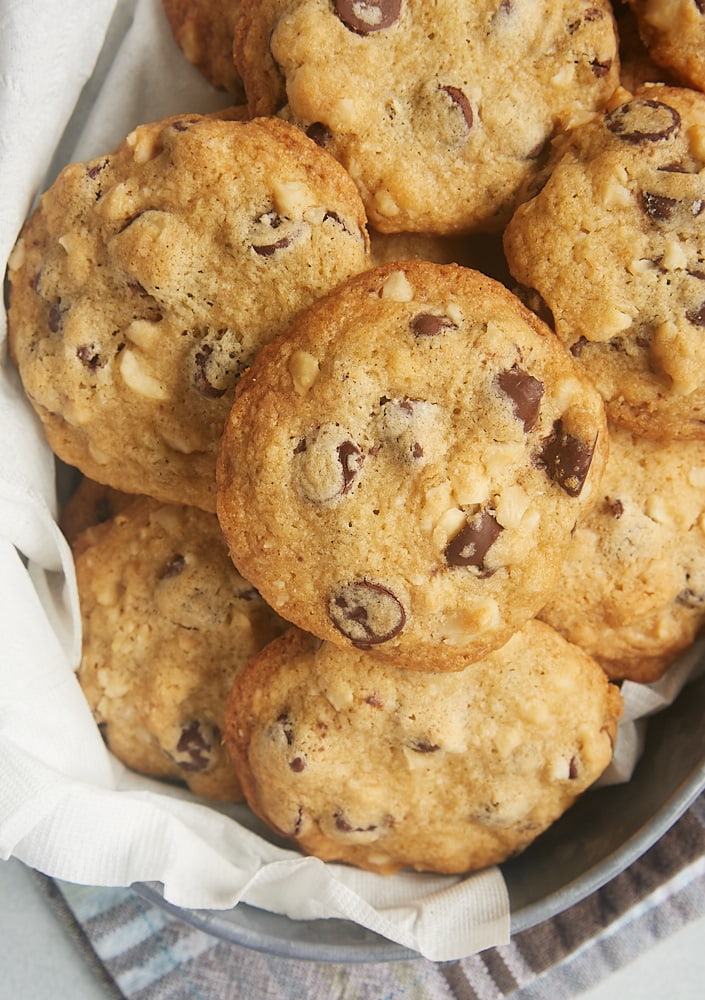 You don't necessarily have to chill this dough before baking it. I usually bake the first pan of cookies right after they're mixed and then chill the dough until it's time to scoop more. Unless you have a warm kitchen or just want to make the dough in advance, then you go straight from mixing to scooping.
These cookies are always a big hit when I share them. They're so soft and chewy and flavorful that they're pretty much irresistible. If you're looking to change up your chocolate chip cookie game in a grown-up way, then give these a try!
Find more cookie recipes in the Recipe Index.
This post contains affiliate links. If you make a purchase through one of the links, I'll receive a
small commission at no additional cost to you.
Yield: about 4 dozen cookies
Prep Time: 15 minutes
Cook Time: 12 minutes per pan
These Hazelnut Chocolate Chip Cookies are packed with plenty of chocolate chips, hazelnuts, and a splash of liqueur for some seriously amazing flavor.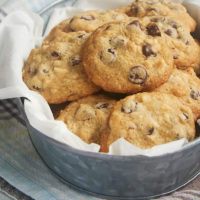 1 & 2/3 cups all-purpose flour
1 teaspoon baking soda
1/2 teaspoon salt
3/4 cup (12 tablespoons) unsalted butter, softened
1 cup firmly packed light brown sugar
1 tablespoon hazelnut-flavored liqueur (such as Frangelico)
1 large egg
1 large egg yolk
2 cups semisweet chocolate chips
1 cup chopped hazelnuts*
Directions:
Preheat oven to 375°F. Line baking sheets with parchment paper or silicone liners.
Whisk together the flour, baking soda, and salt. Set aside.
Using en electric mixer on medium speed, beat the butter and brown sugar until light and fluffy. Add the liqueur, egg, and egg yolk, and mix well.
Reduce mixer speed to low. Gradually add the flour mixture, mixing just until combined.
Stir in the chocolate chips and hazelnuts.
Drop the dough by 1-tablespoon portions onto the prepared pans. Bake, one pan at a time, 10 to 12 minutes, or until the cookies are golden brown.
Cool on the pans for 5 minutes. Then transfer the cookies to a wire rack to cool completely.
Notes:
*If you like, toast the hazelnuts for more flavor.