Brown Sugar Oatmeal Chocolate Chip Cookies are super soft, chewy cookies with fantastic flavor!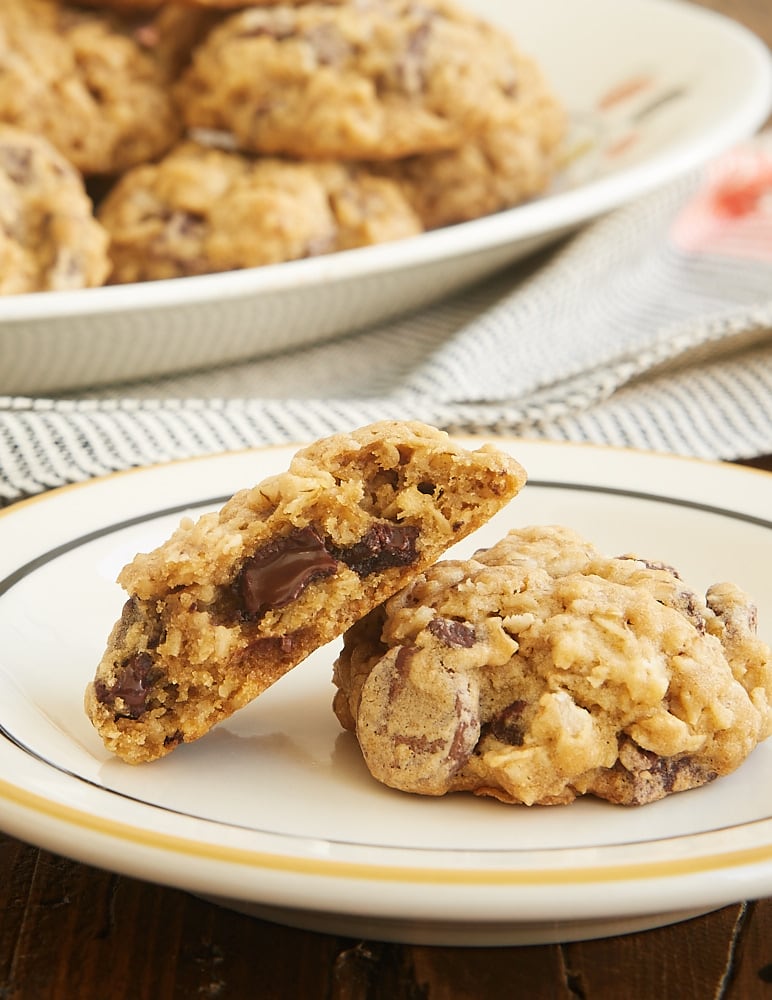 Chocolate Chip Cookies with Brown Sugar and Oats
One of the first things I ever learned to bake was chocolate chip cookies. It's a great place to start for beginning bakers. And all these years later, I'm still baking them. That crowd-pleasing favorite has long been a go-to for satisfying a sweet craving. And I'm betting that many of you would say the same thing.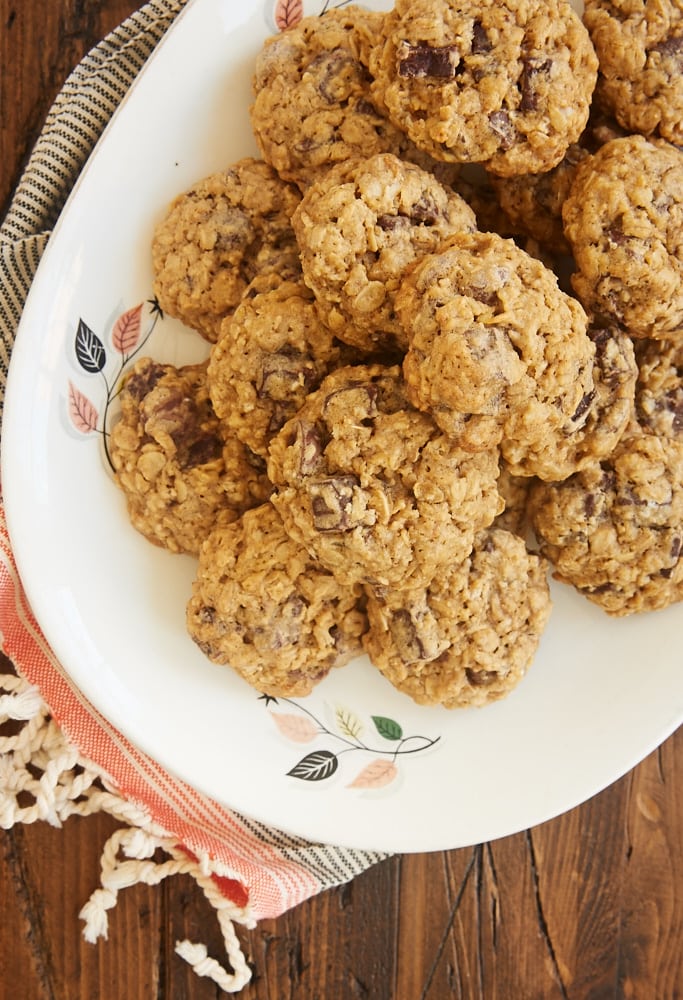 This version of the classic cookie is of the oatmeal variety. When I think about my favorite chocolate chip cookies, most of them have oats. They add a wonderful texture and give cookies that nice chewiness. Plus, they just seem more… significant. Hearty. Irresistible.
The other main feature of these cookies is plenty of brown sugar with no granulated sugar in sight. Why brown sugar? Besides the flavor that it contributes, it also makes these cookies wonderfully soft. I am a complete fool for super soft cookies, so that's pretty much always my preference. If you go beyond the baking time range suggested, you'll get a crisper cookie.
These cookies won't spread much, so don't skip the step of flattening the dough a bit before baking. I often just grab a cookie spatula to do that job. A little flour or cooking spray on the spatula will help keep the dough from sticking. Another trick I learned when I made these cookies from Dorie Greenspan is to cover the bottom of a flat-bottomed glass or jar with plastic wrap.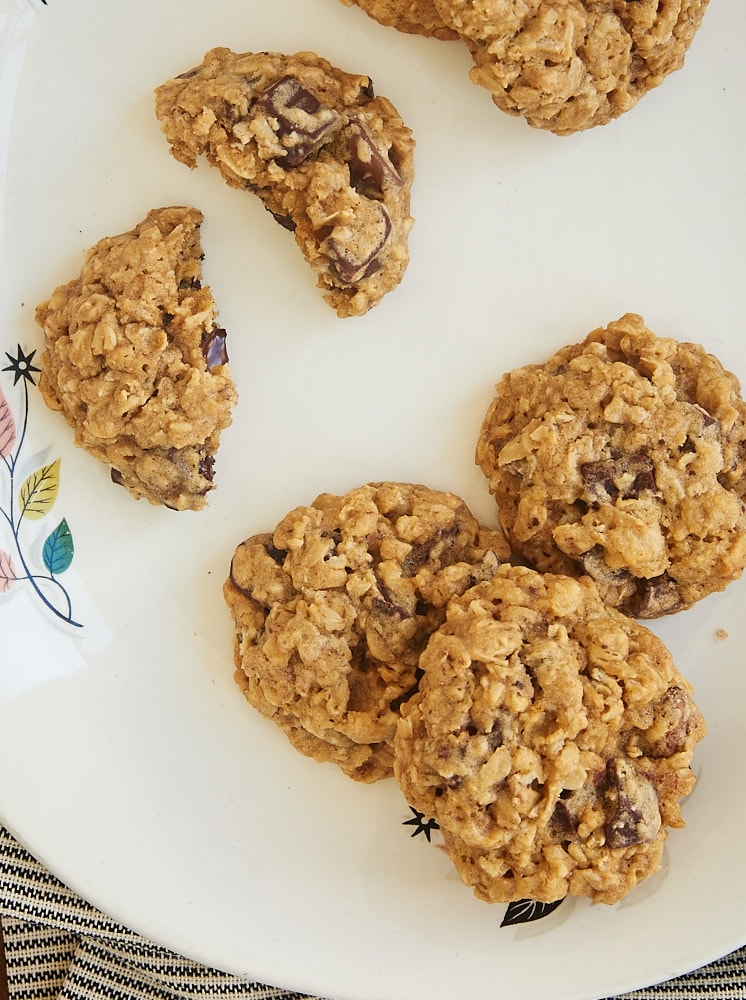 For the chocolate chips, I use a mix of dark and milk chocolate chips for a little more interesting flavor. I like to use more dark chocolate than milk chocolate, or otherwise these can seem too sweet to me. But, of course, feel free to use whatever ratio you like to suit your taste preferences.
I've sampled many a chocolate chip cookie in my baking life, but I must say that these Brown Sugar Oatmeal Chocolate Chip Cookies are one of my favorites. I just adore everything about them, from how easy they are to make to their amazing flavor and texture. If you've got a cookie craving, I highly recommend you whip up a batch of these fantastic cookies.
Looking for more chocolate chip cookie recipes? Try Browned Butter Salted Chocolate Chip Cookies, Chewy Chocolate Chip Cookies, and Cherry Chocolate Chip Cookies!
How to Store Leftovers
Once the cookies have cooled, store them in an airtight container at room temperature up to 3 days. Place layers of waxed paper or parchment paper between cookie layers to keep them looking their best.
How to Freeze
After cooling, place the cookies in an airtight, freezer-safe container or sealable bag. Properly stored, they should keep in the freezer up to 3 months. Thaw for an hour or two at room temperature.
You can also freeze the unbaked cookie dough. Follow the recipe through portioning the dough. Place the cookie dough balls on a lined rimmed baking sheet, and freeze until solid. That usually takes at least a couple of hours. Then place the frozen dough balls in a freezer-safe container or bag. When you're ready to bake, place the frozen cookie dough balls on a baking sheet and bake as directed in the recipe, adding a couple of extra minutes. Learn more: How to Freeze Cookie Dough