Dorie's Chocolate Chip Cookies are thin, crispy, chewy, and all kinds of delicious. These are definitely a contender for best ever!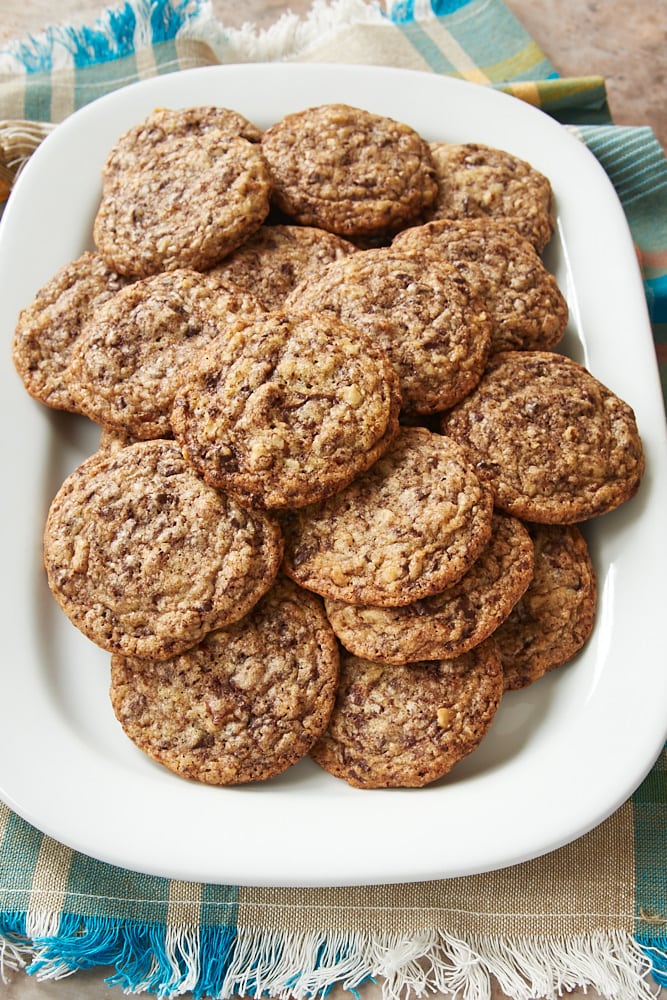 Dorie Greenspan's Chocolate Chip Cookies
I never tire of baking chocolate chip cookies. I like all kinds, from simple ones to those loaded with lots of add-ins. And I love trying as many "favorite" and "best" varieties as possible.
Dorie's Chocolate Chip Cookies have the distinction of being labeled "the best" by one of my favorite bakers, Dorie Greenspan. She describes them as "totally tempting," and I have to say that I agree 100%.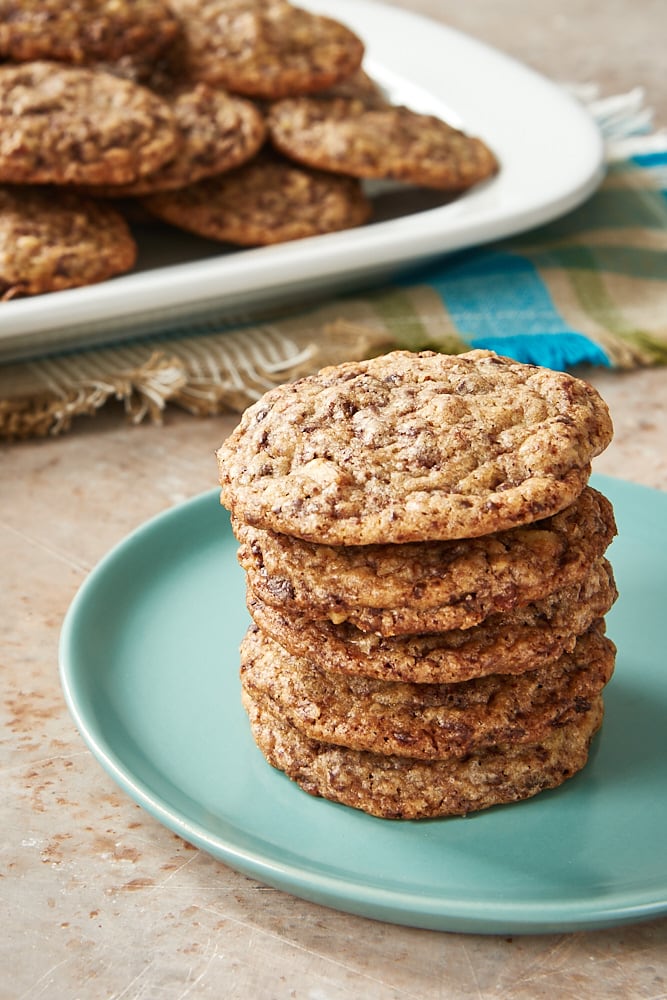 So, what makes these so good? There are a few really good reasons to recommend these cookies. First and foremost, let's talk about the chocolate. There is SO much chocolate packed into these little guys. The trick here is using chopped chocolate instead of chocolate chips. That does a few really great things for these cookies. First of all, you can use a better quality chocolate than you'll normally get from chocolate chips. Better chocolate means better flavor, of course.
In addition to the wonderful chocolate flavor, I love that chopping the chocolate also gives you lots of little chocolate pieces and shards that fill the cookies with plenty of chocolate in every bite. Plus, the little bits of chocolate scattered throughout the cookies gives them a different look than their more traditional counterparts.
Then, there's the texture. These cookies are that magical combination of crispy on the outside and soft on the inside. They're fairly thin cookies, too, as they spread quite a bit as they bake. Be sure to leave plenty of room between them on the pans. There's no need to flatten the dough before baking. Just scoop the dough onto the pans, and let them do their magic in the oven.
There's nothing fancy or even fussy about these cookies. They're just really, really good cookies with lots and lots of amazing chocolate flavor. If that sounds good to you, then be sure to bake a batch of them as soon as possible!
Can't get enough chocolate chip cookies? Try Brown Sugar Oatmeal Chocolate Chip Cookies and Chewy Chocolate Chip Cookies next!
How to Store
After the cookies have cooled, store them in an airtight container at room temperature up to 3 days. Alternatively, place them in a freezer-safe container or bag and store up to 3 months.
I must also point out that this is a great dough for freezing. Freeze the portioned dough and bake whenever you get a cookie craving. You can read my tips for doing this in How to Freeze Drop Cookie Dough.
Find more cookie recipes in the Recipe Index.