Wire cooling racks are one of my essential baking tools. Keep reading to find out why you need them in your kitchen!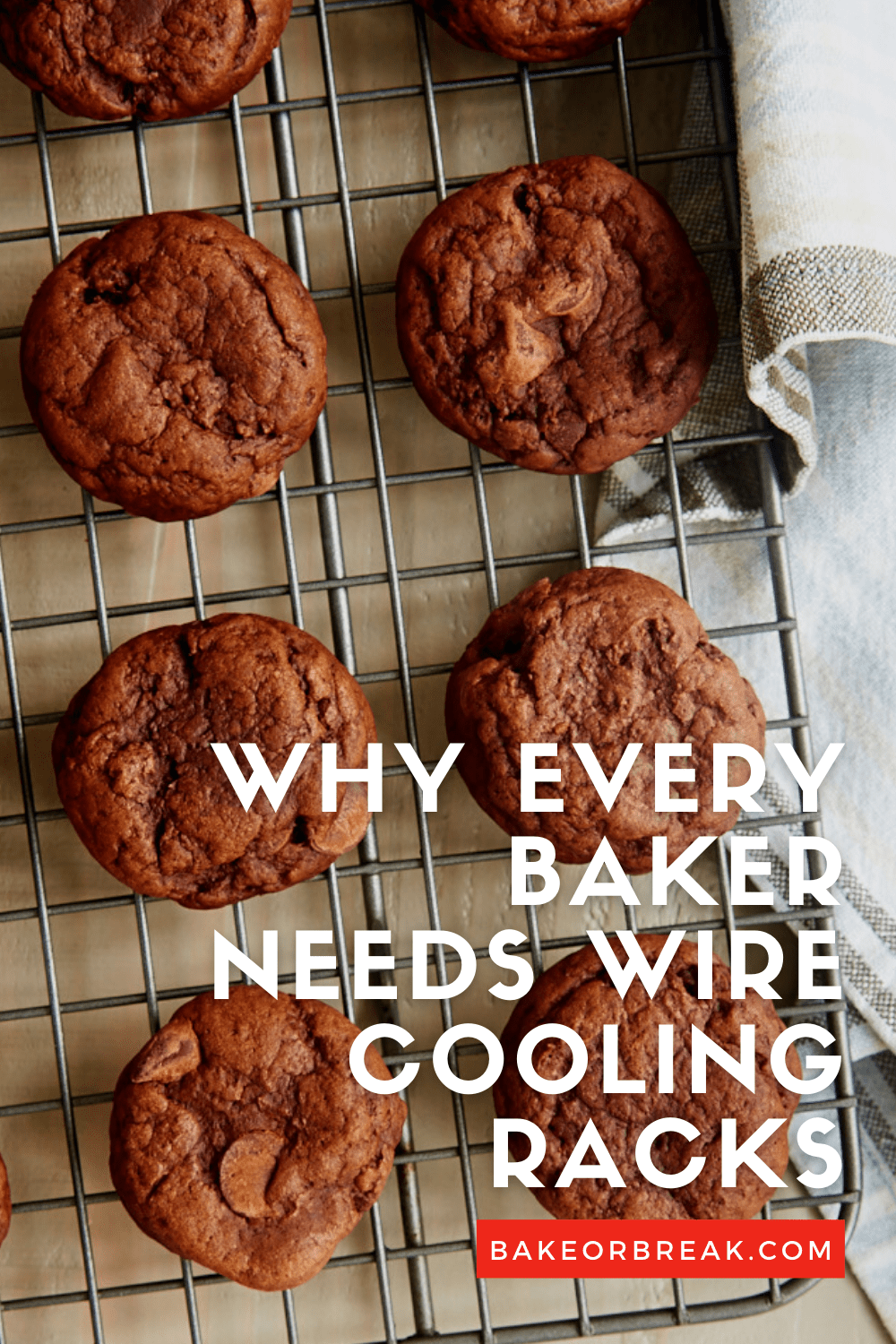 You've likely noticed that most recipes on BoB and many other sites direct you to place hot pans and freshly baked goods on a wire rack. That may seem like an unnecessary step with an unnecessary piece of equipment, but it's actually quite important.

So, why do you need one? It's simple, really. If you place a pan on a trivet or on your countertop, air doesn't reach the bottom of the pan. A wire rack allows air to circulate completely around whatever is on it. This means that the pan or baked good will cool faster than if simply left on a countertop or a trivet. A hot pan will continue baking whatever is inside it, so faster cooling prevents over-baking.
Most recipes for cookies, cakes, or muffins will direct you to place the hot pan directly onto a cooling rack for a specified amount of time for the initial cooling phase. Then, once that time has passed, often the baked goods are transferred directly to the cooling rack to finish cooling. That final cooling step will keep away any accumulating condensation and steam, so your freshly baked treats won't get soggy.
When it's time to transfer your baked goods from the pan to the rack, that process depends on what you've baked.
How to Transfer Baked Goods to a Wire Rack
For cookies, simply use a small spatula to transfer the cookies directly to the cooling rack. A spatula will help keep the warm cookies intact during the transfer.
For cakes, invert a wire rack onto the top of the cake pan. Flip the rack and pan (That pan is still pretty warm, so don't forget your oven mitts!) simultaneously so that the cake releases from the pan and onto the rack. That can be a bit tricky to coordinate, especially for big pans like Bundt pans, but it's the way that works best for me.
For cupcakes or muffins, use a knife to loosen them from the pan if directed to do so. Use the knife or your fingers to remove them from the pan and onto the rack.
Of course, if you're baking pies, cobblers, brownies, or something else that doesn't get removed from the pan for cooling, just place the pan on the rack and let it cool completely.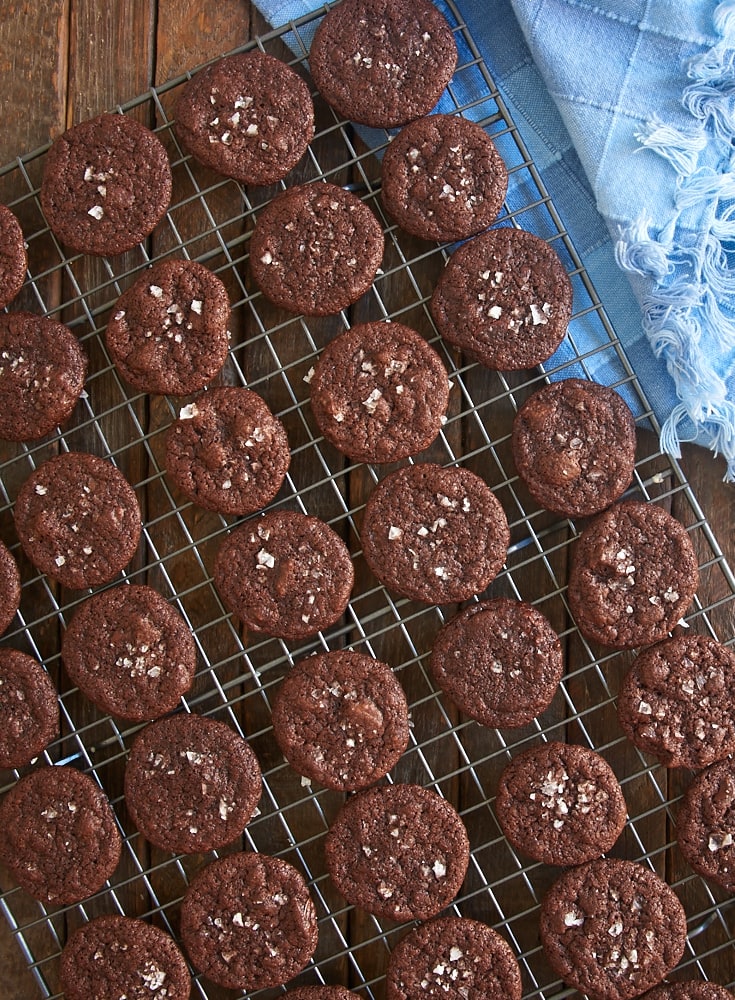 Salted Double Chocolate Cookies
How many racks you need will vary depending on how much you usually bake at one time. For large batches of cookies, for instance, a few racks are nice to allow ample space for all the cookies to cool. Otherwise, I can usually get by with using two. One is for the pan itself, as it cools for a few minutes before transferring the cookies. The other is for the cooling cookies. The cookies can be very close together on the rack, so you can actually fit a lot on one rack. Then as the first batch cools on the rack, you can remove them to a storage container or serving plate to make room for freshly baked ones.
Most cooling racks are made of metal and may have a non-stick coating. The wires are in either a parallel or grid pattern. Both are theoretically functional, although racks with parallel wires instead of a grid pattern can allow baked goods to sag between the wires and leave crease marks on the bottom of baked goods. A grid pattern provides more support and is less likely to leave marks from the wires. The grid pattern is definitely my preference.
You'll find that wire cooling racks are available in multiple sizes and shapes. Round cooling racks are designed for cooling round cake layers. Rectangular racks offer the most versatility, as they can be used for cake layers as well as other baked goods like cookies and muffins. If you're going to get just one rack, make sure it is larger than the biggest pan or baked good you would place on it.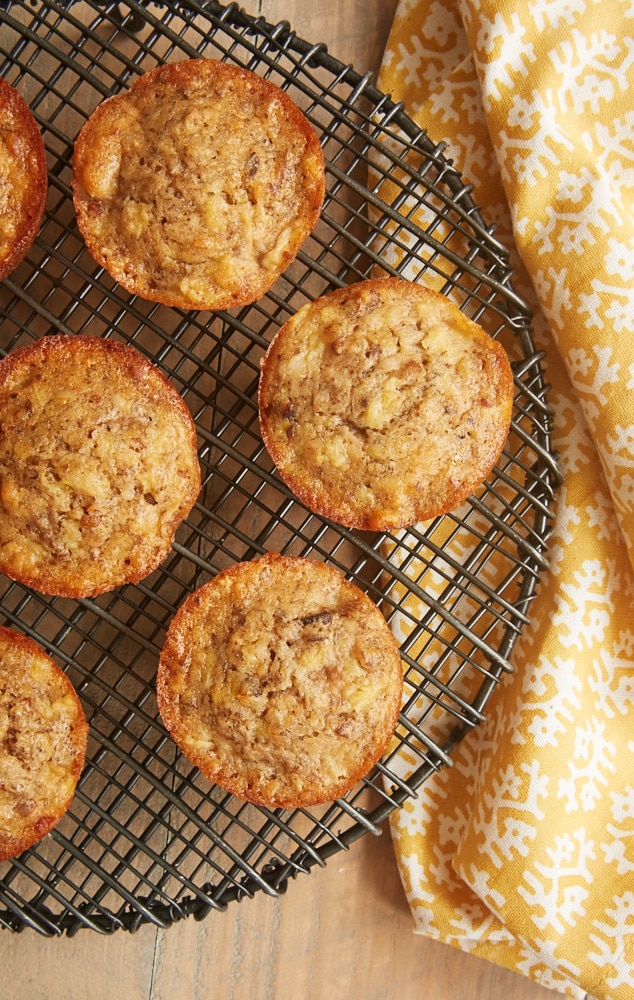 Pineapple Coconut Banana Nut Muffins
If counter space is a concern, some cooling rack sets stack as tiers so that they take up less counter space. These are great if you're diving into a big day of baking.
I recommend that you think about the kinds of baked goods you make the most often and your available counter space when shopping for cooling racks. Of course, storage should be a consideration, as well. Luckily, most racks can store alongside baking sheets or even nested inside them. As I said earlier, you can likely made do with just one or two racks. I have a few, as I do a lot of baking and I also use them for photos.
Most any brand will do if it's nicely sturdy. The one I use most often is this Chicago Metallic extra large rack. I have had it for many years, and it's still in great condition. It has small feet on it to keep it elevated. There are others with legs that fold in for storage, but I like the simplicity of the small stationary feet.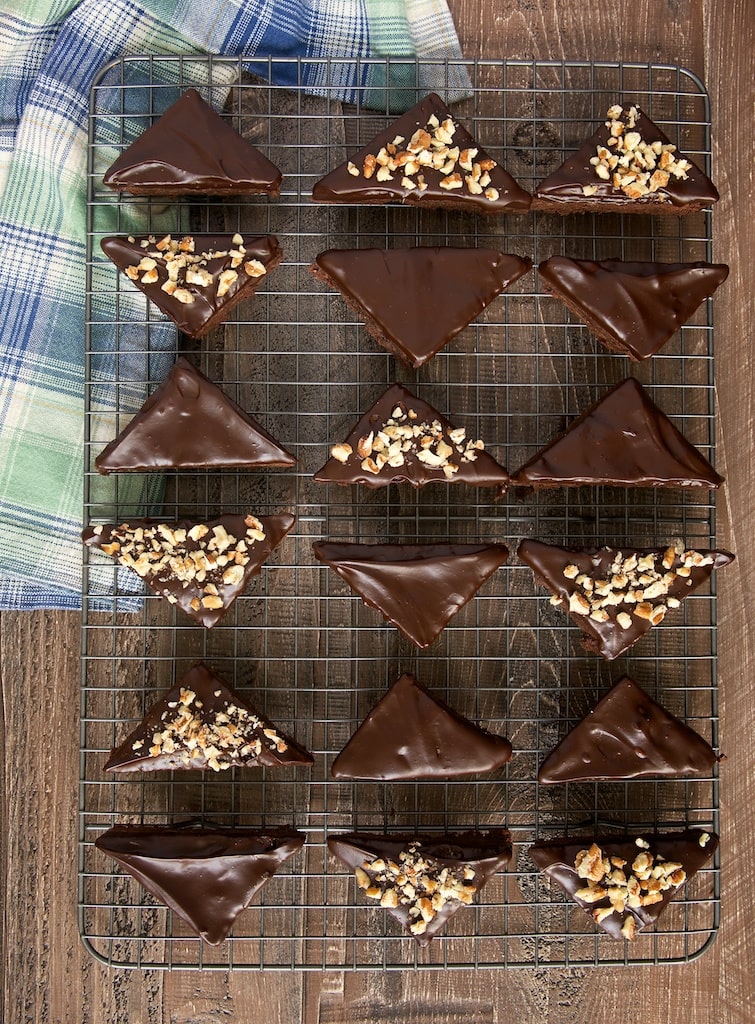 Chocolate Ganache Brownies
While I most often use wire racks for cooling, there is another great use, too. They're the perfect tool to help with adding a glaze or other wet topping to baked goods. Place whatever you're glazing on the rack with a sheet of waxed paper or parchment paper underneath. Add the glaze and let it drip off the sides. No pools of glaze awkwardly stuck to the bottoms! They work the same way for small things you might dip into a glaze. Set them on the wire rack and let the excess drip off the rack onto the paper underneath.
Wire cooling racks are an essential piece of equipment for bakers. They provide the best way to allow baked goods to cool more quickly and efficiently while preventing excess carryover baking. If you've never used one, I encourage you to try using one the next time you bake. I think you'll come to find them indispensable!
Bake or Break is a participant in the Amazon Services LLC Associates Program, an affiliate advertising program designed to provide a means for us to earn fees by linking to Amazon.com and affiliated sites.