Deep Dish Chocolate Chip Cookies for Two are wonderfully soft, sweet, and gooey. A decadent small-batch treat!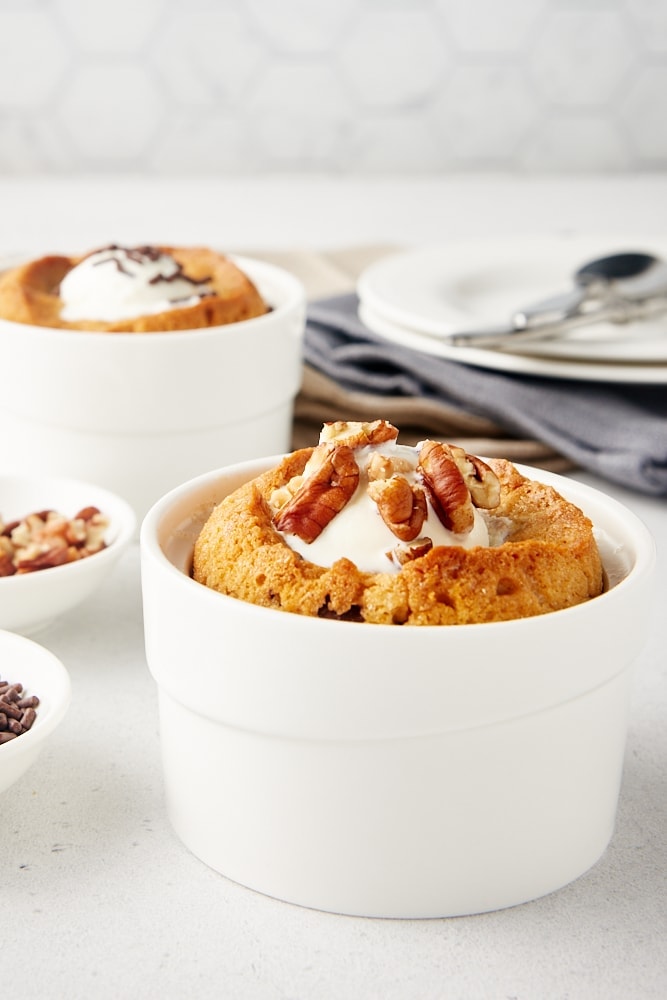 Deep Dish Chocolate Chip Cookies Made in Ramekins
These aren't your ordinary chocolate chip cookies. No, these are big, tall, gooey, sweet cookies with crispy edges and a soft center. To give them that amazing texture, they're baked up nice and tall in individual ramekins.
As the cookies bake, they rise up and create that nice crispy outside. But dive inside and you'll find a little bit of chocolate heaven. There are loads of chocolate chips in these Deep Dish Chocolate Chip Cookies, which creates a molten layer of chocolate inside. When you dig into one, you'll find a gooey chocolate center that is sure to please any chocolate lover.
This recipe makes very generous servings for two people. These are definitely not the cookies you want on a day you're counting calories. But they're a wonderful indulgence for you and your favorite cookie lover for a special treat. They're also great for sharing. If you want to make smaller servings, you can opt to make them in smaller ramekins for 3 or 4 servings.
For a more traditional small-batch chocolate chip cookie recipe, try my Small Batch Chocolate Chip Cookies.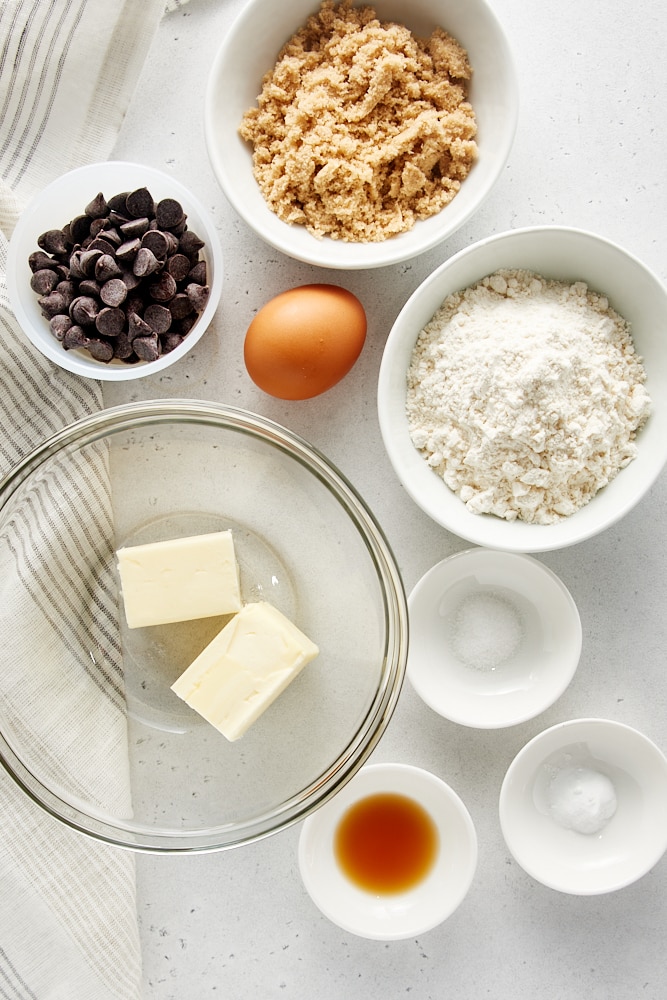 What You'll Need
You'll just need the basics for these Deep Dish Chocolate Chip Cookies, making them a great go-to recipe for those times when you're craving freshly baked cookies!
All-purpose flour – Measure by weight or spoon and sweep.
Baking soda – Make sure yours is fresh so the cookies will rise properly.
Salt
Unsalted butter – After melting the butter, allow it to cool until it's still warm to the touch but not hot.
Brown sugar – Light or dark brown sugar will work here. Learn more: Light vs Dark Brown Sugar
Vanilla extract
Semisweet chocolate chips – Use good quality chocolate chips. You can also used roughly chopped chocolate if you like.
Topping Ideas
Ice cream
Chocolate syrup
Nuts
Sprinkles
Caramel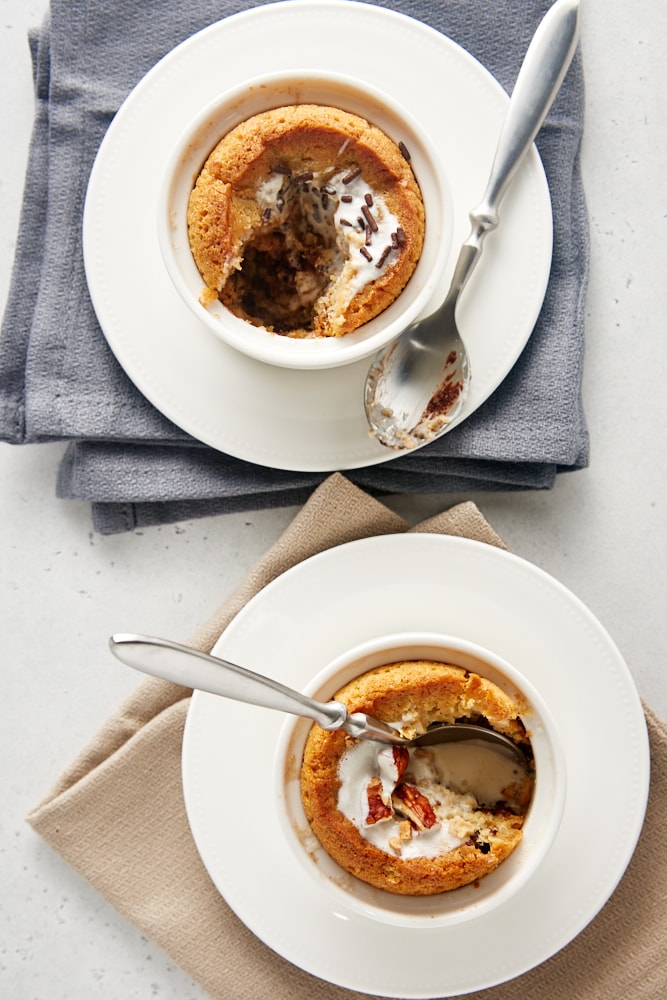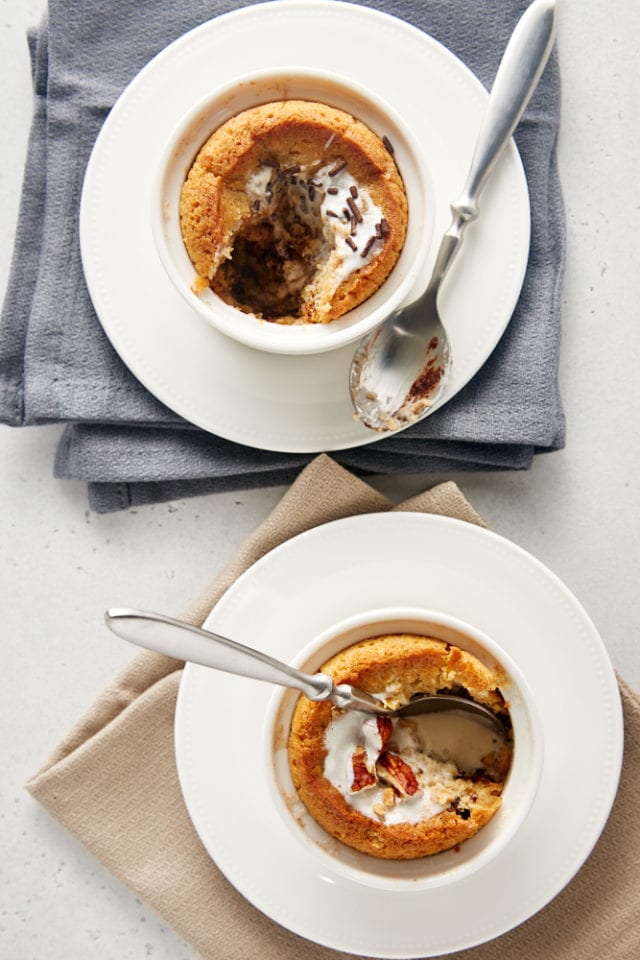 How to Make Deep Dish Chocolate Chip Cookies for Two
No need for a mixer here! Just grab a bowl and a spoon, and you're set. You'll need two 6- or 8-ounce ramekins or other oven-safe dishes of equal volume. If you aren't sure what size your ramekins are, the simplest way to check is to fill with water and then pour into a measuring cup.
Prepare for baking. Heat the oven to 350°F. Butter (or use a cooking spray) two 6- or 8-ounce ramekins. The cookies pictured here were baked in 6-ounce ramekins, which doesn't afford a lot of extra room. The 8-ounce option is a safer choice but will look a little different.
Combine the dry ingredients. Whisk together the flour, baking soda, and salt.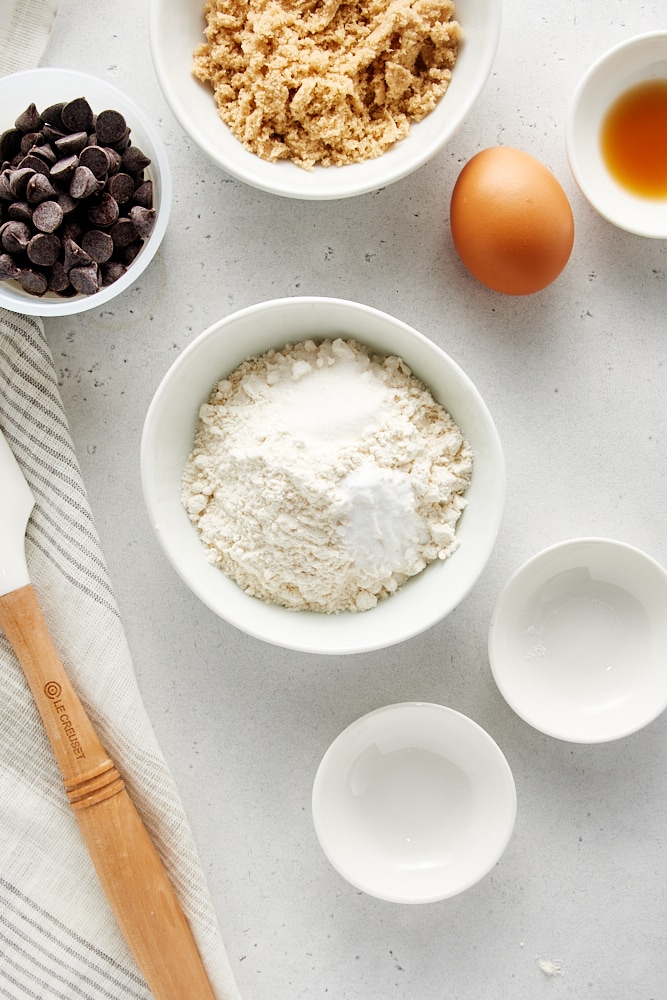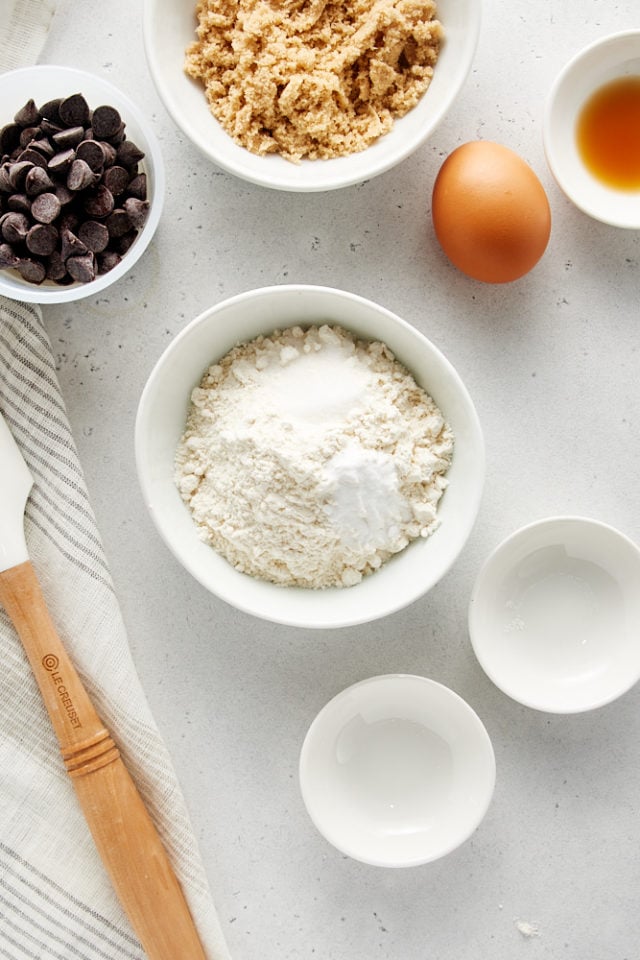 Combine the wet ingredients. Stir together the cooled butter, brown sugar, vanilla, and egg.
Combine the dry ingredients to the wet ingredients. Add the flour mixture to the butter mixture, and mix just until combined.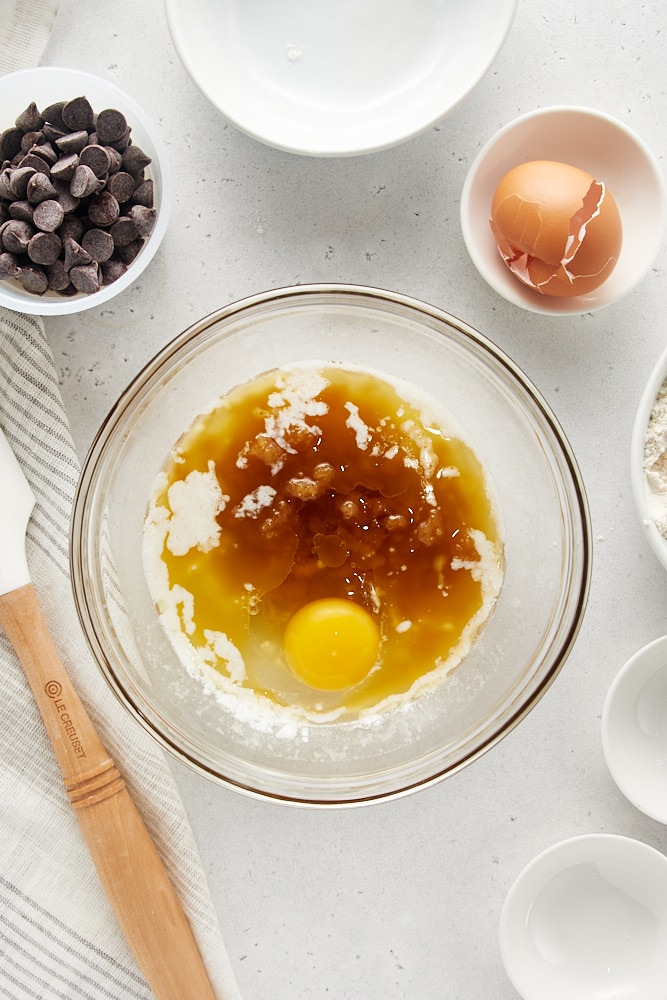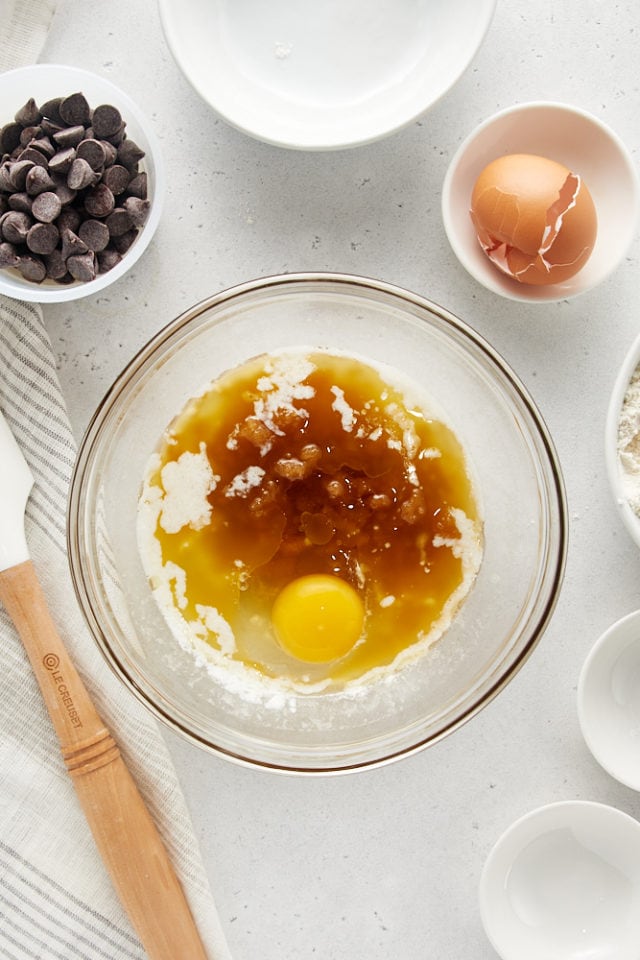 Add the chocolate chips. Stir in the chocolate chips until well-distributed.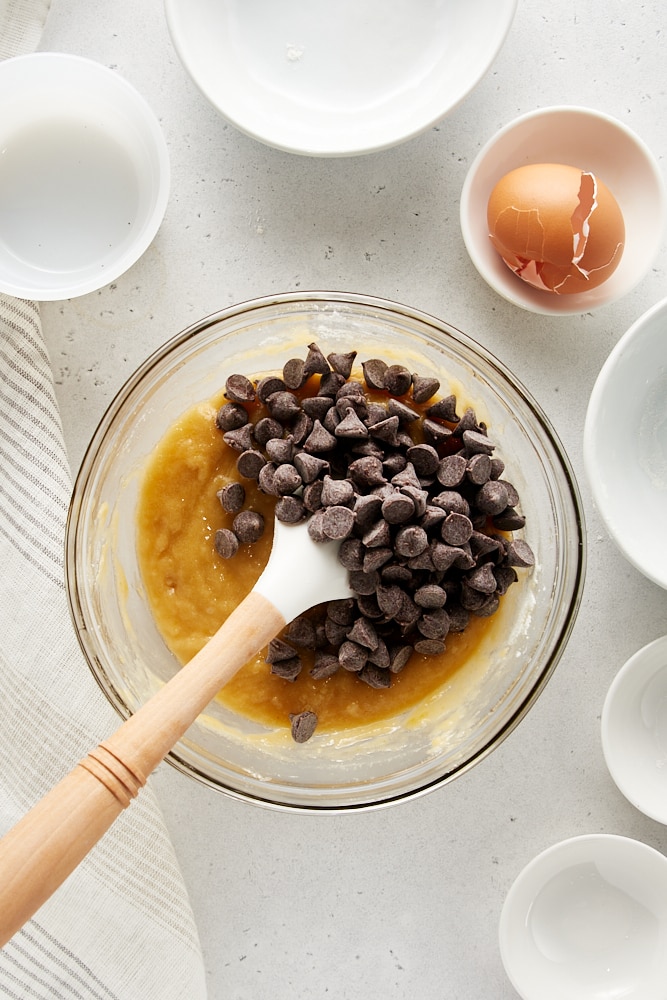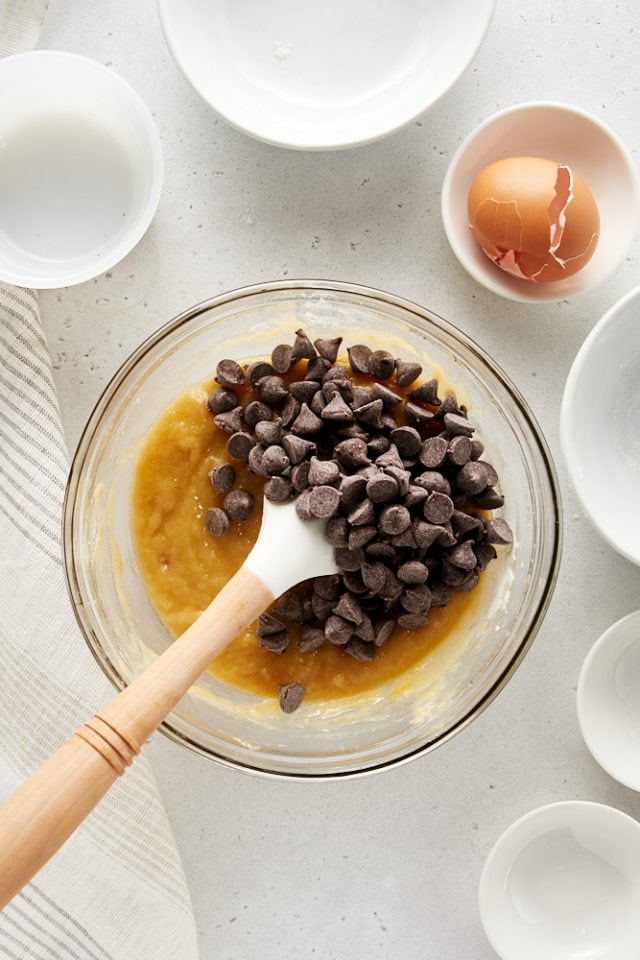 Portion the dough and bake. Divide the dough evenly between the prepared ramekins and spread evenly. Bake the cookies for 20 to 25 minutes, or until the edges are browned and the cookies appear set. Serve warm with your preferred toppings.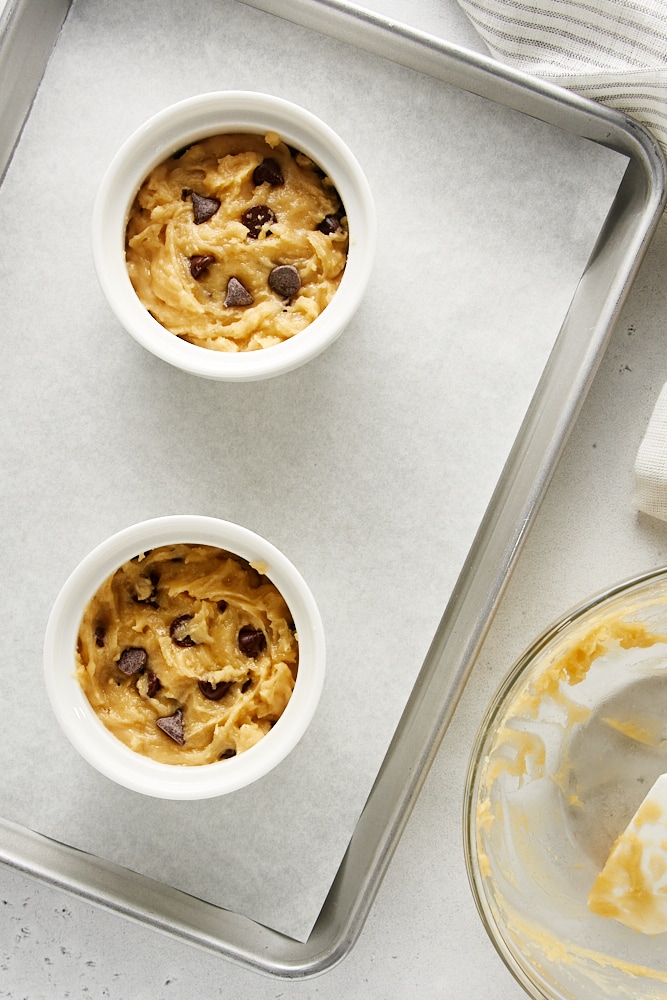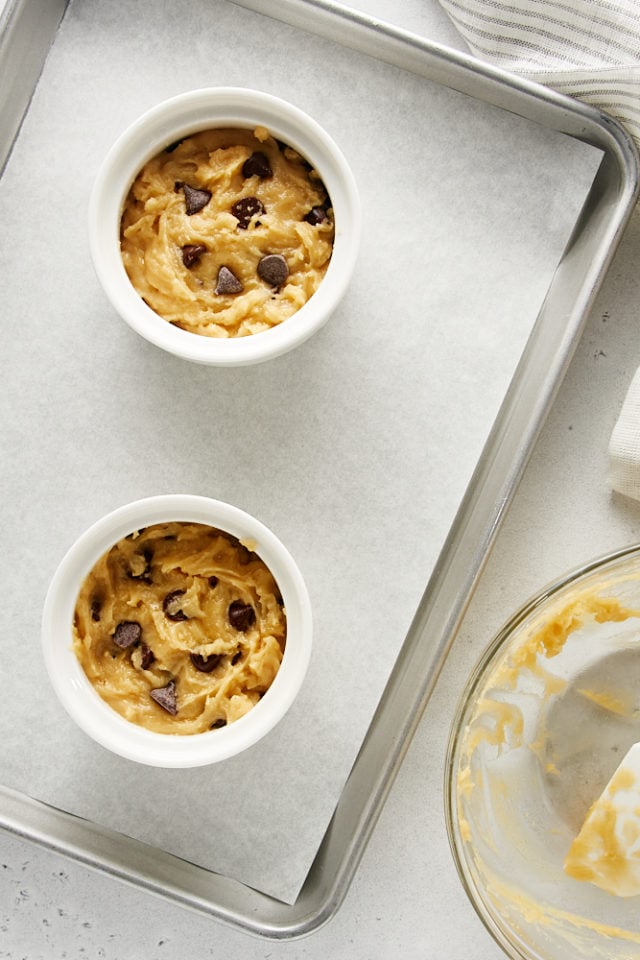 What If I Don't Have Ramekins?
Ramekins help give these cookies their amazing texture. But any oven-safe dish of comparable size will work if needed, although you may need to adjust the baking time if what you use isn't as deep as a ramekin.
Want to Make a Deep Dish Chocolate Chip Cookie for One?
Easy! Just half the recipe, using an egg yolk for the egg. Then you can have your very own cookie all to yourself. Or grab a couple of spoons and share!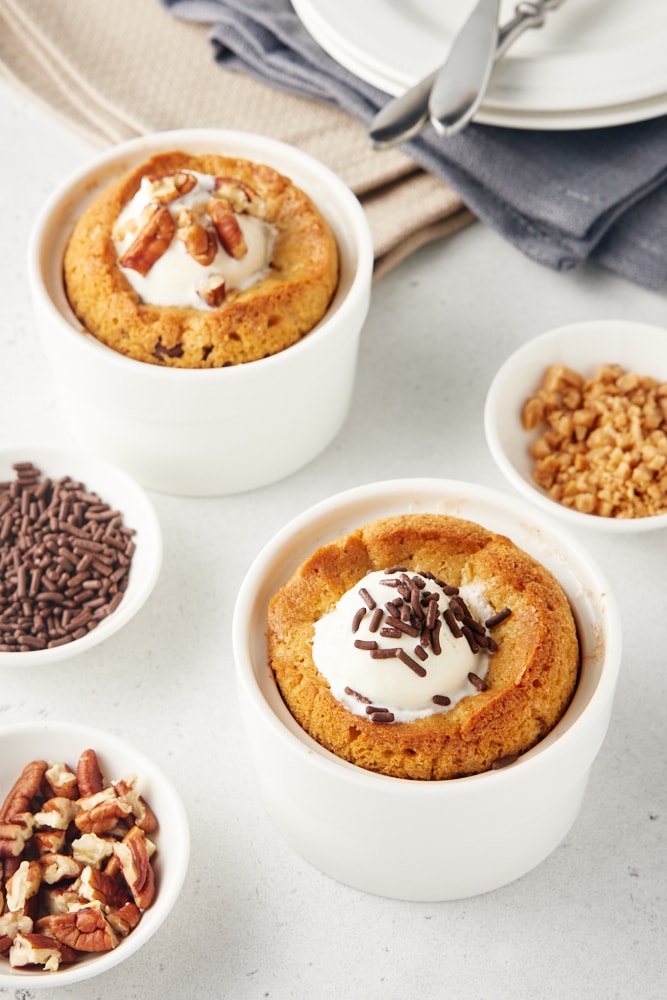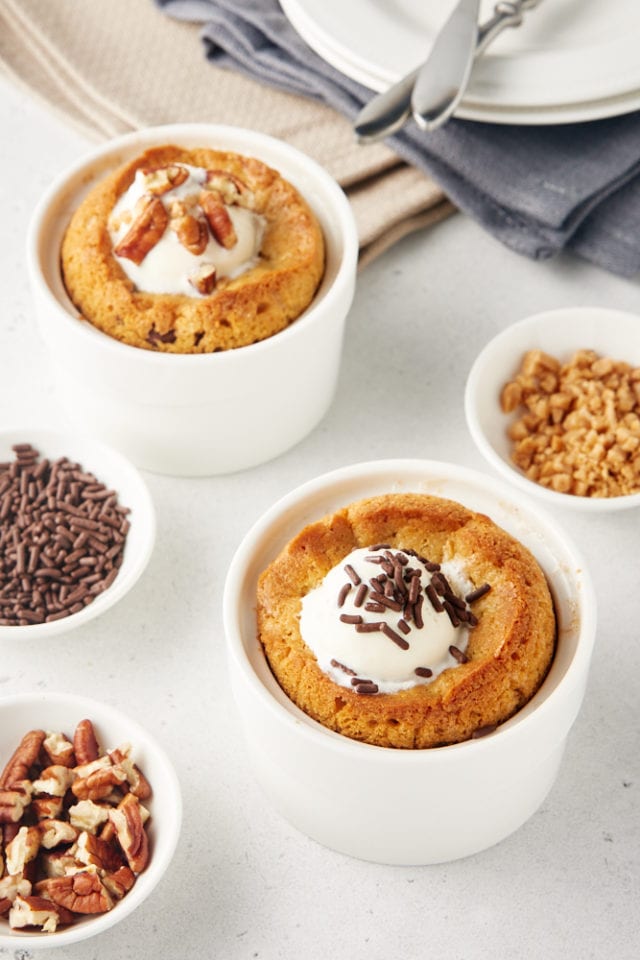 Tips for Success
Don't forget to grease the ramekins! You don't want the cookies to stick to the ramekins so that they'll rise nice and tall.
Use good quality chocolate. Pick one that has great flavor!
Place the ramekins on a lined, rimmed baking sheet. That will make it easier to get the cookies into and out of the oven, as well as provide a way to catch any potential spills.
How to Store Leftovers
Seriously, you won't have leftovers. But if for some reason you do, cover the cooled cookies with plastic wrap and store at room temperature or in the refrigerator for a couple of days. Reheat in the microwave or for a few minutes in a low-temperature oven.