Oatmeal Peanut Butter Chocolate Chip Cookies are like having three cookies in one! These soft, chewy, all-out delicious cookies are completely irresistible!
I have been thoroughly immersed in baking with fruit this summer. I've had so much available to me that it's been tough to do anything but use it. Not that I'm complaining. All that fresh fruit is one of the very few things I enjoy about summer. But, I haven't had much time for baking with anything else.
As I was trying to come up with an idea for using the latest round of CSA peaches, I suddenly had an overwhelming urge to bake up one of my great baking loves – cookies! Granted, I did just make those Peach Drop Cookies. But, I'm talking something a bit more in the traditional cookie sense.

I was having quite the internal debate over what kind of cookies to make. Chocolate chip? Oatmeal? Peanut butter? How about all three? Yes, let's definitely do that.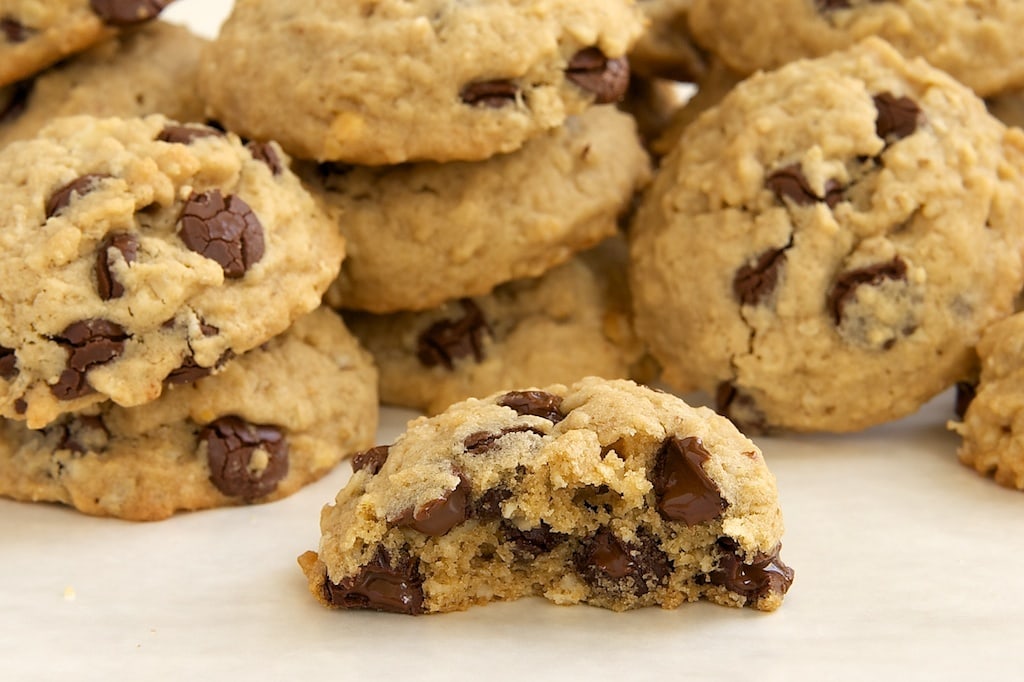 These cookies are soft yet still manage to be chewy. They are so very good anytime, but a warm one with melty, gooey chocolate chips is particularly amazing.
Despite being three kinds of cookie at once, these cookies don't suffer from an identity crisis. Whether you call them Peanut Butter Chocolate Chip Oatmeal Cookies, Oatmeal Peanut Butter Chocolate Chip Cookies, Peanut Butter Oatmeal Chocolate Chip Cookies, or The Best Cookies EVER, all three components work well together to make a ridiculously good cookie. Plus, they make a big batch, so you'll have plenty to share while keeping a little stash for yourself.
Find more cookie recipes in the Recipe Index.
More Big Batch Cookies