These Oatmeal Peanut Butter Chocolate Chip Cookies are like having three cookies in one! They're soft, chewy, chocolaty, and completely irresistible!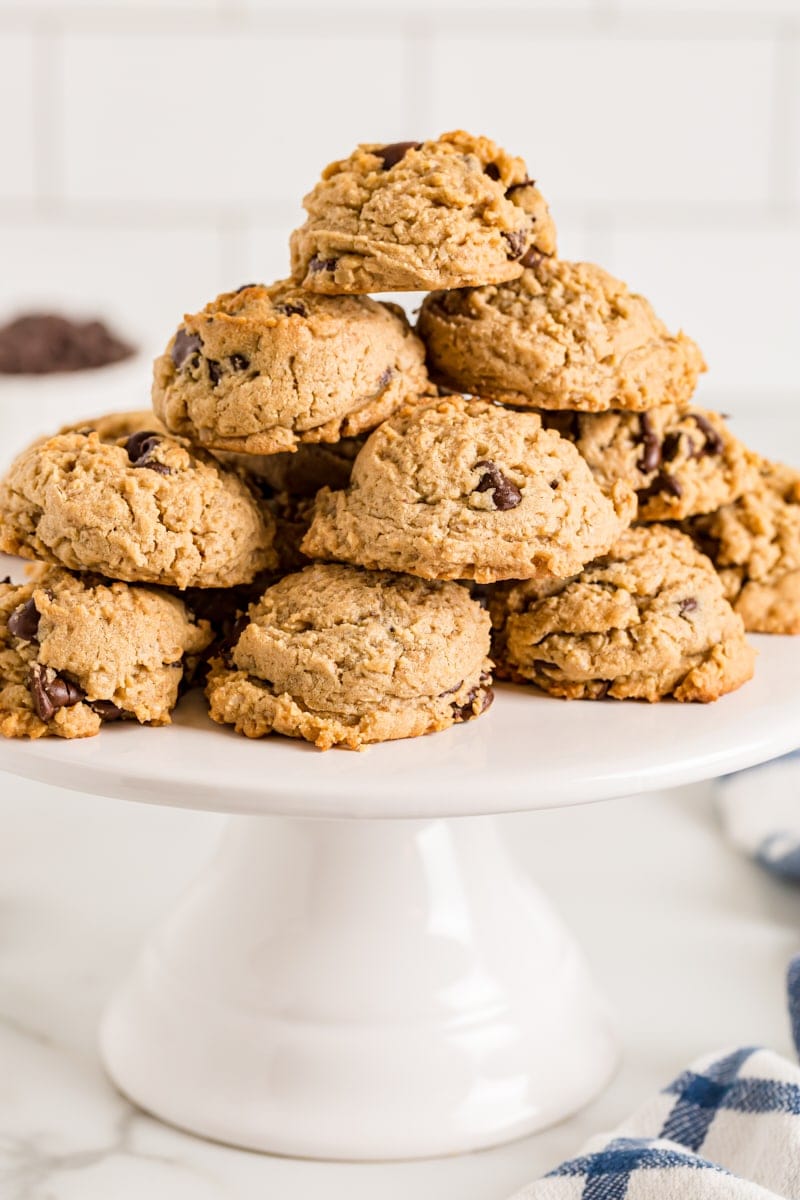 Soft Peanut Butter Cookies With Oats and Chocolate Chips
These cookies were born when I couldn't decide what kind of cookie I wanted to make. Chocolate chip cookies? Oatmeal? Peanut butter cookies? How about all three? Yes, let's definitely do that.
These cookies are soft like a good peanut butter cookie, yet they still manage to be chewy, like you want in an oatmeal or chocolate chip cookie. They are so very good any way you eat them, but a warm cookie with melty, gooey chocolate chips is particularly amazing.
Despite being three kinds of cookie at once, these cookies don't suffer from an identity crisis. Whether you call them Oatmeal Peanut Butter Chocolate Chip Cookies or The Best Cookies EVER, all three components work well together to make a ridiculously good cookie. Plus, they make a big batch, so you'll have plenty to share while keeping a stash for yourself!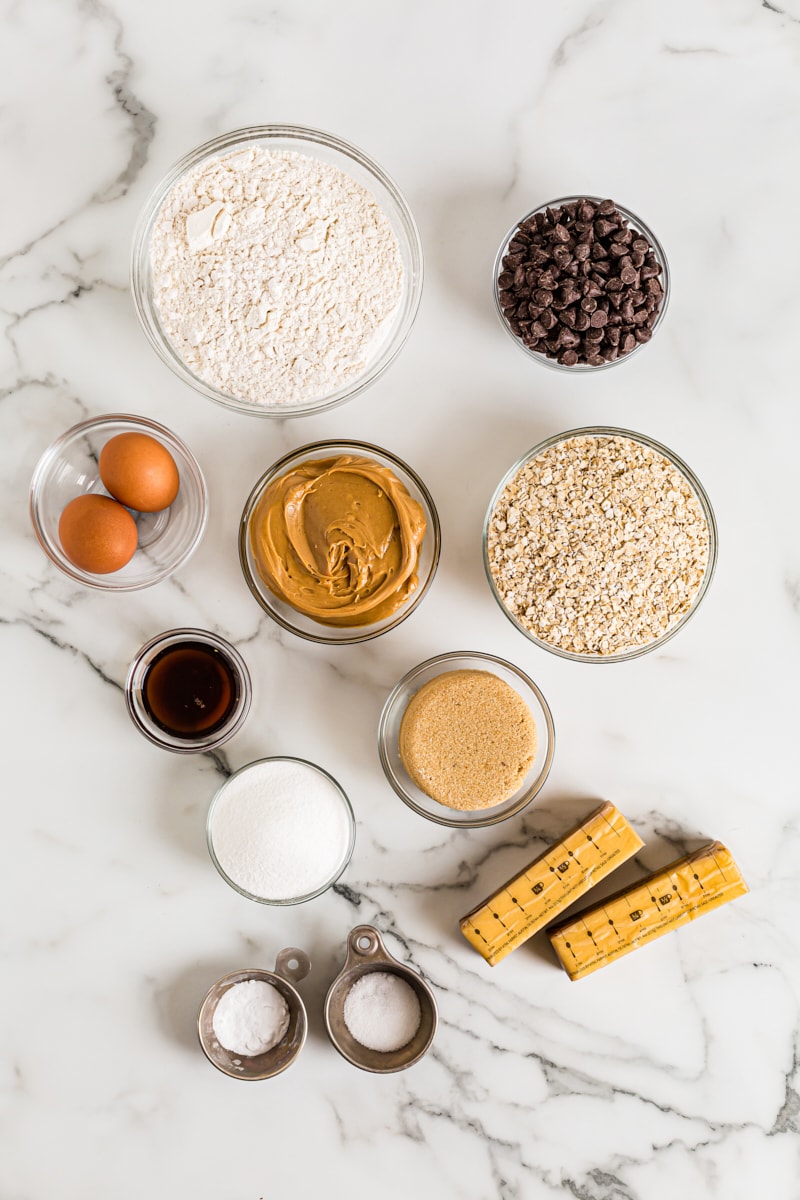 What You'll Need
Scroll down to the recipe card below this post for ingredient quantities and full instructions.
All-purpose flour – Learn more: How to Measure Flour
Quick-cooking rolled oats
Baking soda
Salt
Unsalted butter – Let this soften at room temperature so it's easy to cream with the sugars. Softened butter should still be cold and firm but hold a thumbprint when pressed.
Light brown sugar – Make sure to pack the brown sugar firmly or measure by weight.
Granulated sugar
Peanut butter – You can use creamy or crunchy here. As a general rule, I don't recommend baking with natural peanut butter.
Eggs – Bring these to room temperature.
Vanilla extract
Semisweet chocolate chips
Are Quick Oats the Same as Regular Oats?
Quick-cooking oats are rolled thin and steamed to reduce their cooking time. They're good for baking with because they add texture without being distractingly chewy, like old-fashioned oats sometimes are. If you'd like to learn more, read Rolled Oats vs Quick Oats.
Variations
You can swap the semisweet chocolate chips for dark chocolate or milk chocolate chips or chunks. Add chopped dry roasted peanuts for crunch, or swap some of the chocolate chips for Reese's Pieces or roughly chopped peanut butter cups.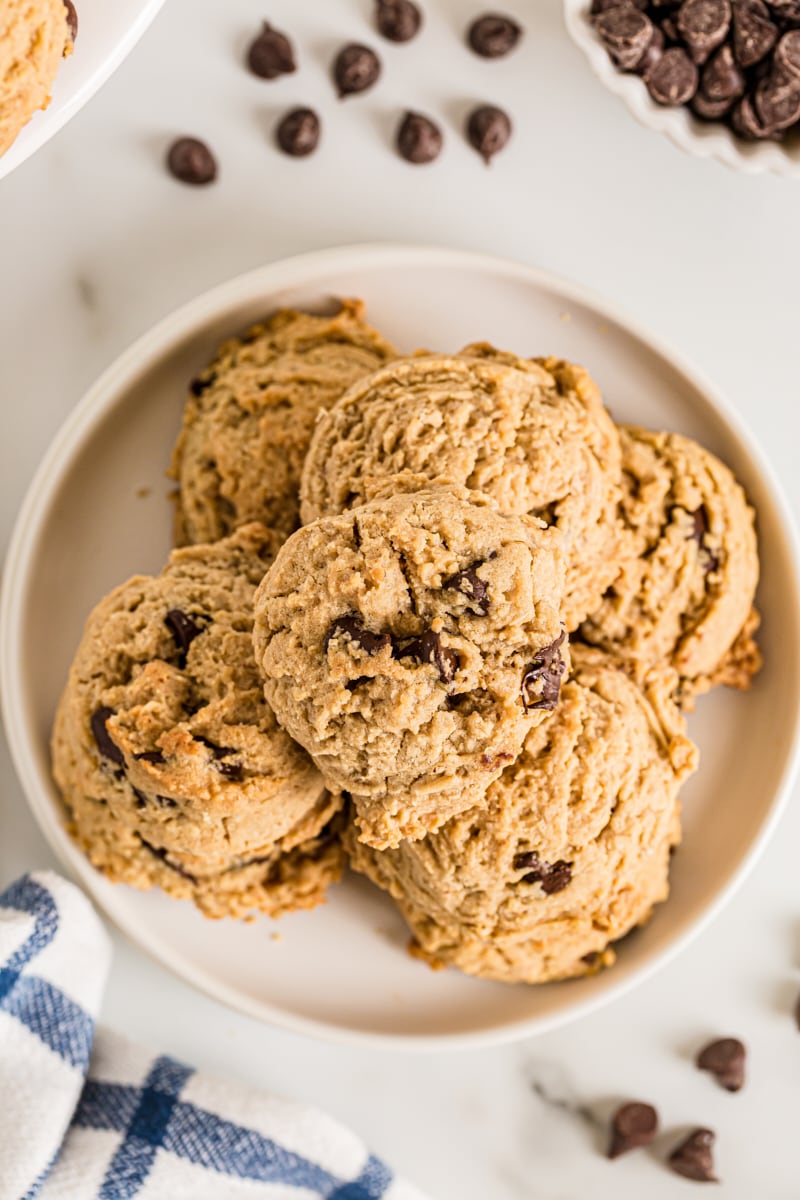 How to Make Oatmeal Peanut Butter Chocolate Chip Cookies
This is your standard kind of cookie recipe—no muss, no fuss! Here's what you'll need to do.
Prepare. Preheat your oven to 350°F and line your baking sheets with silicone liners or parchment paper.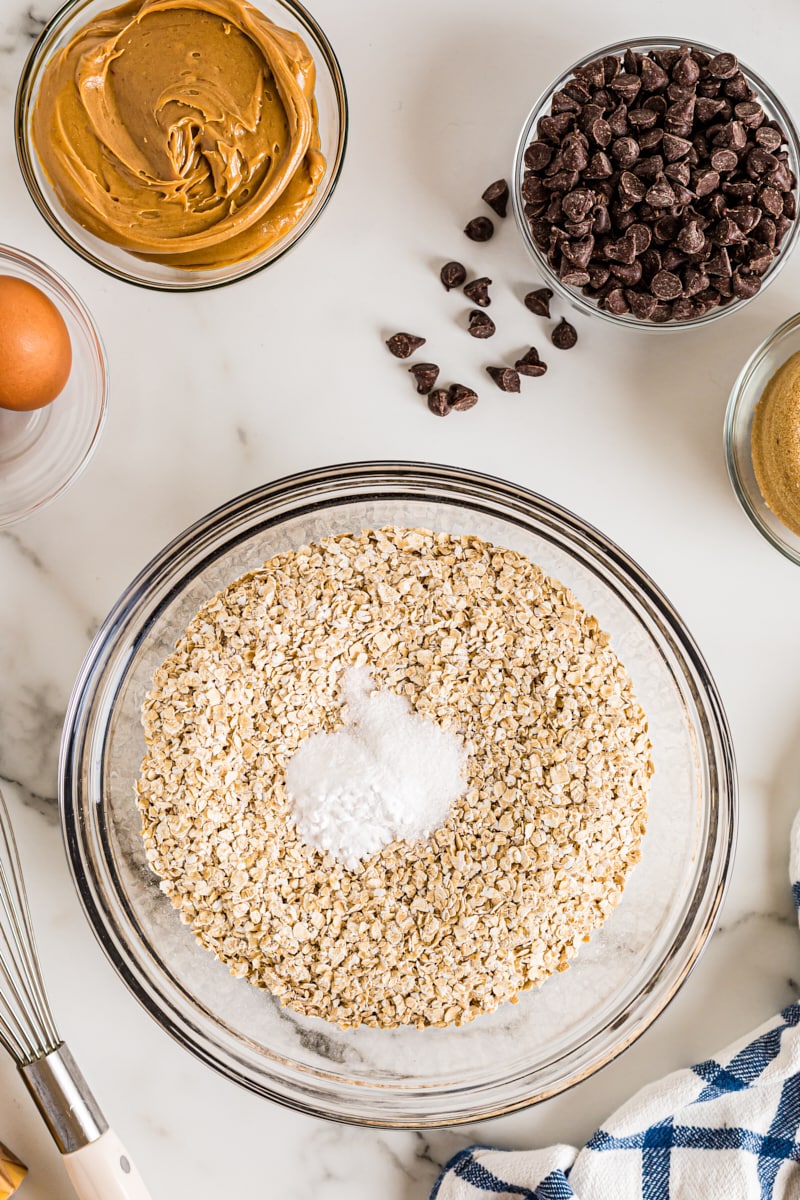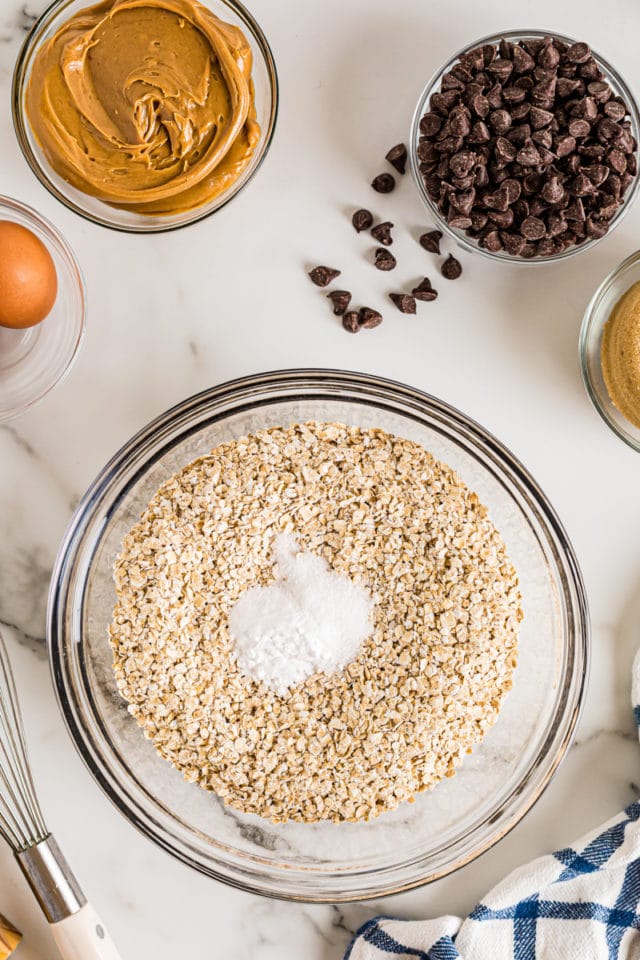 Mix the dry ingredients. Whisk the flour, oats, baking soda, and salt in a mixing bowl.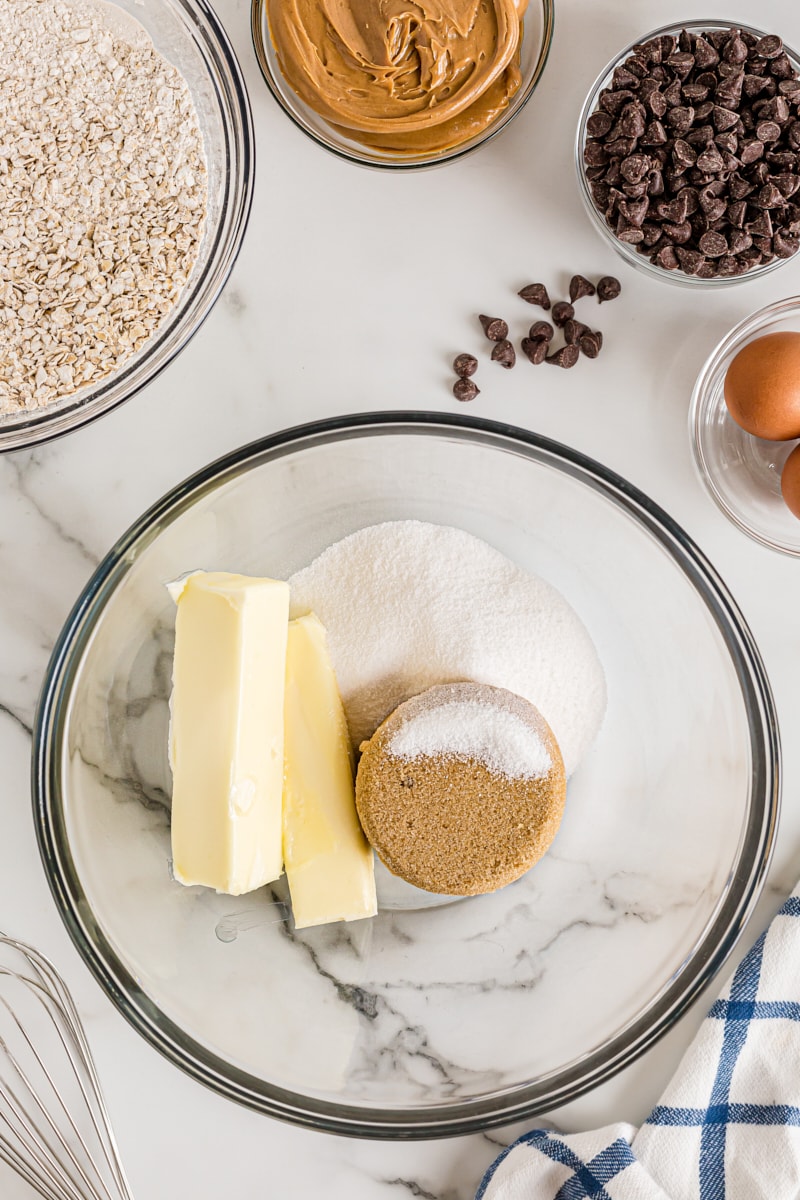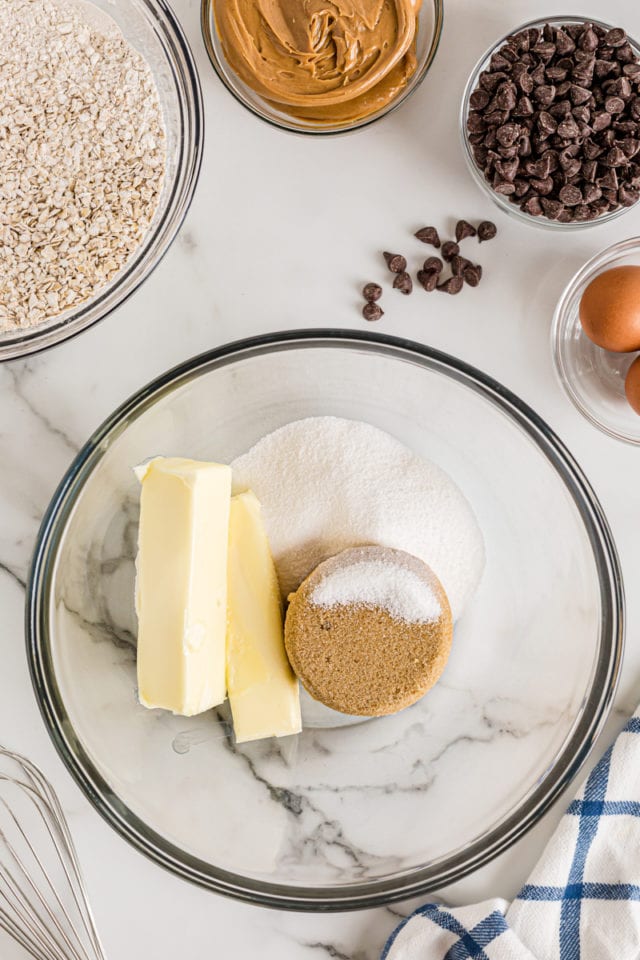 Mix the wet ingredients. Use an electric mixer on medium speed to cream the butter, brown sugar, and sugar until light, fluffy, and smooth. Beat in the peanut butter, followed by the eggs and vanilla.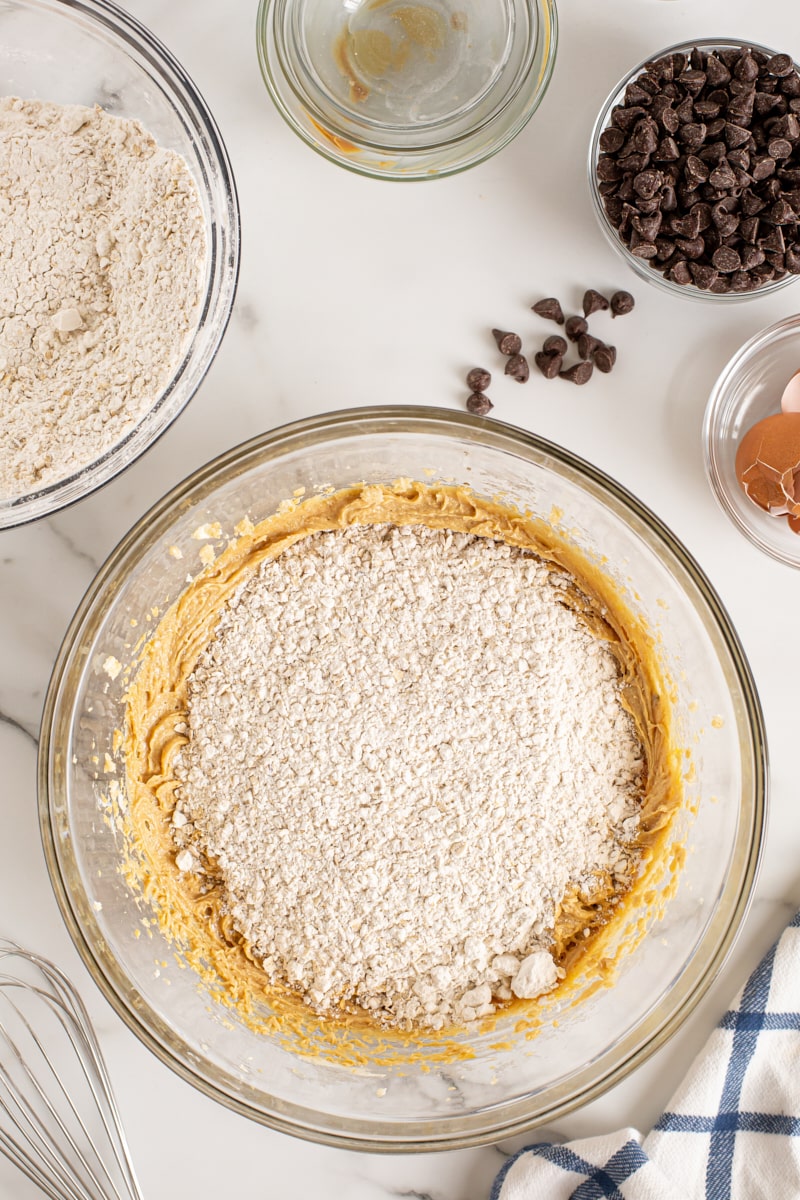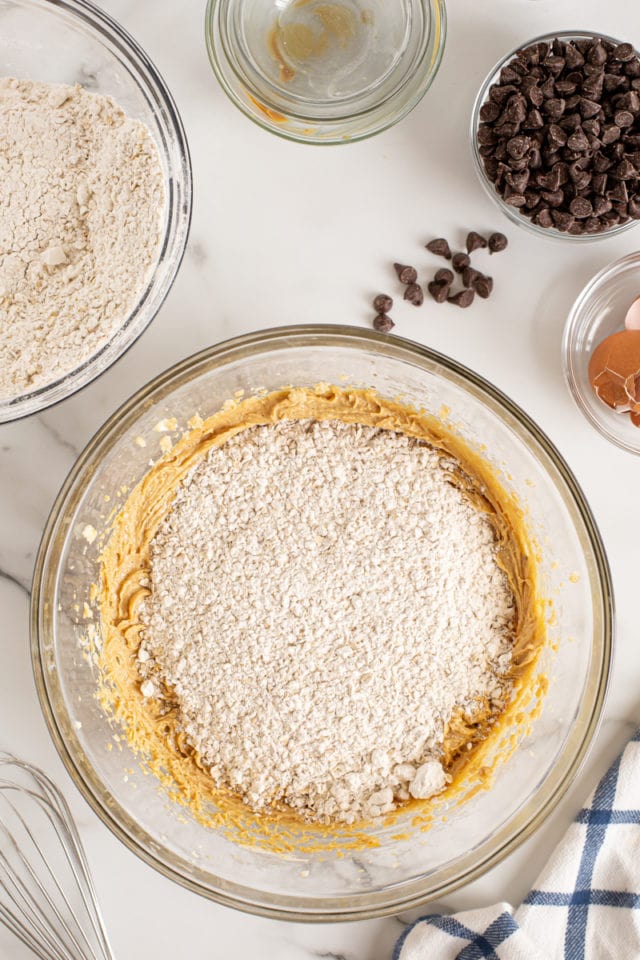 Combine the wet and dry mixtures. Reduce the mixer speed to low and slowly add the flour mixture, beating until just combined. Fold in the chocolate chips.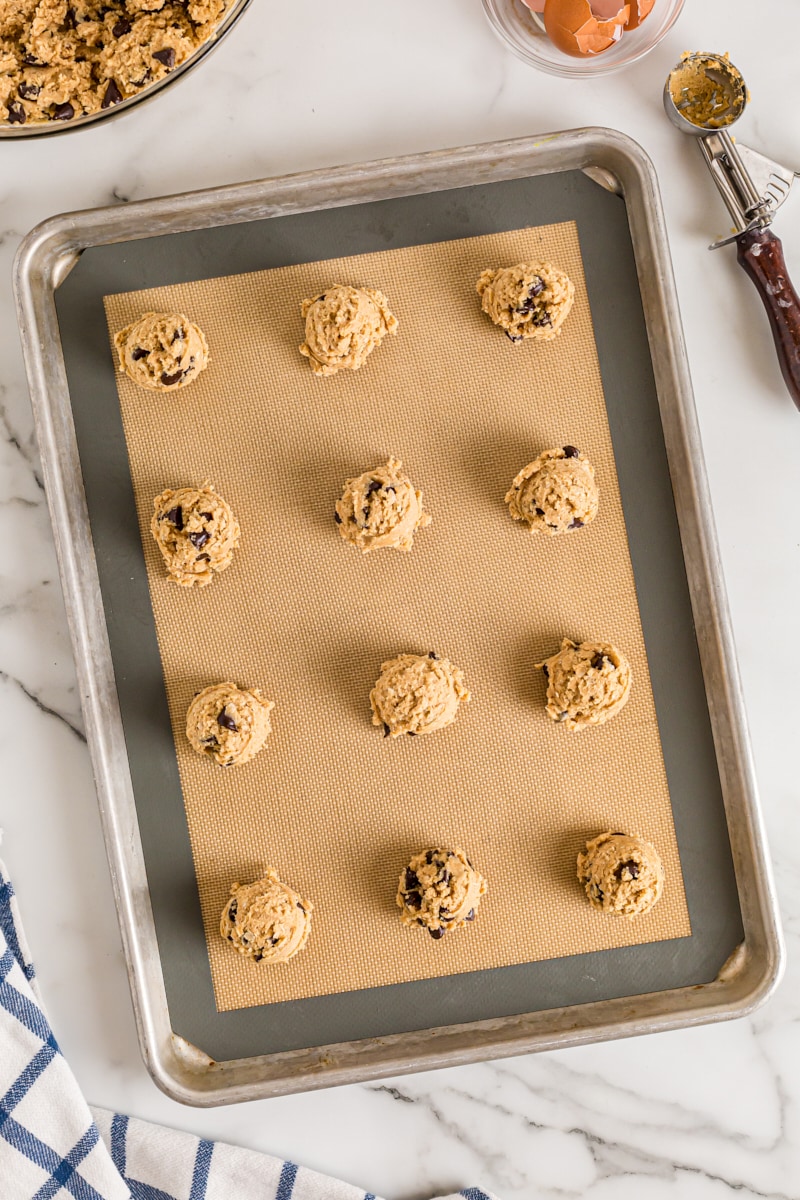 Form the cookies. Use a cookie scoop or spoon to drop the dough in 2-tablespoon portions onto the prepared pans.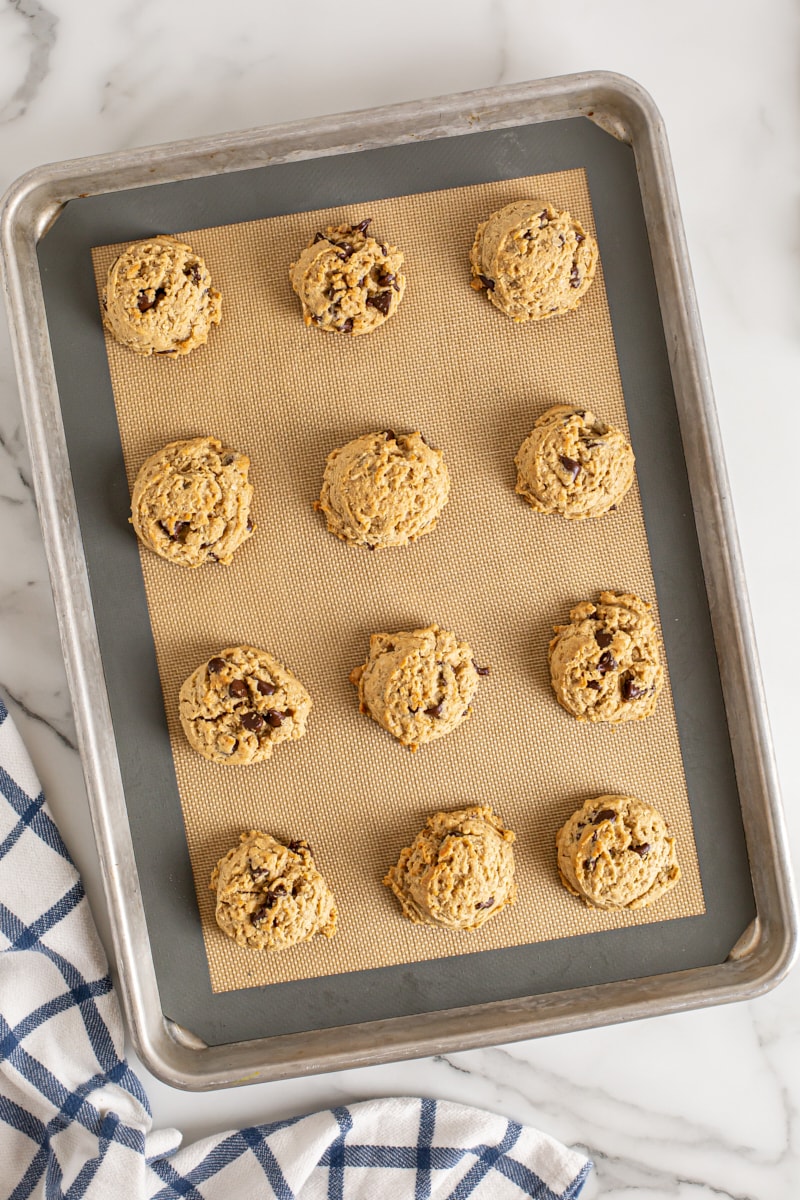 Bake. Place the baking sheets in the oven and bake for 10 to 12 minutes, or until the cookies are lightly browned on the edges, but still soft in the middle.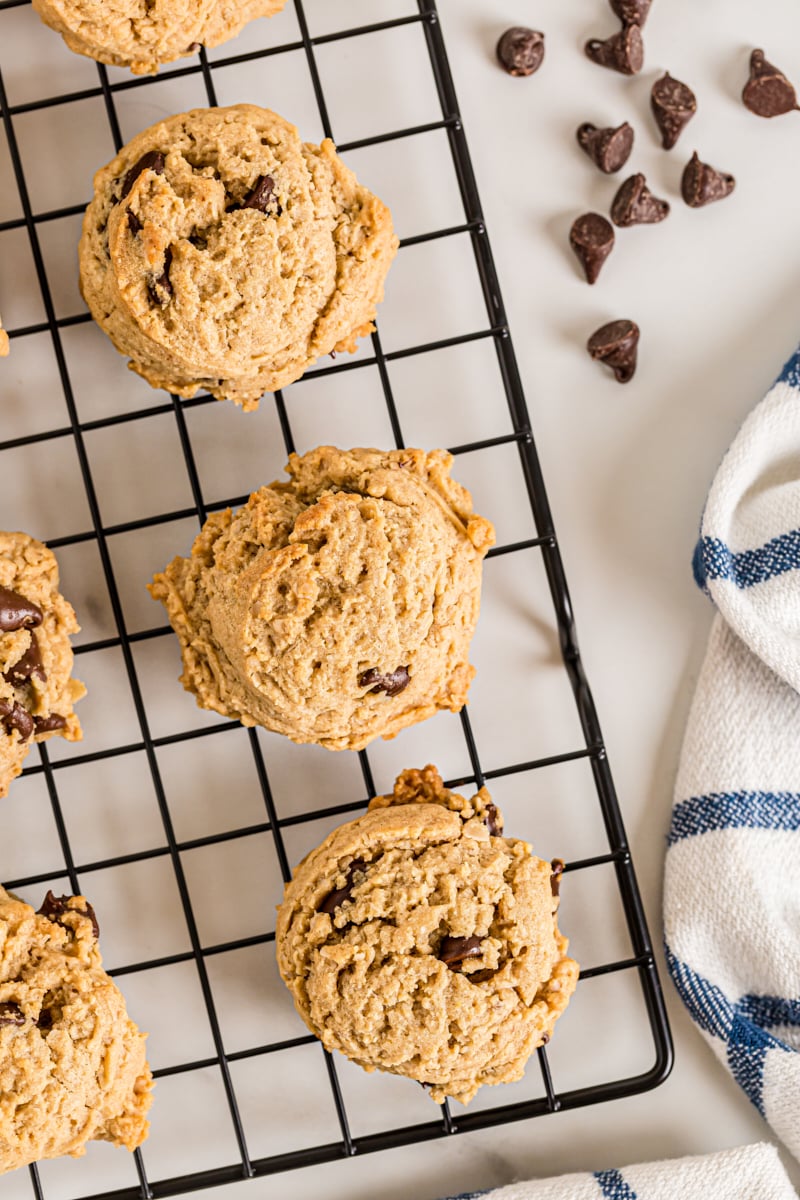 Cool. Let the cookies cool on the pans for 5 minutes, then transfer them to wire racks to cool completely. (Learn more: Why Every Baker Needs Wire Cooling Racks)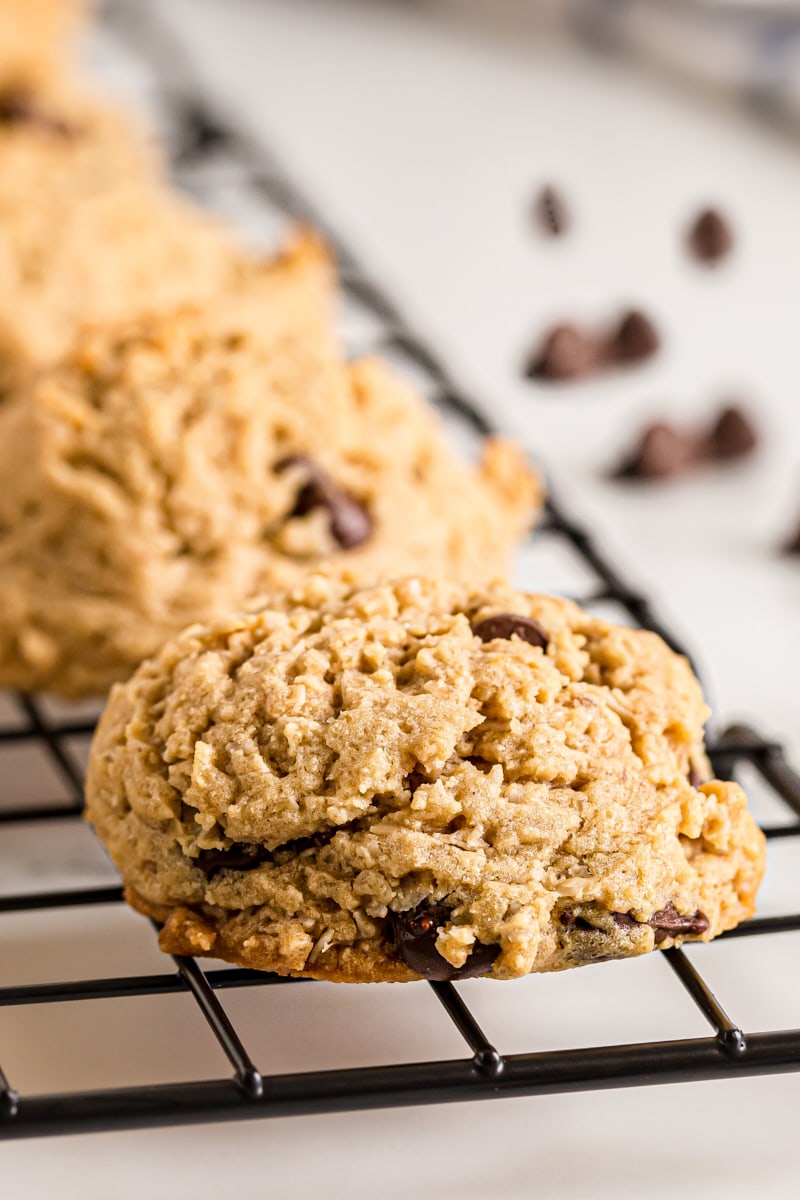 Tips for Success
Here are some hints and tips for perfect Oatmeal Peanut Butter Chocolate Chip Cookies!
Using salted butter. I usually recommend unsalted butter for baking (learn more: Unsalted or Salted Butter: Which is Better for Baking?), but if you have salted on hand and don't want to add unsalted butter to your shopping list, be sure to add less salt to the recipe.
Keeping the cookies from spreading. Place the cookie dough in refrigerator between baking batches, and don't put the dough on hot baking sheets.
Don't over-bake. The cookies will continue firming up from the residual heat on the baking sheets even after you remove them from the oven, so don't fret about centers that seem unbaked.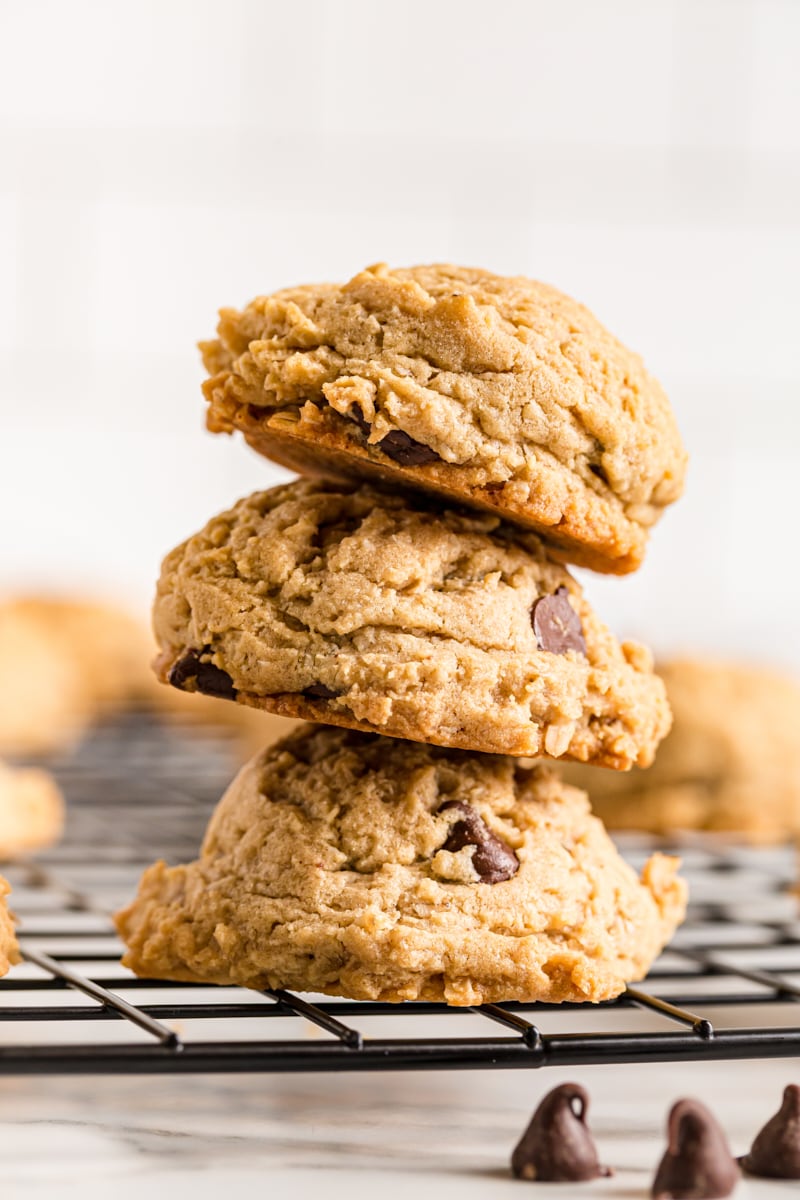 How to Store
You can keep these cookies in an airtight container at room temperature for 4 to 5 days.
Can This Recipe Be Frozen?
Yes, you can freeze baked cookies for up to 3 months. Place them in an airtight container or freezer bag with parchment paper between the layers. They can be thawed at room temperature or warmed up in the microwave for a few seconds at a time until they reach your desired temperature.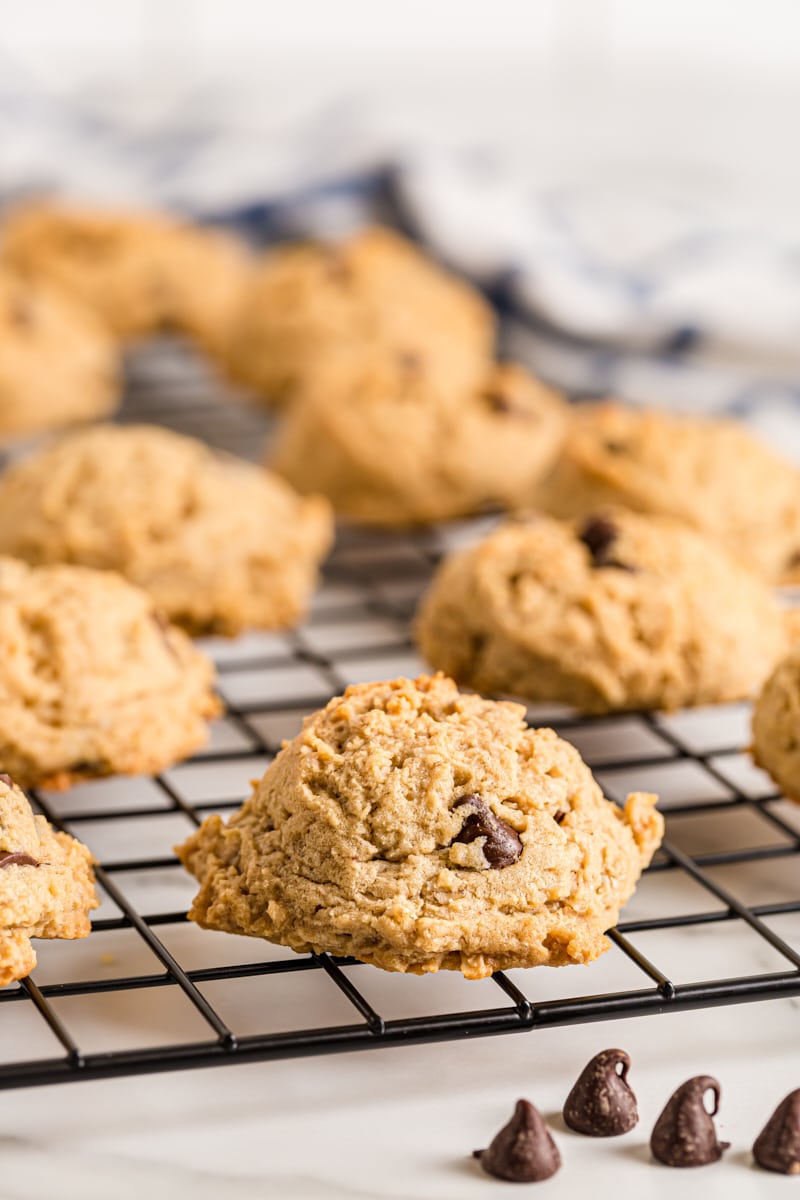 How Do You Freeze Cookie Dough for Later Use?
This dough is excellent for freezing—then you can have warm, freshly baked cookies any time the craving strikes!
Place the balls of cookie dough on a parchment lined baking sheet, but instead of putting it in the oven, pop it in the freezer. Once the dough is frozen solid, transfer it to an airtight storage container or freezer bag.
When you want to make cookies with your frozen dough, simply follow the baking instructions in the recipe, adding a minute or two to the original baking time to account for the dough being frozen.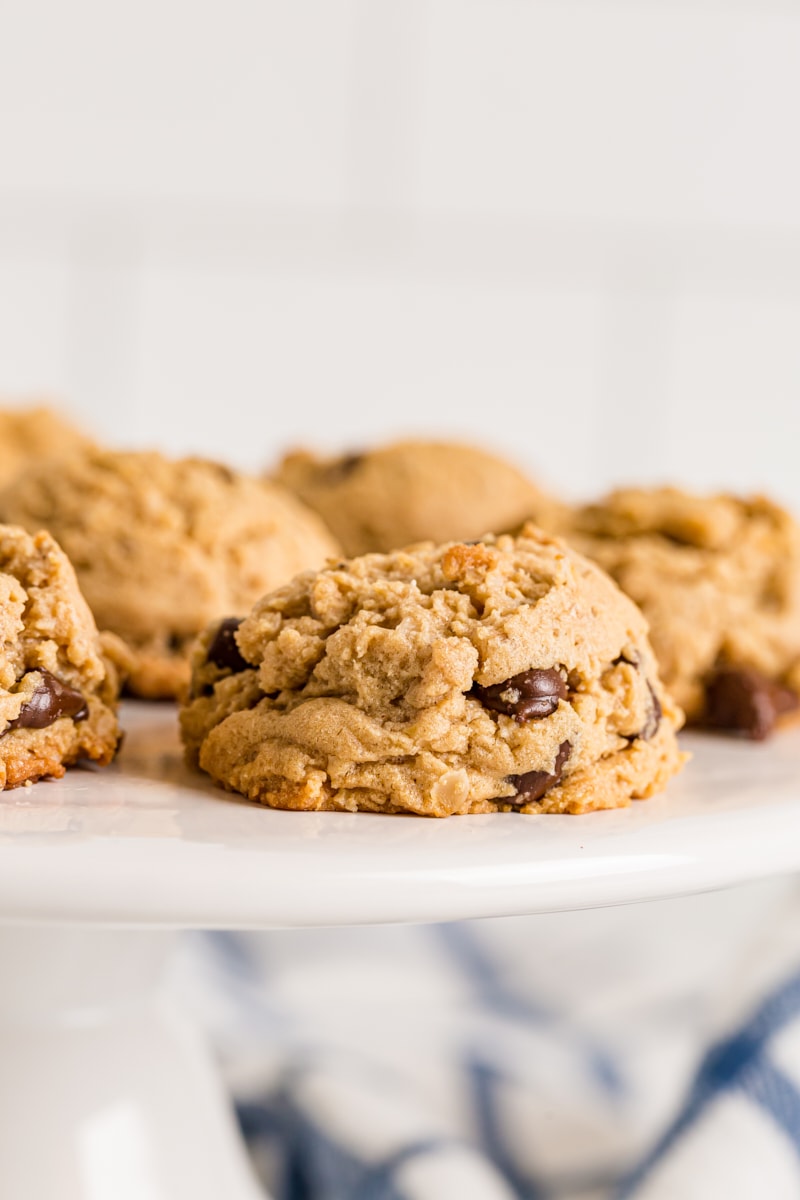 Find more cookie recipes in the Recipe Index.
More Big Batch Cookies