This Giant Chocolate Chip Cookie is easy to make and even easier to devour! Share it with someone special, or keep it all to yourself.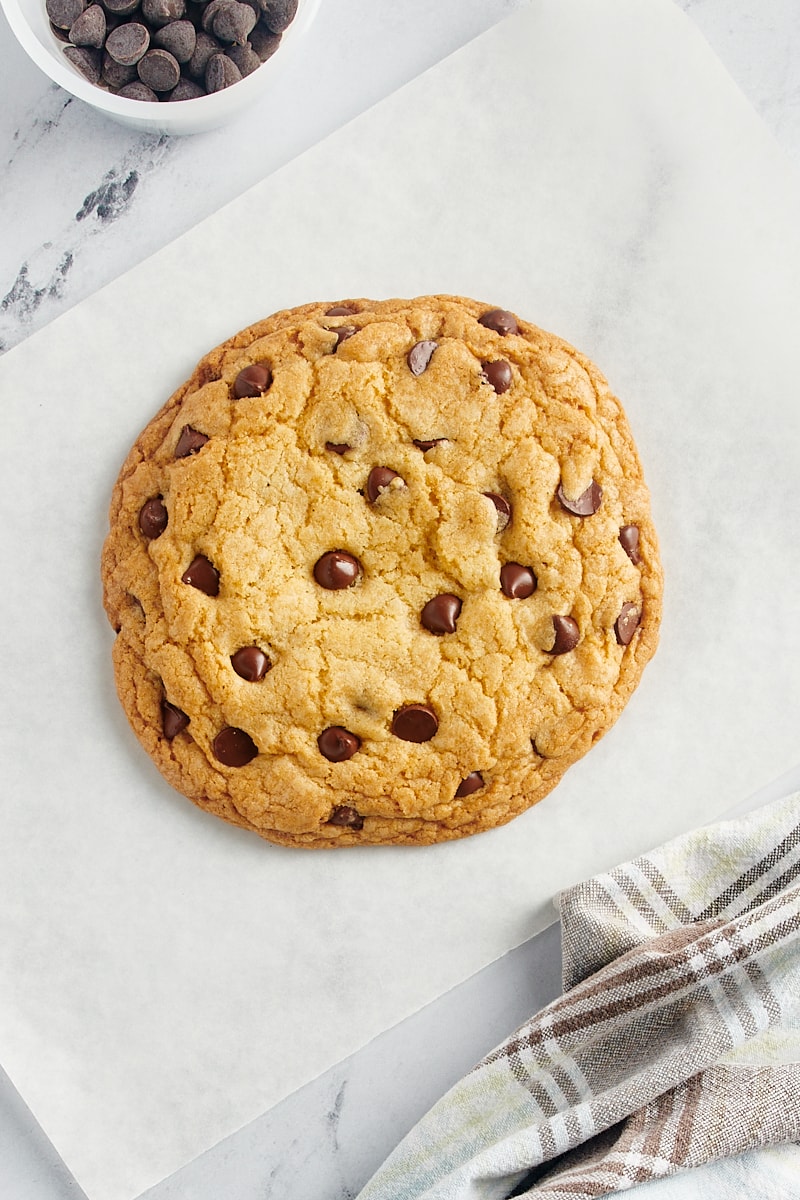 Giant Chocolate Chip Cookie for Two
This great big chocolate chip cookie is perfect for sharing with your favorite cookie lover. Or let's be honest. It's also great for a delicious indulgence all for yourself. Break off a bit when you get a craving and just treat yourself to a homemade chocolate chip cookie!
It's so easy to whip up this dough and get it into the oven. Perfect for those times when a sudden cookie craving strikes! Movie night on the couch with a friend? Yep. Weeknight cookie hankering? Absolutely. Special treat for you and your partner? Indeed!
Best of all, you'll likely have everything you need to make this cookie any time you want. If you bake with any regularity, then you'll certainly be ready to start measuring and mixing! And once the dough is mixed, you won't need to spend time portioning dough with a cookie scoop. Just shape the dough on the pan!
As you can imagine, I usually have no shortage of baked goods in my kitchen. But sometimes only a freshly baked cookie will do! This one will more than satisfy your chocolate chip cookie craving!
For more small batch chocolate chip cookies, try my Deep Dish Chocolate Chip Cookies for Two and Small Batch Chocolate Chip Cookies, too. And if you're still craving cookies, be sure to see my collection of my very best chocolate chip cookies!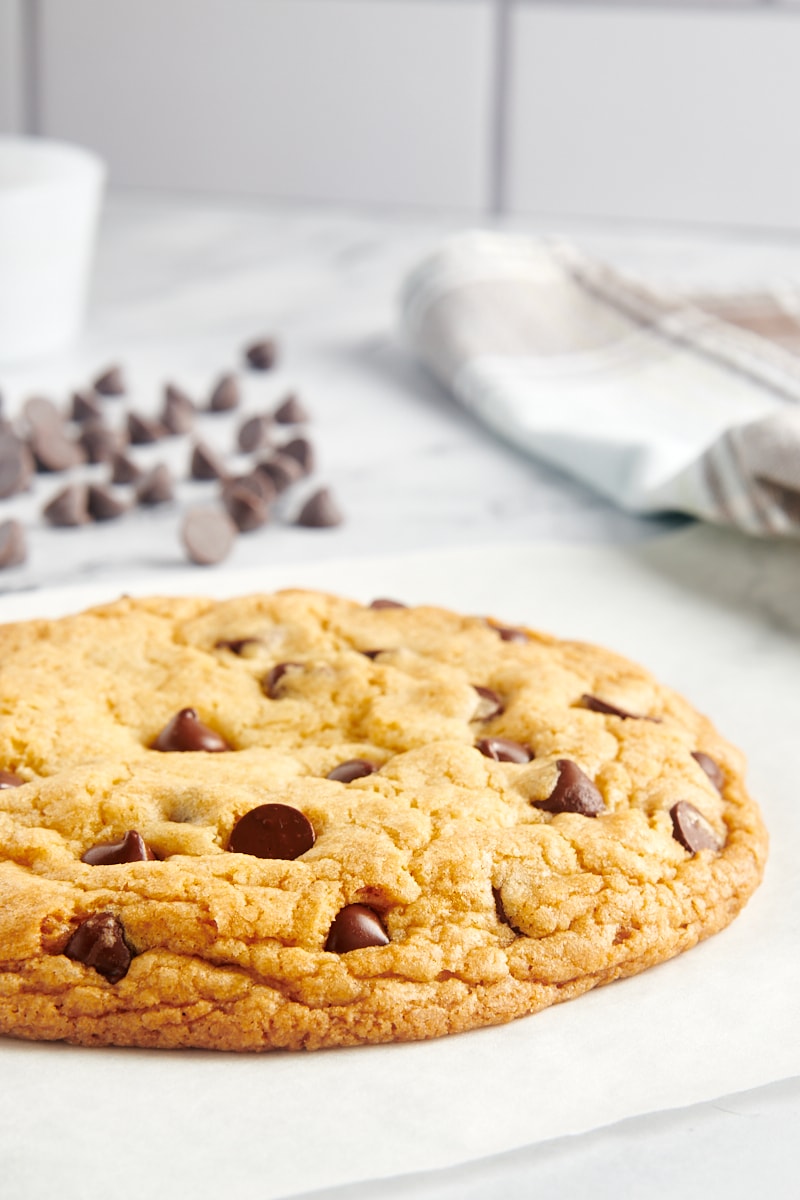 What You'll Need
Just the basics here! See the recipe card at the bottom of this post for ingredient quantities and full instructions. Here are some helpful notes about the ingredients you'll need to make your great big chocolate chip cookie!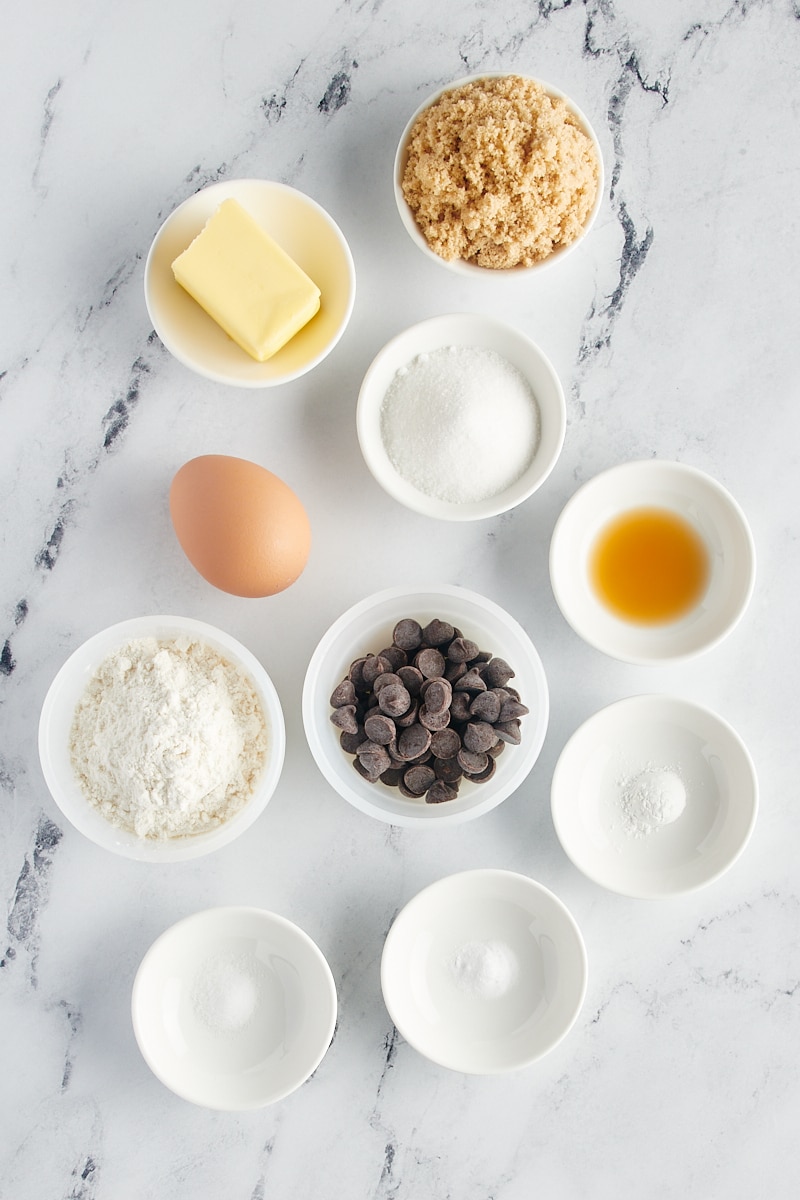 All-purpose flour – Measure by weight or spoon the flour lightly into the measuring cup and use a straight edge to level off the top. Learn more: How to Measure Flour
Baking powder
Baking soda
Salt
Unsalted butter – After melting the butter, let it cool slightly until it's still warm but not hot. If it's too hot, it will start cooking the egg when they're mixed together.
Brown sugar – I like to add some light brown sugar here for flavor and softness. I prefer to use light brown sugar, but you can use dark brown sugar if that's your preference.
Granulated sugar
Egg – For this small amount of dough, you won't need an entire egg. Lightly beat the egg and measure out 1 tablespoon.
Vanilla extract
Chocolate chips – I've listed a quantity range so you can adjust as you like. Use semisweet chocolate chips for a classic chocolate chip cookie taste, or try milk chocolate chips instead. You can also use chocolate chunks or chopped chocolate if you prefer. Learn more: A Baker's Guide to Chocolate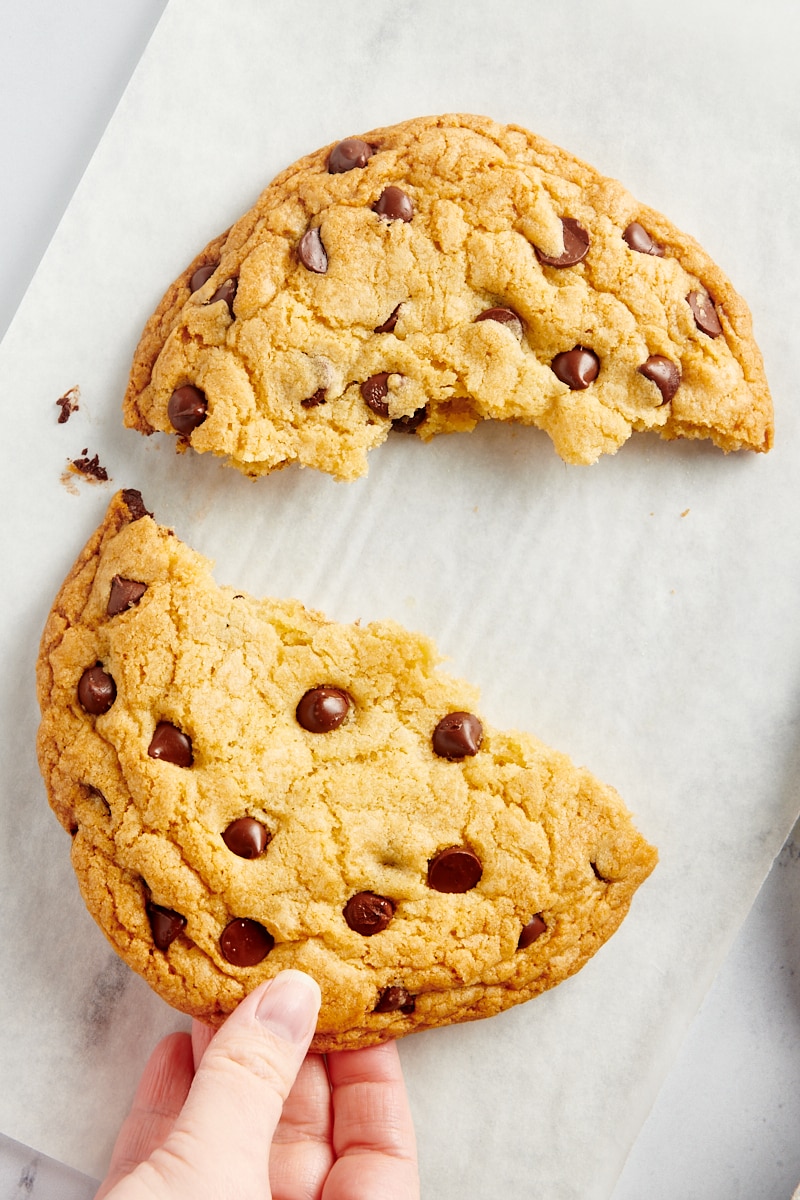 How to Make a Giant Chocolate Chip Cookie
You'll love how quickly and easily this dough mixes. Leave the mixer in the cabinet; you can mix this dough easily by hand with a rubber spatula or wooden spoon. It's a great recipe to satisfy a cookie craving without a lot of fuss!
Prepare for baking. Heat the oven to 350°F. Line a baking pan with parchment paper or a silicone liner. A quarter sheet pan works well, but you can use a larger pan if needed.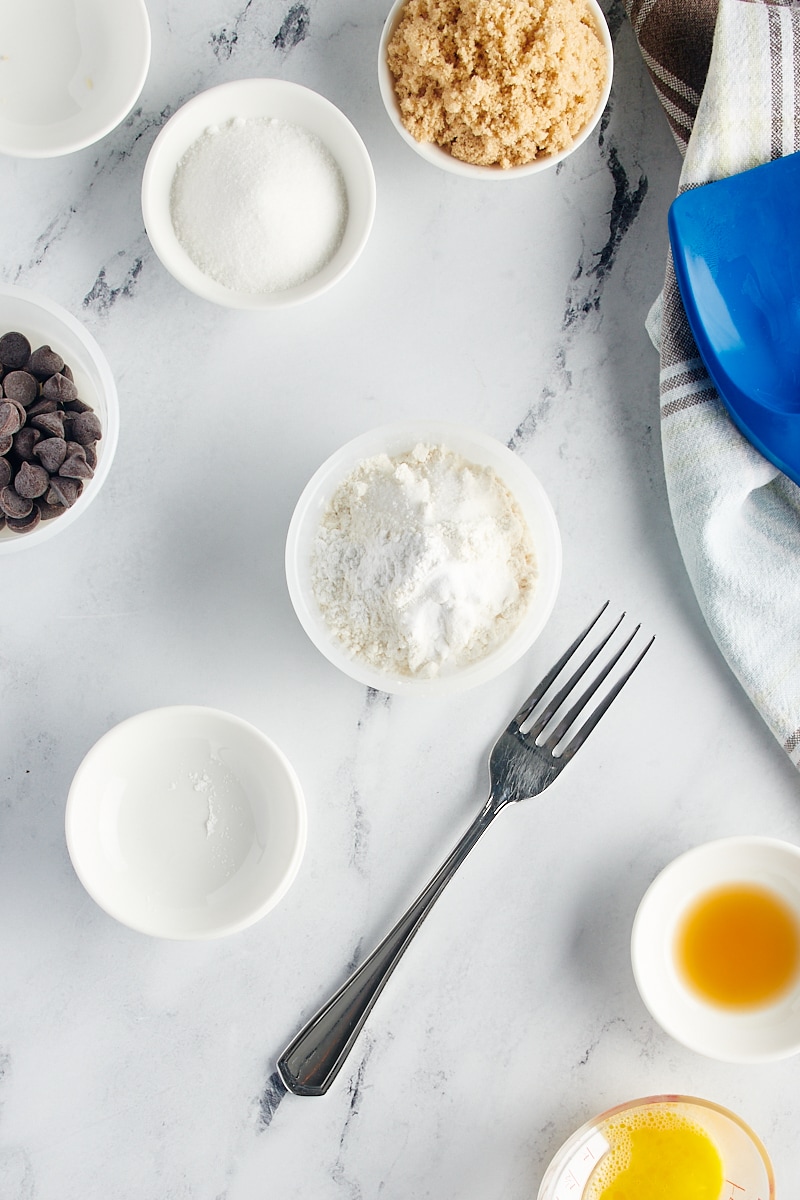 Combine the dry ingredients. Whisk together the flour, baking powder, baking soda, and salt.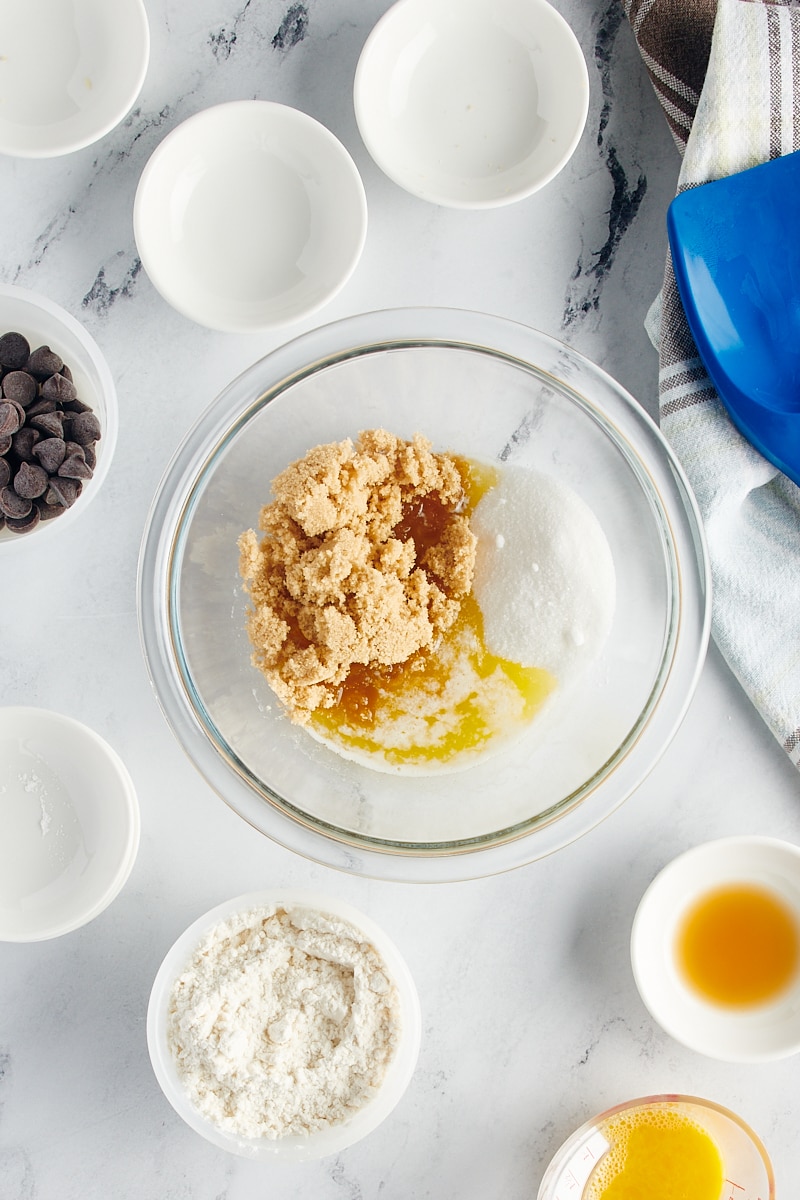 Combine the wet ingredients. Stir together the melted butter, brown sugar, and granulated sugar until combined. Add the partial egg and vanilla, and stir to combine.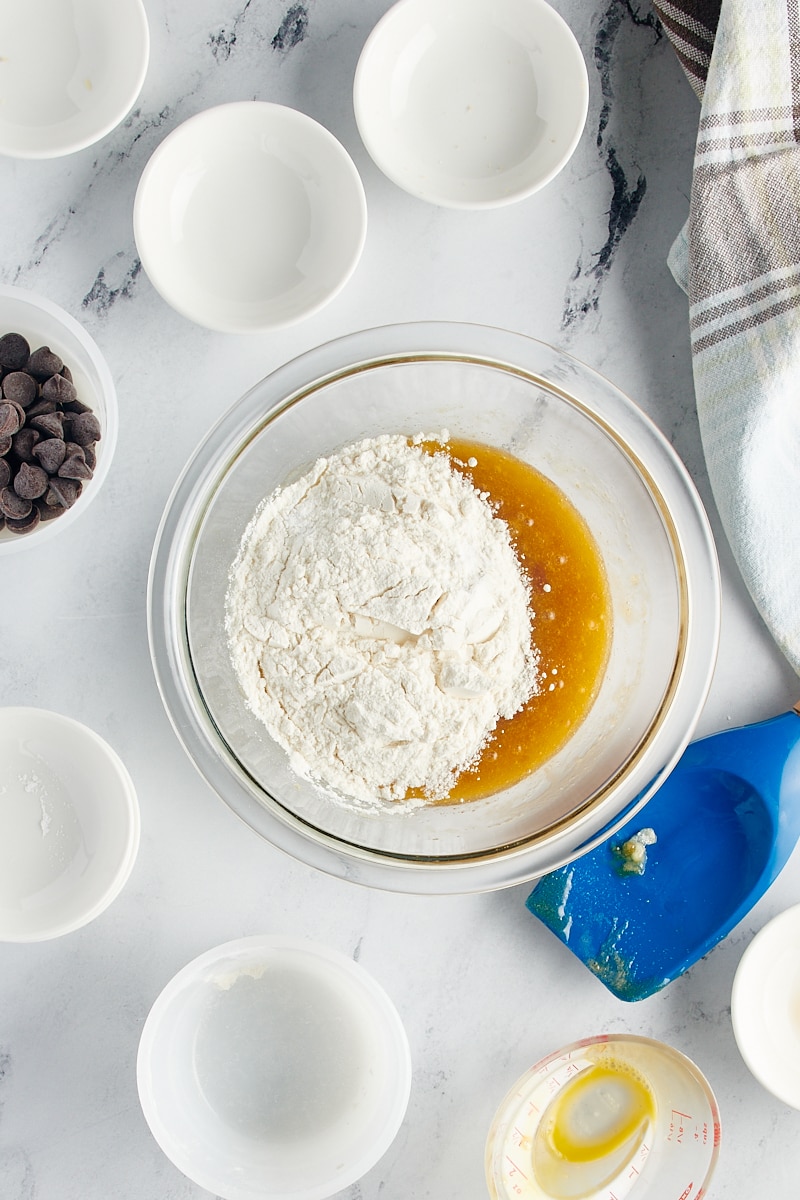 Add the dry ingredients to the wet ingredients. Stir the flour mixture into the butter mixture, mixing just until combined or a few small streaks of flour remain.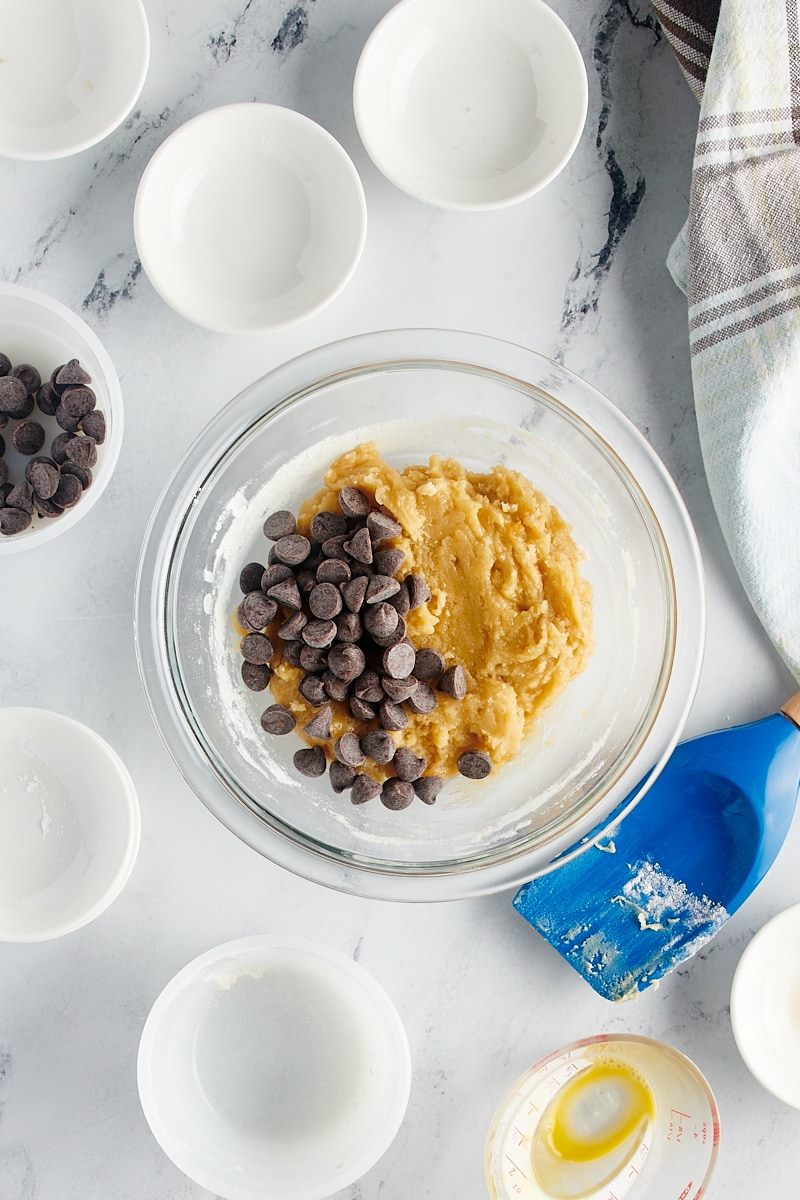 Add the chocolate chips. Stir the chocolate into the dough.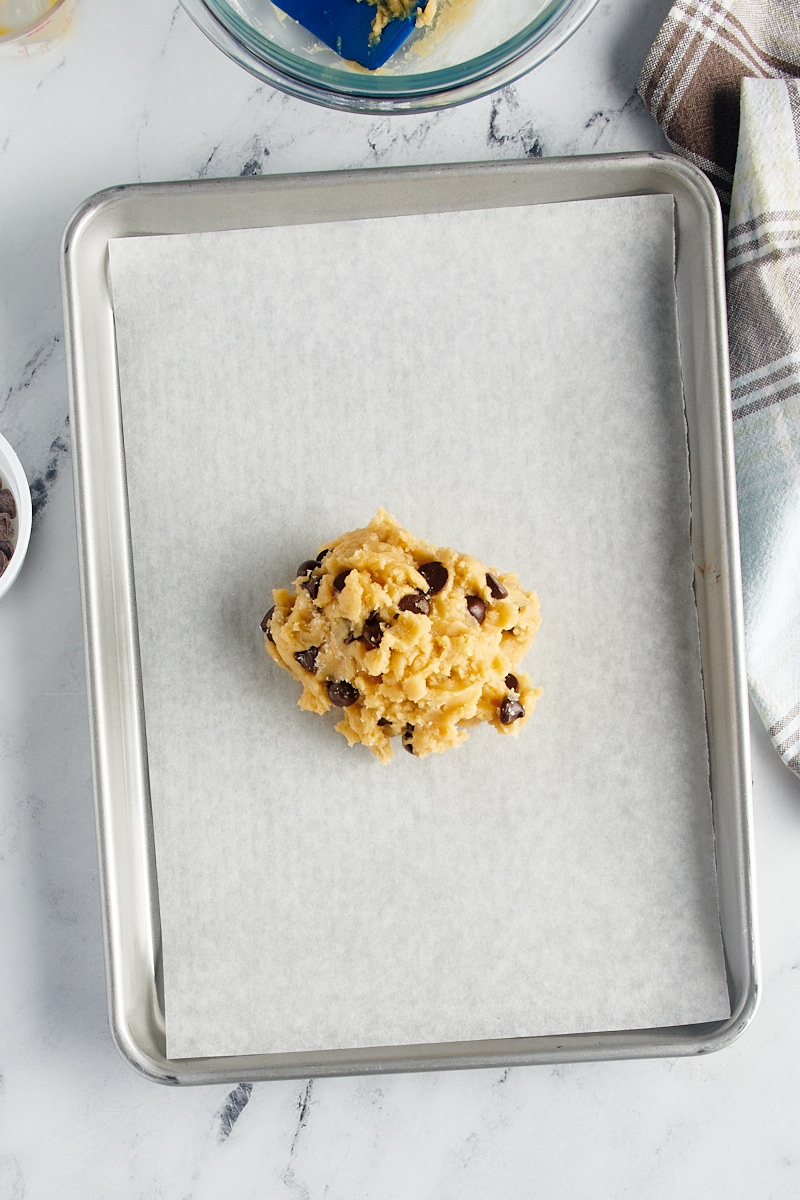 Shape the dough. Place the dough on the prepared pan, and form it into a tall, round cookie shape. The overall size doesn't need to be a specific size, but I usually aim for 1 & 1/4 to 1 & 1/2 inches tall. The cookie will spread as it bakes.
Bake. Place the pan in the heated oven, and bake for 16 to 20 minutes, or until the edges are golden brown and the center appears set or almost set.
Cool. Place the pan on a wire rack, and cool before serving.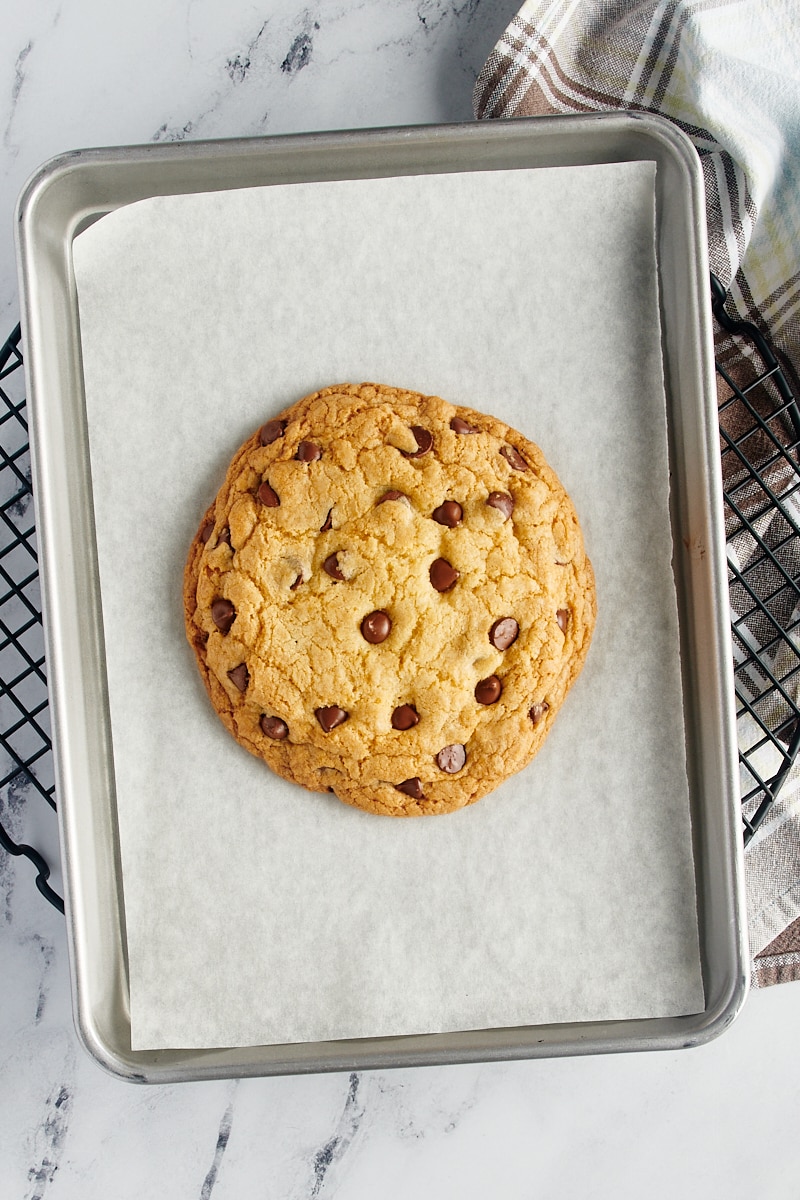 Ideas for Variations
This recipe is easy to adapt to your tastes and preferences. There are seemingly endless possibilities, but here are a few variation ideas to get you started.
Nuts. If you like nuts in your chocolate chip cookies, add a tablespoon or two of chopped nuts in place of or in addition to the chocolate chips.
More flavors. There are lots of baking chip flavors and other add-ins out there, so try some of those in these cookies. Peanut butter, white chocolate, butterscotch, toffee bits, coconut… whatever you like! Use just one kind or pick a variety, keeping the total amount the same.
Dried fruit. Add about a tablespoon of your favorite dried fruits. Cranberries and cherries are a couple of my favorite additions.
Sprinkles! For a fun, colorful addition, stir about a tablespoon of jimmie-style sprinkles into the dough or add a couple of pinches of sprinkles on top of the cookie right after baking.
Sweet and salty. If you're a fan of salty sweets, add a sprinkle of flaky sea salt on top of the cookie when it comes out of the oven.
Individual cookies. Want to make smaller cookies? You can portion the dough into smaller sizes before baking. You'll likely need to reduce the baking time by a few minutes.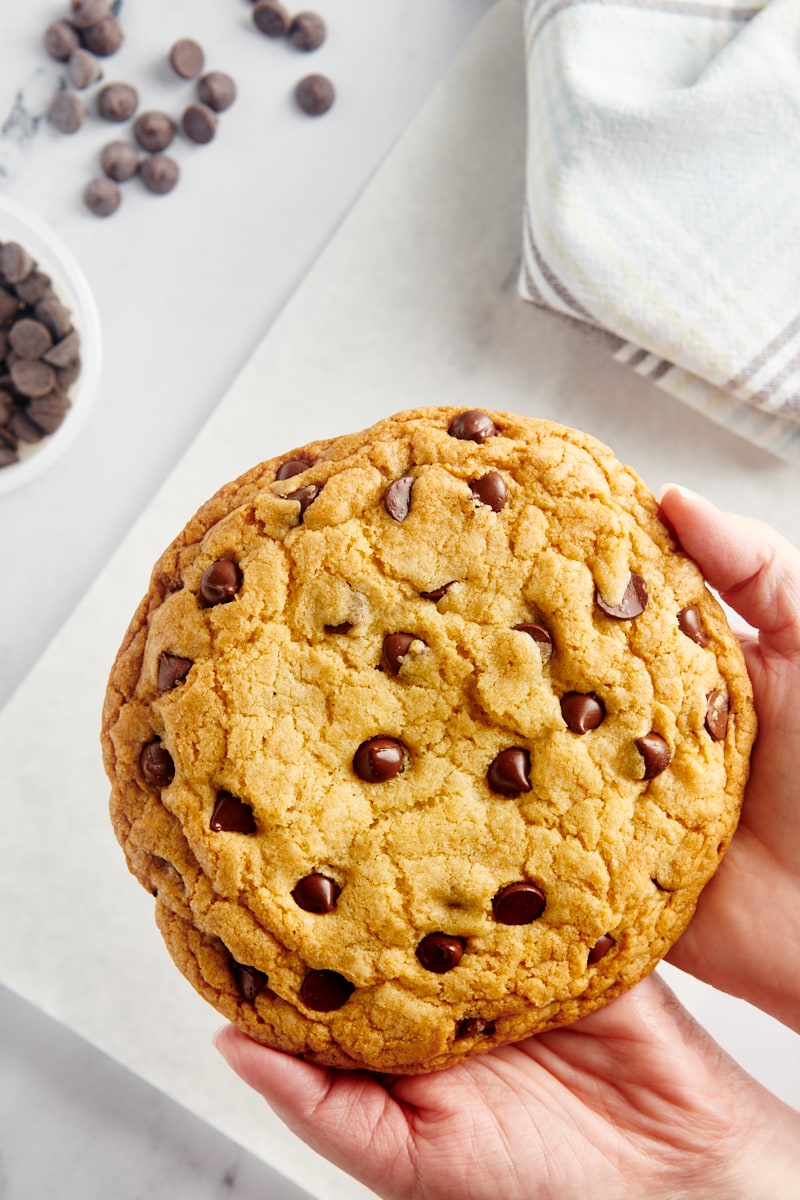 Serving Suggestions
Honestly, I like to just start breaking off pieces of this cookie as soon as it's cool enough to eat. But if you're looking to dress it up a bit, you certainly can. Add a scoop of ice cream to the entire cookie or to divided portions. You can even go all out with chocolate sauce, caramel sauce, or any other of your favorite toppings!
Tips for Success
This giant chocolate chip cookie recipe is seriously easy to make, but here are a few tips to help ensure success.
Measure accurately. With these small ingredient quantities, there's not much room for error. If you have a digital kitchen scale, I highly recommend using it. Not only will it provide accurate measurements, but it will also expedite the prep process.
Adjust the baking time. Keep an eye on the cookie through the oven window toward the end of the baking time to get it baked to your preferences. Some folks like their cookies more brown, while others like a soft center. As always, keep in mind the carryover baking that will happen when you take the pan out of the oven.
Want to make ahead? You don't need to chill this cookie dough, but you can if you want to make it in advance. Cover it and refrigerate up to a couple of days before baking. The chilled dough won't spread as much when baking, so keep that in mind when shaping the cookie.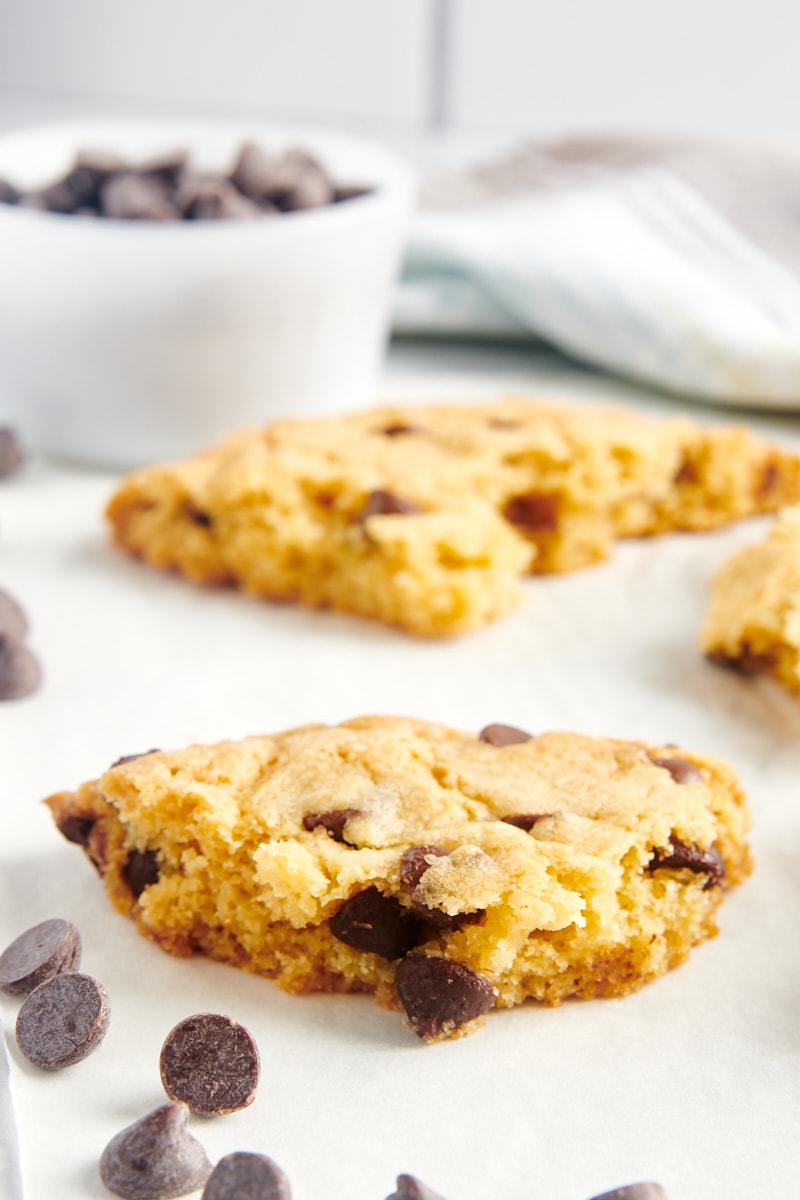 How to Store
If the entire cookie won't be eaten at once, place any leftovers in an airtight container. Store at room temperature up to 3 days.
How to Freeze
My preferred way to freeze this cookie is to freeze the unbaked cookie dough. Place the dough on a lined rimmed baking sheet and shape as directed in the recipe, and place the pan in the freezer until the dough is frozen solid. (That will likely take 3 to 4 hours.) Then transfer the frozen dough to a sealable freezer bag or container.
Properly stored, the dough should last in the freezer up to 3 months. When you're ready to bake the cookie, continue with the baking step of the recipe without thawing the dough. You may need to add an extra minute or two to the baking time.
If you want to freeze the baked cookie or any leftovers, place in a sealable freezer bag or container. It should keep in the freezer up to 3 months. Thaw at room temperature.