Indulge in the perfect blend of chewy chocolate chip cookies and luscious filling with these delectable chocolate chip cookie sandwiches.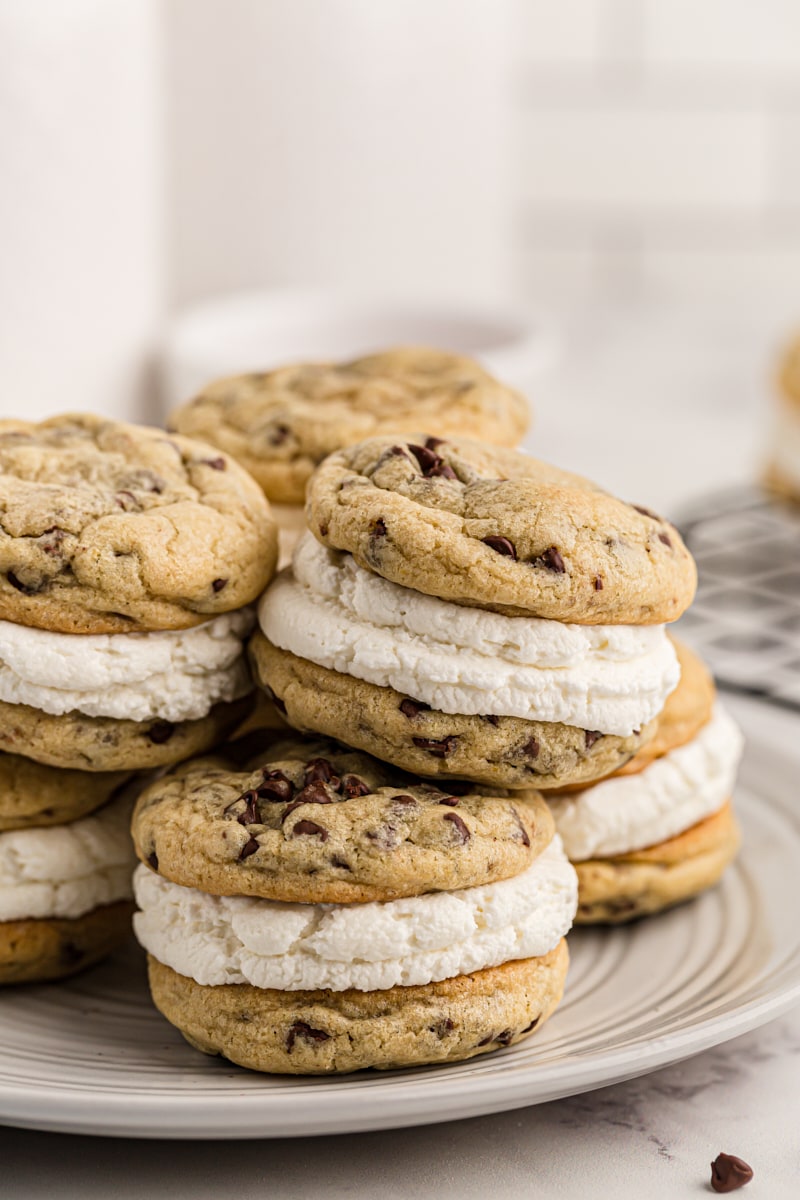 Frosting-Filled Chocolate Chip Cookies
I have such fond memories of trips to the local mall to get a double doozie cookie. You know, the chocolate chip cookies with a thick frosting sandwiched in between them. If you remember those fondly or if the idea of that just sounds astoundingly good, I'm very happy to share these chocolate chip cookie sandwiches with you!
These soft, chewy cookies are the perfect vehicle for all that sweet, thick frosting. The combination of textures and flavors is absolutely irresistible.
And to make these cookies even more appealing, they're easy to make and wonderfully customizable. Trust me, you're going to want to make these again and again!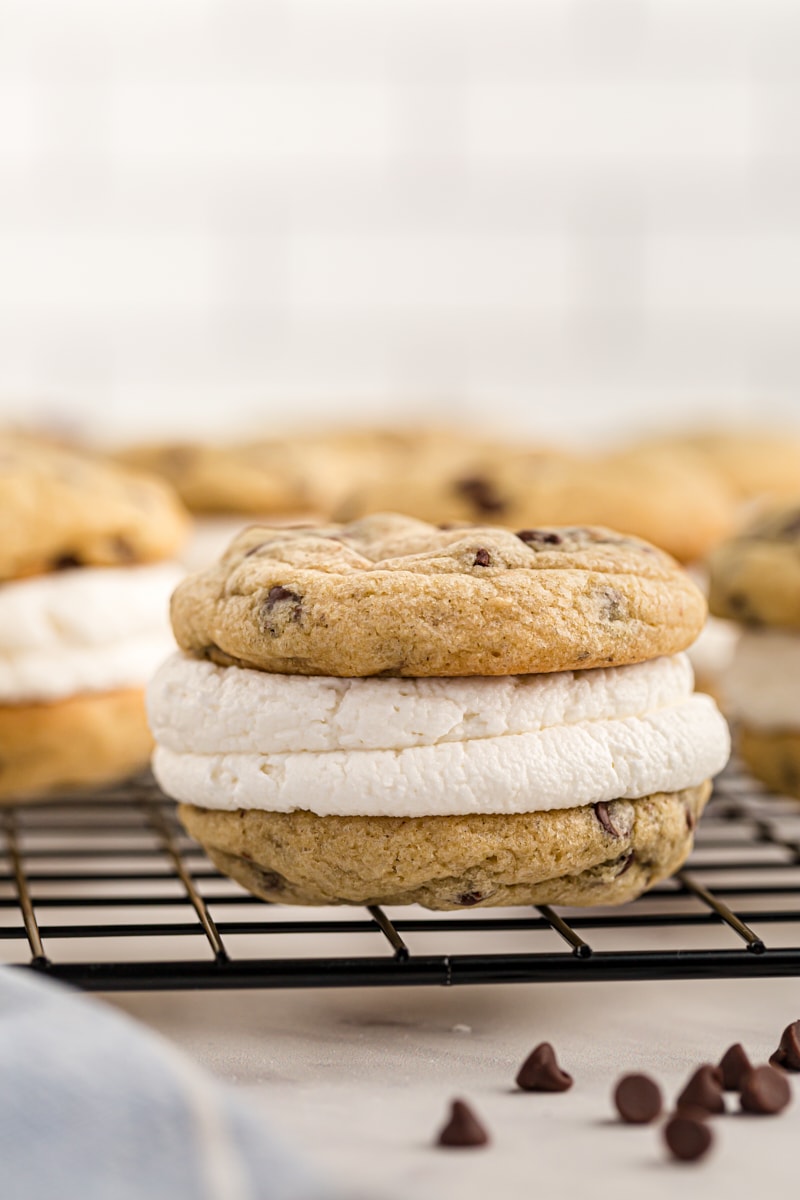 Why You'll Love These Chocolate Chip Cookie Sandwiches
Get ready to fall in love with these sandwich cookies. Here are just a few reasons they'll become a favorite:
Nostalgic with a twist. Chocolate chip cookies are pure comfort food. Add a thick layer of frosting, and you've got a fun twist on the classic.
Crowd-pleasing. These are sure to be a hit with your family and friends!
Versatile. Whip up a batch for a party, a homemade gift, or just a fun baking project. I think you'll find that they're perfect for many occasions!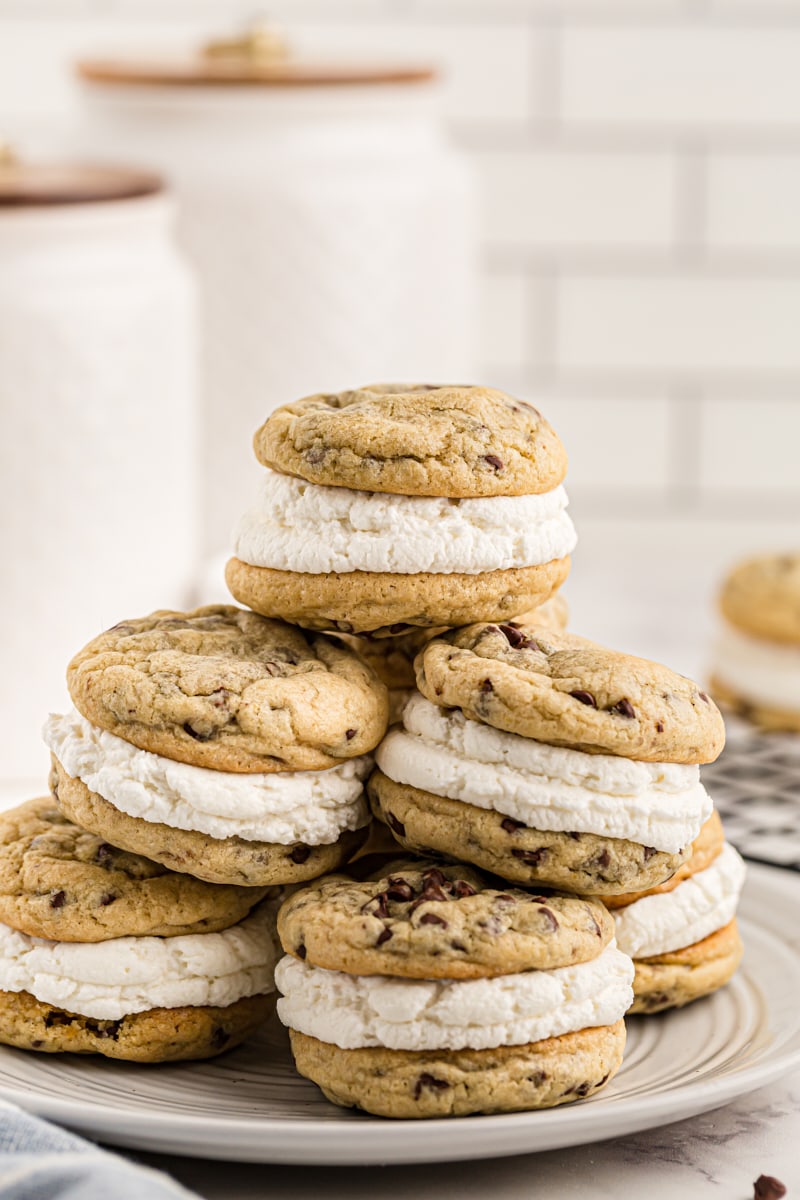 Notes on Ingredients
See the recipe card at the bottom of this post for ingredient quantities and full instructions. Here are some notes about what you'll need to make these chocolate chip sandwich cookies.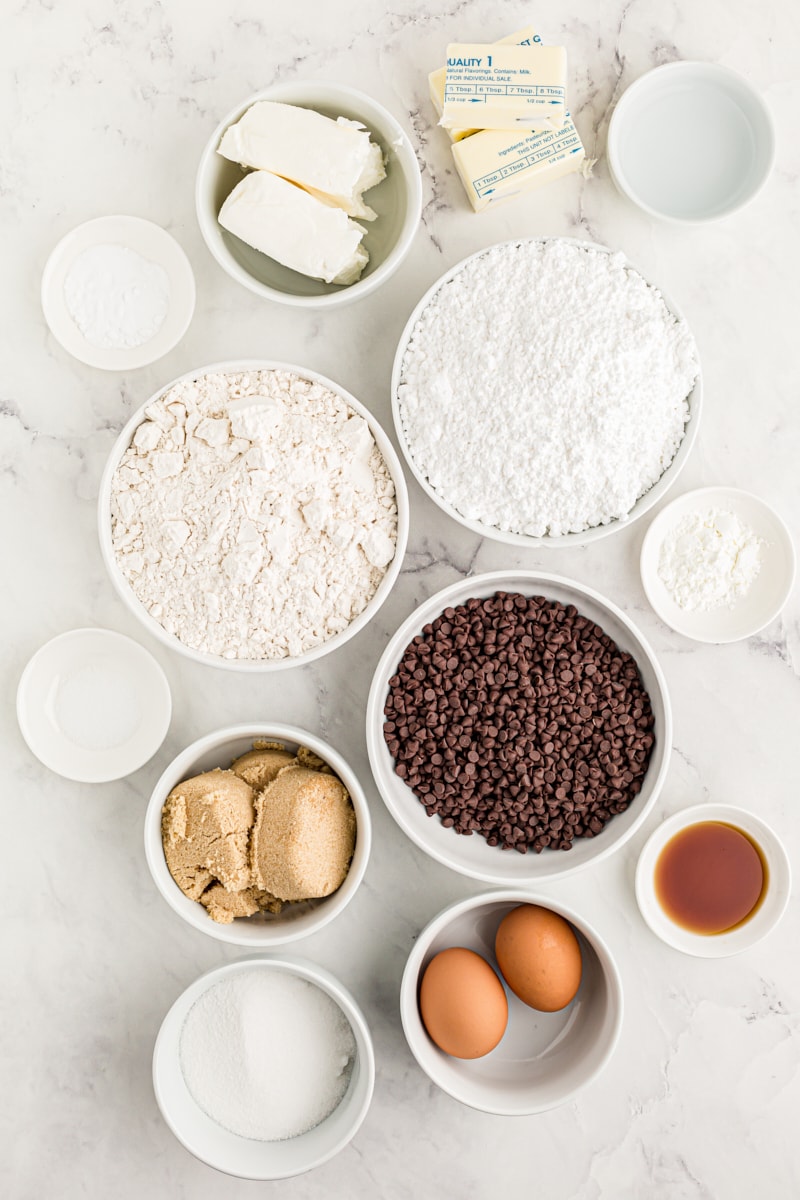 All-purpose flour – Measure by weight or use the spoon and sweep method for best results. Learn more: How to Measure Flour
Cornstarch – This helps make the cookies soft and tender.
Baking soda – Make sure yours is fresh. Here's how to test it.
Salt
Unsalted butter – You'll need butter for both the cookies and the filling. Let it soften at room temperature until it holds a thumbprint when pressed but is still cool. Learn more: How to Soften Butter
Brown sugar – This adds a caramel-like flavor and also helps make the cookies soft. I recommend using light brown sugar here, but you can use dark brown sugar or a combination of light and dark if you like the bolder molasses flavor.
Granulated sugar
Eggs – Set these out along with the butter to allow them to come to room temperature. I recommend baking with large eggs.
Vanilla extract – Use a good quality store-bought or homemade vanilla extract.
Semisweet chocolate chips – Mini chocolate chips are a great size for these cookies. If you don't have access to those, you can chop regular chocolate chips or a chocolate bar.
Shortening – This provides stability to the frosting and creates a smooth, fluffy texture. You can use an equal volume of butter if you prefer not to use shortening. Just expect some differences in texture and flavor.
Confectioners' sugar – Also known as powdered sugar, this mixes into the frosting to provide sweetness and a smooth texture. To make it as smooth as possible, you may prefer to sift the sugar.
Hot water – This helps give the frosting a smooth, creamy texture.
Sprinkles – These are an optional addition to add a bit of color and fun to your cookies.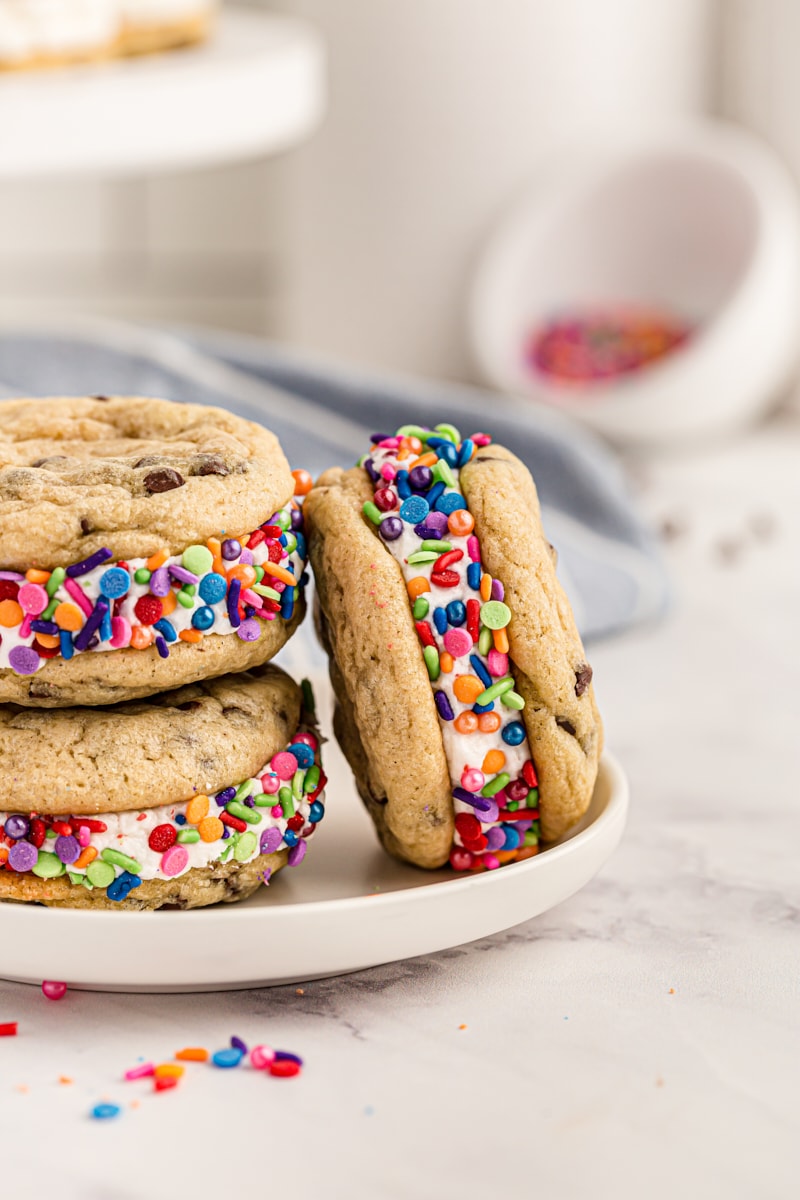 How to Make Chocolate Chip Cookie Sandwiches
Despite making cookies as well as buttercream frosting, these cookies come together quickly and easily. Let's look at what you'll need to do.
Make the Cookies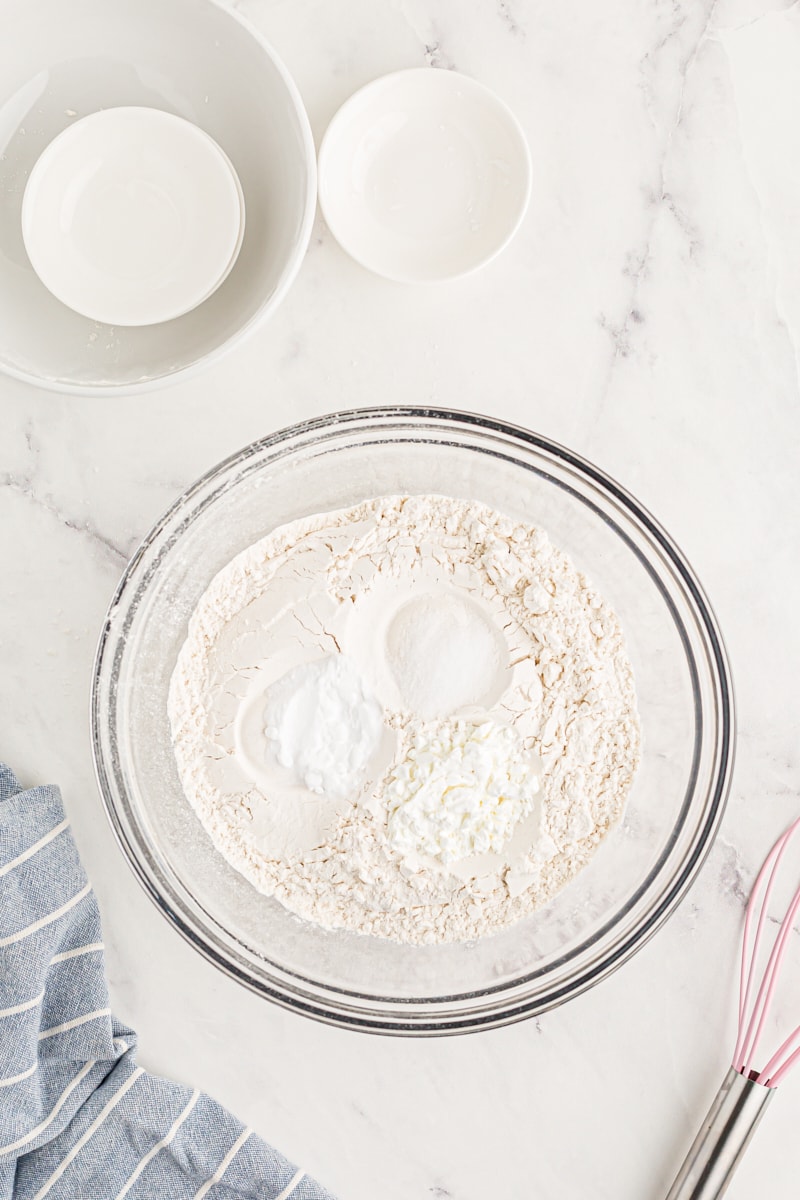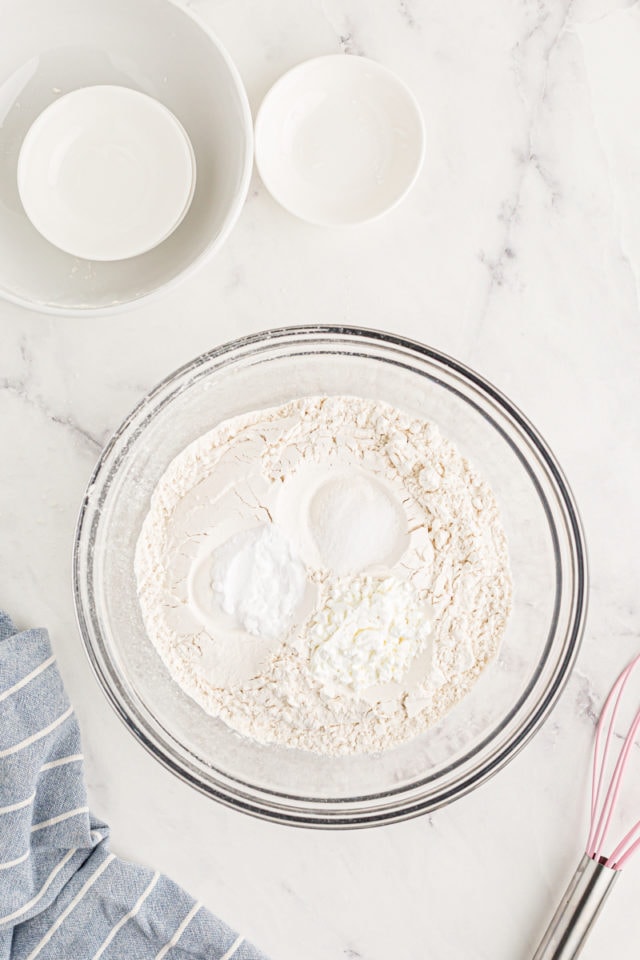 Combine the dry ingredients. Whisk together the flour, cornstarch, baking soda, and salt.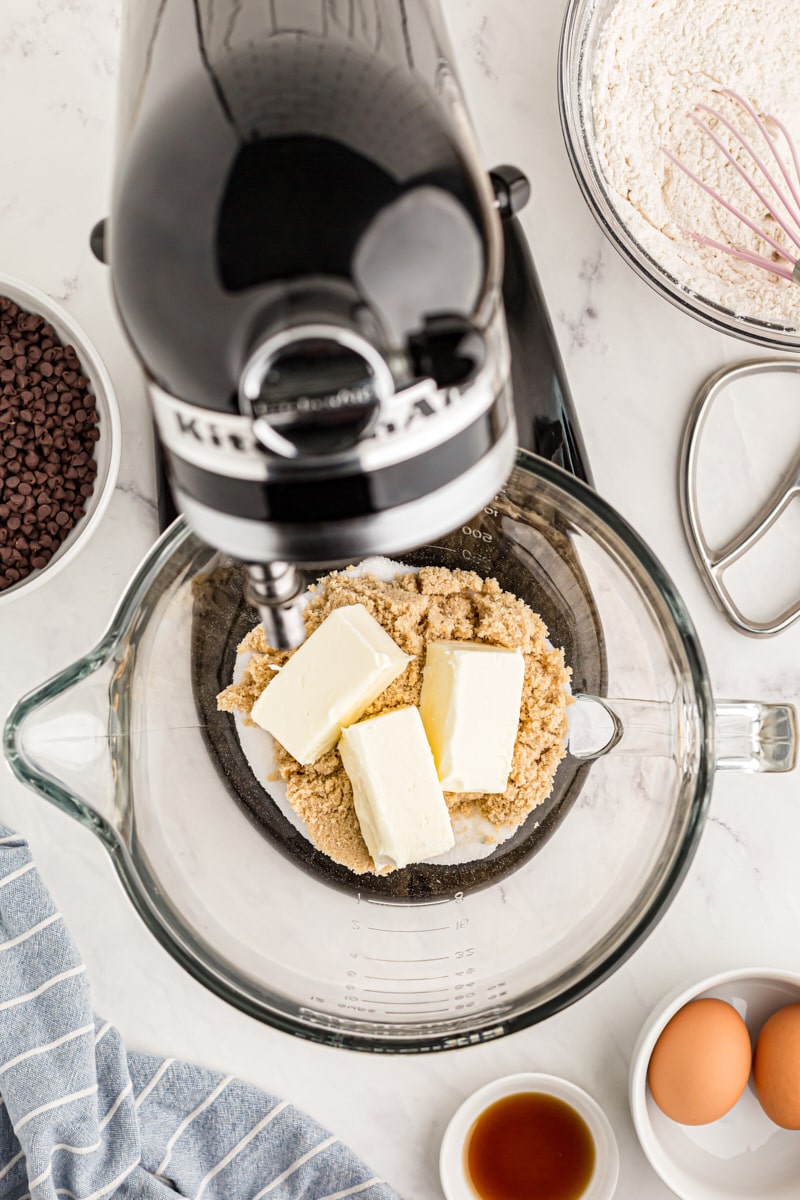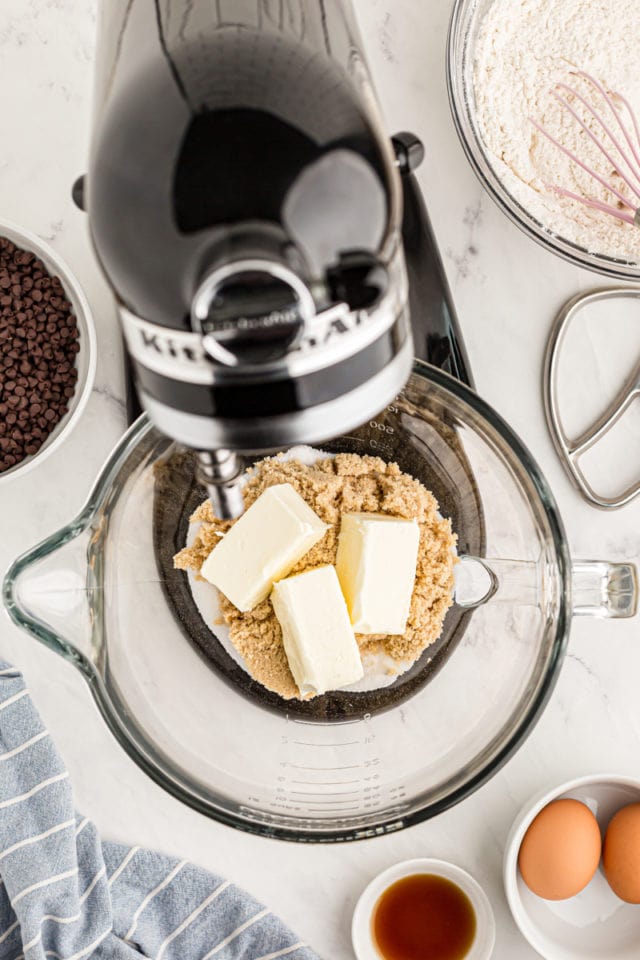 Combine the wet ingredients. Cream together the butter, brown sugar, and sugar with an electric mixer on medium speed. Mix in the eggs and vanilla.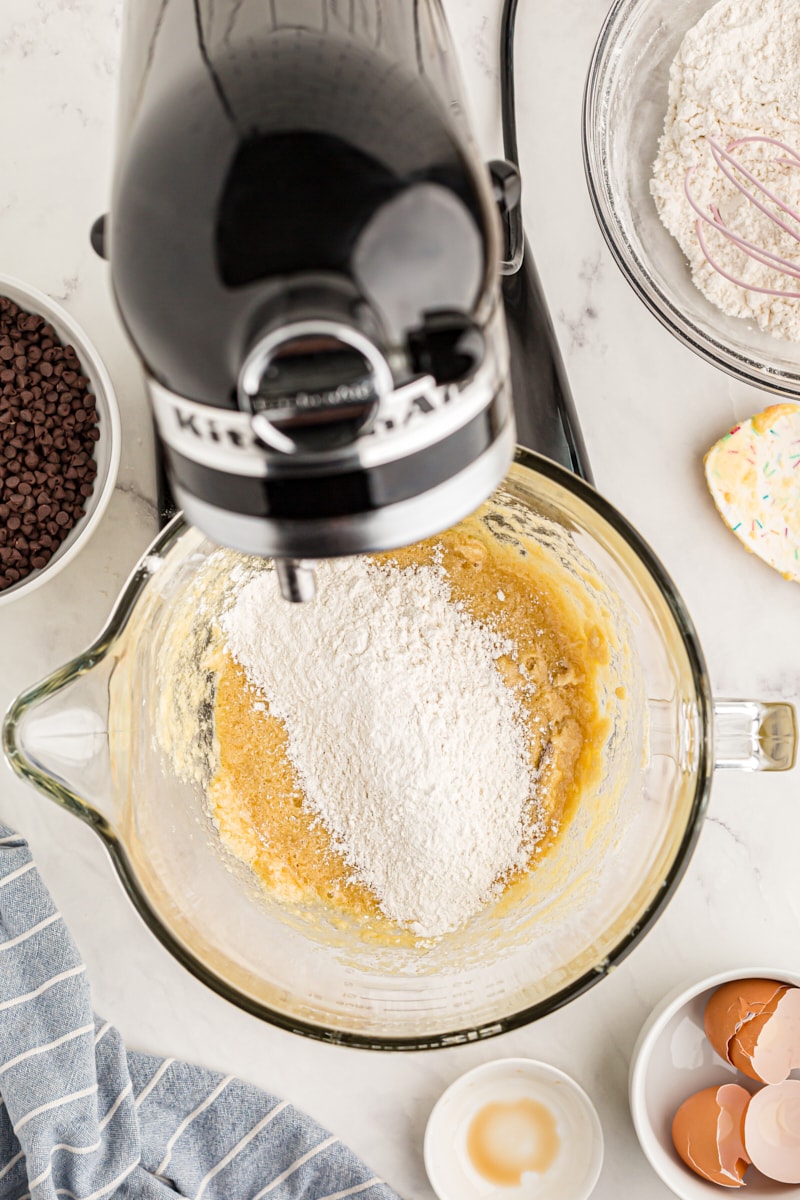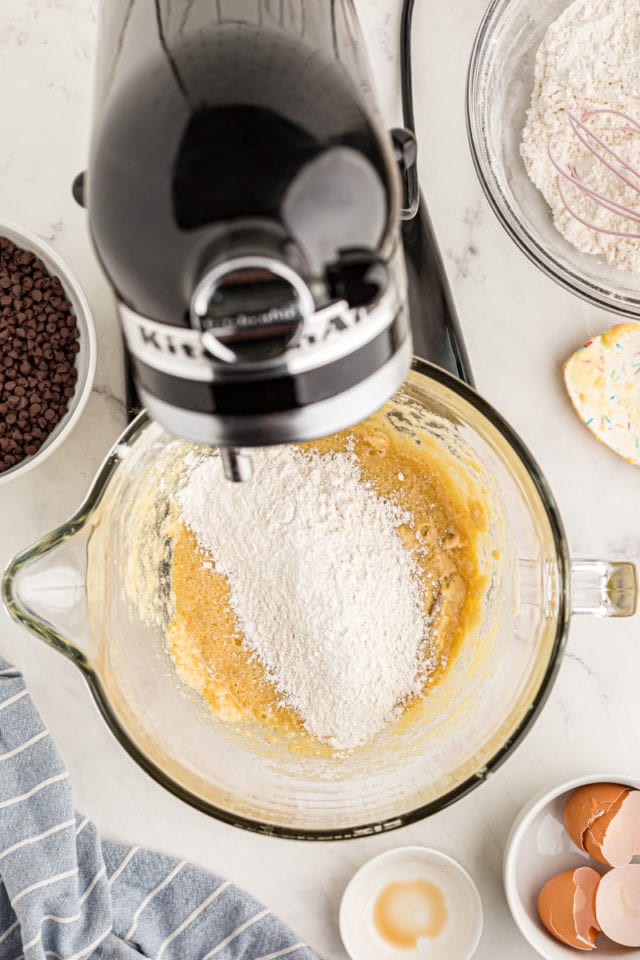 Finish mixing. Gradually add the flour mixture to the butter mixture, mixing just until combined. Stir in the chocolate chips.
Chill the dough. Cover the dough and refrigerate for 1 hour. This will help keep the cookies from spreading too much.
Prepare for baking. Heat the oven to 350°F. Line baking sheets with parchment paper or silicone liners.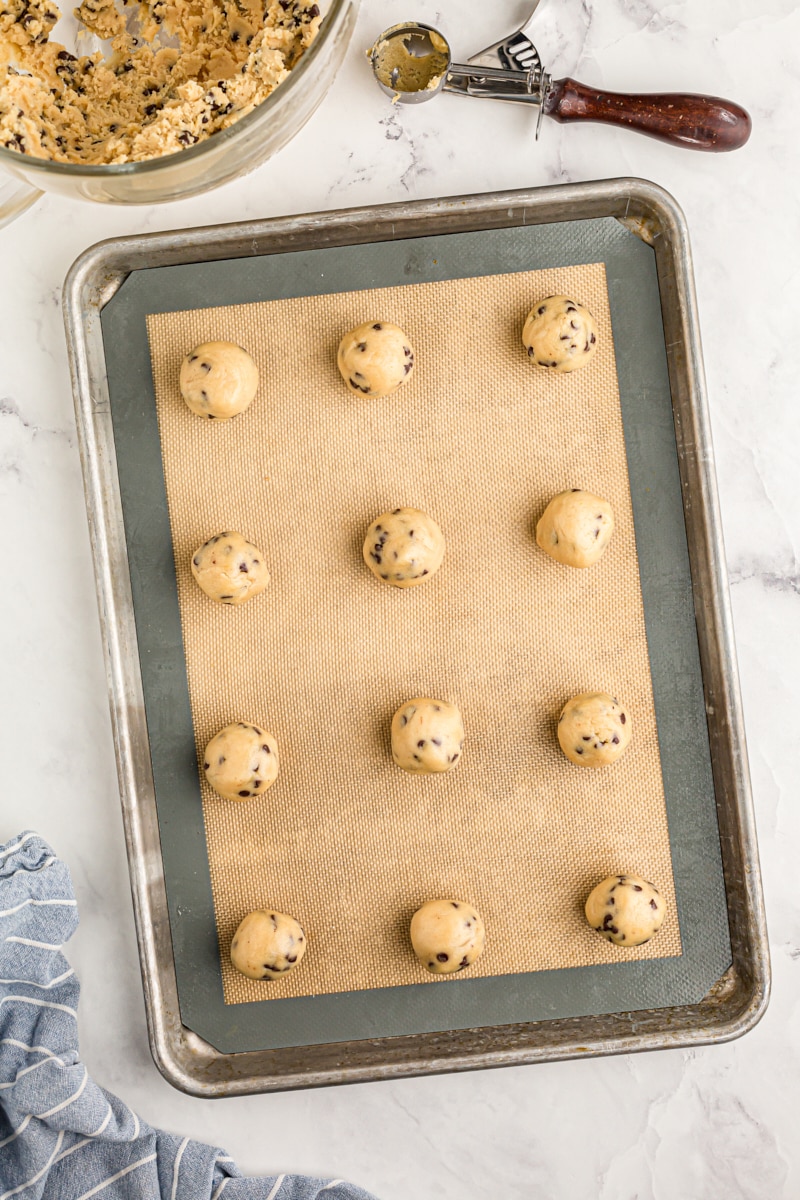 Portion the dough. Scoop the dough by generous tablespoonfuls and roll into balls. Place them 2 inches apart on the prepared pans.
Bake. Place one baking pan at a time in the oven, and bake for 9 to 11 minutes. The cookies should be lightly browned. (Refrigerate the remaining dough between batches.)
Cool. Place the pans on wire racks, and allow to cool for 5 minutes before removing the cookies from the pan and placing them directly on a wire rack to cool completely.
Make the Filling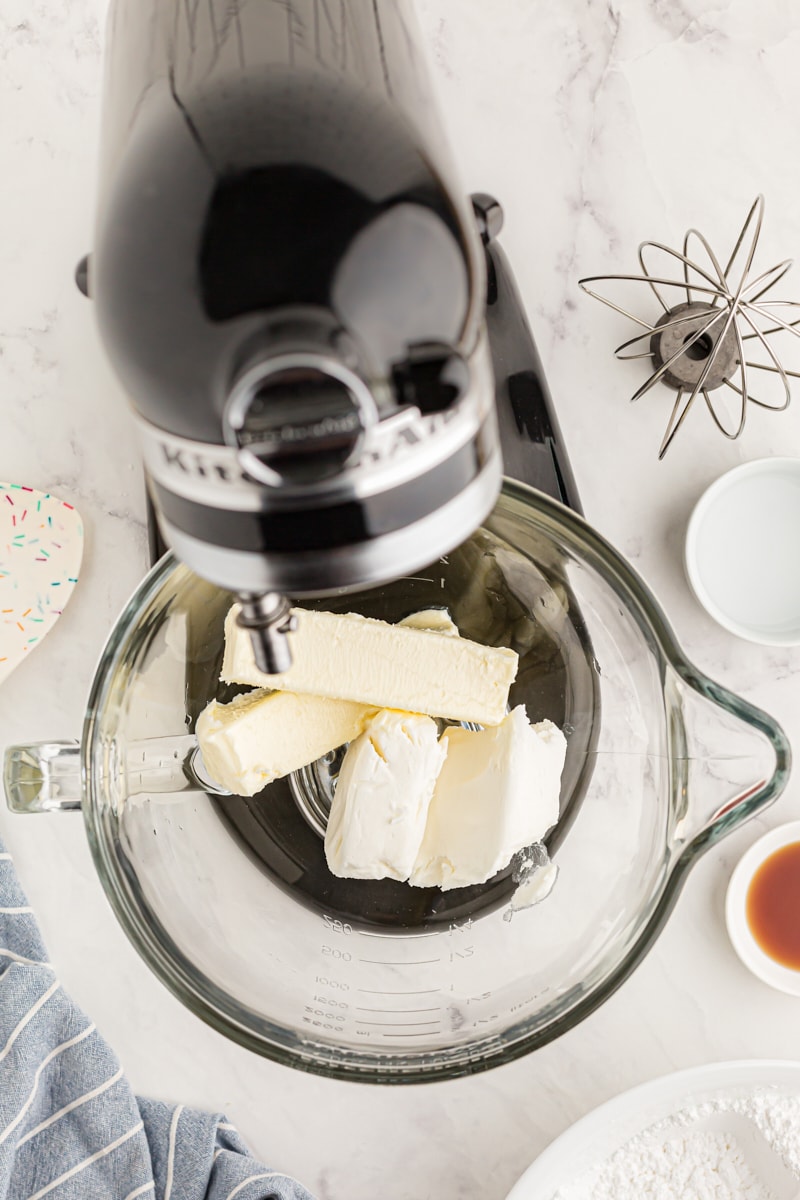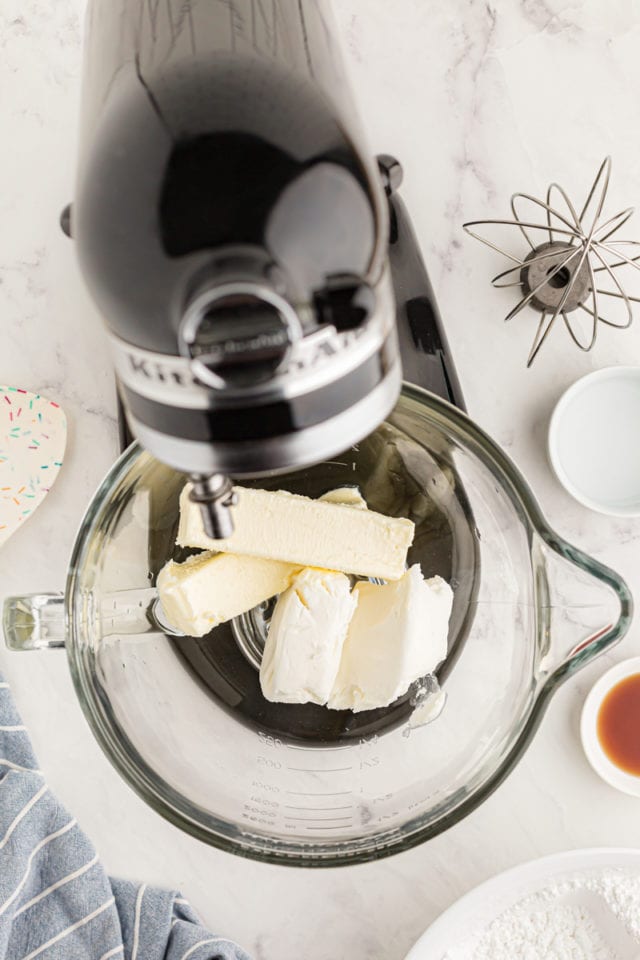 Begin mixing. Place the butter and shortening in the bowl of a stand mixer fitted with the whisk attachment. Mix on medium speed until light and fluffy.
Add the sugar. With the mixer on low speed, gradually add the confectioners' sugar. Mix until combined.
Finish mixing. Add the vanilla and hot water, and mix on medium-high for about 10 minutes until the frosting is light and fluffy.
Assemble the Cookies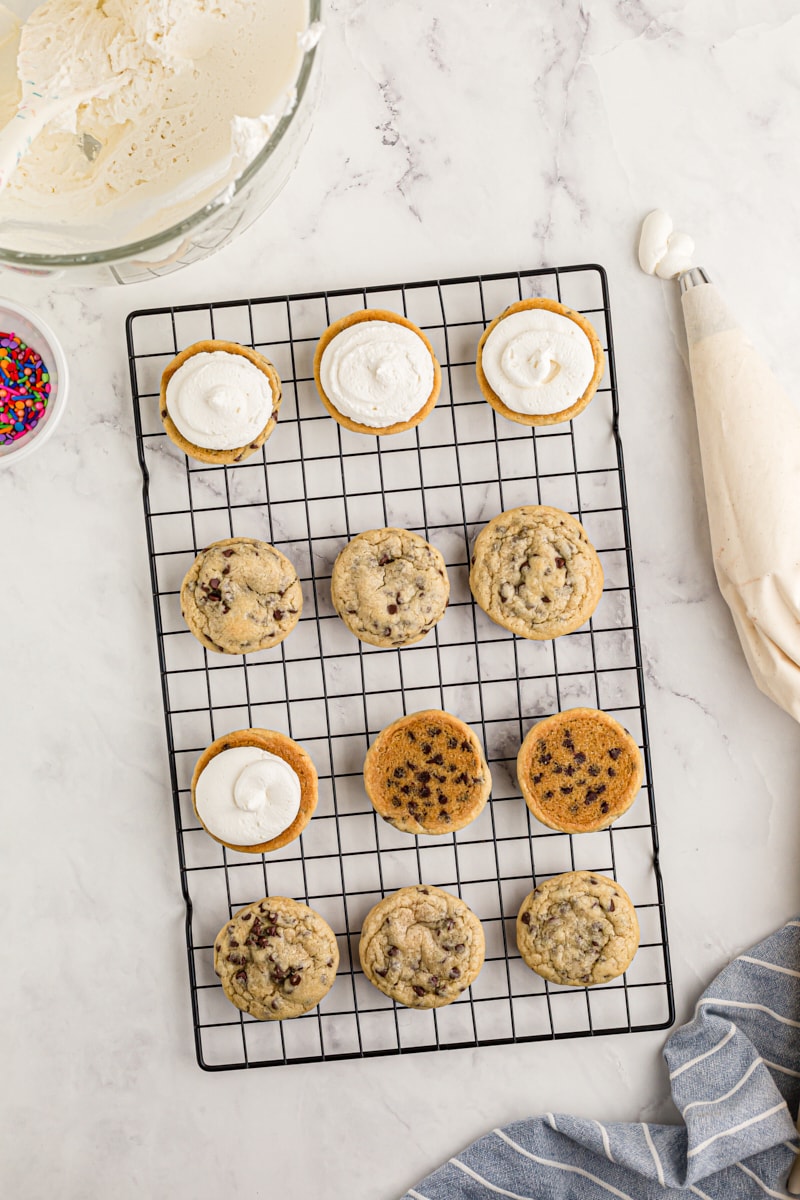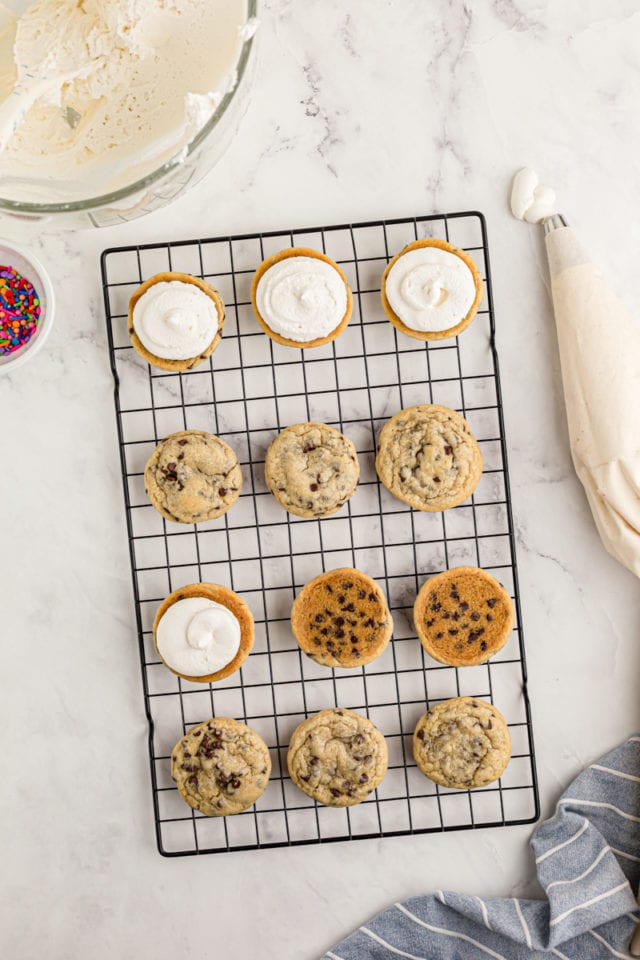 Frost the cookies. Pipe or spread the frosting onto the bottoms of half of the cookies. Then top with the remaining cookies to form sandwiches.
Add sprinkles. If you like, roll the outside edges of the cookies in sprinkles.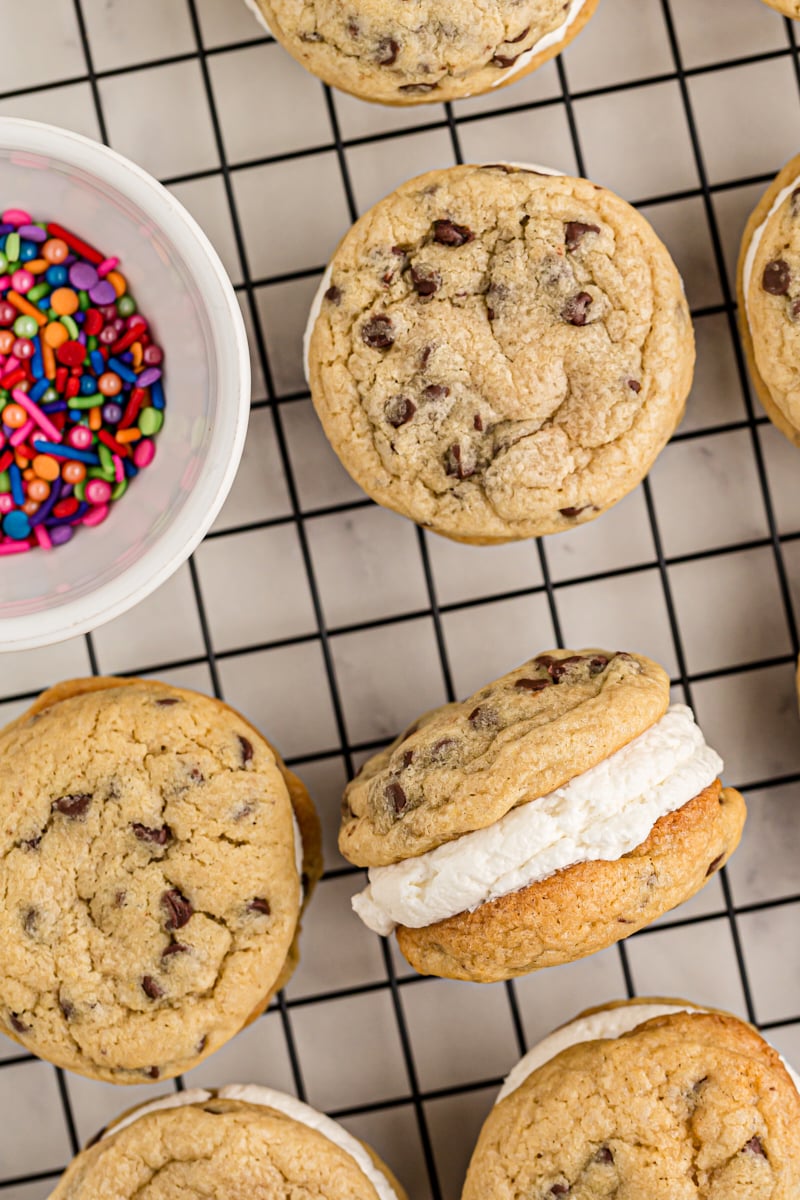 Tips for Success
Read over my cookie troubleshooting guide, and then follow these steps to help make sure your cookies turn out perfectly.
Don't skip the chilling time. Placing the dough in the refrigerator helps keep the cookies from over-spreading and also gives the flavors time to meld and develop.
Use a cookie scoop. You'll get uniformly sized cookies that will bake more evenly. They'll also match up better when it's time to sandwich them together. I use a 1-tablespoon scoop, but you can easily go bigger or smaller if you prefer. Just adjust the baking time accordingly.
Let the cookies cool. Make sure the cookies are completely cooled before you fill them. Otherwise, the filling will melt and lose its fluffy texture.
Use a stand mixer. This isn't an absolute necessity, as a hand mixer will work just fine. But especially with the frosting, there's a lot of mixing time. If you have a stand mixer, it's a great time to use it.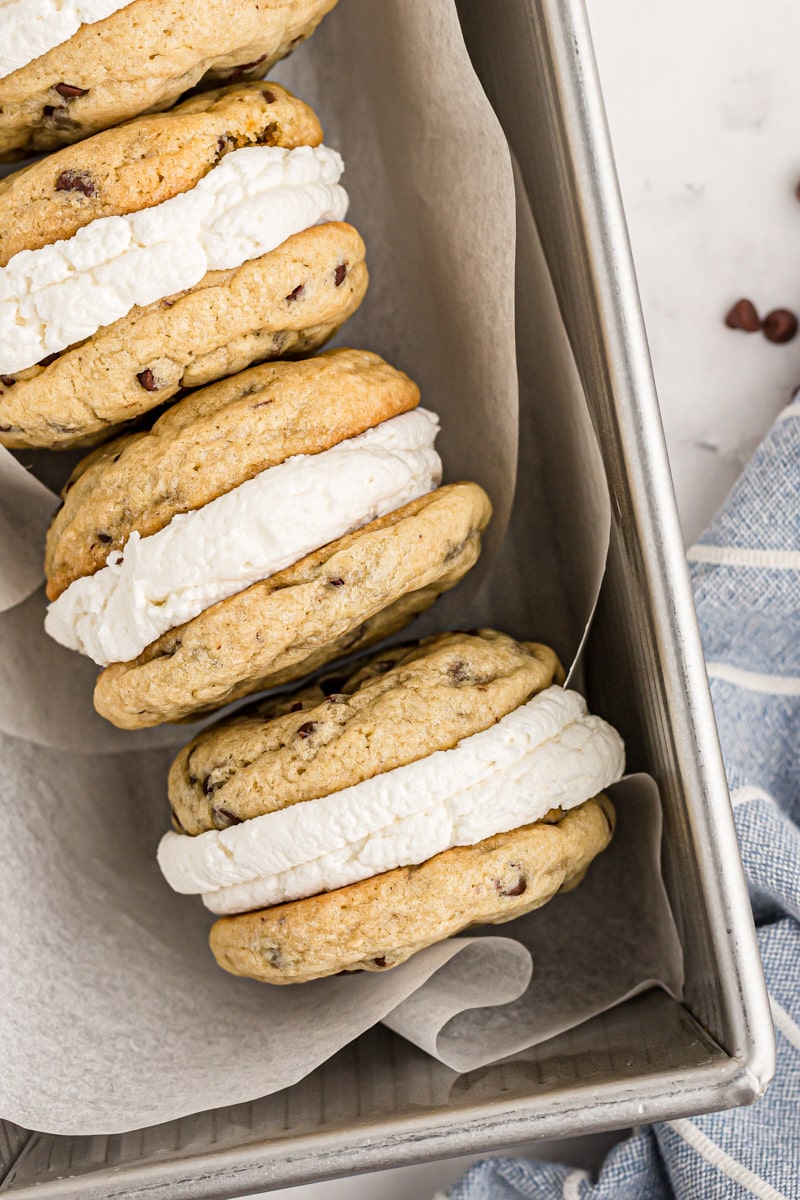 Ideas for Variations
This cookie recipe is quite flexible, lending itself to many customizations. Here are just a few ideas to get you started:
Nuts – Add up to a cup of your favorite chopped nuts to the dough along with the chocolate chips.
Other chocolates – Try milk chocolate, white chocolate, or a combination of chocolates. Mini chocolate chips or chopped chocolate are both good options.
Frosting options – Cream cheese frosting, marshmallow frosting, or peanut butter frosting are all tasty options!
Simplified filling – Skip the frosting completely, and sandwich the cookies around Nutella, peanut butter, or cookie butter.
Other flavors – Caramel bits, pretzel pieces, toffee bits, and dried fruits are all great options for some extra flavor. You can add up to a cup of extra add-ins to the dough.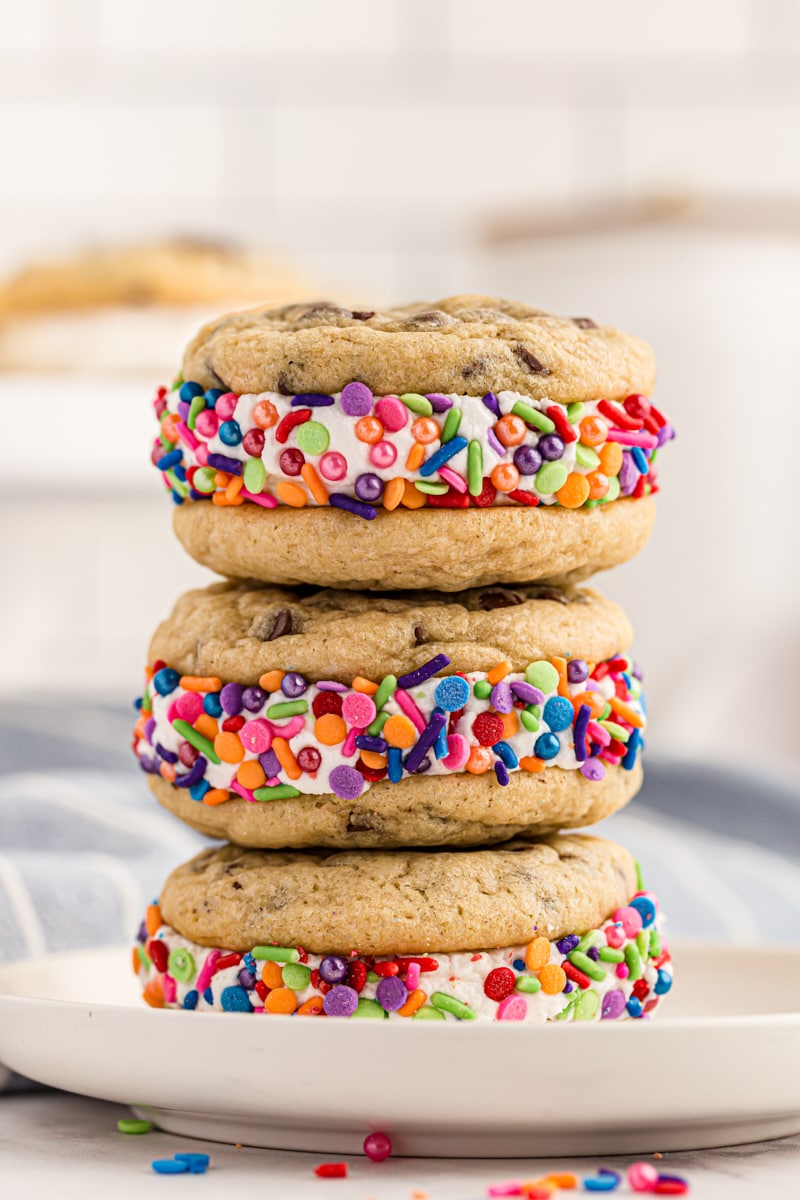 How to Store
Place the assembled cookies in an airtight container, and store in the refrigerator. That will help keep the frosting firm. Set out the cookies for 10 to 15 minutes to bring them to room temperature before serving. The cookies will keep in the refrigerator up to 5 days, although they'll be at their best within 2 or 3 days.
You can also store the unfilled cookies in an airtight container at room temperature and the frosting tightly sealed in the refrigerator. Bring the frosting to room temperature, beat it briefly, and then assemble the cookie sandwiches before serving.
Can These Cookies Be Frozen?
Yes, you can freeze these chocolate chip sandwich cookies. For best results, wrap each one individually in plastic wrap and then place them in a freezer-safe container or bag. Properly stored, the cookies should keep in the freezer up to 3 months, although they'll be at their best within a month. Thaw overnight in the refrigerator.
You can also freeze the cookies without the filling and make the frosting when you're ready to serve. Another option is to freeze the unbaked cookie dough. Learn more: How to Freeze Cookie Dough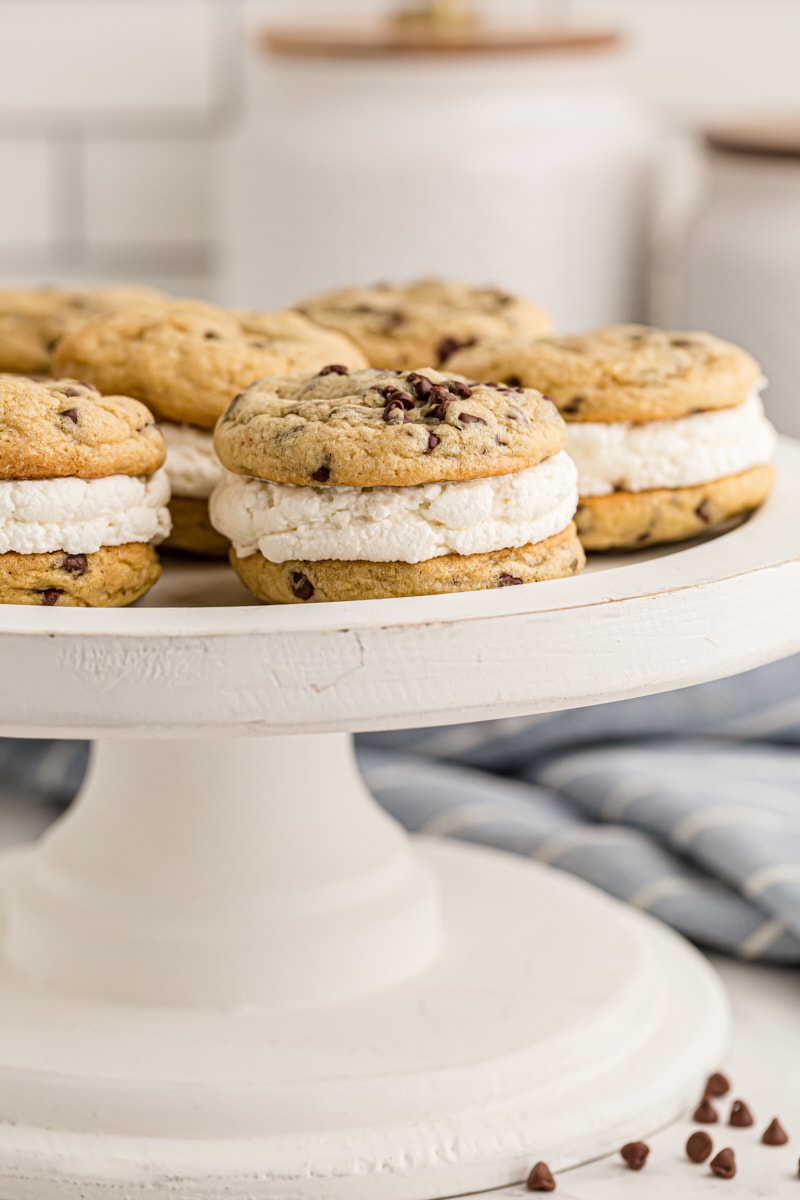 More Sandwich Cookie Recipes