Make your drop cookies the best they can be with cookie scoops! Once you see how much easier and better your baking can be with them, you'll wonder how you ever baked without them.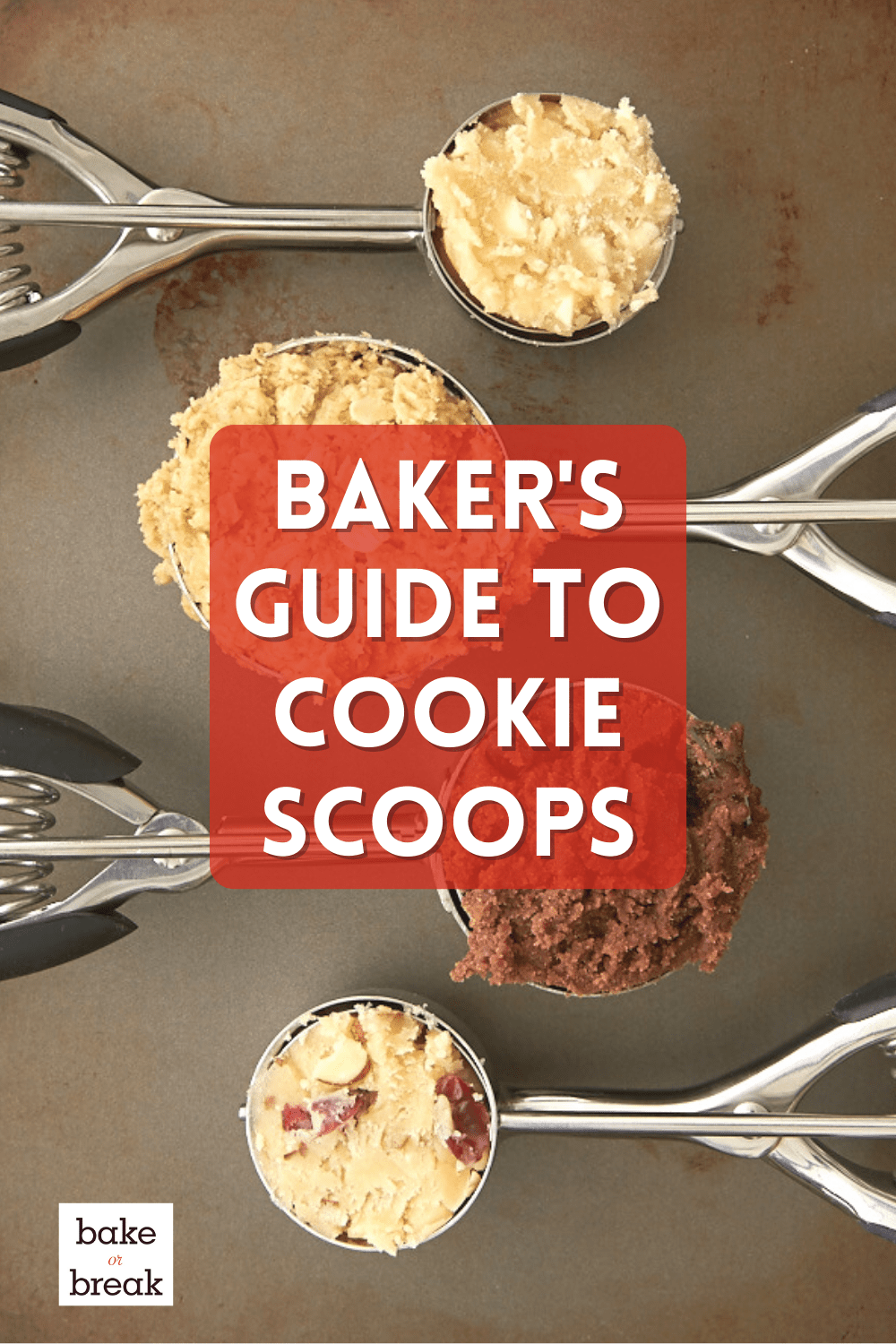 Cookie Scoops for Baking
Cookie scoops are among my most recommended baking tools and kitchen gadgets. I have several in different sizes, and they get used quite frequently. They're by far the simplest, easiest way to get batches of uniform cookies. That size uniformity is what helps cookies bake thoroughly and evenly.
What Are Cookie Scoops?
For those of you unfamiliar with cookie scoops, they are spring-loaded scoops that help you scoop and measure batters and dough. They're usually made of stainless steel with handles of the same material or a nonslip material for a soft grip. The spring mechanism is used to help the dough release easily from the scoop.
You may see them called ice cream scoops. (More on that below.) Just don't confuse them with the types of ice cream scoops that don't have a spring-loaded mechanism.
Uses for Cookie Scoops
Despite referring to them as cookie scoops, they aren't just for cookies! You can use them for portioning muffins, cupcakes, and other times you need to portion dough evenly. You can even use them for transferring cake batter to Bundt pans with less mess.
They're also great for scooping ice cream (of course) and whipped cream. Try using them for making truffles. Don't forget them for cooking, too. They're so helpful for making things like meatballs!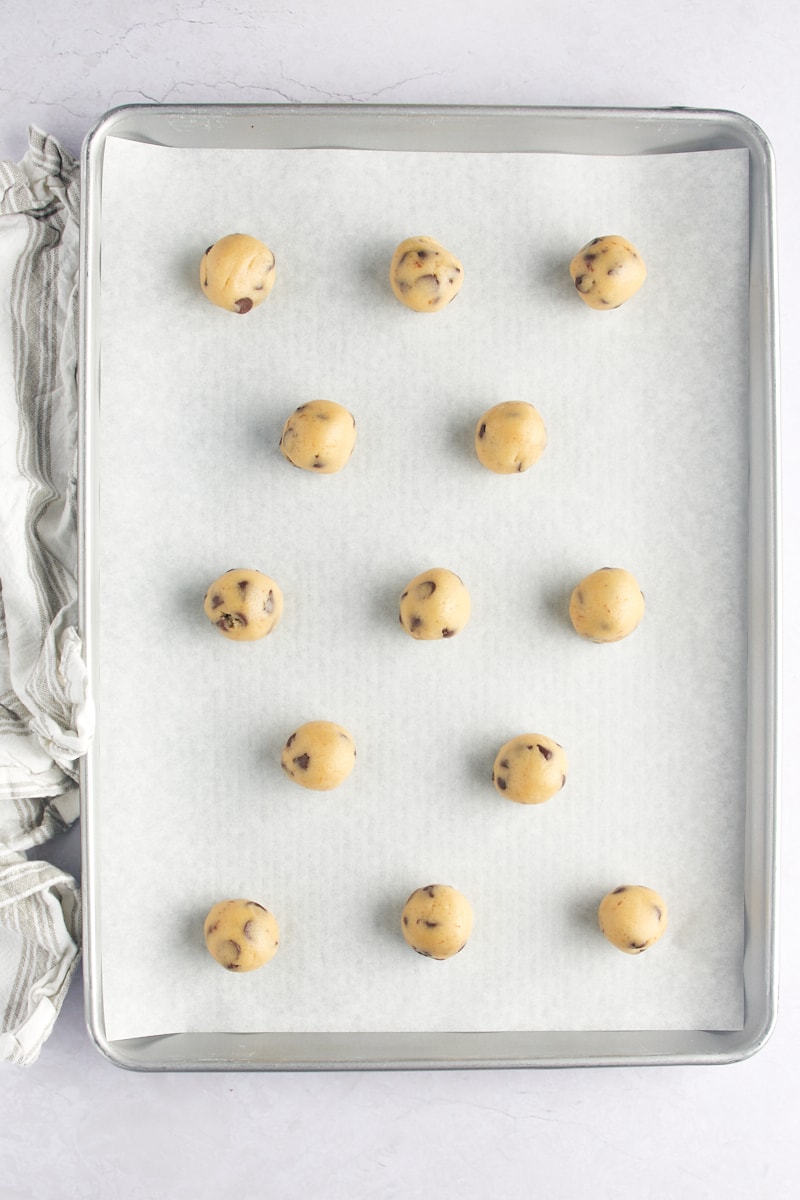 Benefits of Using Cookie Scoops in Baking
There are so many advantages to using cookie scoops. They'll easily give you consistent sizes for cookies, muffins, or whatever you're scooping. Keeping everything the same size and portion will help those things bake evenly. If you have some portions smaller or larger, they will not need the same baking times and can create inconsistent results.
Having every cookie or muffin or cupcake the same size is also visually appealing and satisfies the perfectionist in me.
Cookie Scoop Sizes
Cookie scoops come in a variety of sizes to suit whatever you need. They are available in tablespoon sizes, but you may also find them available in disher sizes. (Look for the size on the inside of the scoop.) Those sizes are a reference for ice cream scooping. For instance, a #20 scoop would give you 20 scoops from a quart of ice cream. So, the bigger the number, the more scoops you'll get and the smaller they'll be.
Those numbers aren't necessarily all that helpful if you're scooping cookie dough, though. So, here is a guide that shows those disher sizes in tablespoons as well as their volume in ounces.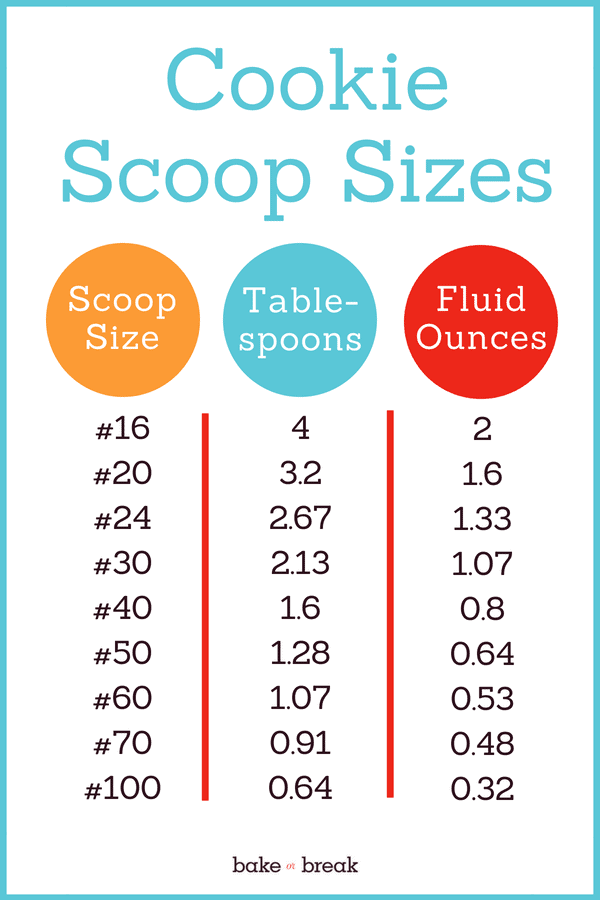 There are other sizes, too, but these are the most likely to be helpful in baking. I have a range of sizes to fit lots of uses. As you can see, most of the sizes don't fit a perfect tablespoon size, so just choose something that's close. If you need 2 tablespoons of cookie dough, then a #30 scoop is just fine. These are the cookie scoops that I use most:
Cookie Scoop Sizes in My Kitchen
How to Make a Ball of Cookie Dough a Certain Diameter
You've likely seen recipes that instruct you to make balls of cookie dough that are a specific diameter. It may say something along the lines of forming the dough into 1-inch balls. To achieve that, you'll need to use a scoop that's a bit bigger than the size ball you want to make. That's because a cookie scoop makes a dome, not a sphere.
For example, to get a 1-inch ball of cookie dough, try using a #60 scoop. It measures about 1 & 1/3 inches, so you'll be close to an inch in diameter after scooping and rolling the dough into a ball.
To check the diameter of your cookie scoops, use a ruler to measure across the widest part.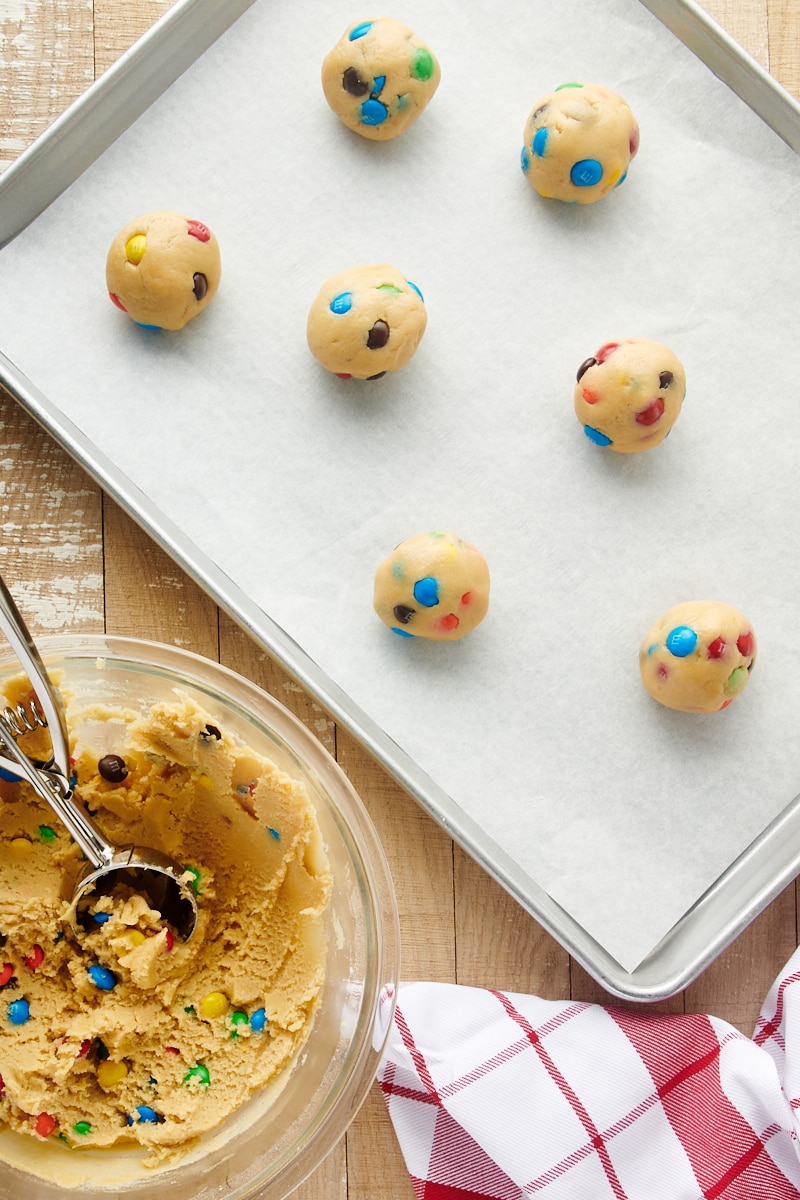 How Big Will the Baked Cookies Be?
What all of this wonderful data can't tell you is how big your baked cookies will be. There are just too many factors involved to make that kind of prediction for all cookies. Different doughs spread differently due to ingredients, temperature, pans, and many other things.
A specific recipe should reliably give you a consistent finished size when using a scoop, but there's just no way to make a blanket prediction for all cookie recipes.
You can have a rough idea, though, with some common sense. A tablespoon of dough isn't likely to give you a huge 4-inch cookie, right?
How to Tell the Size of a Cookie Scoop
Many cookie scoops will be labeled with either the scoop size or the tablespoon capacity right on the scooping mechanism. For those, use the chart above to determine their volume. After you've used them for a while, you'll well know the ones you use the most just by that number.
Unfortunately, some cookie scoops are only labeled as small, medium, and large cookie scoops. For those and for any you have that aren't labeled with their size, it's easy to determine their capacity. Simply fill the scoop to the top with water and then pour the water into a small measuring cup. (A 1/4-cup angled measuring cup works well.) Then you'll know exactly what volume that scoop can hold.
Tips for Using Cookie Scoops
Fill the scoop consistently. Try to fill the scoop the same way each time. The easiest method is to scoop down into the dough, over-filling the scoop. Use the side of the mixing bowl to scrape off the excess.
Don't make a rounded scoop. You want to make a dome shape that's flat on the bottom to make sure you're using the correct amount of dough. If your recipe directs you to make balls of the dough, I recommend scooping first and then forming a ball.
Use a high-quality scoop. There are some not so great ones out there that won't hold up to a lot of cookie baking. The ones I recommend above have all been quite sturdy and reliable for me. There are many good brands available, and I've had good luck with several like OXO and Norpro.
Keep them clean. Check the details for your specific scoops for how to clean them. Most will be dishwasher-safe, but some may suggest hand-washing.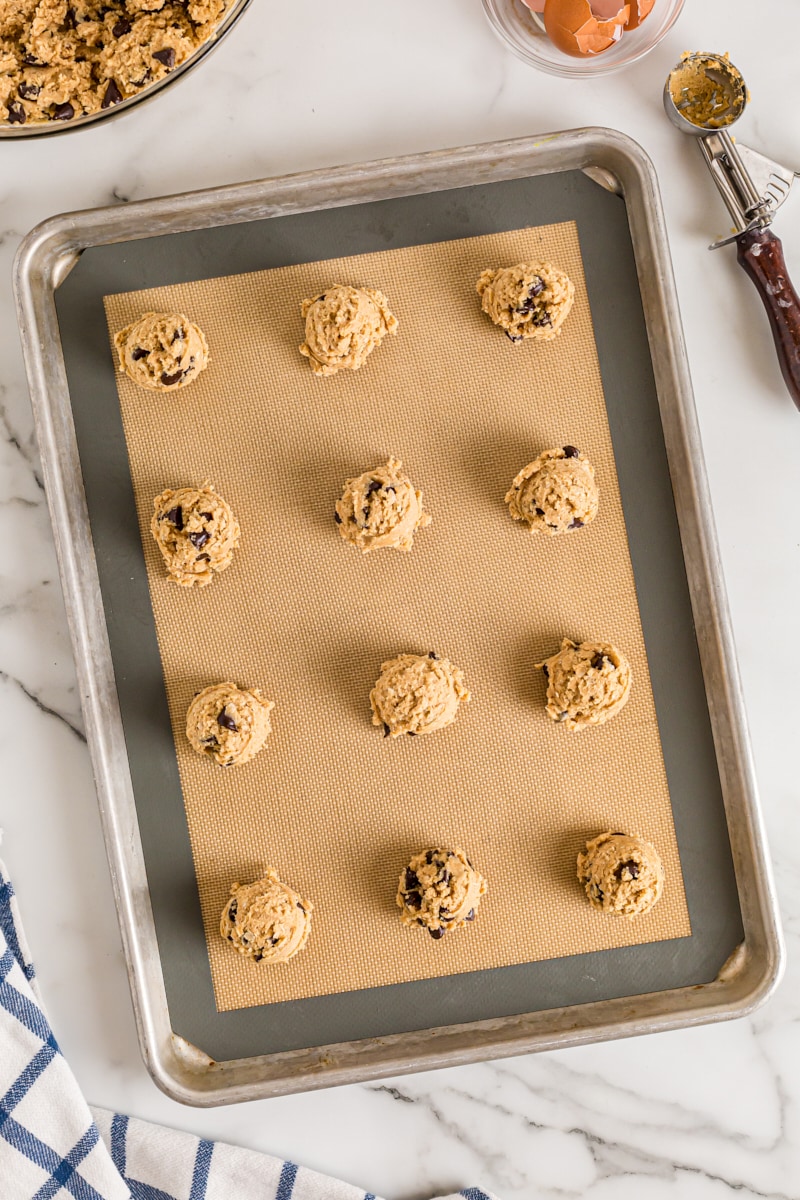 Great Ways to Use Cookie Scoops
Now that you're armed with all this knowledge of cookie scoops, I hope you're inspired to bake a batch of cookies! Once you've used scoops for making cookies or muffins or whatever else you're scooping, I think you'll come to find them indispensable!
Drop Cookies
You're likely to use your cookie scoops most often for making drop cookies, which are made from cookie dough that's designed to be dropped onto a baking sheet without the need for rolling, slicing, or other shaping. You can find lots of drop cookies in my recipe index, but here are a few popular ones to get you started:
Muffins
Besides cookies, I most often use cookie scoops for portioning muffin batter. It makes such quick work and eliminates the guesswork of how much batter to put in each muffin cup! Try a 3- or 4-tablespoon scoop in these recipes:
Cupcakes
Like muffin batter, cupcakes batter is another great use of cookie scoops. If the recipe you're using specifies an amount of batter per cup, use a properly-sized scoop. For recipes that say to fill each cup 3/4 full, try a 3-tablespoon scoop.
We are a participant in the Amazon Services LLC Associates Program, an affiliate advertising program designed to provide a means for us to earn fees by linking to Amazon.com and affiliated sites.