Treat yourself to a batch of homemade muffins with this collection of best muffin recipes!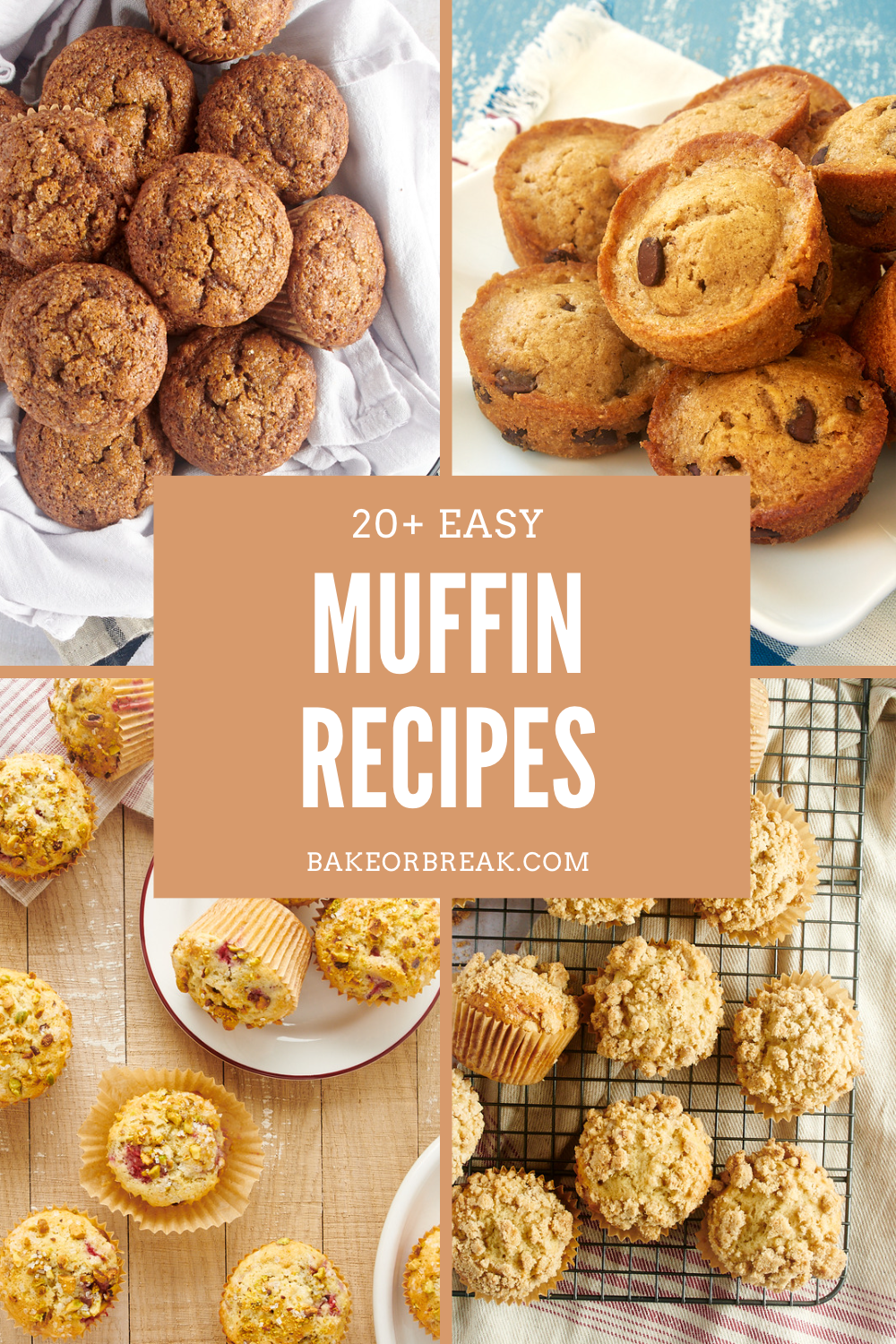 BoB's Best Muffin Recipes
Muffins are one of my favorite grab-and-go treats. They're great for everything from breakfast to an afternoon snack. Hey, if you want one for dessert, that works, too.
I've baked many a batch of muffins over the years, and these are some of the best muffin recipes I've shared with you. There's quite a variety here with banana, berry, citrus, spice, and more. I hope you'll find a new favorite among them!
First, we'll start with some tips and info to help you make perfect muffins. If you're ready to get baking, you can also skip ahead to the recipes.
Happy baking!
Tips for Baking Muffins
I've made countless batches of muffins over the years, and I've learned a lot along the way. In fact, I've got an entire post dedicated to my tips for making muffins! Be sure to visit that page for a deeper dive. Here are some basic tips to help make sure your muffins turn out perfectly!
Measure accurately. It's always important in baking to take care to make accurate measurements. If you have a digital kitchen scale, that's the best way to ensure you're on the right track. If you don't use a scale, be sure to be careful with your measurements.
Use good quality ingredients. Your baked goods will only be as good as what you put into them.
Don't over-mix. Too much mixing means a tough texture and little tunnels in your muffins. It's perfectly fine to stop stirring when there are still a few lumps or small streaks of flour in the batter, as those will disappear during baking.
Use a scoop for portioning. A cookie scoop will make quick and accurate work of dividing the batter when it's time to put it in the muffin pan.
Use a light-colored metal pan. Your muffins will bake more thoroughly and evenly.
Should I Line Muffin Pans?
Unless there's a specific reason stated in a recipe, lining the muffin cups is a matter of preference. There are a couple of things to keep in mind if you aren't sure whether or not to add liners.
Liners will create softer sides for your muffins. Also, they make removing the muffins from the pan easier and make them an easier grab-and-go treat. If you opt to use liners, I recommend paper liners.
Unlined pans will create crisper, browner sides. If you're skipping the liners, I recommend using a cooking spray with flour like Baker's Joy or Pam for Baking.
How to Store Muffins
Check your recipe's notes for specific storage information, as different ingredients, toppings, or fillings may require slightly different storage. Here are some general guidelines to help you keep your muffins fresh as long as possible.
Cool the muffins completely. Before you store the muffins, make sure they've cooled all the way to room temperature.
Line the container. Muffins tend to give off moisture, making them soggy. Simply lining your airtight container with paper towels will go a long way to help prevent that. If you're layering the muffins, place a paper towel between the layers. Finally, place another paper towel over the top of the muffins.
Freeze them for longer storage. Most muffins freeze beautifully. I like to wrap them individually in plastic wrap and then place them inside a freezer bag or container. Use the paper towel trick here, too. Most can thaw at room temperature or be warmed briefly in the microwave.
Learn More
If you're new to baking or just want a refresher, here are some other posts to help ensure muffin success!
Let's Bake Muffins!
I hope all this muffin deliciousness has inspired you to bake a batch of muffins soon! If you're looking for even more muffin inspiration, be sure to visit the Recipe Index.