If you're a chocolate lover, homemade Chocolate Chip Muffins are basically impossible to resist. They're a wonderful sweet treat for breakfast or just a snack!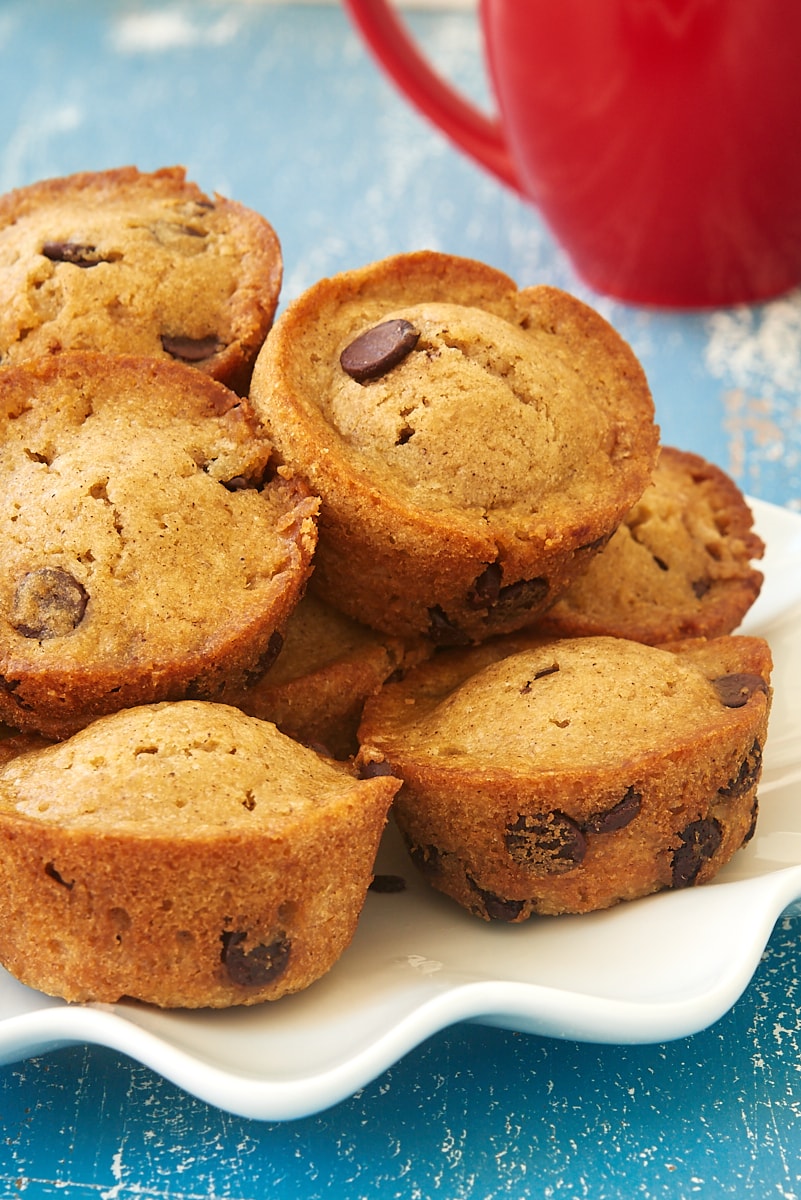 Easy Chocolate Chip Muffins
I admit that I have a healthy appreciation for kitchen gadgets. I am quite sure that I would have a hard time giving up my stand mixer, food processor, hand mixers, and a number of other complex appliances that fill my kitchen and pantry. Even with all of that, I do enjoy those times that I can bake something amazing with just a couple of bowls and a spoon.

That's what this Chocolate Chip Muffin recipe is all about. It is simplicity at its best. Measure, stir, scoop, and bake. Other than the measuring cups and spoons, all you need is a muffin pan, two bowls, a spoon, and a whisk to get you to a batch of homemade muffins in short order.
Lazy mornings were made for muffins like these with their no-fuss mixing. If you've got a good kitchen helper, then they'll come together even more quickly. And your payoff will be freshly baked muffins with plenty of gooey chocolate.
I love those rare times when I can justify chocolate for breakfast. It just seems like such an indulgent treat, whether it's a special occasion or for no real reason at all. It reminds of those times when my mother would let me eat cake for breakfast. What a way to start your day!
For more easy muffin recipes, whip up a batch of blueberry muffins or banana muffins!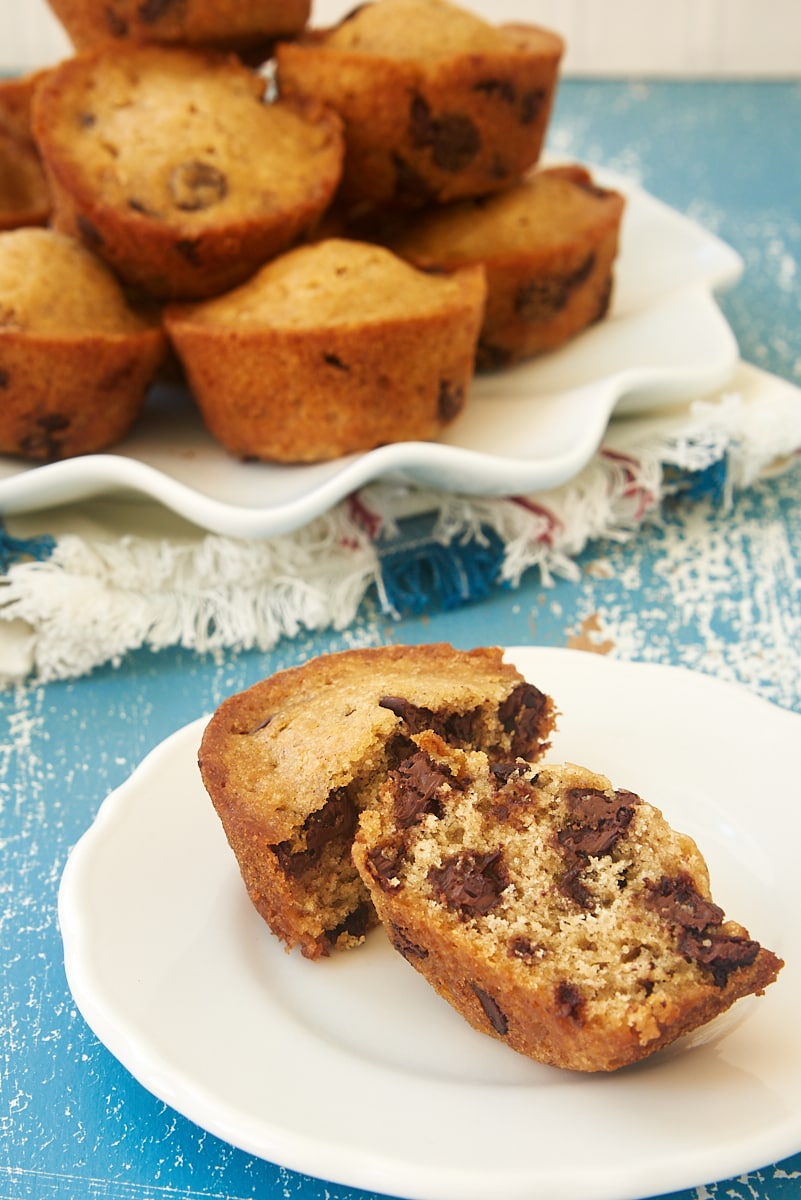 What You'll Need
These Chocolate Chip Muffins are made with just the basics, so you're likely to have what you need to whip up a batch most any time!
All-purpose flour – Be sure to measure accurately, as too much flour leads to dry, tough muffins. Learn more: How to Measure Flour
Granulated sugar
Brown sugar – Light or dark brown sugar will work, depending on how strong you want that molasses flavor.
Baking powder
Baking soda
Ground cinnamon – A little bit of cinnamon makes these muffins something special, but you can easily omit it if you like.
Salt
Eggs – Set out the eggs before baking so that they can come to room temperature.
Unsalted butter – You'll need melted butter for these muffins. Be sure to give the butter time to cool after melting. It should be warm but not hot.
Milk – Set out the milk along with the eggs. Whole or 2% milk works best. While I've not tried it, a nondairy milk should work, too.
Vanilla extract
Chocolate chips – Use good quality chocolate chips. I like semisweet for these muffins.
Want to add nuts?
Just add a handful of your favorite chopped nuts to the batter. If you want more than a handful, then decrease the amount of chocolate chips by the same volume of nuts you're adding.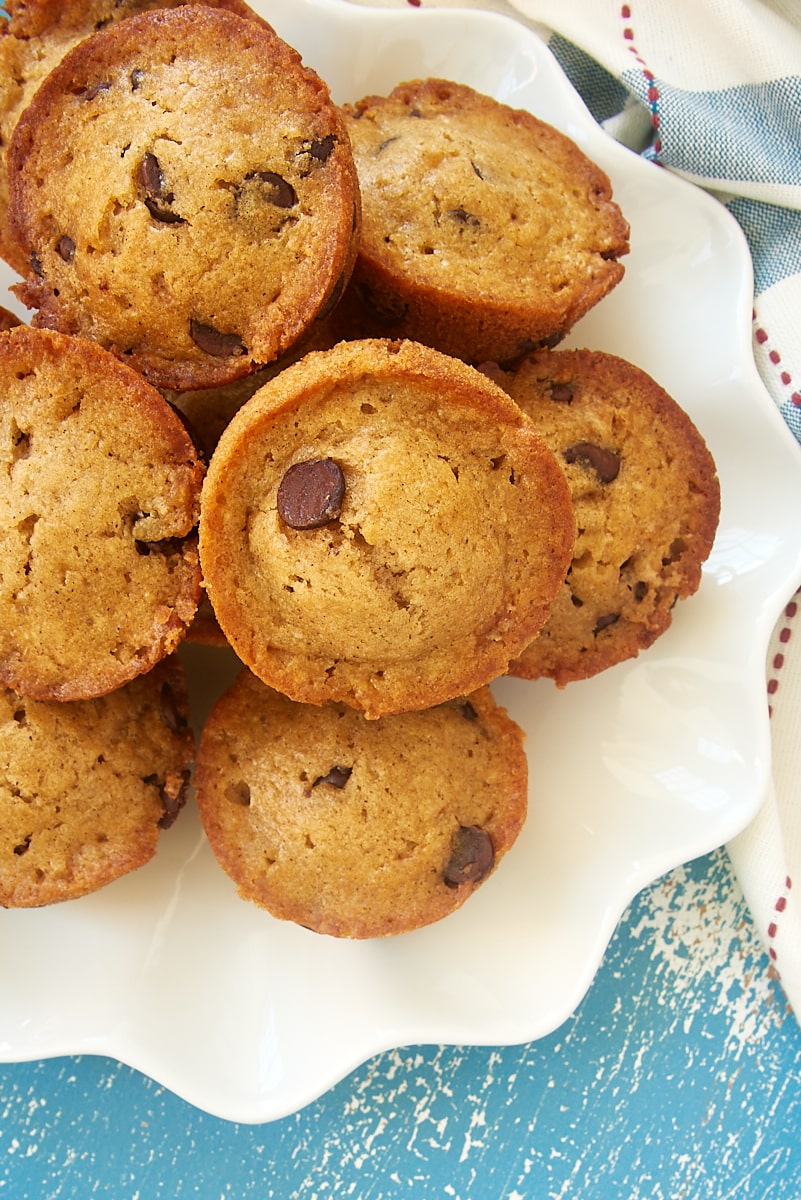 How to Make Chocolate Chip Muffins
These muffins are a breeze to make. You won't need your hand mixer for this recipe; the batter mixes easily with just a mixing spoon! Be sure to scroll down to the recipe card below for printable instructions.
Prepare for baking. Heat the oven to 375°F. Line or lightly grease 12 standard muffin cups. If you use liners, I recommend parchment paper liners.
Combine the dry ingredients and sugars. Whisk or stir the flour, sugar, brown sugar, baking powder, baking soda, cinnamon, and salt in a large bowl. Make a well in the center.
Combine the wet ingredients. Mix the eggs, butter, milk, and vanilla.
Finish mixing. Add the egg mixture to the well in the flour mixture. Stir just until the dry ingredients are moistened or a few streaks of flour remain. Stir in the chocolate chips.
Portion. Divide the batter evenly among the prepared muffin cups. Fill each cup about 2/3 full with approximately 3 tablespoons of batter.
Bake. Place the pan in the oven and bake the muffins 20 to 22 minutes. The muffins are done when a toothpick inserted into the center comes out clean.
Cool the muffins. Place the pan on a wire rack and allow to cool for 5 to 10 minutes. Then remove the muffins from the pan and place them on the rack to continue cooling. Serve warm or at room temperature.
Lined vs Unlined Pans
Lining the cups of your muffin pan does a couple of things. First and most simply, it makes the muffins easier to remove from the pans and makes them more portable. Secondly, it adds a layer between the batter and the pan, creating softer, less browned edges.
Skipping the liners in favor of greasing the pan does the opposite. Without that extra layer in the pans, the edges of the muffins will be crisper and browner.
When I line muffin pans, I prefer paper baking cups for ease of use and their nonstick properties. When I'm not lining the pans, I use a cooking spray with flour to make them easier to remove from the pans after baking.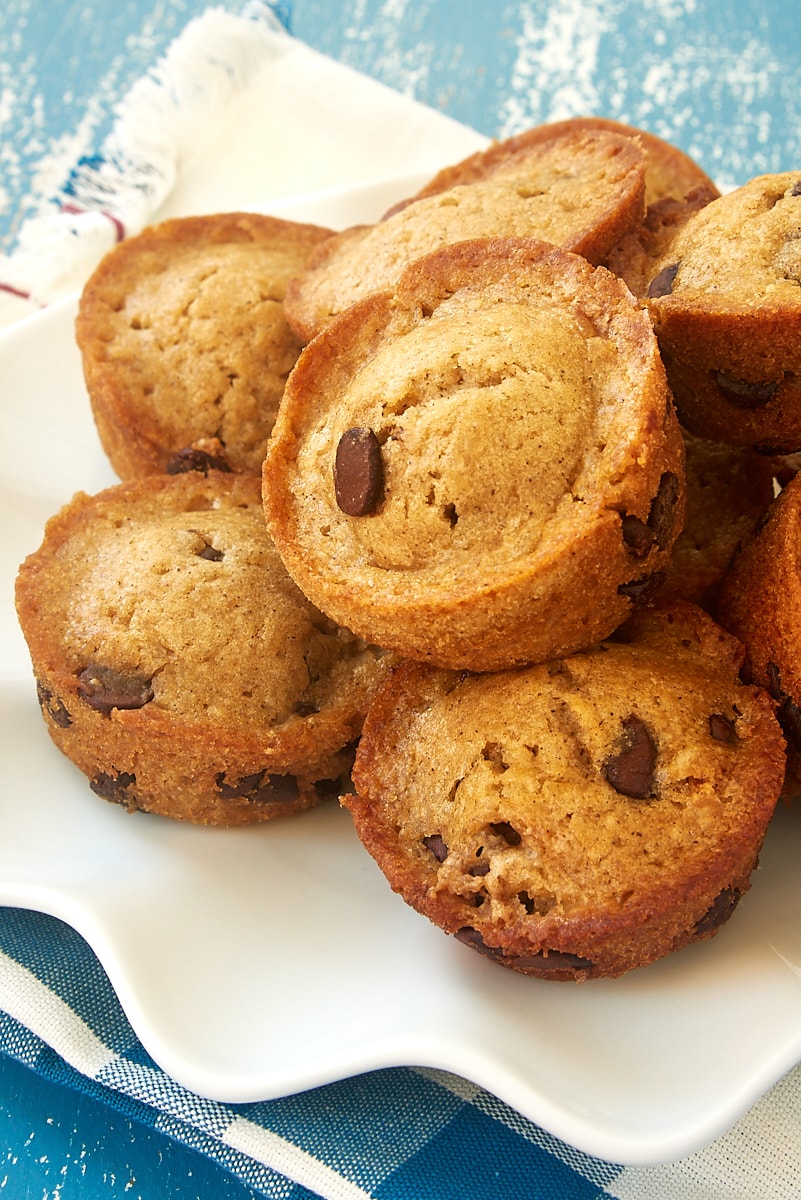 Tips for Success
This recipe is simple to make, but here are a few tips for making your Chocolate Chip Muffins the best they can be!
Use a light-colored metal pan. Dark pans tend to over-bake the outside edges before the centers can get thoroughly baked.
Don't use an electric mixer. Using an electric mixer is likely to lead to over-mixing, which will make your muffins dry and tough. If you do opt to use a mixer, be very careful to stop mixing just when everything is combined.
Don't over-mix. Too much mixing leads to tough muffins. Muffin batters generally won't be smooth like a cake batter, and that's perfectly fine. A few streaks of flour in the batter are fine and will blend into the muffins as they bake.
Want more tips? See my tips for baking muffins.
How to Store
These muffins will keep at room temperature up to 3 days in an airtight container after they've cooled. To keep the moisture from making them soggy, line the container with paper towels and place more layers of paper towels between layers of muffins and on top before sealing the container. Refrigerating will extend that by a couple of days, but make sure the container is well-sealed so they won't become dry.
While the muffins are quite good at room temperature, I do hope you'll take good advantage of eating them warm from the oven for a wonderful treat. You can also warm them briefly in the microwave before serving.
How to Freeze
After the muffins have cooled completely, place them in an airtight, freezer-safe bag or container. They should keep up to 3 months. Thaw overnight in the refrigerator or for an hour or so at room temperature.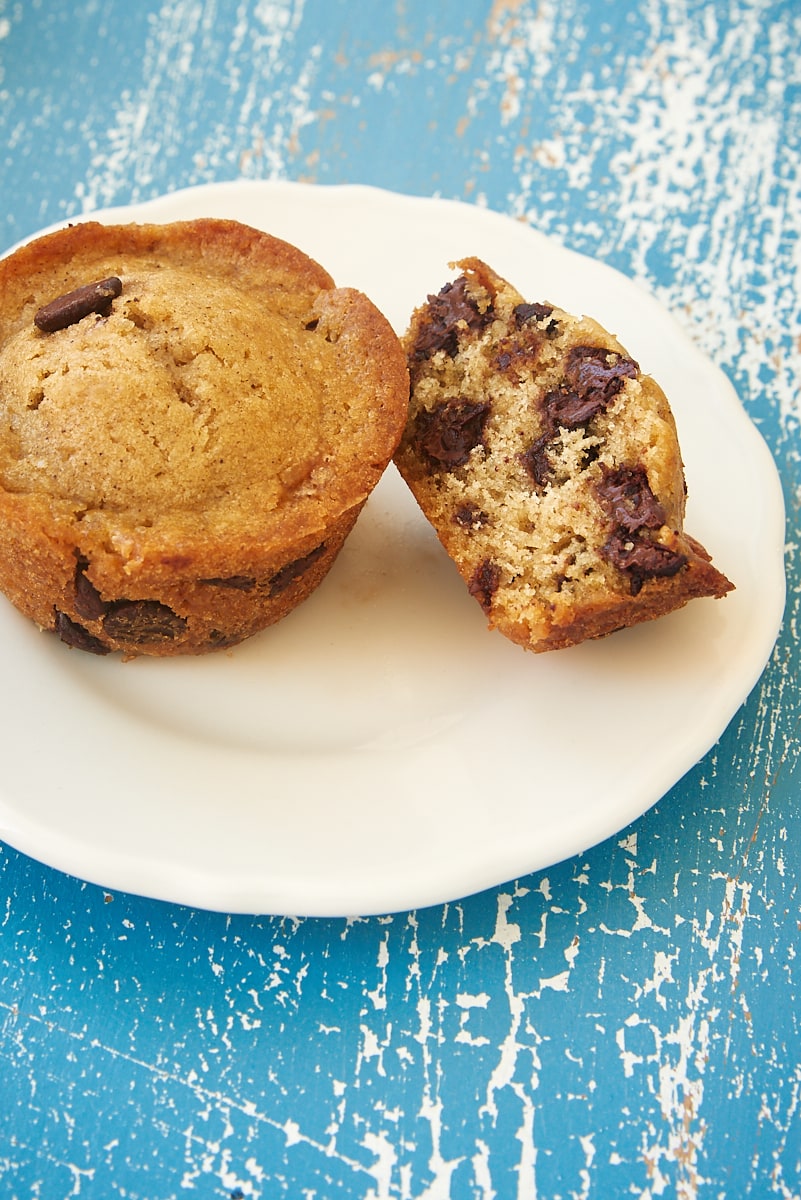 More Chocolate Chip Muffin Recipes