A tasty and easy recipe for rustic banana nut muffins made with nutritious spelt flour and turbinado sugar. Perfect for breakfast or a light snack, with extra protein and fiber!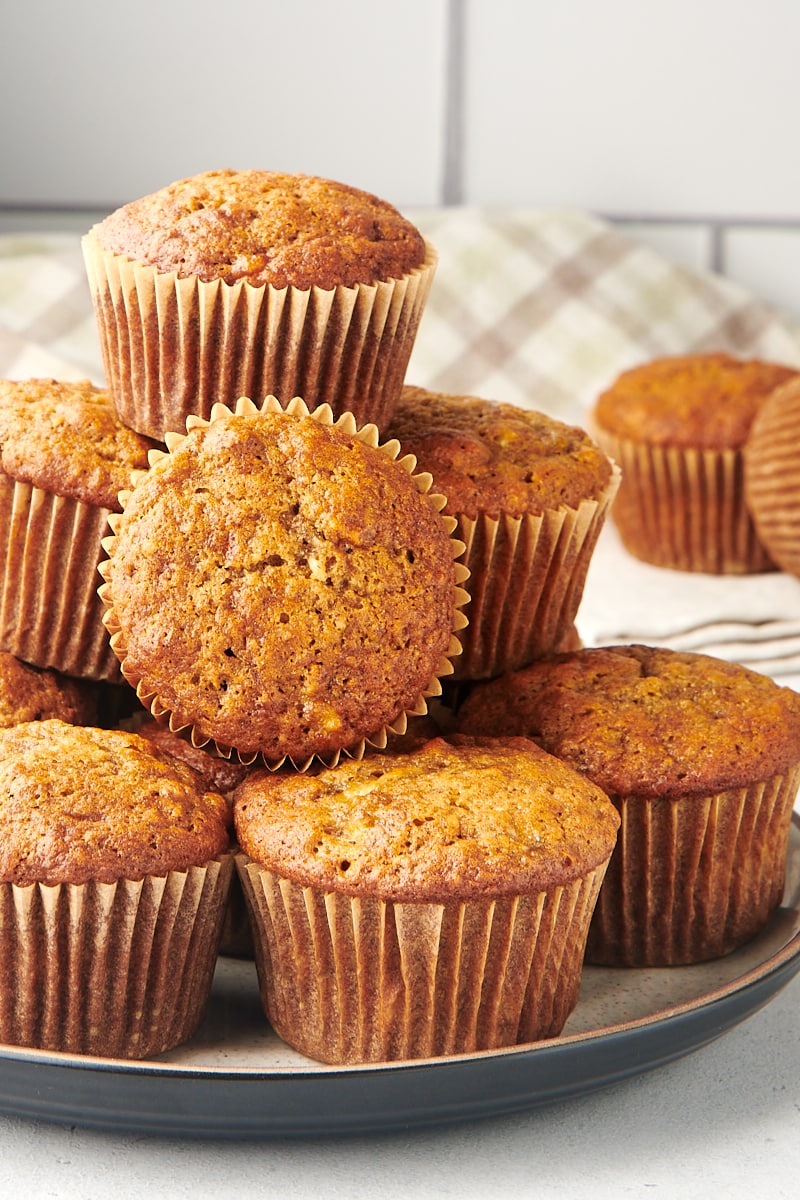 Banana Nut Muffins
I've had this recipe in my collection for many years. It was first sent to me by a dear friend, and I've been making these muffins ever since. You may be thinking that the world doesn't really need another banana muffin recipe, but these are so good that I hope you'll give them a try.
What makes these Banana Nut Muffins special is the presence of a couple of ingredients that are off the beaten baking path. While not difficult to find in most grocery stores, spelt flour and turbinado sugar aren't part of the usual pantry staples. But the flavor they add makes all the difference!
Muffins are a great treat for breakfast or a snack, and these are no exception. If you've got some bananas ready for baking, then take the opportunity to change up your banana muffin game with this easy recipe!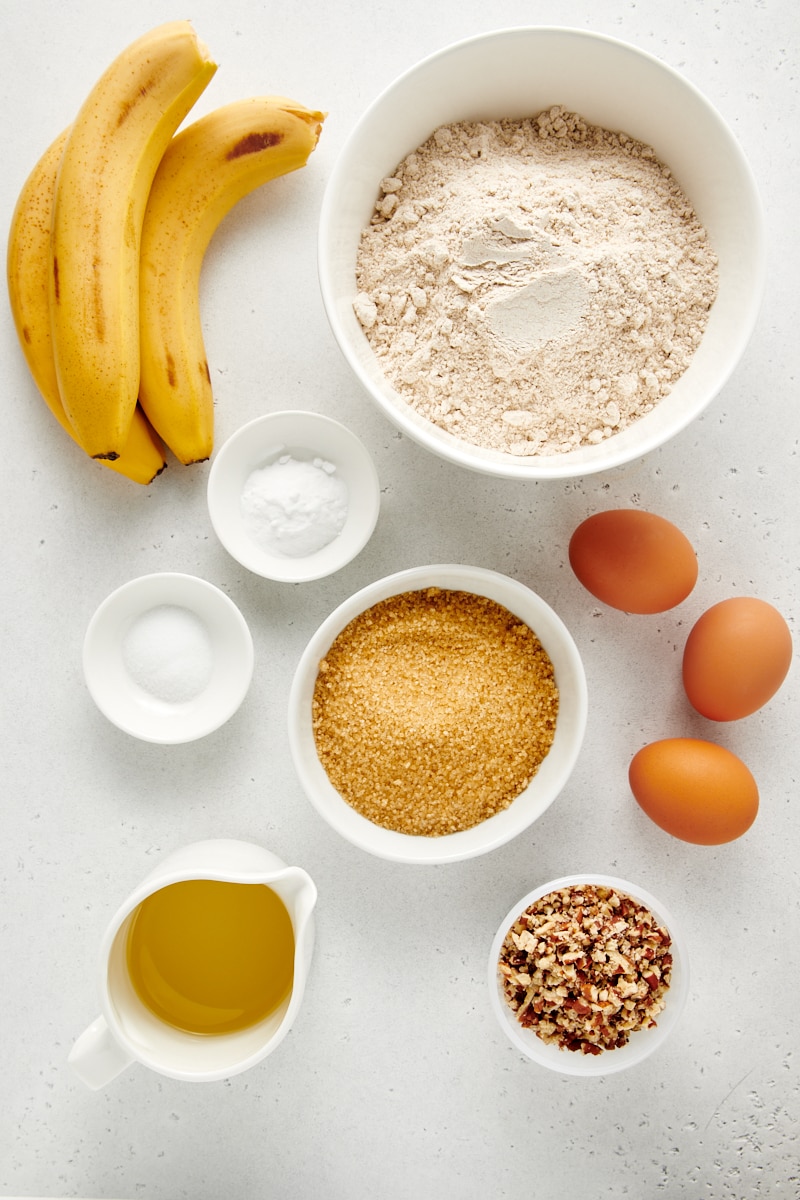 What You'll Need
What makes these banana muffins different is the use of spelt flour and turbinado sugar. Otherwise, this short ingredients list is made of very familiar ingredients.
Spelt flour – See my notes below about using this type of flour. As always, measure by weight or use the spoon and sweep method.
Baking soda
Salt
Canola oil – Vegetable oil works, too.
Turbinado sugar – See my notes below.
Bananas – You'll need 3 to 4 very ripe bananas of medium size. Remember that the riper they are, the more flavor they'll provide. (Need to get your bananas baking-ready faster? See my tips for ripening bananas quickly.)
Eggs – Set these out before you begin baking so they can come to room temperature.
Chopped nuts – I usually use pecans, but chopped walnuts, hazelnuts, or another variety will work, too.
What is Spelt Flour?
Spelt flour is a whole wheat flour made from the entire grain. Because it uses all of the grain (instead of just part of it like white flour), you'll get more fiber, protein, and other good stuff. Granted, it's not a huge amount in a single muffin, but it's worth noting their presence here versus more standard versions.
It has a nutty flavor, which makes it a great choice for banana muffins and banana bread. Some people also describe it as adding a yogurt-like flavor to baked goods.
Unlike a lot of whole wheat flours with higher protein content, spelt flour actually performs similarly to all-purpose white flour. It just adds a different flavor that works so well in many baked goods.
Spelt flour is widely available, but you can try whole wheat flour or all-purpose flour if you need a substitute. Be sure to use the same volume of whatever flour you use, as the weights will vary. If using whole wheat flour, you may want to add a splash of milk to the batter. As with any substitution, expect at least some differences in the final outcome.
What is Turbinado Sugar?
The recipe also has another less common ingredient – turbinado sugar. Turbinado sugar is a minimally processed sugar, meaning it keeps more of the natural molasses flavor of sugar cane. It provides a richer flavor than other sugars that have been processed more. You'll also notice that it's a coarser, darker sugar than granulated white sugar or even brown sugar.
Brown sugar or granulated white sugar can be substituted, although turbinado sugar is usually not too hard to find. I keep it on-hand for baking and for use as a coarse sugar sprinkled on top of baked goods.
Add-In Ideas
Want to change things a bit? Try one of these additions to your banana muffins!
Chocolate chips – Substitute for some or all of the nuts, or add a handful in addition to the nuts.
Dried fruit – Small dried fruits like cranberries, blueberries, and raisins can be added. They can be used in place of some or all of the nuts. If you want both, add a handful to the batter along with the nuts.
Shredded coconut – Use as described for chocolate chips and dried fruits. You can also just sprinkle a pinch or two on top of the muffins before baking.
Spices – Add about 1/2 teaspoon ground cinnamon or nutmeg when mixing the dry ingredients. You can also use a spice blend, like my fall spice blend.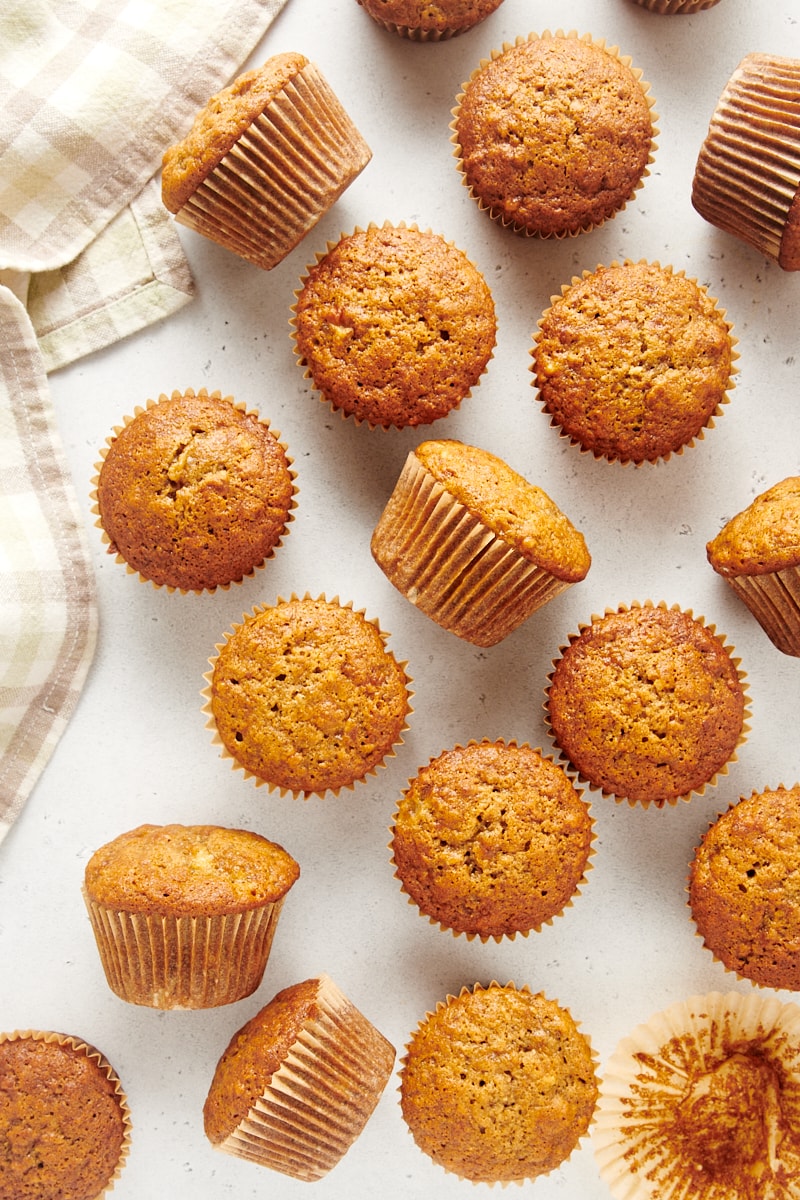 How to Make Banana Nut Muffins
These easy-to-make muffins follow the muffin method of mixing. No mixer required! Just grab a couple of bowls and a mixing spoon along with your muffin tins, and you're ready to get baking.
Prepare for baking. Heat the oven to 350°F. Grease or line standard muffin cups. This recipe will make about 18 muffins.
Combine the dry ingredients. Whisk together the flour, baking soda, and salt in a large bowl. Make a well in the center.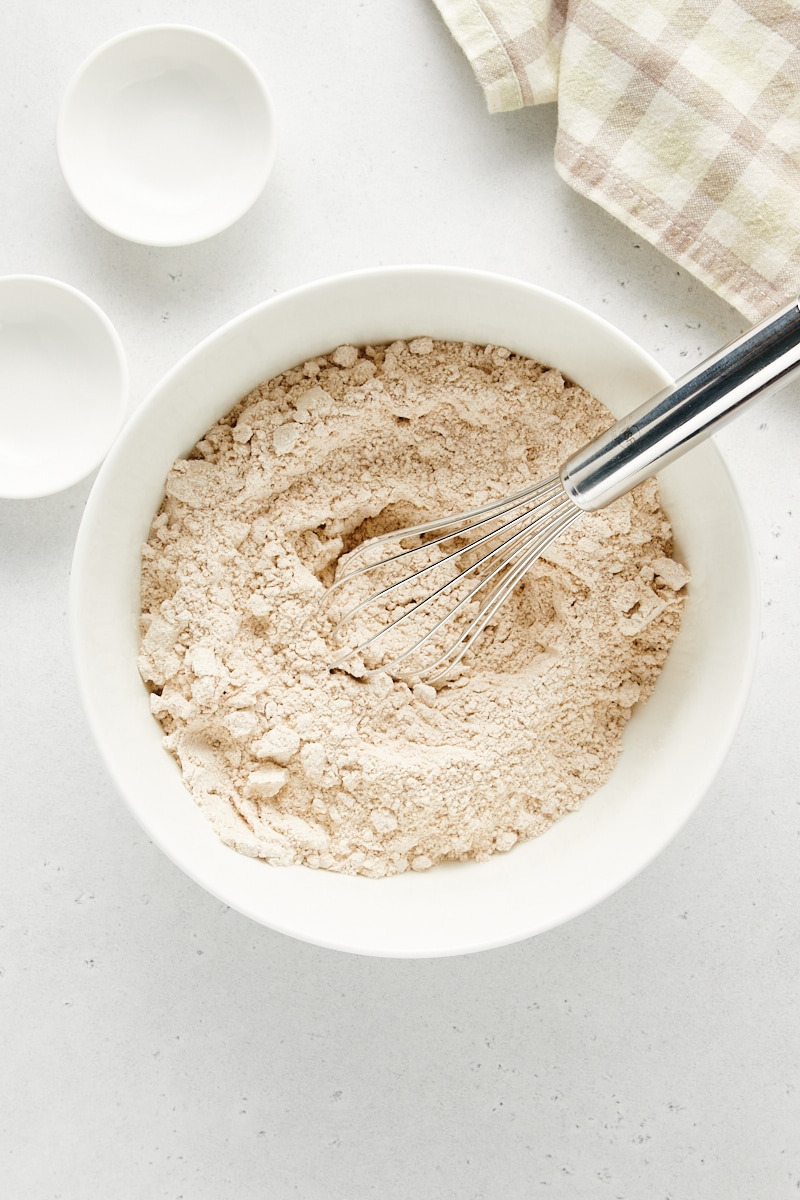 Combine the wet ingredients. Mix together the oil, sugar, mashed bananas, and eggs. This mixture won't be perfectly mixed; just stir until everything is combined.
Add the wet ingredients to the dry ingredients. Pour the wet ingredients mixture into the well in the flour mixture. Stir until combined, mixing as little as possible. (Lumpy batter is fine.) You can leave a few streaks of flour, as they'll finish mixing in the next step.
Add the nuts. Stir the nuts into the batter just until combined.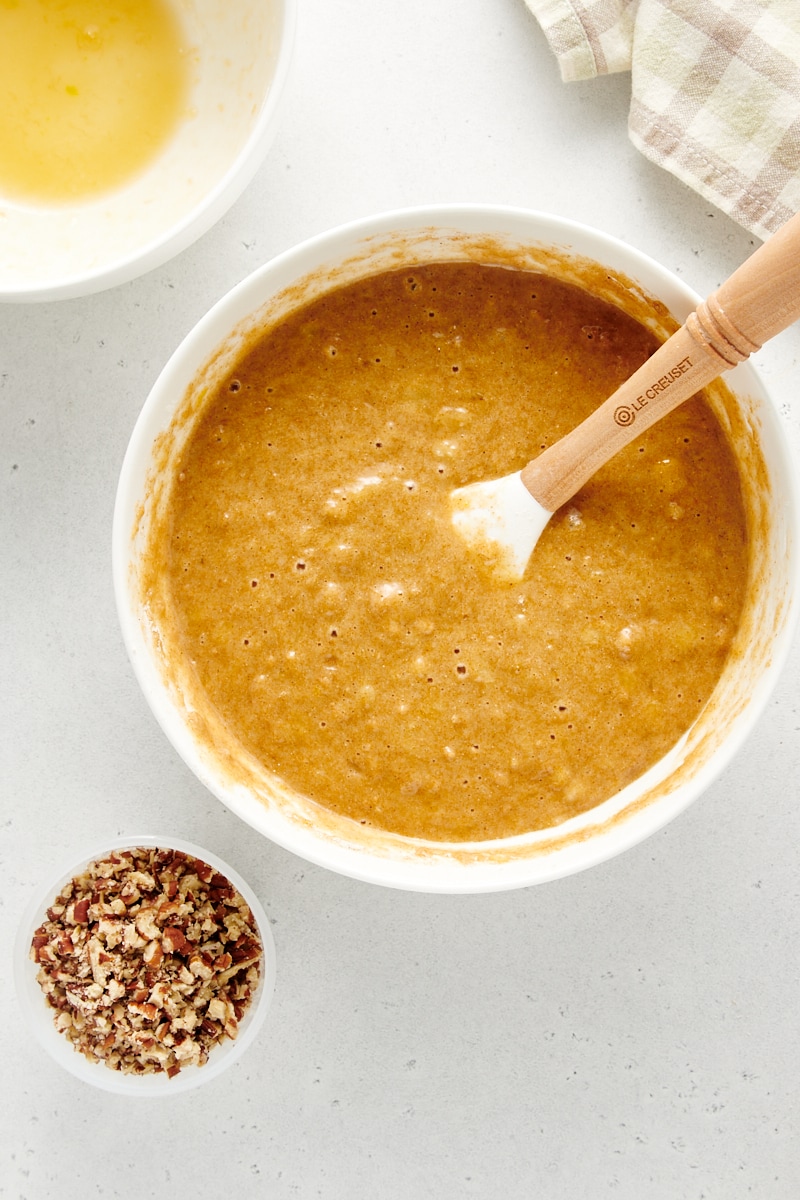 Portion and bake. Divide the batter among the prepared muffin cups, filling each 3/4 full with about 3 tablespoons of batter. Place the pans in the oven and bake 20 to 22 minutes, or until the muffins are golden brown and a pick inserted into the center comes out clean.
Cool the muffins. Place the pans on a wire rack and allow the muffins to cool for 10 minutes. Then transfer the muffins from the pans to a wire rack to continue cooling.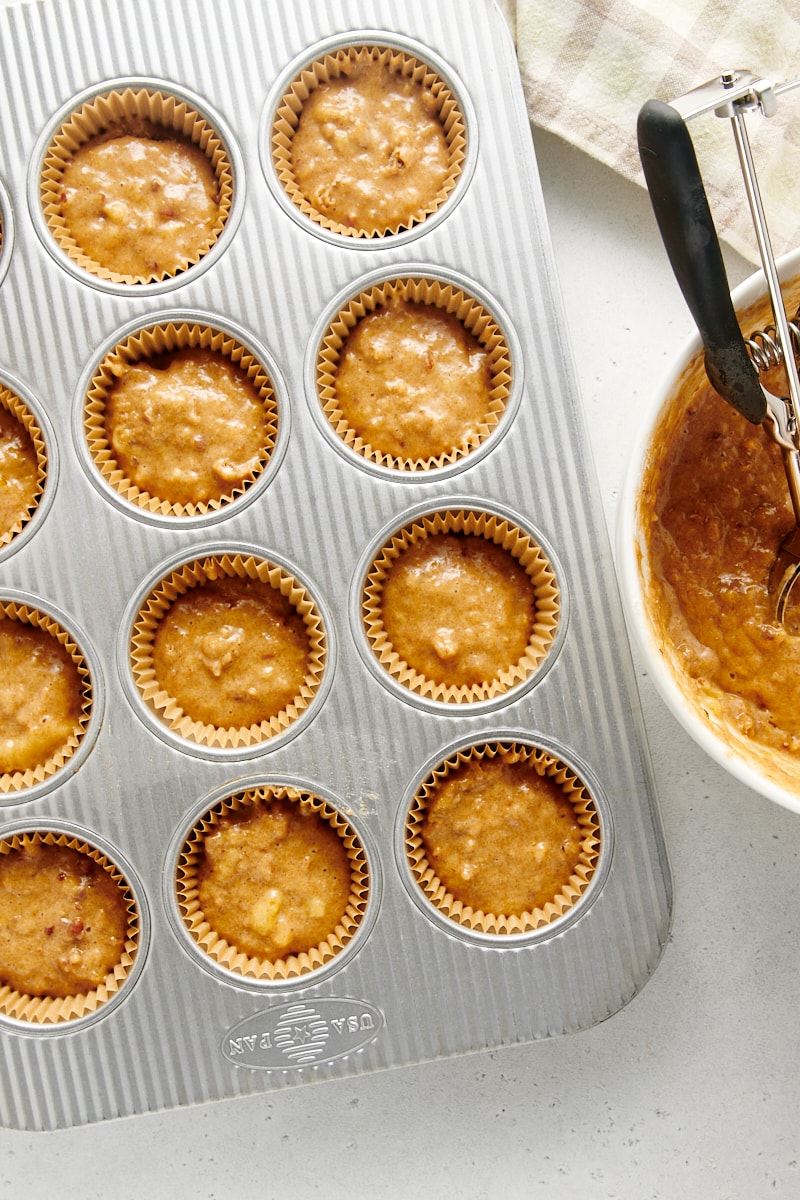 Tips for Success
Don't over-mix. Like all muffins, mix this batter just until combined. A few lumps or a couple of streaks of flour are fine.
Use light-colored, metal muffin pans. Dark pans will over-bake the edges while leaving the centers under-baked.
When to use liners. Liners make softer edges, while skipping the liners make browner, crisper edges. Using liners also makes muffins an easier grab-and-go treat. If you do want to use liners, I recommend parchment paper liners.
Use a scoop. To portion the batter, I like to use a 3-tablespoon scoop to make things quicker and more accurate.
Want to make banana bread? See my tips for converting muffins to loaves.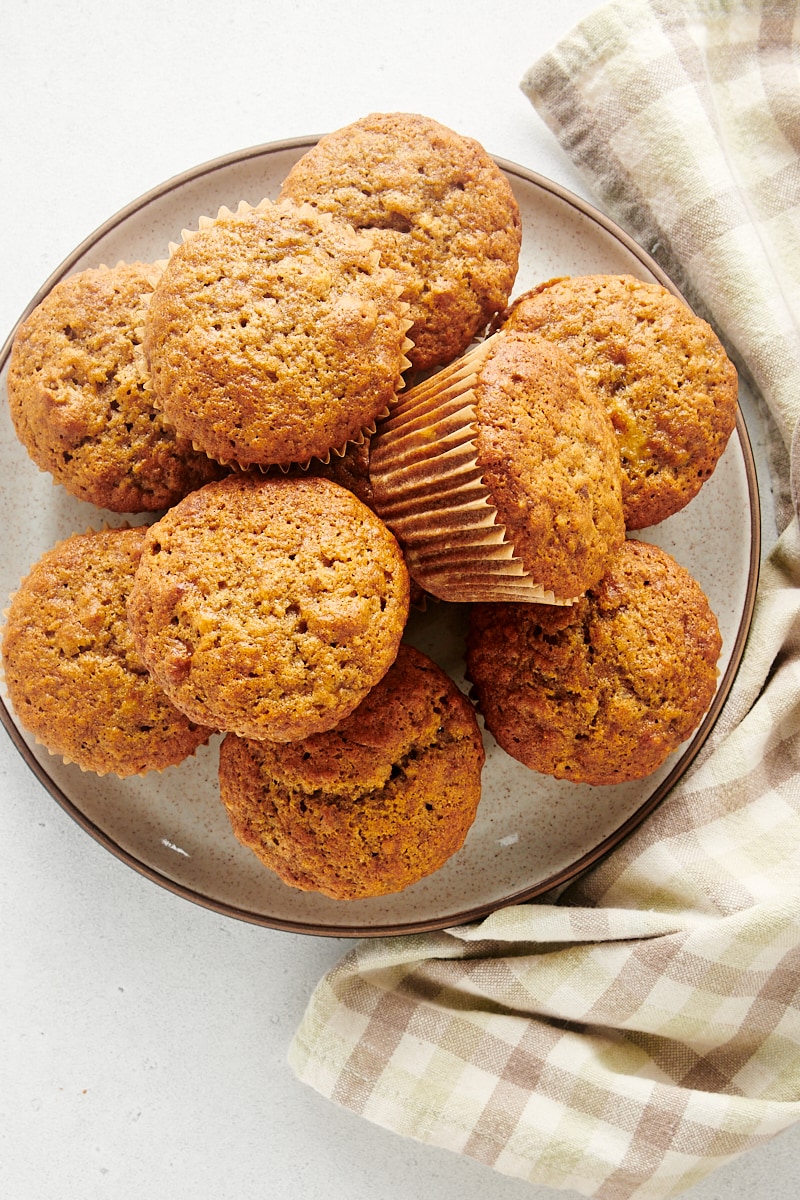 How to Store Leftovers
Place the cooled muffins in an airtight container and store at room temperature up to 3 days. Muffins create a good bit of moisture as they age, potentially making them soggy. You can combat this by using paper towels to line the bottom of the container. If you've got more than one layer of muffins, place a paper towel in between those layers. Place another paper towel on top of the muffins, too.
While you can store the container in the refrigerator, it's generally not a great idea as that will alter their texture and flavor.
How to Freeze Banana Nut Muffins
After the muffins have cooled completely, they can be stored in the freezer up to 3 months if properly stored. Use a paper towel to line the bottom of a freezer-safe container. Place the muffins in a single layer and cover with another paper towel before sealing the container. Thaw at room temperature. Warm them briefly in the microwave to give them that out-of-the-oven treatment.