Raspberry Pistachio Muffins are the perfect way to celebrate spring! These delicious muffins are packed with fresh raspberries and crunchy pistachios. They're perfect for a snack or breakfast on the go!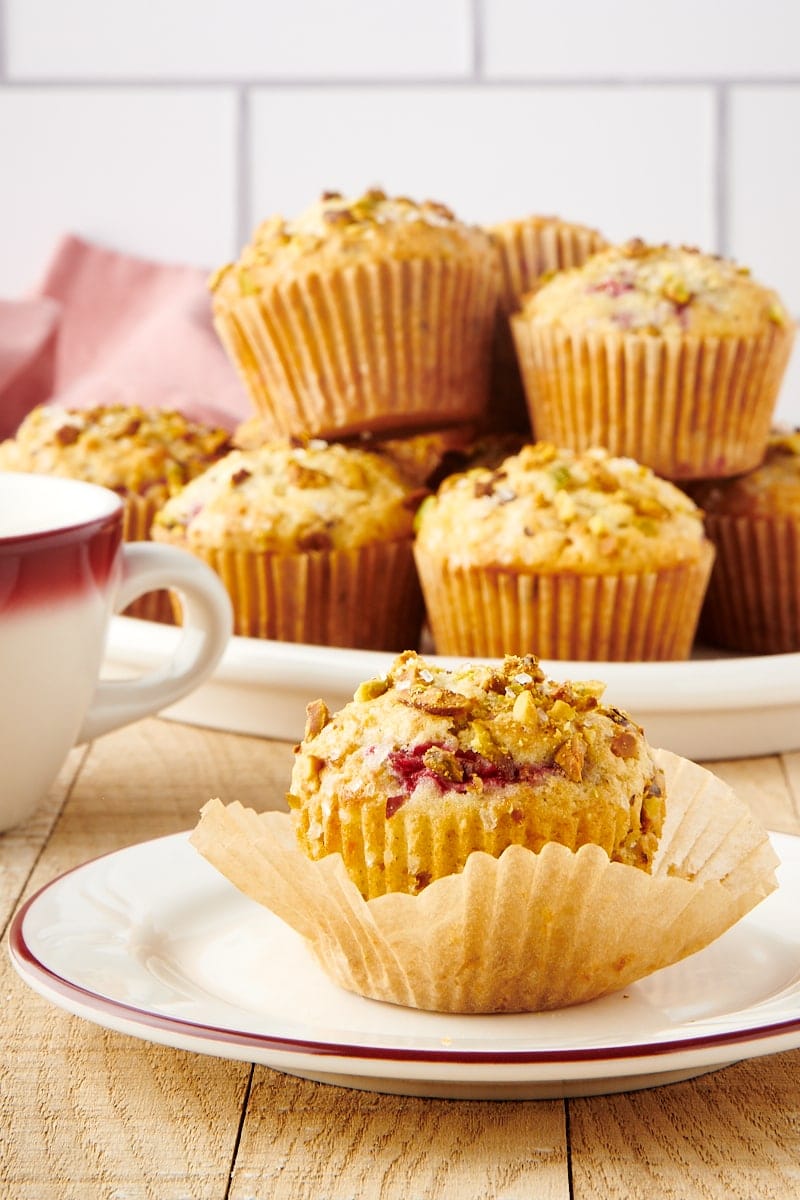 Raspberry Pistachio Muffins
We all know and love muffins. They are the perfect on-the-go snack or breakfast option. But sometimes, we want something besides the classic flavors like blueberry or banana nut. That's why I'm excited to share this recipe for Raspberry Pistachio Muffins! These little guys are packed with wonderful flavor and a lovely texture, and they may very well become your new favorite muffin recipe.
These delicious muffins are easy enough to mix when you're craving freshly baked muffins. They're just as well-suited for a lazy weekend as they are for a special brunch. Keep some around for a little sweet snack with your afternoon coffee or tea. Or just grab one whenever you want a little something sweet!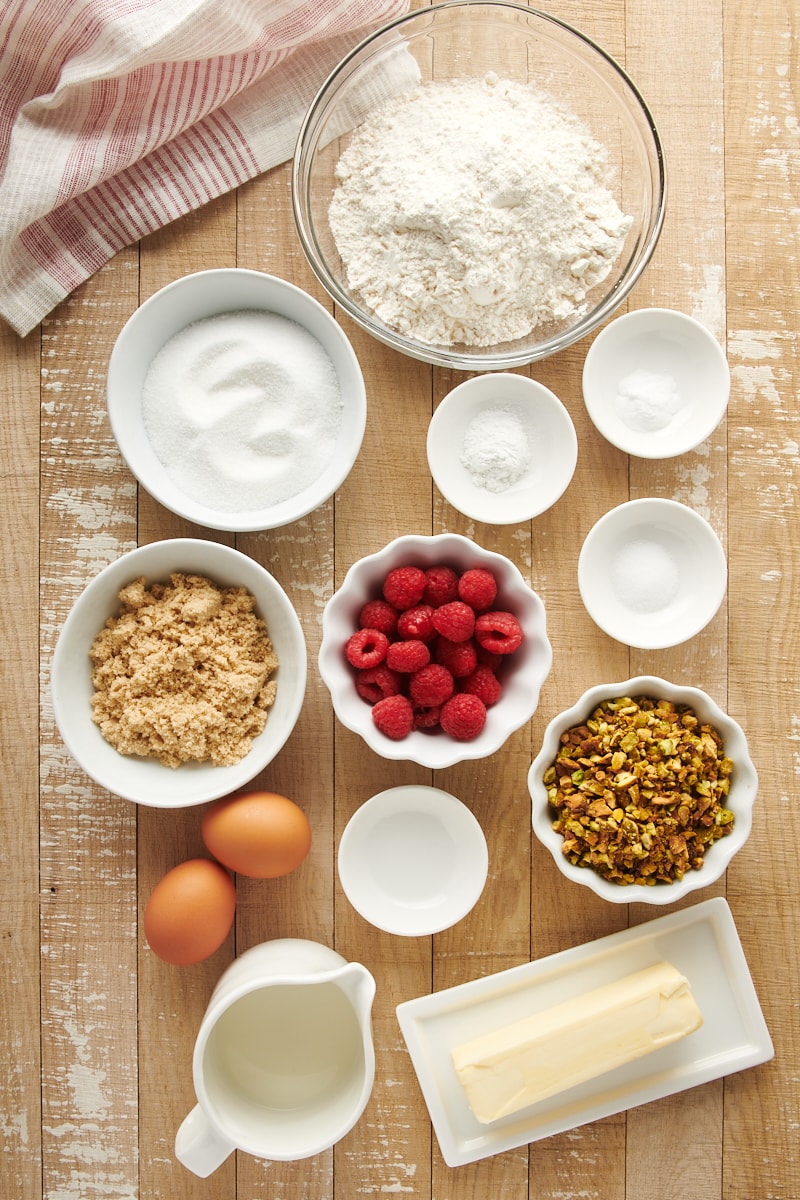 What You'll Need
Besides the pistachios and raspberries, you very likely have everything else you need to make a batch of these muffins!
All-purpose flour – Measure by weight if possible; otherwise, use the spoon and sweep method.
Granulated sugar
Brown sugar – I prefer light brown sugar in these muffins, but you can use dark if you want a more pronounced molasses flavor. Either way, make sure it's firmly packed or (even better) measure by weight.
Baking soda
Salt
Unsalted butter – After melting the butter, let it cool briefly until it's still warm but not hot.
Milk – Use whole or 2% milk for best results. Set out the milk before baking so it can come to room temperature.
Eggs – These also need to be at room temperature.
Almond extract – This flavor complements the raspberries and pistachios nicely, but you can substitute vanilla extract if you like.
Raspberries – I prefer baking with fresh berries whenever I can, but see my notes below for using frozen berries.
Pistachios – If your pistachios are salted, you may want to decrease or omit the salt in the recipe.
Sanding sugar – This is entirely optional, but a pinch or two of sanding sugar on top of these muffins gives them a little sparkle and an extra sweet bite.
Want to Use Frozen Raspberries?
If you don't have fresh raspberries for these muffins, then you can use frozen. Don't thaw them before baking, but rinse them well in cold water and dry them as thoroughly as possible. Try tossing them in flour to help absorb some of their extra moisture. And finally, you may need to add an extra minute or two to the baking time.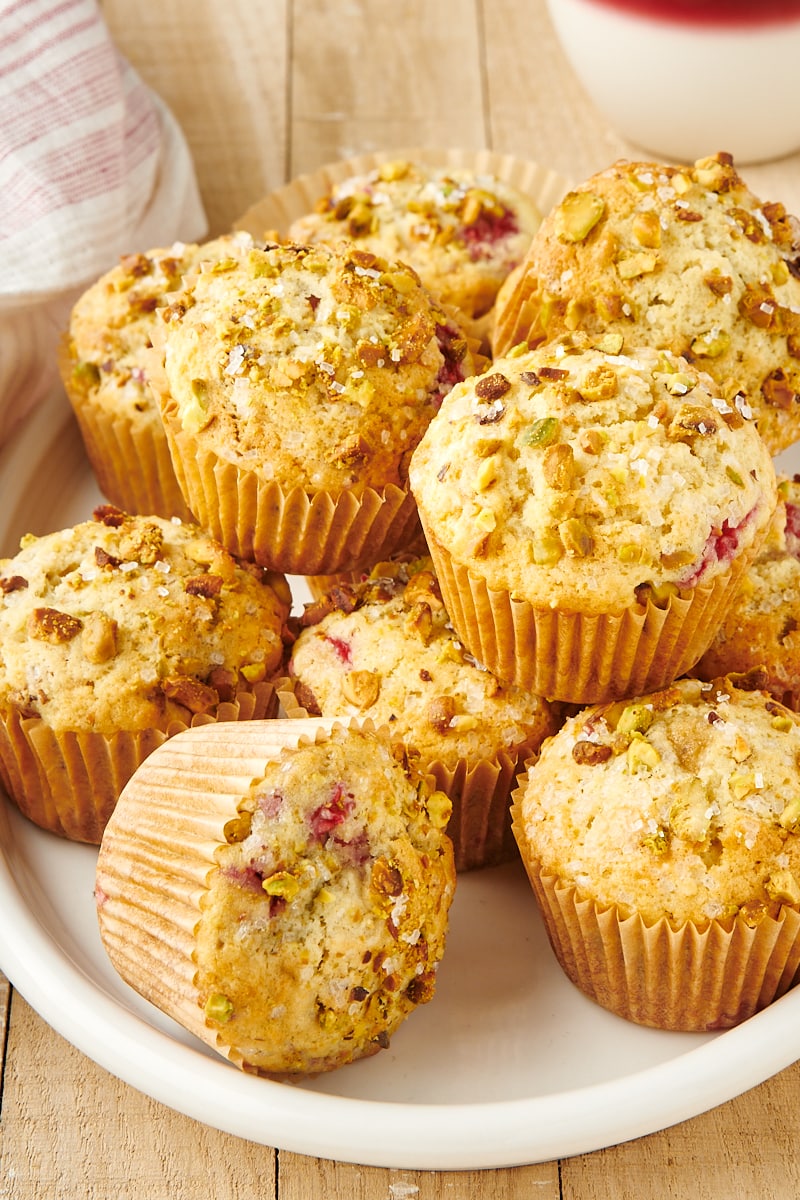 How to Make Raspberry Pistachio Muffins
These easy-to-make muffins follow the muffin method, so you'll find these steps familiar if you've made your fair share of muffins and quick breads. Leave the mixer unplugged for this recipe. You'll just need a couple of mixing bowls and a mixing spoon.
Prepare for baking. Heat the oven to 400°F. Line or grease 12 standard muffin cups.
Combine the dry ingredients and sugar. Whisk or stir together the flour, sugar, brown sugar, baking powder, baking soda, and salt. Make a well in the center of the mixture.
Combine the remaining wet ingredients. Stir together the butter, milk, eggs, and almond extract.
Add the wet ingredients to the dry ingredients. Pour the butter mixture into the well in the flour mixture. Stir just until combined or a few streaks of flour remain. If you batter is a bit lumpy, that's fine.
Add the raspberries and pistachios. Gently stir the berries and nuts into the batter.
Portion the batter. Divide the batter among the prepared muffin pans, using about 3 tablespoons of batter to fill each cup about 3/4 full. If you like, sprinkle a pinch more pistachios and some sanding sugar on top of each muffin.
Bake. Place the pan in the heated oven, and bake the muffins 14 to 18 minutes. The muffins are done when the edges are browned and a pick inserted into the center comes out clean.
Cool. Place the pan on a wire rack and allow the muffins to cool 5 to 10 minutes. Then transfer the muffins from the pan to a wire rack to continue cooling.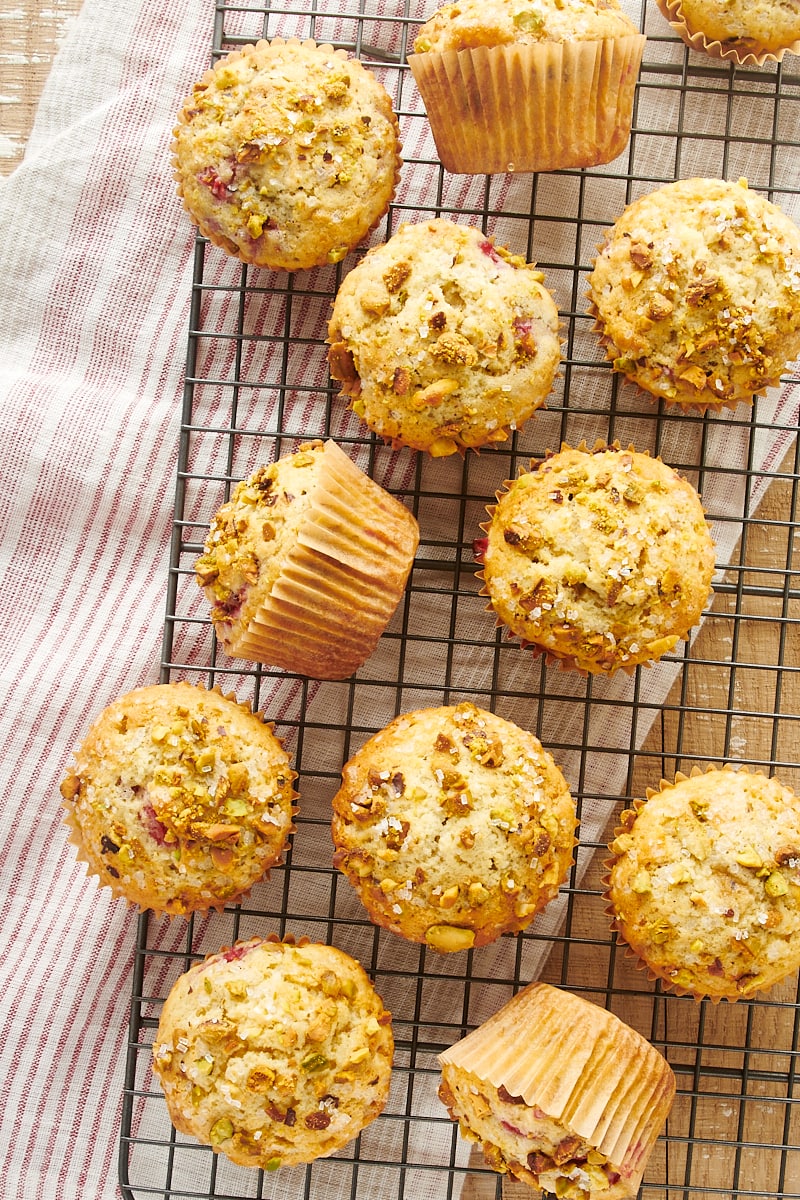 Tips for Success
These Raspberry Pistachio Muffins are easy to make, but here are a few tips to help make sure yours are the best they can be!
Don't over-mix. Too much mixing leads to tough, dry muffins. Mix just until combined. A batter that's a little lumpy is fine, as is the presence of a few streaks of flour.
Use a light-colored metal muffin pan. Your muffins will be more evenly and thoroughly baked.
Use a scoop. To make portioning easier, faster, and more accurate, use a cookie scoop. For these and most muffins, a 3-tablespoon scoop works well.
Want to make a loaf instead? See my tips for converting muffins to loaves.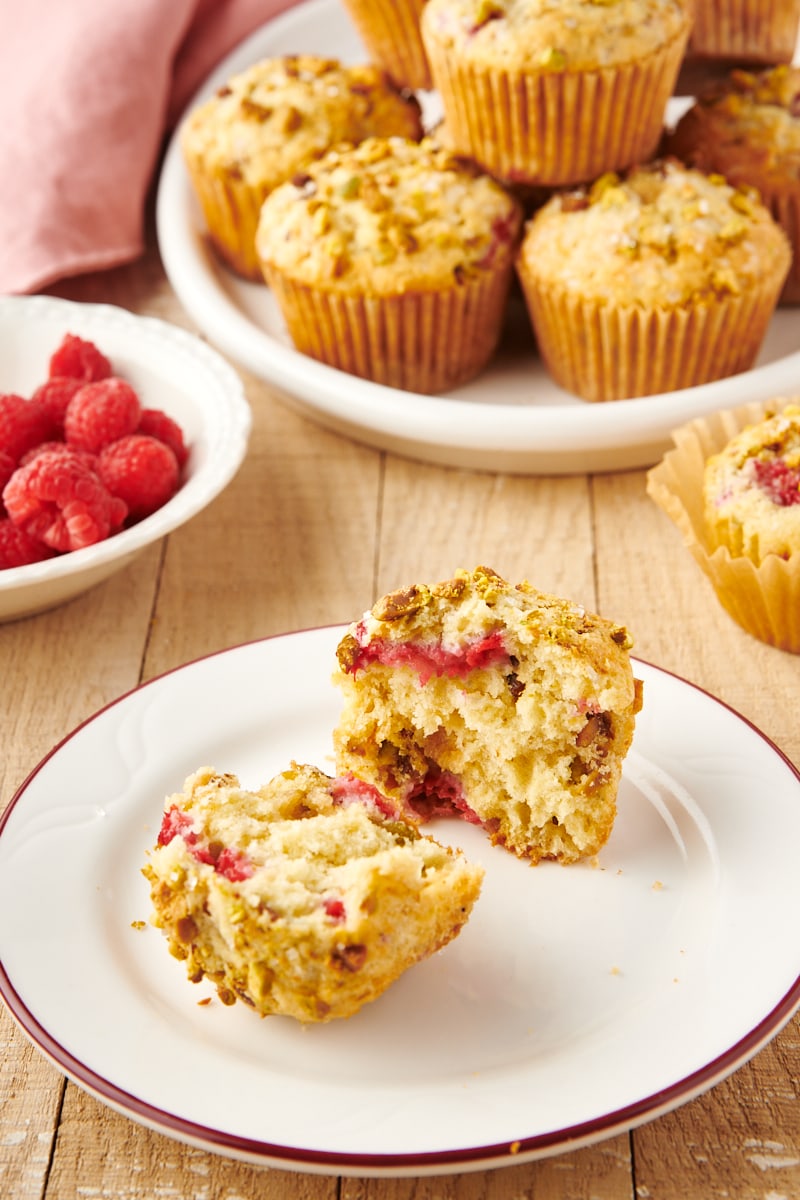 How to Store
Once the muffins have cooled completely, they can be stored in an airtight container at room temperature up to 3 days. Line the container with paper towels and place the muffins inside. If you need to layer the muffins, place another paper towel between the layers. Finally, place a paper towel on top of the muffins before sealing the container. Those towels will absorb moisture and keep your muffins from getting soggy.
You can store them similarly in a zip-top bag if you lay the bag flat and store the muffins in a single layer.
Refrigerating tends to make muffins dry, so I don't recommend that. If you do need to refrigerate muffins for any reason, make extra sure the container is airtight.
Can You Freeze These Muffins?
Yes! Place the cooled muffins in a container as described above for storing at room temperature. Properly stored, they should keep in the freezer up to 3 months. Thaw the muffins at room temperature or briefly warm in the microwave.