May 19, 2015
Jam-Filled Doughnut Muffins
Just around the corner from our apartment, there is a coffee shop that sells some really amazing doughnuts. I'm not necessarily a raving fan of doughnuts, but these things are ridiculously good. Somehow I manage not to go out and get one on a daily basis. Be impressed.
Perhaps even more dangerous than the proximity of those doughnuts, though, is the discovery of this recipe for doughnut muffins. It's more than a bit frightening to know that I can have these beauties whipped up so quickly. And without even leaving home!

These delightful muffins are truly reminiscent in flavor of doughnuts, although the texture is more toward the muffin end of the spectrum. That sprinkling of cinnamon-sugar on top really adds to the flavor and the texture, and will make you think of eating a cinnamon-sugar doughnut.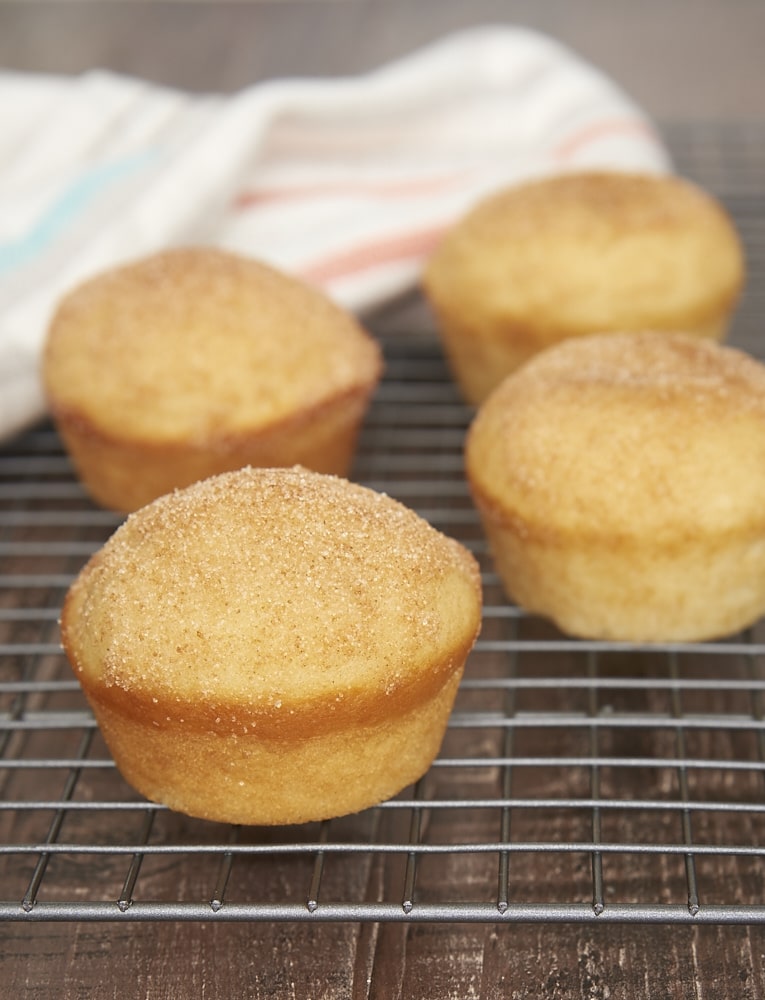 But what really makes these extra special is that bit of jam inside them. These may look mostly unassuming from the outside, but then you take that first bite to find a little fruity surprise! And you'll understand just how dangerous these can be!
I pretty much always have a good variety of jams and preserves in my refrigerator. For this batch, I made half with raspberry and the other half with mixed berry. That's part of the fun of these muffins. You can change them up easily by using a different flavor of jam. Such a perfect treat for a special breakfast or just an afternoon snack!
Jam-Filled Doughnut Muffins
Yield: 10 standard-size muffins
Prep Time: 25 minutes
Cook Time: 20 minutes
These muffins feature the flavors of a cinnamon-sugar doughnut with a little fruity surprise inside!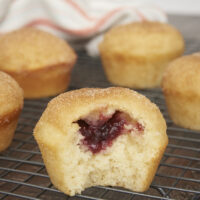 Ingredients:
For the muffins:
2 cups all-purpose flour
2/3 cup granulated sugar
2 teaspoons baking powder
1/2 teaspoon salt
3/4 cup milk
1/3 cup vegetable oil
1 large egg
1 teaspoon vanilla extract
5 to 6 teaspoons jam or preserves
For the topping:
1/4 cup granulated sugar
1/2 teaspoon ground cinnamon
3 tablespoons unsalted butter, melted
Directions:
To make the muffins:
Preheat oven to 350°F. Grease 10 cavities of a standard muffin pan.
Stir together the flour, sugar, baking powder, and salt. Make a well in the center of the mixture.
In a separate bowl, mix the milk, oil, egg, and vanilla. Add to the flour mixture, and stir just until combined.
Fill each muffin cup about 2/3 full with batter, leaving about 3 tablespoons of batter in the bowl.
Place about 1/2 teaspoon of jam in the center of each filled muffin cup. Top with just enough of the reserved batter to cover the jam.
Bake for 18 to 20 minutes, or until the edges are browned and the muffins are set. Set aside to cool slightly.
To make the topping:
Combine the sugar and cinnamon in a shallow bowl.
Brush the melted butter over the tops of each muffin. Dip each muffin, top-side down, into the cinnamon-sugar to coat.
Notes:
If you prefer, you can brush butter completely over the muffins and then roll in cinnamon-sugar. Just double the amount of butter and cinnamon-sugar so you'll have enough.
Recipe slightly adapted from Taste.