May 23, 2017
Coconut Almond Muffins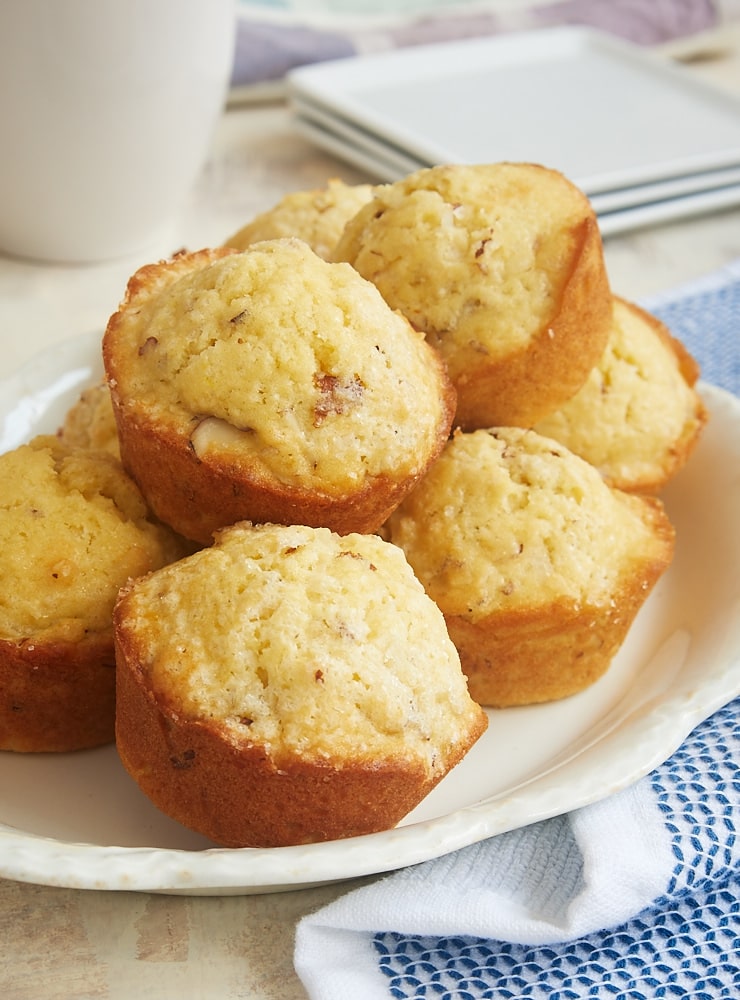 I have to confess that those big, sweet, bakery-style muffins aren't my favorite. I do love muffins, but I prefer them on the subtle end of the sweet spectrum.
These Coconut Almond Muffins fit the bill perfectly. They're just sweet enough for a little morning treat. Plus, the combination of crunchy almonds and sweet coconut is irresistible!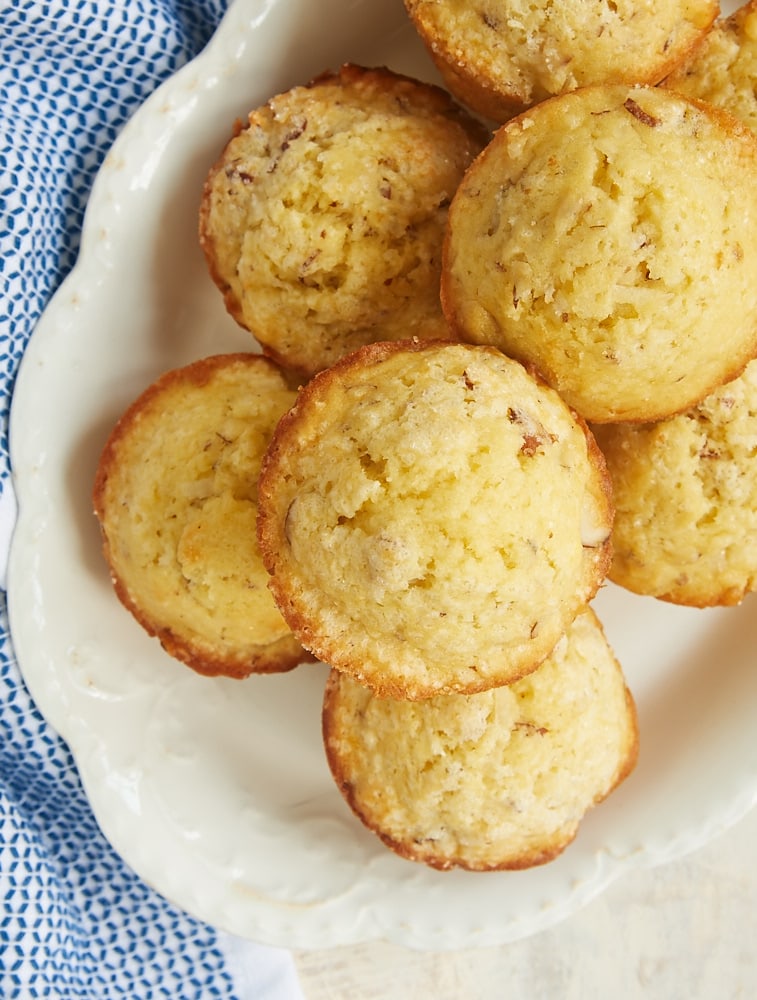 Maybe best of all, you can have these muffins mixed and in the oven in a matter of minutes. You won't even need to get out your mixer! I like to measure the milk in a larger than necessary measuring cup so I can mix the other wet ingredients in the same cup. I'm all for keeping the dirty bowl count to a minimum and cutting down on clean-up time. How wonderful to have a batch of homemade muffins without a lot of fuss and mess!
These muffins bake up so nice and tall. They aren't dainty, crumbly muffins. No, they're nicely dense and sturdy, making them a great grab-and-go treat.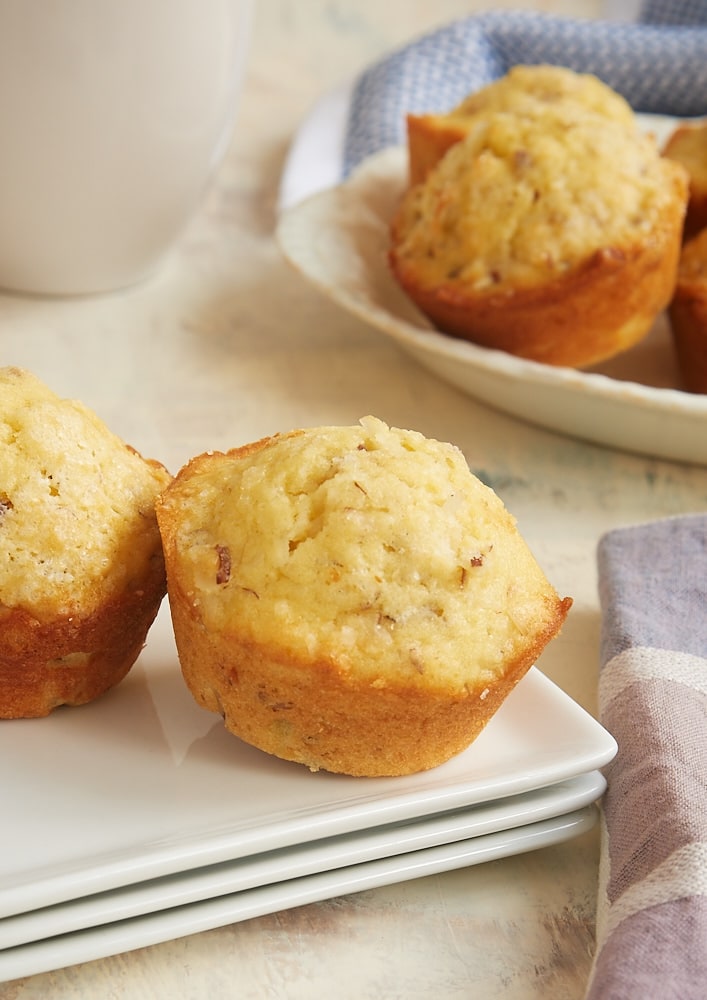 I love the lightly sweet flavor of these muffins, but I know that some of you may want them a tad sweeter. If you'd like to add just a little more sweetness, try sprinkling a pinch of coarse sugar on top of the muffins before baking them.
These lovely muffins are just the thing for a quick breakfast treat or afternoon snack. They mix up so quickly and easily that they're a great pick for a sweet treat on a lazy weekend. They'll stay fresh in an airtight container for a few days. Enjoy them at room temperature, or warm them slightly if you prefer.
Find more muffin recipes in the Recipe Index.
This post contains affiliate links. If you make a purchase through one of the links, I'll receive a
small commission at no additional cost to you.
Coconut Almond Muffins
Yield: 12 standard-size muffins
Prep Time: 10 minutes
Cook Time: 18 minutes
Coconut Almond Muffins combine wonderful flavors in a lightly sweet muffin. Perfect for a morning treat or an afternoon snack!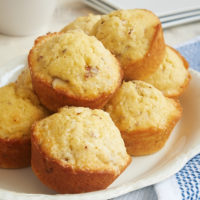 Ingredients:
2 cups all-purpose flour
3/4 cup granulated sugar
1 & 1/2 teaspoons baking powder
1/4 teaspoon salt
1/2 cup unsalted butter, melted and slightly cooled
1/2 cup milk
2 large eggs, lightly beaten
1/2 teaspoon vanilla extract
1/2 teaspoon almond extract
1/2 cup sweetened shredded coconut
1/2 cup chopped almonds
Directions:
Preheat oven to 400°F. Grease or line 12 standard-size muffin cups.
Whisk together the flour, sugar, baking powder, and salt. Make a well in the center of the mixture. Set aside.
In a separate bowl, combine the butter, milk, eggs, vanilla, and almond extract. Add to the well in the flour mixture, and mix just until combined. Stir in the coconut and almonds.
Divide the dough among the prepared muffin cups, using 3 to 4 tablespoons of batter per cup.
Bake 14 to 18 minutes, or until the muffins are golden brown and a pick inserted into the center comes out clean.
Cool in the pan for about 10 minutes. Then transfer the muffins to a wire rack to cool completely.