February 3, 2010
Peanut Butter Pie with Cookie Crust
Peanut butter and chocolate go together about as well as anything else I can think of in the food world. I've had a long-time love affair with that combination. There's nothing fancy about it, but it's just plain delicious. This pie is no exception.

I've had peanut butter pies in the past, but they were just that – peanut butter. When I saw this pie, I was excited about putting all that peanut butter goodness into a chocolate cookie pie crust. Then, I saw that it didn't just stop there. No, between the chocolate cookie pie crust and all that peanut butter goodness is a thin layer of chocolate. And if you think it stops there, you're wrong, because there's a hot fudge sauce to top it off.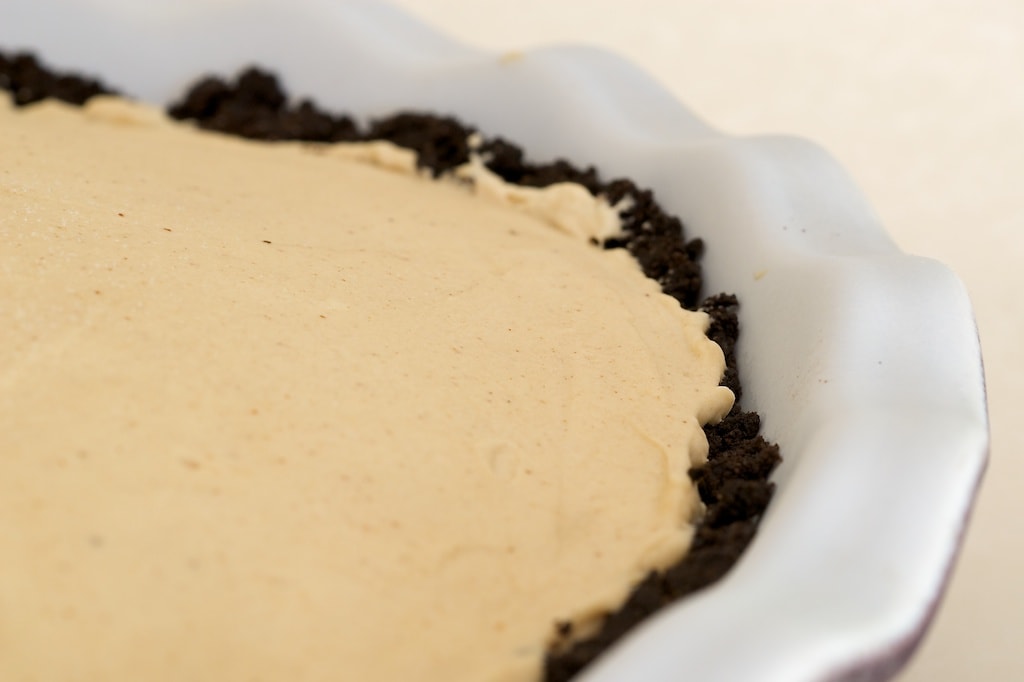 I took a bit of a shortcut and used a store-bought chocolate sauce to top off the pie. I did include Baked's hot fudge sauce recipe along with the crust and pie. If you have time, go ahead and make that sauce. Otherwise, I see no shame in a shortcut now and then.
Somehow, I managed to get no pictures of this pie with the chocolate sauce on top. Please feel free to use your imagination. Even without the sauce, this pie is beautiful and delicious.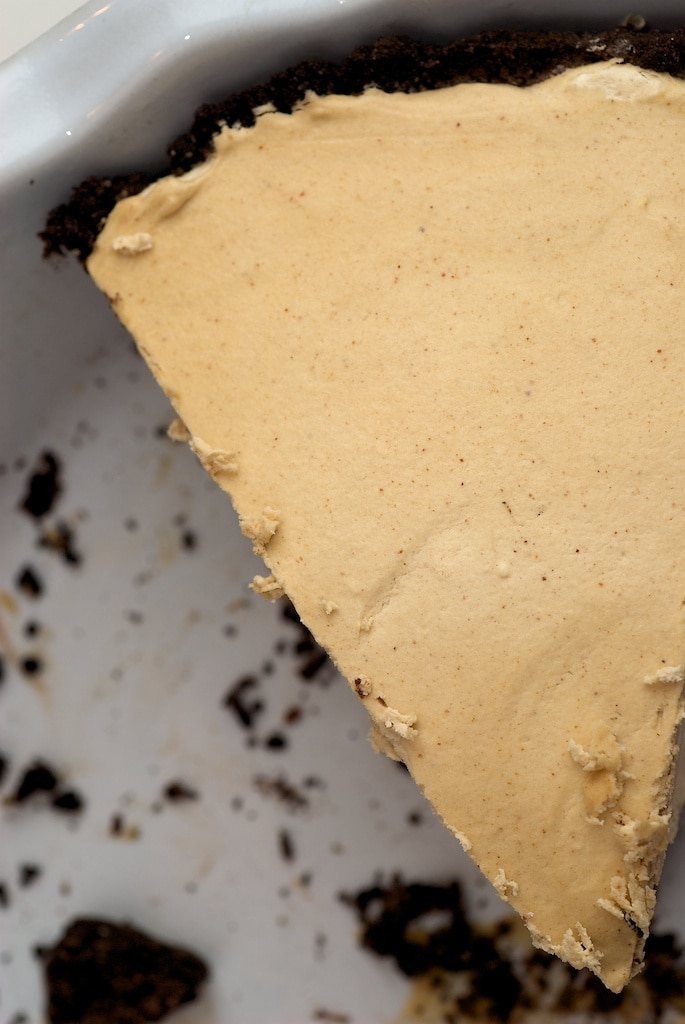 All of this yumminess is brought to us by the fellas at Baked in their fabulous cookbook. They also are responsible for one of my very favorite cakes.
Peanut Butter Pie with Cookie Crust
Yield: 1 9-inch pie (8-10 servings)
Prep Time:50 minutes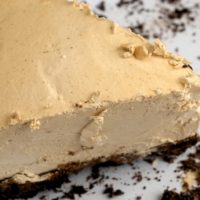 Ingredients:
For the crust:
30 chocolate wafer cookies (about 6 ounces)
1 tablespoon granulated sugar

6 Tablespoons unsalted butter, melted
For the filling:
1/2 cup (3 ounces) semisweet chocolate chips
1/2 teaspoon light corn syrup
8 ounces cream cheese, at room temperature
1 cup creamy peanut butter
2 tablespoons vanilla extract
3/4 cup firmly packed dark brown sugar

1 & 1/2 cups heavy cream
For the hot fudge sauce:
6 ounces milk chocolate, finely chopped
6 ounces dark chocolate (64% cacao), finely chopped
1 cup heavy cream
1/4 cup light corn syrup
Directions:
To make the crust:
Using a food processor, grind cookies to a fine powder. Transfer to a bowl and stir in sugar. Pour the butter over the mixture and mix until well combined.
Press the crumb mixture into the bottom and up the sides of a 9-inch pie pan. Put the crust in the refrigerator.
To make the filling:
Melt chocolate chips in microwave or double boiler. Stir in corn syrup. Spread the chocolate in a thin layer on the bottom of the chilled pie crust. Return the crust to the refrigerator.
Using an electric mixer, combine cream cheese, peanut butter, vanilla, and brown sugar on medium speed until well combined and smooth. Set aside.
In another bowl, use the mixer to whisk the cream until soft peaks form. Gently fold whipped cream into peanut butter mixture until uniform in color.
Pour the mixture into the prepared crust and freeze for at least 4 hours. Once frozen, the pie can be covered with aluminum foil and kept in the freezer for up to 3 days.
To make the hot fudge sauce:
Place both chocolates in a heat-proof bowl. Set aside.
In a small saucepan, bring the cream to a simmer over medium heat. Stir in corn syrup. Remove from heat and pour over chocolate. Allow to sit for 2 minutes. Starting in the center and working out to the edges, whisk the chocolate mixture in a circle until smooth.
Spoon onto pieces of pie before serving.
After sauce is cooled to room temperature, it can be covered tightly and kept in the refrigerator for 3 days. Rewarm sauce in microwave on medium heat for 30 seconds. Stir and repeat until warm.