Do you love lemons? Then you're going to love these Lemon Crumb Muffins! They're perfect for a quick and easy breakfast or snack.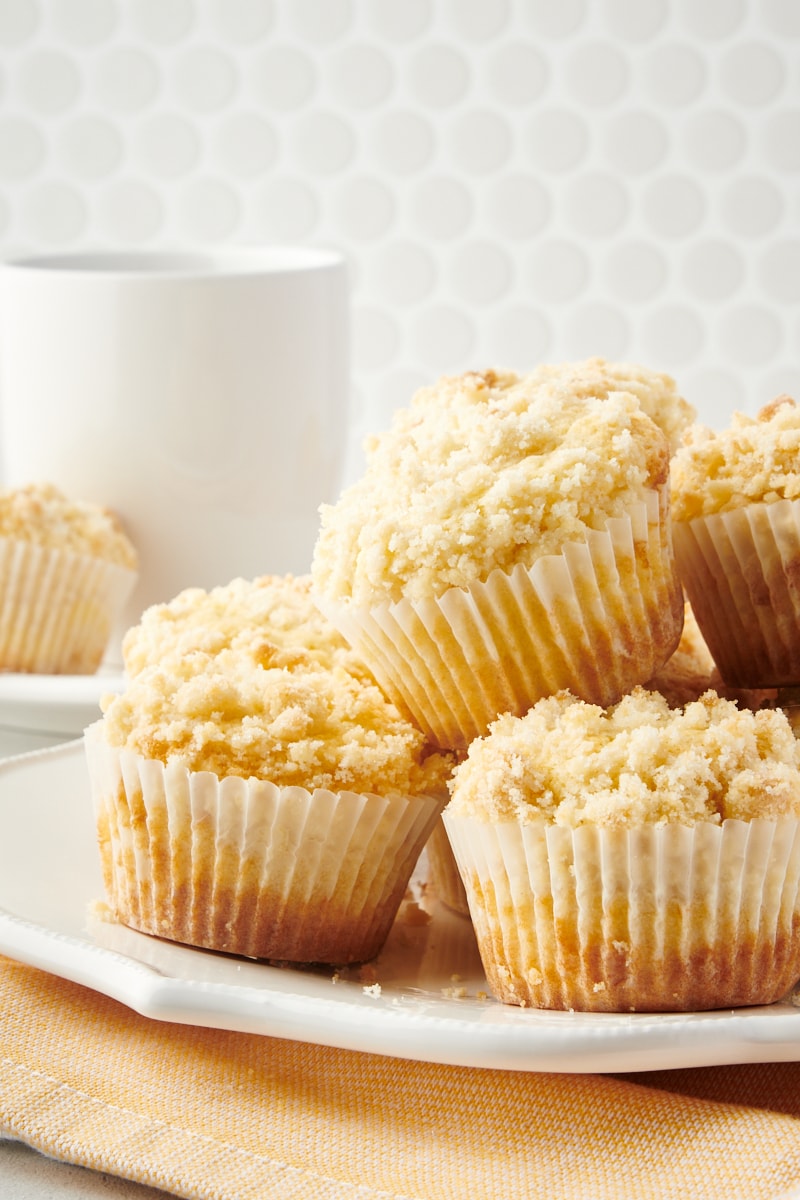 Lemon Muffins with a Crumb Topping
Most times when I bake muffins, I'm looking for a no-fuss treat that's quick and easy to make. And that's exactly what these Lemon Crumb Muffins are! This simple, straightforward recipe is a cinch to make and yields lovely, soft, lemony muffins.
If you're a lemon lover, you'll love that the flavor focus here is all on that bright citrus. I usually make these with a good punch of lemon that's not too bold, but I've got some tips below for adding more lemon flavor if you simply can't get enough.
I hope you'll whip up a batch of these lemon muffins. You'll love the flavor as well as their ease of preparation. And if you want to make them even simpler, you can skip the crumb topping in favor of a no-frills lemon muffin.
If you're looking for more easy muffin recipes, try my Banana Nut Muffins, Vanilla Crumb Muffins, and Chocolate Chip Muffins!
Why You'll Love This Lemon Muffin Recipe
Here are just a few of the things that make these lemon muffins irresistible:
No fuss. With simple ingredients and easy prep, these muffins are a cinch to make.
No mixer needed. You can mix these muffins with just a mixing spoon!
Lovely lemon flavor. Fresh lemon juice and zest give the muffins a delightful taste.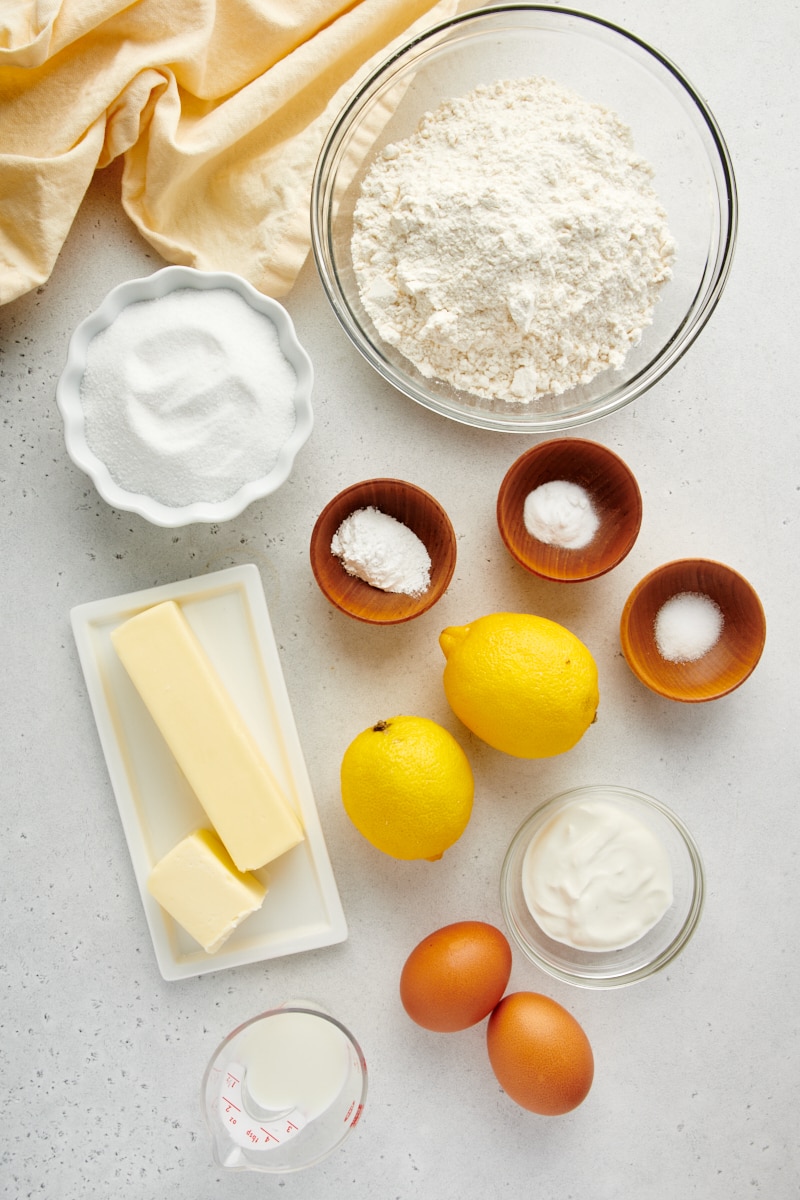 What You'll Need
All of the ingredients for the crumb topping are also needed for the muffins, so that helps keep this list short and straightforward. Here are some notes about the ingredients, but be sure to see the recipe card below for ingredient quantities and full instructions.
All-purpose flour – You'll need flour in both the crumb and the muffins. As always, measure by weight or use the spoon and sweep method for best results.
Granulated sugar
Baking powder
Baking soda
Salt
Lemons – There is both lemon juice and zest in these muffins. Learn more: How to Zest and Juice Lemons
Unsalted butter – You'll need melted butter in both the topping and the muffins. For the muffins, be sure to let the butter cool slightly before mixing so it doesn't start cooking the eggs. (Bringing the eggs to room temperature will help prevent that, too.)
Sour cream – Full fat sour cream works best. If you don't have sour cream, try using Greek yogurt.
Milk – I recommend whole or 2% milk. Let it come to room temperature before mixing.
Eggs – Bring these to room temperature, too. Lightly beat the eggs before mixing.
What kind of lemons should I use?
You can use standard lemons like you'll find at your grocery store year round. These are usually Lisbon or Eureka lemons. You can also use Meyer lemons when they're available for a sweeter, milder flavor.
No matter what kind of lemon you use, look for ones that are fragrant and have thin skins. Look for unwaxed lemons because you'll be using zest in this recipe. If you can't find unwaxed lemons or aren't sure if yours are unwaxed, you can scrub them to try to remove as much of the wax as possible before zesting.
Want even more lemon flavor?
If you just can't get enough lemon flavor, you can add even more lemon flavor to these Lemon Crumb Muffins. Try adding a pinch or two of lemon zest to the streusel topping. If you have lemon extract, you can also add 1/2 to 1 teaspoon of that to the batter.
You can even go all out by adding a lemon glaze! Combine 1 & 1/2 cups of confectioners' sugar (also called powdered sugar) with 1 to 2 tablespoons of fresh lemon juice in a small bowl. Drizzle the glaze over the muffins before serving.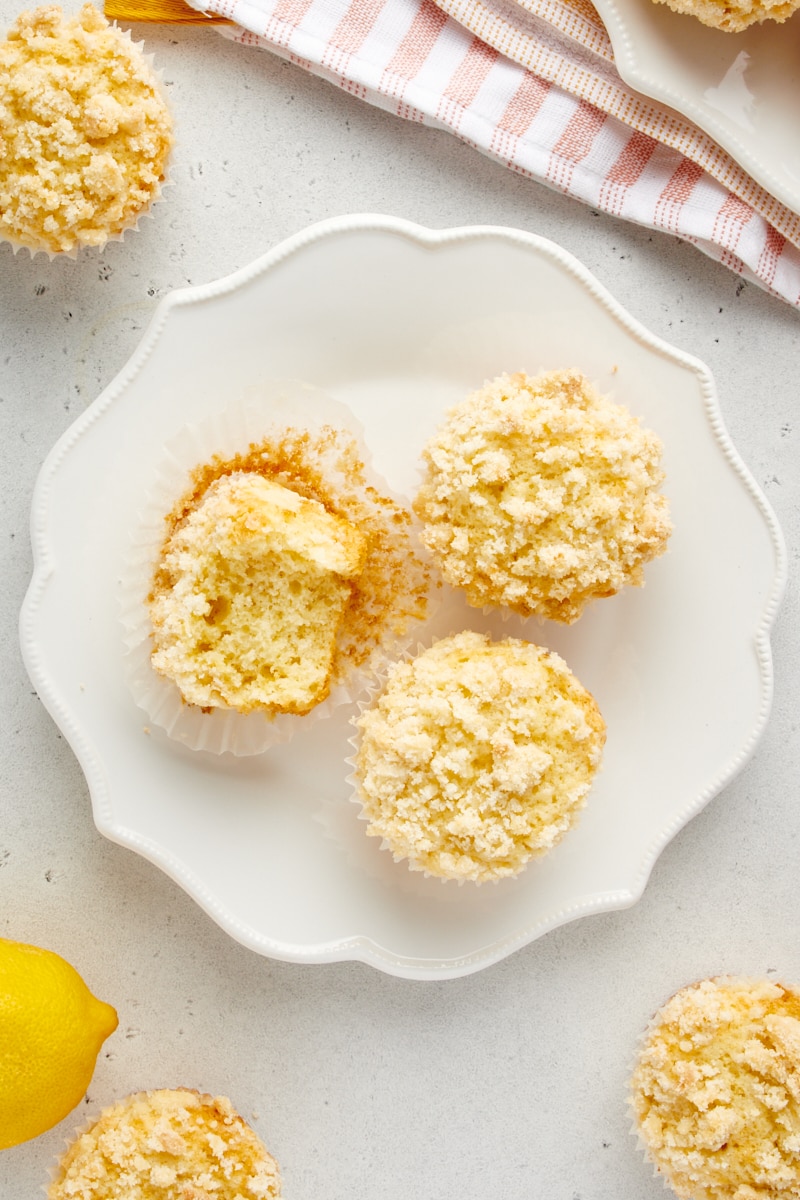 How to Make Lemon Crumb Muffins
You can leave your mixer unplugged for these muffins. Just grab a few mixing bowls and your trusty muffin pan!
To make the crumb topping:
Begin mixing. Stir or whisk together the flour, sugar, and salt in a medium bowl.
Add the butter. Pour the butter over the flour mixture, and stir until the mixture forms crumbs and is thoroughly moistened.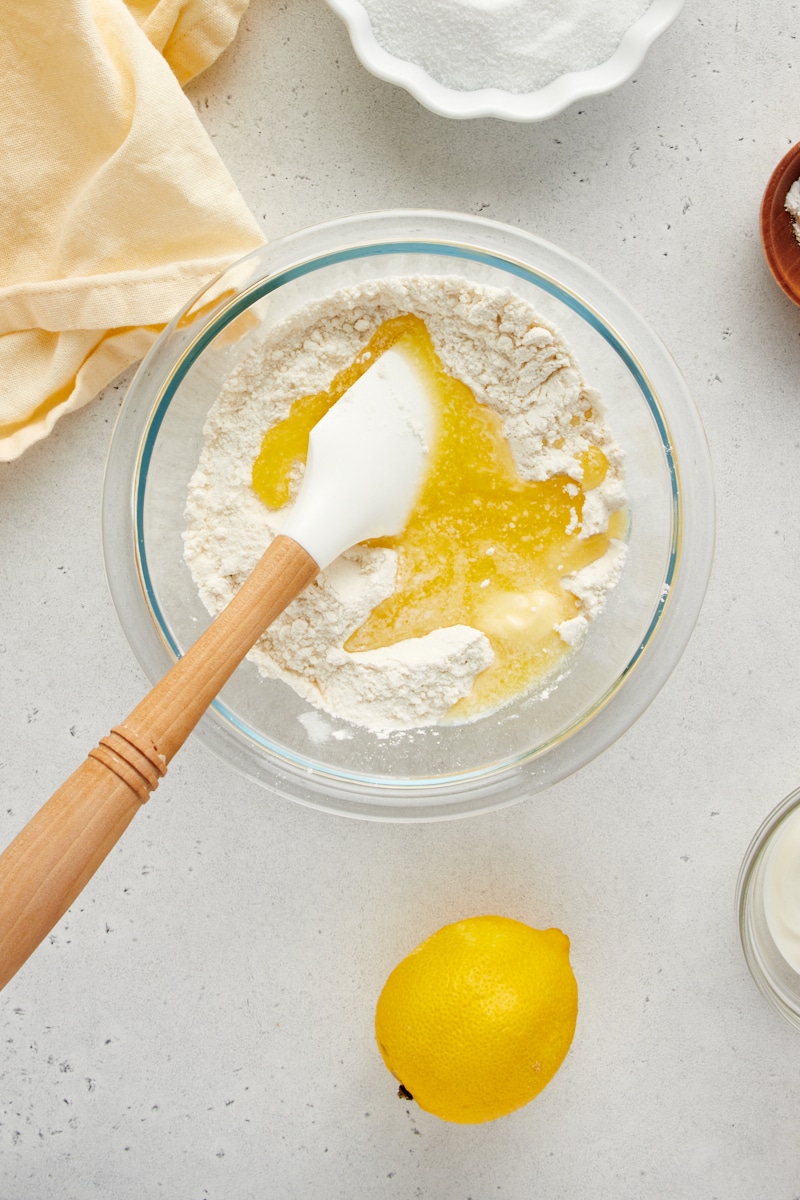 To make the muffins:
Prepare for baking. Heat the oven to 400°F. Line 12 standard muffin cups with paper muffin liners, or skip the liners and simply grease the muffin cups if that's your preference.
Combine the dry ingredients and sugar. Whisk together the flour, sugar, baking powder, baking soda, salt, and lemon zest in a large mixing bowl. Make a well in the center.
Combine the wet ingredients. Stir together the cooled butter, sour cream, milk, eggs, and lemon juice.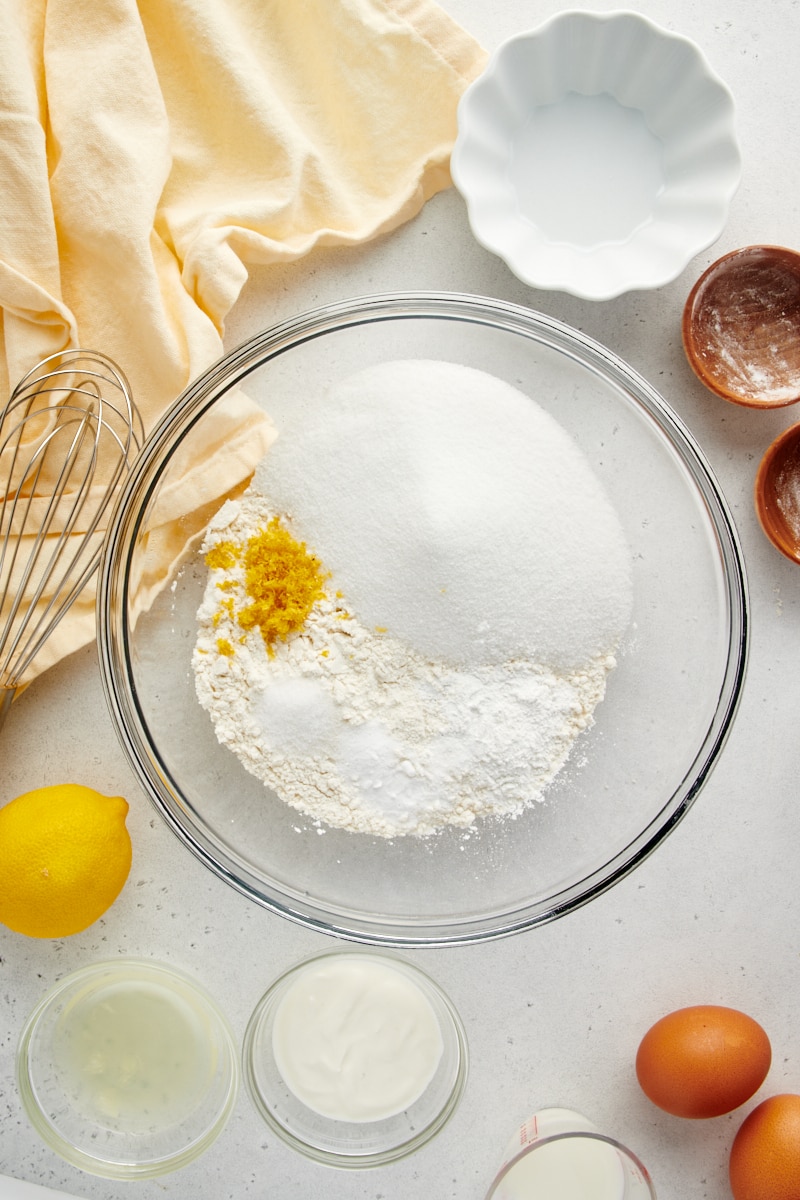 Add the wet ingredients to the dry ingredients. Pour the wet ingredients into the well in the flour mixture. Stir just until combined. It's fine if the batter is a little lumpy or has a few streaks of flour remaining.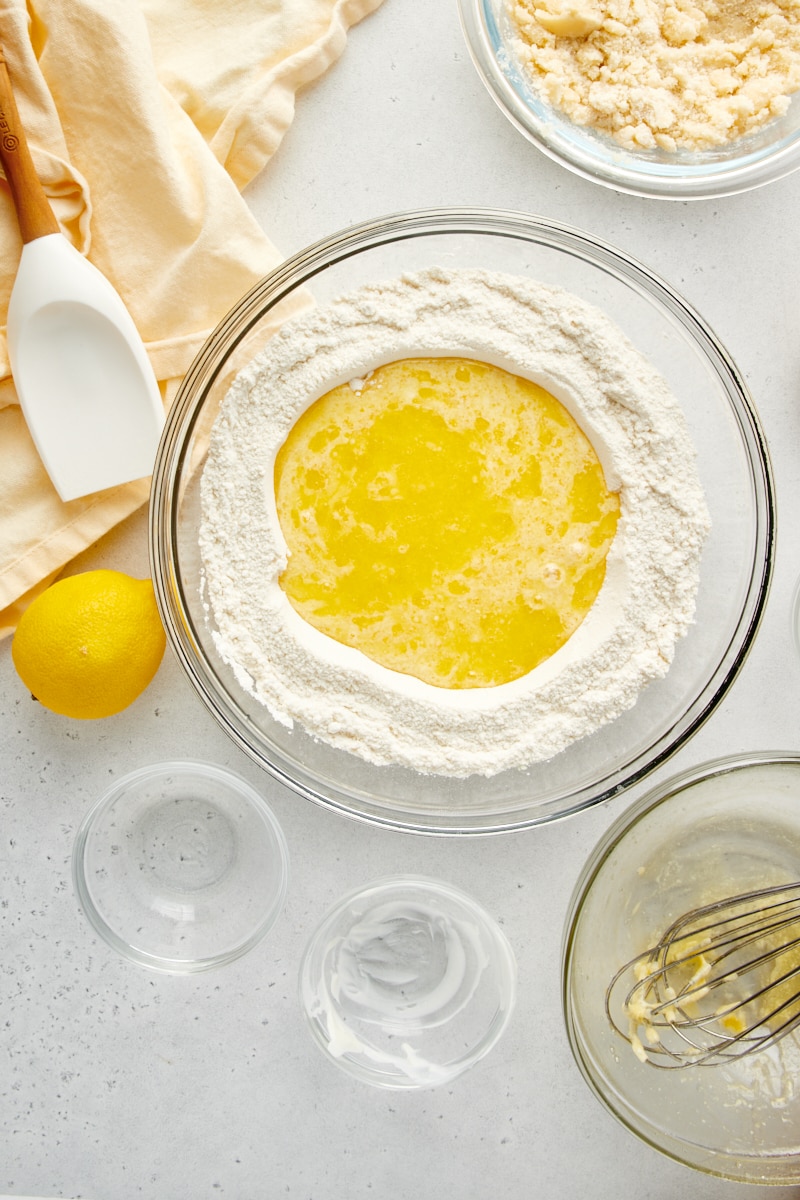 Portion the batter. Fill each muffin cup about 3/4 full, using about 3 tablespoons of batter per cup.
Add the topping. Sprinkle the crumb topping over the muffins.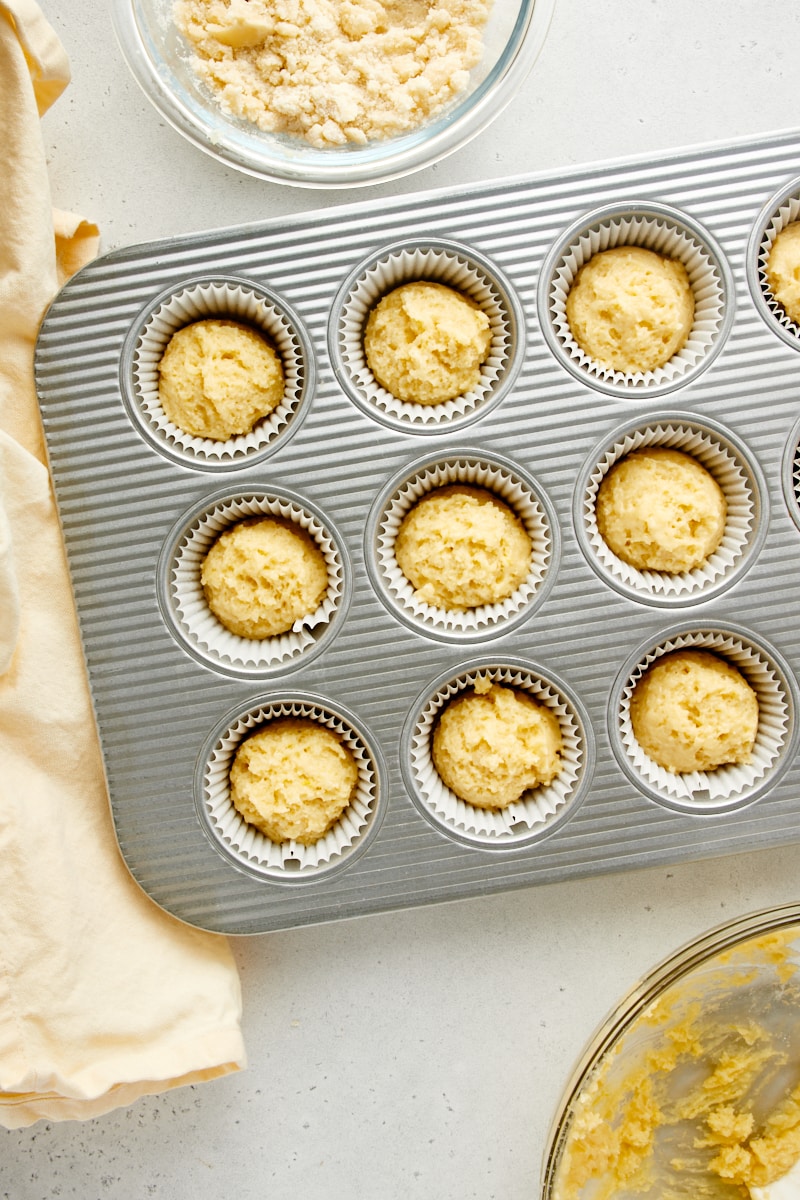 Bake. Place the filled pan in the heated oven, and bake 14 to 18 minutes. The muffins are done when the edges are browned and a toothpick inserted into the center comes out clean.
Cool. Place the pan on a wire rack, and allow the muffins to cool for 10 minutes. Then transfer the muffins from the muffin tin to the wire rack to continue cooling.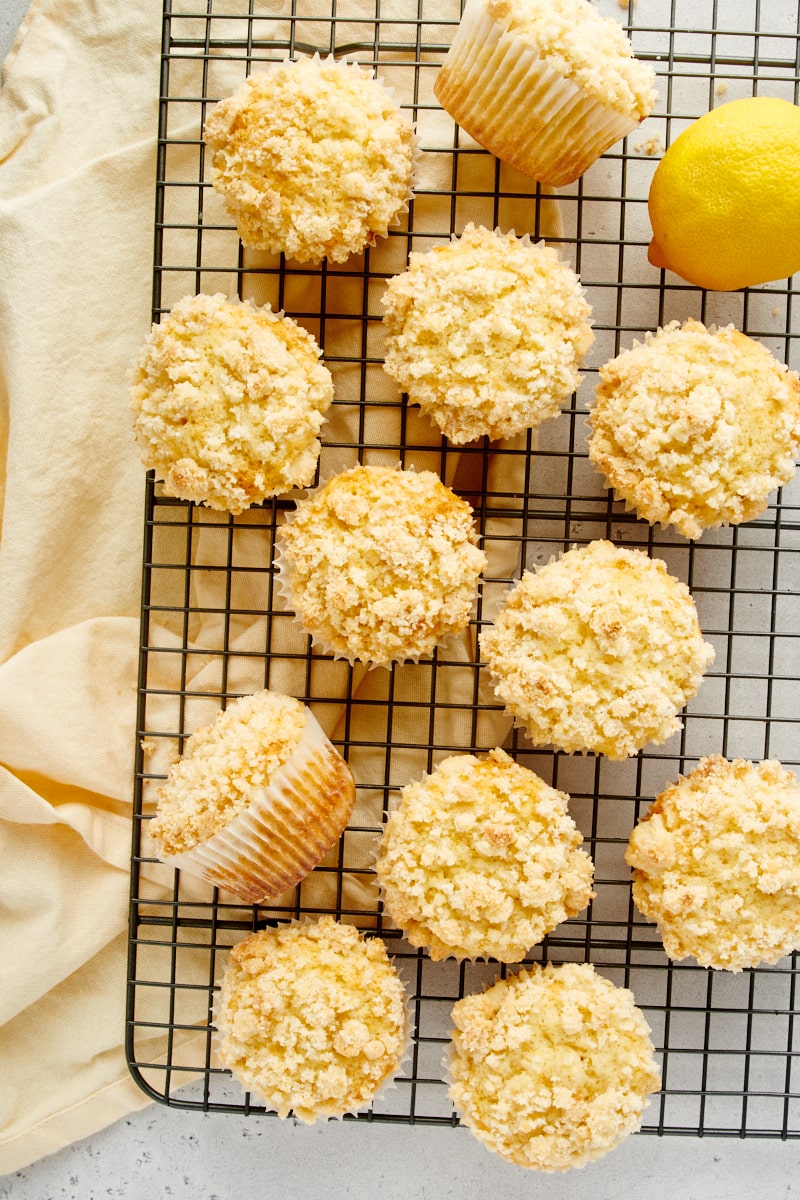 Tips for Success
Use fresh lemons. While the convenience of bottled lemon juice may be tempting, you'll get much better flavor with fresh lemons and zest.
Don't over-mix. Too much mixing means tough muffins. Don't worry about lumps or a few streaks of flour in the batter.
Use a light-colored, metal baking pan. Dark pans bake the outside of the muffins more quickly, which can lead to unbaked centers and misshapen muffins.
Use a scoop. I recommend using a 3-tablespoon scoop for portioning the muffins. Having all of your muffins evenly portioned not only means they'll look nicer, but it also means that they'll all be baked evenly.
Want more muffin tips? See my Tips for Baking Muffins.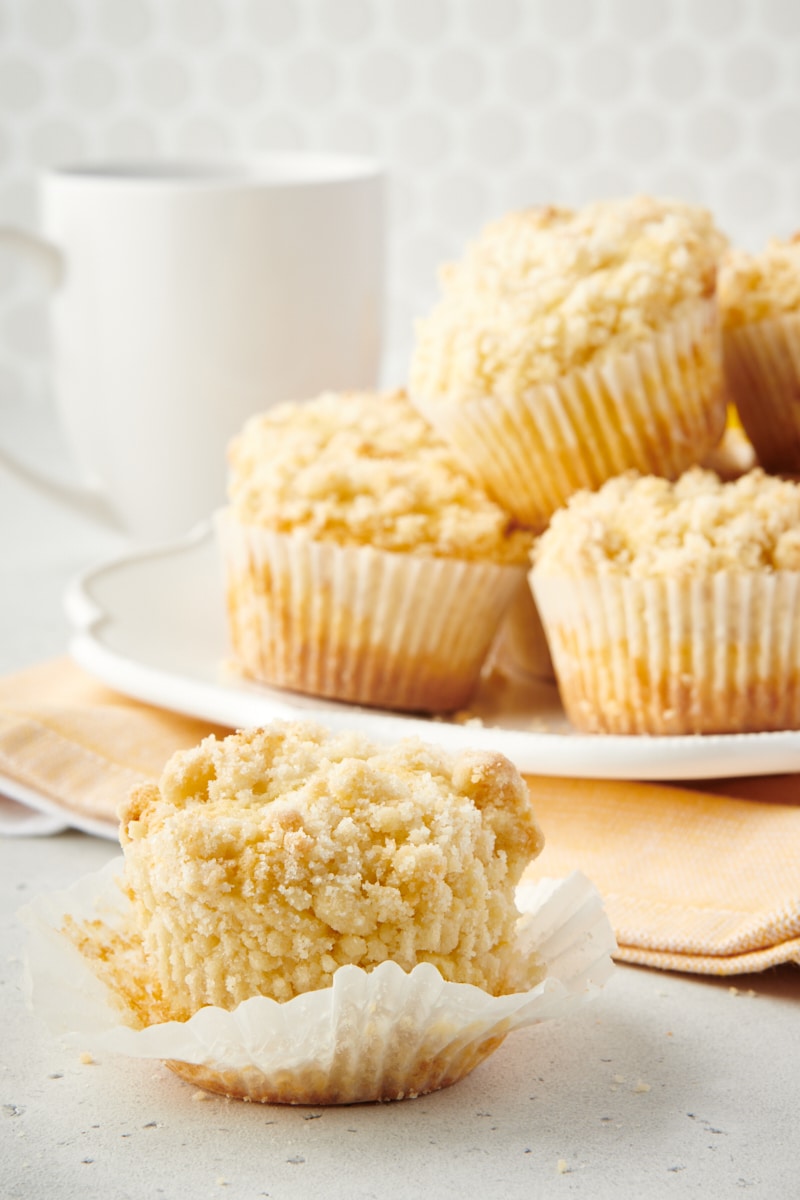 How to Store Lemon Crumb Muffins
Once the muffins have cooled, they can be stored at room temperature up to 3 days in an airtight container. To prevent them from getting soggy, place paper towels in the bottom of the container, between layers of muffins, and on top of the muffins before sealing.
The muffins will keep for a few more days in the refrigerator, but they are more likely to become dry. If you do need to refrigerate them, be extra sure that the container is airtight.
Can These Muffins Be Frozen?
Yes, these Lemon Crumb Muffins can be frozen. After they've cooled completely, place them in a freezer container or bag, and seal tightly. Properly stored, the muffins should keep in the freezer up to 3 months.
Thaw the muffins at room temperature for an hour or two. You can also warm them briefly in the oven or microwave.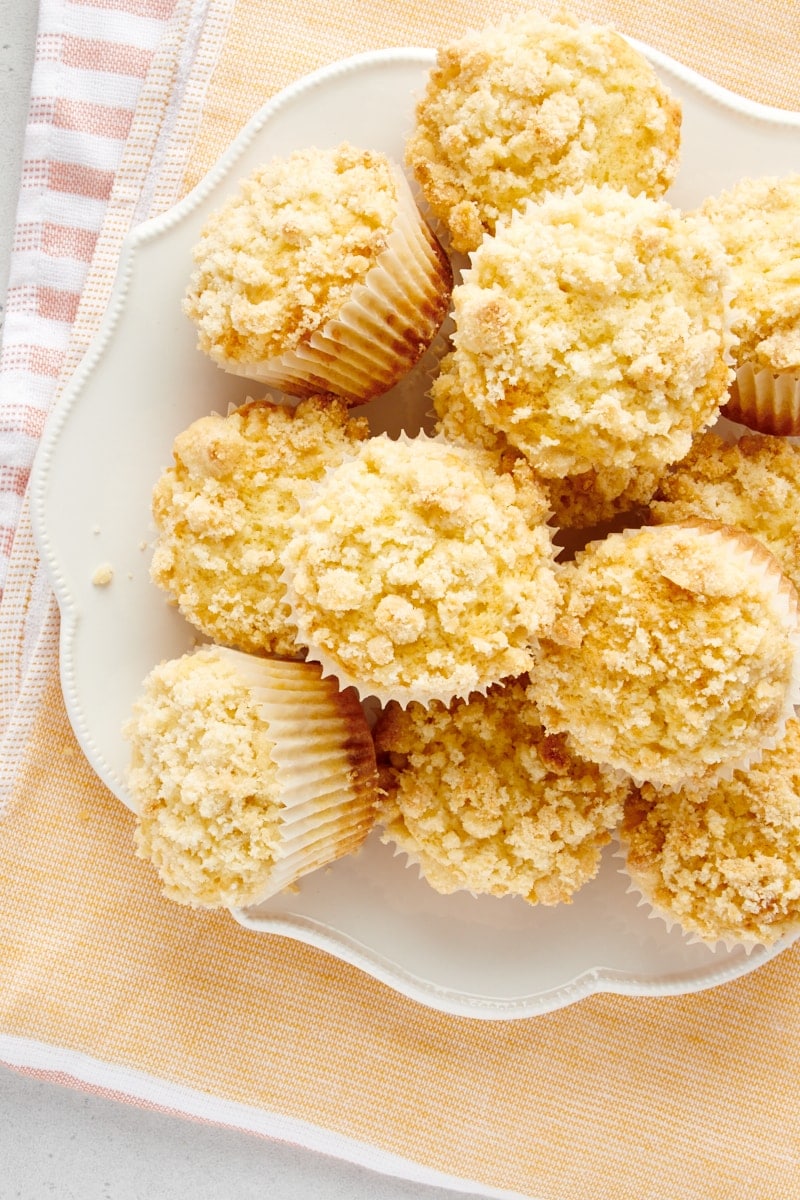 More Lemon Treats
Video Tutorial: Lemon Crumb Muffins