Looking for a quick and easy recipe for delicious blueberry muffins? Look no further! This recipe yields perfectly moist and fluffy muffins, packed with juicy blueberries in every bite. Plus, it comes together in just a few simple steps!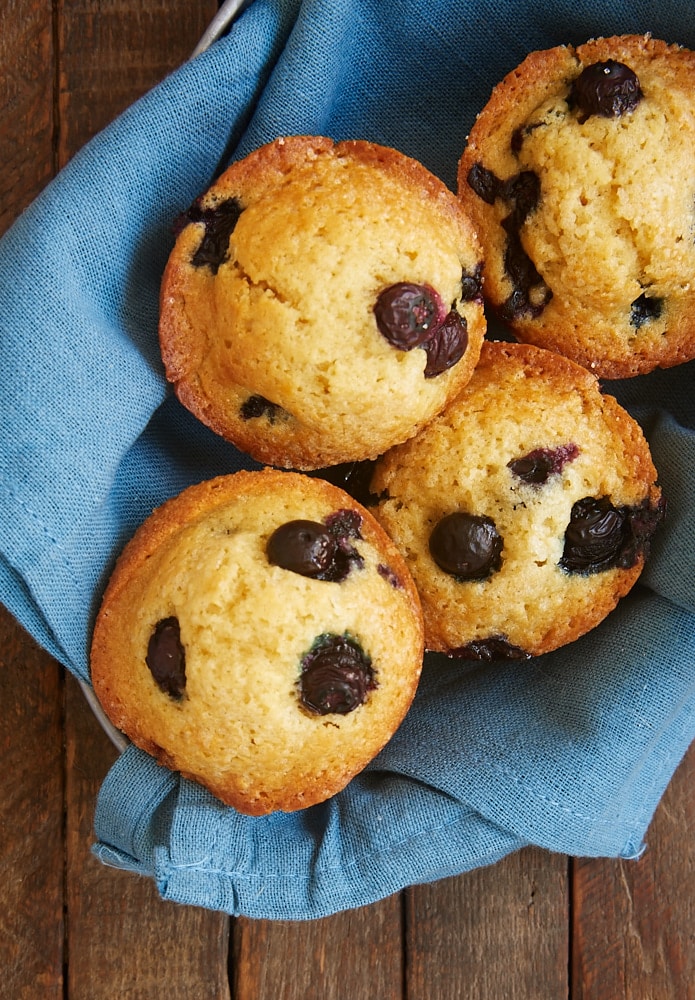 Classic Blueberry Muffins
Blueberry Muffins are, without a doubt, one of the most classic treats for breakfast or a snack. I can easily conjure the memory of smelling them baking in my childhood home. My mother preferred to use a mix for baking them, but I prefer the homemade variety. They mix so quickly and easily that it's barely any trouble to whip up a batch for a morning treat or a sweet snack.
These muffins are the perfect choice for a sweet treat any time of day. They're not fancy, but they are simple, quick, and easy to make. What more could you ask from your breakfast or snack?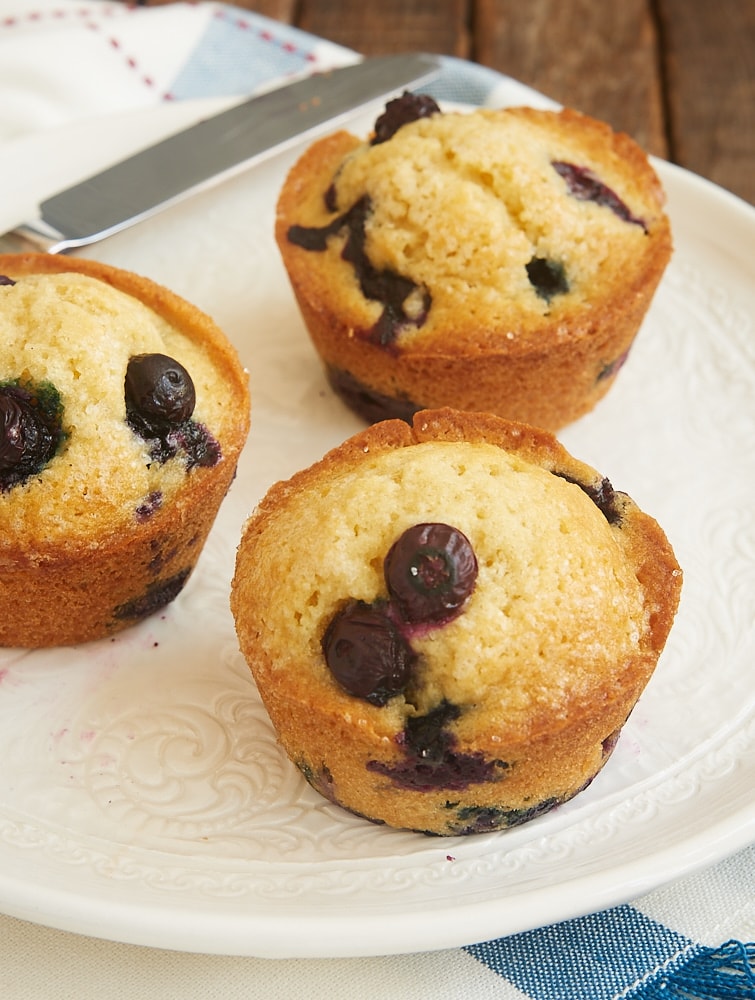 Why You'll Love This Blueberry Muffin Recipe
Easy to make without any fuss. There's a reason I put that "quick and easy" in the title up there. You don't need any unusual ingredients, special equipment, or an abundance of time.
Not too sweet. Bakery-style muffins tend to be extra sweet, but these blueberry muffins dial that back a bit with just enough sweetness in the batter and from the blueberries.
Better than a mix. Blueberry muffins from a mix are a bit nostalgic for me, but I'll still choose this homemade version every time!
What You'll Need
Along with the blueberries, you'll just need some basic baking ingredients to whip up a batch of these muffins.
All-purpose flour – Measure accurately. I recommend measuring by weight if you can; otherwise, spoon and sweep.
Granulated sugar
Brown sugar – Make sure it's firmly packed.
Baking powder
Baking soda
Salt
Unsalted butter – Many muffin recipes are made with oil, but I prefer to use melted butter for its flavor. It will need to cool a bit before you mix it into the batter, so I find it's best to get the melting started first while I gather the other ingredients. That should give it enough time to cool adequately.
Milk – I recommend whole or 2% milk. While I've not tried it myself, a nondairy milk should work, too. Set it out before you begin baking to allow it to come to room temperature.
Eggs – Set the eggs on the countertop before you begin baking so that they can come to room temperature.
Vanilla extract – Almond extract is also good here.
Blueberries – I prefer baking with fresh blueberries when possible, but see my note below for using frozen.
Sanding sugar – This is optional but adds a little sparkle and sweetness.
Fresh vs Frozen Blueberries
Fresh blueberries are my pick for baking, but that's not always feasible. Frozen blueberries will be softer than fresh ones, even after baking. They're also more likely to bleed their color into the muffins. If you want to use frozen blueberries, here are a few tips that will help your muffins taste and look their best:
Don't thaw the berries. Because frozen berries are significantly softer than their fresh counterparts once thawed, you want to use the berries in their frozen form.
Rinse the berries. Using frozen blueberries makes it far more likely that the color will spread out into the muffins or create a green color around the berries. While that doesn't really affect anything but the muffins' aesthetics, you may want to take this extra step to help prevent that. Place the berries in a colander, and run cold water over them until the water runs clear. Dry as thoroughly as you can.
Toss them with flour. Frozen blueberries are heavier than fresh ones. That means they're more likely to sink to the bottoms of the muffins. Toss them with a tablespoon or two of flour before adding them to the batter, and it should combat that somewhat.
Watch the baking time. Because you're adding a very cold component to your room temperature batter, the muffins may need another couple of minutes of oven time to bake thoroughly.
Want Some Lemon in Your Blueberry Muffins?
I love the combination of blueberries and vanilla, so I usually opt to make these muffins using a good dose of vanilla extract. As an alternative, you can also use lemon juice. I suggest using the juice of 1/2 to 1 lemon, depending on how much lemon flavor you'd like. Add some zest as well if you want. Learn more: How to Zest and Juice Lemons
How to Make Blueberry Muffins
There aren't any surprises here. This recipe follows the muffin method closely by mixing all the dry ingredients with the sugars and then adding the remaining wet ingredients. Then just add the berries, scoop the batter into the pans, and bake. That's it!
Prepare for baking. Heat the oven to 400°F. Line or grease 12 standard muffin cups.
Combine the dry ingredients and sugars. Whisk together the flour, sugar, brow sugar, baking powder, baking soda, and salt. Make a well in the center of the mixture.
Combine the remaining wet ingredients. Stir together the butter, milk, eggs, and vanilla.
Add the wet ingredients to the dry ingredients. Pour the butter mixture into the well in the flour mixture. Stir just until combined; don't over-mix. A few streaks of flour or lumps are fine!
Add the blueberries. Gently stir the blueberries into the batter.
Portion the batter. Use about 3 tablespoons of batter to fill each muffin cup 3/4 full. If you like, sprinkle the top of each muffin with a pinch or two of sanding sugar.
Bake. Place the pan in the heated oven, and bake the muffins for 14 to 18 minutes. When the muffins are done, the edges will be brown and a pick inserted into the center will come out clean.
Cool. Place the pan on a wire rack and allow the muffins to cool for 5 to 10 minutes. Then transfer the muffins from the pan to a wire rack to continue cooling.
Tips for Success
These Blueberry Muffins truly are quick and easy, and I'm helping make them even simpler with a few baking tips!
Don't over-mix. This is probably the main tip for making any kind of muffins. Only mix just until all the ingredients are moistened. A few lumps or streaks of flour are just fine. Too much mixing means tough, unappealing muffins.
To line or not to line. Whether or not you line the pan with cupcake liners is a matter of preference. Liners, of course, will make clean-up easier and also make the muffins a little more portable. However, liners will also make softer edges for your muffins versus the crisper edges of muffins baked without liners. I like them both ways, so that decision often is made based on how transportable I need that batch to be.
Getting domed muffin tops. The higher temperature used for this recipe helps create a domed finish.
Want more muffin tips? See my Tips for Baking Muffins.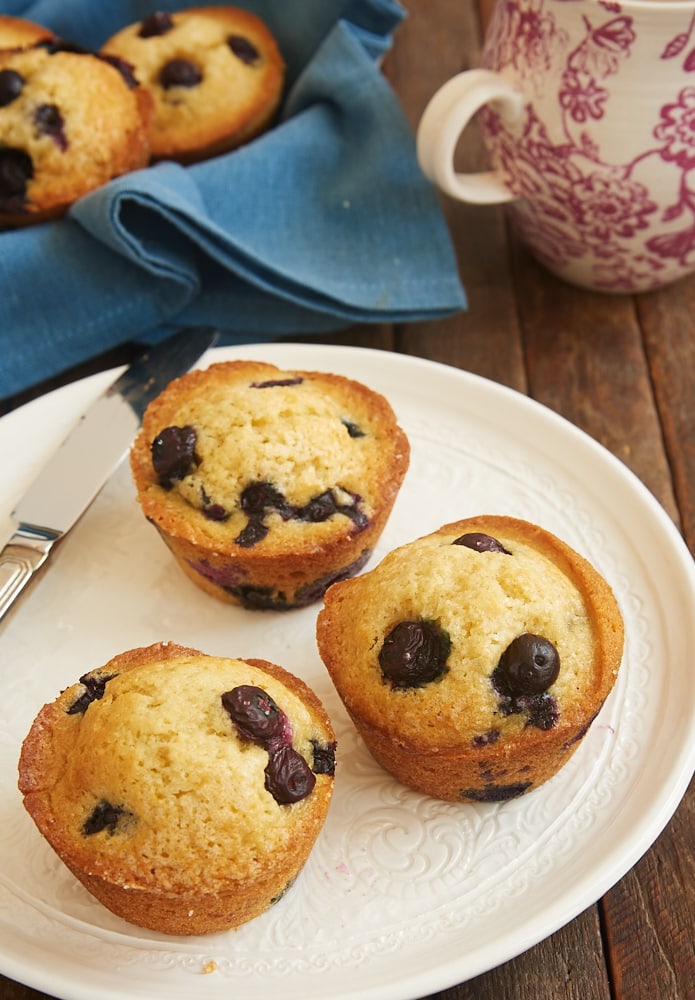 How to Store Leftovers
Once the muffins have cooled completely, place them in an airtight container lined with paper towels. Those paper towels will absorb the excess moisture from the muffins, helping to keep them from getting soggy. If you need to have more than one layer of muffins in your container, place a paper towel between the layers and one on top. They should keep for 3 to 4 days.
How to Freeze Blueberry Muffins
Once the muffins have cooled completely, place them in a container or sealable bag that's freezer-safe. For an extra layer of protection, wrap each muffin in plastic wrap before placing them in the container. Stored properly, the muffins should keep in the freezer up to 3 months.
Thaw the muffins for an hour or so at room temperature or warm briefly in the microwave.
More Blueberry Muffin Recipes