These flavorful Pecan Spice Muffins combine a blend of spices and crunchy pecans inside a soft, moist muffin. A lovely treat for breakfast or a snack!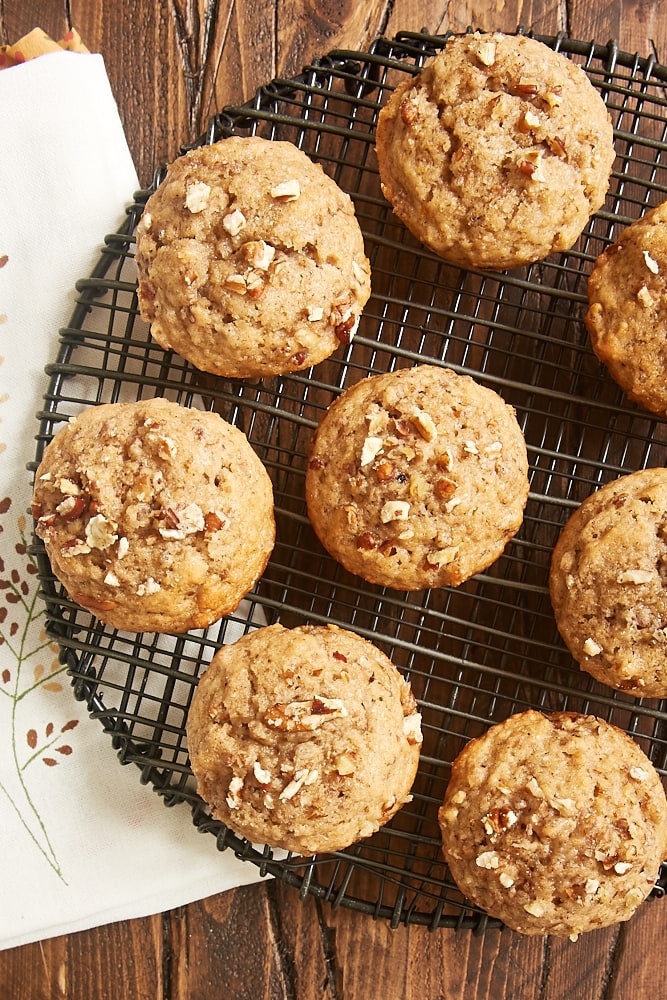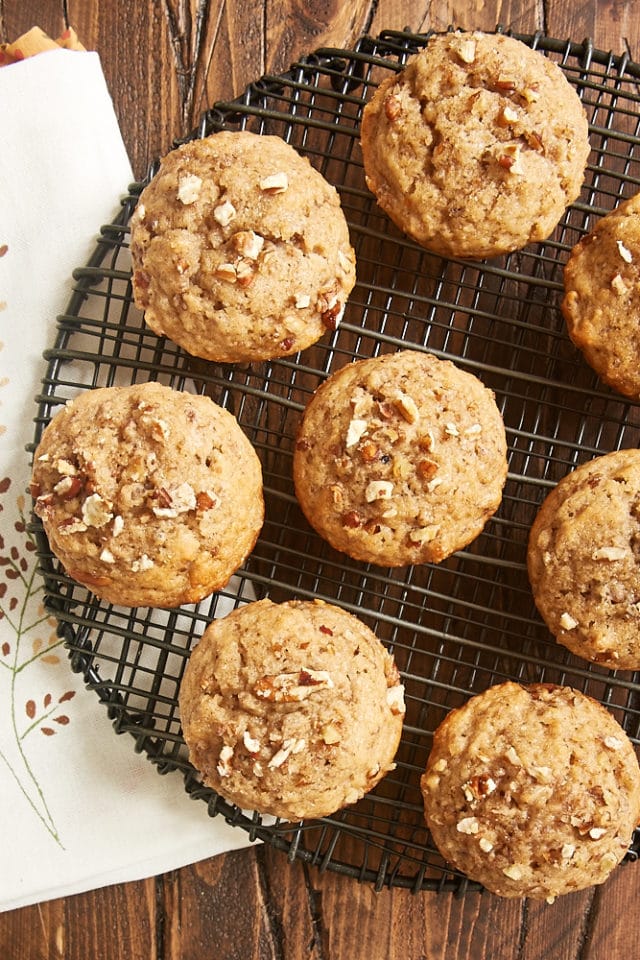 Spiced Pecan Muffins
These lovely Pecan Spice Muffins get their wonderful flavor from a blend of fall spices along with some crunchy pecans.
While I'm happy to enjoy one of these delightful muffins any day of the year, they are especially welcomed in the fall and winter. They're a special treat for breakfast or brunch on a cool, crisp day. If you're a coffee or tea drinker, they'll pair well with your favorite cup. Or just grab one for a sweet snack!
These muffins are just the kind of baked treat that I have a hard time sharing. They're just so good! If you can bear to part with them, a batch of these muffins is wonderful for sharing with family and friends. They make a great homemade gift! Luckily, they're easy to make so you can always whip up another batch to keep all to yourself.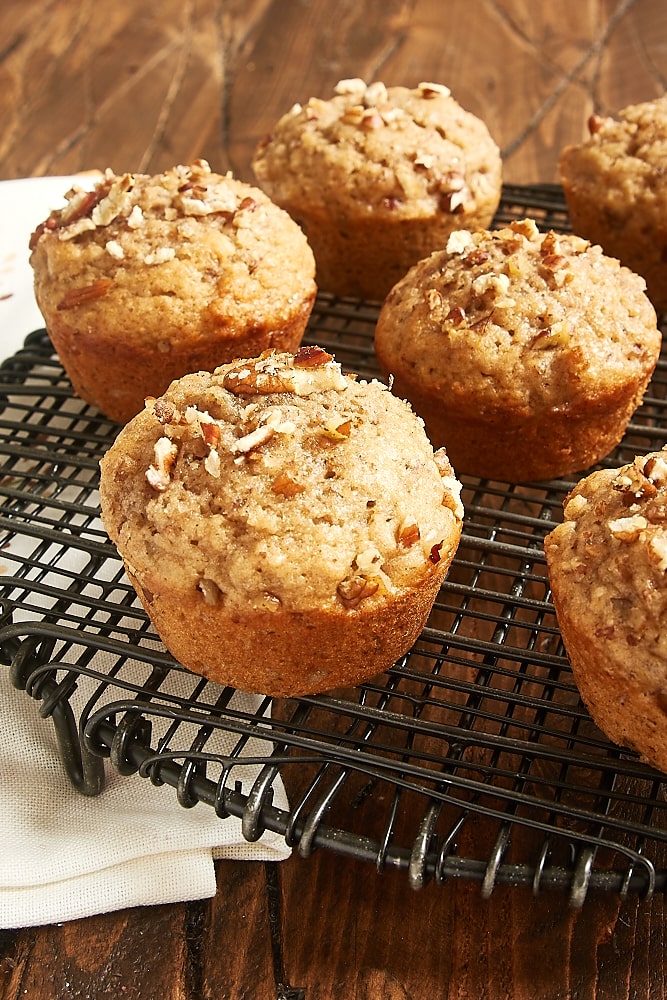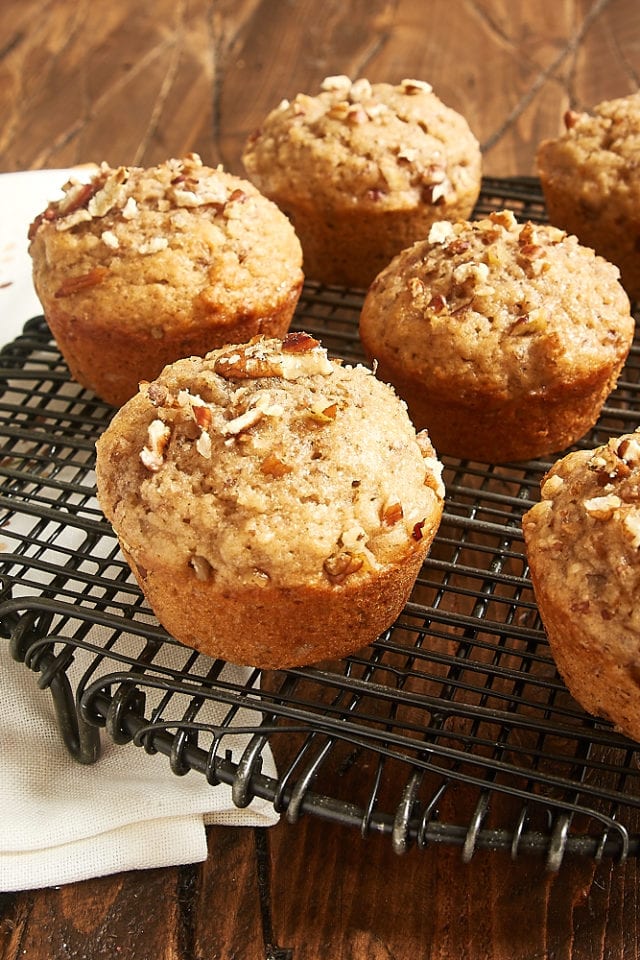 What You'll Need
These Pecan Spice Muffins are made with basic baking ingredients plus pecans and a blend of spices.
All-purpose flour: Use your favorite all-purpose flour. I prefer King Arthur.
Sugar: For flavor and texture.
Brown Sugar: Supplementing the regular sugar with a bit of brown sugar adds flavor and also helps make these muffins soft.
Baking powder and baking soda: To help the muffins rise as they bake.
Spices: I use a blend of cinnamon, ginger, nutmeg, allspice, and cloves. Feel free to use a different blend or a pre-made spice blend if you like. If you prefer a stronger spice flavor, you can increase the amount of spice in the recipe.
Salt: For flavor.
Sour cream: Full-fat sour cream works best to make these muffins tender and moist.
Unsalted butter: I like the flavor that butter adds to these muffins. I've not made these using oil, but you should be able to substitute 1:1 or with slightly less oil than the amount of butter in the recipe.
Milk: For texture and flavor.
Eggs: For structure.
Vanilla extract: For flavor. You can substitute another extract (like almond extract) if you like.
Pecans: Roughly chop the pecans for extra crunch, or finely chop for a smoother texture. Save a few for sprinkling on top of the muffins to get the look of the muffins in these photos. Another type of nut should substitute well.
Turbinado sugar (optional): This coarse sugar adds a little sparkle and an extra bit of sweetness to the muffins. Another coarse sugar will also work, but I like the color of turbinado sugar for these muffins.
How to Make Pecan Spice Muffins
Despite the seemingly long ingredient list, these Pecan Spice Muffins mix quickly and easily using a couple of mixing bowls, a mixing spoon, and a 12-cup muffin pan (or two 6-cup muffin pans). This recipe follows the muffin method of mixing.
Preheat the oven and prepare the pan. Heat the oven to 400°F. The high temperature will help give that signature dome on top of the muffins. Grease 12 cups of a standard muffin pan. Alternatively, line the muffin cups with paper liners. Unlined pans will yield crisper edges, while lined pans will result in softer edges.
Mix the dry ingredients and the sugar. Combine the flour, both sugars, and the spices. I like to use a whisk to help ensure the ingredients are mixed well. Make a well in the center for adding the mixture from the next step.
Mix the wet ingredients. In a separate bowl, combine the cooled butter, milk, eggs, and vanilla. Add that mixture to the well in the flour mixture. Stir just until combined or a few streaks of flour remain.
Stir in the pecans. Gently stir in the pecans, using just a few turns with a mixing spoon.
Transfer the batter to the pan. Fill each muffin cup about 2/3 full. If you have a 3-tablespoon scoop, it works very well to divide the batter quickly and evenly. Sprinkle the tops of each muffin with a pinch of turbinado sugar and some of the reserved pecans.
Bake the muffins. The muffins should be baked thoroughly in 12-16 minutes. The edges should be browned, and a pick inserted into the center should come out clean. Cool the muffins in the pan on a wire rack for about 10 minutes. Then, you should be able to remove the muffins from the pan easily to continue cooling on a wire rack.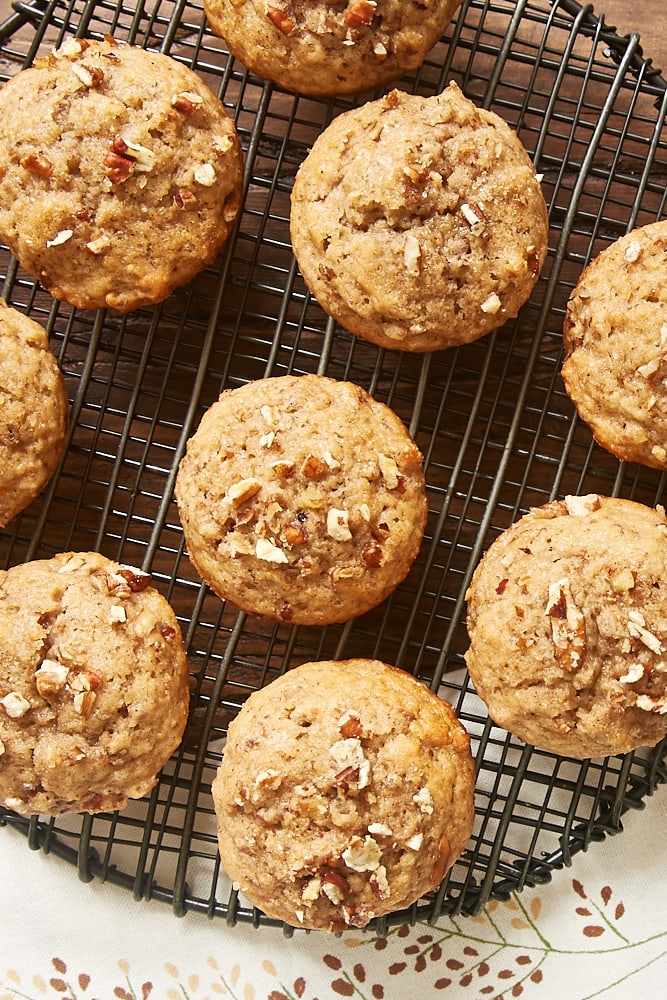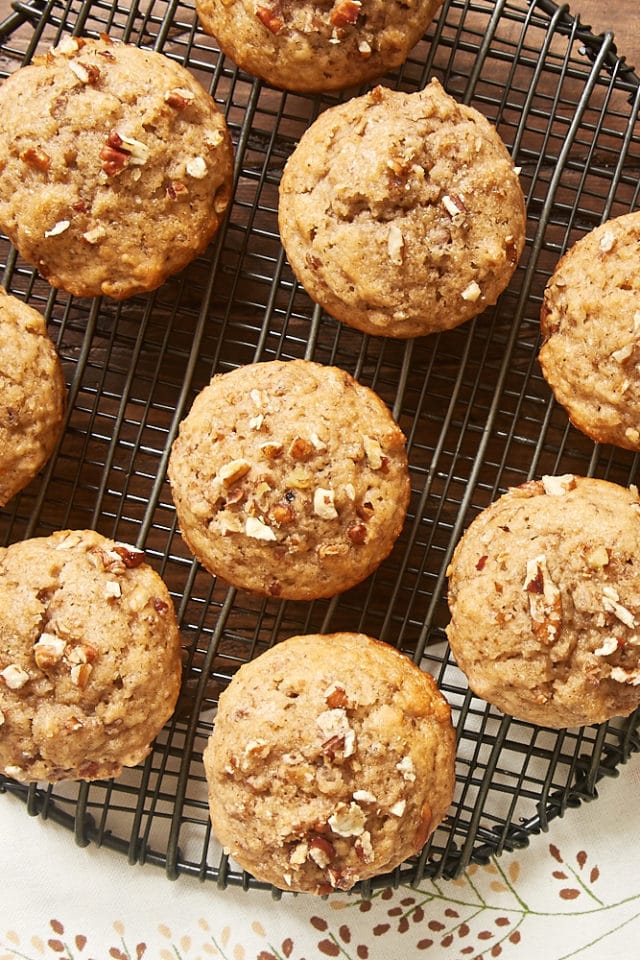 Tips for Success
Measure accurately. Use a kitchen scale to measure by weight when possible. Otherwise, use the spoon and sweep method for dry ingredients and sugar.
Use a light-colored metal muffin pan. Dark pans tend to over-bake the outside edges while leaving the inside under-baked. Dark muffin pans can also cause the muffins to rise too quickly and then fall.
Grease or line the muffin cups. This is a preference, and either way is perfectly fine. Remember that liners create softer edges.
Don't over-mix the batter. Mix just until combined or a few streaks of flour remain. Too much mixing can lead to tough, dense muffins.
Use a scoop to portion the batter. It will make quick, accurate work of dividing the batter.
Want to make this recipe as a loaf? See How to Convert Muffins to Bread.
How to Store Leftovers
Tightly sealed, these Pecan Spice Muffins should keep at room temperature for about 3 days. For a few more days' storage, they can be refrigerated. Just make sure they're well-sealed so they don't become dry.
The muffins are best eaten at room temperature or warmed in the microwave or a low-temperature oven.
How to Freeze Muffins
Once the muffins have completely cooled, place them in a single layer in the freezer. You can place them on a baking sheet or just use the muffin pan. Once they're frozen (about 30 minutes), transfer them to a freezer bag, squeezing out any excess air. Be sure to label the packaging with the name of the muffins and date they were baked.
Thaw frozen muffins overnight in the refrigerator or for a few hours at room temperature. You can also heat frozen muffins in the microwave if you want to skip the thawing time.
Frozen muffins will keep 2-3 months.
Visit the Recipe Index for more muffin recipes!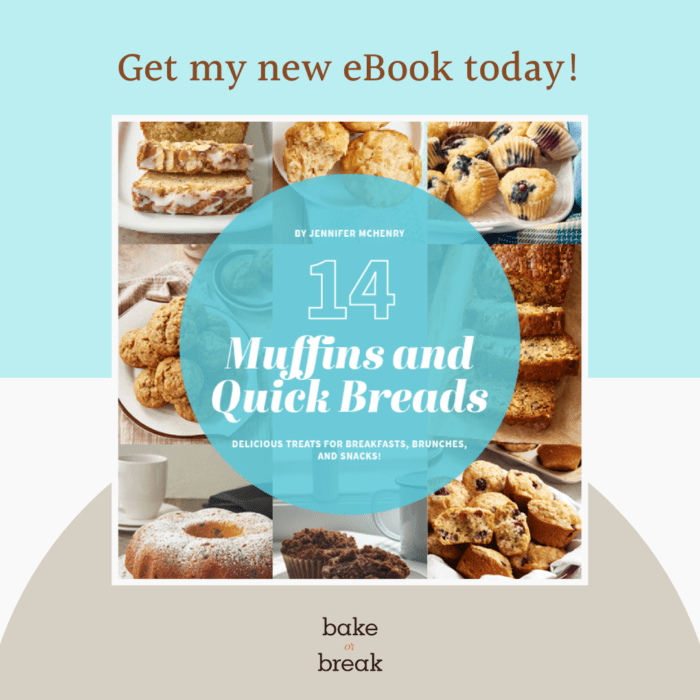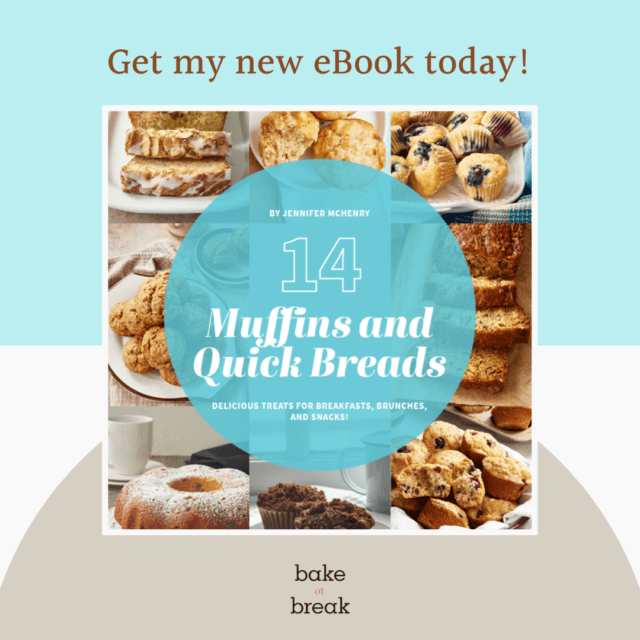 More Spice Muffin Recipes