Are you looking to perfect your muffin recipes? These easy tips for baking muffins will let you can take your baking to the next level.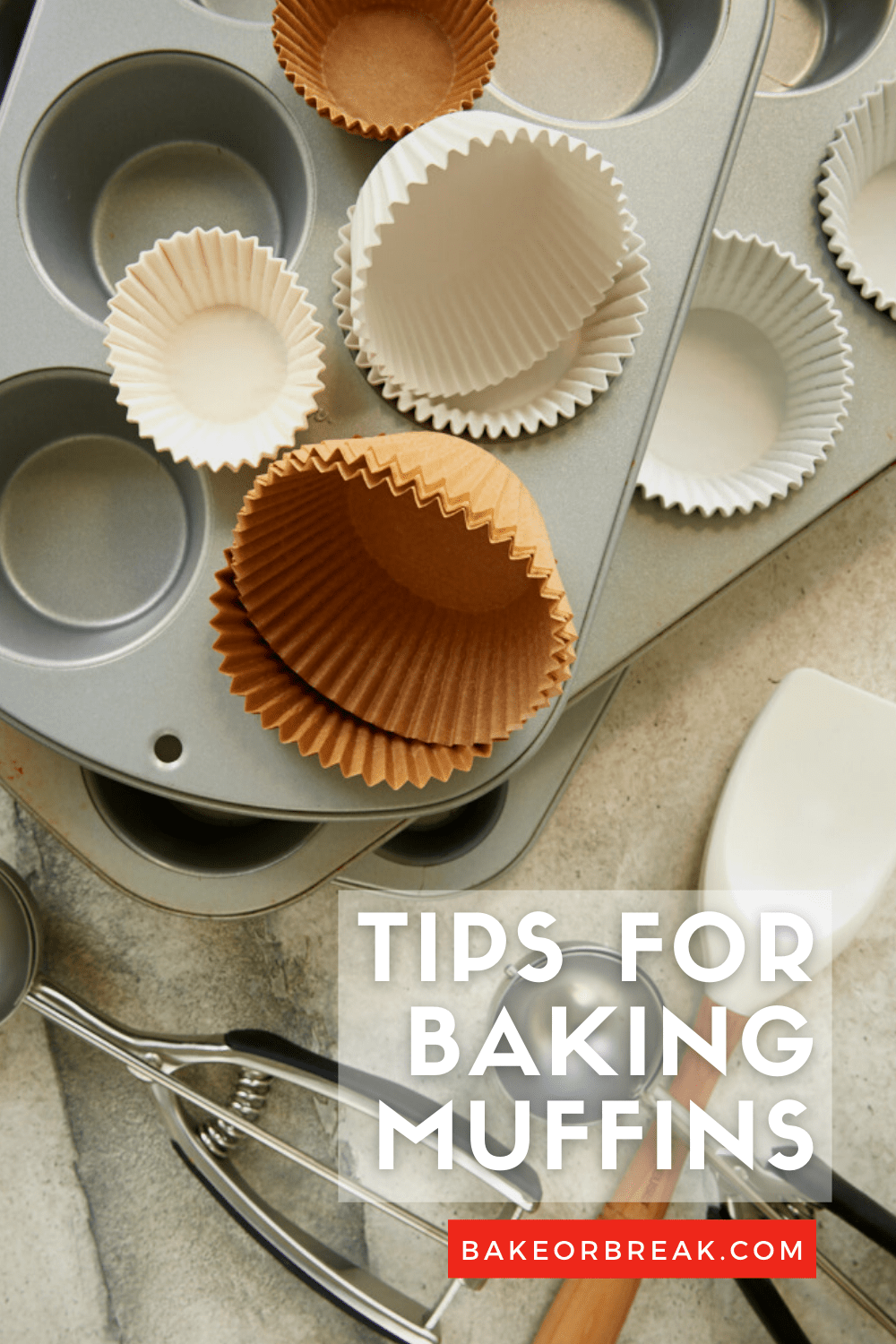 How to Make Muffins
Muffins are a great for a sweet breakfast treat or just a snack. They've always been a favorite baking project for me. Whether you like the uncomplicated classics or more elaborate muffins, there are some simple things to keep in mind when baking muffins. These are my tips for baking muffins so that they're the best they can be!

Before I get into the specifics, don't forget some general baking recommendations. Measure ingredients accurately. Check the accuracy of your oven's temperature. Use quality ingredients. Don't use dark or shiny pans. Any substitutions you make will affect the final outcome.
I hope these tips will help you with everything you've ever wanted to know about baking muffins. If you're in a muffin baking mood now, you can find plenty of simple, tender muffin recipes in my Recipe Index, including easy muffins filled with great flavors like fresh blueberries, bananas, and poppy seeds, as well as lots with an irresistible crumb topping and some bite-size mini muffins. I'm also sharing some of BoB's best muffins with amazing flavors below for a little baking inspiration. And if you have any other questions, please let me know in the comments below.
If you'd like my recommendations for pans and tools for baking muffins, be sure to visit my Muffin Baking Essentials list on my Amazon Storefront.
Happy baking!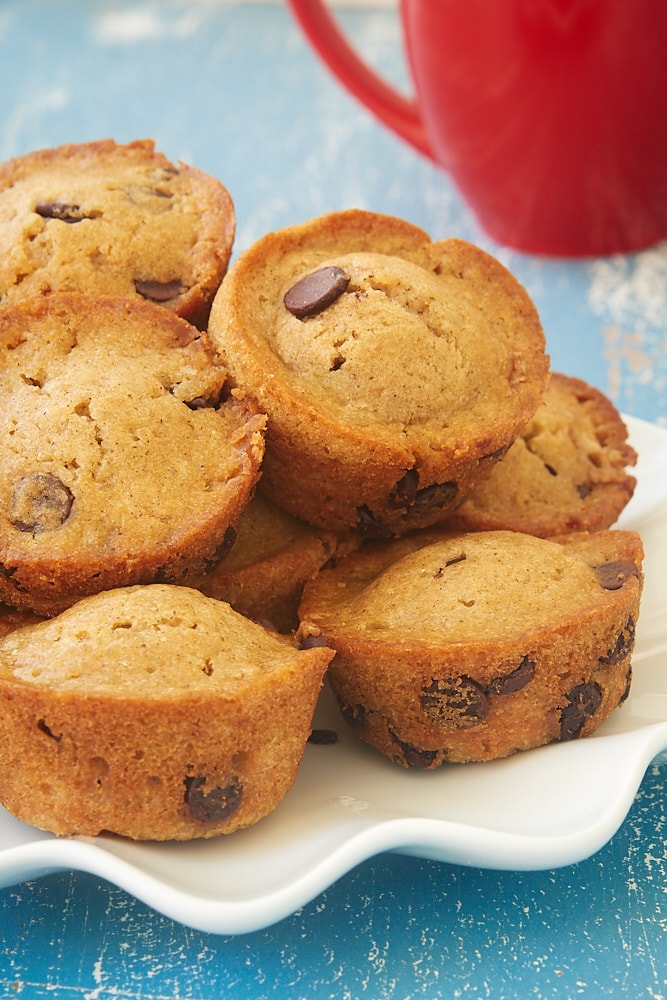 Chocolate Chip Muffins
Mixing Muffin Batter
It is very possible to overmix muffin batter. In fact, I'd guess that it happens more often than not in most cases. Most muffins are mixed using the muffin method, which incorporates all the wet ingredients into the dry ingredients all at once. This method is used to create the desired texture of muffins, but it also helps you get your batter made with minimal mixing to avoid toughness.
You should stir the batter just until the dry ingredients are moistened. In most cases, that is likely 10 to 12 turns with a mixing spoon. You shouldn't need to get out your electric mixer for traditional muffins. Usually, all you need is a large bowl, a whisk, a spoon or spatula, and your muffin pans.
Unlike other mixtures, you aren't likely to end up with a smooth batter. A few lumps and streaks of flour are just fine. You can read more details in The Muffin Method.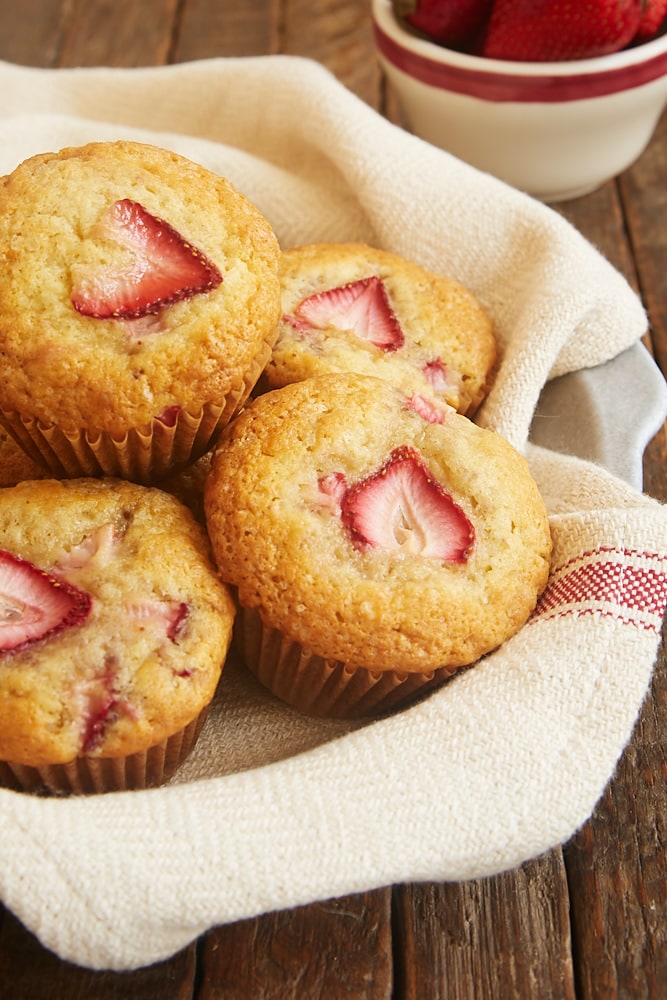 Brown Butter Strawberry Muffins
Filling Muffin Cups
As a general rule, fill your muffin cups about 3/4 full. That should leave enough room for the muffins to rise without making a mess. Of course, if the specific recipe you're using directs otherwise, then go with that. The different recommendations are due to the fact that there may be some variance depending on how much the muffins in a specific recipe will rise as they bake.
Most muffins are baked at high temperatures to help make them nice and tall. That's not vital for success, but it's worth making a mental note that the temperature has an influence in that department. It's common to see muffin recipes require 375° or 400°F. That allows them to rise more quickly to give them that tall domed top.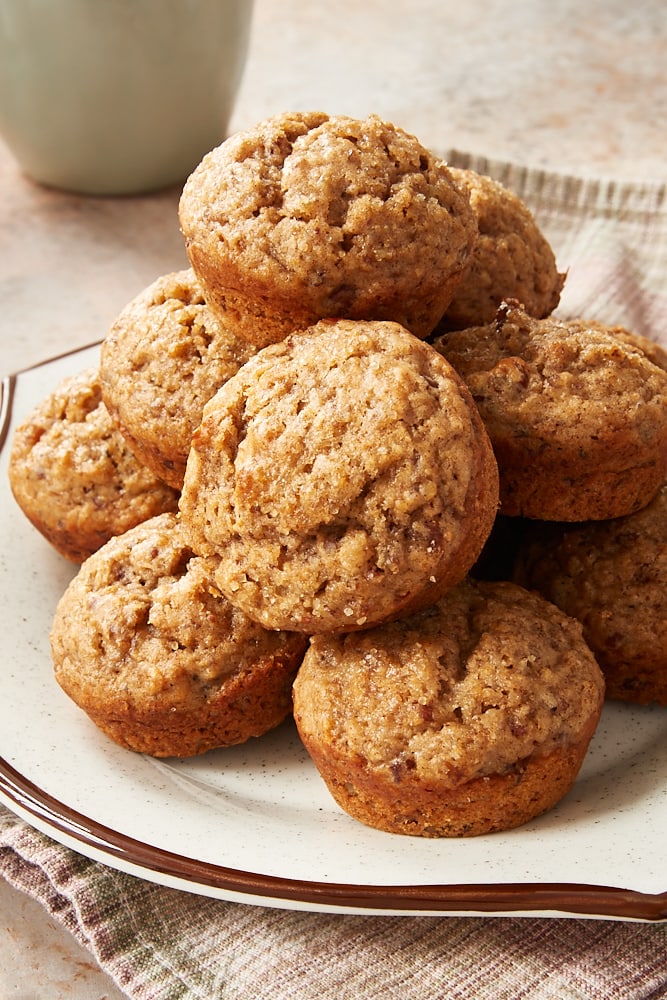 Cinnamon Pecan Muffins
Making Muffin Batter in Advance
I'm occasionally asked if muffin batter can be made in advance to bake later, and the short answer is no. The why of that is all about leavening. When you use baking soda and/or baking powder, they become activated when they become wet. Letting the batter sit before baking will almost certainly cause your muffins not to rise as they should.
The longer answer is that you could mix the dry and wet ingredients separately and then combine them just before you're ready to bake. That might save you a few minutes of prep time for a busy morning. However, you'll want everything fairly close to room temperature, which means you might need to let the wet ingredients sit at room temperature for a bit before adding them to the dry ingredients.
As a general rule, it's just not a great idea to try to make muffin batter in advance. The good news is that muffins usually will keep for a few days, so you can bake them in advance. Simply reheat them if you want a warm muffin. A few minutes at a low oven temp or even a few seconds in the microwave will usually do the trick.
Jam-Filled Doughnut Muffins
Lining Muffin Cups
Whether or not you line muffin cups before baking muffins is really a matter of preference. The main difference it makes baking-wise is how it affects the texture of the muffins, specifically the outsides of them. With a liner, the outsides will be softer. But without liners, you'll get a crisper, browner outside because of the lack of that layer between the batter and the pan.
Another consideration I take into account is how the muffins will be served. If you're baking muffins for your family to enjoy or to serve all at once, then lined or unlined is just fine. If you need to travel with the muffins or intend for them to be a grab-and-go treat, then liners make sense.
I recommend paper liners if you want to line your pan. When skipping the liners, I use a cooking spray with flour like Baker's Joy or Pam Baking on the muffin tin unless otherwise specified by the recipe.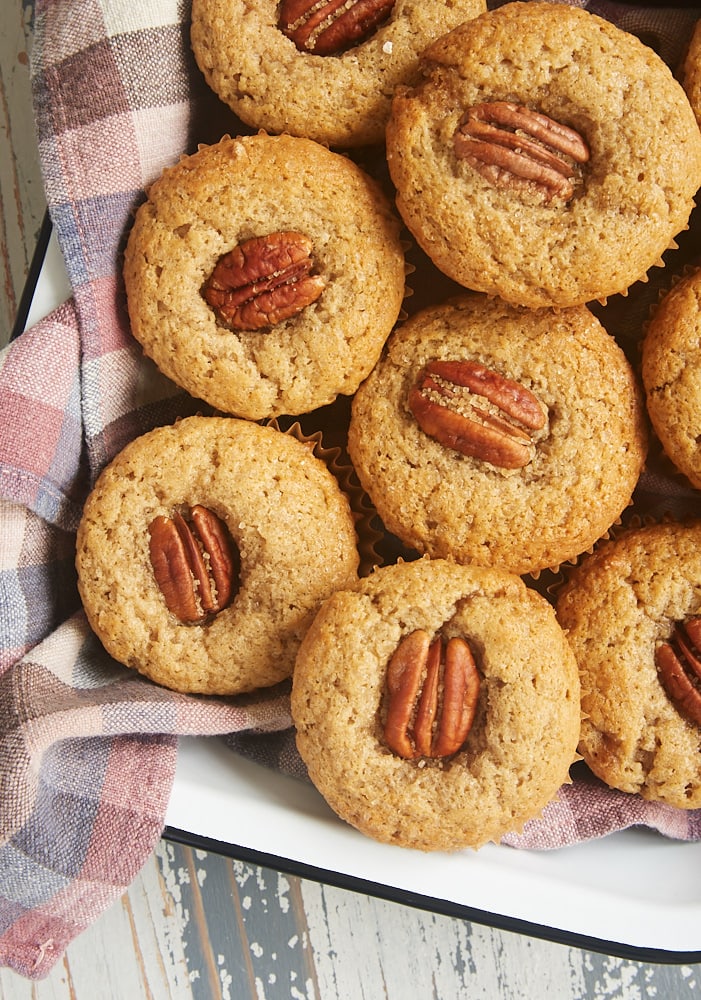 Brown Butter Sour Cream Spice Muffins
Portioning Muffin Batter
My preferred method for portioning muffin batter is with a scoop. Many standard size muffins need about 3 tablespoons of batter per cup, so a 3-tablespoon scoop is the perfect tool for portioning and transferring the batter. All your muffins will be the same size, which is not only nicer looking but also important for making sure the muffins all bake evenly. It's also a quicker and less messy method. Once you try it, I think you'll be sold on doing it that way!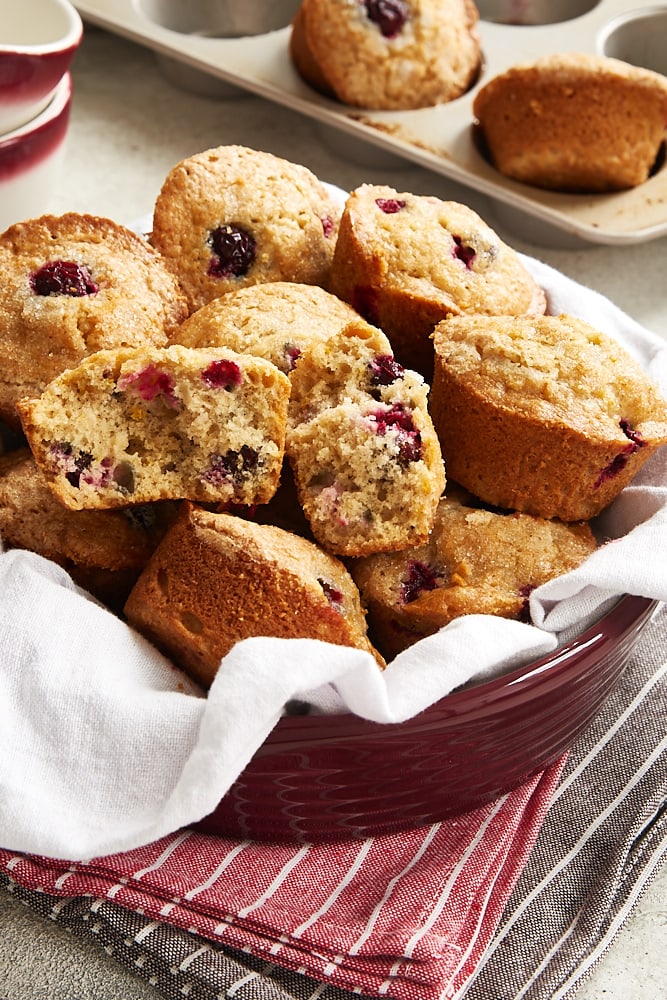 Cranberry Orange Muffins
Choosing Muffin Pans
As with most of my other baking pan recommendations, I prefer a light colored, non-shiny, metal pan. Those types of pans tend to give the best results. With standard, mini, jumbo, and more pan sizes, just be sure you're using the right size for the recipe. You can find some recommended pans and other tools in my Muffin Baking Essentials list on my Amazon Storefront.
Choosing Oven Temperature for Baking Muffins
The recipe you're using should tell you what temperature to use for baking muffins. But if you're adapting a quick bread loaf to muffins, then you'll likely want to adjust the temperature and baking time. You can read more about how to do that in my tips for How to Convert Muffins to Bread.
The oven temperature will affect how your muffins rise and dome, as well as how quickly they bake. As a general rule, muffins are baked at a higher temperature than a quick bread to yield the classic muffin shape.
Keeping Add-Ins from Sinking
The thing to consider here is gravity. If you add things to your batter that are too heavy, they will sink. There's nothing that can really be done about that. There are a few things you can do to combat this, like using smaller pieces. You can read much more about this in How to Keep Chocolate Chips from Sinking.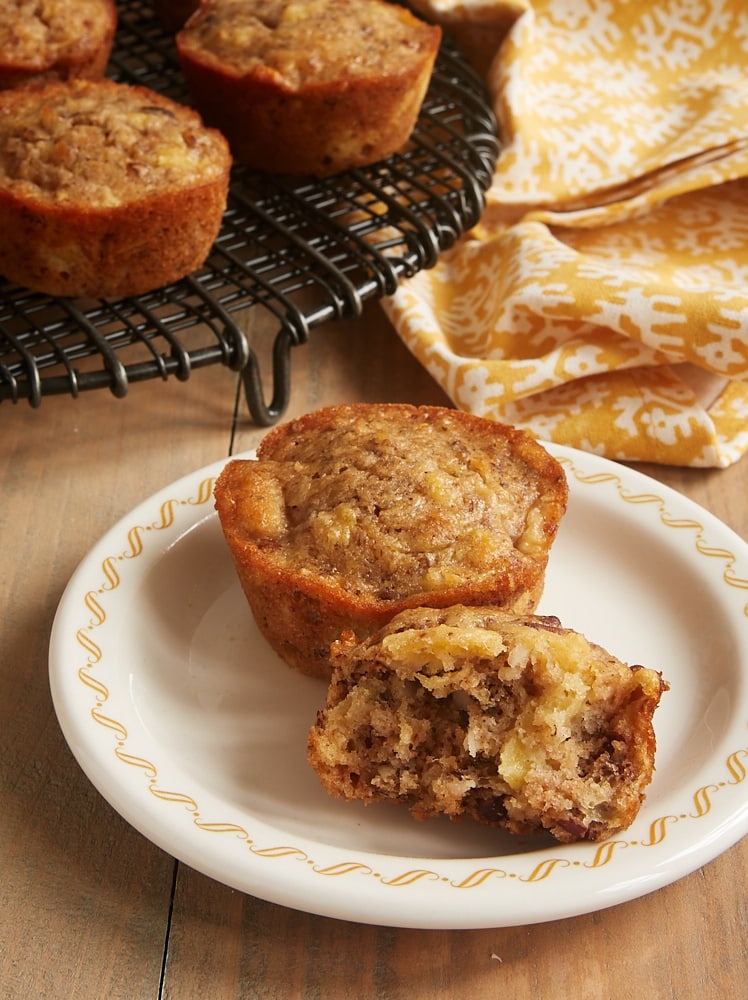 Pineapple Coconut Banana Nut Muffins
Testing Muffins for Doneness
The recipe should instruct you how to tell if the muffins are done baking. Usually, that includes the common toothpick test. When you stick a pick into the center of a muffin, it should come out clean or with just a few moist crumbs. From there, you'll likely be instructed to cool the muffins in the pans for a short time before transferring them to a wire rack to finish cooling. Don't leave them in the pan too long, or you'll end up with soggy muffins.
Preventing Holes or Tunnels in Muffins
This is all about mixing, which was the first thing I covered in these tips. Too much, and your leavening agents (like baking powder and baking soda) can't quite do their job right, and that leads to muffins with large holes or tunnels in them. There's not necessarily anything wrong with that, but overmixing is also what leads to tough muffins, so you may have more than one issue on your hands.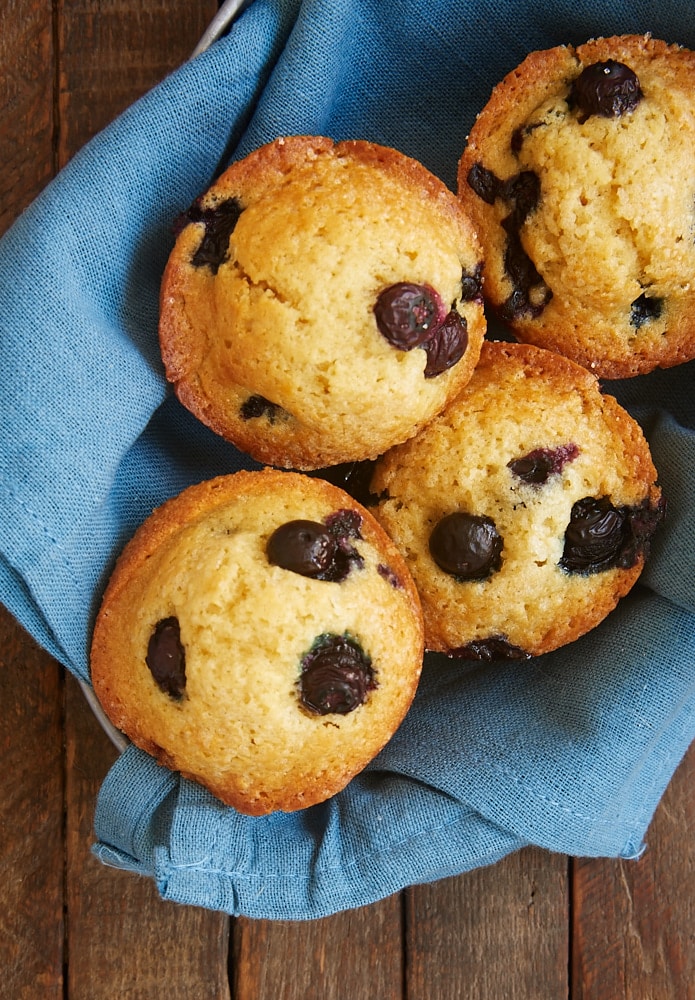 Quick and Easy Blueberry Muffins
How to Store Muffins
After you've made your perfect batch of muffins, there are a couple of easy things you can do to help them stay in their best shape.
Muffins give off moisture, and that can lead to soggy, sticky muffins if you just store them covered on a plate or just tossed in a storage bag or container. The easiest way to combat that extra moisture is to use something you probably always have in your kitchen – paper towels! They'll supply somewhere for that moisture to get absorbed so it doesn't go right back in the muffins and make them less than appealing.
Line the bottom of your storage container with paper towels. Place the muffins in a single layer on top of the towel. If you need to add another layer of muffins, place another paper towel between the layers. Finish with a paper towel on top of the muffins before sealing the container.
You can also use this paper towel layering in a zip-top bag. Lay the bag flat so that the muffins can be in a single layer.
Most muffins will be best stored at room temperature, but check your recipe for its storage tips. The presence of some ingredients may make muffins better stored otherwise.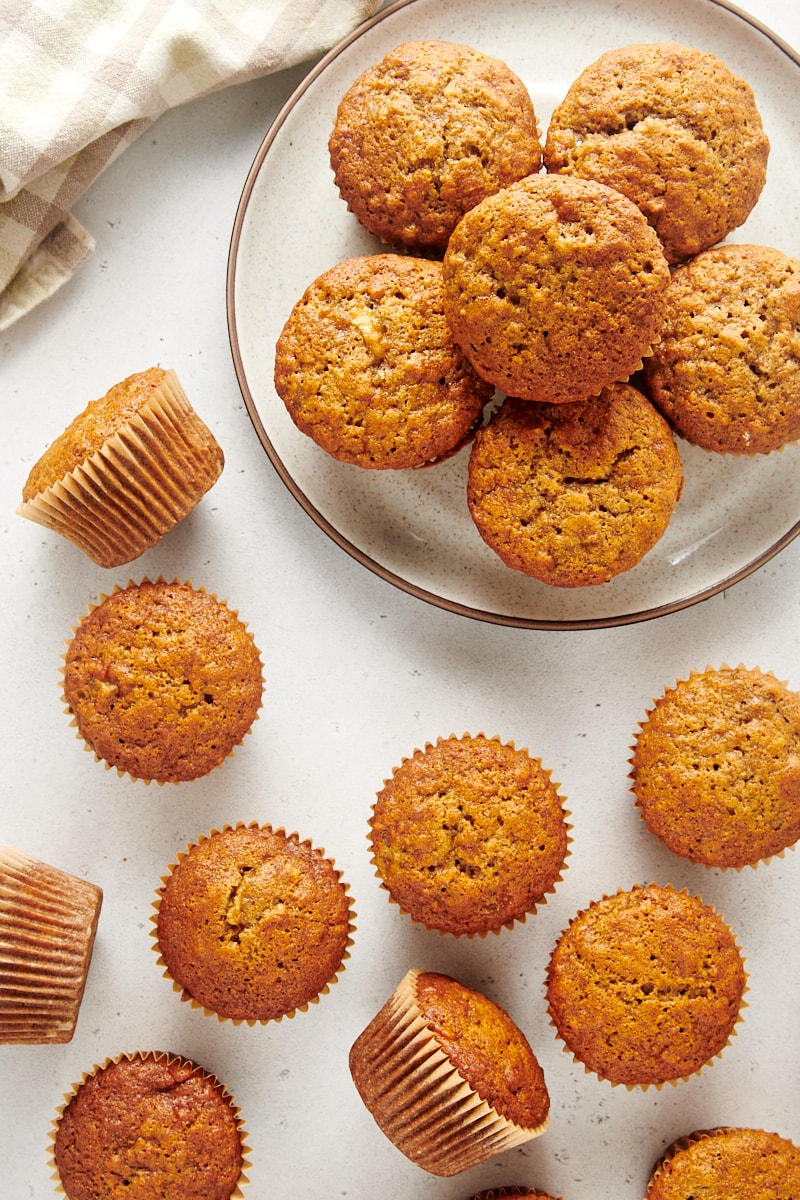 How to Freeze Muffins
Most muffins freeze nicely, but be sure to check the specific recipe you're using for any specific freezing directions.
Much like storing muffins at room temperature, it's best to use paper towels inside the container to absorb moisture. Line your freezer-safe container with paper towels, place the muffins inside in a single layer, and then top with another paper towel. Storing the muffins in a single layer is best, but you can layer them if needed. Just be sure to add a layer of paper towels between each layer.
While many baked goods need to be wrapped tightly in plastic wrap before storing in the freezer, you don't want to do that with muffins. Tightly wrapping them will trap all that moisture inside and alter the texture of the muffins.
Thaw frozen muffins at room temperature for an hour or so. You can also briefly warm them in the microwave.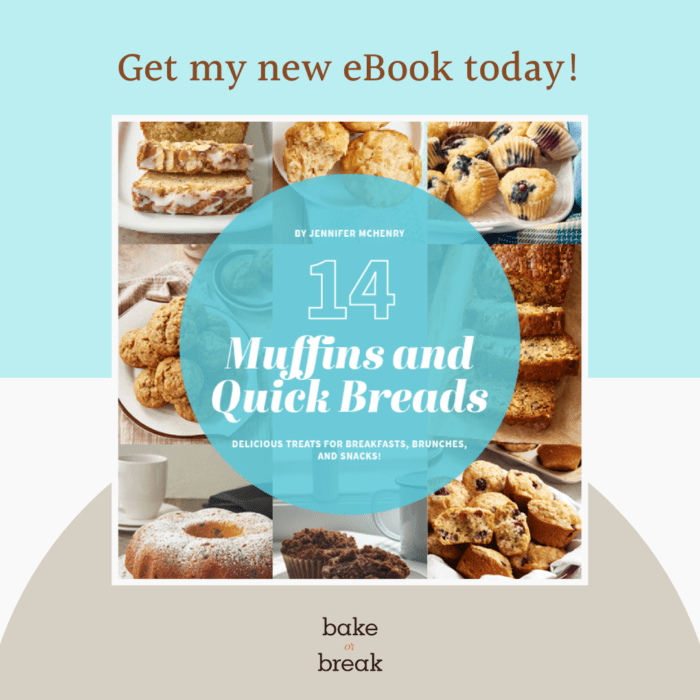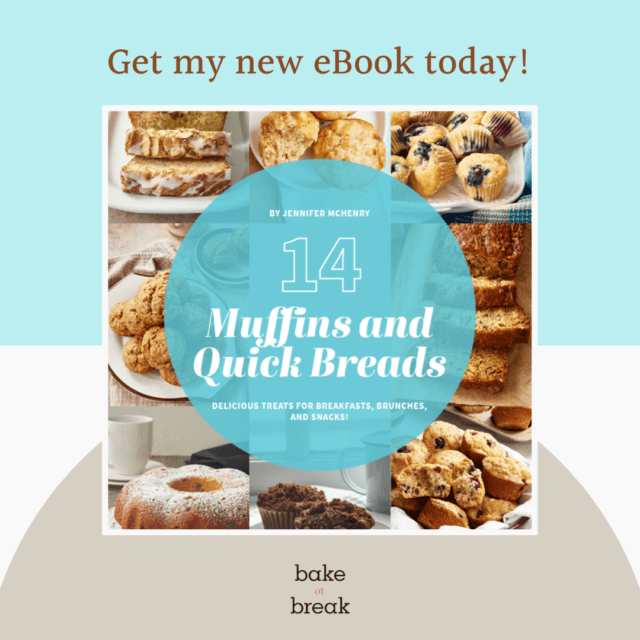 Bake or Break is a participant in the Amazon Services LLC Associates Program, an affiliate advertising program designed to provide a means for us to earn fees by linking to Amazon.com and affiliated sites.