These hearty Oat Muffins with Nuts and Seeds are an easy grab-and-go breakfast or snack. They have such wonderful flavor and crunch!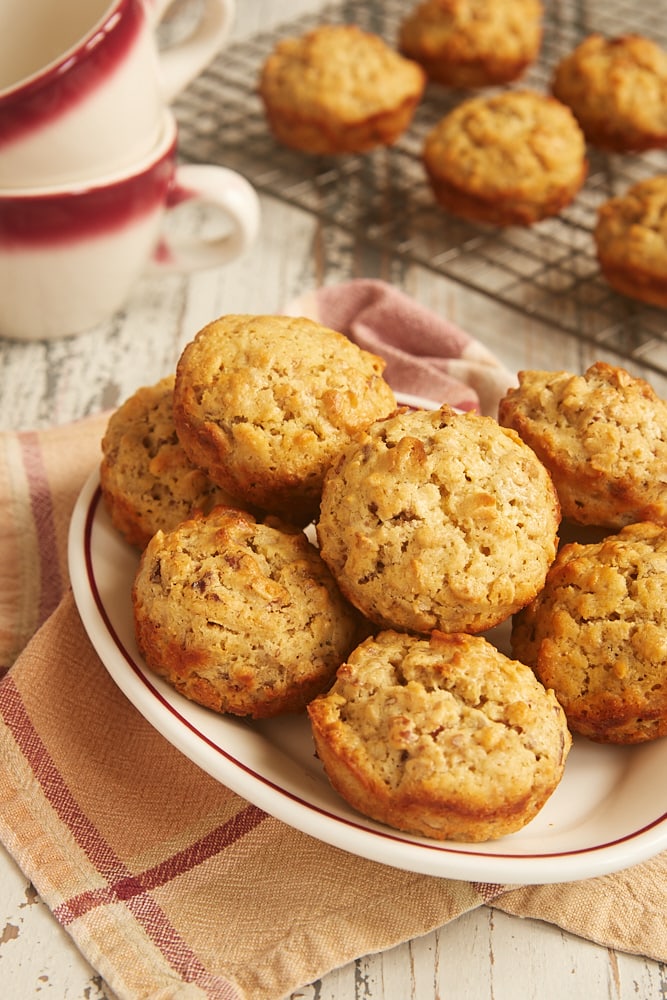 Oat Muffins with Nuts and Seeds
I like light, fluffy muffins as much as anyone, but sometimes I crave a hearty muffin. One that feels significant and won't leave you hungry an hour later. And that's exactly what you get with these Oat Muffins with Nuts and Seeds!
These muffins are made with so many great things that you're likely to have just sitting in your pantry. There are plenty of oats to contribute to that heartiness and supply some chewiness, too. Lots of nuts and seeds provide loads of flavor and crunch.

It's no secret that I usually prefer my muffins to be a bit less sweet than the standard bakery variety. These muffins have just enough brown sugar to give them a nice sweetness without feeling like you're eating a cupcake. If you want them just a tad sweeter, try sprinkling some coarse sugar (like turbinado) on top of the muffins before baking.
If you're looking for a new muffin recipe for breakfast or snacking, give these Oat Muffins with Nuts and Seeds a try. I think you'll love their chewy, crunchy texture and their nutty, just-sweet-enough flavor.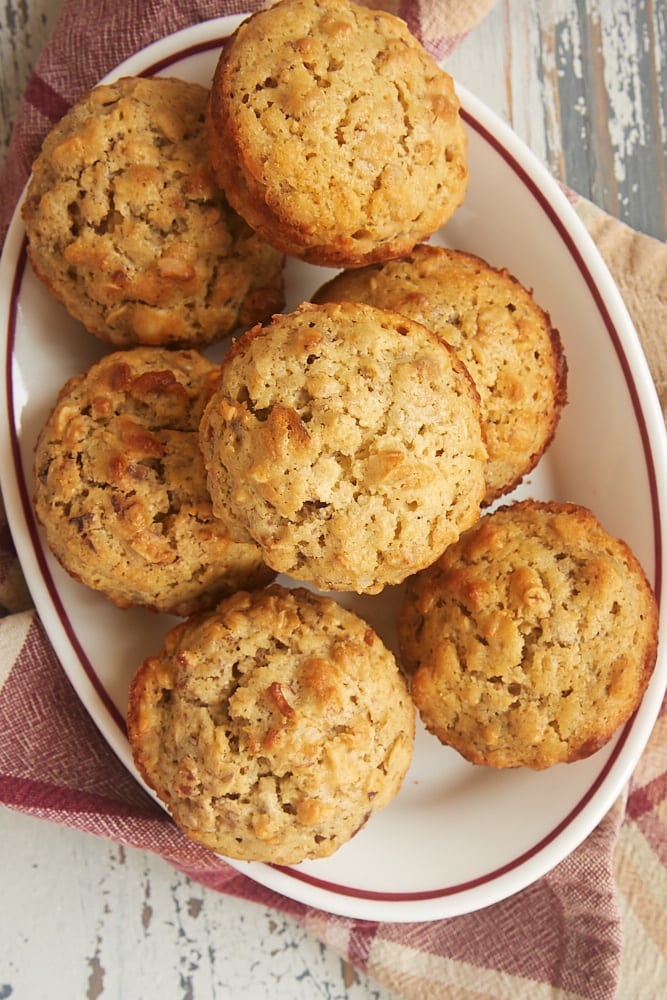 What You'll Need
This recipe is perfect for using some odds and ends from your pantry. Grab some seeds and nuts along with some basic baking ingredients to whip up a batch of these hearty muffins.
All-purpose flour – As always, measure by weight for best results.
Baking powder
Salt
Oats – I recommend old-fashioned rolled oats for the texture they add to these muffins. Quick oats will work in a pinch, but be sure to substitute by volume and not weight.
Unsalted butter – Set out the butter about half an hour before baking to allow the butter to soften.
Brown sugar – I like light brown sugar for these muffins, but dark brown sugar is fine if you want a more pronounced molasses flavor.
Eggs – Set the eggs out along with the butter.
Vanilla extract – Substitute almond extract for some or all of the vanilla for more nutty flavor.
Milk – Also set out the milk with the butter and eggs.
Nuts – Use your favorite kind or a variety of nuts. Pecans, hazelnuts, walnuts, and almonds are all great choices.
Seeds – Like the nuts, use your favorite or a variety. I like sunflower seeds and pumpkin seeds.
How to Make Oat Muffins
Most muffin recipes use the muffin method for mixing, but these muffins are made with the creaming method to give them a slightly different texture. They still mix quickly and easily with your trusty hand mixer.
Prepare for baking. Heat the oven to 400°F. You'll need a 12-cavity muffin pan or two 6-cavity muffin pans. Either grease them or line with paper liners. Remember that liners create softer edges, while not lining the pans creates crisper edges.
Mix the dry ingredients. Whisk together the flour, baking powder, and salt. Stir in the oats.
Mix the wet ingredients. With an electric mixer on medium speed, beat the butter and brown sugar until fluffy and lightened in color. Mix in the eggs one at a time, and then mix in the vanilla.
Add the dry ingredients and the milk to the wet ingredients. With the mixer on low speed, add the flour mixture in three portions, alternating with two portions of the milk. Be sure not to over-mix; mix just until combined or a few streaks of flour remain.
Add the nuts and seeds. Stir in the nuts and seeds just until incorporated.
Portion and bake. Fill each muffin cup about 3/4 full using about 3 tablespoons of batter per cup. Bake the muffins 18 to 22 minutes, or until they're golden brown and a pick inserted into the center comes out clean.
Cool the muffins. Place the pan on a wire rack, and allow the muffins to cool for 10 minutes. Then transfer the muffins from the pan to a wire rack to cool completely.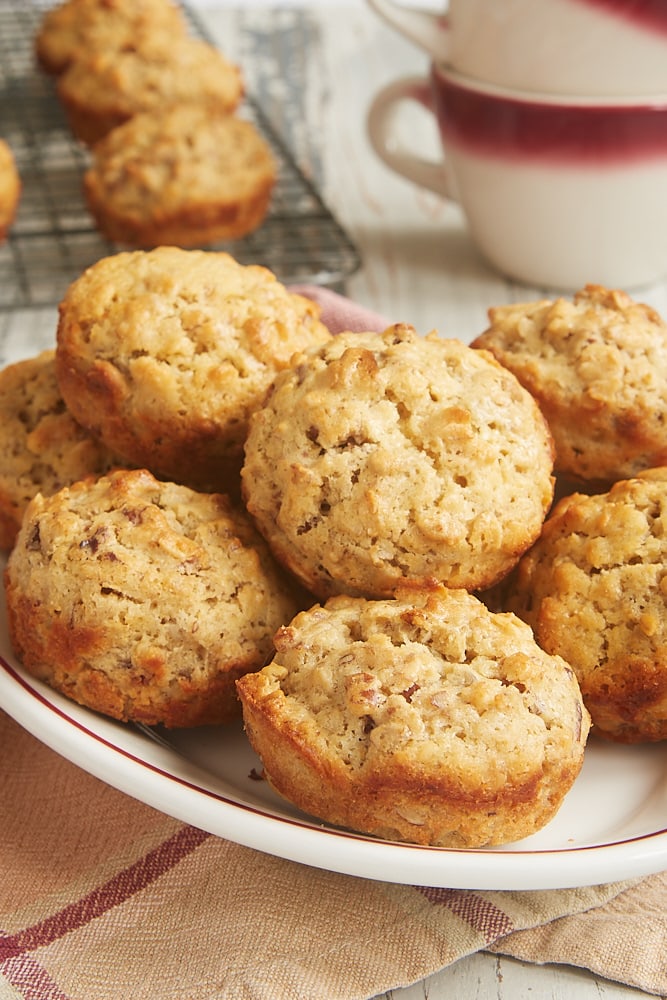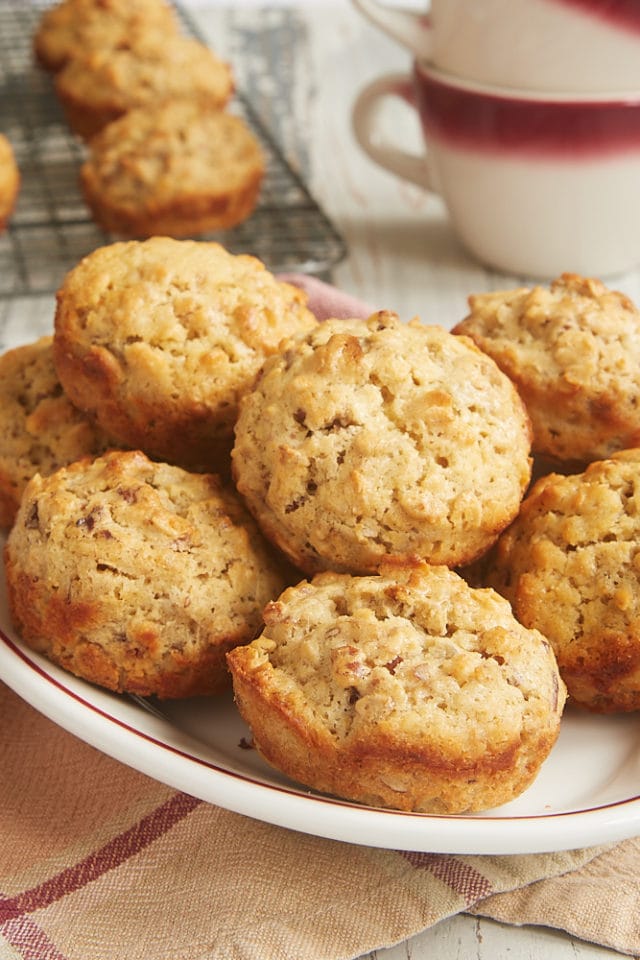 Ideas for Variations
Besides using different nuts and seeds in these muffins, there are many ways to customize them to your tastes. Here are some ideas to get you started making your own version.
Dried fruits – Use some dried cranberries, cherries, or other fruit in place of some of the nuts or seeds.
Chocolate chips – Chocolate is always a good idea, right? Try reducing the total amount of nuts and seeds and replacing with an equal amount of dark chocolate chips. Other flavored chips would work well, too.
Coconut – Shredded coconut would be a great complement to the other flavors. Simply replace some of the nuts and/or seeds with some finely shredded coconut, either sweetened or unsweetened.
Citrus zest – A reader shared that these are great with a little orange zest, and I agree! Lemon zest would be a great addition, too.
Tips for Success
Use a light-colored metal pan. Dark pans will bake the outside edges faster, which may make the muffins not rise as well and the centers will likely be under-baked.
Use a scoop. If you have a 3-tablespoon cookie scoop, use it for portioning the muffin batter. The process will go much more quickly, and the muffins will all be the same size.
Toast the nuts and seeds. This is completely optional but adds some flavor depth. You can toast them in a 350°F oven or on the stovetop in a skillet. The time can vary depending on what you're toasting, so keep an eye on them.
Want more tips? See my tips for making muffins.
How to Store Leftovers
After cooling the muffins completely, place them in an airtight container and store at room temperature up to 3 days. Refrigerating can add a couple more days of freshness, but be extra sure the container is airtight so they don't get dry.
How to Freeze These Muffins
First, be sure to cool the muffins completely to help them retain their texture after freezing. Then, place them in a single layer on a baking sheet in the freezer for about an hour until they're frozen solid. Finally, transfer them to a freezer-safe bag or container.
Properly stored, they should keep in the freezer for up to 3 months. Thaw overnight in the refrigerator or for an hour or so at room temperature. Alternatively, warm them briefly in the microwave or for a few minutes in a low-temperature oven.
More Great Oat Muffin Recipes