Cranberry Orange Muffins are wonderfully sweet and tart! These quick and easy muffins are a great choice for a simple breakfast treat or a snack.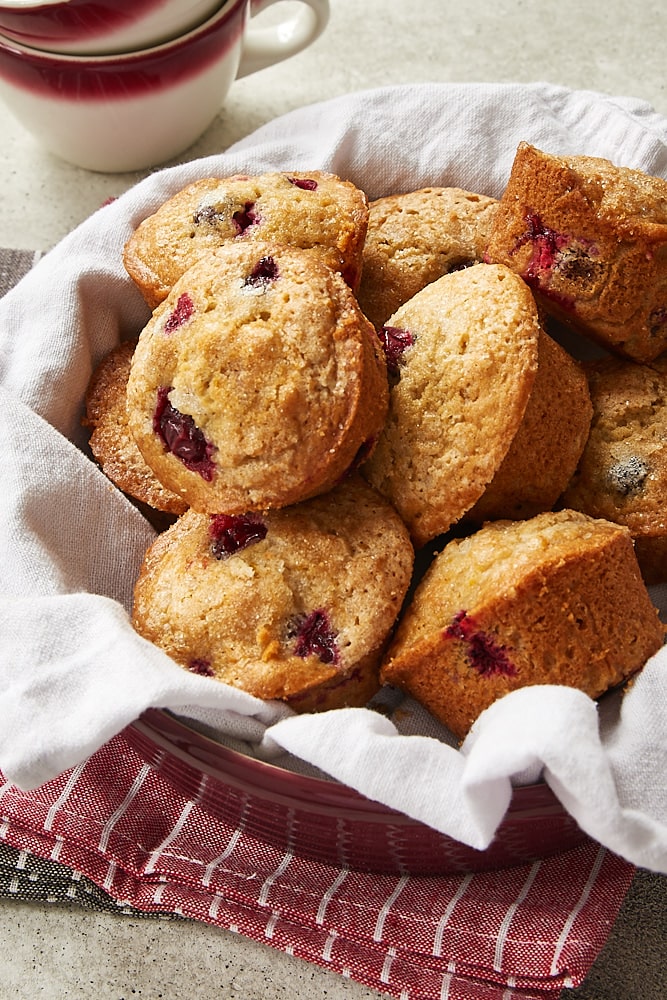 Cranberry Orange Muffins
These Cranberry Orange Muffins are one of my favorites to whip up for a breakfast treat or just for snacking. There's nothing fancy about them. They're just really good muffins that I think you'll love every bit as much as we do!
I like to take full advantage of cranberry season with plenty of cranberry treats. I tend to have lots and lots of cranberries on-hand this time of year, and these Cranberry Orange Muffins are a great way to enjoy the wonderful flavor of those berries.
If you love this flavor combination, try my Cranberry Orange Scones, too. For more fruity muffin recipes, try Apple Cinnamon Muffins, Raspberry Pistachio Muffins, and Quick & Easy Blueberry Muffins next!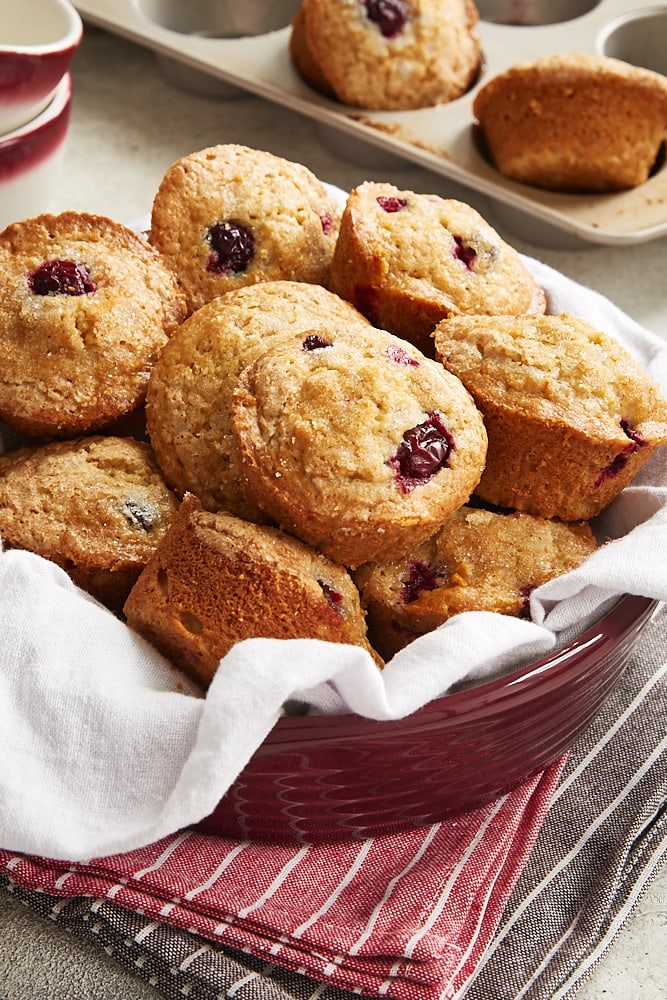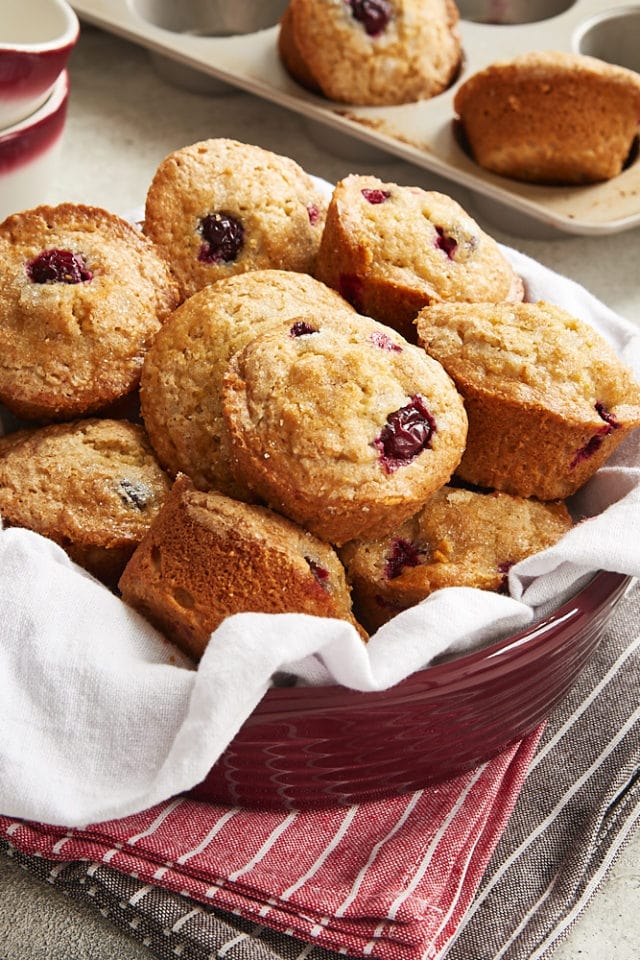 What You'll Need
This is a very simple muffin recipe made with simple ingredients. You'll start with some basic baking ingredients that you're very likely to have on-hand. Just add cranberries and some orange zest and juice for lots of amazing flavor. See the recipe card at the bottom of this post for ingredient quantities and full instructions. Here are some notes about the ingredients you'll need to make these cranberry orange muffins.
All-purpose flour – Measure by weight if possible. Otherwise, spoon and sweep.
Granulated sugar
Baking soda
Baking powder
Ground cinnamon
Salt
Orange zest and juice – The orange flavor is a lovely complement to the tart cranberries, and fresh orange juice and zest will give you the best results. If you need a refresher, I've got some simple tips for zesting.
Unsalted butter
Sour cream – This is what gives the muffins their wonderfully soft texture. Full-fat sour cream works best. If you don't have sour cream, try using Greek yogurt.
Eggs
Cranberries – I like to use fresh cranberries when I can get them, but frozen will work too. If using frozen cranberries, there's no need to thaw them.
Sanding sugar – This is optional, but I love the little sparkle and extra sweetness that a sprinkling of coarse sugar adds to these muffins.
Can I Use Dried Cranberries?
If you don't have access to fresh or frozen cranberries, dried cranberries can be used. They have a tart flavor similar to their fresh counterparts, but they also tend to be a bit sweeter. You'll also need to use fewer of them in the batter. Reduce the amount by a quarter or a third.
You can mix them into the batter just as they are, or you can plump them up a bit first with hot water. The quickest way to do this is to place the dried cranberries in a microwave-safe bowl and fill with water just to cover them. Heat in the microwave for 30 seconds or so, then let them sit for about 5 minutes.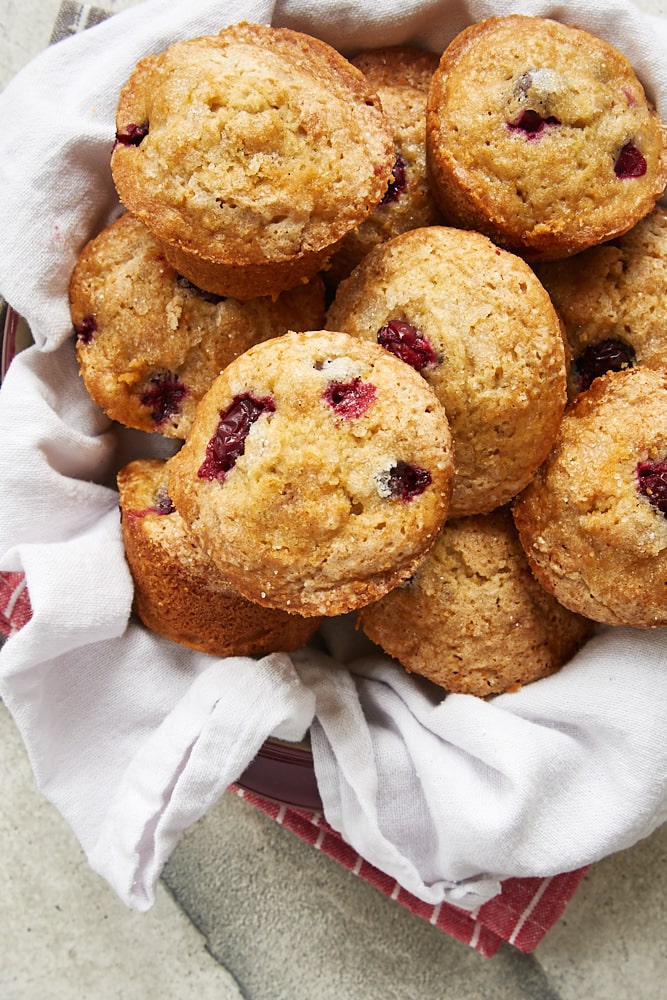 How to Make Cranberry Orange Muffins
As with most muffins, these mix quickly and easily. There's nothing unusual here if you're familiar with the Muffin Method. You'll just need a mixing bowl, a mixing spoon, and some measuring cups to go from ingredients to batter in short order.
Prepare for baking. Heat the oven to 375°F. Grease 12 standard muffin cups or line them with paper liners. If you aren't using liners, I recommend using a cooking spray with flour, like Baker's Joy or Pam for Baking.
Combine the dry ingredients and sugar. Whisk together the flour, sugar, baking soda, baking powder, cinnamon, salt, and orange zest in a large bowl. Make a well in the center.
Combine the wet ingredients. In a separate medium bowl, stir together the cooled butter, sour cream, eggs, and orange juice.
Add the wet ingredients to the dry ingredients. Add the butter mixture to the well in the flour mixture. Stir just until combined. The batter will be thick, thanks to the sour cream.
Add the cranberries. Gently fold them into the batter.
Portion the batter. Divide the batter evenly among the prepared muffin cups. If you like, sprinkle the tops of each with sanding sugar.
Bake the muffins. Place the muffin pan in the heated oven. Check for doneness after 20 to 24 minutes. The muffins should be golden brown, and a toothpick inserted into the center should come out clean.
Cool the muffins. Place the pan on a wire rack and allow the muffins to cool for 10 minutes. Then transfer the muffins from the pan to a wire rack to cool completely.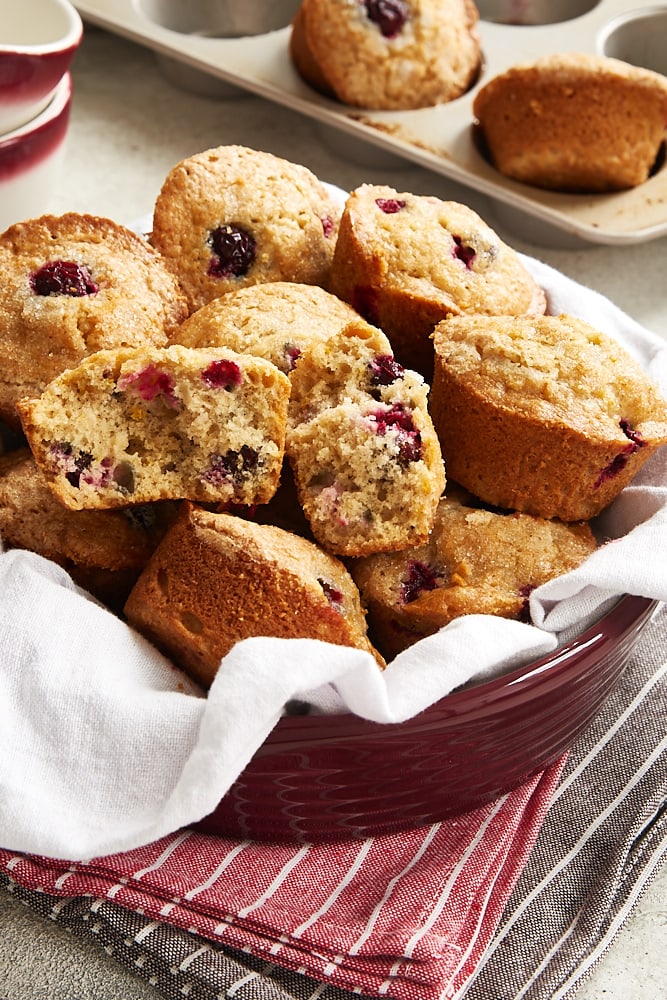 Tips for Success
Lining the muffin cups. I like to use liners when I know I'll need to transport the muffins or when they're likely to be a grab-and-go treat. Keep in mind that liners tend to give you softer edges, whereas not using liners gives you crisper edges.
Don't over-mix. Too much mixing will result in a tough texture. Mix just until combined or a few small streaks of flour remain.
Use a scoop for portioning. I like to use a scoop to transfer the batter to the pan. Not only does that make the process quicker, but it also helps make sure that you'll get the same amount of batter in each cup for even baking.
How to Store Cranberry Orange Muffins
Store any leftovers in an airtight container at room temperature for up to 3 days. I like to line the container with paper towels to absorb extra moisture that tends to form as muffins sit. For longer storage, store them in the refrigerator for up to 5 days. The muffins can be reheated briefly in the microwave or for a few minutes in the oven until heated.
How to Freeze Cranberry Orange Muffins
Place the cooled muffins in a freezer-safe container or bag. For extra protection, first wrap each muffin in plastic wrap. Properly stored, the muffins should keep up to 3 months. Thaw overnight in the refrigerator or for an hour or so at room temperature.
Find more muffin recipes in the Recipe Index.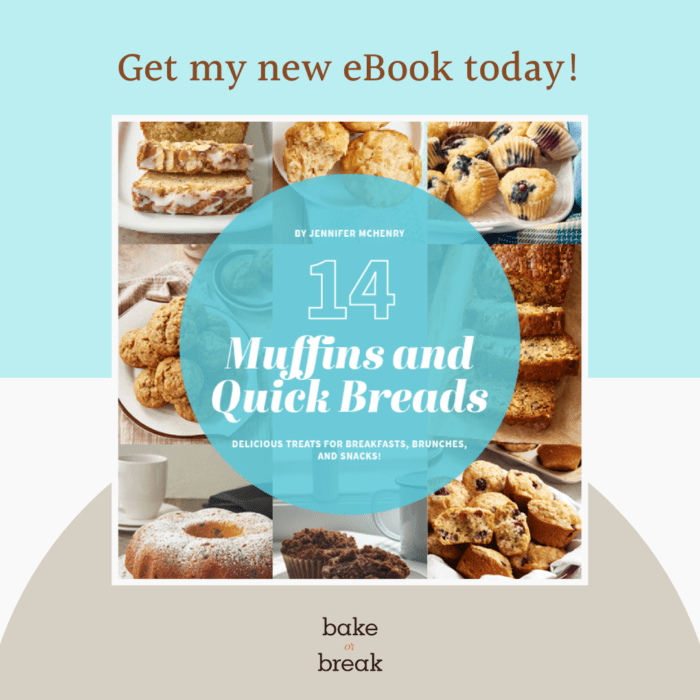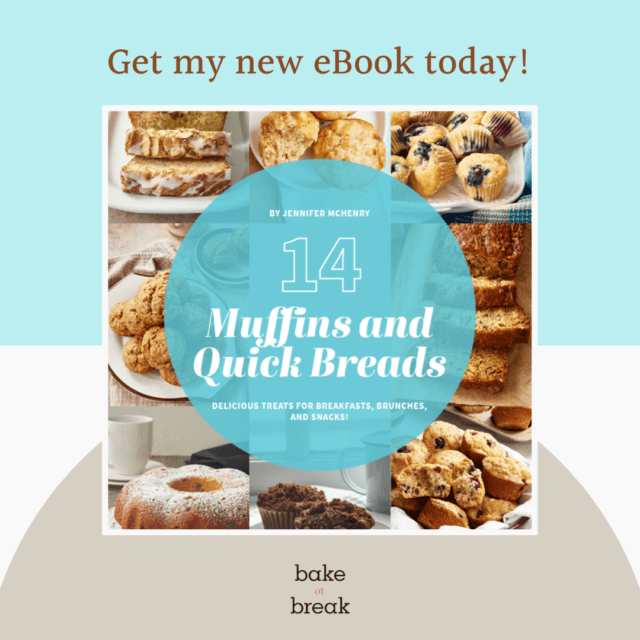 More Cranberry Recipes