These moist, flavorful yogurt and granola muffins are the best way to start your day! Tender vanilla-scented muffins have granola baked inside and as a streusel topping for double the crunchy goodness.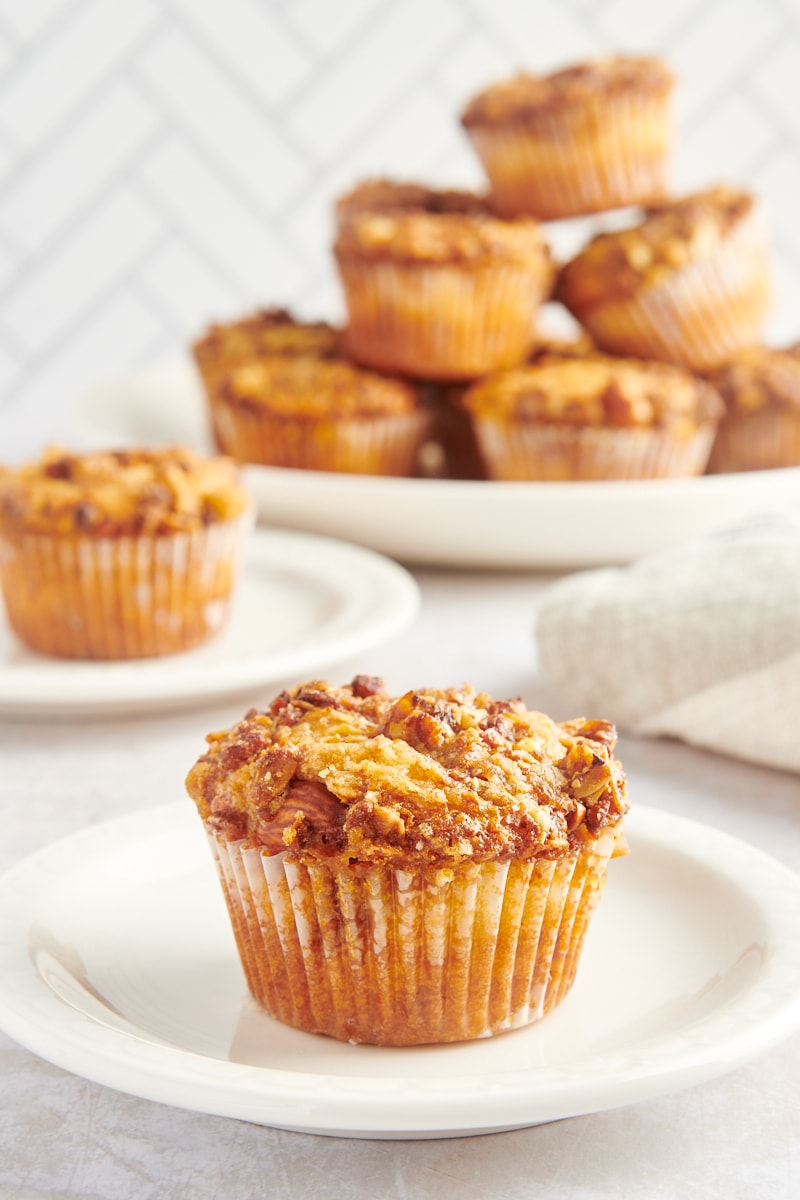 Hearty Breakfast Muffins With Granola
I'm not much of a morning person, which means I'm not the type to wake up at the crack of dawn to fry up a skillet of bacon and cook a batch of homemade pancakes. A frequent breakfast for me is a bowl of yogurt and granola, so I decided to try incorporating that combination into a batch of muffins to make breakfast even easier.
With these yogurt and granola muffins, I don't even have to pour granola into a bowl—I can just grab a muffin and breakfast is served.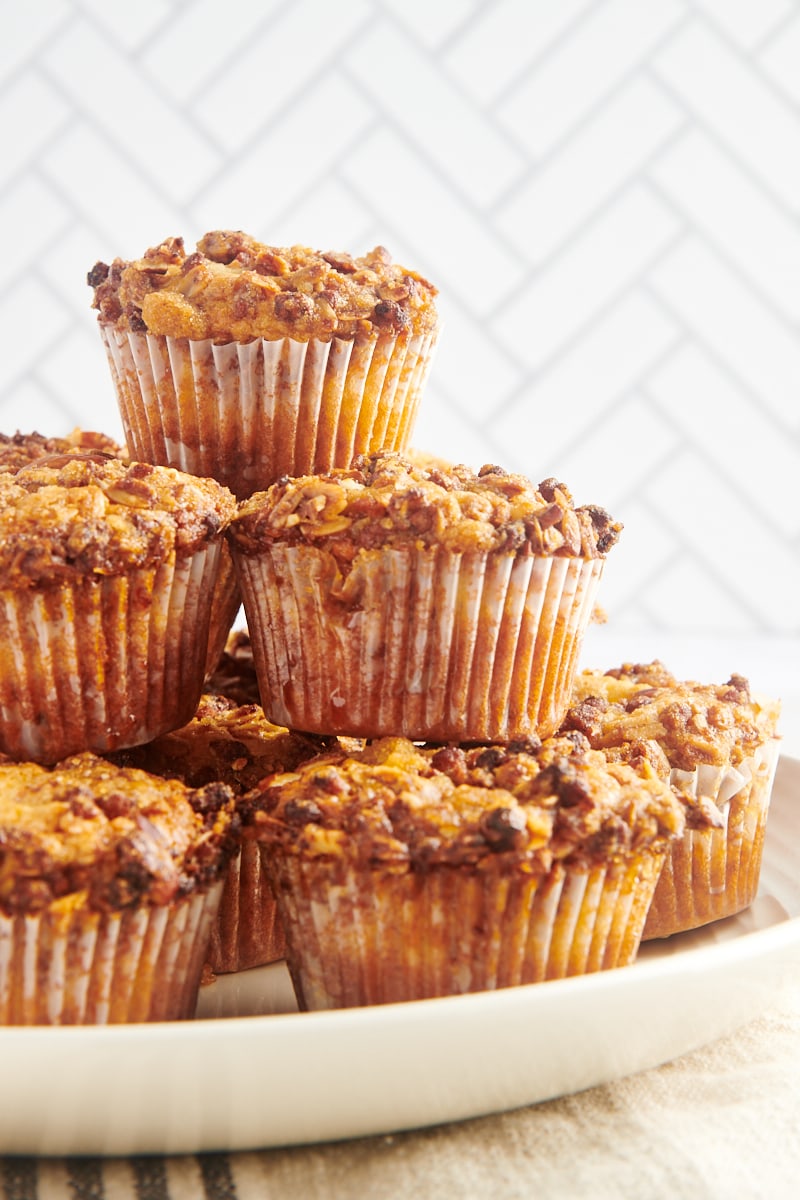 The muffins themselves benefit in the moistness category from the addition of yogurt. Plus, the granola gives them a nice crunch and some additional flavor. Of course, I can never resist a streusel topping. Each muffin is topped off with a simple and sweet streusel that incorporates even more granola.
It probably goes without saying that the flavor of these muffins can change by using different kinds of granola. I often use a granola made mostly of oats and almonds. Have fun experimenting with different varieties!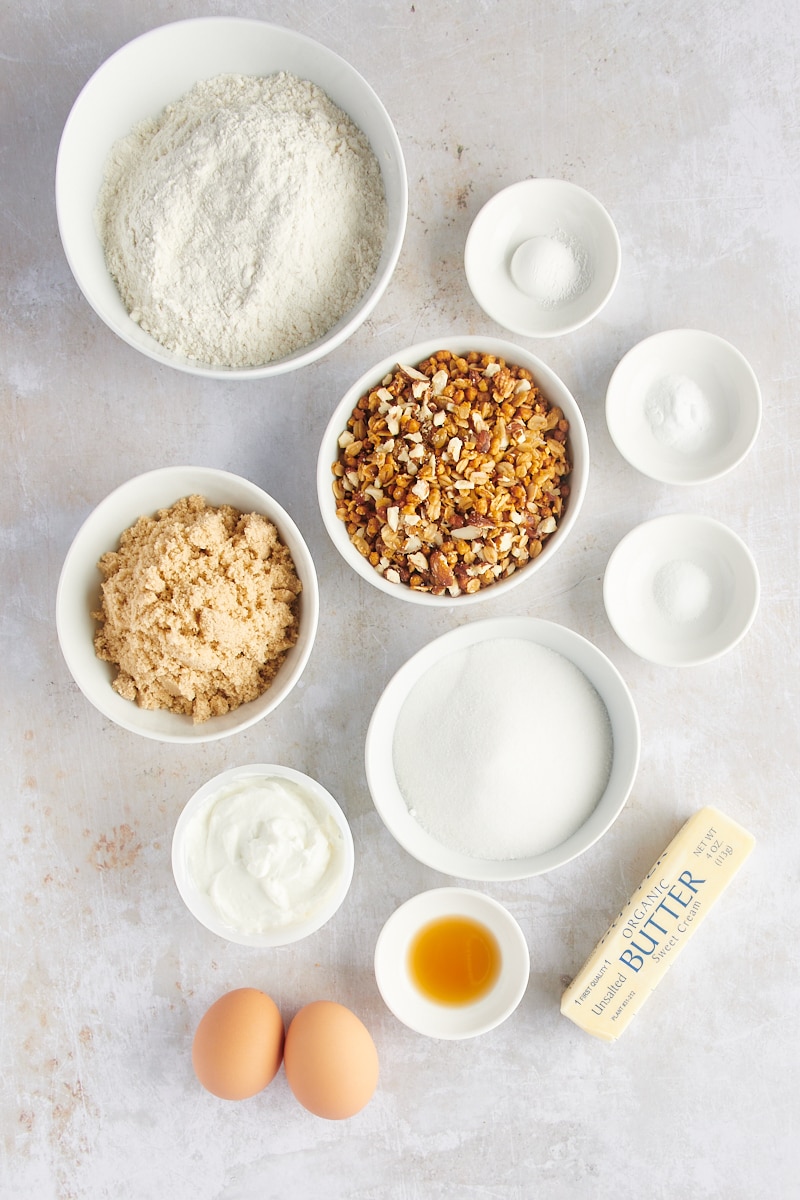 What You'll Need
Scroll down to the recipe card to find the ingredient quantities and recipe instructions.
For the muffins:
All-purpose flour – Learn more: How to Measure Flour
Granola – Most any granola will work. If you use a granola with dried fruit or chocolate chips, I recommend picking them out before making the streusel.
Baking powder
Baking soda
Salt
Granulated sugar
Plain Greek yogurt
Unsalted butter – Learn more: Unsalted or Salted Butter: Which is Better for Baking?
Eggs – Lightly beat these in a separate bowl before adding them to the rest of the ingredients.
Vanilla – Use store-bought or homemade vanilla extract.
For the streusel:
What Kind of Greek Yogurt is Best to Bake With?
Full-fat Greek yogurt, which is commonly labeled as whole milk Greek yogurt, is best for baking. The higher fat percentage gives baked goods a moist, tender crumb.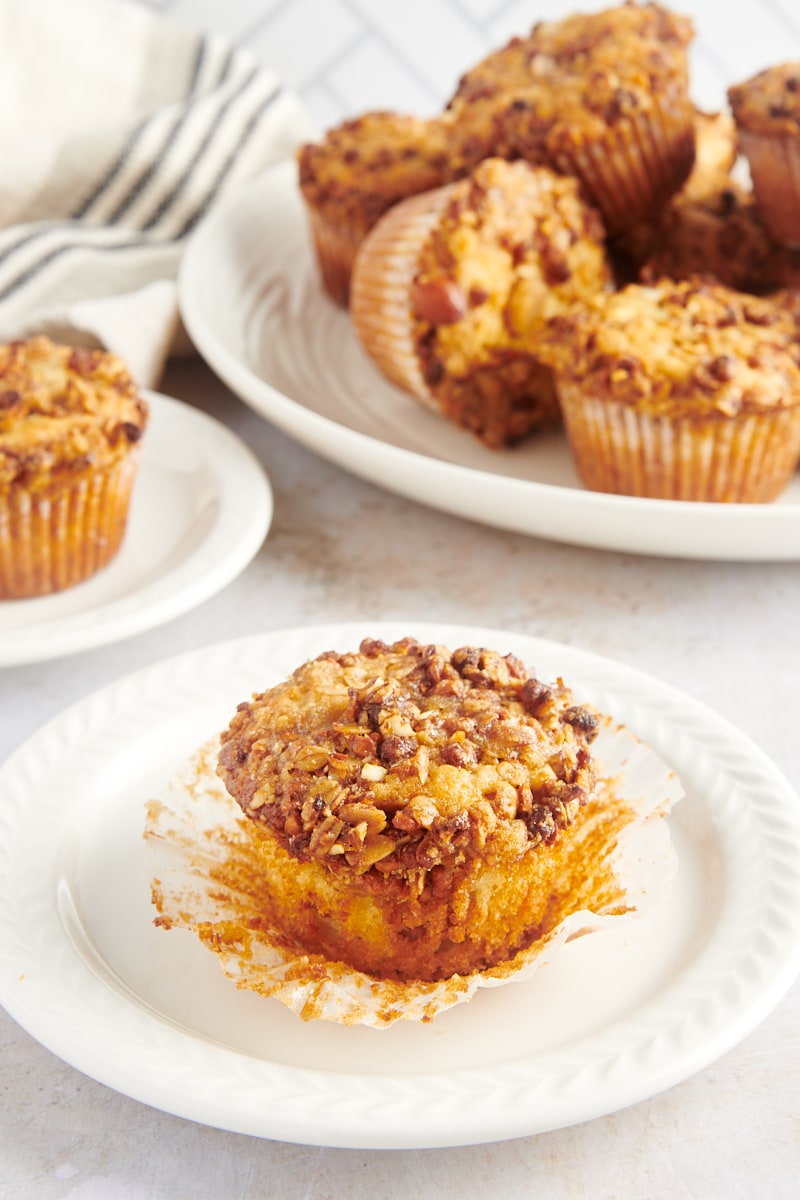 How to Make Yogurt and Granola Muffins
The process of making these muffins is pretty standard, and like other muffin recipes, they come together in a matter of minutes. Here's what you'll need to do.
Prepare. Preheat your oven to 375°F and line 12 standard-sized muffin cups with paper liners.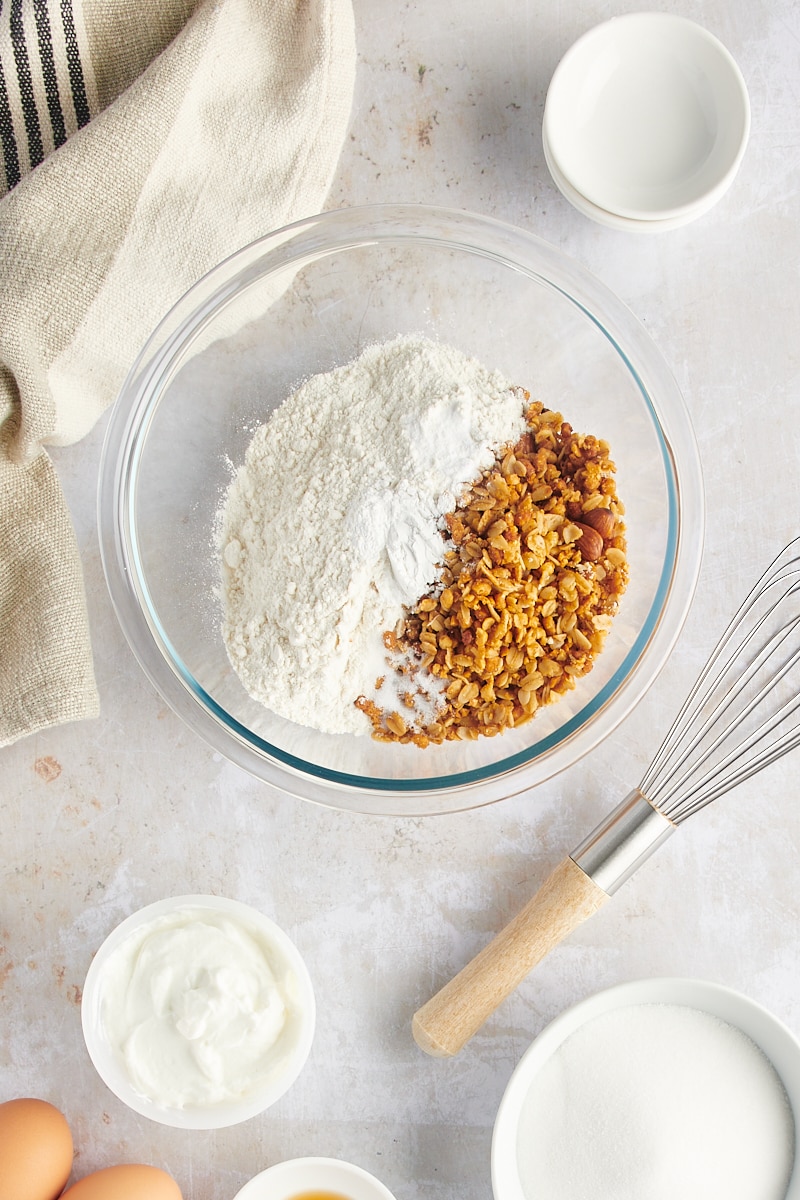 Mix the dry ingredients. Whisk the flour, 3/4 cup granola, baking powder, baking soda, and salt in a medium mixing bowl.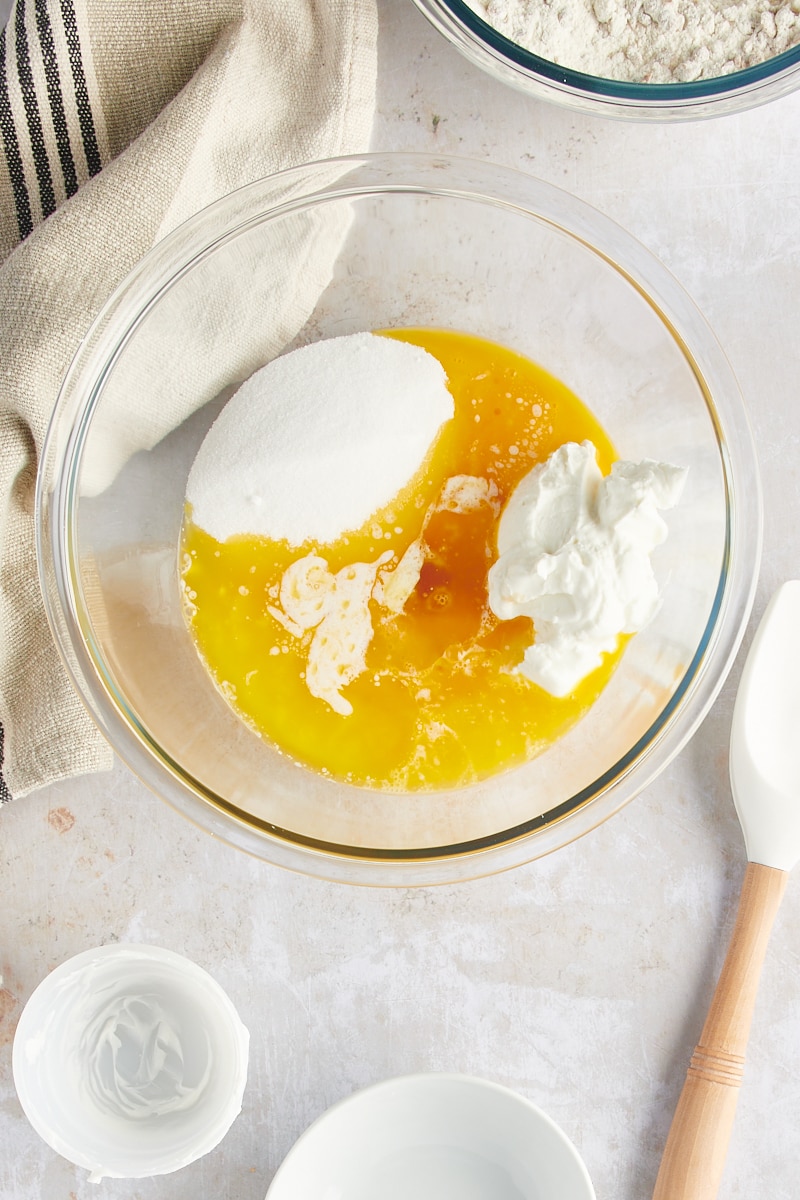 Finish the batter. In another mixing bowl, stir together the sugar, yogurt, butter, eggs, and vanilla extract. Add the flour mixture and mix just until combined.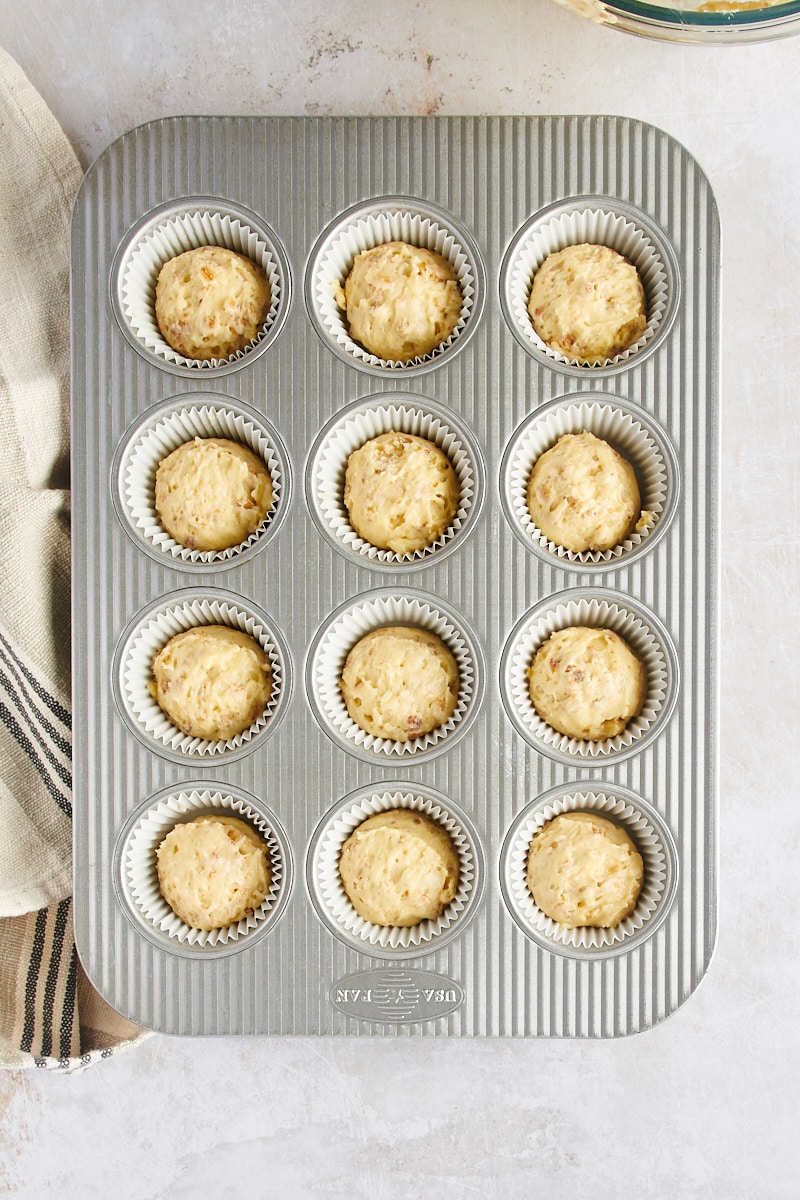 Fill the muffin pan. Divide the batter evenly among the prepared muffin cups; use about 3 tablespoons of batter, filling each cup three-quarters of the way.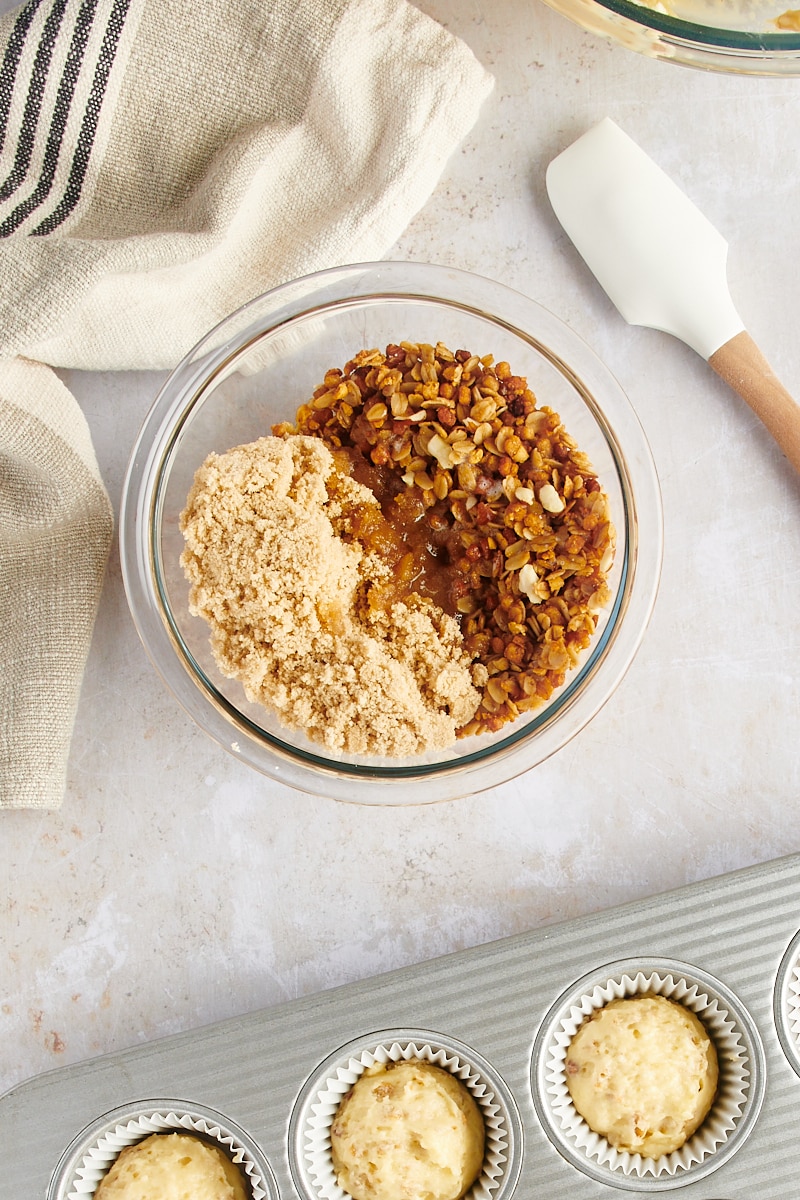 Make the topping. Combine the granola, brown sugar, and butter in a small bowl until the mixture is crumbly. Divide the topping onto the muffins.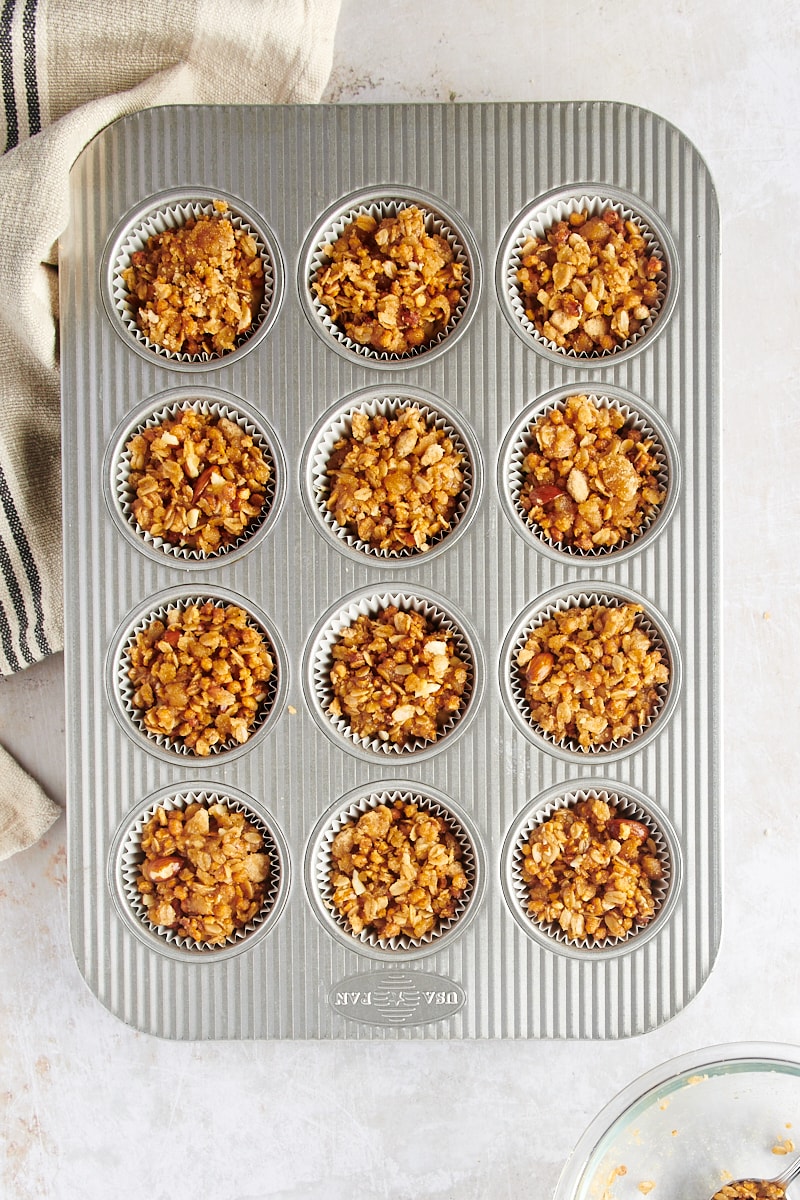 Bake. Place the pan in the oven and bake for 15 to 18 minutes, or until the muffins are lightly browned and a toothpick inserted into the center comes out clean.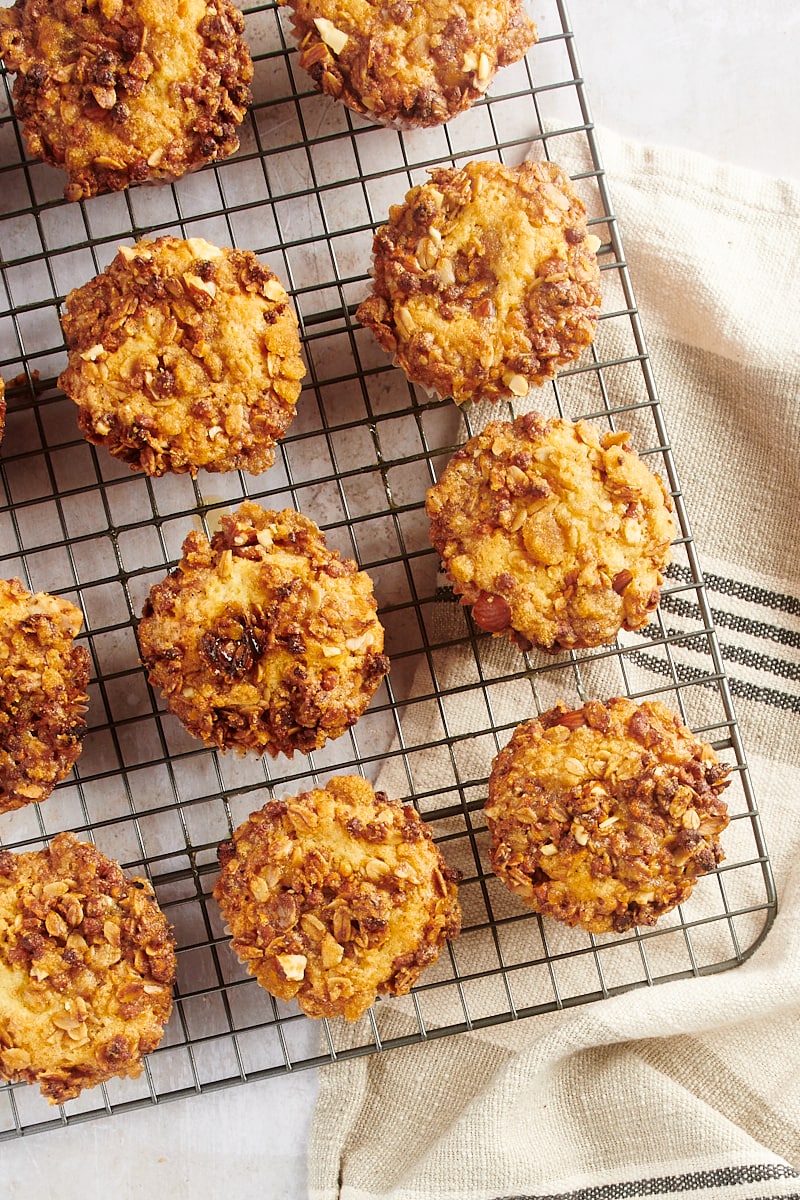 Cool. Set the muffin pans on a wire rack to cool for 5 minutes. Then, carefully remove the muffins from pans and place them directly on the rack to finish cooling. Learn more: Why Every Baker Needs Wire Cooling Racks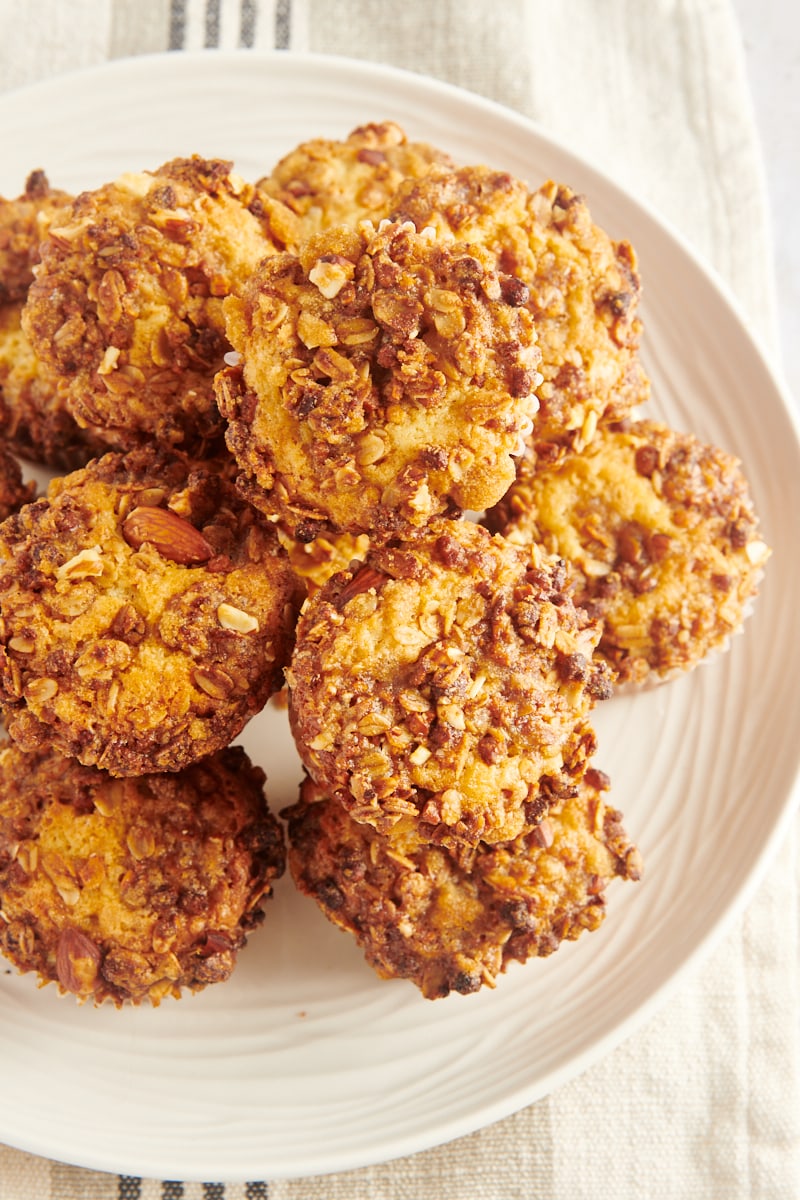 Tips for Success
Read over my baking tips for beginners if you're new to baking. Here are a few additional tips for this yogurt and granola muffin recipe.
Measure accurately. When measuring the flour, weigh it for best results. Otherwise, make sure to spoon it into the measuring cup and level off the top for an accurate measurement. Do not pack down the flour or scoop it when measuring, as this will result in using more flour than necessary.
Divide the batter evenly. Measuring 3 tablespoons of batter into each muffin cup—and then dividing any extra batter evenly—will help ensure that all of the muffins are done baking at the same time.
Press in the topping. Use clean hands or the back of a spoon to gently press the topping into the muffin batter. This will help keep the larger pieces of granola from falling off.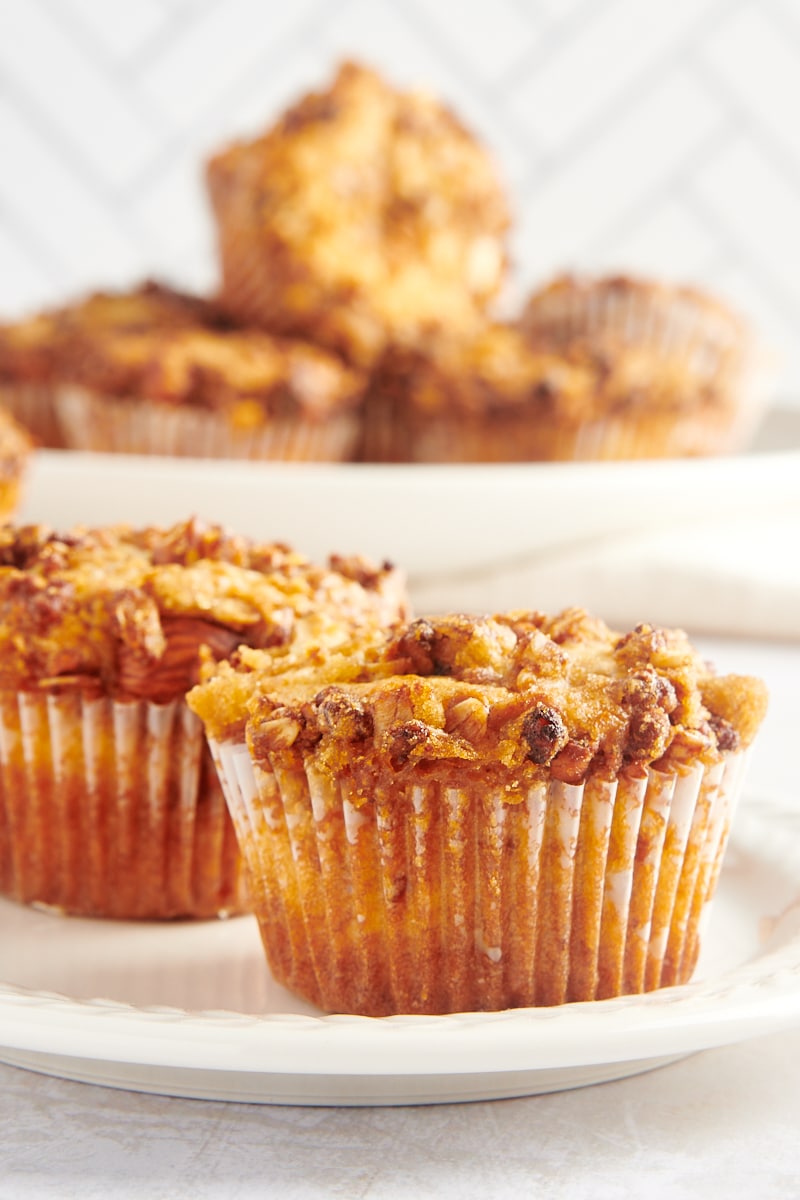 Variations
Using different flavors of granola will change the flavor of your yogurt and granola muffins, as will different flavors of Greek yogurt. A fruit-flavored yogurt will add subtle hints of fruit, while vanilla yogurt will make the vanilla flavor of these muffins more pronounced. Try adding orange zest to the batter for a bright note of citrus, which complements the cozy spices you often find in granola.
How to Store
Store yogurt and granola muffins at room temperature in an airtight container for up to 4 days.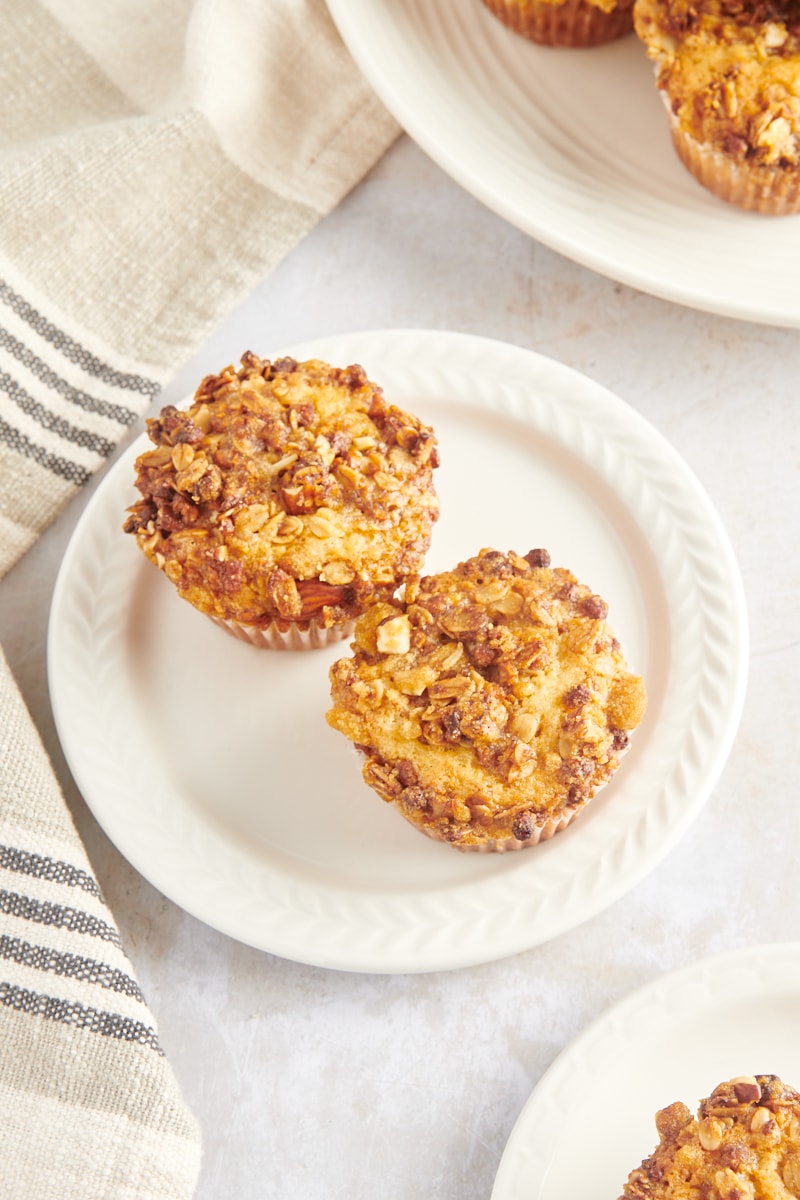 Can This Recipe Be Frozen?
Yes, these muffins can be frozen. Place them in a resealable bag or airtight container and store them in the freezer for up to 2 months. When you're ready to enjoy them, thaw overnight in the refrigerator or at room temperature. For warm muffins, you can take them right out of the freezer and reheat them in the microwave.
More Breakfast Muffin Recipes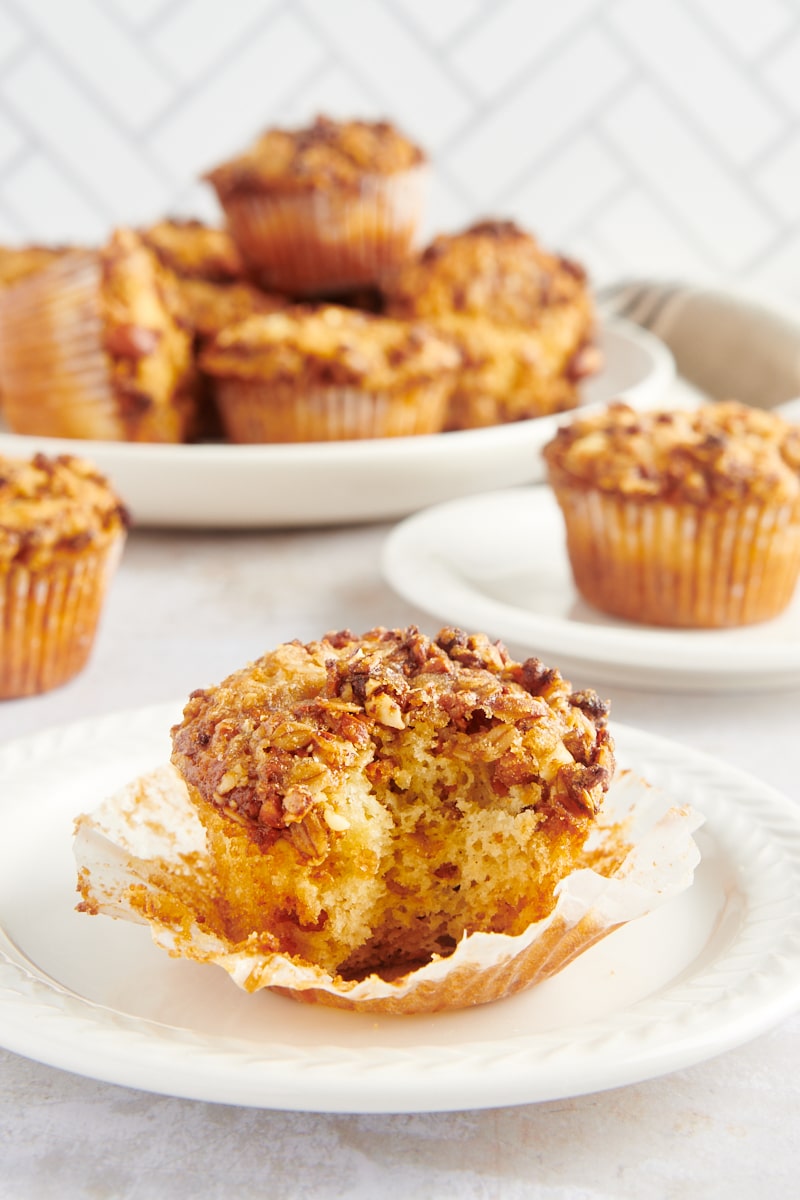 This recipe was originally developed for Go Bold with Butter, where I am a paid contributor