If you love the bright flavor of citrus, you'll love these Triple Citrus Poppy Seed Muffins! They're tender, moist, and made with a combination of lemon, lime, and orange.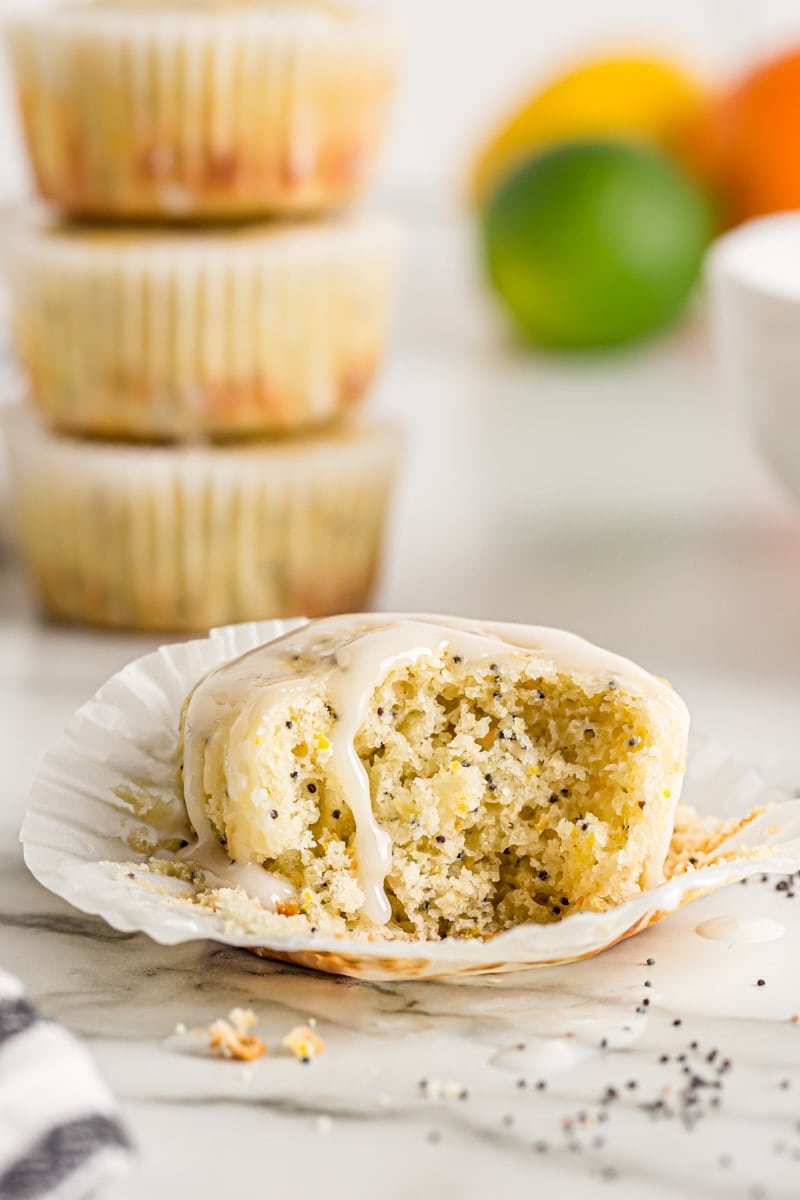 Moist Poppy Seed Muffins With Extra Citrus Flavor!
Classic lemon poppy seed muffins are always a favorite, but I decided to take them to the next level by adding lime and orange to the mix. The blend of these three citrus flavors is fantastic without being overwhelming, and the little bit of crunch from the poppy seeds is the perfect finishing touch!
I've said on more than one occasion that I like my muffins to be a little less sweet than today's standard coffee shop muffins. I kept to that thinking with these muffins, but I did add a sweet glaze, which is something I very rarely do. I love the pleasant sweetness it adds to the muffins, and it dresses them up a bit, too. If you prefer to lean into the natural tartness of citrus, these muffins are perfectly lovely without the glaze.
Oh, and don't be fooled by the deceptively long ingredient list for this recipe—it simply looks longer than a typical ingredient list for muffins because it calls for the zest and juice of the citrus fruits. If you bake often, you'll likely only need to pick up a lemon, lime, and orange from the grocery store, and perhaps one or two other stray ingredients.
(If you love bright citrus flavor, try Triple Citrus Cookies or one of these 14 Luscious Lemon Desserts next!)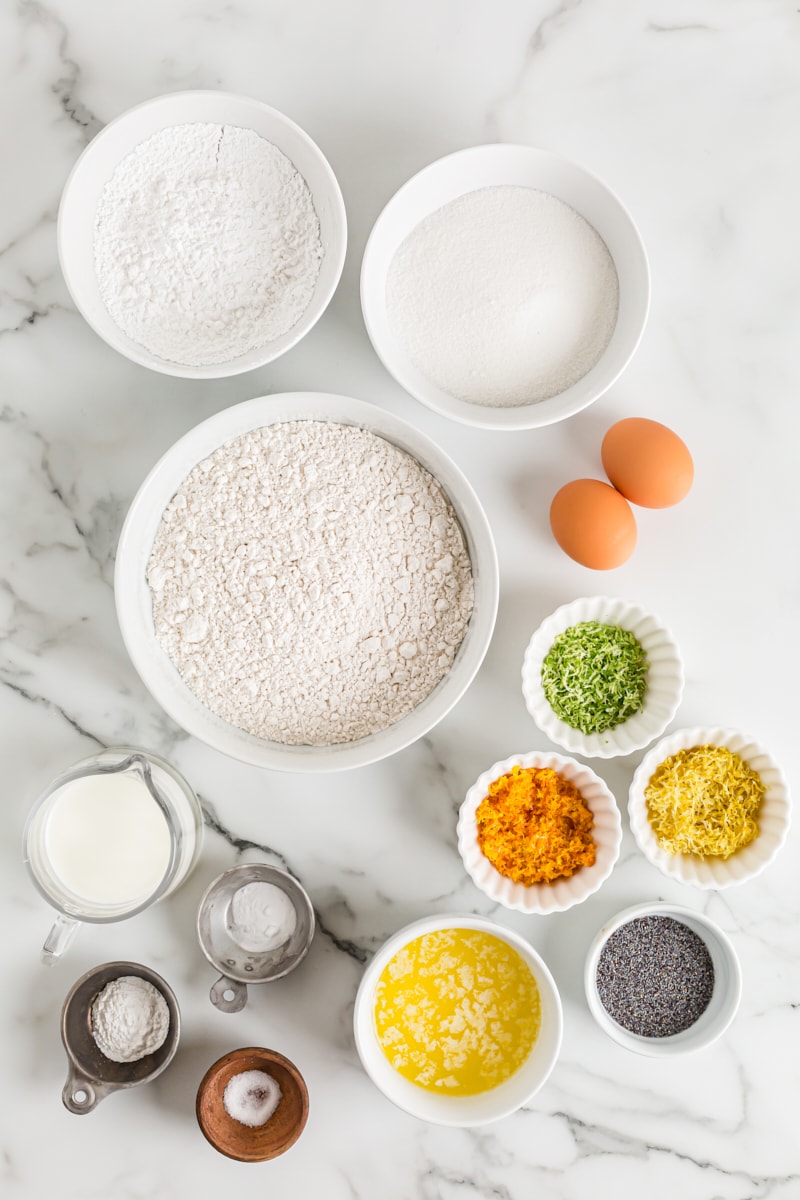 What You'll Need
Scroll down to the recipe card below this post for ingredient quantities and full instructions.
For the muffins:
For the glaze:
Confectioners' sugar
Milk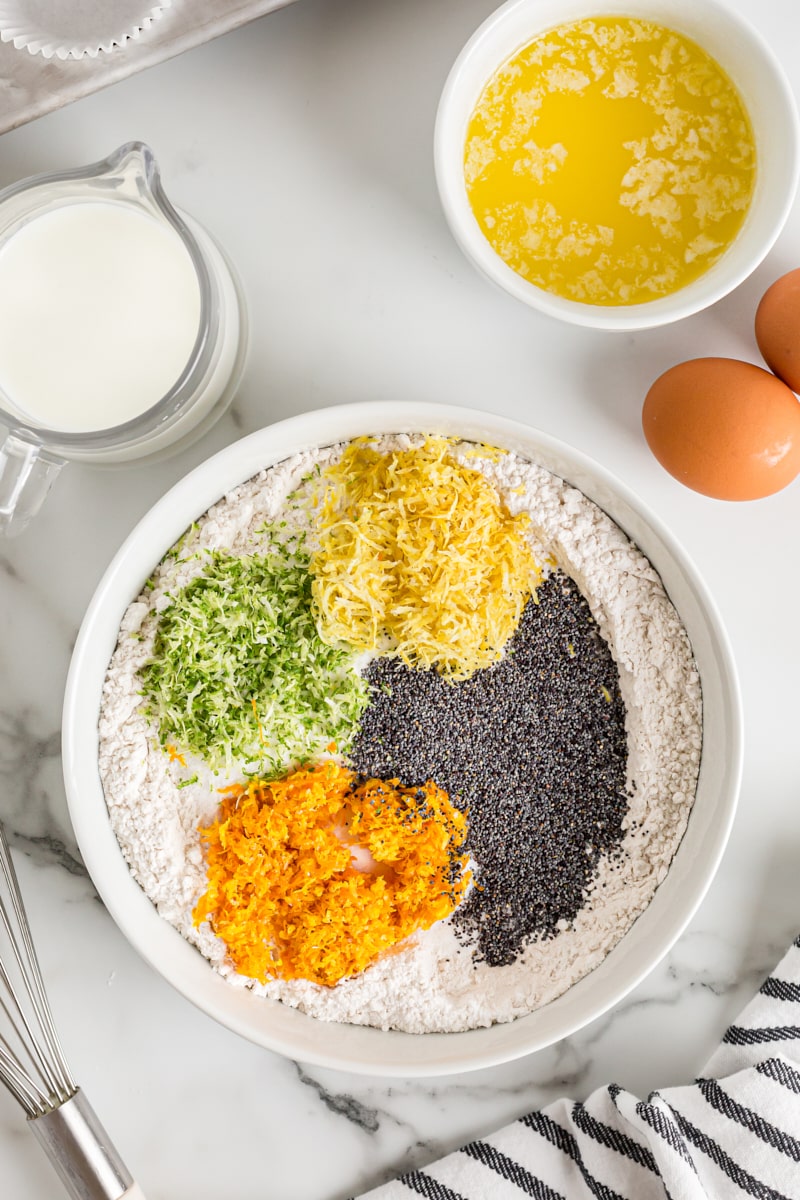 Can I zest with a knife?
Yes, you can zest with a knife if you don't have a tool for zesting. Carefully shave off the outermost layer of citrus fruit peel; use a sharp paring knife to remove long strips, avoiding the white pith beneath as best as you can. Once you have collected enough peel, use your knife to finely chop it.
That said, I highly recommend using a Microplane for zesting. It makes quick work of zesting, plus it has so many other uses that it's one of my favorite kitchen tools.
How to Make Triple Citrus Poppy Seed Muffins
Making these muffins isn't any more difficult than making lemon poppy seed muffins! Here's what you'll need to do.
Prepare. Preheat your oven to 400°F and grease or line 12 standard muffin cups.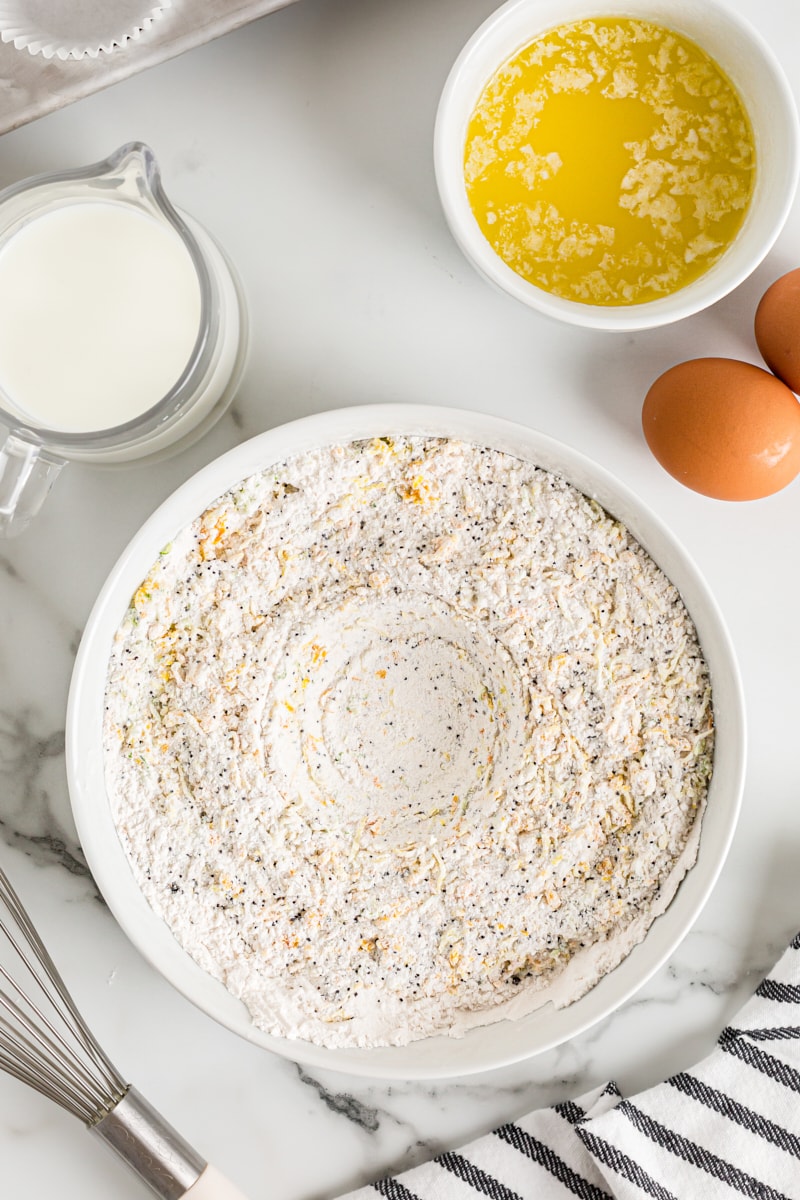 Mix the dry ingredients. In a large mixing bowl, whisk the flour, sugar, poppy seeds, baking powder, baking soda, salt, and the citrus zest. Form a well in the center of the mixture.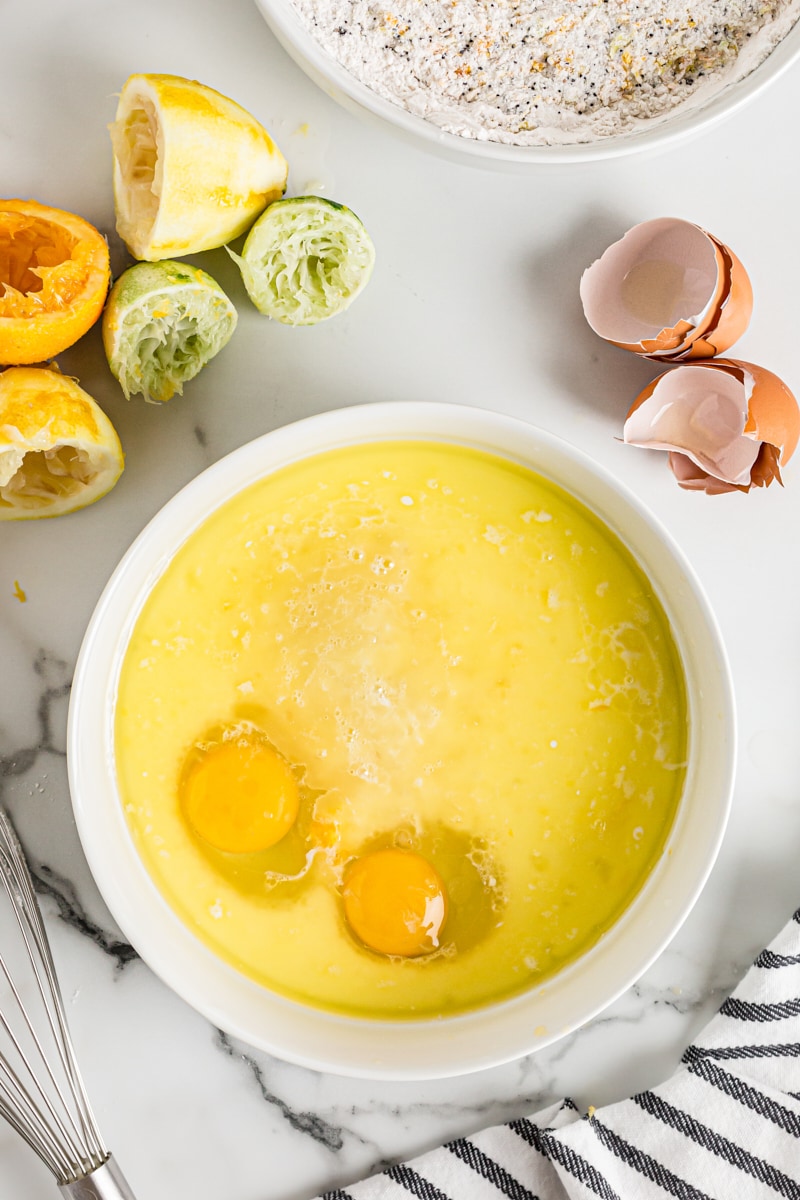 Finish the batter. In another mixing bowl, combine the cooled butter, milk, eggs, and citrus juice. Pour this into the flour mixture and stir until just combined.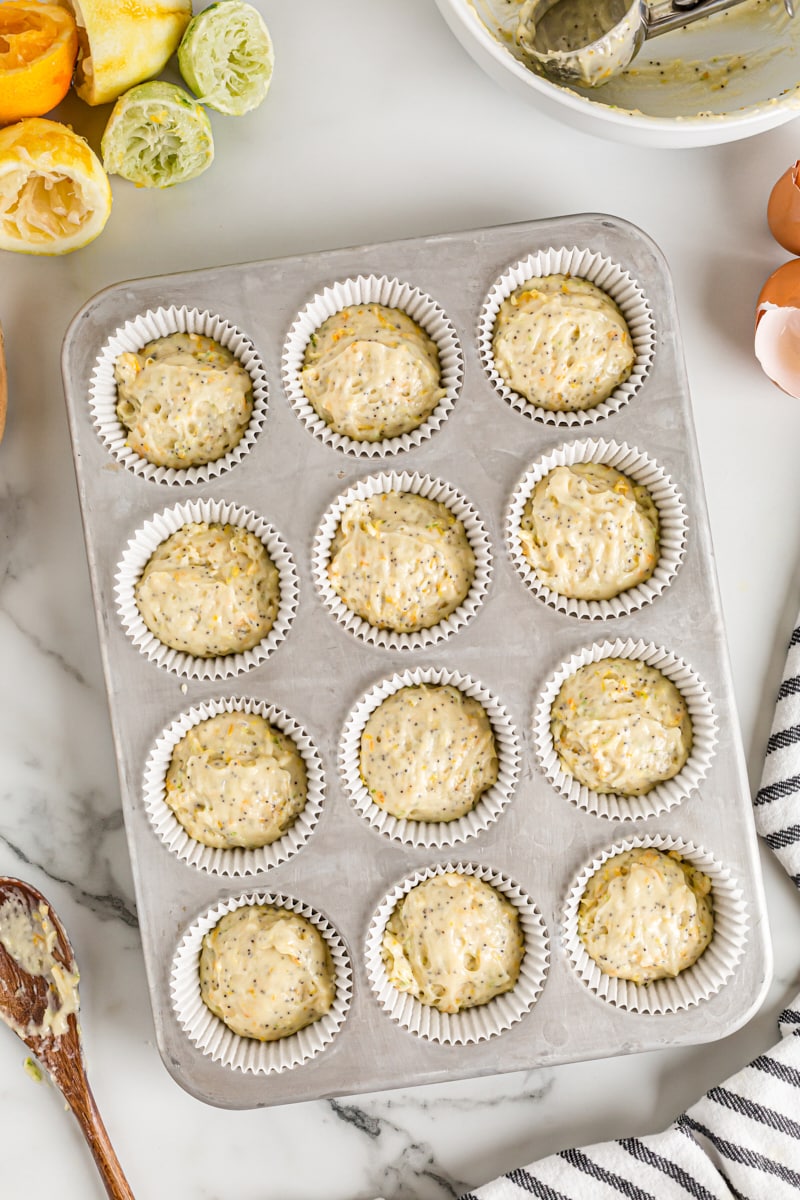 Bake. Divide the batter among the 12 muffin cups (they should be 3/4 full) and bake the muffins for 14 to 18 minutes, or until the edges are browned and a toothpick inserted into the center comes out clean.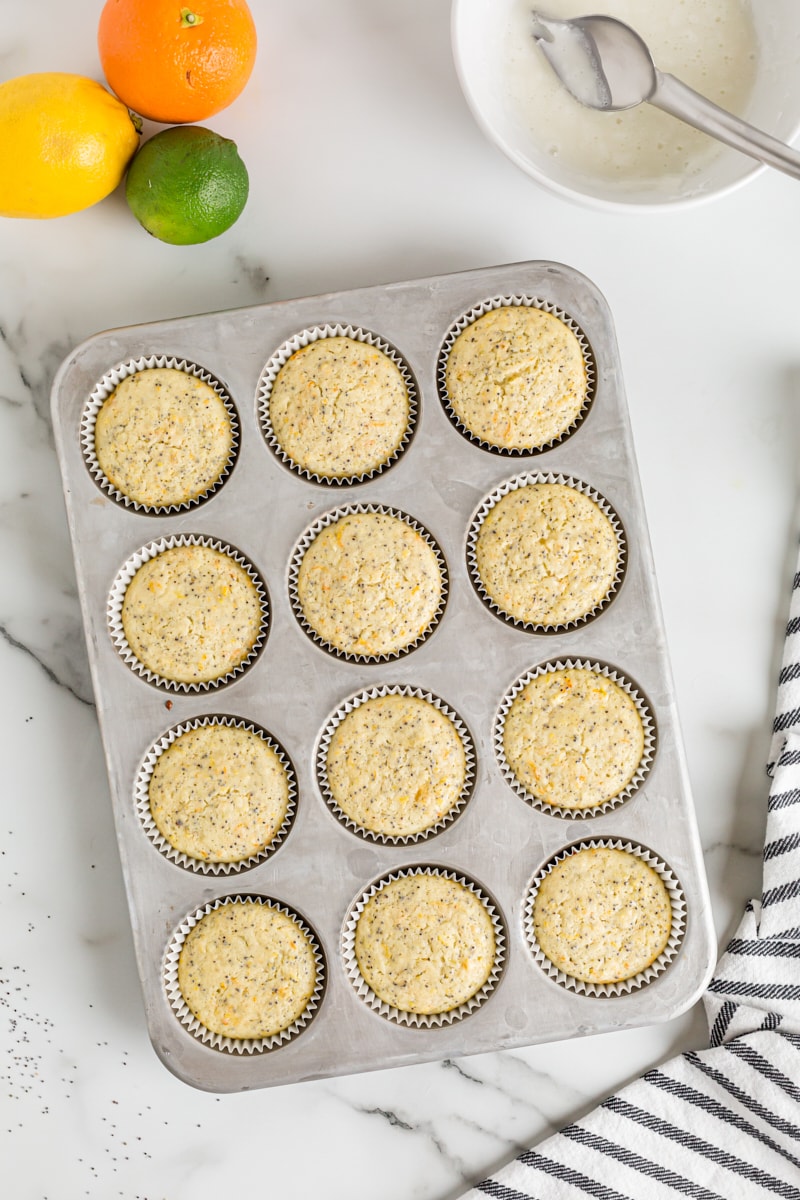 Cool. Let the muffins cool in the pan for 10 minutes, then transfer them to a wire rack to cool completely. (Learn more: Why Every Baker Needs Wire Cooling Racks)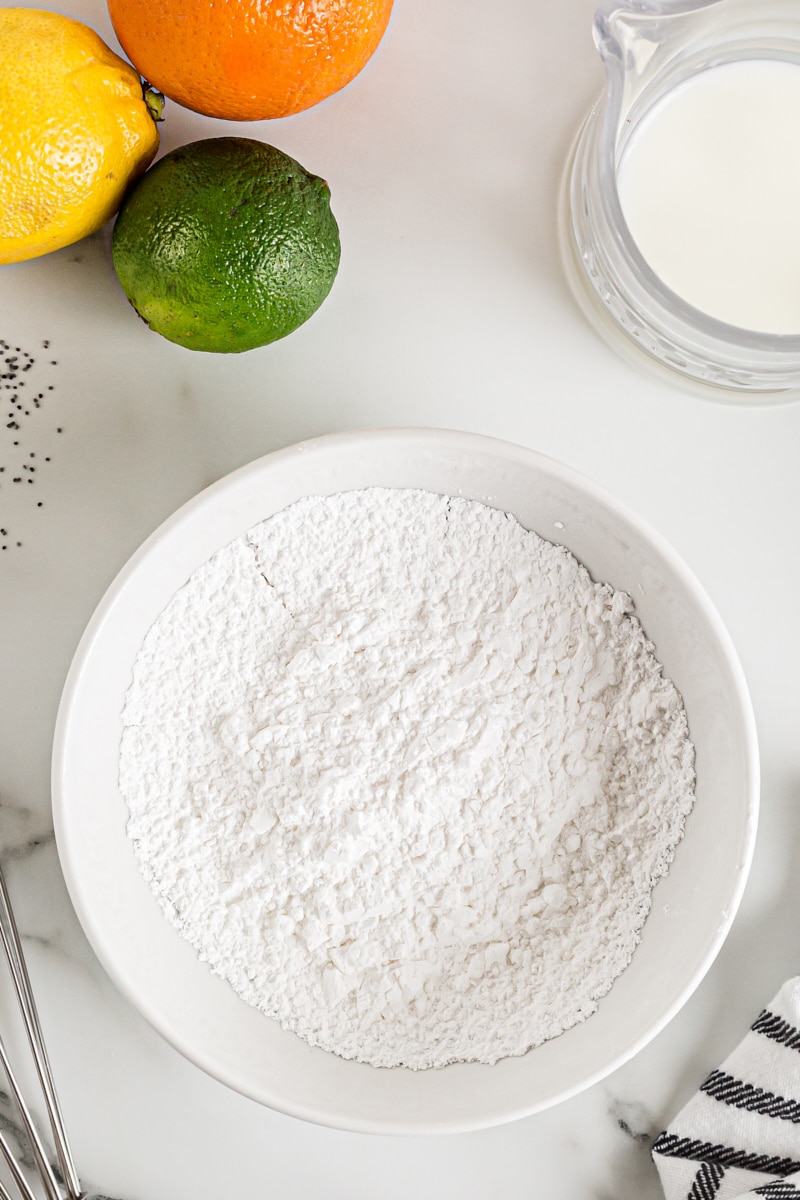 Make the glaze. Combine the confectioners' sugar and 1 tablespoon of milk, stirring until the mixture is smooth and all the sugar is incorporated. If necessary, add more milk to reach a pourable consistency. Drizzle the glaze over the muffins once they've cooled.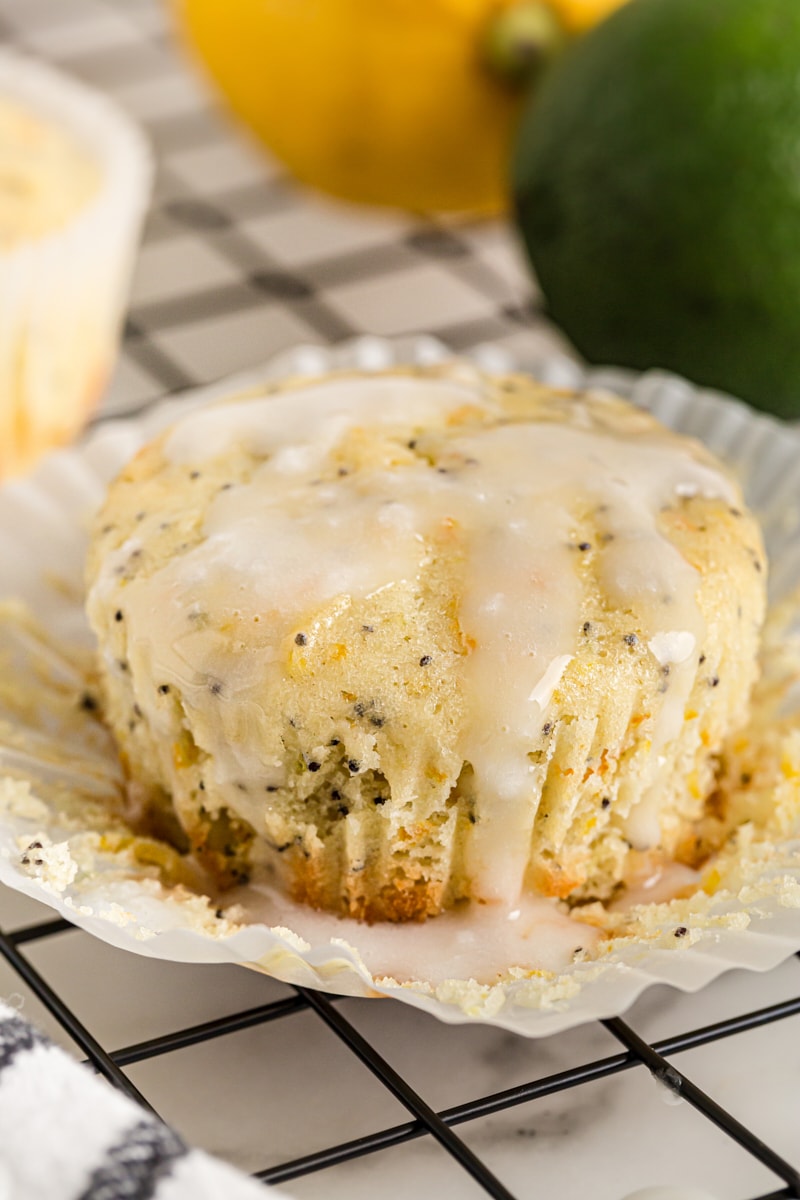 Tips for Success
Here are some hints and tips for perfect poppy seed muffins!
Don't over-mix. It's always better to have some streaks of flour in the batter than to mix it too much and end up with tough muffins.
Adjusting the glaze recipe. The glaze makes enough for a light drizzle; if you want more than that, I recommend doubling the recipe.
Sift the confectioners' sugar. Otherwise, you're likely to have lumps in your glaze!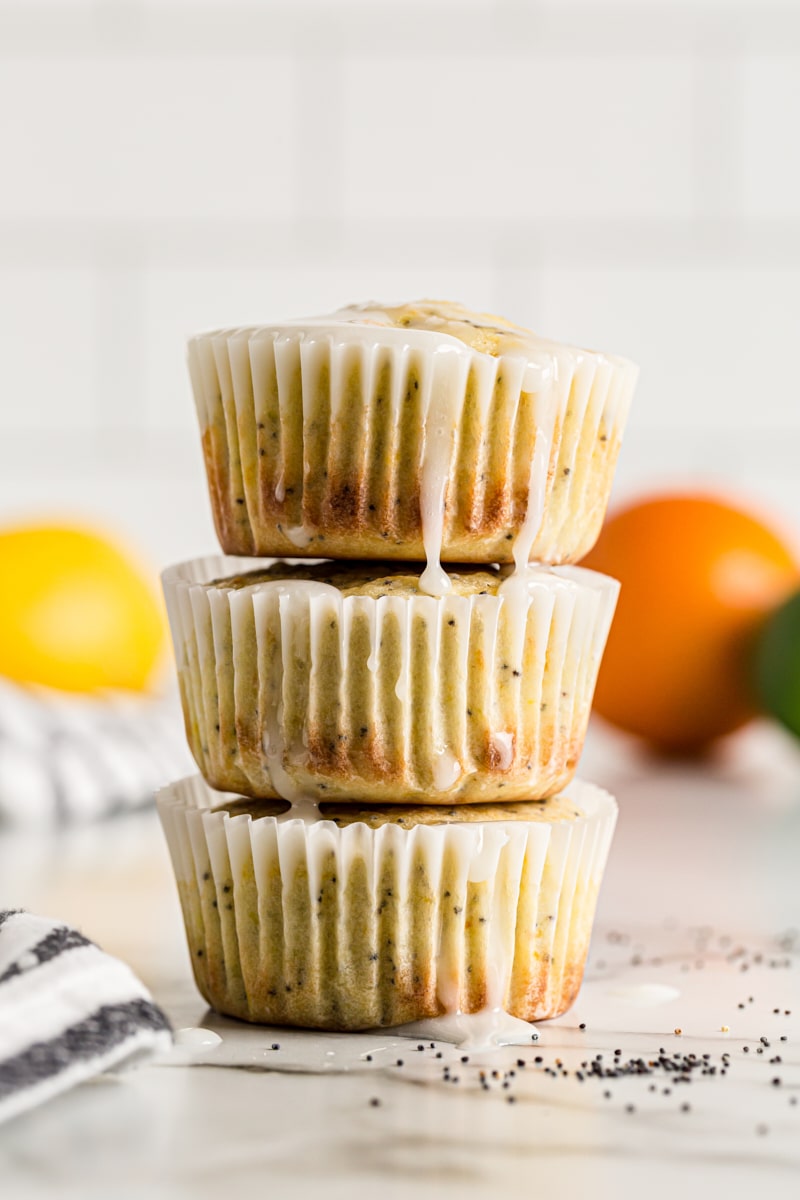 How to Store
Store your Triple Citrus Poppy Seed Muffins in an airtight container at room temperature for 3 to 4 days.
Can This Recipe Be Frozen?
Yes, you can freeze these muffins for up to 3 months. Store them in an airtight container or in a freezer bag; if you only have a few muffins to freeze, you can wrap them individually if you prefer.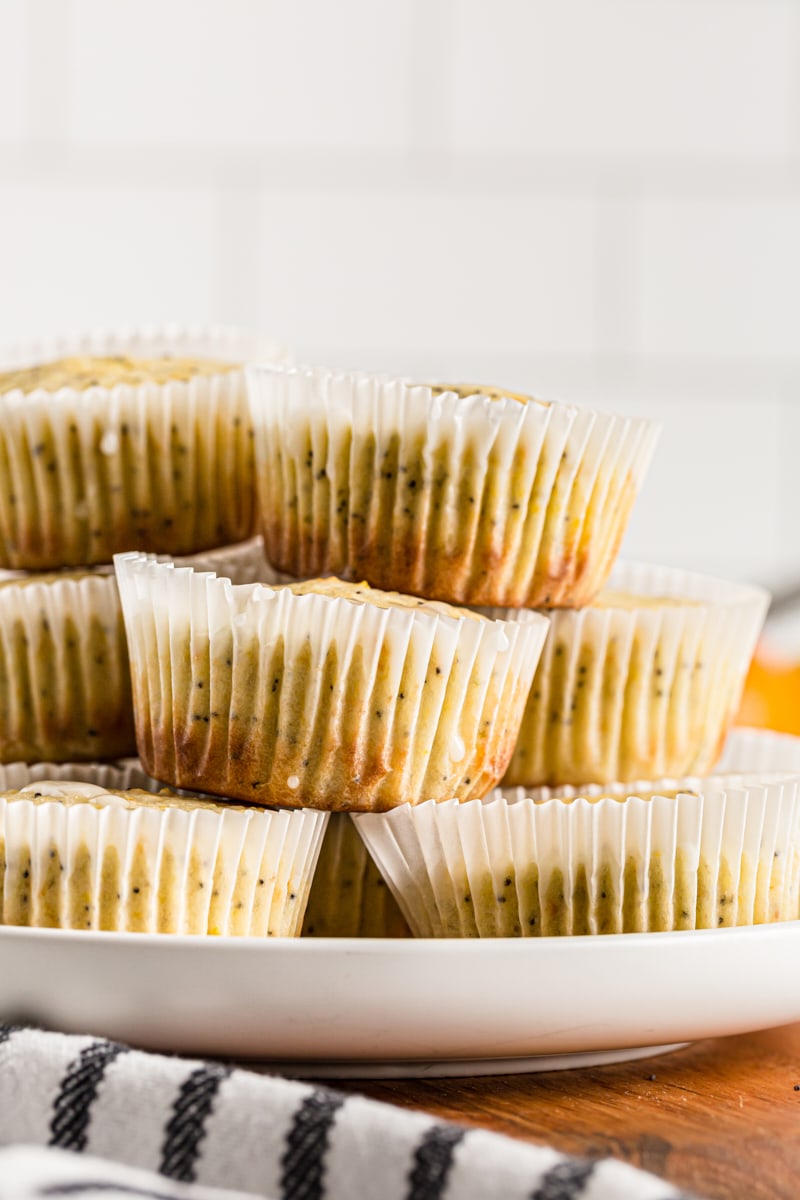 Visit the Recipe Index for more muffin recipes.