March 15, 2018
No-Bake Irish Cream Cheesecake
This No-Bake Irish Cream Cheesecake recipe is so simple to make and so amazingly delicious. Add this one to your list of irresistible desserts!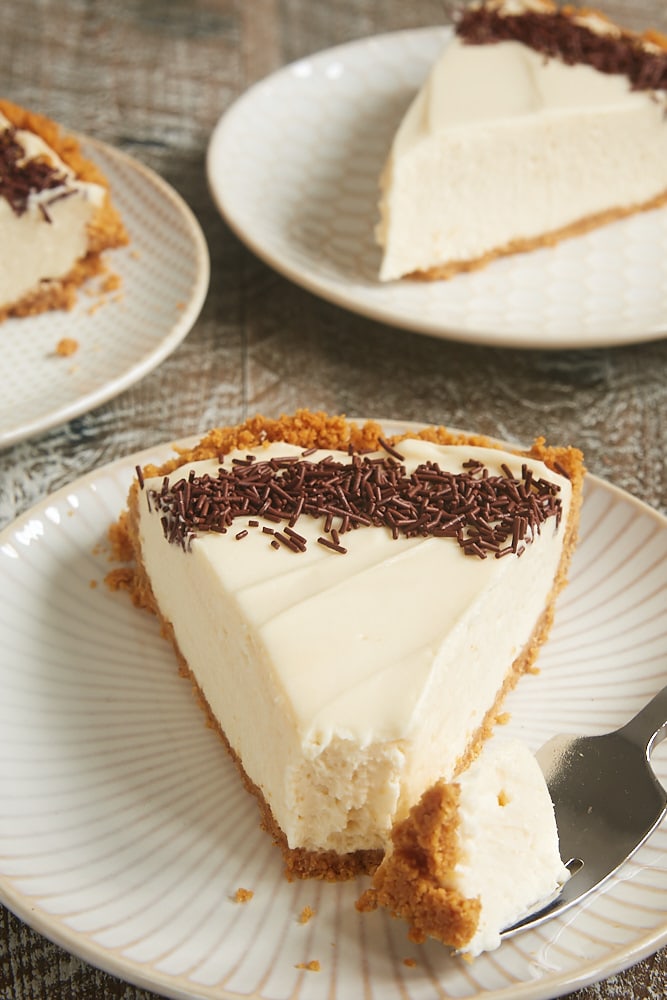 I have a long-standing infatuation with Irish cream. It's one of those things that I always try to keep stocked. It's long been my favorite addition to hot chocolate, but I think I may love it even more in this No-Bake Irish Cream Cheesecake.
At its heart, this is a pretty straightforward no-bake cheesecake. There's a cookie crust and a simple vanilla cheesecake filling. But, then you add some Irish cream, and now we're talking!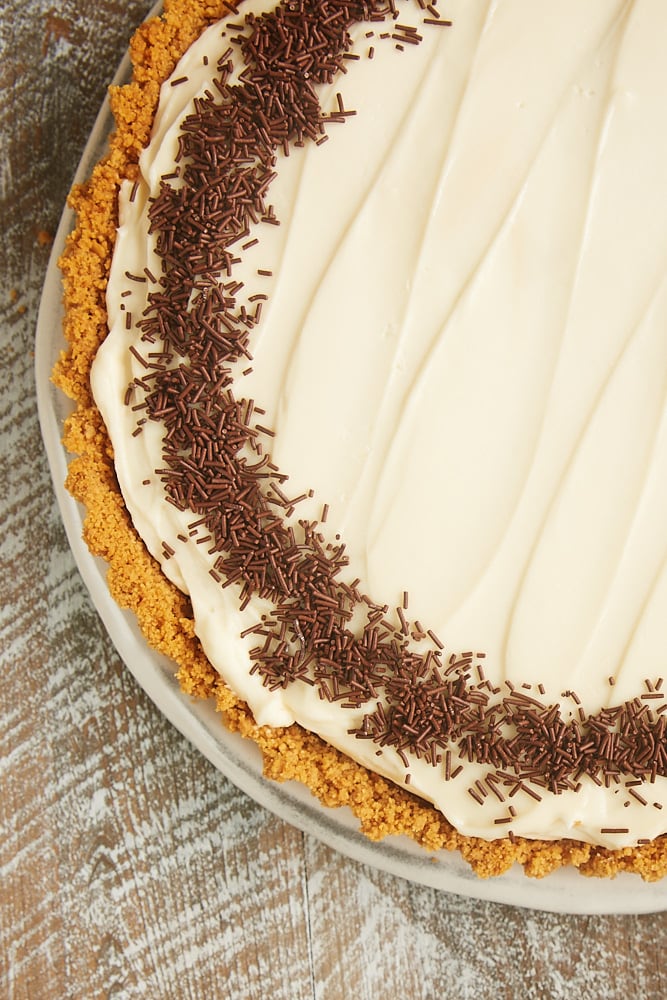 While I used a traditional graham cracker crust for the cheesecake you see here, there are certainly plenty of crust options for some variety. Chocolate graham crackers, shortbread cookies, and more would make for a good cookie crust to go with this cheesecake filling. And if you need a few tips on how to make a cookie crust, be sure to see How to Make a Cookie Crumb Crust.
Most of my no-bake cheesecakes come with a disclaimer. I like to bake the crust briefly just to make it hold up a little better. However, that's completely optional if you want to skip the oven time entirely. For a similar result, just chill the crust in the pan for about half an hour before adding the filling.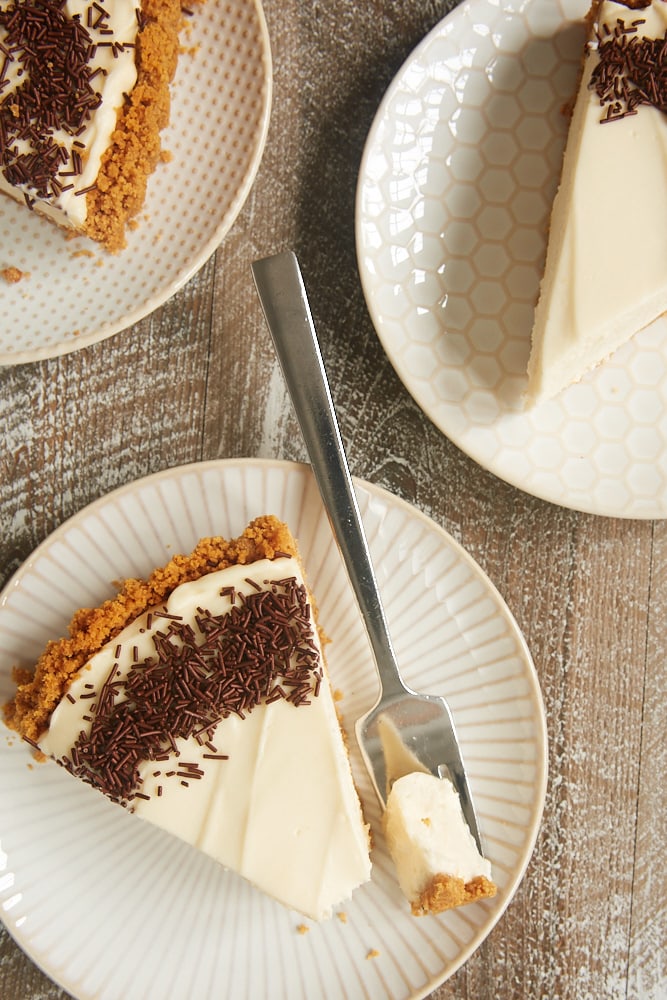 This cheesecake can be made in either a tart pan or a pie pan. I usually prefer to use a tart pan with a removable bottom for no-bake cheesecakes. I find that pan makes the cheesecake easier to serve, and I like being able to place the entire cheesecake easily on a serving plate. However, if you don't have a tart pan or just prefer a pie pan, then that's just fine.
There are plenty of topping options for this cheesecake. You could decorate it with some piped whipped cream, a chocolate sauce, nuts, or even a chocolate ganache. I keep things simple with just some chocolate sprinkles to dress it up a bit. Or just leave it unadorned, and enjoy it all that Irish cream goodness!
Find more no-bake cheesecakes in the Recipe Index.
More Irish Cream Desserts
We are a participant in the Amazon Services LLC Associates Program, an affiliate advertising program designed to provide a means for us to earn fees by linking to Amazon.com and affiliated sites.
No-Bake Irish Cream Cheesecake
Yield: 8 to 10 servings
Prep Time: 20 minutes
Cook Time: 12 minutes*
This No-Bake Irish Cream Cheesecake offers a simple twist on a classic no-bake cheesecake recipe. Such wonderful flavor!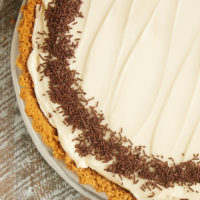 Ingredients:
For the crust:
7 ounces (about 1 & 3/4 cups) graham cracker crumbs
5 tablespoons unsalted butter, melted
For the filling:
16 ounces cream cheese, at room temperature
1 cup granulated sugar
1/4 cup Irish cream liqueur
1/2 teaspoon vanilla extract
1 cup heavy cream
chocolate sprinkles, for optional garnish
Directions:
To make the crust:
Preheat oven to 350°F.* Lightly grease a 9-inch pie or tart pan.
Combine the cookie crumbs and butter until thoroughly mixed. Press into the bottom and up the sides of the prepared pan.
Bake 12 minutes. Set aside to cool.
To make the filling:
Using an electric mixer on medium speed, beat the cream cheese, sugar, Irish cream, and vanilla extract until thoroughly combined and smooth.
In a separate bowl, use an electric mixer with a whisk attachment to whip the cream on high until soft peaks form.
Fold about 1/3 of the whipped cream into the cream cheese mixture. Then gently fold in the remaining whipped cream.
Spread the filling evenly in the pie pan. If desired, garnish with chocolate sprinkles. Refrigerate at least 4 hours before serving.
Notes:
*I like to bake cookie crusts briefly to make them a bit firmer. If you want to skip the oven time, simply chill the crust for about half an hour before adding the filling.