March 8, 2018
Coconut Macadamia Chocolate Chip Cookies
Coconut Macadamia Chocolate Chip Cookies are brimming with so many fantastic flavors. Sweet coconut, crunchy macadamias, and two kinds of chocolate make these soft, chewy cookies a big-time winner!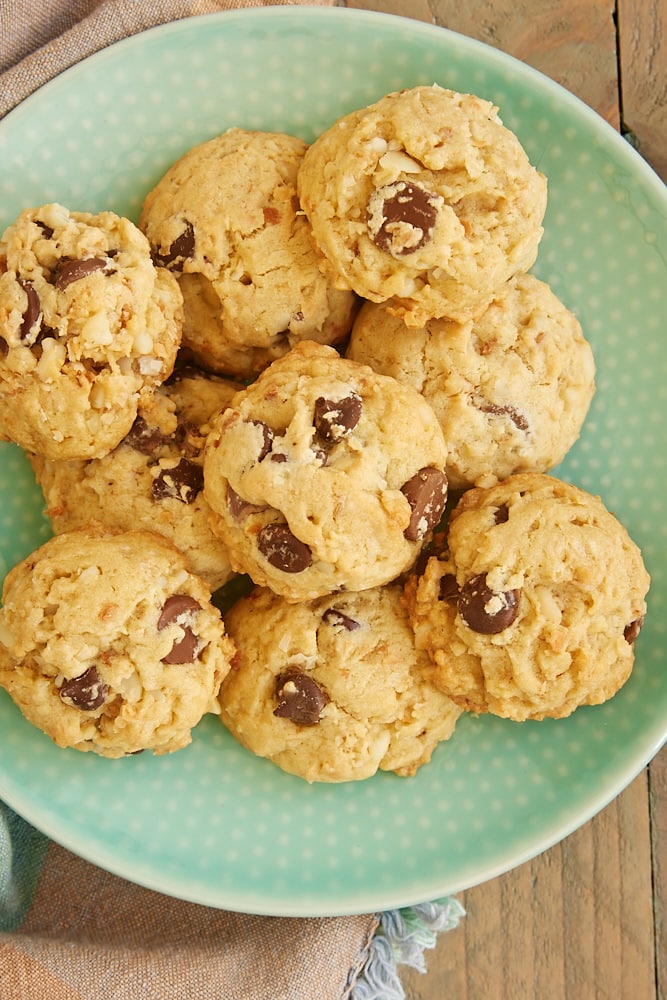 I usually end up with the cookie recipes I share with you in one of two ways. Either I have an idea for a very specific cookie, or I get the urge to bake cookies and see what ingredients I've got in my kitchen. This Coconut Macadamia Chocolate Chip Cookies recipe falls into the latter category with a combination of some favorite flavors jam-packed into cookie form.
I have to say that some of my favorite cookie recipes were quite serendipitous. It's fun to mix and match all the add-ins and see what happens!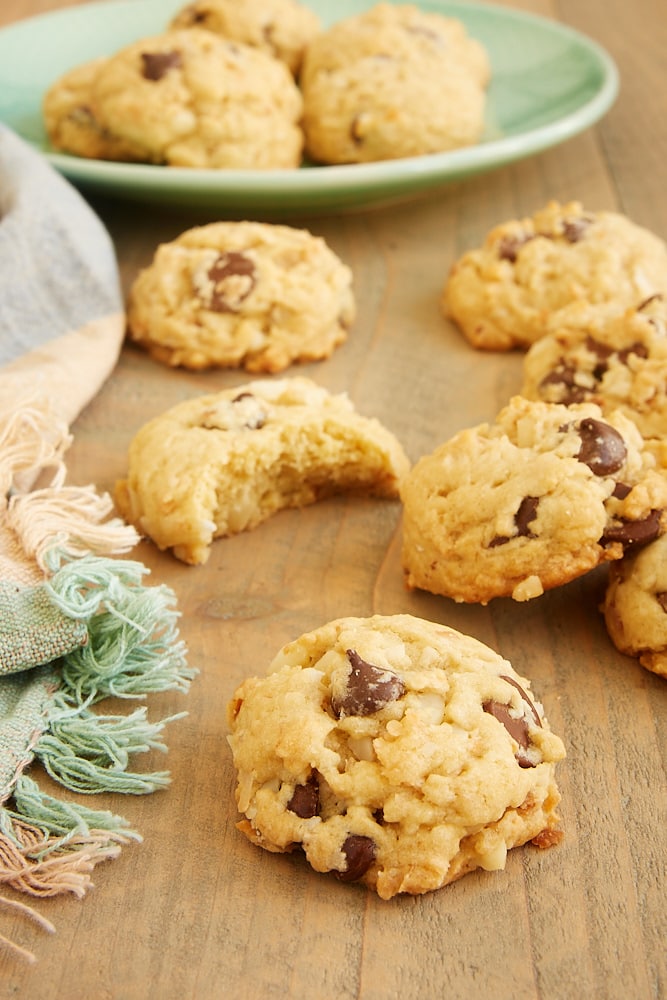 These cookies are made with lots of brown sugar, making them super soft. I almost always try to incorporate at least some brown sugar into my cookies, but these are all about it. If you like your cookies wonderfully soft, then you're going to love the texture of these.
You'll notice in the recipe that I recommend toasting the coconut before adding it to the cookie dough. That is, of course, optional, but the flavor is so good that I urge you to take the few minutes to toast the coconut before you start making the dough. And if you need a reminder for how to toast coconut, see the note at the end of the recipe.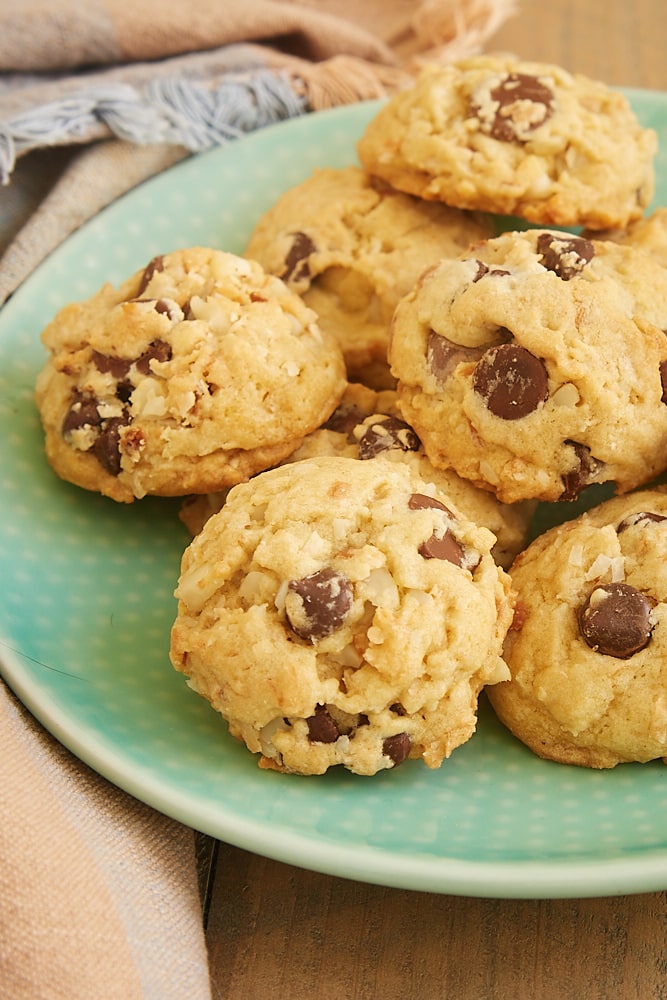 I also opt for both semisweet and milk chocolate chips in these cookies. I love the different sweetness levels mixing together along with the coconut and macadamias. If you prefer, you can stick with just one kind of chocolate chips, or even try white chocolate chips. But try adding two different kinds some time and see what a difference it can make.
As much as I love simple chocolate chip cookies, it seems I can never resist adding more flavors and textures to just about every batch. As well as the flavors of these Coconut Macadamia Chocolate Chip Cookies work together, I'm even more of a believer in spontaneous cookie baking!
Find more cookie recipes in the Recipe Index.
Find these flavors in other great cookie recipes
We are a participant in the Amazon Services LLC Associates Program, an affiliate advertising program designed to provide a means for us to earn fees by linking to Amazon.com and affiliated sites.
Coconut Macadamia Chocolate Chip Cookies
Yield: about 48 cookies
Prep Time: 20 minutes
Cook Time: 16 minutes per pan
The combination of sweet coconut, crunchy macadamias, and plenty of chocolate makes these Coconut Macadamia Chocolate Chip Cookies a definite crowd-pleaser!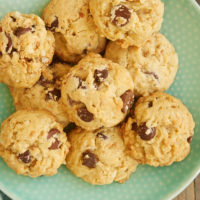 Ingredients:
3 cups all-purpose flour
1 teaspoon baking powder
1/2 teaspoon baking soda
1/2 teaspoon salt
3/4 cup unsalted butter, softened
1 & 1/4 cups firmly packed light brown sugar
2 large eggs
1 teaspoon vanilla extract
1 cup sweetened shredded coconut, toasted*
3/4 cup macadamia nuts
1/2 cup semisweet chocolate chips
1/2 cup milk chocolate chips
Directions:
Preheat oven to 350°F. Line baking sheets with parchment paper or silicone liners.
Whisk together the flour, baking powder, baking soda, and salt. Set aside.
Using an electric mixer on medium speed, beat the butter and brown sugar until combined. Add the eggs, one at a time, mixing well after each addition. Mix in the vanilla.
Reduce mixer speed to low. Gradually add the flour mixture, mixing just until combined.
Stir in the coconut, macadamias, and both kinds of chocolate chips.
Drop the dough by 2-tablespoon portions onto the prepared pans. Bake, one pan at a time, 14 to 16 minutes, or until the cookies are lightly browned.
Cool the cookies on the pan for 5 minutes. Then transfer the cookies to a wire rack to cool completely.
Notes:
*To toast, spread the coconut in a single layer on a lined, rimmed baking sheet. Bake at 350°F for 12 to 15 minutes, or until toasted. Stir as needed to prevent over-browning.