October 31, 2016
Tres Leches Rum Cake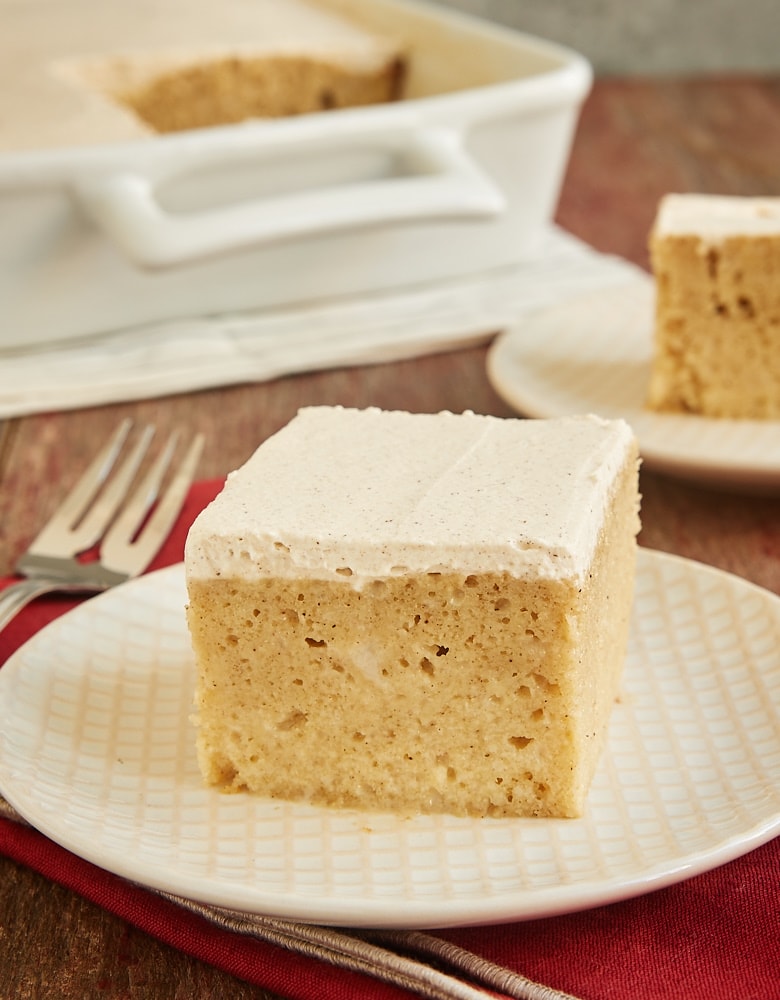 I suppose that it should come as no surprise that I don't share my baking fails with you. But I do have my fair share of them. For instance, I've tried some type of tres leches cake a couple of times with not so good results. Recently, though, I decided to give it another shot. And I'm oh-so glad I did.
For those of you not familiar with it, a tres leches cake is usually a simple cake that is baked and then soaked with a mixture of three kinds of milk. As you might guess, all that liquid soaked into the cake makes for a very moist cake. It's so soft and gooey and sticky and just plain good.

This beauty is not only a tres leches cake, but it is also a rum cake. Both are traditionally a type of poke cake, where holes are poked over the surface of the cake. Then a liquid, like the three milks of a tres leches cake or the rum in a rum cake, is poured over the cake and allowed to soak into the cake. In this case, you get the best of both cakes with a three-milk mixture combined with a bit of rum.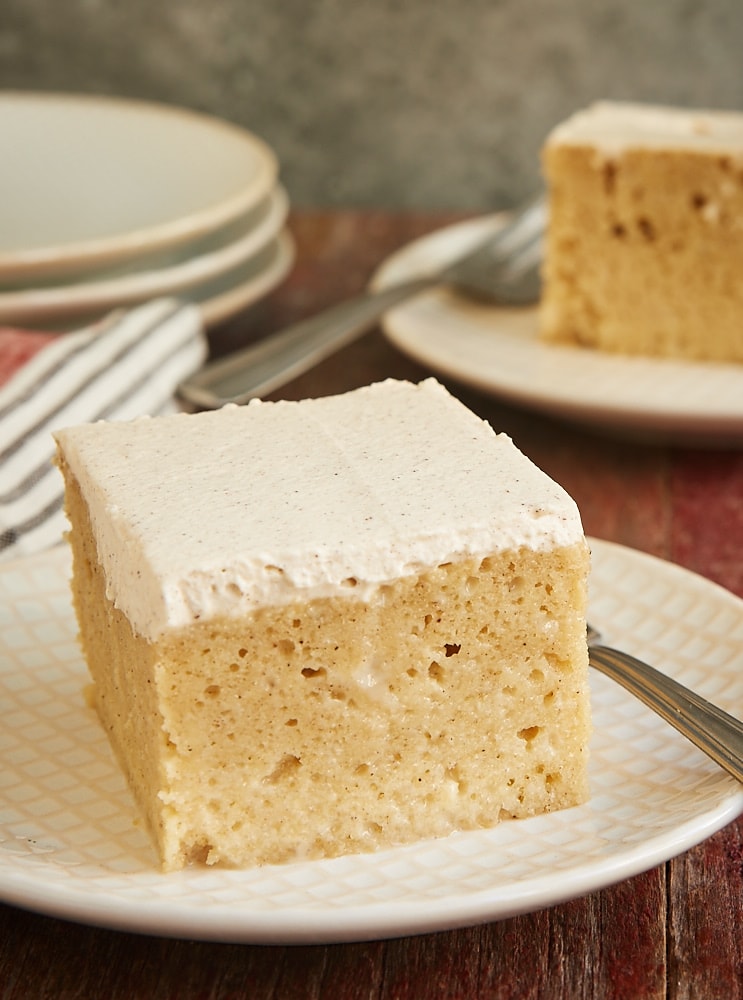 The milk mixture of a tres leches cake more traditionally includes cream, but this one uses sour cream for a little variety in flavor and texture. And for a little extra flavor, cinnamon and nutmeg are mixed into the cake, and the frosting is simply a cinnamon whipped cream. That little bit of spice really elevates the flavor and makes this cake even more fantastic.
I'll give you one bit of advice about getting the cake ready to add the three milks mixture. Don't be shy when it comes to poking holes in the cake. You want plenty so that the liquid has ample opportunity to get down into the cake. After you start adding the milk mixture, you can add more holes if you see any problem spots where the liquid is pooling.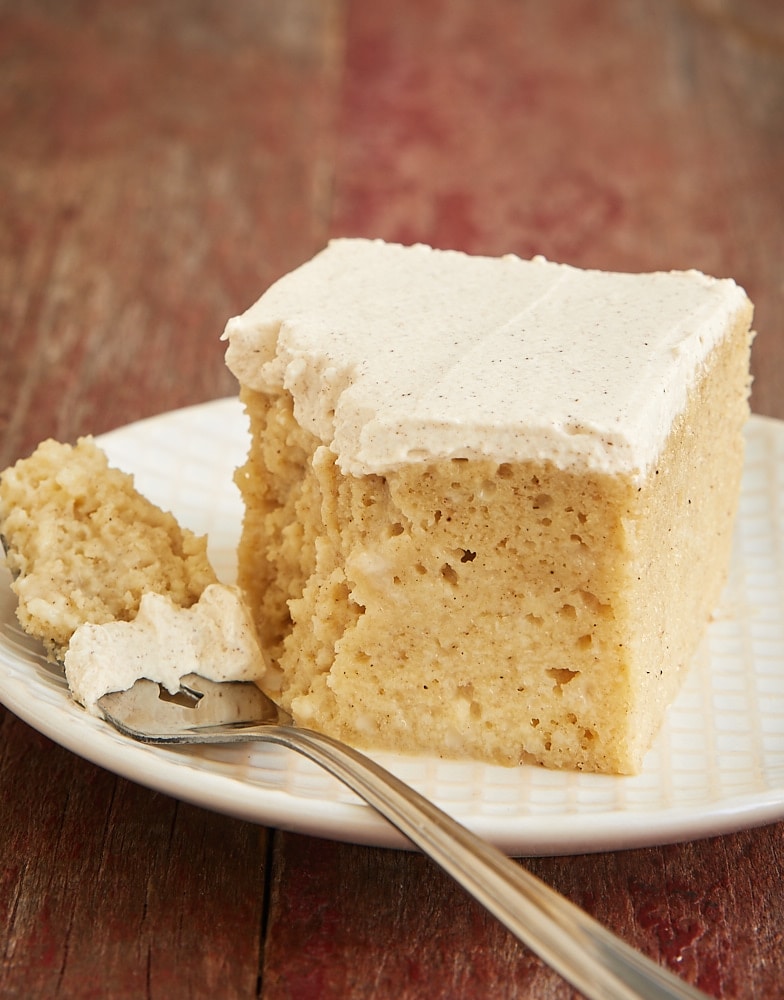 And take your time. Don't pour it all on at once. I recommend using a large spoon or a small measuring cup to add the liquid a bit at a time. Then just give each bit several seconds to start soaking into the cake before you add more.
This cake ranks highly on my list of favorite grown-up cakes. It's perfect for the over-21 crowd who loves dessert. Make this cake for a gathering with friends, a holiday party, or just because!
Find more cake recipes in the Recipe Index.
Tres Leches Rum Cake
Yield: 20 to 24 servings
Prep Time:30 minutes
Cook Time:35 minutes
Tres Leches Rum Cake is an amazingly delicious, moist, flavorful cake. A favorite grown-up dessert!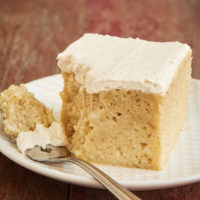 Ingredients:
For the cake:
3 cups all-purpose flour
1 & 1/2 teaspoons baking powder
1 teaspoon ground cinnamon
1/2 teaspoon baking soda
1/2 teaspoon salt
1/4 teaspoon ground nutmeg
3/4 cup unsalted butter, softened
1 & 1/2 cups granulated sugar
3 large eggs
1 cup milk
6 tablespoons rum
For the topping:
14 ounces sweetened condensed milk
12 ounces evaporated milk
1/2 cup sour cream
2 tablespoons rum
3/4 cup heavy cream
2 tablespoons granulated sugar or confectioners' sugar
1/2 teaspoon ground cinnamon
Directions:
To make the cake:
Preheat oven to 350°F. Grease a 9″x 13″x 2″ baking pan.
Whisk together the flour, baking powder, cinnamon, baking soda, salt, and nutmeg. Set aside.
Using an electric mixer on medium speed, beat the butter and sugar until light and fluffy. Add the eggs, one at a time, mixing well after each addition.
Reduce mixer speed to low. Add the flour mixture in three portions, alternating with two portions of the milk. Add the rum with the last addition of milk. Mix just until combined.
Transfer the batter to the prepared pan, and spread evenly. Bake 30 to 35 minutes, or until the cake is golden brown and a pick inserted into the center comes out clean.
Set aside to cool for 10 minutes. Then use a fork to poke holes in the cake.*
To make the topping:
Whisk together the condensed milk, evaporated milk, sour cream, and rum. Slowly pour over the cake, letting the mixture soak into the cake. Poke more holes in the cake if necessary.*
Loosely cover the cake and refrigerate at least an hour. (Overnight is even better to let the milk mixture soak into the cake more thoroughly.)
Place the cream in a large, cold mixing bowl. Using an electric mixer with a whisk attachment, beat at medium-high speed until the cream begins to thicken.
Sprinkle the sugar over the cream. Continue beating until combined.
Add the cinnamon. Continue beating until you can lift the whisk out of the whipped cream and a peak that curves downward forms in the cream. This should take 4 to 5 minutes.
Spread the whipped cream over the chilled cake. Keep refrigerated.
Notes:
*This is a lot of liquid to soak into the cake, so take your time. I use a large spoon or small measuring cup to pour the liquid over the cake a little bit at a time. As that soaks into the cake, add more liquid and poke more holes in the cake if necessary. If you pour it all on at once, most of it will run down the sides of the cake and not into the holes. Some will inevitably run down the sides, and that's fine.
This cake is best within a day or two of its initial chilling.
Recipe adapted from Kraft.
Updated December 2018