This simple Irish Cream Cake is wonderfully delicious with a soft, tender crumb. And it's topped with an equally simple Irish cream frosting. Absolutely delicious!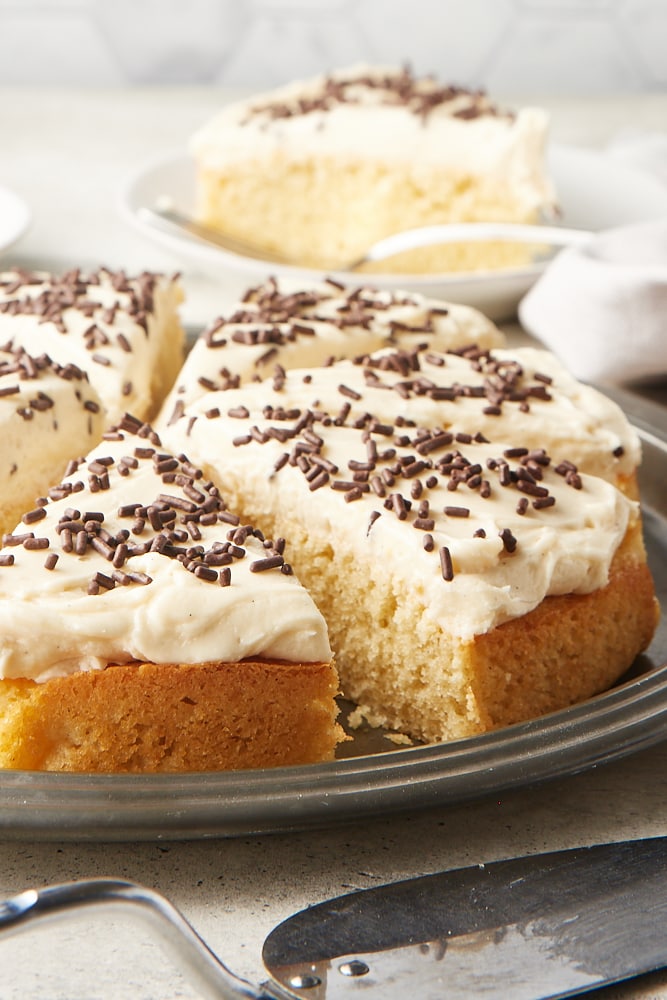 Irish Cream Cake
I tend to prefer simple cakes that don't involve a lot of fuss. And this Irish Cream Cake fits that perfectly. It's a simple, one-layer cake with amazing flavor. Just perfect for a lovely dessert without the fuss!
The cake itself is light and fluffy with wonderful flavor thanks to Irish cream and vanilla. The frosting is a simple buttercream flavored with more Irish cream. Put the two parts together, and you've got a beautiful, delicious dessert that will have you going back for seconds!
A single layer cake like this one is great for a small gathering. It's not quite what I'd call a small batch recipe, but it's certainly more suited for a smaller crowd versus a multi-tiered cake.
This cake is a great choice for a special occasion. The amazing flavor makes it something special, and that fluffy frosting on top makes it beautiful. Add a little garnish if you like to make it even prettier!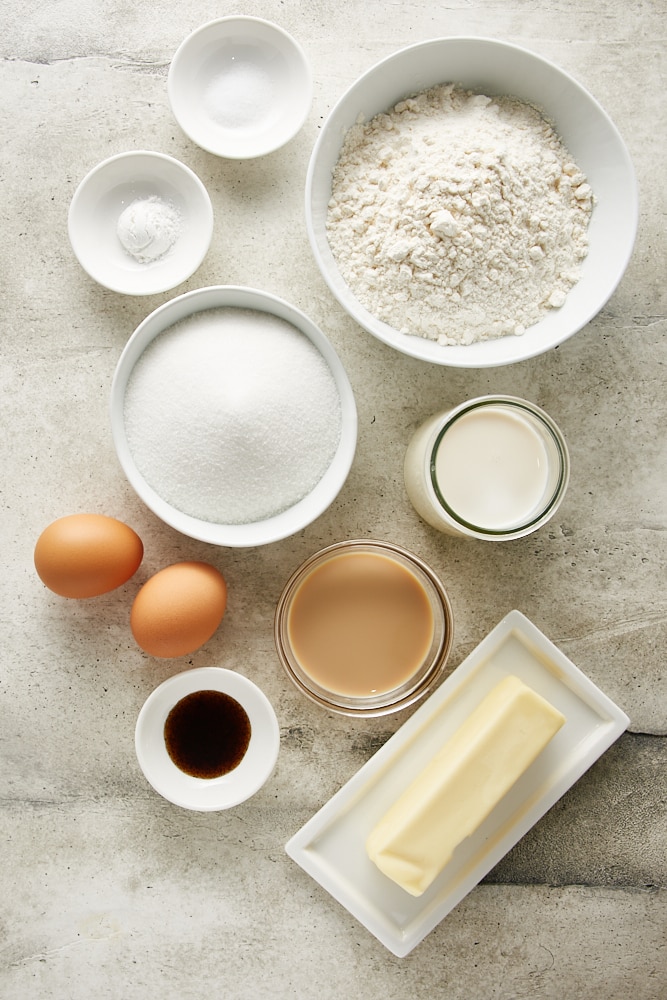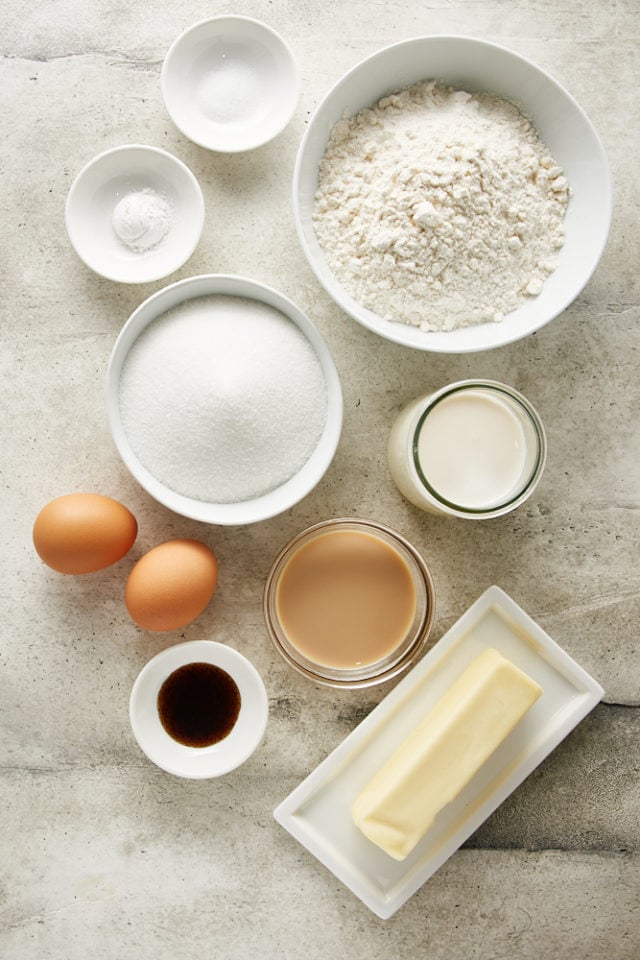 What You'll Need
Besides the basics, you'll just need a couple of other ingredients. Here's what you'll need:
For the cake:
Cake flour – Be sure to measure by weight if possible. Cake flour is designed to produce a lighter, more tender crumb, which is perfect for this cake. If you need a substitute, see my note in the tips section below.
Baking powder
Salt
Unsalted butter – Set out the butter about half an hour before baking to allow it to soften.
Granulated sugar
Eggs – Set out the eggs as well, as room temperature eggs mix more easily and create a nicer texture.
Irish cream liqueur – There are several brands, so just use your favorite.
Vanilla bean paste or vanilla extract – I prefer paste for this cake, but you can use an equal amount of vanilla extract.
Milk – Grab the milk when you're getting the butter and eggs so it can come to room temperature.
For the frosting:
Unsalted butter – Be sure it's softened so it will mix more easily.
Confectioners' sugar – Sift it for the smoothest frosting. You'll notice an amount range in the recipe so you can adjust the sweetness level of the frosting.
Irish cream liqueur
Vanilla bean paste or vanilla extract
Salt
Milk – If you find the frosting isn't quite as smooth and spreadable as you'd like, add a little milk until it's just how you like it.
Topping ideas:
Chocolate sprinkles
Toasted nuts
Chocolate cookie crumbs
Cocoa powder
Toasted coconut
Chocolate curls or chopped chocolate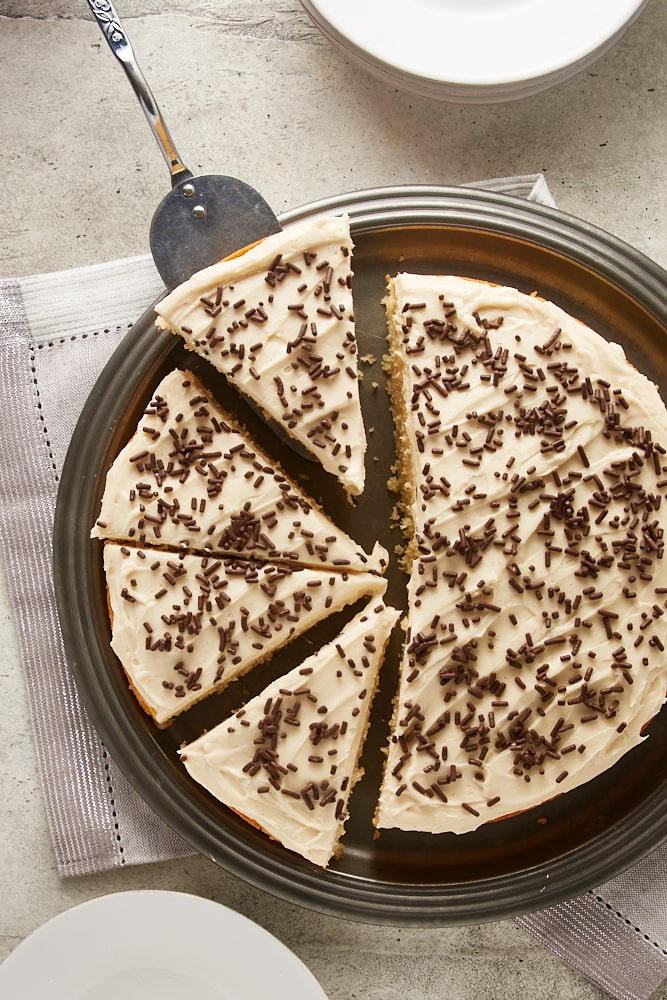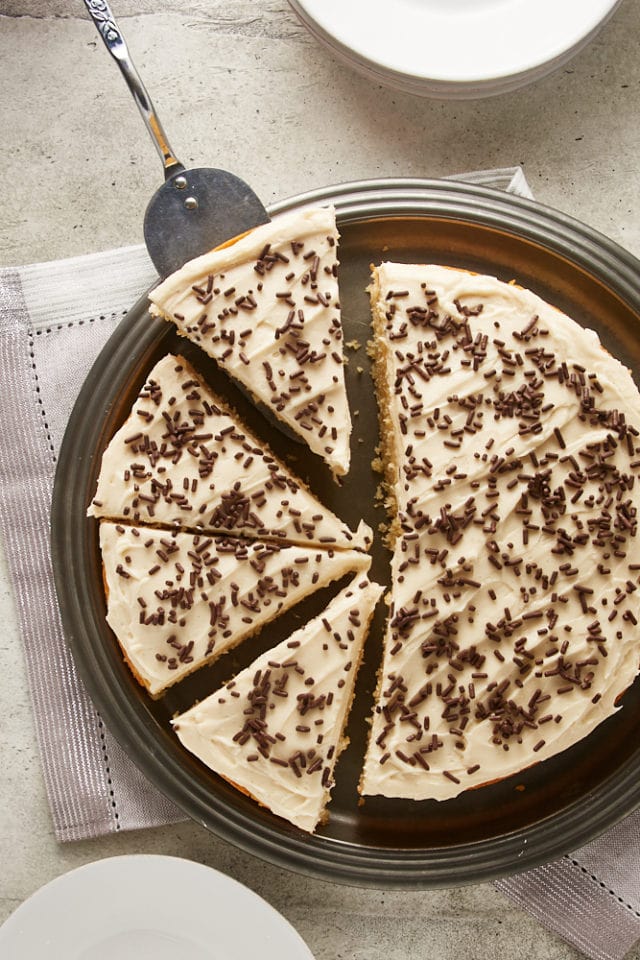 How to Make Irish Cream Cake
This no-fuss cake is a cinch to make. You'll have it mixed and baking in short order! Ready to get started? Let's go!
Prepare for baking. Heat the oven to 350°F. Line a 9-inch round (or 8-inch square) pan with parchment paper. Grease the paper and any exposed parts of the inside of the pan.
Combine the dry ingredients. Whisk together the flour, baking powder, and salt.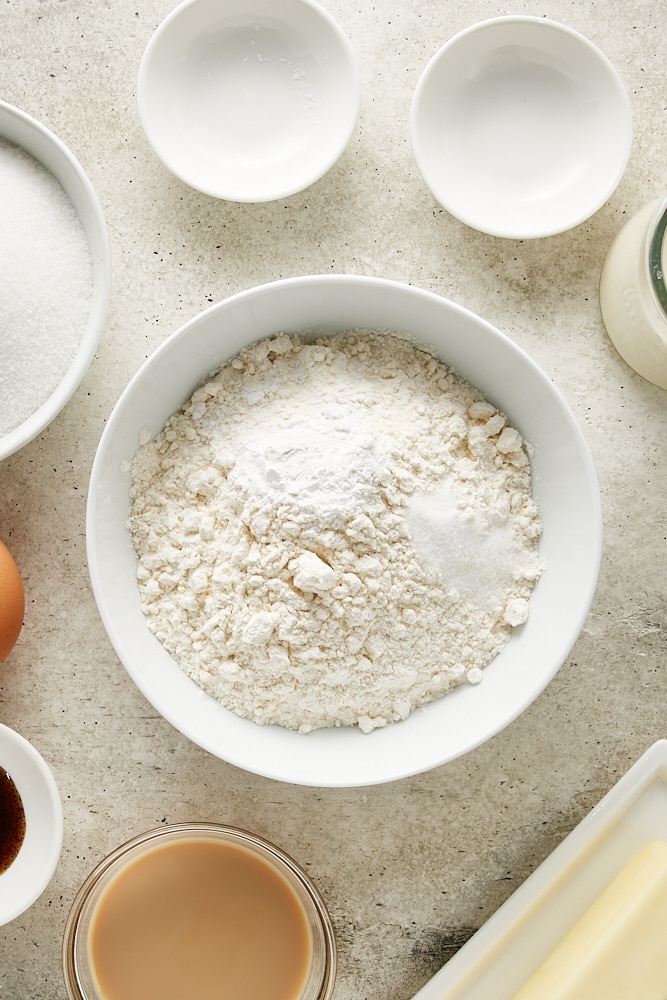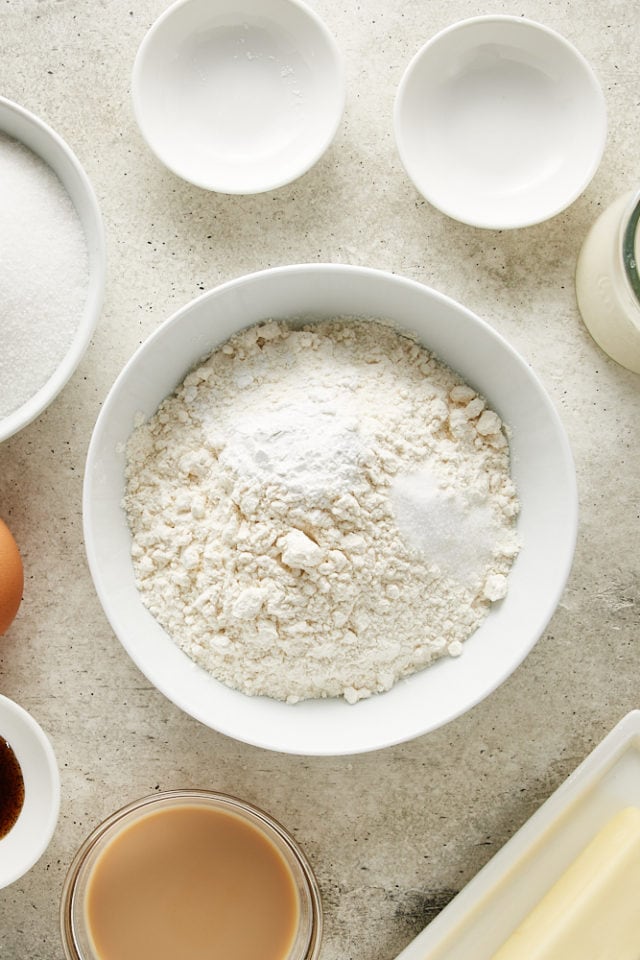 Combine the wet ingredients. Cream the butter and sugar with an electric hand mixer or stand mixer on medium speed. Mix until lightened in color and fluffy in texture. Add the eggs, one at a time, mixing well after each addition. Mix in the Irish cream and the vanilla.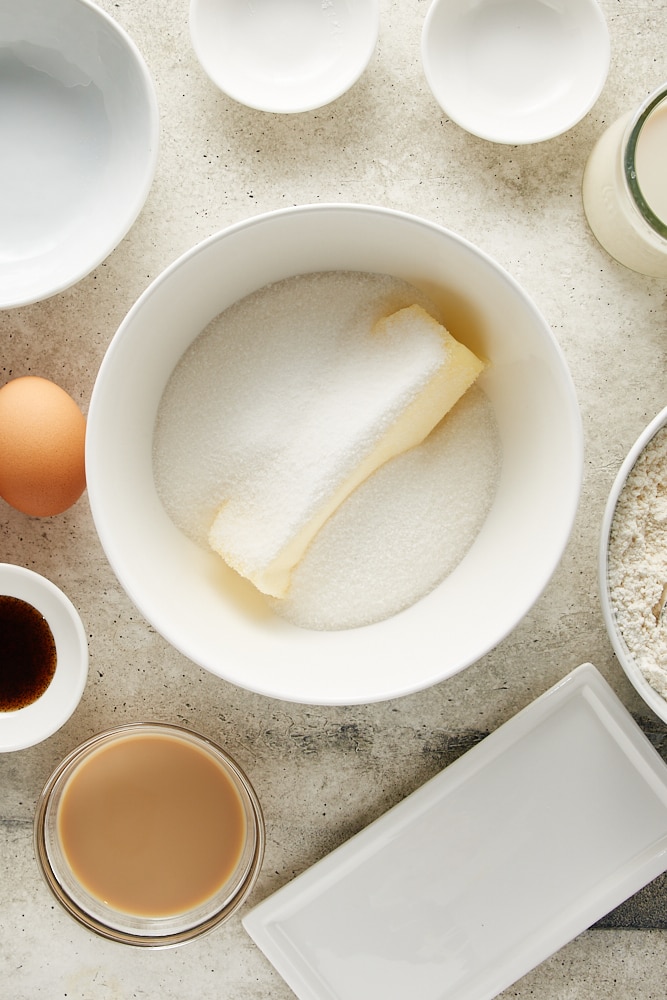 Add the dry ingredients to the wet ingredients. With the mixer on low speed, add the flour mixture in three portions, alternating with two portions of the milk. Don't over-mix; mix just until combined.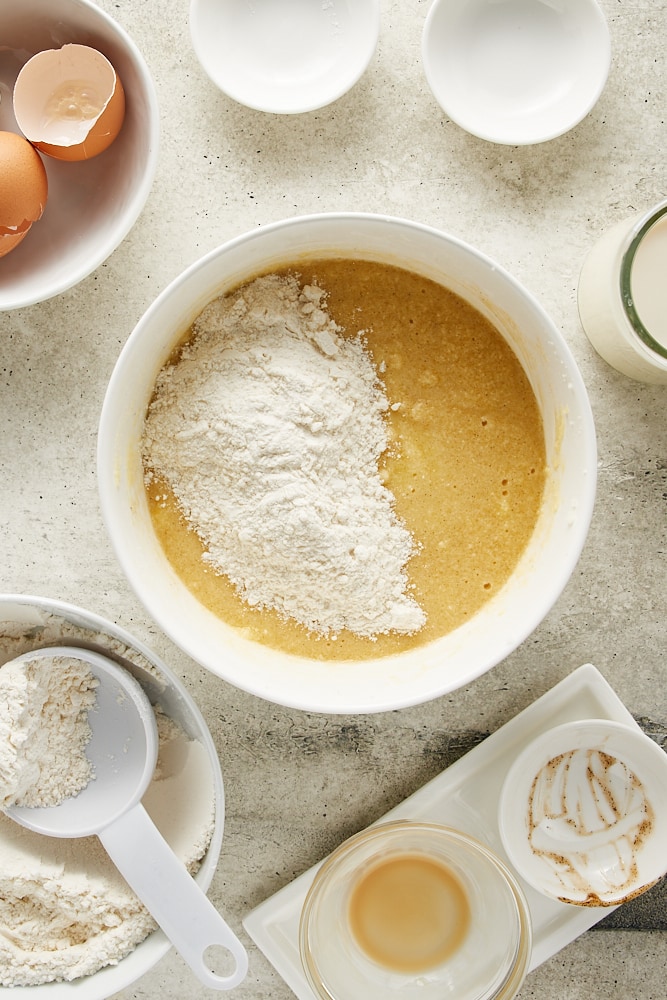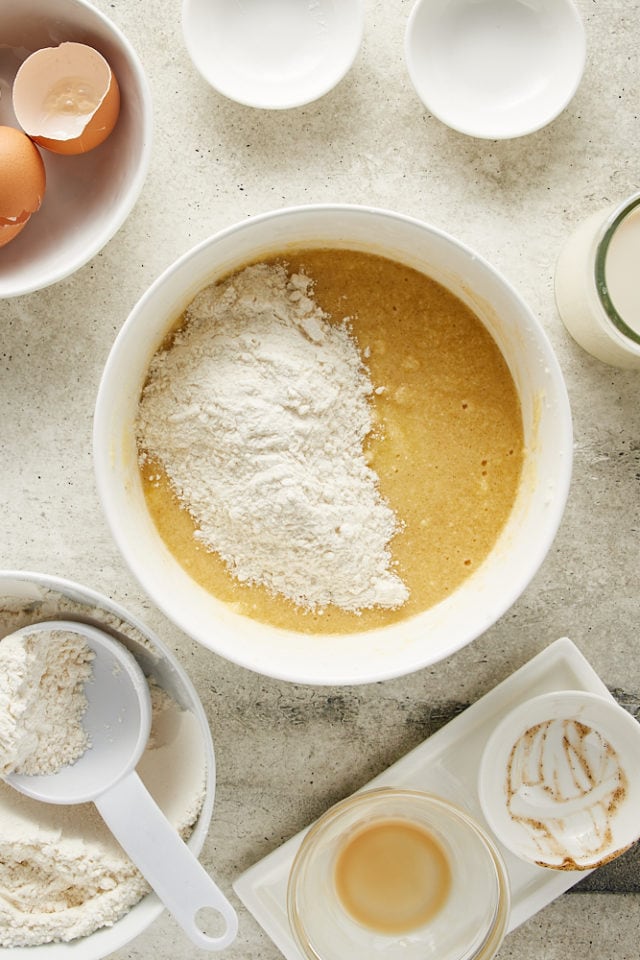 Bake. Transfer the batter to the prepared pan, and spread it evenly. Tap the pan lightly on the counter to help get rid of large air pockets. Bake the cake for 35 to 40 minutes, or until it's golden brown. A pick inserted into the center should come out clean.
Cool the cake. Place the pan on a wire rack and allow the cake to cool completely.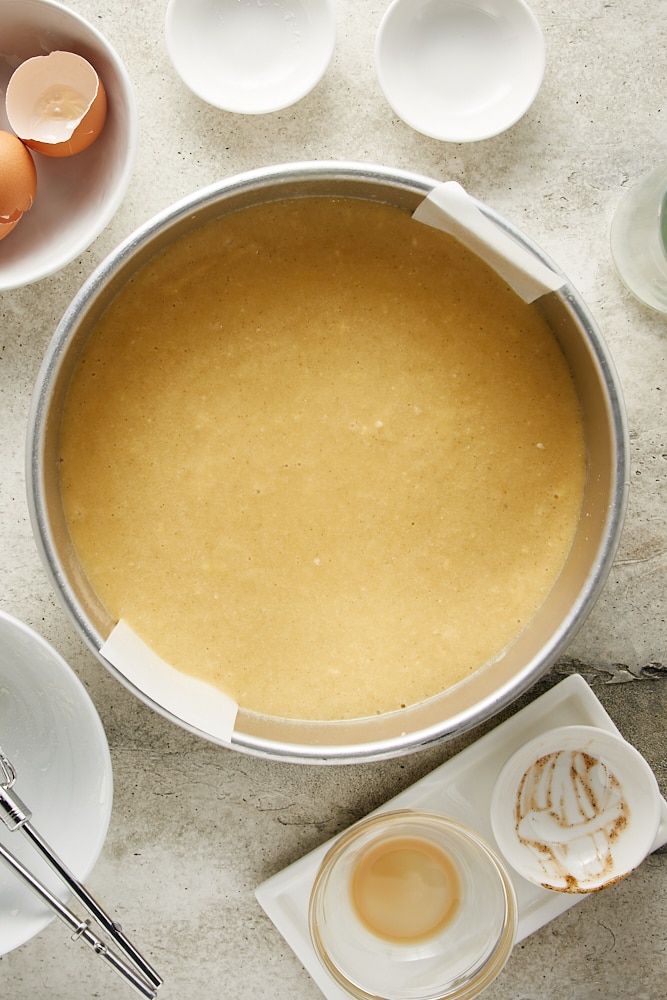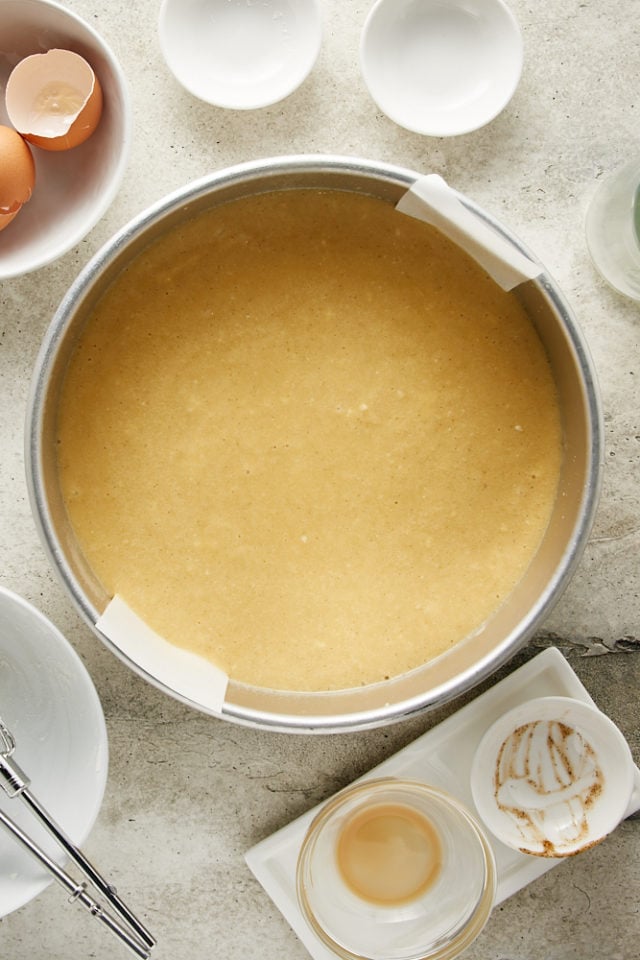 Make the frosting. Beat the butter until creamy, using an electric mixer on medium speed. Gradually add the confectioners' sugar, and mix well. Add the Irish cream, vanilla, and salt, and mix at medium-high speed until the frosting is smooth. If needed, add a splash of milk to get the consistency you want.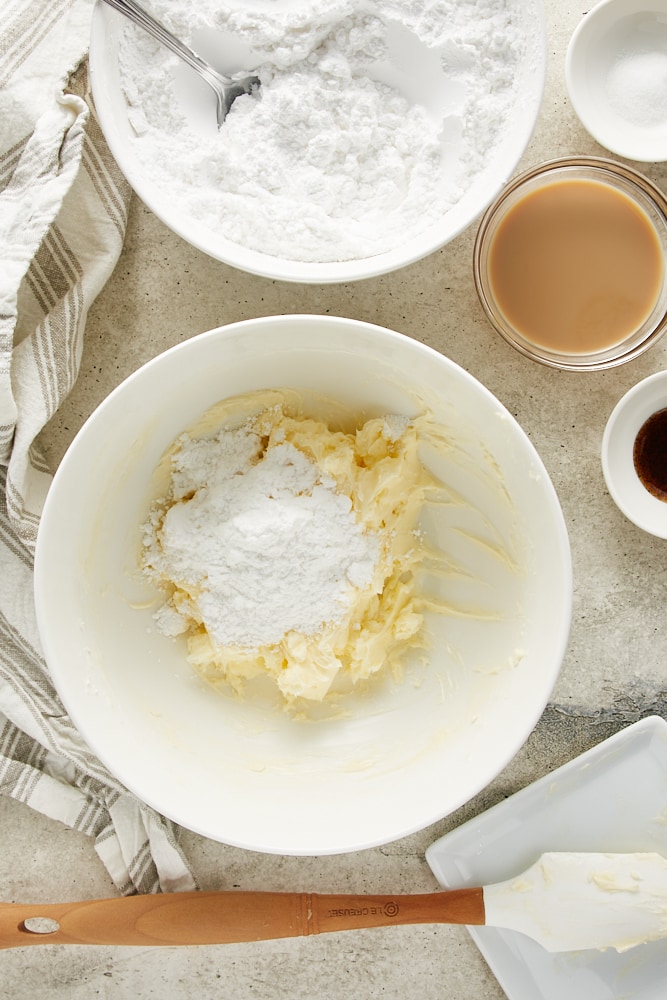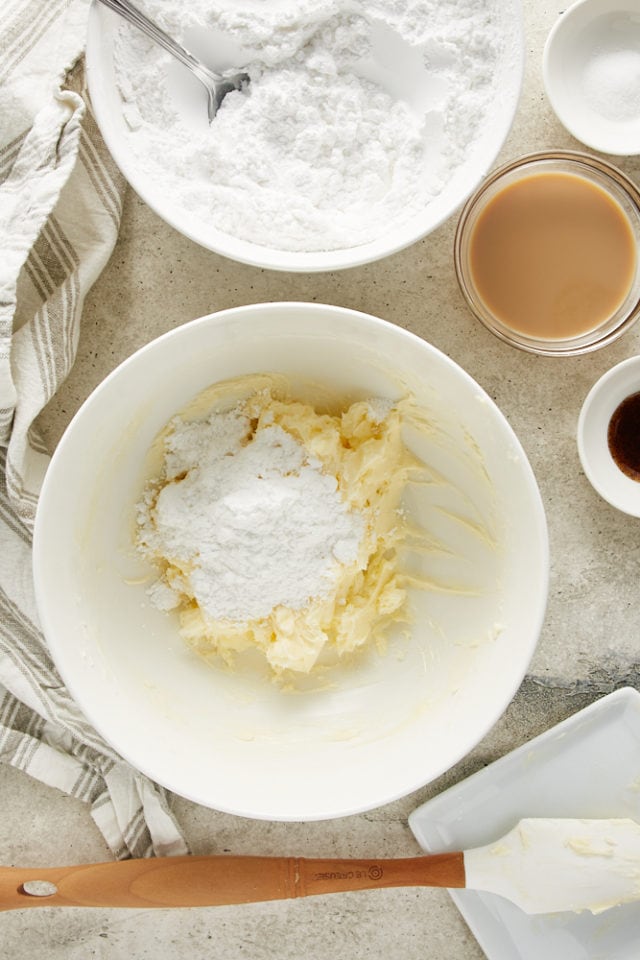 Frost the cake. Place the cooled cake on a serving plate, removing the parchment paper. Spread the frosting over the cake and add any garnish you want.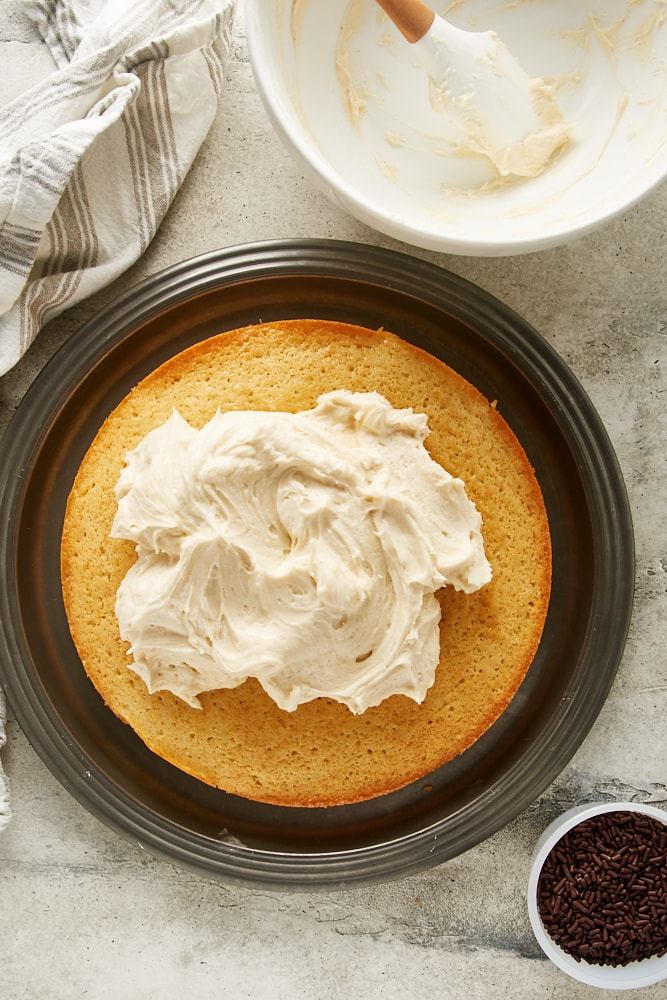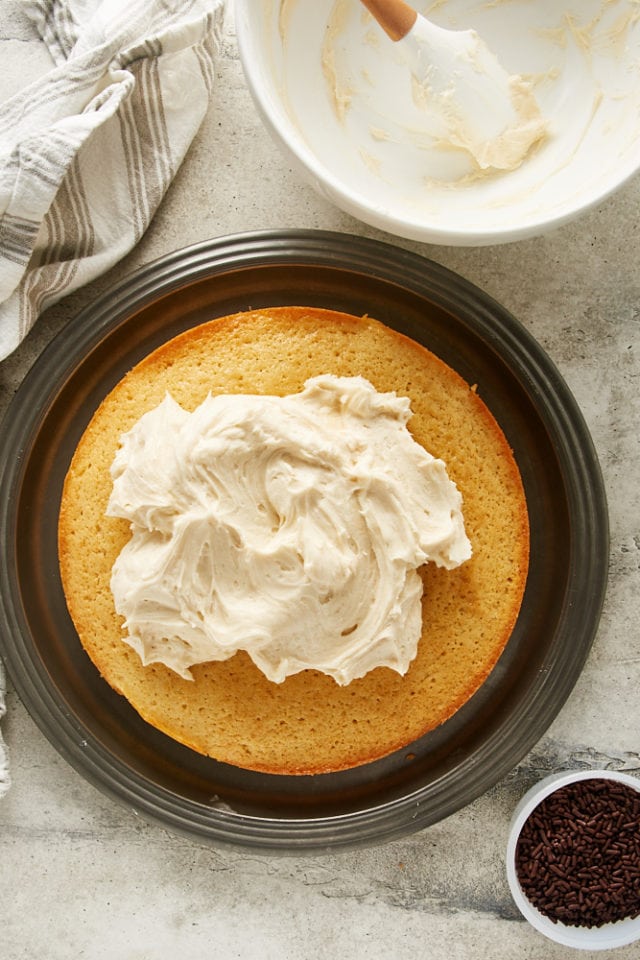 Tips for Success
Out of cake flour? While cake flour is the best flour to use for this cake, you can make a pretty good stand-in using all-purpose flour. Learn more here: Cake Flour Substitute.
Don't over-mix the batter. Too much mixing means a tough cake with a less than stellar texture.
Adjust the sweetness of the frosting. Not everyone likes the same degree of sweetness in their frosting. I usually make mine a bit less sweet, but I've provided a range of sugar to add so you can adjust to your tastes.
Want a two-layer cake? The recipe should double easily if you want a multi-tiered cake.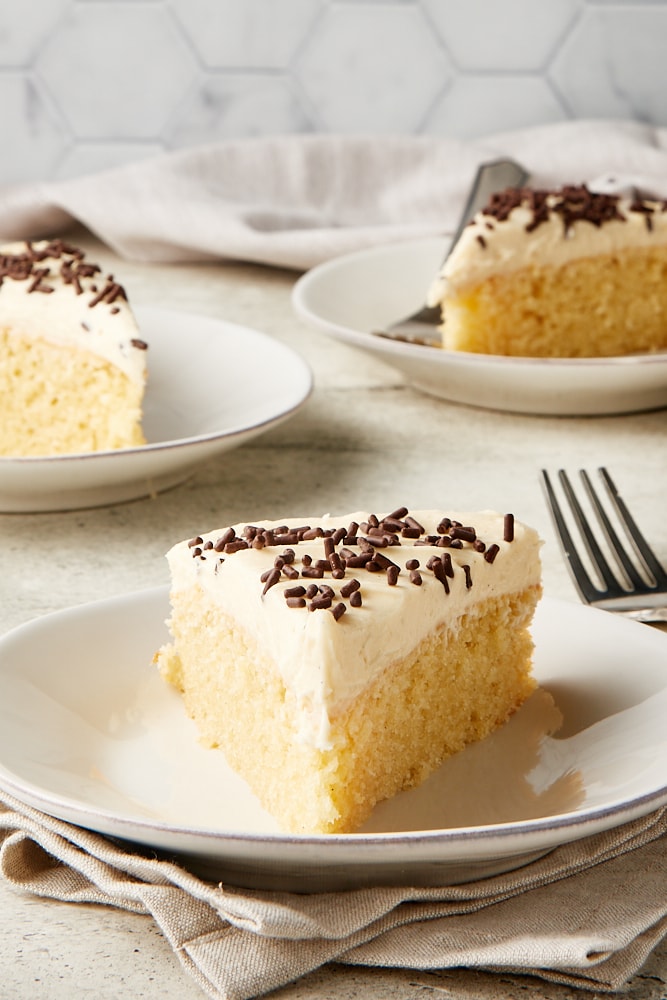 How to Store Irish Cream Cake
Kept in an airtight container, this cake should keep at room temperature for a day or two. That being said, I prefer to keep it refrigerated. Chill the cake for about 20 minutes first to let the frosting harden a bit; then wrap well in plastic wrap and return to the refrigerator. It should keep in the refrigerator for up to 5 days.
Keep in mind that cut cake dries out faster than an uncut cake. You can combat that some by placing plastic wrap directly against the cut sides when storing or spreading a little frosting on the cut sides.
Let the cake come to room temperature before serving. That should take about an hour.
Can This Cake Be Frozen?
Yes! Place the uncovered cake in the freezer to allow the frosting to harden. Count on 2 to 3 hours for that. Then wrap the cake well in plastic wrap, and wrap again in aluminum foil or place in an airtight, freezer-safe container or bag.
When you're ready to serve the cake, thaw it overnight in the refrigerator or for a couple of hours at room temperature.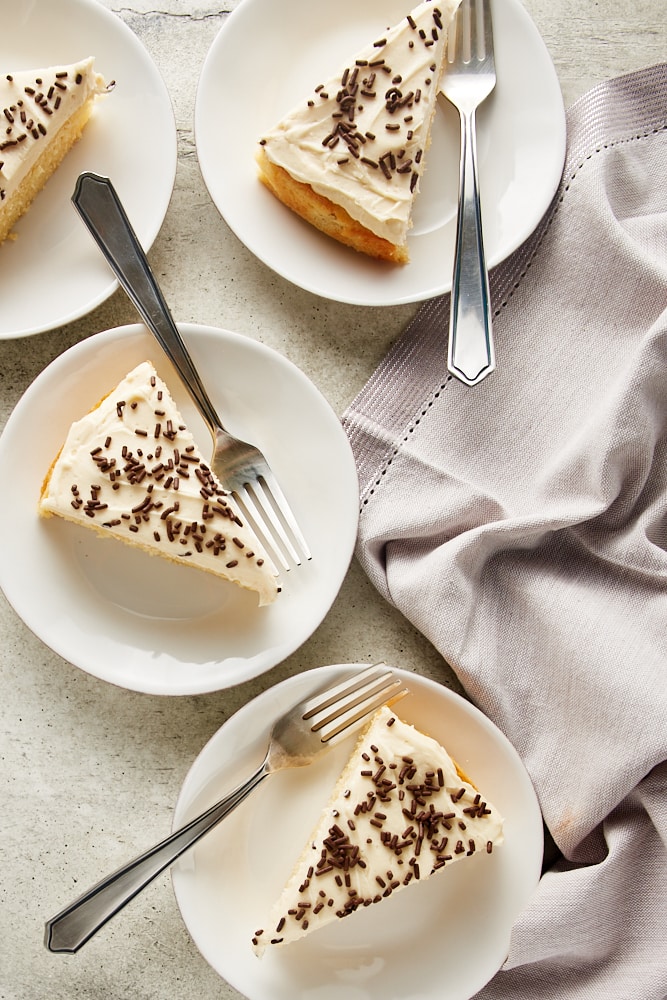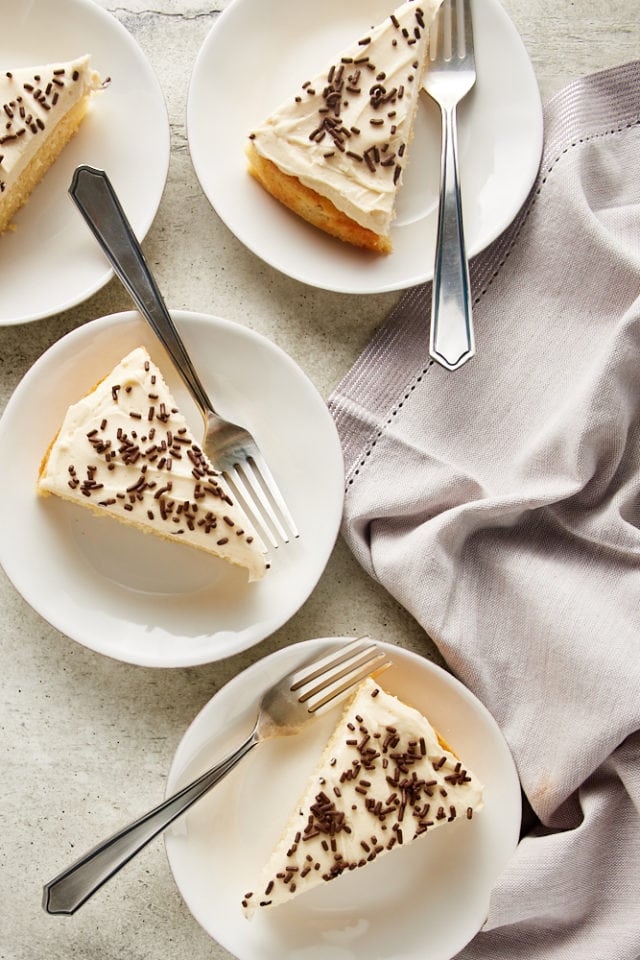 Video Tutorial: Irish Cream Cake
More Irish Cream Desserts