This Peanut Butter Texas Sheet Cake is full of rich peanut butter flavor and topped with a creamy peanut butter frosting. Add chopped peanuts and chocolate to the top, and you have a real crowd-pleaser.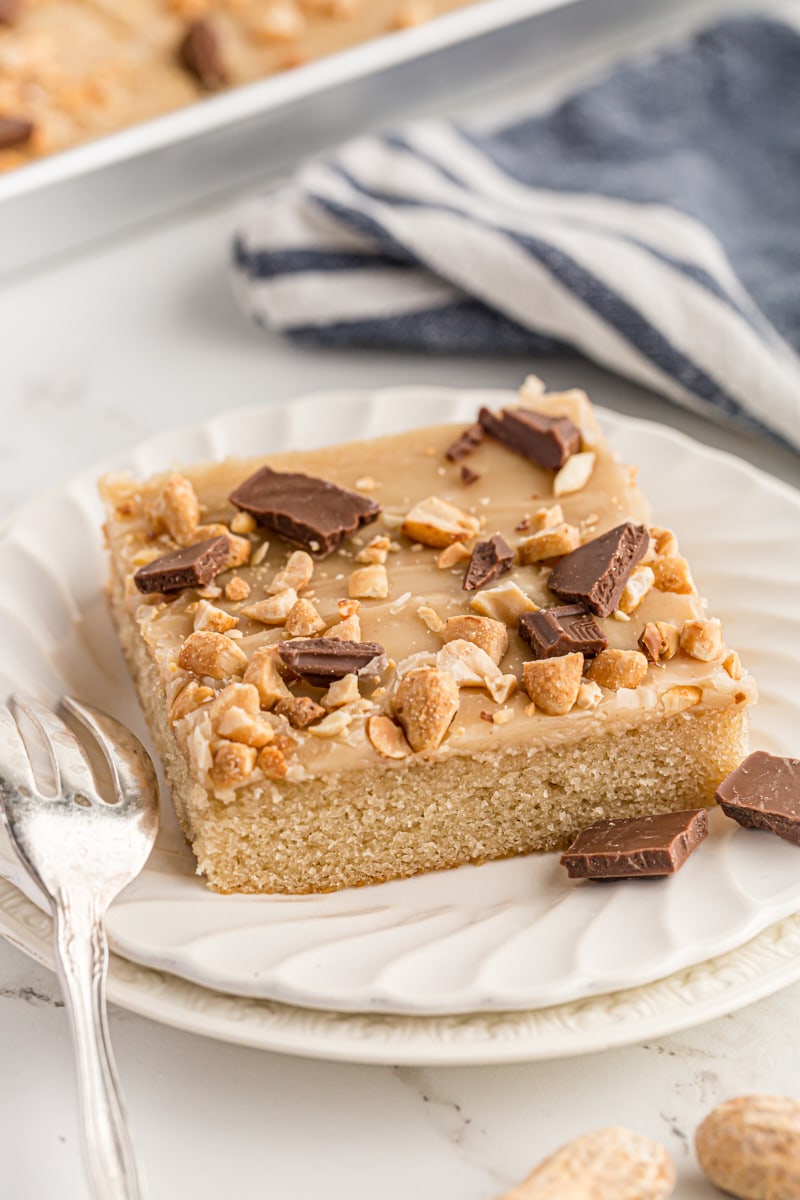 Easy Peanut Butter Texas Sheet Cake Recipe
If you've had Texas sheet cake before, you're probably the most familiar with the chocolate version. Traditional Texas sheet cake is all about the chocolate: chocolate cake topped with warm chocolate icing and usually sprinkled with chopped pecans. (Check out my not-quite-Texas-sized version here: Old-Fashioned Chocolate Cake.)
While I love the traditional recipe, I wanted to make one that was all about peanut butter. If you love peanut butter as much as I do, you'll be thrilled to know I've included it in the cake and the icing in this peanut butter version of the classic dessert. This tasty one-layer cake is light, moist, and packed with rich peanut butter flavor.
Of course, I can't resist adding a little bit of chocolate to pay homage to the original Texas sheet cake and to celebrate one of baking's best flavor combinations. So, I usually add a little bit of chopped chocolate on top to sweeten things up. Feel free to leave the chocolate off if you're a peanut butter purist. Or, substitute chopped-up peanut butter cups. That would be fabulous, too!
However you serve it, I think you'll agree that this peanut butter cake is big on flavor and perfect for a crowd.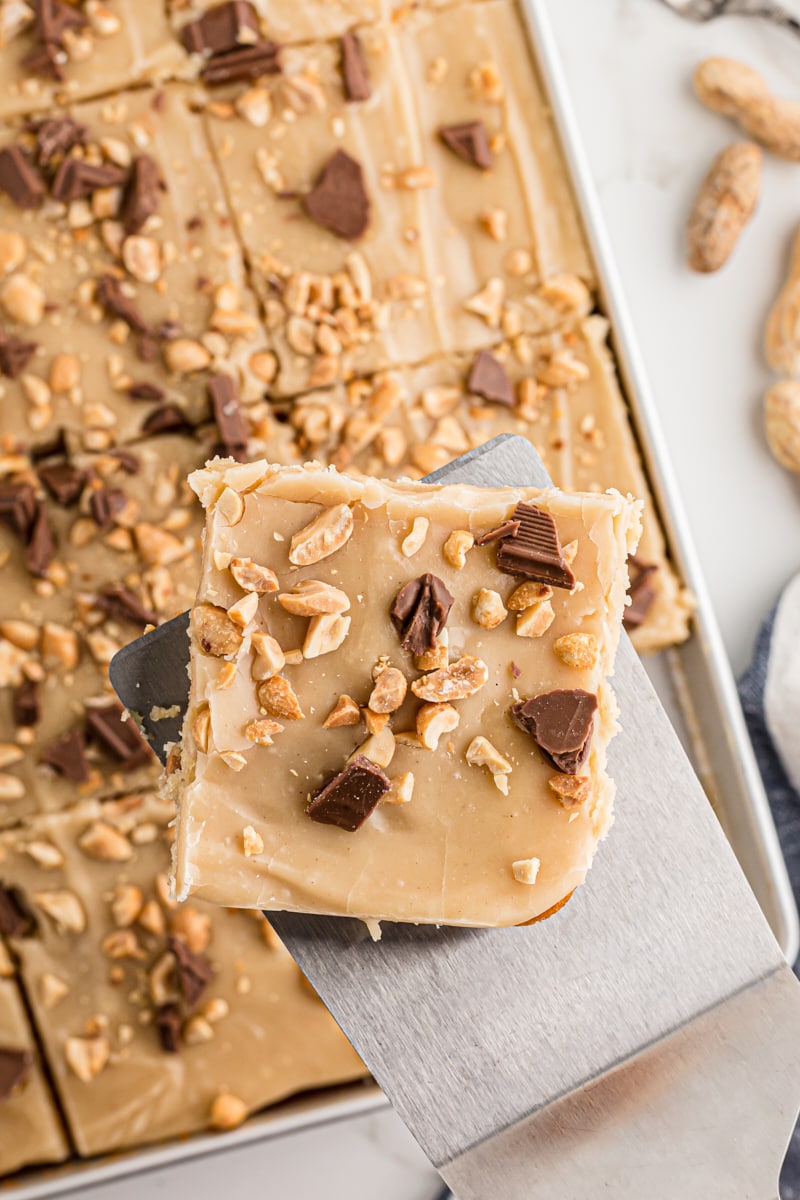 Where Does Texas Sheet Cake Come From?
The origins of the Texas sheet cake are a little unclear, but most agree on one of two theories. Some say the original recipe first appeared in a Texas newspaper and naturally became known for its birthplace. Others claim the cake came by its name honestly – it's truly the size of Texas!
I like to gravitate to the second theory myself. Whenever I make this cake, I marvel at how many people it feeds. Regardless of its origins, this cake is truly a crowd-pleaser, and I know you'll love it!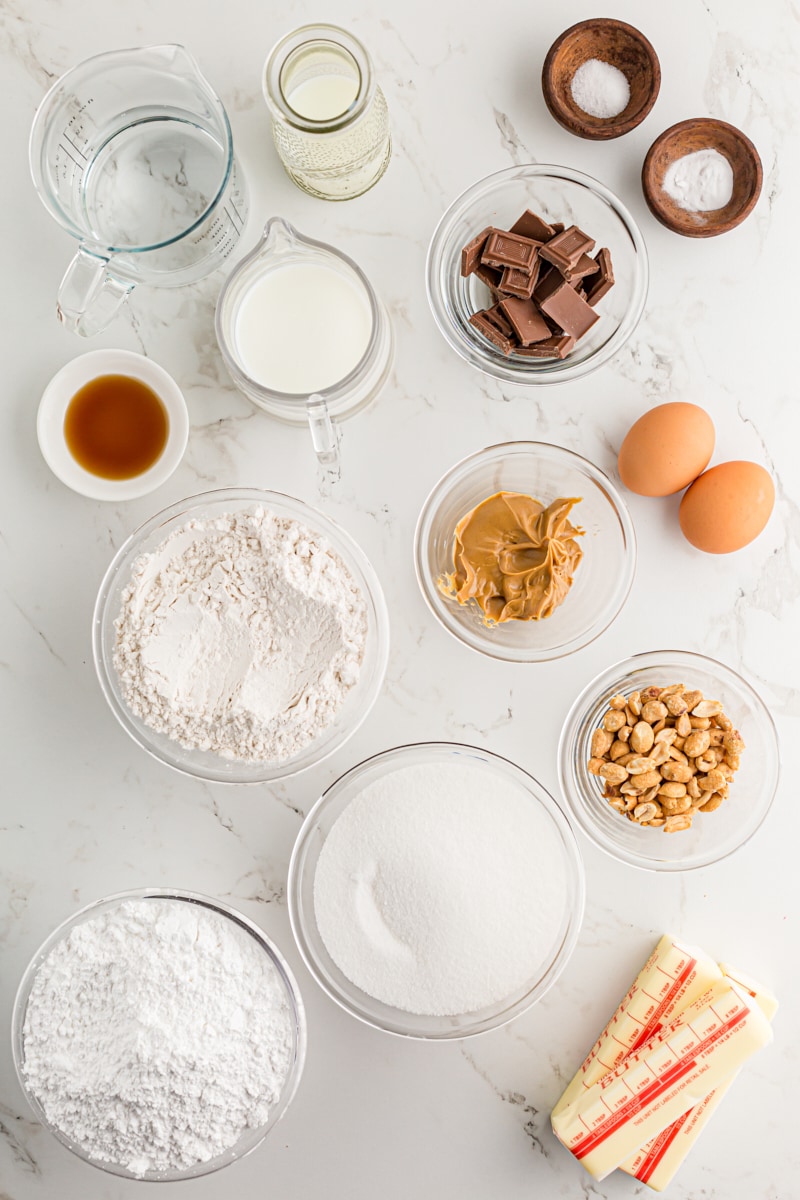 What You'll Need
If you bake frequently, you'll likely have all these ingredients in your pantry. Take a look at the recipe card at the end of this post for ingredient quantities.
For the Cake:
All-purpose flour – Measure by weight for best results. Otherwise, use the spoon and sweep method. Learn more: How to Measure Flour
Granulated sugar
Baking soda
Salt
Unsalted butter – Allow the butter to soften before mixing. It should still be cool and hold a thumbprint when pressed. Learn more: How to Soften Butter
Water
Creamy peanut butter – I recommend regular peanut butter, not a natural peanut butter.
Buttermilk – Bring to room temperature for easier mixing and a fluffier cake.
Eggs – Also bring the eggs to room temperature before mixing. I recommend baking with large eggs.
Vanilla extract – Store-bought vanilla extract is great, but you can also make your own. Learn more: How to Make Vanilla Extract
For the Icing:
Unsalted butter – Allow the butter to soften at room temperature.
Creamy peanut butter
Milk – Full-fat milk will add more flavor to this icing; bring it to room temperature.
Confectioners' sugar – This is also called powdered sugar. Sifting it first will make a smoother frosting.
Vanilla extract
Peanuts – Coarsely chopped.
Milk chocolate – You can use chocolate in bar-form or chocolate chips. If using a bar, chop it coarsely.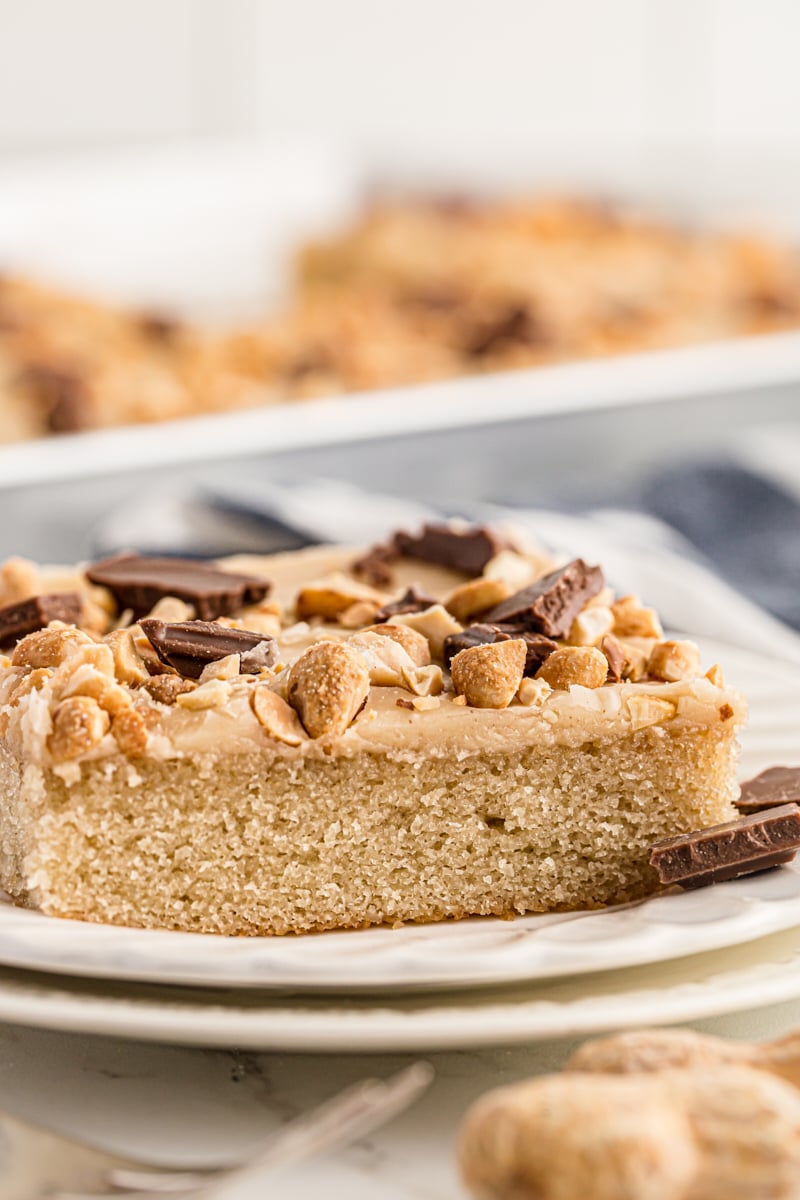 How to Make Peanut Butter Texas Sheet Cake
This peanut-buttery sheet cake comes together quickly and easily. Here's how to make it great!
To Make the Cake
Prepare for baking. Preheat oven to 350°F. Grease a 15″x 10″ jellyroll pan. I like to use a cooking spray with flour, like Baker's Joy or Pam Baking. If you like, you can line the pan with parchment paper and also grease the paper. Note that this is not a half-sheet pan. Learn more: A Baker's Guide to Sheet Pans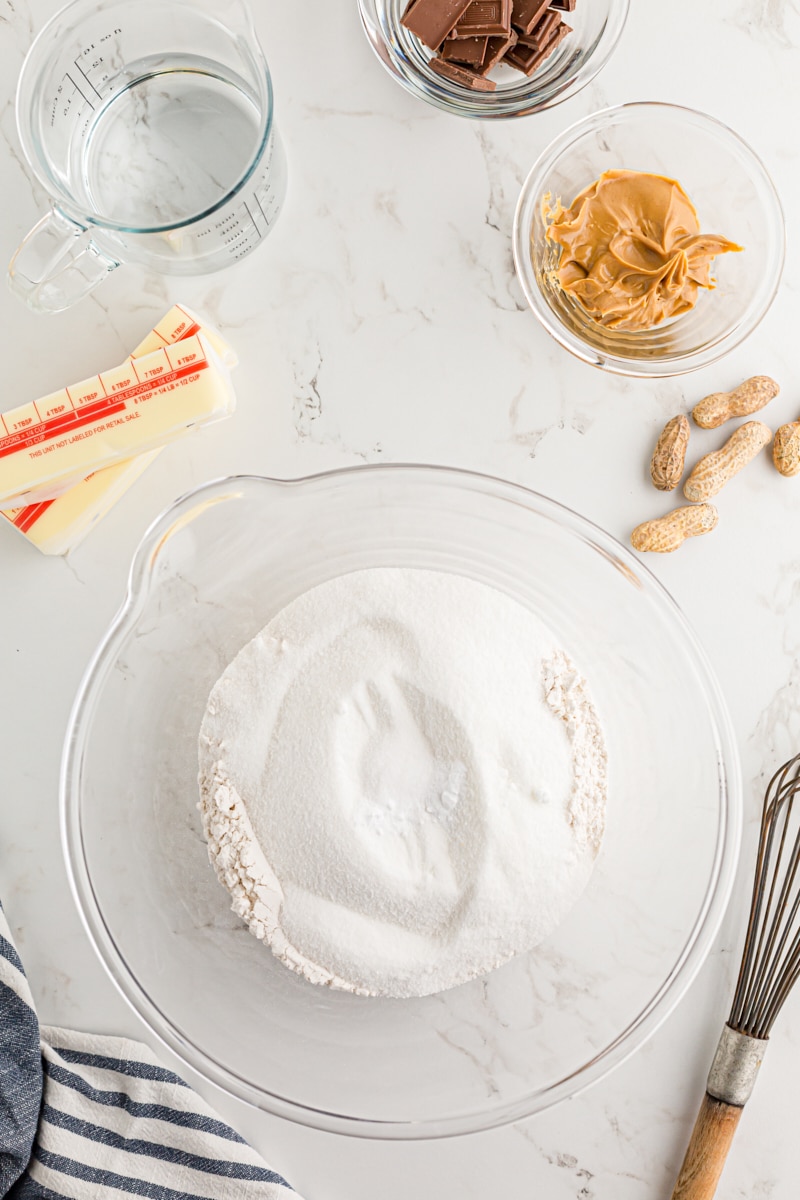 Combine the dry ingredients. Whisk together the flour, sugar, baking soda, and salt in a large mixing bowl. Set it aside.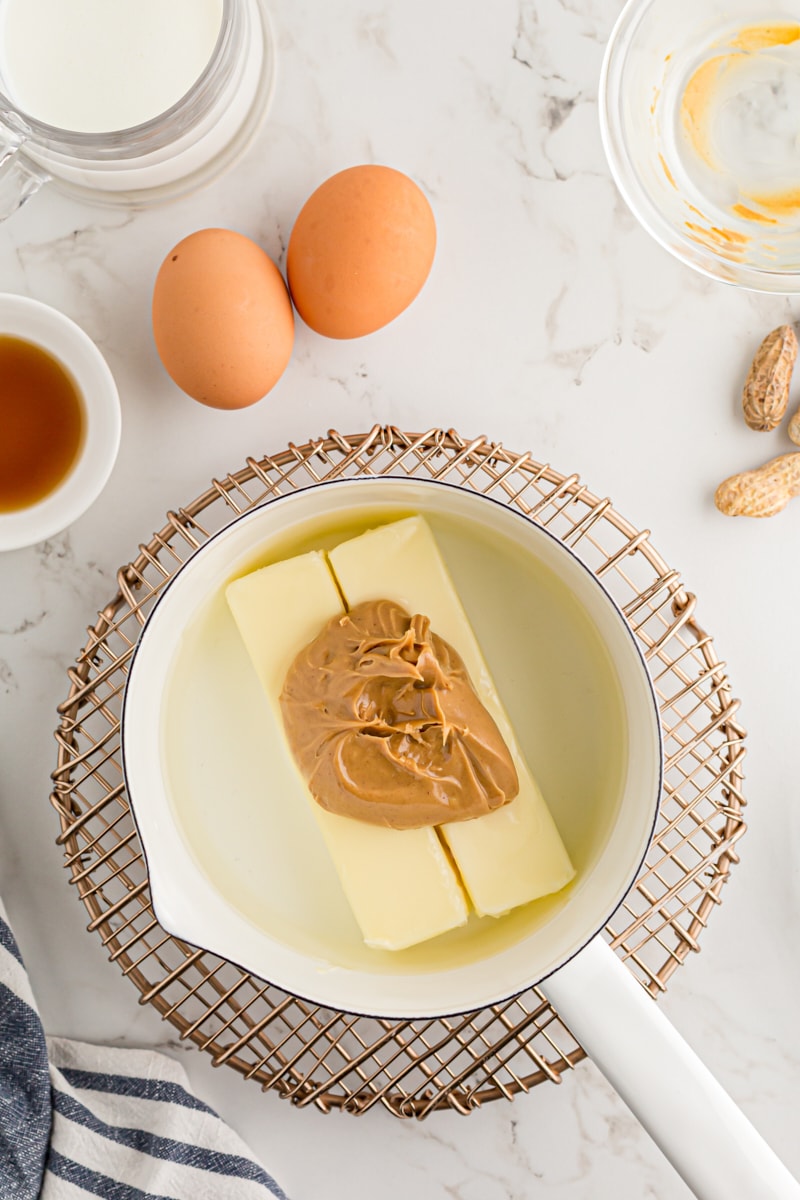 Heat the butter and peanut butter. Place the butter, water, and peanut butter in a medium saucepan. Cook over medium heat, stirring the mixture occasionally until it comes to a boil.
Add the butter mixture to the dry ingredients. Pour the hot peanut butter mixture into the flour mixture, and mix until fully combined.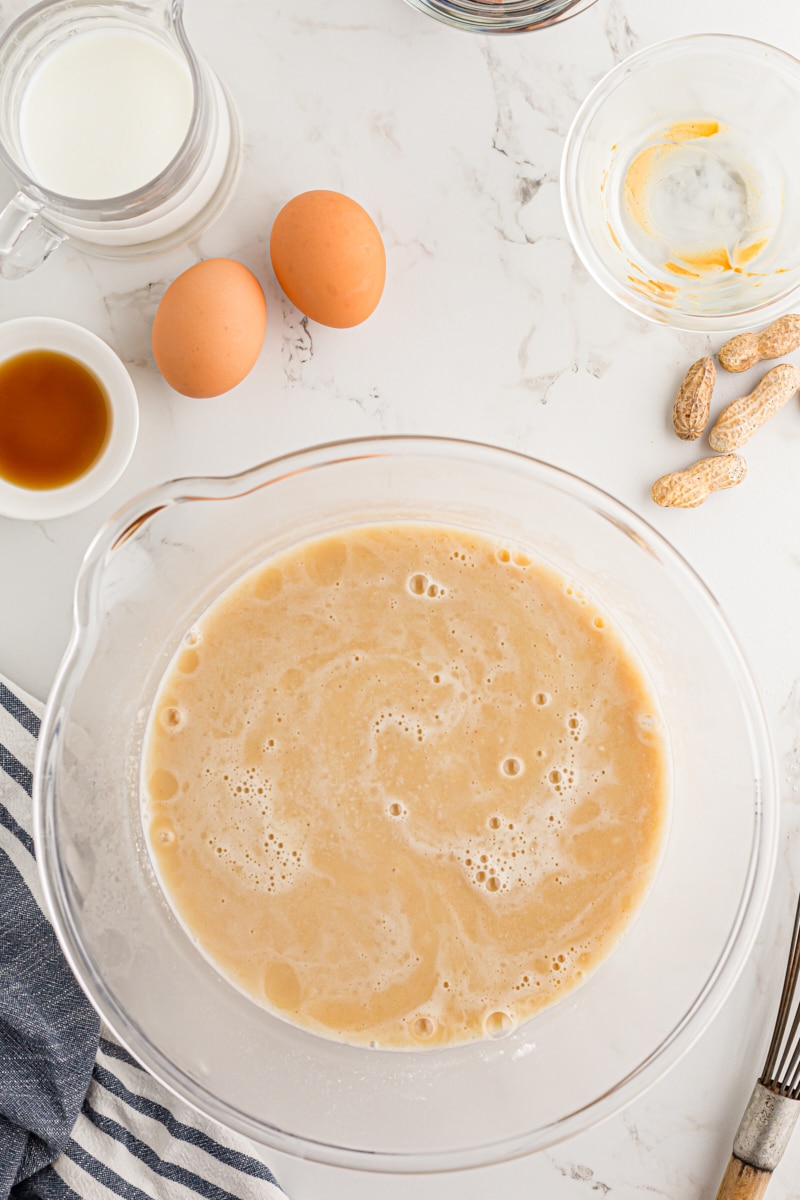 Combine the wet ingredients. Whisk together the buttermilk, eggs, and vanilla in a small mixing bowl. Stir it into the cake mixture, being sure to mix well.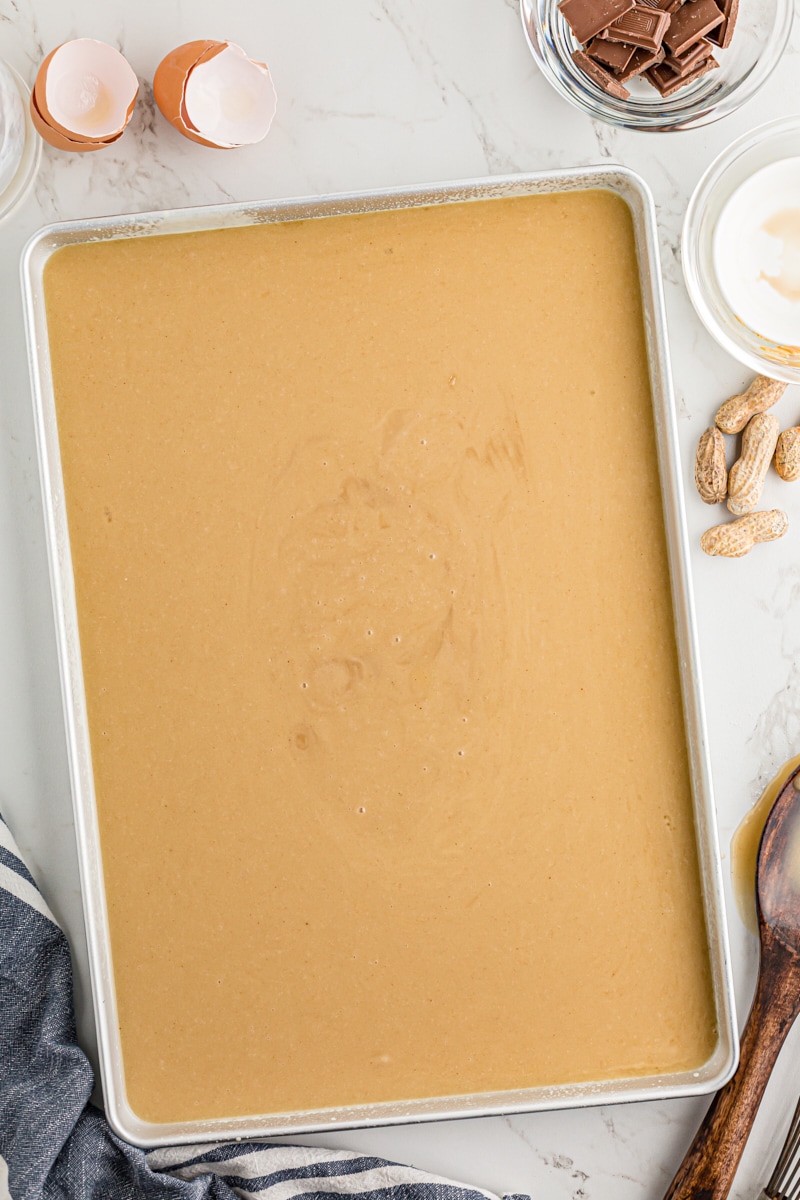 Transfer the batter to the pan. Spread the cake batter evenly in the prepared pan. Lightly knock it against the counter a few times to remove any air bubbles.
Bake. Bake the peanut butter cake for 25-28 minutes, or until the edges are browned and a pick inserted into the center comes out clean.
To Make the Icing and Decorate
After the cake has finished baking, it's time to make the frosting. Here's how to do it: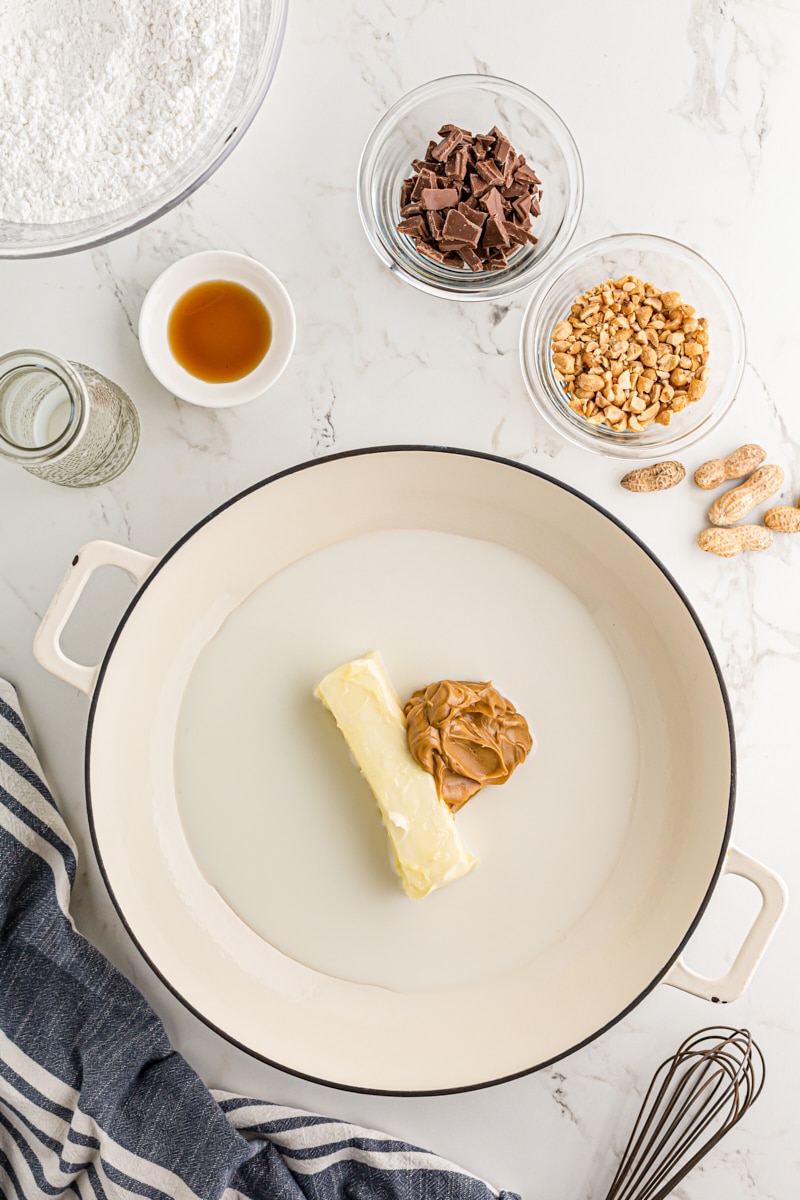 Heat the wet ingredients. Place the butter, peanut butter, and milk in a medium saucepan. Cook over medium heat, stirring occasionally until the mixture comes to a boil.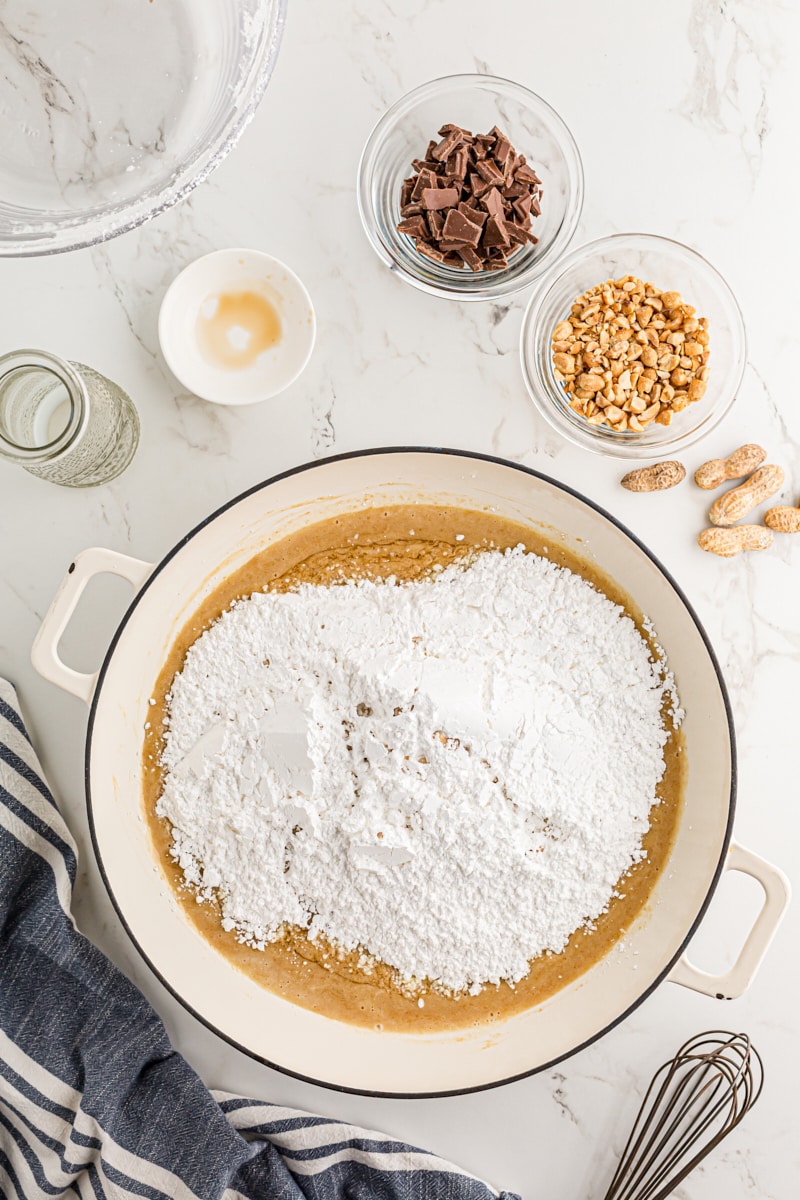 Finish mixing. Remove the mixture from the heat. Stir in the confectioners' sugar and vanilla and mix until smooth and spreadable.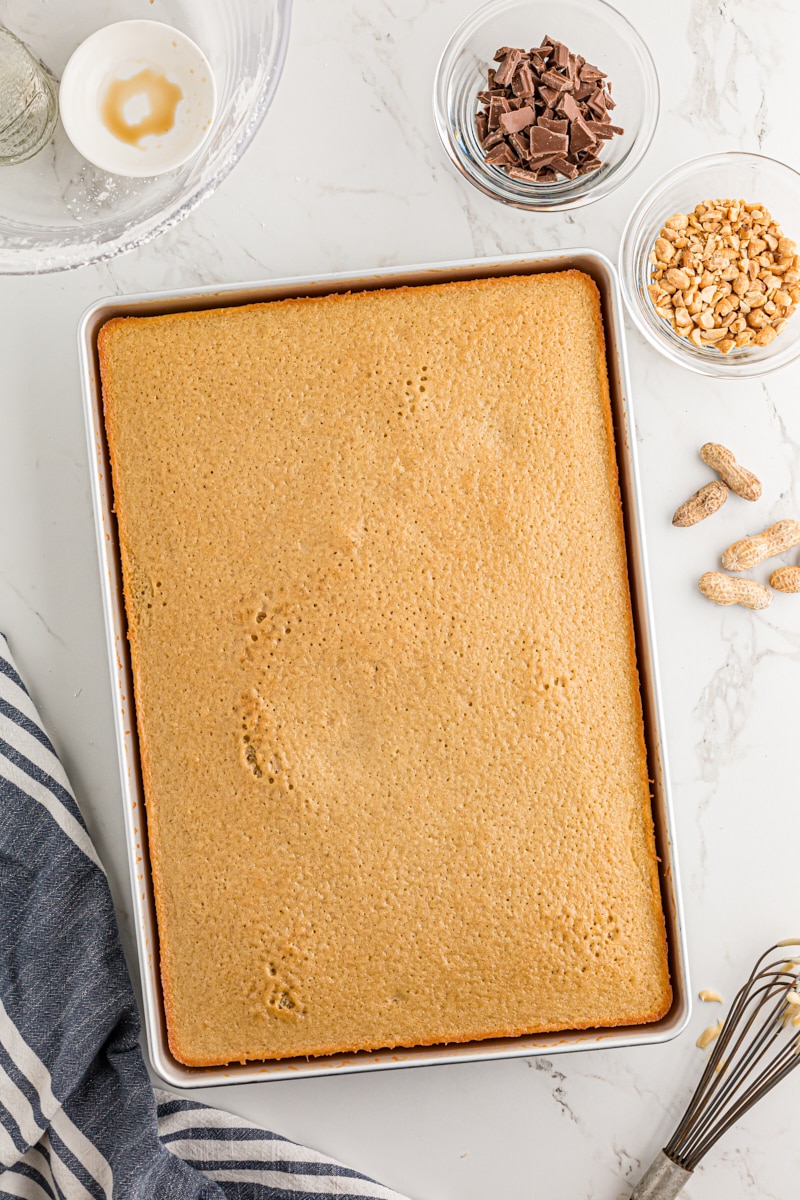 Ice the cake. Pour the icing over the top of the warm cake, and spread it evenly with an offset spatula.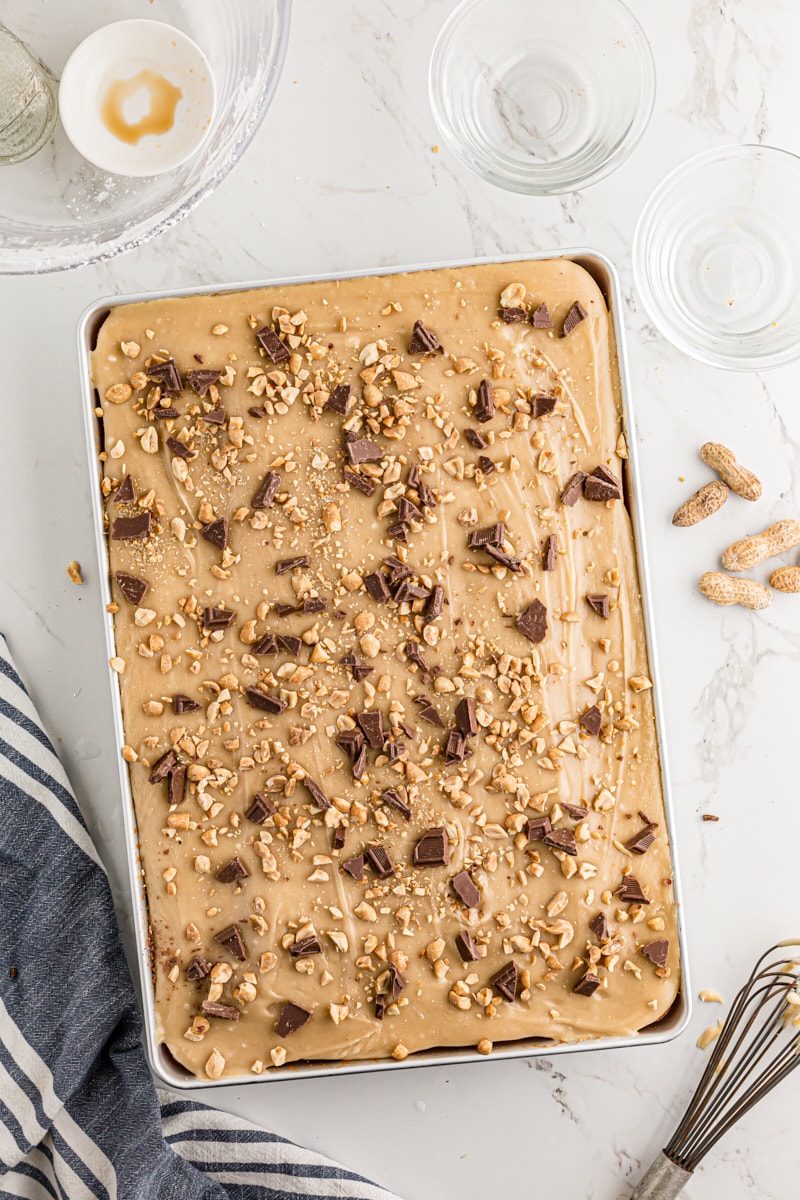 Add garnishes. Add chopped peanuts and chocolate to the top of the icing if you want them. I recommend adding the garnishes while the icing is still a bit warm so they'll stick to the icing as it sets.
Serving Suggestions
This Texas sheet cake is perfect for all the peanut butter lovers out there. But if you want to make any changes, feel free to try out one of these ideas.
A different icing – If you want to make this cake less over-the-top with peanut butter flavor, try a different icing. I think the Brown Butter Icing on my Vanilla Bean Cake would be a great alternative.
Ganache – For more chocolate flavor, add a simple chocolate ganache like the one on my Caramel Pecan Brownie Cake.
Sweetened whipped cream – A dollop of whipped cream is a simple topping that always satisfies.
Tips for Success
I think you'll find this Peanut Butter Texas Sheet Cake recipe to be pretty easy to follow. But here are a couple of tips to help ensure success in the kitchen.
Don't over-mix. Too much mixing leads to a tough cake. For the final mixing step, be sure to mix just until everything's combined.
Don't have buttermilk handy? You can make a buttermilk substitute to use in this recipe.
All about timing. You'll get the best results adding the freshly-made icing on top of a still-warm cake.
How to Store
Unless you're feeding the entire neighborhood, you may have a few leftovers of this Texas-sized chocolate peanut butter cake. The good news is that it's easy to store. Wrap up extra pieces in an airtight container and store them in the refrigerator for 3 to 5 days. Make sure your container is well-sealed, or the cake may get dry. Let the cake come to room temperature before serving.
How to Freeze
Place leftover slices on a sheet pan in the freezer until frozen solid. This will prevent the icing from sticking to your storage container.
After they're frozen, place the slices in an airtight, freezer-safe container or zip-top bag. For an extra layer of protection, you can wrap each piece in plastic to help stave off freezer burn. Properly stored, the cake should keep in the freezer for up to 3 months. Thaw for an hour or so at room temperature before serving.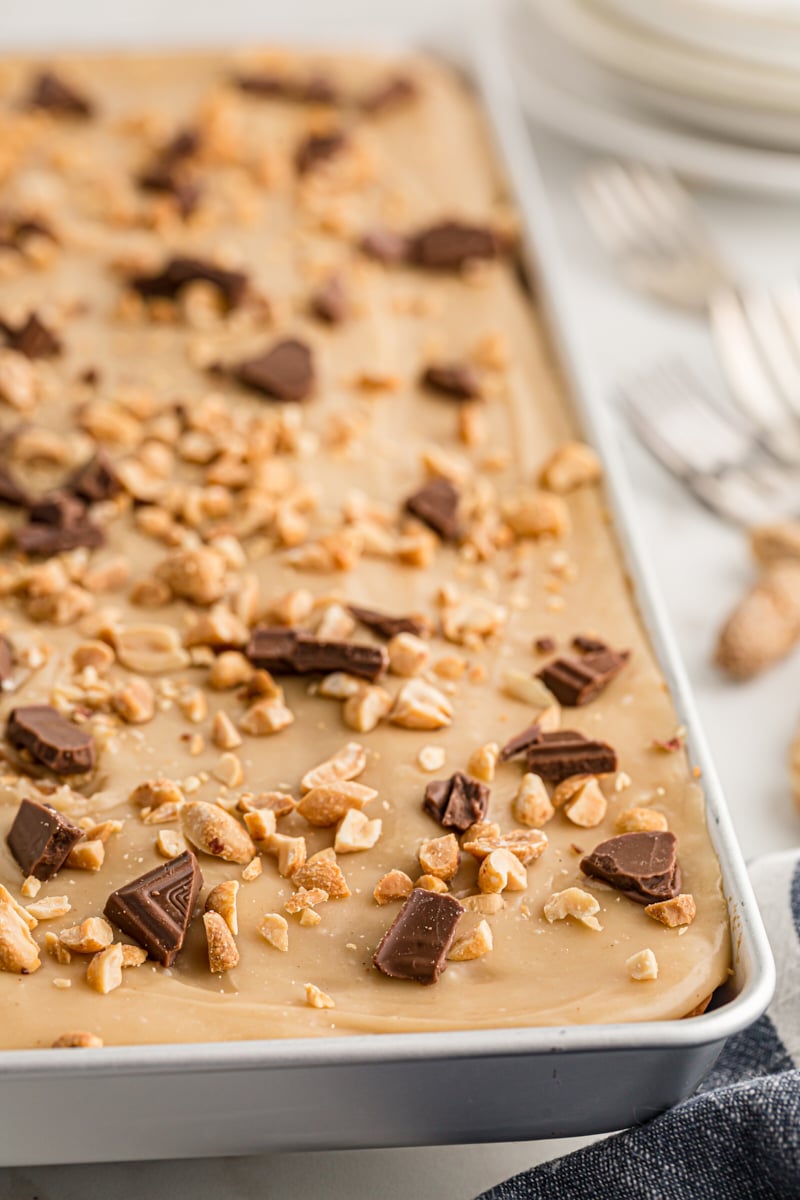 More Tasty Sheet Cake Recipes