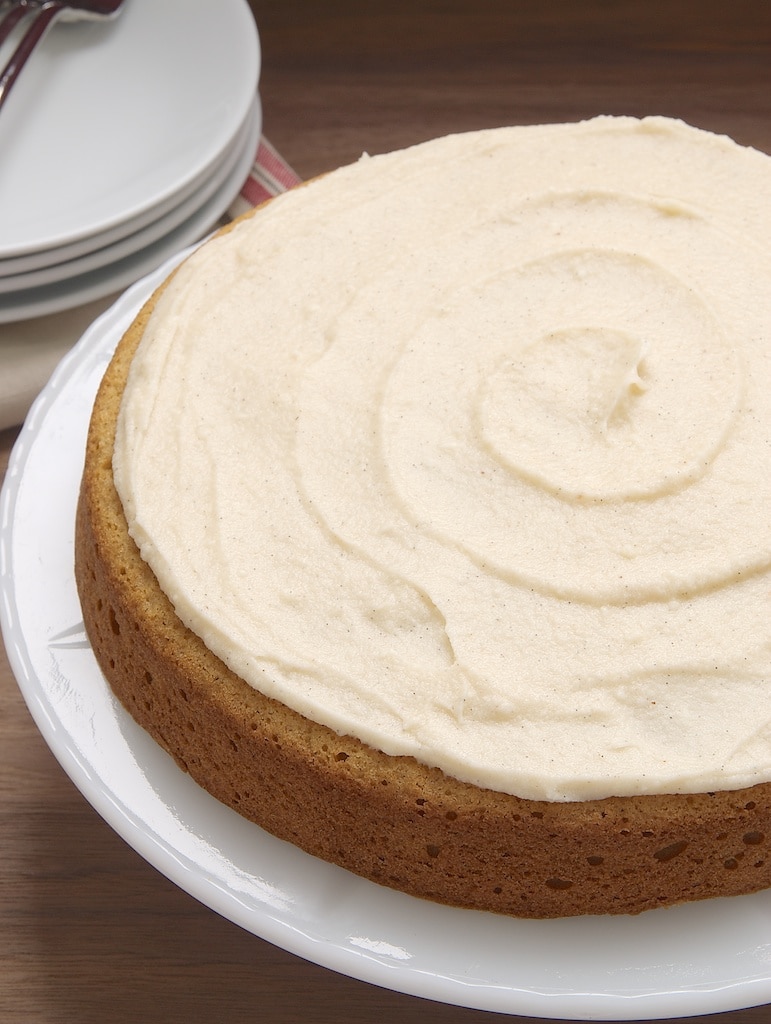 Once you consider the usual suspects like chocolate and pecans and cream cheese, one of my favorite baking components is browned butter. I am relatively new to baking with browned butter, and I admit that I am deeply saddened at all the time I missed baking with it. But, I seem to be making up for lost time with plenty of browned butter treats.
So, a few days ago when I was trying to think of a quick dessert we could enjoy this week, my mind went directly to browned butter. I also had a hankering for cake, so here we are.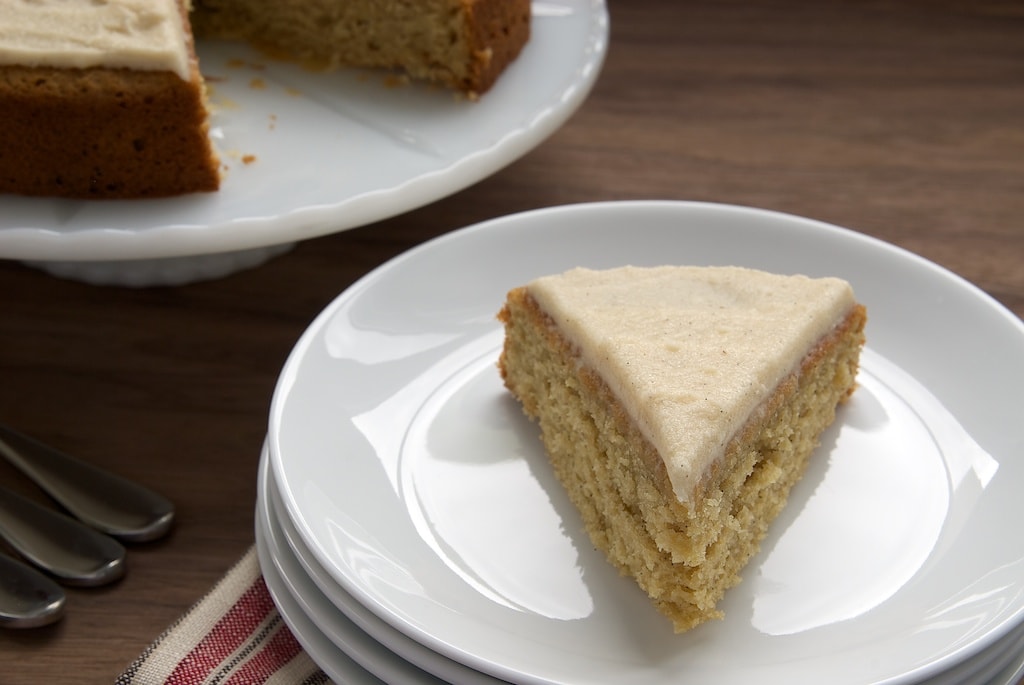 The cake itself is a version of a sour cream cake that I use as a starting point for a lot of cake recipes. I bumped up the vanilla for a bigger flavor in a simple cake. Then, I topped it all of with a basic icing that I plied with browned butter and even more vanilla. The total package is a delicious cake whose flavors are somehow both understated and complex.
As delicious as this cake is, and believe me it is fabulous, I may be most taken with the appearance of the icing. Look at all those specks! Straining browned butter is a preference thing. I usually don't strain it, but rather control how much of the browned specks stay with the butter as I pour it out of the saucepan. In addition to those lovely specks, there are vanilla bean specks, too. All of that makes for one beautiful icing.
I have a great love for simple, one-layer cakes. They're essentially fail-proof. Plus, they're a good option for a cake to serve a smaller number of people. If you'd like a big, tall cake, this recipe can easily be doubled to make a two-layer cake.
Yield: 8 to 10 servings
Prep Time: 35 minutes
Cook Time: 35 minutes
For the cake:
1 & 1/2 cups all-purpose flour
1 teaspoon baking powder
1/2 teaspoon baking soda
1/4 teaspoon salt
3/4 cup unsalted butter, softened
1/2 cup packed light brown sugar
2 large eggs
seeds of 1 vanilla bean or 1 tablespoon vanilla bean paste or vanilla extract
1/2 cup sour cream
For the icing:
5 tablespoons unsalted butter
1 cup confectioners' sugar
2 to 4 tablespoons milk
1/3 to 1/2 of the seeds of 1 vanilla bean or 1 teaspoon vanilla bean paste or vanilla extract
Directions:
To make the cake:
Preheat oven to 350°. Grease and flour a 9-inch round cake pan.
Whisk together flour, baking powder, baking soda, and salt. Set aside.
Using an electric mixer on medium speed, beat butter and brown sugar until light and fluffy. Add eggs, one at a time, mixing well after each addition. Mix in vanilla beans.
Reduce mixer speed to low. Add flour mixture in 3 portions, alternating with sour cream. Begin and end with flour mixture. Mix just until combined.
Transfer to prepared pan and smooth evenly.
Bake 30-35 minutes, or until a pick inserted into the center comes out clean. Cool in pan on wire rack for 10 minutes. Then, remove cake from pan to a wire rack to cool completely.
To make the icing:
Place butter in a medium heavy saucepan over medium heat. Cook butter until melted.
Continue cooking, whisking often to prevent burning. Butter will begin to foam. Brown specks will begin to form at the bottom of the pan, and the butter will have a nutty aroma.
Remove from heat. Transfer butter to a large heatproof bowl to cool to room temperature.
Add 2 tablespoons of milk and vanilla beans to cooled butter. Add about 1/4 cup of confectioners' sugar. Beat mixture until blended. Gradually add remaining confectioners' sugar and mix until blended and smooth.
If necessary, add more milk, 1 tablespoon at a time, and mix until icing is desired consistency.
Spread icing over the top of cooled cake. Serve immediately or refrigerate until ready to serve. If refrigerating, allow to sit at room temperature for about 30 minutes before serving.