Cinnamon Pudding Cake is a magical dessert that bakes a cake and a gooey sauce at the same time, in the same pan! It's ultra-moist, spiced with cozy cinnamon, and the caramel-like topping is irresistible.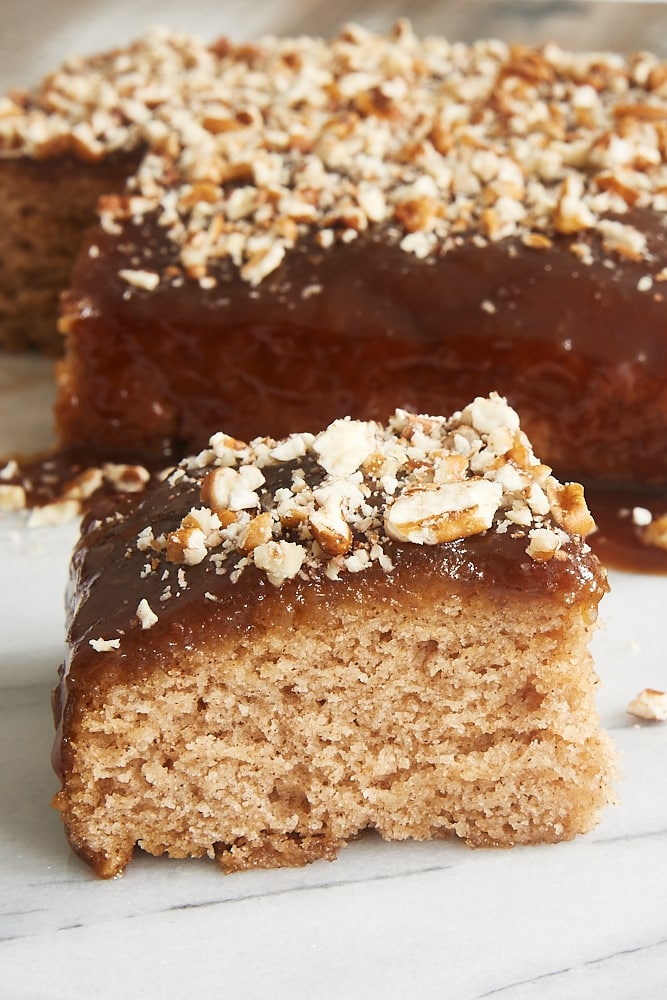 Easy Cinnamon Pudding Cake
We all know that baking is a science, but there are still times that it just seems magical. Pudding cakes are a perfect example of baking magic. Put cake batter and a whole lot of liquid in a cake pan, pop it in the oven, and when it comes out, you've got a moist cake and a gooey, saucy topping all in the same pan. Magic!
This cinnamon pudding cake is flavored with a hefty dose of cinnamon and covered with a caramel-like topping and a sprinkling of toasted nuts. The flavor is just wonderful, and the soft texture is equally lovely.
I've made pudding cakes many times, including my favorite brownie pudding cake, but I've always served them by scooping out the cake and sauce into individual servings. This cake changes things up a bit by turning the cake out of the pan and letting the sauce cover the cake. It's both gorgeous and far easier to serve.
When you get this cake mixed and pour on the topping, you may be skeptical that what you're seeing has any chance of becoming the cake you see here. But that odd, sloshy mixture magically transforms into this delectable cake and topping. Give it a try and you'll certainly be a believer in baking magic, too!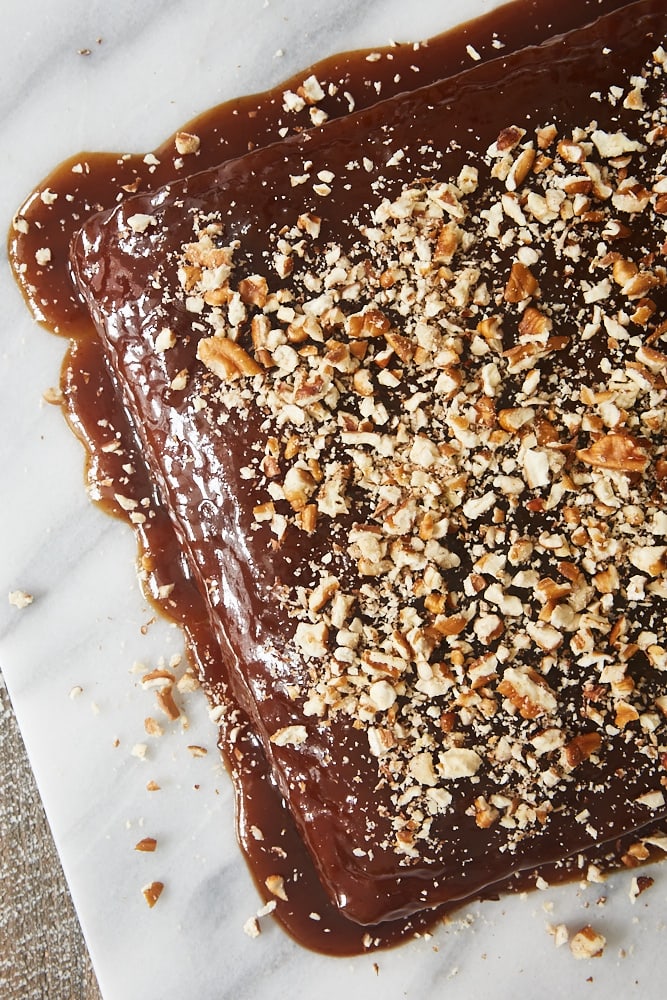 What You'll Need
Scroll down to the recipe card to find the ingredient quantities and recipe instructions.
For the Topping:
For the Cake:
All-purpose flour – Here's how to measure flour.
Baking powder
Ground cinnamon – Cinnamon is the star here, so be sure to use a good one. Choose a cinnamon with an assertive flavor, or it may get lost a bit in the cake. And if your cinnamon has been in the cabinet for a while, it's likely lost a lot of its flavor. Give it a smell and decide if it's time for a new jar.
Salt
Unsalted butter – Let this soften so it's easy to incorporate with the other ingredients.
Granulated sugar
Milk – Whole milk is always best for baking.
Vanilla extract – Store-bought or homemade vanilla extract.
Pecans – These are optional; if you do use them, buy the cheaper pecan pieces instead of whole pecans, since you'll be chopping them anyway.
How Do You Toast Pecans?
The easiest way to toast pecans is to spread them on a sheet pan and bake them in a 350ºF oven for 5 to 10 minutes, stirring once or twice during the baking time. You can also toast pecans in a skillet on the stovetop; heat the pan over medium, add the nuts, and stir constantly until the pecans are fragrant and slightly browned.
How to Make Cinnamon Pudding Cake
This is a cake that's best made just before serving, or at least the same day you plan on serving it. Here's what you'll need to do.
Prepare. Preheat your oven to 350°F and generously grease an 8-inch square baking pan.
Make the sauce. Combine the brown sugar, water, butter, and salt in a small saucepan set over medium-high heat. Bring to a boil, stirring occasionally, then set aside to cool.
Mix the dry ingredients. Whisk the flour, baking powder, cinnamon, and salt in a mixing bowl.
Cream the butter and sugar. Use an electric mixer on medium speed to beat the butter and sugar in a second mixing bowl, until they're light and fluffy.
Finish the batter. Reduce the mixer speed to low. Add the dry ingredients in 3 portions, alternating with 2 portions of milk. (Add the vanilla with the first portion of milk.) Mix just until combined.
Assemble. Transfer the batter to the prepared pan and spread it evenly, then pour the topping mixture over the batter.
Bake. Carefully place the pan in the oven. Bake for 45 to 50 minutes, or until the cake is set. The center of the cake should no longer jiggle when the pan is gently shaken.
Cool. Let the cake cool in the pan on a wire rack for 15 minutes, then invert it onto a serving platter. If any topping remains in the bottom of the pan, simply scrape it onto the cake and smooth the top.
Serve. If desired, sprinkle pecans over the top of the cake. Serve cinnamon pudding cake warm or at room temperature.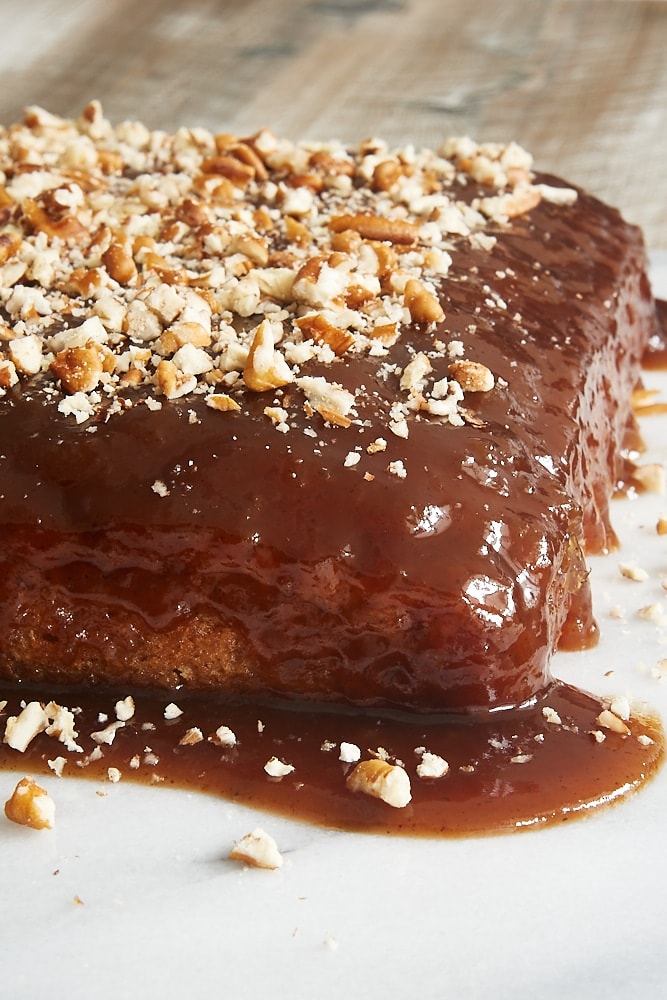 Tips for Success
As simple as this cake is to make, there are a few tips I can offer to make things go as smoothly as possible. (Be sure to read over my baking tips for beginners, too!)
Thoroughly grease the pan. Don't be shy. There's a whole bunch of sticky caramel that will be baked in the bottom of the pan, so you want to make sure it comes out as easily as possible. I recommend a cooking spray with flour, like Baker's Joy or Pam Baking.
Use a light-colored pan. A dark pan holds heat more than a light-colored pan, which means it can over-bake your cake and cause the caramel topping to stick.
There's still sauce in my pan! After you flip the cake over, there will be the inevitable bit of sauce that doesn't freely come out of the pan. The sauce should still be warm enough that you can just scrape it out of the pan and put it on top of the cake. Then simply spread the sauce over the cake. Easy fix!
Serving Suggestions
With the cake and the sauce all in one pan, you really don't need to add anything else to this cinnamon pudding cake—especially if you opt for the optional pecans. That said, a scoop of vanilla ice cream over a warm piece of pudding cake is divine, or just add a dollop of sweetened whipped cream to each serving.
How to Store
Cover any leftovers or transfer them to an airtight container and refrigerate for up to 4 days. Reheat briefly in the microwave or for a few minutes in a low-temperature oven.
Can This Cake Be Frozen?
While the taste of this cake may hold up well after freezing, the texture and appearance are likely to be affected. I don't consider it a great candidate for freezing. If you do choose to freeze this cake, transfer it to an airtight, freezer-safe container. Properly stored, it should keep up to 2 months.
More Pudding Cake Recipes