May 2, 2016
Cinnamon Pudding Cake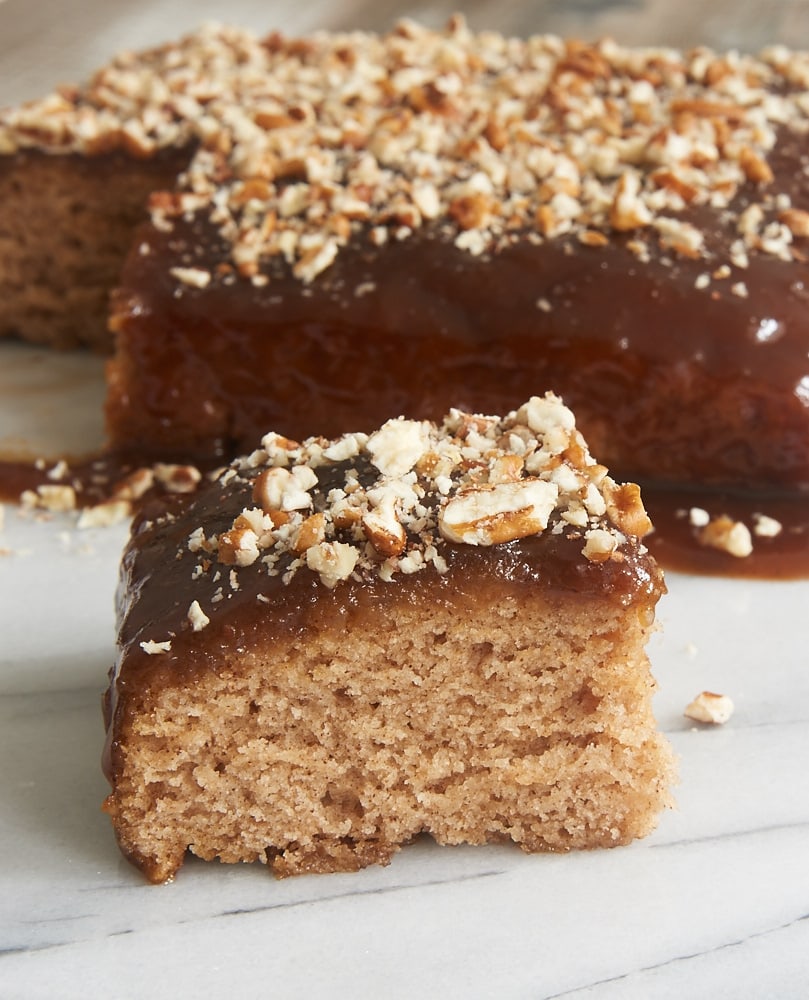 We all know that baking is all about science, but there are still times that it just seems magical. Pudding cakes are a perfect example of baking magic. Put cake batter and a whole lot of liquid in a cake pan, and somehow it turns into cake and sauce all at the same time. Magic!
This fantastic pudding cake is flavored with a hefty dose of cinnamon and covered with a caramel-like topping and a sprinkling of toasted nuts. The flavor is just wonderful. And the soft texture is equally lovely.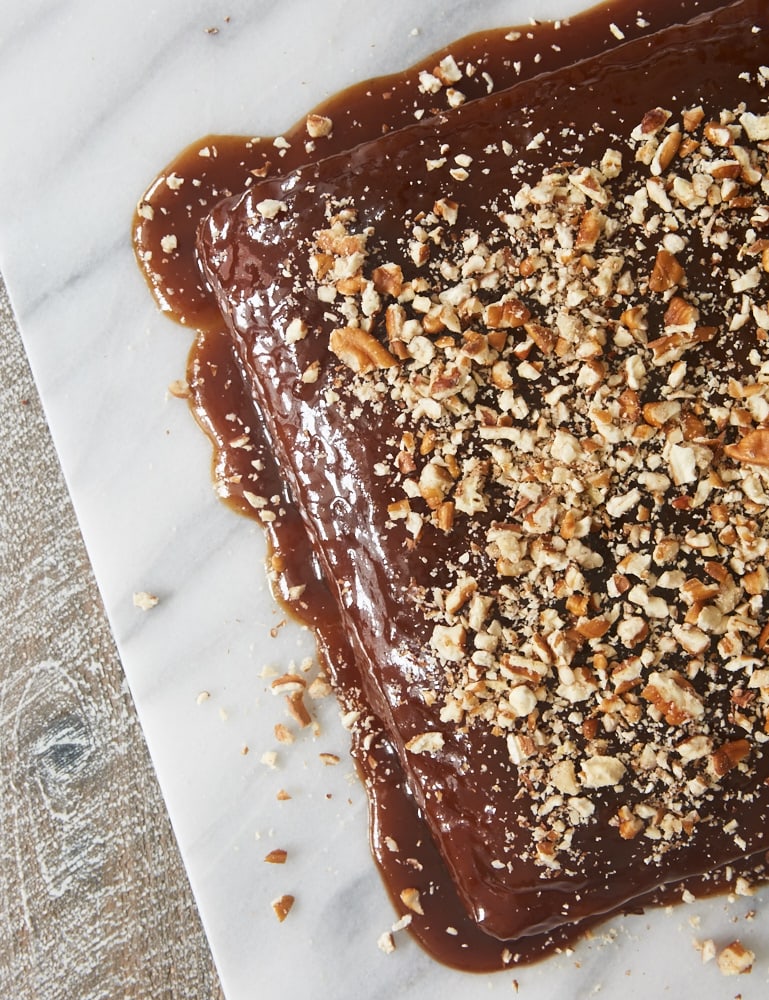 I've made pudding cakes many times (hello, Chocolate Cobbler!), but I've always served them by scooping out cake and sauce into individual servings. This cake changes things up a bit by turning the cake out of the pan and letting the sauce cover the cake. It's both gorgeous and far easier to serve.
As simple as this cake is to make, there are a couple of tips I can offer to make things go as smoothly as possible. The first is to make sure that you thoroughly grease your cake pan. Don't be shy. There's a whole bunch of sticky caramel that will be baked in the bottom of the pan. You want to make sure it comes out of there as easily as possible. (And I highly recommend that you don't use a dark pan so it doesn't overbake.)
I feel I must also take a moment to get out my Quality Ingredients Soapbox. Cinnamon is the star here, so be sure to use a good one. Pick a cinnamon with good flavor, or it may get lost a bit in the cake. I mainly use Penzey's Vietnamese Cinnamon, which has a wonderful, strong flavor. If you're using a less strong cinnamon, you might consider increasing the amount of cinnamon in the cake.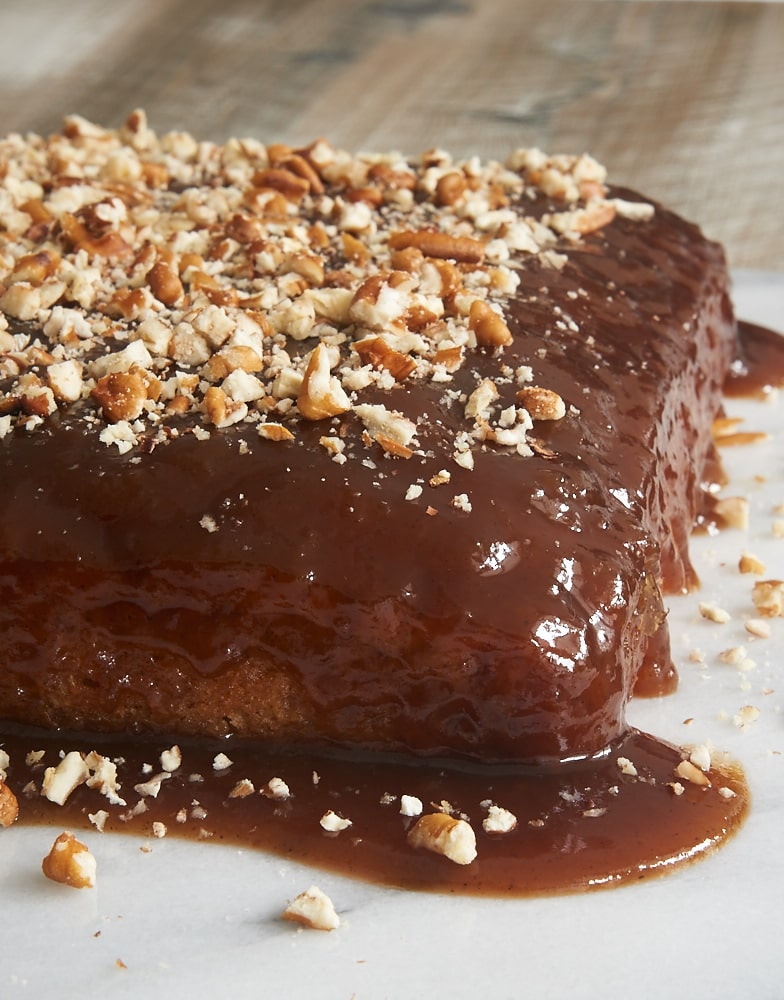 My other tip is for the inevitable bit of sauce that doesn't freely come out of the pan. I had just a bit of it that didn't come out when I inverted the cake. But no worries. The sauce should still be plenty warm enough so you can just scrape it out of the pan and put it on top of the cake. Then simply spread the sauce over the cake. Easy fix!
When you get this cake mixed and pour the topping on top, you may be skeptical that what you're seeing has any chance of becoming the cake you see here. But that odd, sloshy mixture magically transforms into this wonderfully delicious cake and topping. Then you'll certainly be a believer in baking magic, too!
Find more cake recipes in the Recipe Index!
Cinnamon Pudding Cake
Yield: 9 servings
Prep Time: 15 minutes
Cook Time: 50 minutes
Cake and sauce that bake at the same time? That's the magic of this delightful Cinnamon Pudding Cake!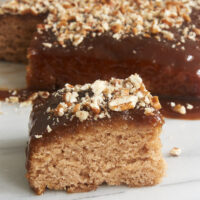 Ingredients:
For the topping:
1 cup plus 2 tablespoons firmly packed light brown sugar
3/4 cup water
1 tablespoon unsalted butter
1/4 teaspoon salt
For the cake:
2 cups all-purpose flour
2 teaspoons baking powder
2 & 1/2 teaspoons ground cinnamon
1/2 teaspoon salt
2 tablespoons unsalted butter, softened
1 cup granulated sugar
1 cup milk
1 teaspoon vanilla extract
1/2 cup chopped toasted pecans (optional)
Directions:
To make the topping:
Preheat oven to 350°F. Generously grease an 8-inch square baking pan.
Combine the brown sugar, water, butter, and salt in a small saucepan. Bring to a boil over medium-high heat, stirring occasionally.
Set aside to cool.
To make the cake:
Whisk together the flour, baking powder, cinnamon, and salt. Set aside.
Using an electric mixer on medium speed, beat the butter and sugar until light and fluffy.
Reduce mixer speed to low. Add the flour mixture in 3 portions, alternating with 2 portions of milk. Add the vanilla with the first portion of milk. Mix just until combined.
Transfer the batter to the prepared pan, and spread evenly.
Pour the topping mixture over the batter.
Carefully transfer the pan to the oven. (The pan will be very full of liquid.) Bake for 45 to 50 minutes, or until the cake is set. The center of the cake should not jiggle when the pan is gently shaken.
Cool the cake in the pan on a wire rack for 15 minutes.* Then, invert the cake onto a serving platter. If any topping remains in the bottom of the pan, simply scrape it onto the cake and smooth the top.
If desired, sprinkle pecans over the top of the warm cake. Serve warm or at room temperature.
Notes:
*This cooling time is fairly exact for the best results removing the cake from the pan, so be sure to set a timer.
This post contains affiliate links.