April 20, 2017
Lemon Almond Butter Cake
Lemon Almond Butter Cake is simply perfect and perfectly simple. The lovely flavor of this cake is perfect for everything from brunch to dessert!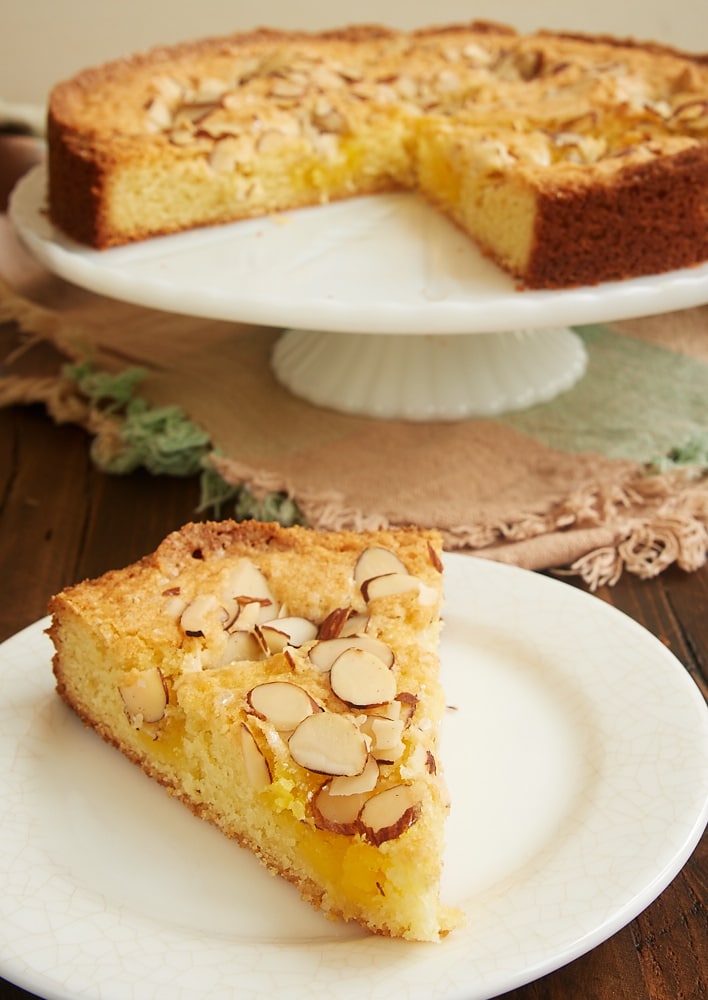 It's not often I make a recipe I find online or in a cookbook exactly as written. I'm too much of a recipe tinkerer for that. But every once in a while, I find one that sounds so good that I want to make it just as it is.
This Lemon Almond Butter Cake is a perfect example. I was looking for some inspiration for using some leftover lemon curd and happened upon the recipe for this simple, flavorful, no-fuss cake. I immediately knew that I had to make it as soon as possible.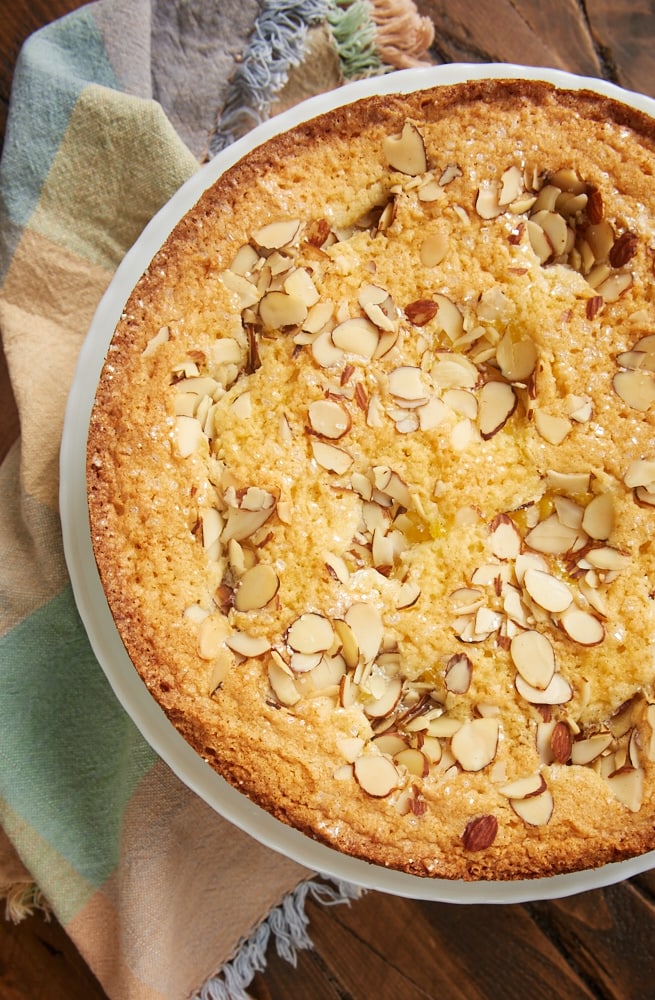 The cake itself has such a lovely almond flavor, thanks to the addition of ground almonds to the batter. You can use a food processor to grind the almonds, or use almond meal or flour.
Topping off the cake is lemon curd. Just dollop it on top of the batter. No mixing or swirling required! Space the tablespoonfuls of lemon curd evenly around the outside edge so that there will be a nice portion of it on each slice. Then just add a little more to the center for even more lemon flavor. You'll need about 3/4 cup of lemon curd for the topping. To be honest, I don't measure it all that accurately. It's not that sensitive, and it speeds things up a bit to skip the precise measuring.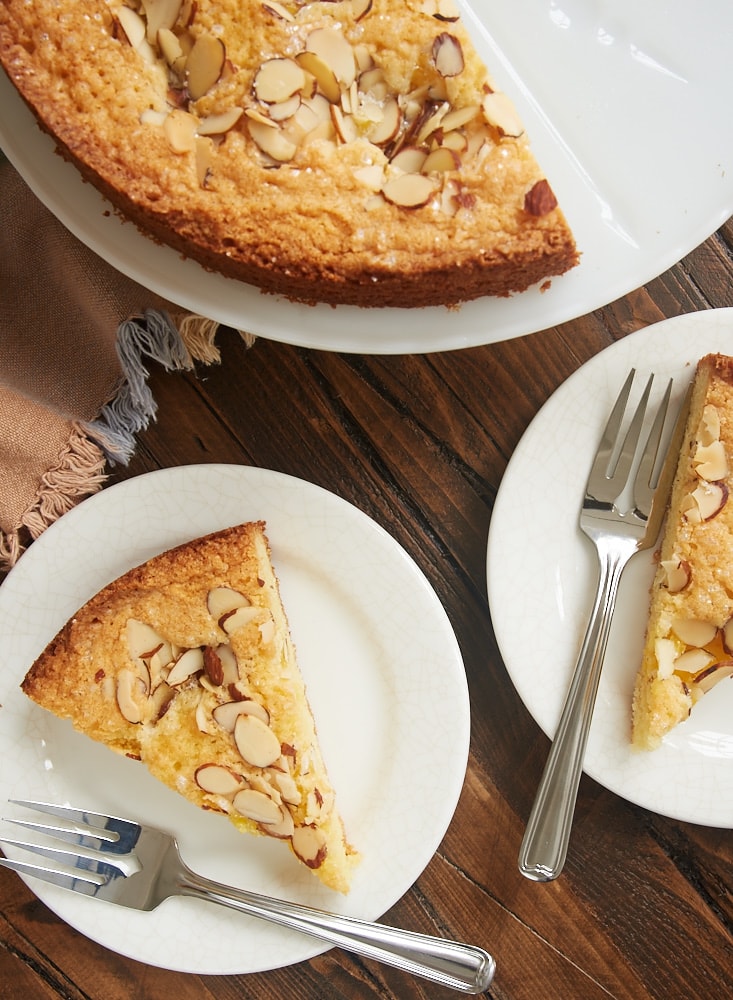 The almonds on top of the cake add a nice crunch and, of course, more almond flavor. The cake isn't overly sweet, so a sprinkling of sanding sugar on top is nice to offset some of the tartness of the lemon curd.
This is such a simple cake with big flavor. I find its rustic appearance quite lovely, too. And the flavor is fantastic! Serve this one for anything from brunch to dessert.
Find more cake recipes in the Recipe Index.
More Lemon Cake Recipes
Bake or Break is a participant in the Amazon Services LLC Associates Program, an affiliate advertising program designed to provide a means for us to earn fees by linking to Amazon.com and affiliated sites.
Lemon Almond Butter Cake
Yield: 8 servings
Prep Time: 15 minutes
Cook Time: 45 minutes
Lemon Almond Butter Cake is a simple, buttery, delicious cake that gets big flavor from plenty of lemon curd. A great cake for everything from brunch to dessert!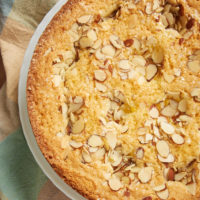 Ingredients:
1 cup (120g) all purpose flour
1 teaspoon baking powder
1/2 teaspoon salt
1/2 cup (113g) unsalted butter, softened
1 cup (200g) granulated sugar
2 large eggs
1/2 cup (50g) finely ground almonds or almond meal
about 3/4 cup lemon curd, homemade or store-bought
about 2 tablespoons toasted sliced almonds
sanding sugar, for garnish
Directions:
Preheat oven to 350°F. Grease a 9-inch springform pan.
Whisk together the flour, baking powder, and salt. Set aside.
Using an electric mixer on medium speed, beat the butter and sugar until light and fluffy.
Reduce mixer speed to low, and mix in the flour mixture. Mix just until combined.
In a separate bowl, whisk the eggs until they start to foam. Be careful not to beat them too much, or your cake will be tough.
Add the eggs and the ground almonds to the butter mixture, and mix well.
Transfer the batter to the prepared pan, and spread evenly.
Drop 8 individual tablespoons of lemon curd evenly around the outside edge of the batter, leaving about an inch border. Drop 3 or 4 more tablespoons of lemon curd onto the center of the batter.
Sprinkle the sliced almonds over the top of the batter. Sprinkle with sanding sugar.
Bake 40 to 45 minutes, or until a pick inserted into the cake comes out clean.
Cool the cake in the pan on a wire rack for 10 minutes. Then remove the sides of the pan and cool the cake completely.