This Blueberry Breakfast Cake is a favorite for summer! Easy to make, moist and light, and studded with juicy blueberries, you'll want to make this cake again and again. Especially since you can eat it for breakfast OR dessert!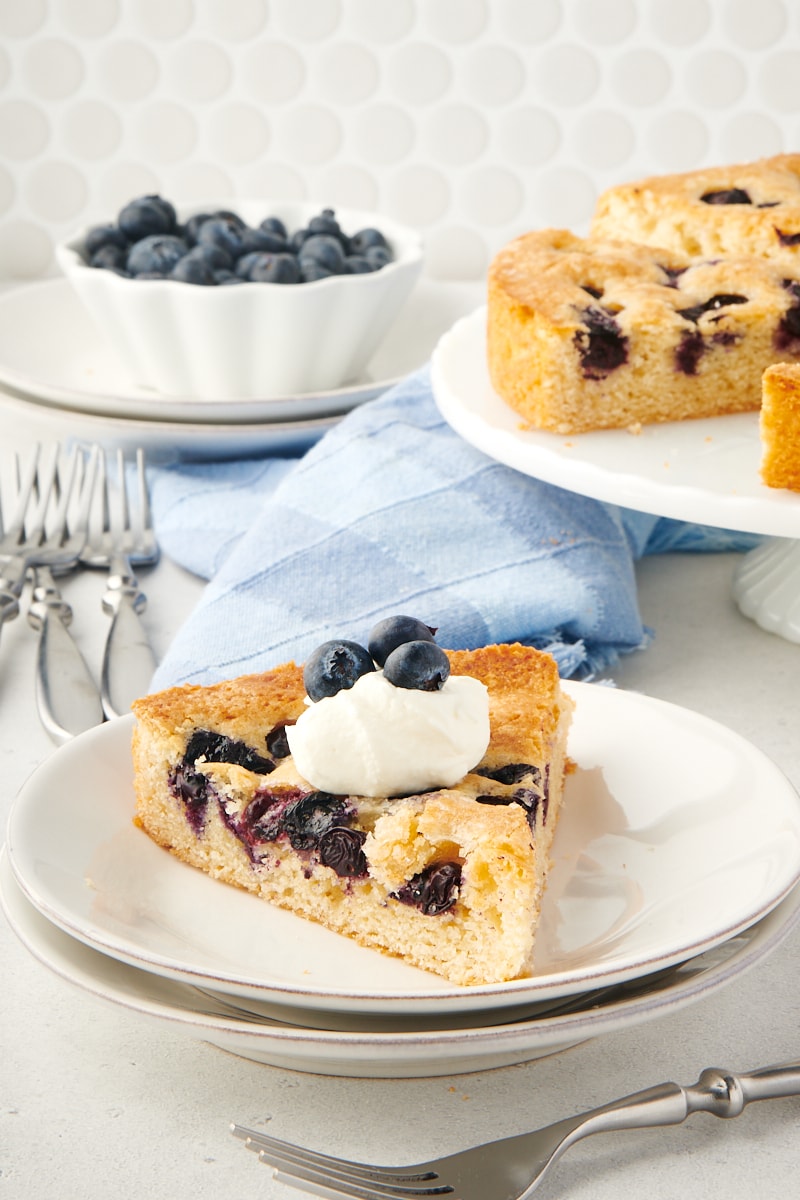 Easy Blueberry Breakfast Cake Recipe
It's funny how we find some of our favorite recipes. I decided to make this blueberry breakfast cake after reading a discussion about it while browsing Chowhound. Sadly, I neglected to bookmark the thread, but I did manage to save the recipe, which is a variation of a cake from Martha Stewart.
I made a few changes, like replacing some of the granulated sugar with brown sugar, and I also sprinkled a little sanding sugar on top, because we all know how I love the way it dresses up simple desserts. This blueberry cake is just the right amount of sweet, a bit delicate, and all-around lovely.
While I made this with blueberries, you can certainly use your favorite fruit or a combination of ripe summer fruits. Strawberries and raspberries are always a good choice, but I think this cake would also work well with sweet cherries, juicy peaches, or even plums. Frozen fruit should work, too, if you have a hankering for this cake once summer has moved along.
(Can't get enough blueberries? Here are 12 Blueberry Recipes to Make This Summer! Also, Blueberry Crumb Cake and Blueberry Coffee Cake are big favorites of mine at the moment.)
Why This Blueberry Breakfast Cake Works
Cake for breakfast? Count me in! Here are a few more reasons to love this blueberry breakfast cake recipe:
Sweet flavor. With a mix of granulated sugar, light brown sugar, and fresh blueberries, this cake has just the right amount of sweetness.
Perfect texture. The cake itself is super tender and fluffy, but the sanding sugar on top adds a delightful crunch to each bite!
Simple ingredients. There's nothing too out of the ordinary here as far as ingredients are concerned. As long as you have some fresh blueberries on hand, you should be good to go!
Breakfast or dessert. That's right, you can make this blueberry cake and eat it for breakfast or dessert! It goes great with a cup of coffee or with a scoop of ice cream.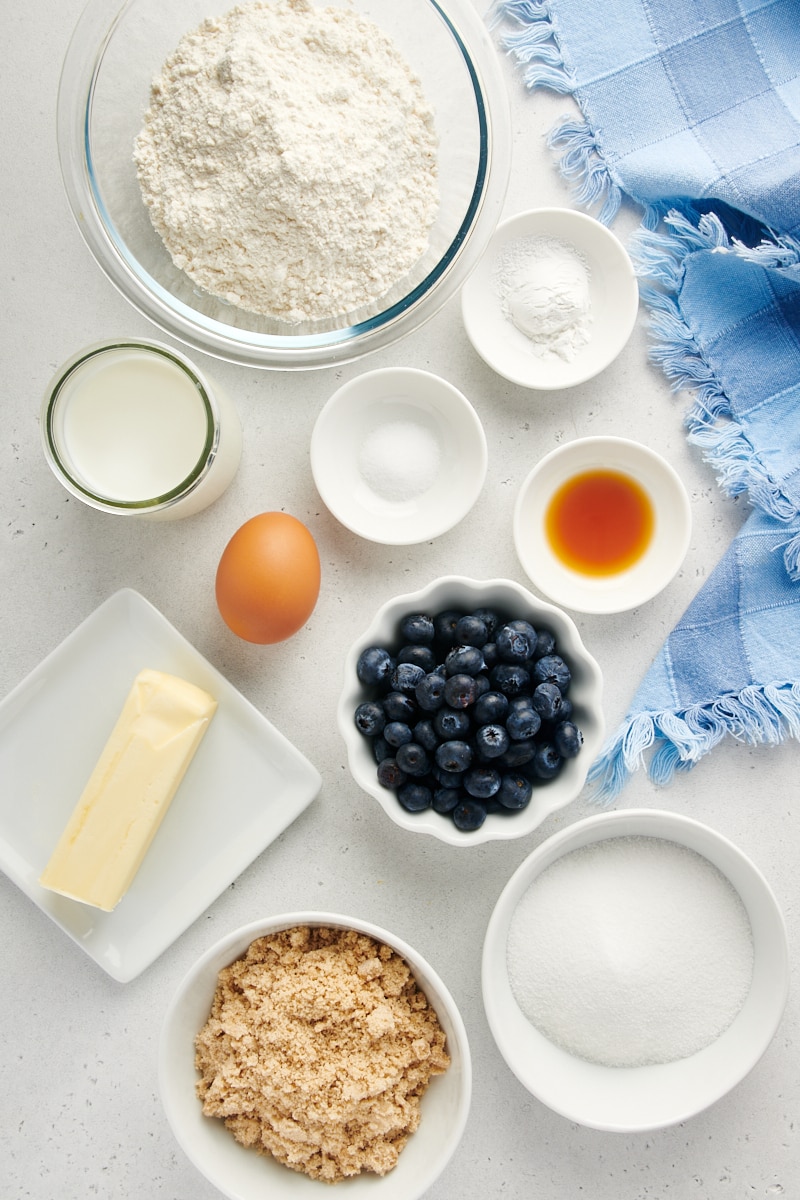 What You'll Need
Scroll down to the recipe card below this post for ingredient quantities and full instructions.
All-purpose flour – Learn more: How to Measure Flour.
Baking powder – This will give your blueberry cake a nice lift.
Salt – This will enhance the sweet flavors of the other ingredients.
Unsalted butter – Learn more: Unsalted or Salted Butter: Which is Better for Baking?
Sugar – I like to use both granulated sugar and light brown sugar in this recipe. You'll want to use light brown sugar in this cake, not dark; dark brown sugar has a more pronounced molasses flavor that won't play well with the rest of the ingredients here.
Egg – Let this come to room temperature so it holds more air when beaten.
Vanilla extract – If you have almond extract on hand instead, it would be lovely in this recipe!
Milk – Whole milk is always best for baking!
Blueberries – You can make this cake with fresh or frozen blueberries. This post on Fresh vs Frozen Fruits might help you decide which to use!
Sanding sugar – This is optional. Sanding sugar adds sparkle and a delightful crunch to the tops of cookies, cakes, and muffins. Another coarse sugar, like Demerara, can be used as a substitute.
How to Make This Blueberry Breakfast Cake
If you can make blueberry muffins, you can make this blueberry cake! Here's what you'll need to do.
Prepare. Preheat your oven to 350°F and generously grease a 9-inch round cake pan with butter or cooking spray.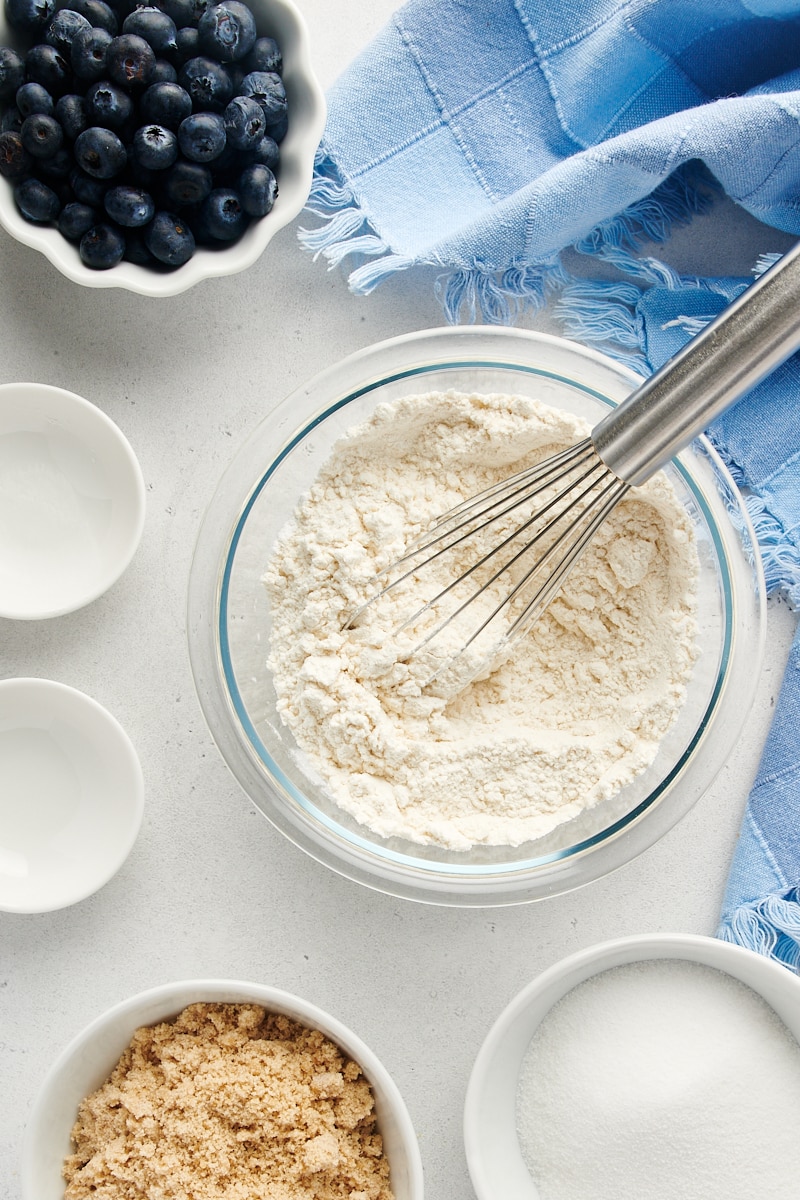 Mix the dry ingredients. In a medium mixing bowl, whisk the flour, baking powder, and salt.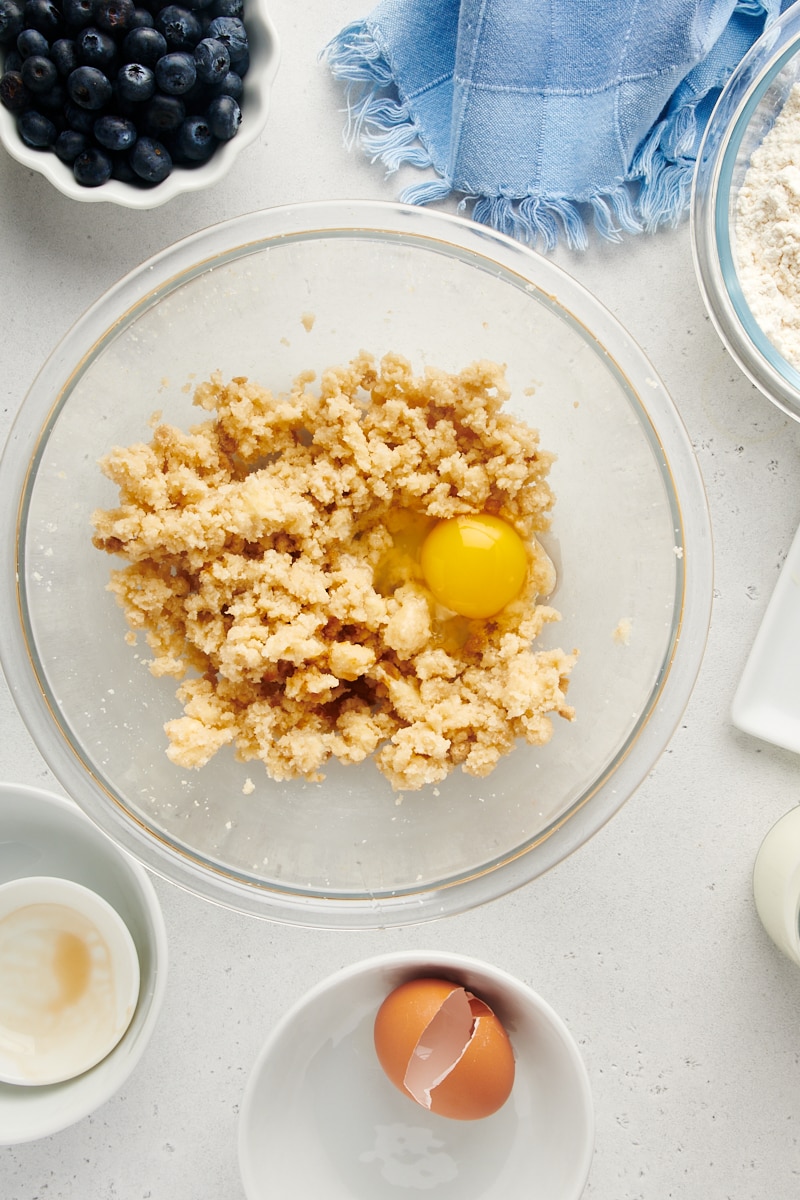 Mix the wet ingredients. Use an electric mixer on medium speed to beat the butter, sugar, and brown sugar until creamy. Then, beat in the egg and vanilla.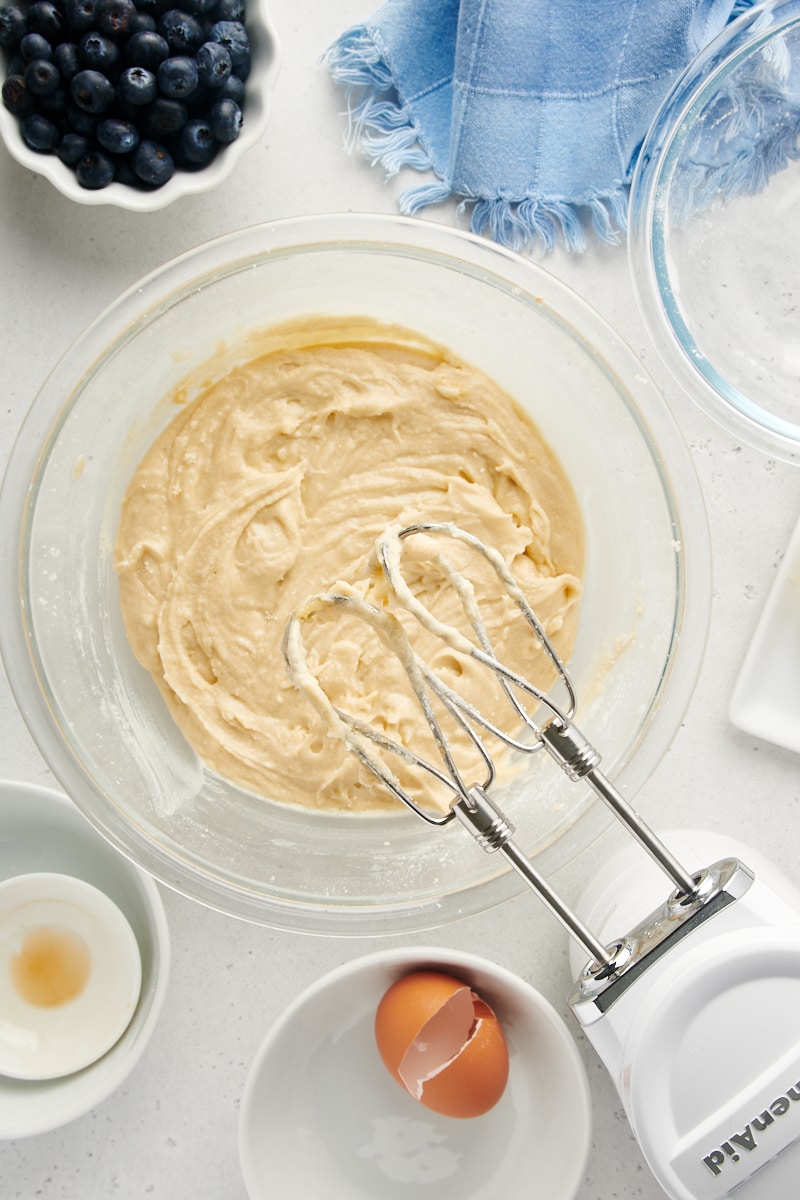 Finish the batter. Beat in the flour mixture in 3 portions, alternating with the milk. Mix until just combined.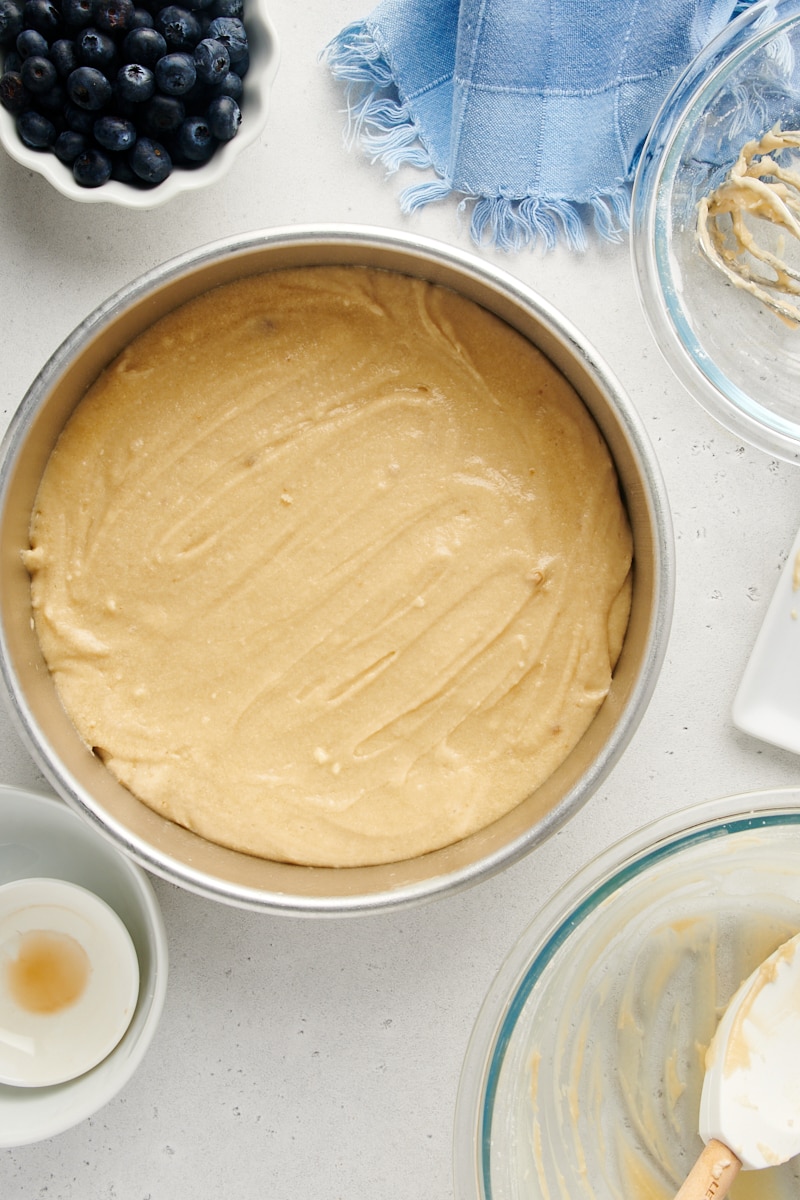 Assemble. Pour the batter into the greased pan. Scatter the blueberries over the top and gently press them into the batter (you can use a straw or skewer if you don't want to get batter on your fingers). Sprinkle the top of the cake with sanding sugar.
Bake. Place the cake pan in the oven and bake for 10 minutes, then reduce the oven temperature to 325°F. Bake for 50 to 60 minutes more, or until the cake is golden brown and firm.
Cool. Let the cake cool in the pan for 15 minutes, then run a knife around the edges. Turn out the cake onto a plate, then flip it again onto a wire rack so it can finish cooling.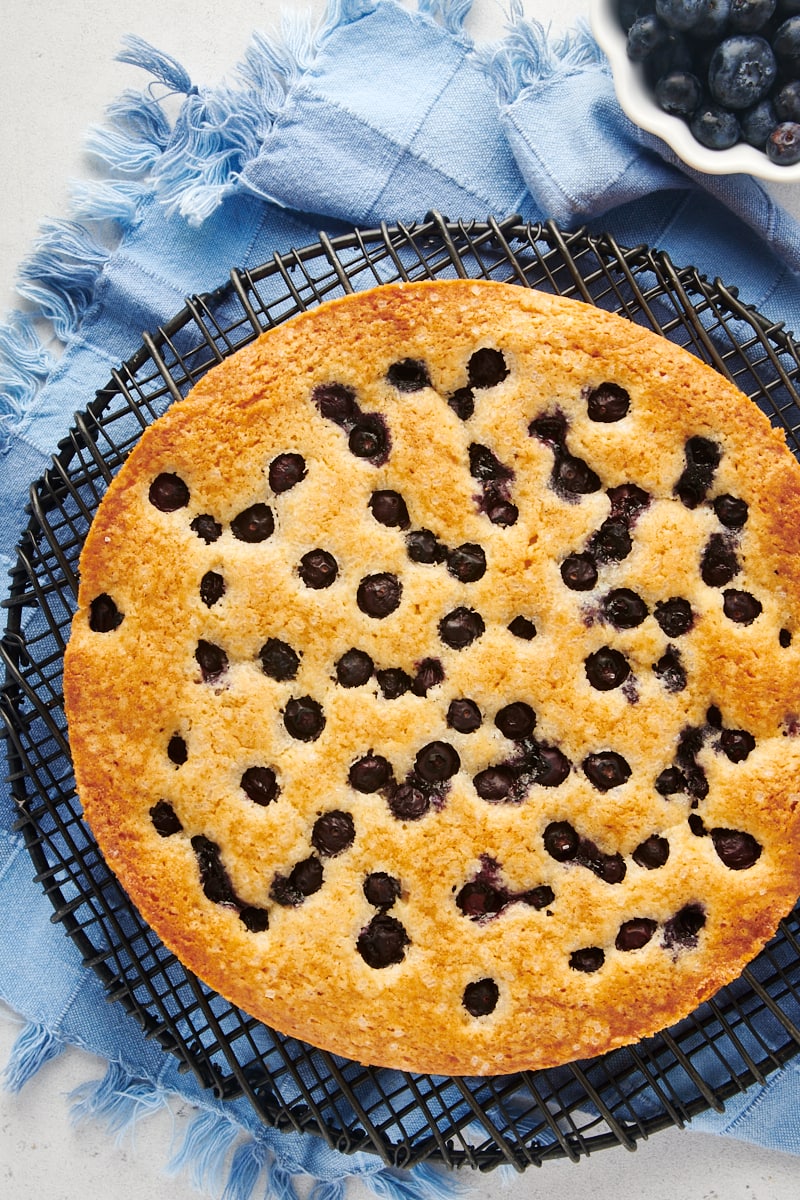 How Long Should I Leave a Cake in the Pan After Baking?
The general rule is to wait about 10-20 minutes before removing a cake from the pan, but different cakes need different cooling times, so always follow the recipe's instructions!
Leaving the cake in the pan to rest gives it enough time to cool and solidify a bit so it doesn't break or crumble when you try to remove it. That said, you don't want it completely cool before turning it out either, because it will be more likely to stick to the pan. It's one of those Goldilocks situations where you want it neither too hot nor too cool!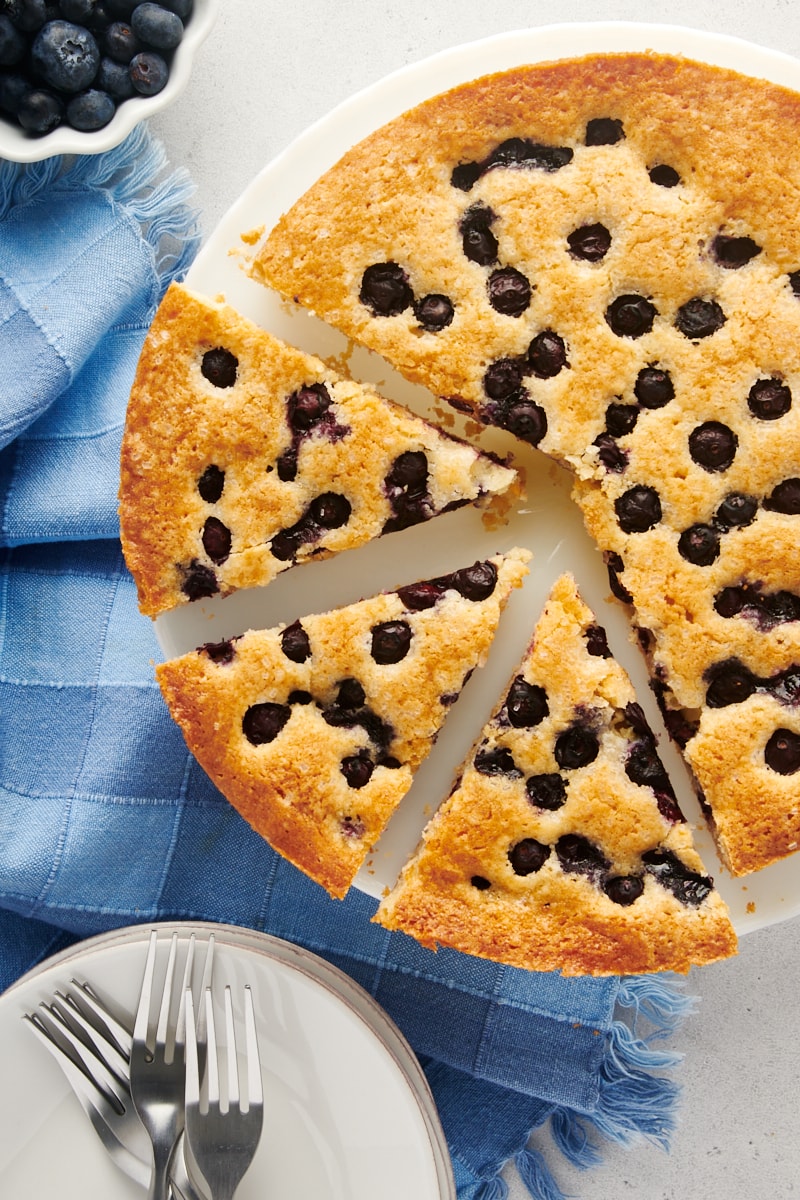 Video Tutorial For Blueberry Cake
Want to watch this blueberry breakfast cake come together step by step? Check it out:
Tips for Success
This blueberry breakfast cake is easy as can be, but these hints and tips will help you make it perfect!
Don't over-mix the batter. The more you mix the batter, the more the gluten in the flour will develop. This is bad news for your cake because it won't have the light, fluffy texture you want!
Make sure the blueberries are dry. Wash them and let them dry in a colander, or if you're short on time, pour them out onto a few layers of paper towels and pat them dry. You don't want them introducing water into the batter when you fold them into the batter!
Use room temperature eggs, butter, and milk. When these ingredients are room temperature, your batter will hold more air, yielding a lighter cake texture. Keep an eye on your butter, especially if your kitchen is warm, so it doesn't get too soft. Learn more: How to Soften Butter.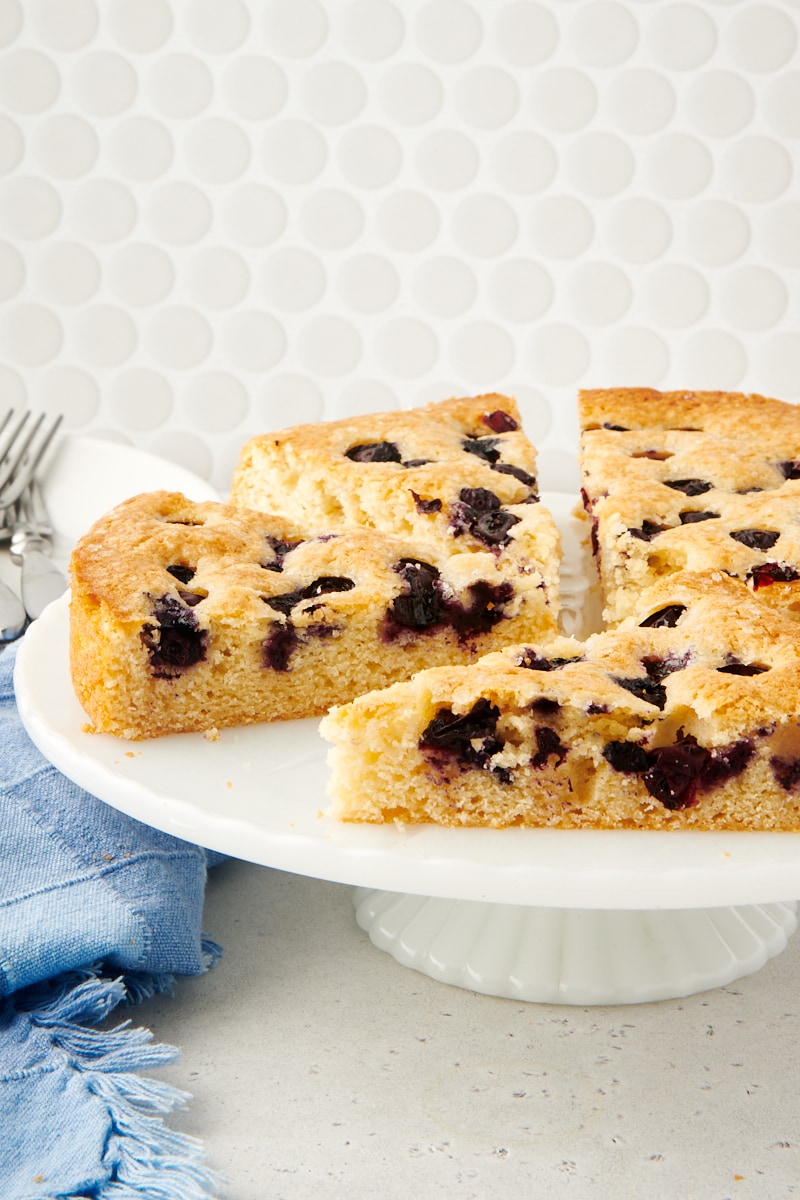 Serving Suggestions
This blueberry cake is delicious as-is, but you can easily dress it up, too, with:
Whipped cream. Serve it with a dollop of sweetened whipped cream and a pile of fresh summer berries.
Lemon curd. Or, pair it with homemade lemon curd for a sweet-tart contrast.
Ice cream. Plate the cake with a scoop of vanilla ice cream (preferably the kind flecked with vanilla beans!) and spoon blueberry compote over the top.
Coffee or tea. If you're enjoying this cake for breakfast, make sure you have a steaming hot cup of coffee or tea to go with it!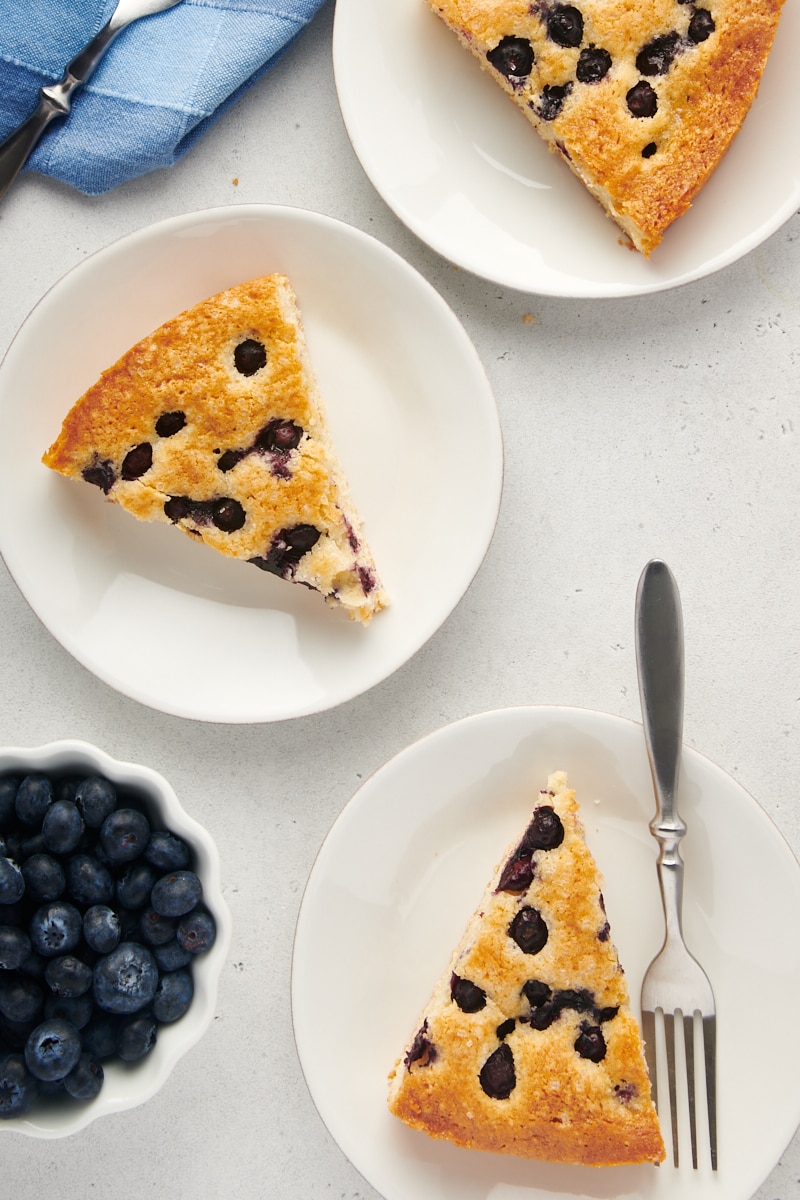 How to Store
This cake will keep at room temperature for 3-4 days. Wrap it well, or transfer smaller portions of leftovers to an airtight container.
Can I Freeze This Blueberry Breakfast Cake?
Yes, you can freeze blueberry cake for up to 3 months. Wrap it well or freeze it in an airtight storage container; let it thaw at room temperature before serving.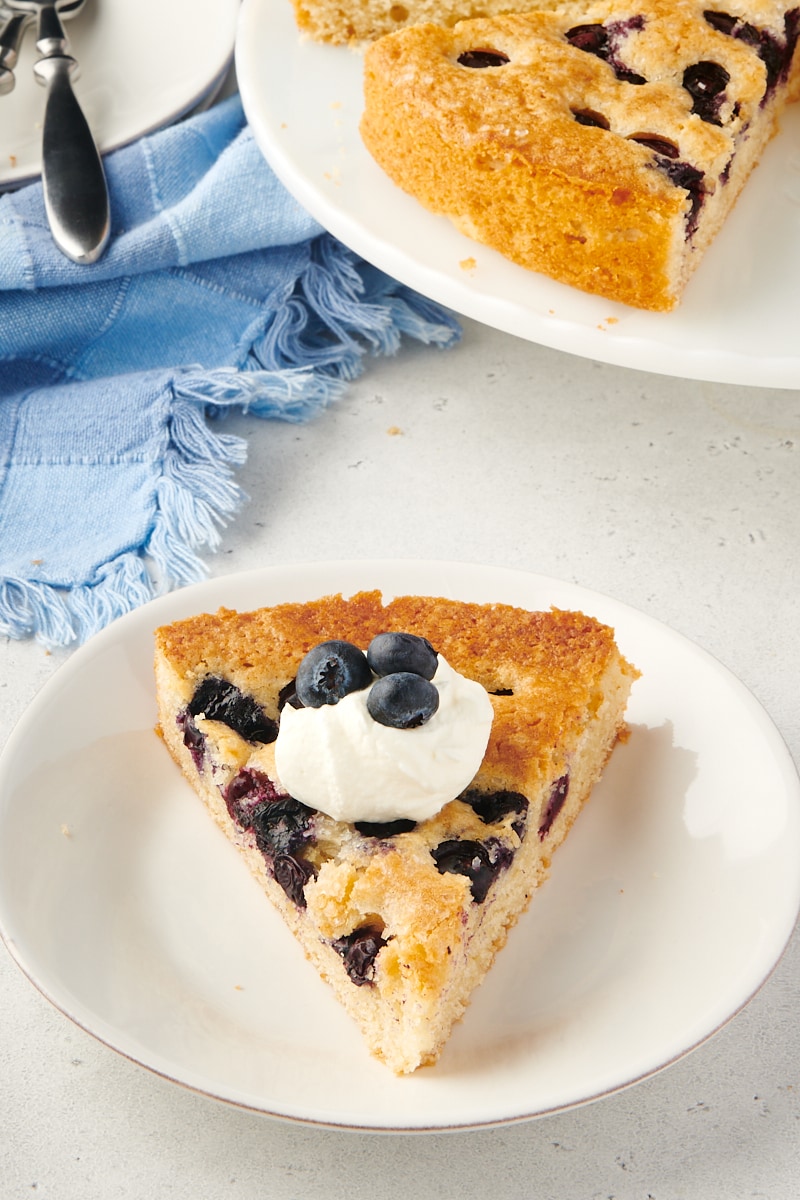 More Blueberry Cake Recipes
There are so many blueberry cakes to try! These are a few more of my favorite recipes: