These homemade kolaches feature a sweet, pillowy dough topped with your choice of filling. They're easier to make than you think, and bound to be a new favorite breakfast!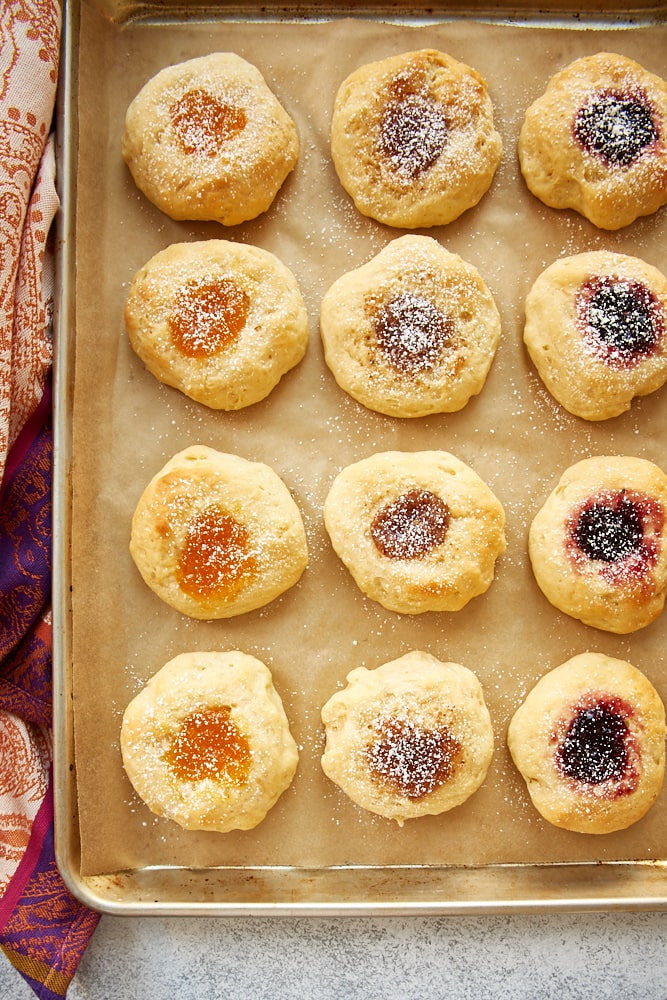 An Easy Kolaches Recipe
These tender and sweet homemade kolaches are what breakfast dreams are made of. If you're not familiar with kolaches, they're little pastries with an indentation full of a sweet filling in the middle. In the United States, they're popular in Texas, although you'll find them in other areas with large populations of Czech immigrants. Kolaches are perfect for a breakfast treat or a sweet snack – in fact, they're a little bit like donuts, and often sold at donut shops!
Kolaches are a yeast-based pastry, but don't let that dissuade you from trying this recipe. They are EASY to make! With the use of instant yeast, things go quickly and you're going to impress friends and family with your baking prowess.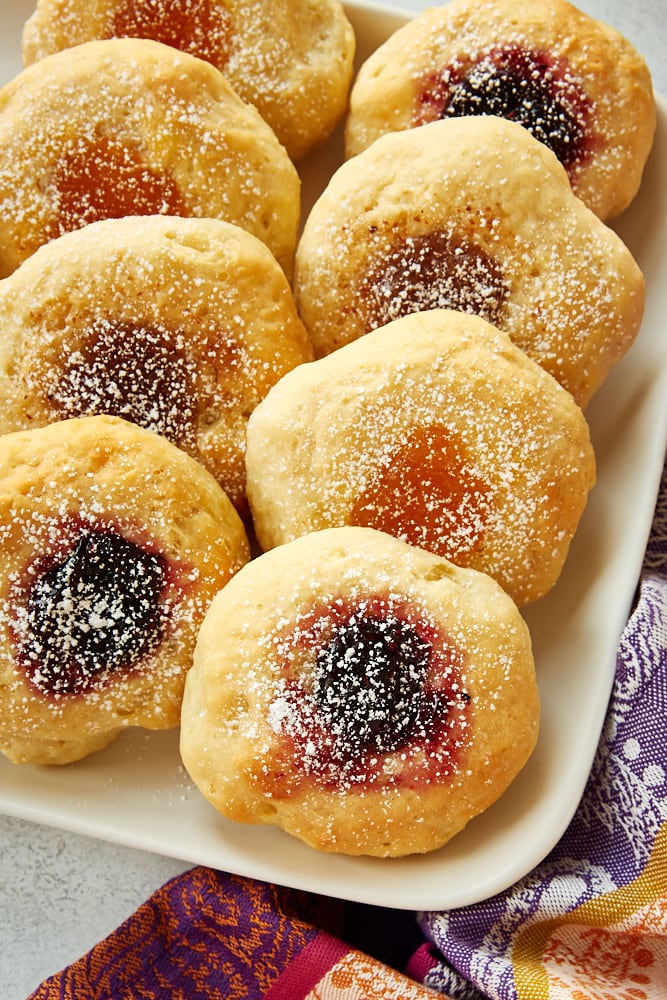 Kolaches vs. Kolaczky
If you live in a region where kolaches aren't popular, you may have read the name of this recipe and assumed it's an alternate spelling of kolaczky! But, they are not the same thing. While kolaches originated in the Czech Republic, kolaczky are a traditional Polish treat.
What's the difference? A kolache is soft and fluffy thanks to the addition of yeast. In many ways it resembles a small, baked donut with the filing on the outside. By contrast, kolaczky are cookies made with a cream-cheese-based dough.
Both of these sweet treats can be topped with fruit (or jam) and dusted with powdered sugar, but there's more room for creativity with kolaches. In Texas, they even sell kolaches filled with eggs, sausage, and BBQ brisket!
What You'll Need
The dough is made with a short list of ingredients, including sour cream, which adds a wonderful flavor and makes the dough easy to handle. Here's a quick overview, but be sure to scroll down to the recipe card for specific amounts.
All-purpose flour
Instant yeast – Make sure you buy instant yeast! It works differently than active dry yeast.
Granulated sugar
Salt
Water
Sour cream – I recommend using full-fat sour cream.
Unsalted butter – Using unsalted butter is important in baking; it allows you more control over the flavor of your recipe.
Eggs
Pastry filling – To shave off the prep time for this recipe, I used pre-made pastry filling. A 12-ounce can is perfect for this recipe. Alternatively, you can use the sweetened cream cheese filling from my cream cheese muffin recipe for something different.
Confectioners' sugar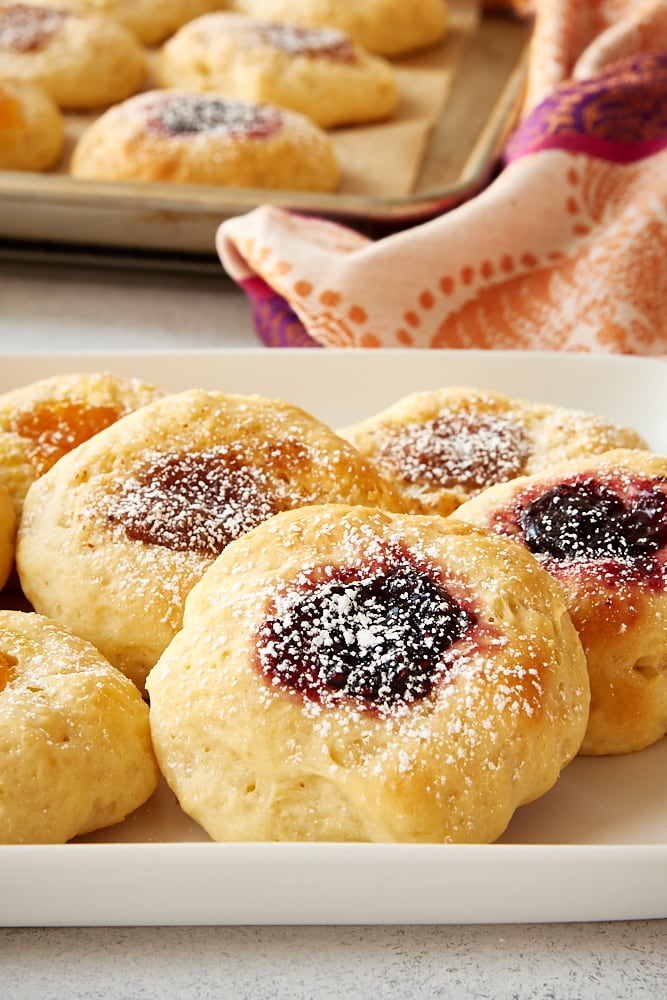 How to Make Classic Kolaches
Here's what you'll need to do to make old-fashioned kolaches at home:
Mix the dry ingredients. Combine flour, yeast, sugar, and salt in a large mixing bowl or the bowl of a stand mixer.
Heat the wet ingredients. Place the water, sour cream, and butter in a medium saucepan and heat until the mixture is very warm (120° to 130°F on a thermometer).
Combine wet and dry ingredients. Slowly pour the butter mixture into the flour mixture and beat at medium speed for 2 minutes, scraping down the sides of the bowl as needed.
Add remaining dough ingredients. Beat in the eggs and 1 cup flour; beat at high speed for 2 minutes, then stir in the remaining flour until a stiff dough is formed.
Chill. Cover the mixing bowl and place it in the refrigerator for 2 to 24 hours.
Prepare. Line 2 to 3 baking sheets with parchment paper or silicone liners.
Form kolaches. Divide the dough into 24 equal portions, then shape each into a ball. Transfer the balls of dough to the prepared sheets, setting them about 2 inches apart. Cover the baking sheets with plastic wrap and let the dough rest for 15 minutes. (Don't throw out the plastic wrap when you're done; you'll use it again.)
Fill the kolaches. Make a deep, wide indentation in each ball of dough, with a 1/2-inch border around the edges. Fill the indentations with a heaping teaspoon of your prepared pastry filling.
Let the dough rise again. Spray the plastic wrap with cooking spray and cover the kolaches again. Place the baking sheets in a warm, draft-free place until the kolaches have doubled in size. This should take about an hour.
Bake. Preheat your oven to 350°F, then bake the kolaches for 18 to 23 minutes, or until golden brown.
Cool and serve. Let the kolaches cool on the pans on wire racks for 5 minutes, then transfer them from the pan to wire racks to finish cooling. (Learn more: Why Every Baker Needs Wire Cooling Racks) Dust the kolaches with confectioners' sugar if desired, then serve.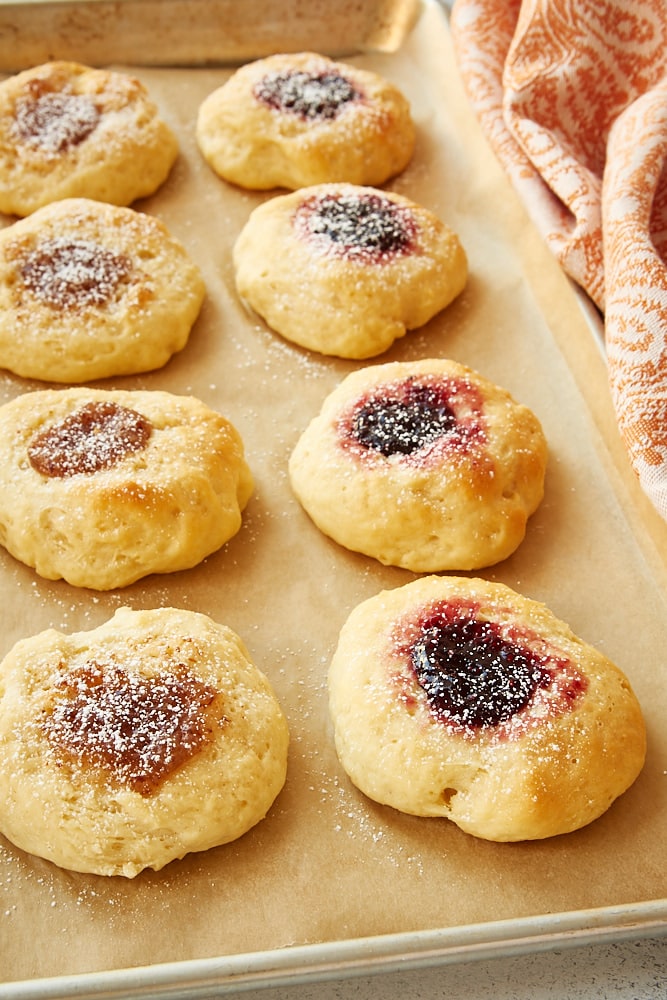 Tips for Success
Kolaches are simple to make, but here are a few hints to make them even easier!
Portioning the dough. For evenly-sized pastries, weigh your dough in grams on a kitchen scale, then divide that by 24. The number you get should be the weight of each ball of dough. Making the kolaches the same size looks nicer and allows them to bake more evenly.
Filling options. I often use different flavors of pastry filling for more options and a nice look on a serving tray. If you want to stick with one type of filling, that's fine, too. The ones you see here were filled with apricot, raspberry, and almond.
Finishing your kolaches. You can serve these just as they are, sprinkle them with confectioners' sugar, or drizzle them with a simple glaze made with confectioners' sugar and milk or cream. I recommend keeping it on the thicker side so it will set well and stand out on the pastries.
Make now, bake later. You'll notice in the directions that the dough can be refrigerated for up to 24 hours if you want to divide the prep and baking over two days.
Common Questions
What exactly is a kolache?
A kolache (pronounced koh-lah-shee) is a small pastry made with yeasted dough. It has an indentation in the center that is filled with fruit jam or sometimes cheese. The word "kolache" stems from the Czech word "kola," which means "wheels" or "rounds."
Are kolaches German or Czech?
Kolaches are a Czech pastry.
Are kolaches a Texas thing?
Although kolaches are originally from the Czech Republic, they are extremely popular in Texas because there is a large Czech immigrant population there. They're not just a Texas thing though! You can find kolaches anywhere in the US.
How to Store
While kolaches will likely be at their very best the day they're made, they also reheat nicely. Keep any leftovers tightly covered in the refrigerator, then reheat in a low temperature oven for a few minutes or in the microwave for about 10 seconds.
Can This Recipe Be Frozen?
Yes, you can freeze baked kolaches in a freezer bag or airtight container for up to 2 months. Let them thaw in the refrigerator, or heat them from frozen in the microwave or oven.
More Sweet Breakfast Treats
Video Tutorial: Kolaches