Homemade classic Kolaches are surprisingly easy to make. Use your favorite fillings to customize them to your tastes!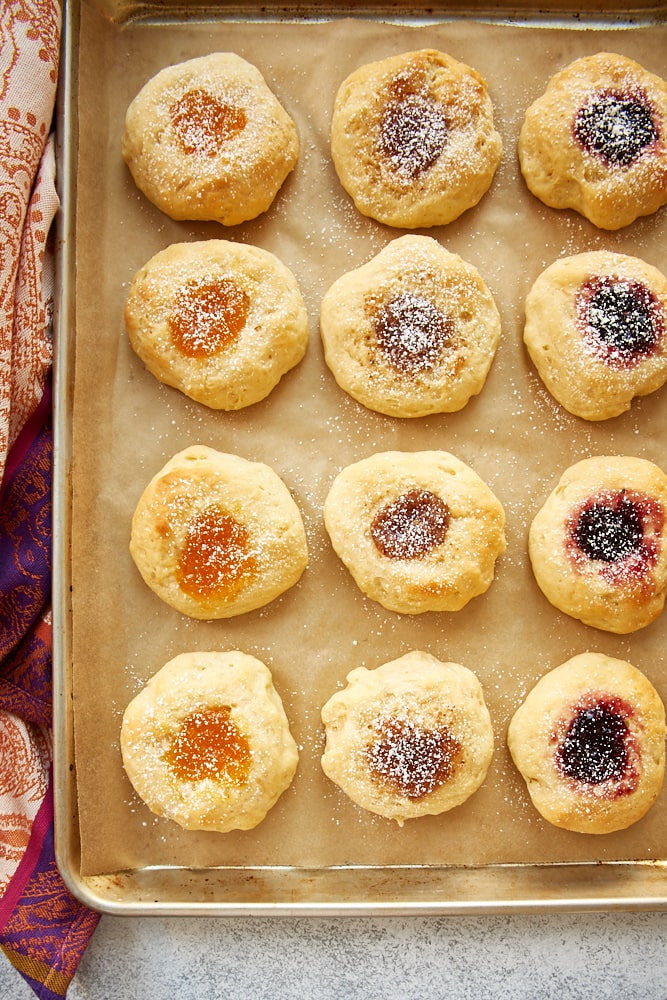 Kolaches are something I've wanted to try baking for quite a while. For those of you not familiar with classic kolaches, they're little pastries with an indentation full of a sweet filling. They're perfect for a breakfast treat or a sweet snack.

Kolaches are a yeast-based pastry, but don't let that cause you any hesitation. With the use of instant yeast, things go quickly and easily. Whether you're new to yeast baking or a pro, I think you'll find these to be surprisingly easy to make.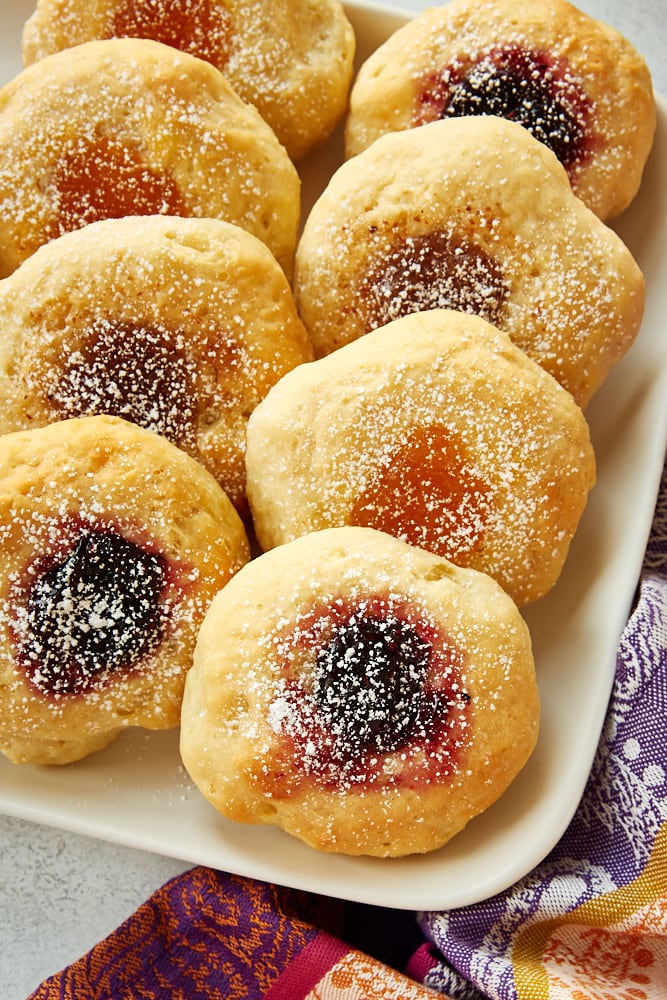 The dough is made with a short list of ingredients. I love the addition of sour cream to the dough. It adds a wonderful flavor and also makes the dough really nice to handle. If any of you aren't big fans of sour cream, don't worry. Honestly, I don't know that you'd be able to name sour cream as an ingredient if you were to try one without knowing the ingredients.
When it's time to portion the dough, a kitchen scale is your best friend. Add in a little simple math, and you'll make this part wonderfully easy. Weigh your dough in grams, and divide that by 24 to find out how much you want each portion to weigh. Having each of the kolaches the same size will not only look nicer, but you'll also find that they bake more evenly.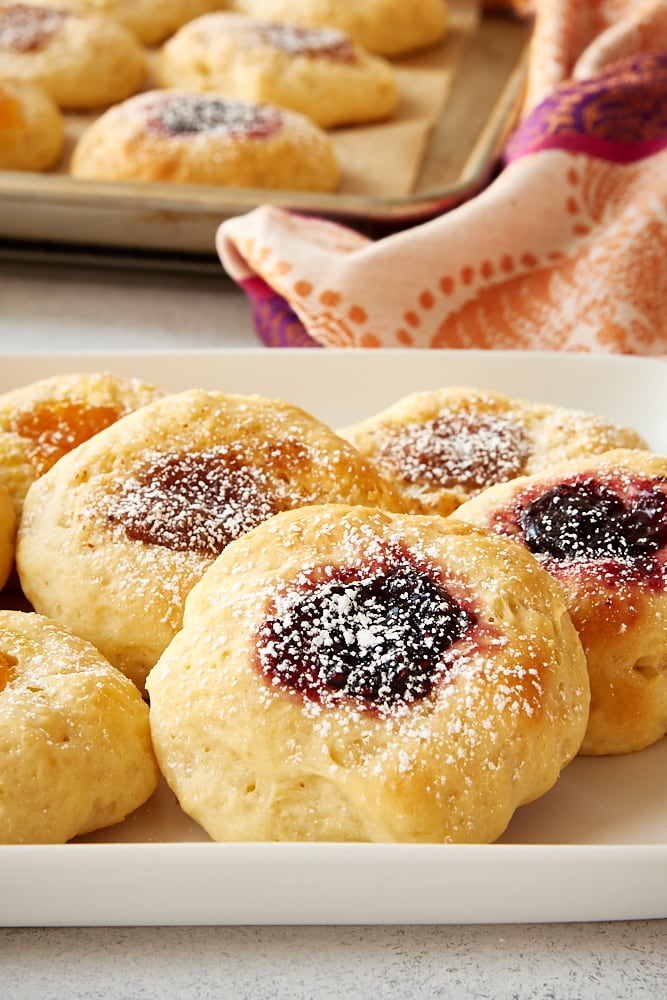 I like to use a pre-made pastry filling to simplify things a bit. For variety's sake, I often use different flavors for more option and a nice look on a serving tray. If you want to stick with one type of filling, that's fine, too. The ones you see here were filled with apricot, raspberry, and almond.
You can serve these just as they are, or you can top them with a simple glaze or an even simpler sprinkling of confectioners' sugar. The latter is my preference for the appearance and also to keep things simple. If you prefer a glaze, then try that reliable combination of confectioners' sugar and milk or cream. We've probably all made a version of that dozens of time. I'd recommend keeping it on the thicker side so it will set well and stand out on the pastries.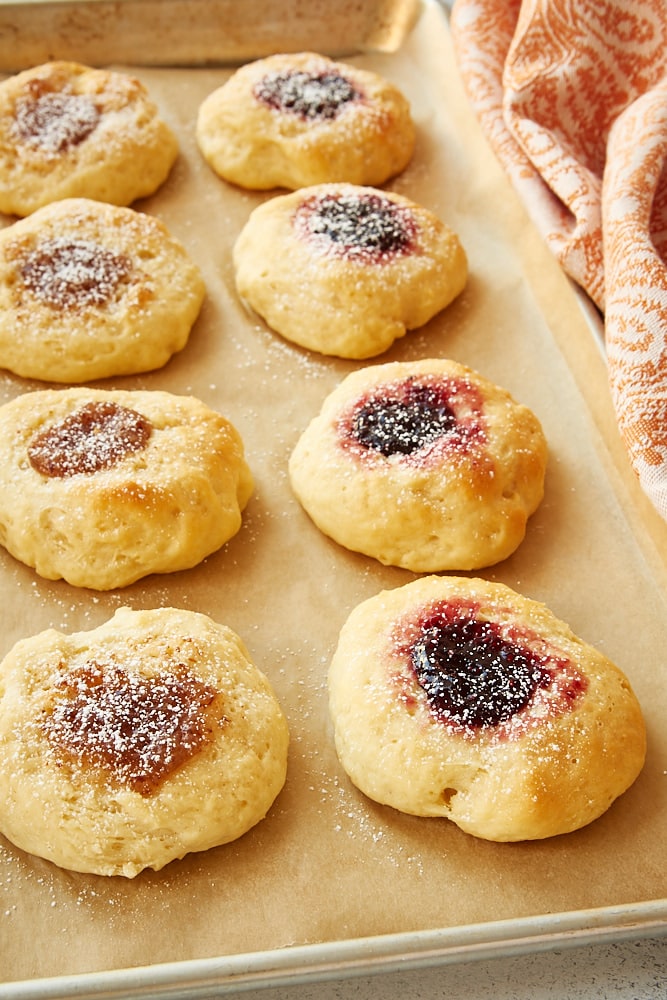 While kolaches will likely be at their very best the day they're made, they also reheat nicely. Keep any leftovers tightly covered in the refrigerator, and then reheat in a low temperature oven for a few minutes or even in the microwave for about 10 seconds. You'll also notice in the directions that the dough can be refrigerated for up to 24 hours if you want to divide the prep and baking over two days.
Homemade Kolaches have very quickly found a spot among my favorite yeast breads to bake. I love not only the flavor and the variety of fillings, but I also love the simplicity and approachability of the recipe. I hope you'll give them a try!
Find more yeast bread recipes in the Recipe Index.
More Sweet Breakfast Treats