Tender apples, crunchy pecans, and plenty of cozy cinnamon make this apple cinnamon baked French toast a favorite for fall! It's a make-ahead recipe perfect for brunch get-togethers or lazy weekend mornings.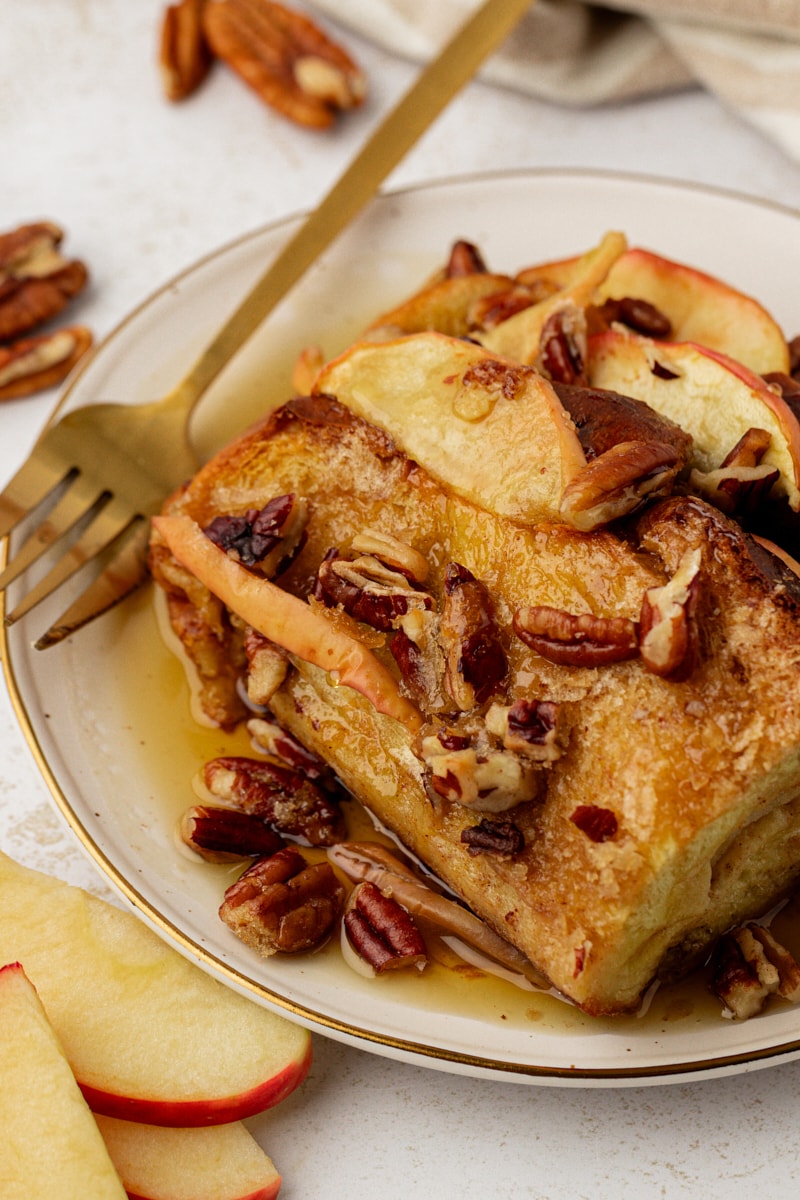 Easy Overnight Baked French Toast
I am most definitely not a morning person, but my love of breakfast goodies can create quite the conflict. That's why there are recipes like this apple cinnamon baked French toast. You can put most of it together in the evening, let it refrigerate overnight, then just do a little bit more to get it in the oven the next morning. Even a non-morning-person like me can handle that!
Essentially, this is a bread pudding. It's just geared a bit more toward breakfast than traditional bread puddings. I had some gorgeous Pink Lady apples sitting on my countertop, so I put one of those to good use here, along with some cinnamon and pecans.
If you like, sprinkle a little confectioners' sugar on top of each serving and pour on a little maple syrup, too. But I'll tell you that it's perfectly delicious without adding anything extra. This is definitely my new go-to recipe for a special breakfast!
Want more apple treats for breakfast and brunch? Try Apple Cinnamon Muffins and Apple Streusel Coffee Cake, too!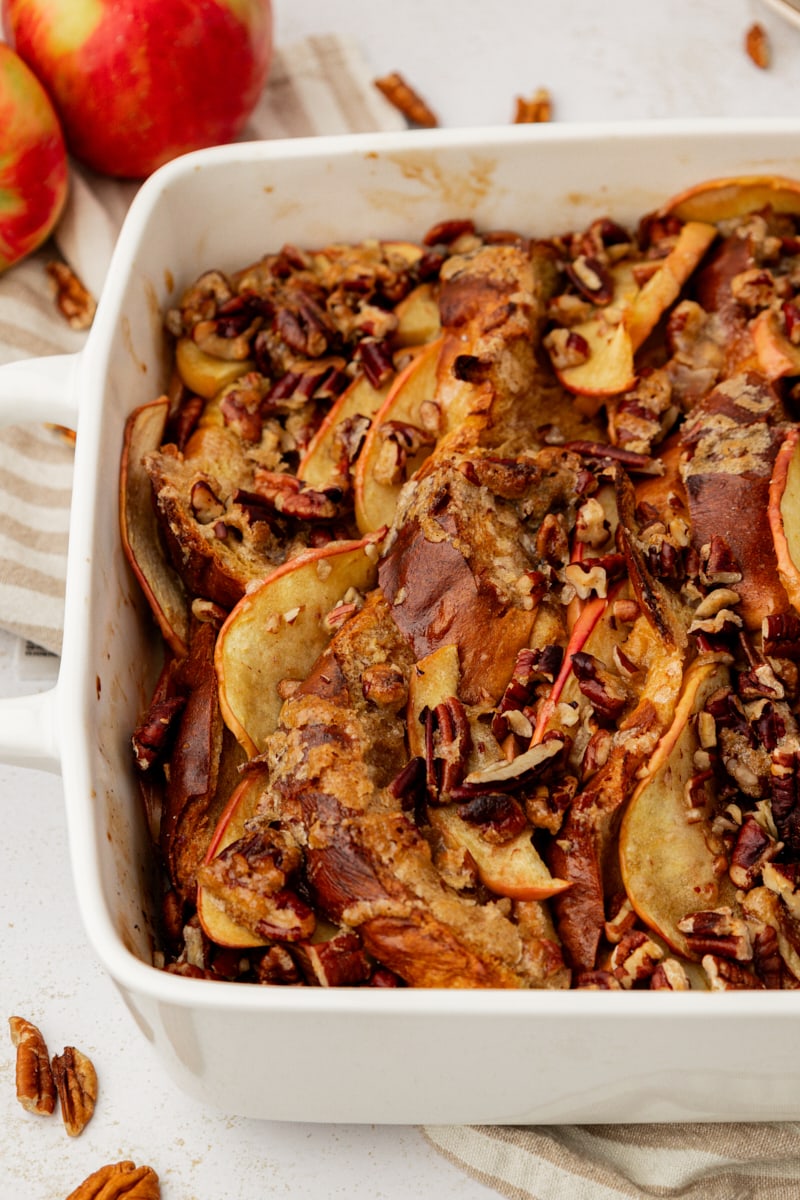 Why You'll Love This Apple Cinnamon Baked French Toast Recipe
Here's why this apple cinnamon baked French toast recipe is one of my favorites:
Cozy fall flavor. Warm cinnamon and sweet-tart apples make this a perfect recipe for those fall mornings when you just want to stay in your pajamas a little bit longer before facing the world.
Make-ahead convenience. This is a great breakfast for holidays or entertaining because you can get most of the work out of the way the night before.
So versatile. This recipe can easily be customized with different fruits, breads, and toppings to suit your preferences and what you have on hand. Feel free to get creative and make it your own!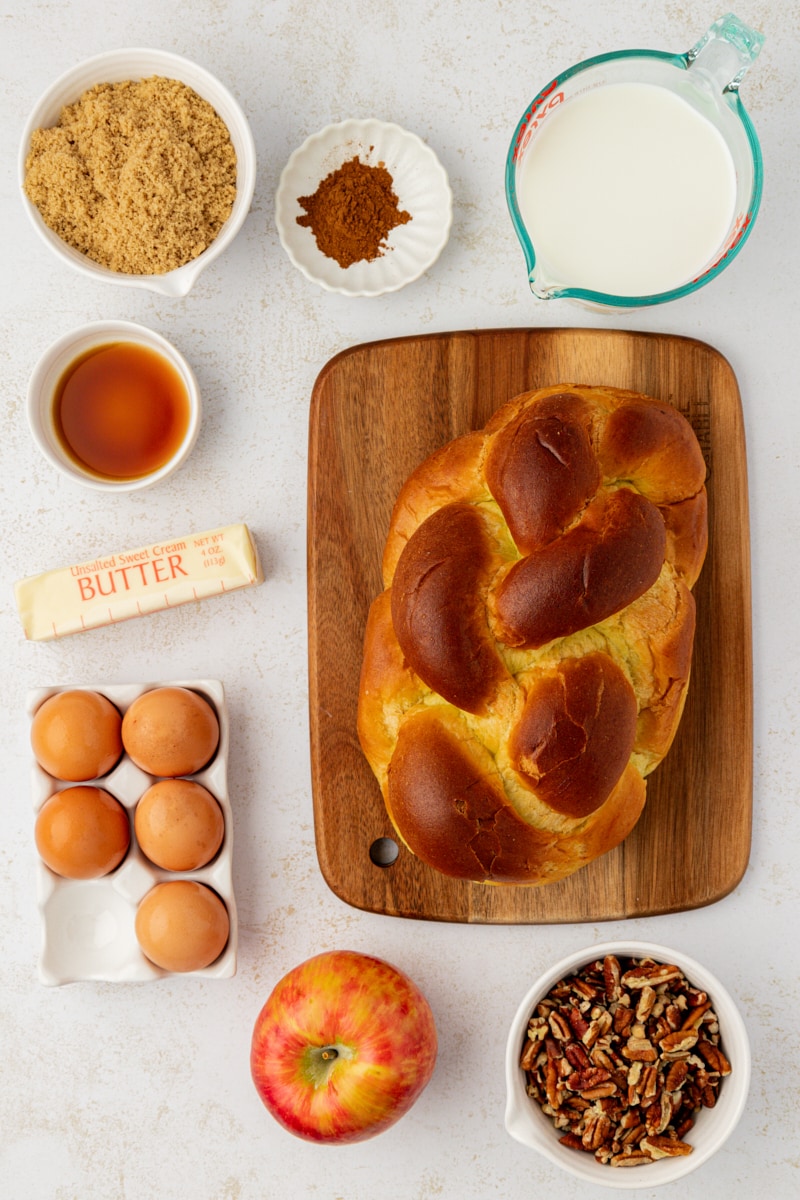 What You'll Need
Scroll down to the recipe card to find the ingredient quantities and recipe instructions.
For the Filling:
For the Topping:
Apple – Use a variety that stands up well to baking like Granny Smith, Pink Lady, Honeycrisp, or Braeburn.
Chopped pecans
Unsalted butter – Learn more: Unsalted or Salted Butter: Which is Better for Baking?
Light brown sugar
Confectioners' sugar – Also known as powdered sugar.
Maple syrup – Optional, for serving.
What Is the Best Bread for French Toast?
My favorite bread for French toast is challah, but another variety of enriched bread like brioche or Japanese milk bread also works well. Feel free to use whatever kind of bread you prefer, though—even a dense, hearty sourdough or crusty baguette can be delicious in French toast!
How to Make Apple Cinnamon Baked French Toast
Plan your cooking with the refrigeration time in mind. You need to chill this recipe for a minimum of 8 hours, or a maximum of 24 hours.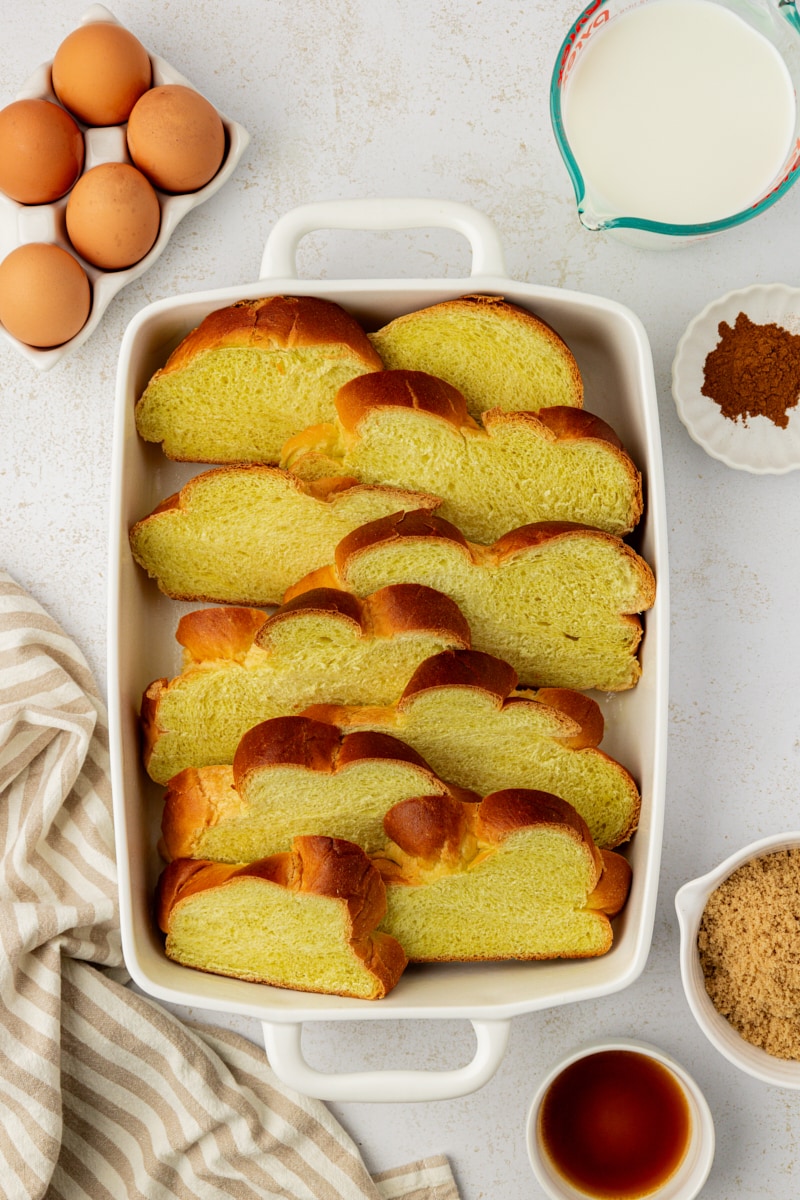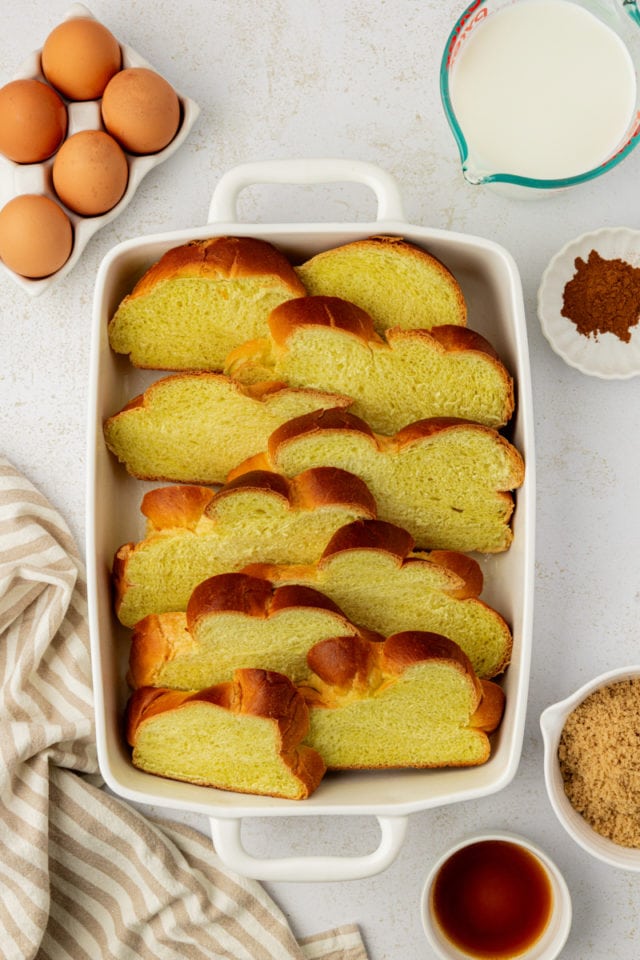 Add the bread to the baking dish. Arrange the bread slices in a lightly greased 3-quart baking dish; it's okay if they overlap.
Make the custard. Whisk together the eggs, milk, brown sugar, cinnamon, and vanilla in a bowl.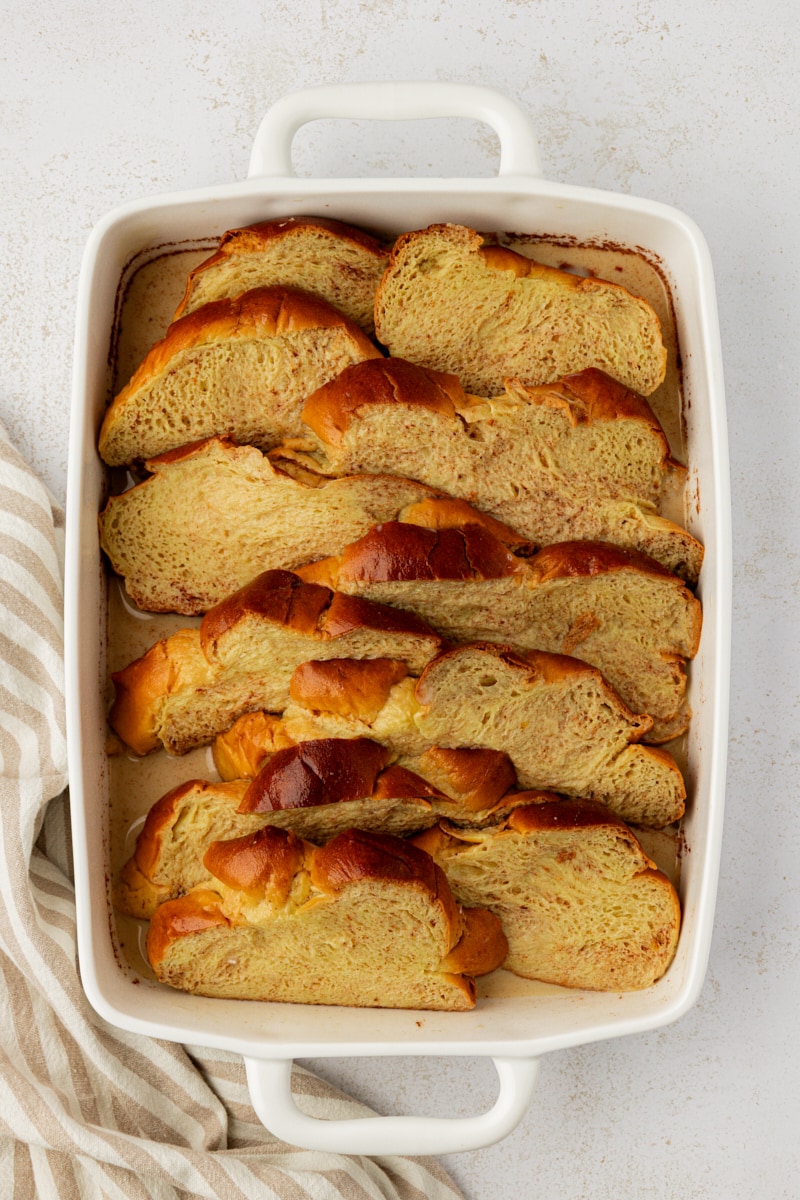 Add the custard to the baking dish. Pour the egg mixture over the bread in the pan. Lightly press the bread into the egg mixture so it's all submerged.
Chill. Cover and refrigerate for at least 8 hours or up to 24 hours.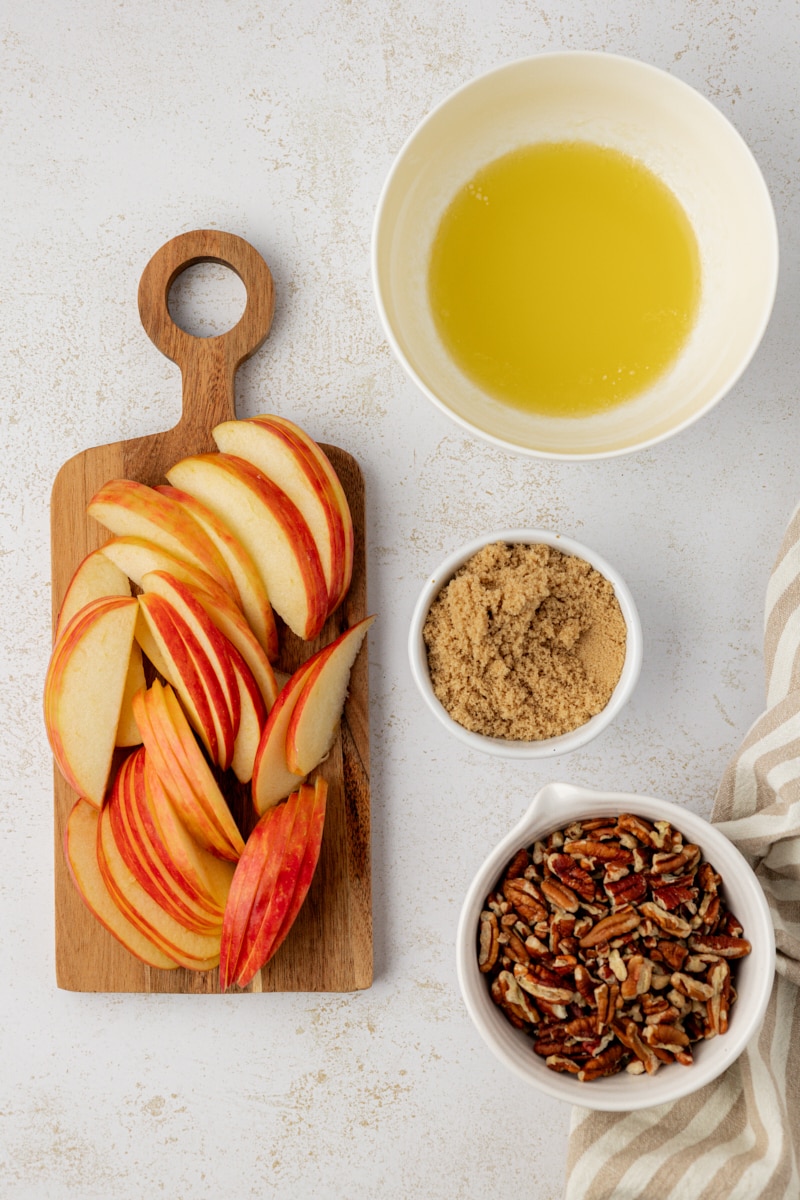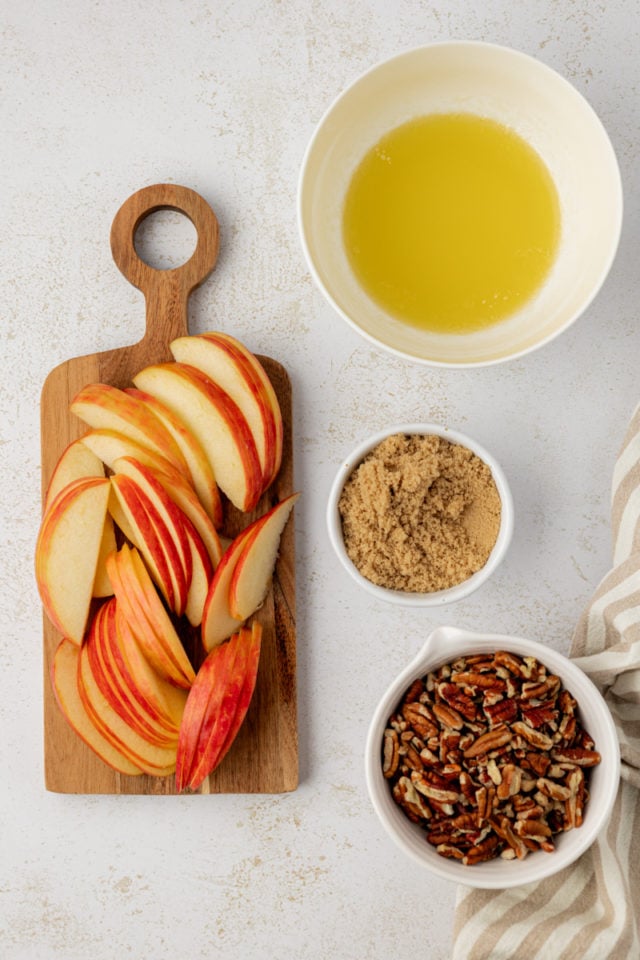 Prepare. Just before you plan on baking the French toast, take it out of the refrigerator, uncover it, and preheat the oven to 350°F.
Add the apples and nuts. Place the apple slices and pecans over the top of the filling.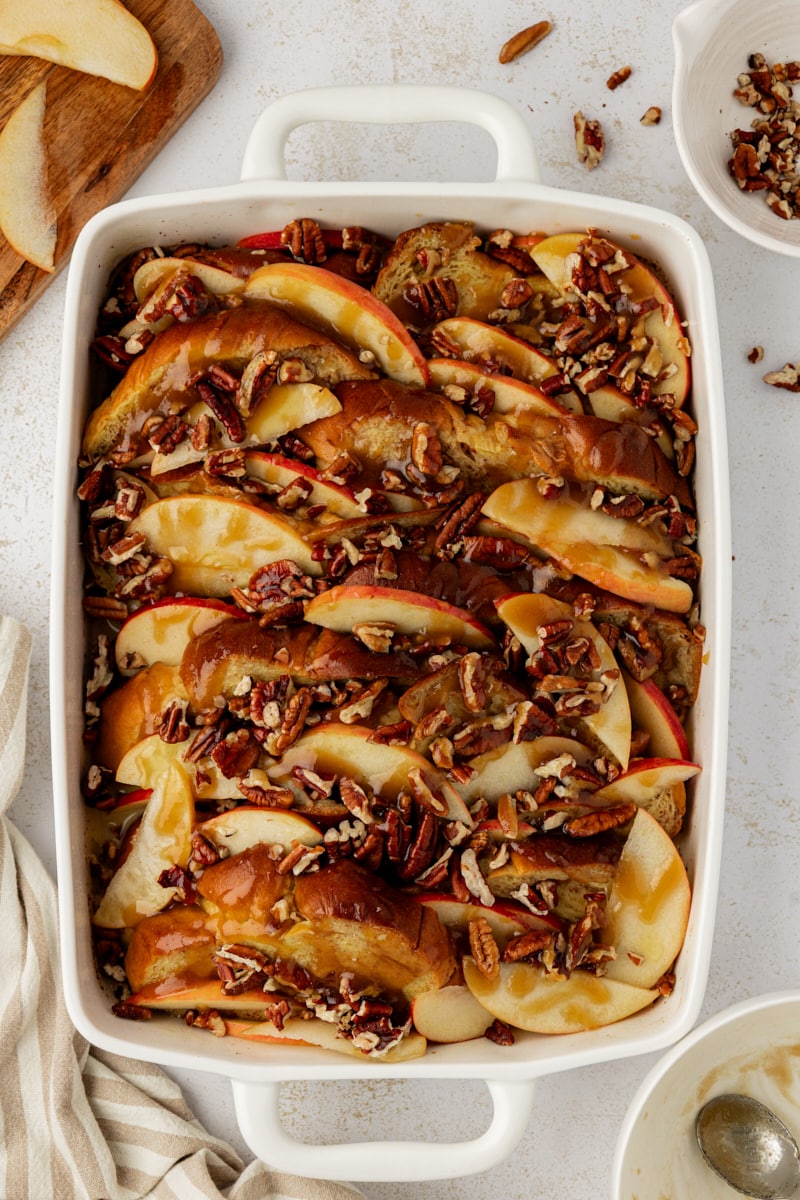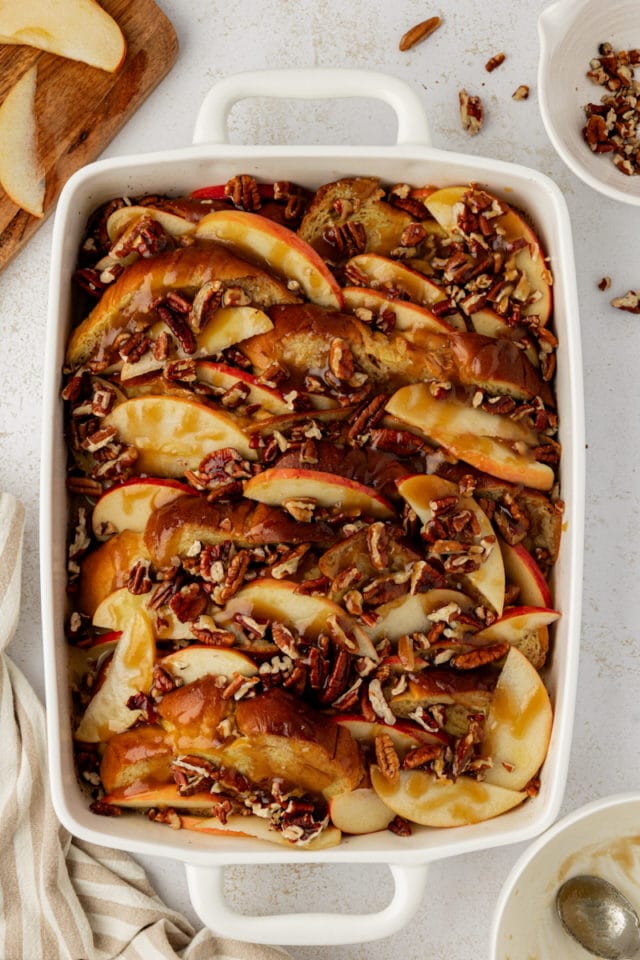 Make the topping. Mix the butter and brown sugar in a small bowl. Drizzle this mixture over the apples and pecans.
Bake. Place the pan in the oven and bake for 35 to 40 minutes, or until a knife inserted near the center comes out clean.
Serve. Cool for 10 minutes before serving with confectioners' sugar and maple syrup, if desired.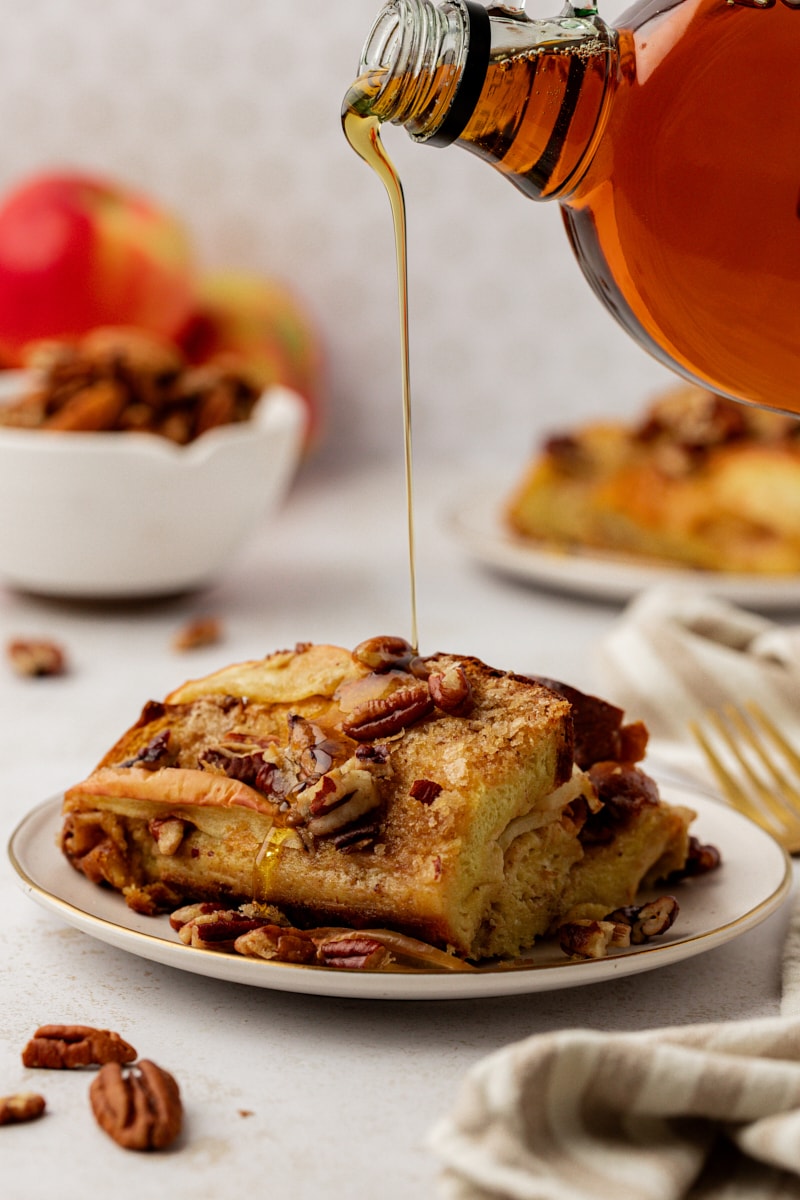 Tips for Success
These simple tips will help you make sure your apple cinnamon baked French toast turns out perfect:
Make sure the custard mixture is thoroughly combined. To do this, I like to beat the egg first, then add everything else and continue whisking until the mixture is smooth, without any clumps of yolk or white.
Speed up the process. If you don't have time to refrigerate the filling overnight, let it sit for at least 30 minutes before baking. The bread will still soak up some of the custard mixture and be delicious, but not quite as good as if you had let it chill longer.
Let it set. Don't forget to let the baked French toast cool for about 10 minutes before serving. As with bread pudding, you want it to set a little bit so it's not a mushy mess when you serve it!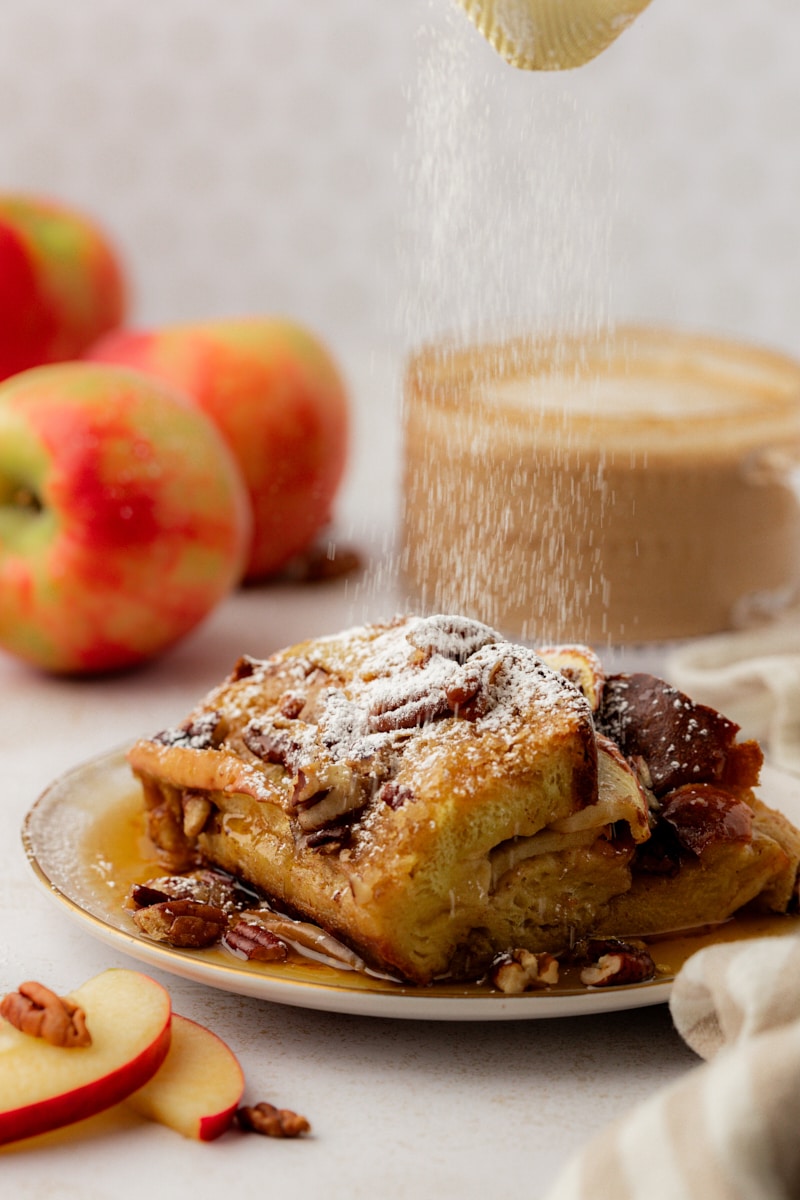 Variations
The beauty of baked French toast is that there are so many ways to make it! Here are some variations to try:
Use raisin bread. Raisin or cinnamon swirl bread will add some extra flavor to this apple cinnamon baked French toast.
Change it with the seasons. Try fresh berries in the spring or sliced peaches in the summer. In the fall, you can swap the apples for pears or use a combination of the two.
Dot it with dried fruit. Add raisins or dried cranberries with the apples for a little extra sweetness and texture.
Serving Suggestions
This apple cinnamon baked French toast is delicious on its own or with a dusting of confectioners' sugar or drizzle of maple syrup. For something a little more indulgent, plate each serving with a dollop of whipped cream.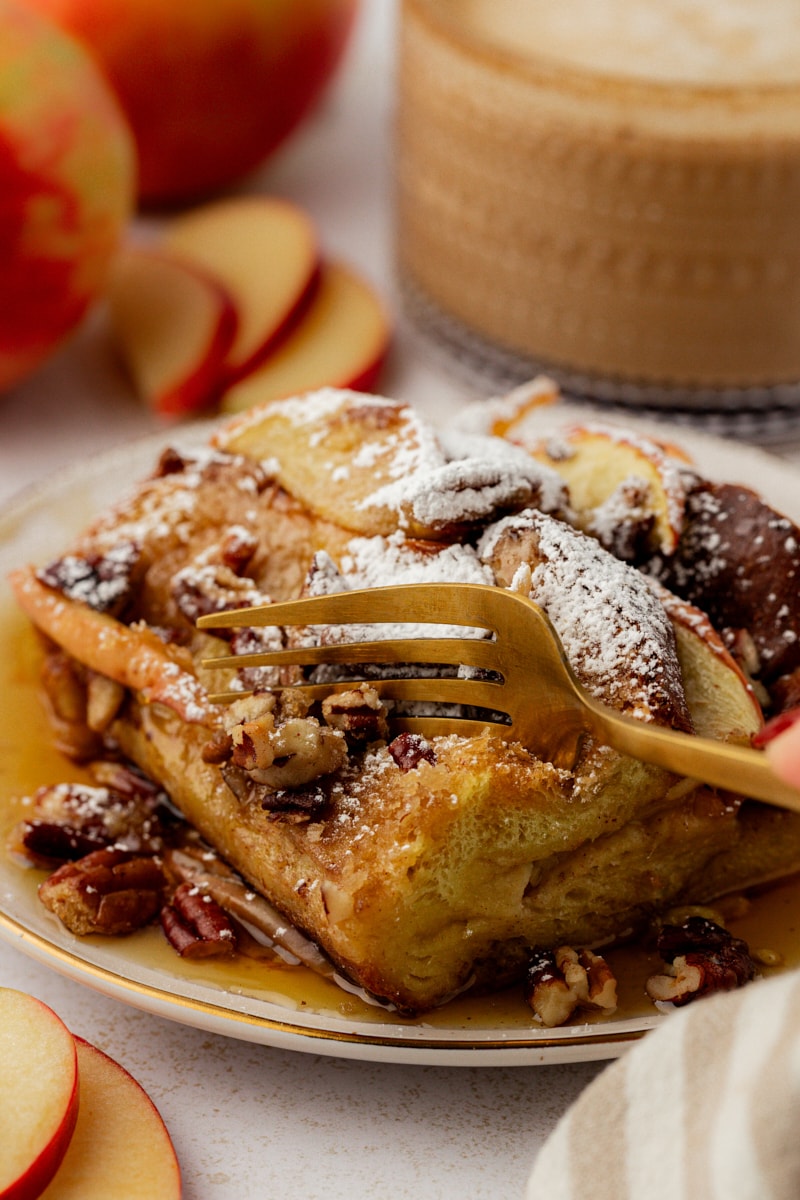 How to Store Leftovers
Store leftover apple cinnamon baked French toast in an airtight container in the refrigerator for 2-3 days. To reheat, simply place a slice in the microwave for about 30 seconds or until warmed through. Alternatively, you can reheat it in the oven at 350°F—the time needed will depend on the amount of French toast you're warming.
Can I Freeze This Recipe?
Yes, you can freeze this apple cinnamon baked French toast. Wrap it in the baking dish or transfer leftovers to an airtight container and freeze for up to 2 months. To reheat, thaw the French toast in the refrigerator overnight and then follow the reheating instructions above.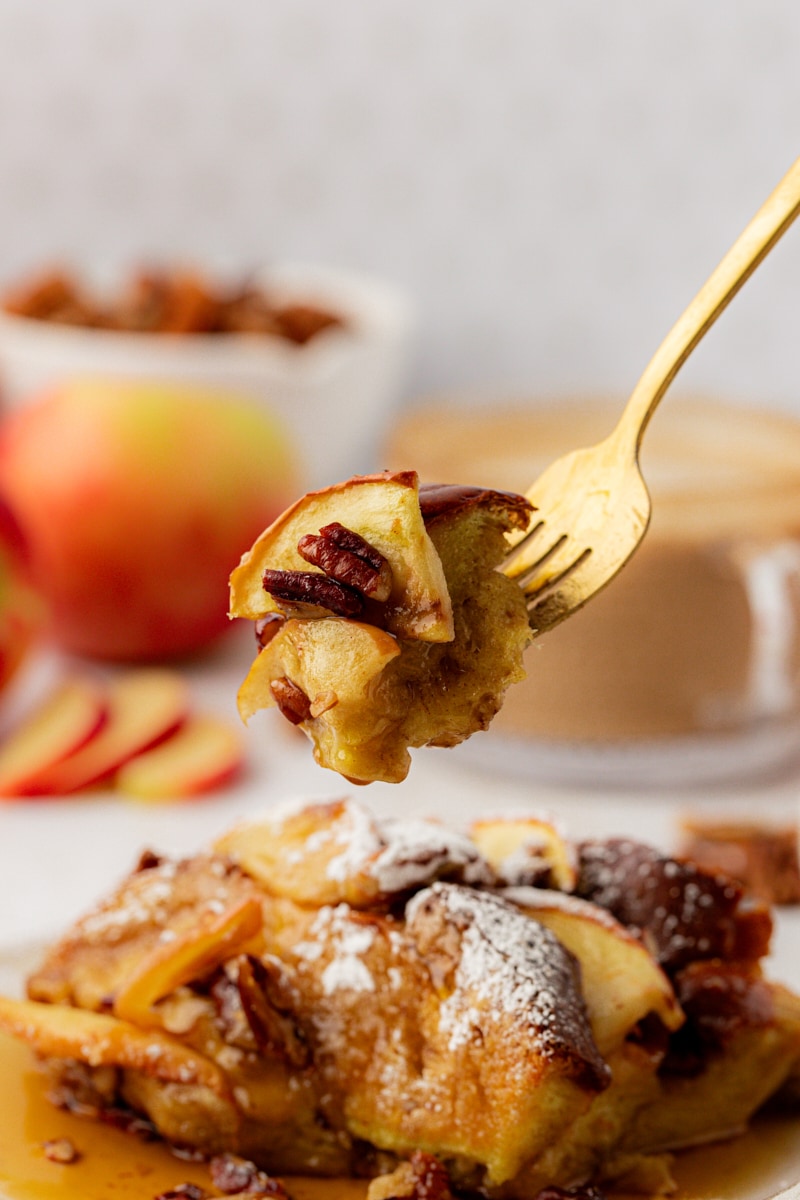 More Breakfast Favorites