Incredibly moist and crumbly, these glazed cinnamon bun scones will be on your counter in 30 minutes. Packed with cinnamon and brown sugar, their buttery goodness is perfect for fall baking.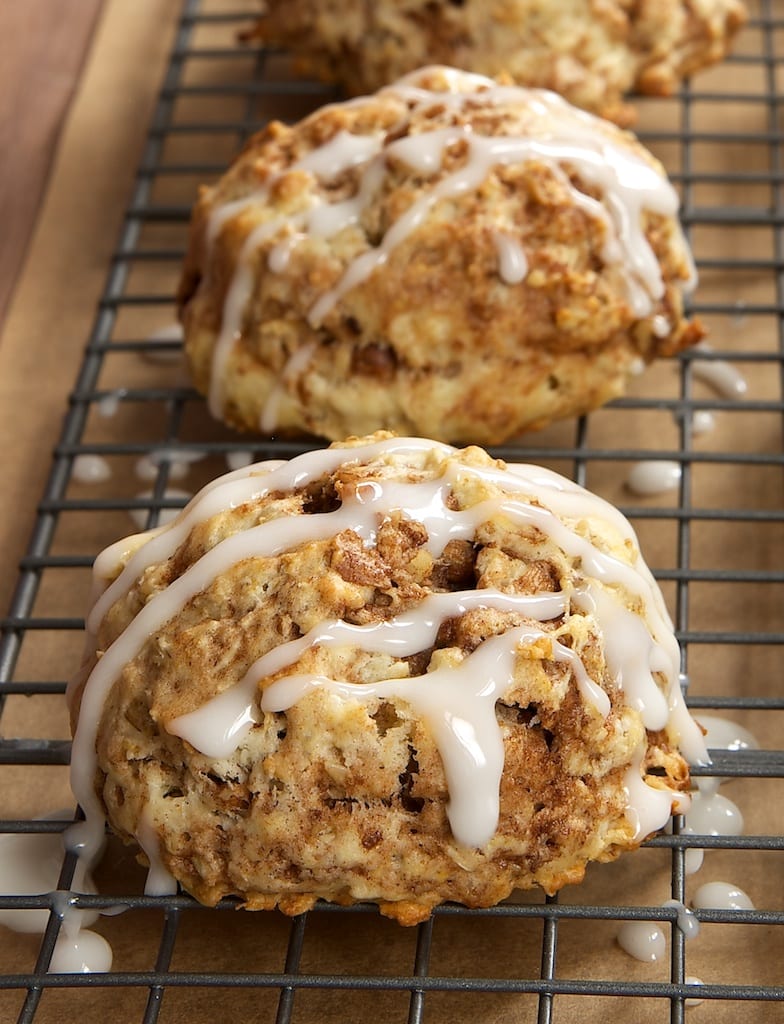 Easy Homemade Cinnamon Scones
When fall comes around, my love for cinnamon-everything kicks in. As a result, it didn't take long for these easy cinnamon bun scones to find their way into my head and kitchen. Since I'm all about low-effort and high-reward baking, turning your kitchen upside down isn't something you have to worry about with this easy scones recipe.
These cinnamon bun scones are a beautifully spiced autumn symphony that comes together in 30 minutes. You can thank simple, pantry-staple ingredients for that. In a nutshell, you only need flour, cinnamon, oats, and brown sugar to make them. For this recipe, less is more!
These scones are moist, irresistibly crumbly, and golden brown. Pecans are totally optional but they do add a nice crunch and nuttiness. The end result is so good you'll even want to eat the crumbs on your plate.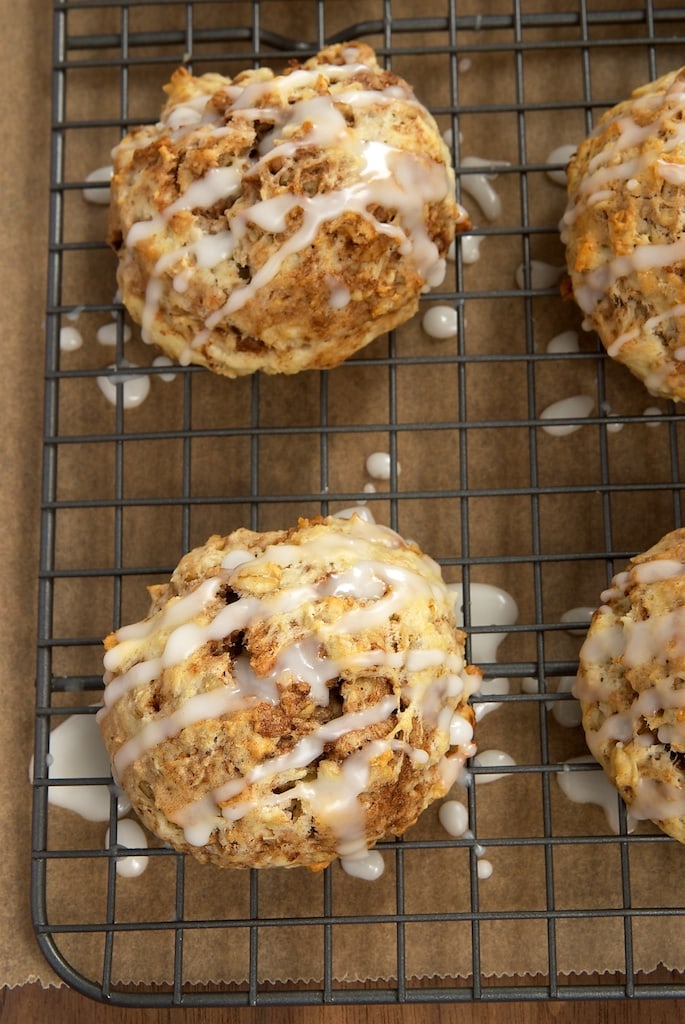 What You'll Need
Here's a quick overview of what you'll need to make these cinnamon bun scones. Scroll down to the recipe card at the bottom of this post for exact ingredient amounts.
For the Scones
Pecans – I prefer toasted, unsalted pecans. If you can't find them, buy unsalted pecans and toast them yourself. If you need a refresher, see my note in the tips section below for how to toast nuts.
Light brown sugar – You can use just light brown sugar or a mix of light and dark brown sugar leftovers.
Ground cinnamon – If you're feeling creative, you can even add 1/2 teaspoon of allspice. It'll make the scones taste even more like fall.
All-purpose flour – Measure accurately by using a digital scale or the spoon and sweep method.
Old-fashioned rolled oats – These add a great texture and bite. You can use quick oats instead, but the consistency will be much denser.
Granulated sugar
Baking powder
Salt
Unsalted butter – If you choose to go down the salted butter road, make sure to leave out the rest of the salt in the recipe. Learn more: Unsalted vs Salted Butter in Baking
Milk – I recommend using whole milk or 2% milk.
Egg
Vanilla extract
For the Glaze
Confectioners' sugar – Also called powdered sugar. Don't use any granulated sugars because they don't dissolve smoothly or have a desirable consistency for glazes.
Milk – Whole or low-fat options work. Water is great too because it doesn't affect flavor and lets you reach the same consistency.
How to Make Cinnamon Bun Scones
Fuss-free and in the oven within 20 minutes? Yes, these scones are the real deal. Here's how to make them:
To Make the Scones
Prepare the pans. Line two baking sheets with parchment paper or silicone baking mats. Set them aside. Preheat the oven to 425°F.
Make the cinnamon sugar. Combine the brown sugar, cinnamon, and pecans in a small bowl. Set it aside.
Whisk the dry ingredients. In a large bowl, mix the flour, oats, baking powder, and salt. Add the butter and quickly rub it into the dry ingredients. Don't knead it because we don't want to develop gluten. Another way to do this is to grate the butter into the dry ingredients and then incorporate it slightly. The dough should be loose and resemble a coarse, crumbly sand.
Mix the wet ingredients. In a separate bowl, combine the milk, egg, and vanilla extract. Add it to the dry ingredients and use a wooden or silicone spatula to mix the dough until it's just combined.
Add the cinnamon sugar. Sprinkle the cinnamon sugar over the dough, and use your spatula to gently fold it into the dough. Make sure not to over-mix it. If the dough is beginning to get too warm, place it into the refrigerator for 30 minutes and then continue mixing.
Shape. Use a cookie scoop or a measuring cup to scoop 1/4 cup of dough at a time and place it on the prepared baking trays. Leave about 2 inches of space between them.
Bake. Place one pan at a time into the oven for 11 to 13 minutes or until golden brown.
Cool. Remove them from the oven and let them cool for 5-10 minutes before glazing. The scones will absorb all the glaze if you add it right after baking.
To Make the Glaze
Mix the ingredients. Sift the confectioners' sugar to remove any clumps. Then add the milk and mix until you get a smooth mixture.
Drizzle. Use a spoon or piping bag to drizzle glaze over the cooled scones to taste. Enjoy!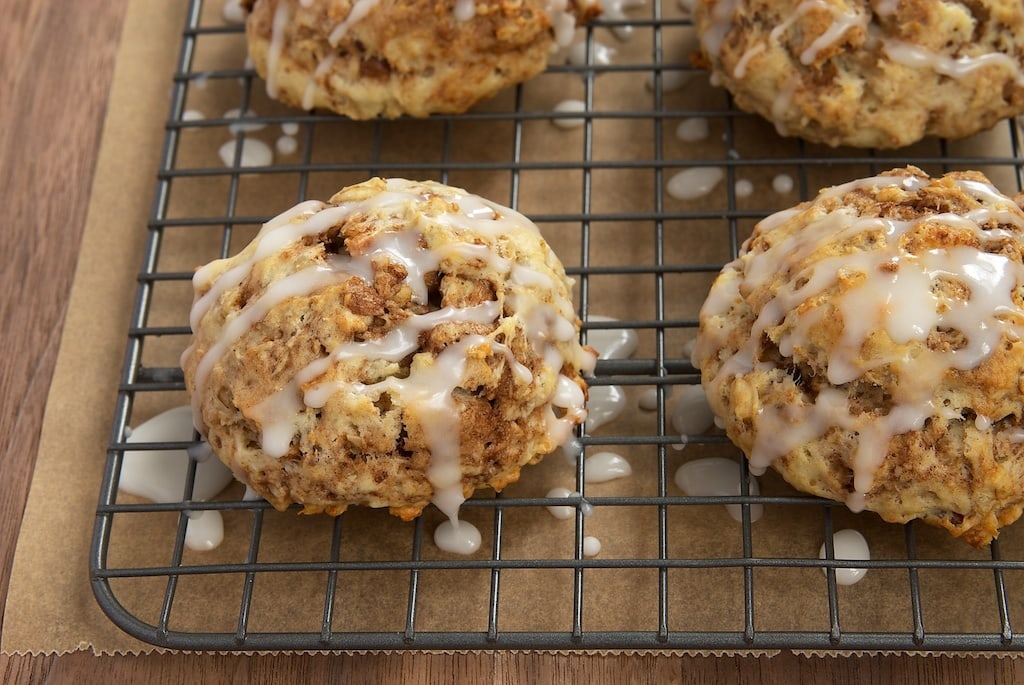 What's The Secret To Making Good Scones?
More like secrets. Here are my top tips for making the best cinnamon buns scones (and great scones in general):
Use an oven thermometer. If the butter in the scones melts before any of the baking reactions actually occur, then say goodbye to crumbly, moist scones. They'll turn out rubbery and dense. To make sure your oven is properly heated, use an oven thermometer before putting the trays in the oven.
Use a scale. Using a scale to weigh the ingredients is much more accurate than measuring cups. If you have a kitchen scale, now's the time to use it. You'll get perfect scones every time.
Toast the pecans. While this isn't a requirement, you'll get a great flavor addition from toasting the pecans. They also stay nice and crunchy. To toast them, spread the pecans in a single layer on a baking sheet. Bake at 350°F for 10-15 minutes or until toasted and fragrant. You can also do this in a skillet on the stovetop over low heat. Stir them frequently, cooking for 3-5 minutes.
Use a scoop for portioning. Using a cookie scoop or measuring cup helps keep the scones more or less the same size so the baking times are even.
Use cold everything. Milk, eggs, and especially the butter need to be cold.
Grate the butter. If you want to make extra sure your butter stays cold, freeze it and then grate it into the recipe. This will reduce the amount of mixing, meaning it actually stays cold.
Refrigerate. If your oven isn't done preheating by the time your scones are ready, place the pans into the refrigerator. This will keep them nice and cold up until the minute you're ready to bake.
Serving Suggestions
Freshly baked or a couple of days after, these scones are great with all your favorite hot and cold drinks.
In the mornings, they're perfect with coffee or tea for a quick breakfast. As an afternoon snack, try them with frappuccinos. For something a little different, give them a try while sipping on Thai milk tea. For chilly nights at home, hot chocolate and floral tea infusions are amazing, too.
How to Store Homemade Scones
Line an airtight container with napkins or paper towels and then place the cooled scones inside. The napkins will absorb any moisture and keep your scones from becoming too chewy. At room temperature, they'll last for up to 3 days.
You can also keep them in the refrigerator for up to a week. I recommend letting them come to room temperature or warming them before eating.
Can I Freeze These?
Yes! Baked or unbaked, these cinnamon bun scones freeze extremely well.
Unbaked: Place your unbaked scones into the freezer on a parchment-lined tray. Freeze for 4 hours or until completely frozen. Then wrap them with plastic wrap and transfer to a freezer-friendly bag or container. They will freeze for up to 3 weeks.
Baked: Fortunately, baked scones last longer. Just wrap them in plastic wrap once cooled and transfer to a freezer-friendly bag or container. They'll keep for up to 3 months.
More Homemade Scone Recipes
Find more breakfast treats in the Recipe Index!
Video Tutorial: Cinnamon Bun Scones