February 24, 2016
Berry Cream Cheese Pastry Swirls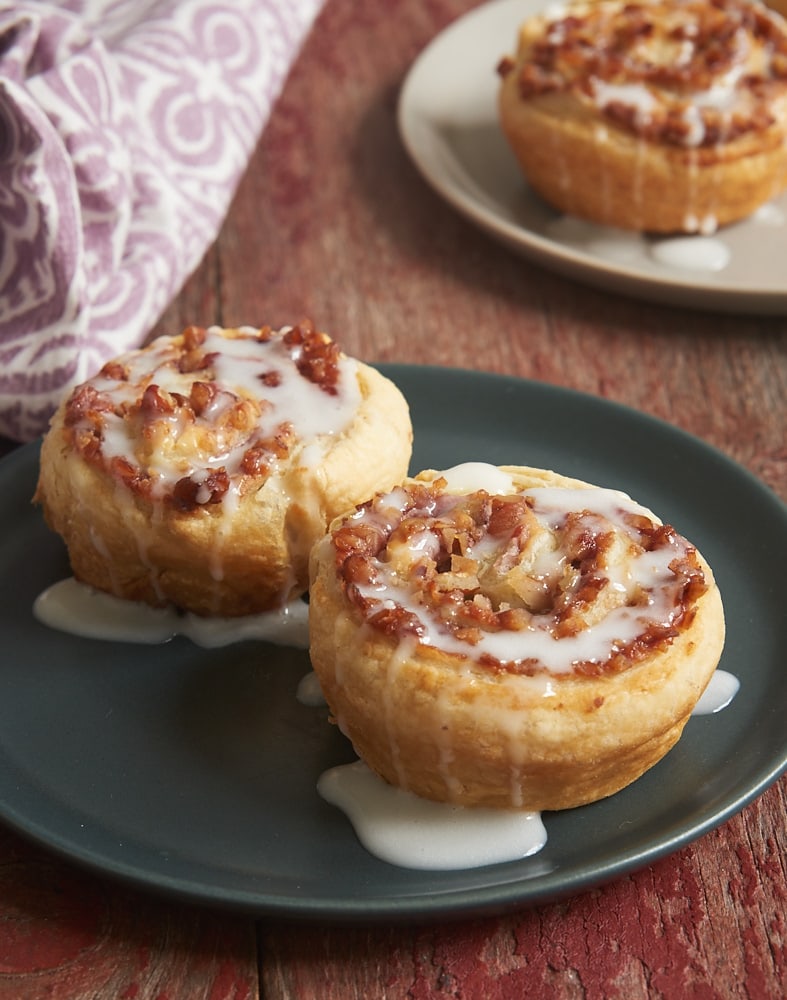 As much as I like baking from scratch, there are a few things that I have no qualms about using as a shortcut. Near the top of that list is puff pastry. While it's certainly something that can be made from scratch, I love the convenience and versatility of frozen puff pastry.
These delightful pastries are a perfect use of store-bought puff pastry. That light, flaky pastry serves as the foundation for a whole lot of amazing flavor. We're talking cream cheese, fruit jam, coconut, and nuts. Who's with me?

Simply spread and sprinkle the ingredients over the puff pastry, roll it up, slice it, and bake. Then just add a simple glaze for serving. That's it! Honestly, it probably takes longer to assemble the ingredient list than to assemble the pastries.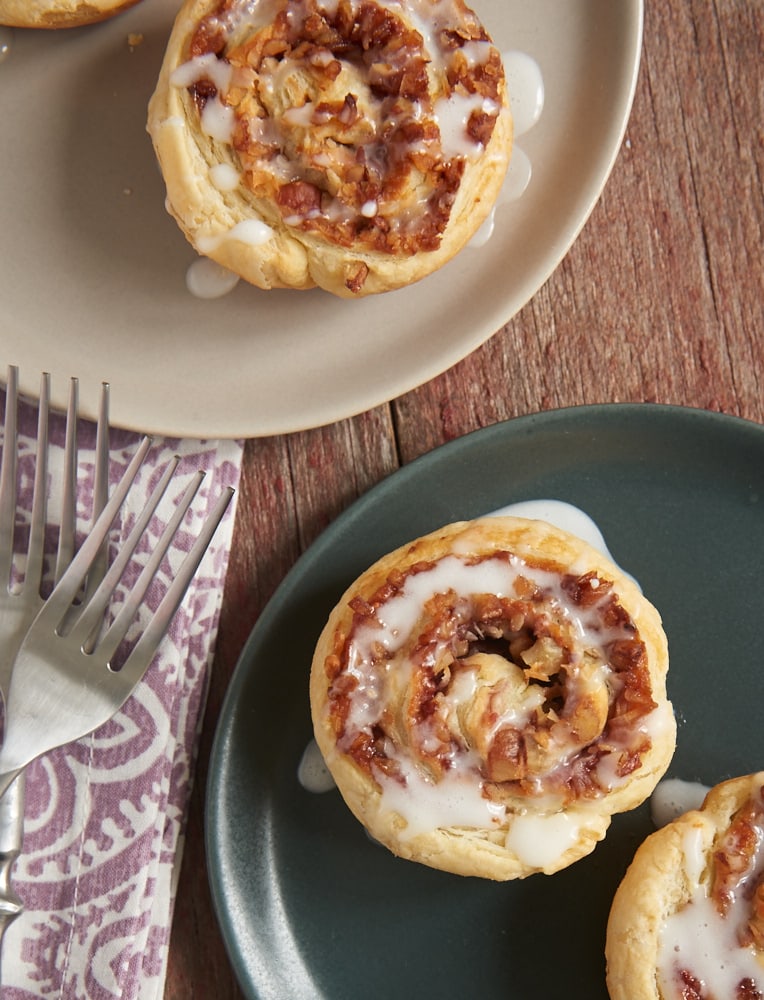 There are so many delicious variations of these pastries just waiting to be made. Try making them with your favorite jam and nuts for a simple twist. Using two sheets of puff pastry, it's simple to make two different varieties at once. I made one sheet with raspberry and pecans, and the other with blueberry and hazelnuts. I can't wait to make more versions! Maybe peach and pecans. Or cherry and almonds. So many choices!
I'm sharing these sweet pastries in honor of my friend and fellow food blogger Audra, who will soon be welcoming a little girl into her family. Lauren of Keep It Sweet Desserts organized a brunch-themed virtual shower for the occasion. If you don't know Audra, you should visit her blog, The Baker Chick, and get to know her and her fantastic recipes.
And don't forget to check out the rest of our Audra's Shower menu!
Eggs Benedict Poutine from Warm Vanilla Sugar
Breakfast Quinoa Burrito Bowls from The Spiffy Cookie
Blood Orange Pancakes from Keep It Sweet Desserts
Naked Salted Caramel Layer Cake from Girl Versus Dough
Lemon Poppy Seed Loaf Cake from Steph's Bite by Bite
Meyer Lemon Cheesecake from Eats Well With Others
Berry Cream Cheese Pastry Swirls
Yield: 18 pastries
Prep Time:20 minutes
Cook Time:24 minutes
These easy-to-make Berry Cream Cheese Pastry Swirls combine cream cheese, jam, coconut, and nuts inside a rolled pastry for a delightful treat.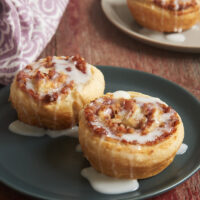 Ingredients:
For the pastries:
1 17.3-ounce box frozen puff pastry sheets, thawed
4 ounces cream cheese, at room temperature
6 tablespoons jam, such as blueberry or raspberry
3/4 cup finely chopped toasted nuts, such as pecans or hazelnuts
3/4 cup sweetened flaked coconut, toasted
For the glaze:
1/2 cup confectioners' sugar, sifted
2 to 4 teaspoons milk
Directions:
To make the pastries:
Preheat oven to 375°F. Generously grease 18 standard-size muffin cups.
Unroll 1 sheet of puff pastry on a lightly floured surface. Roll into a 10-inch square.
Spread half of the cream cheese over the pastry. Spread half of the jam over the cream cheese. Sprinkle half of the nuts and coconut over the jam.
Roll the puff pastry into a log. Cut evenly into 9 pieces.
Repeat with the other sheet of puff pastry.
Place the sliced pastries in the prepared pans. Bake 24 minutes, or until golden brown.
Cool the pastries in the pans for 10 minutes. Then transfer them to wire racks to cool completely.*
To make the glaze:
Combine the confectioners' sugar and 2 teaspoons of milk until well-combined. Add more milk, a small amount at a time, and continue mixing until the glaze is the desired consistency.
Drizzle the glaze over the pastries.
Notes:
*Be sure not to let the pastries cool in the pan too long, or it will become difficult to remove them without sticking.