For a simple, not too sweet treat for breakfast or a snack, try these easy-to-make Currant Oat Scones!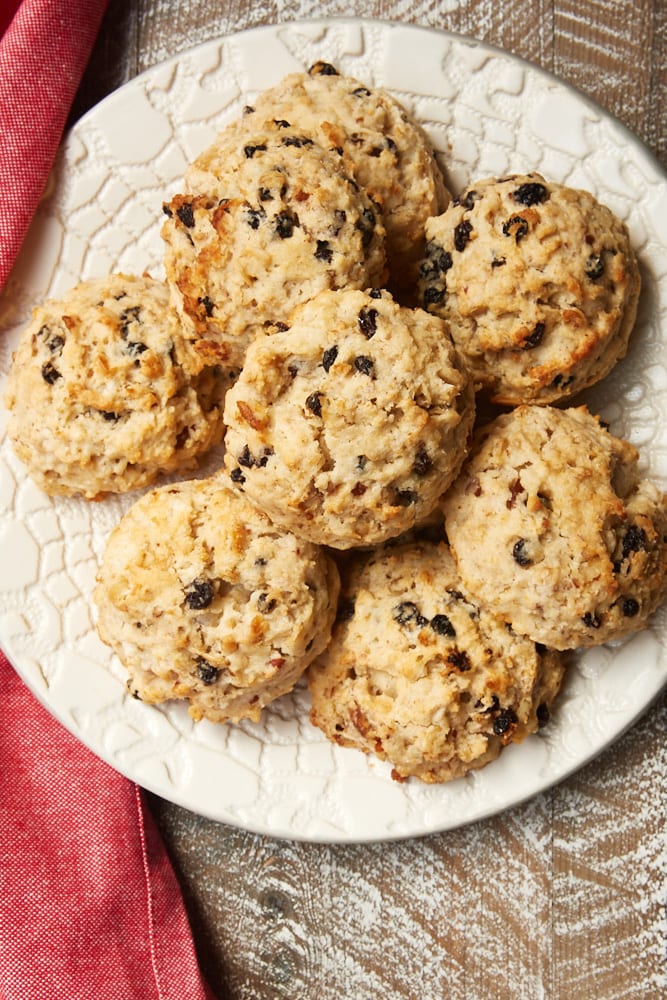 Currant Oat Scones
Amidst all the sweet treats I've been baking, it's nice to have a not-too-sweet treat for a breakfast treat or for snacking. And that's just what we have with these wonderful Currant Oat Scones.
They're made quickly and easily with some fairly basic baking ingredients. They're just the kind of thing you can whip up in a flash when you're craving just a little something sweet.
These scones are a variation of a recipe I made for my cookbook. Even with all the really delicious things I put into that book, those oat scones were outstanding to me. Those scones, like these, also featured honey and oats for a subtle sweetness and a little chewiness.
Scones are a great alternative to muffins when you want an easy sweet treat for breakfast or brunch. They mix so easily and portioning is a breeze with a large scoop. If you're looking for a no-fuss recipe for a breakfast treat, give these Currant Oat Scones a try!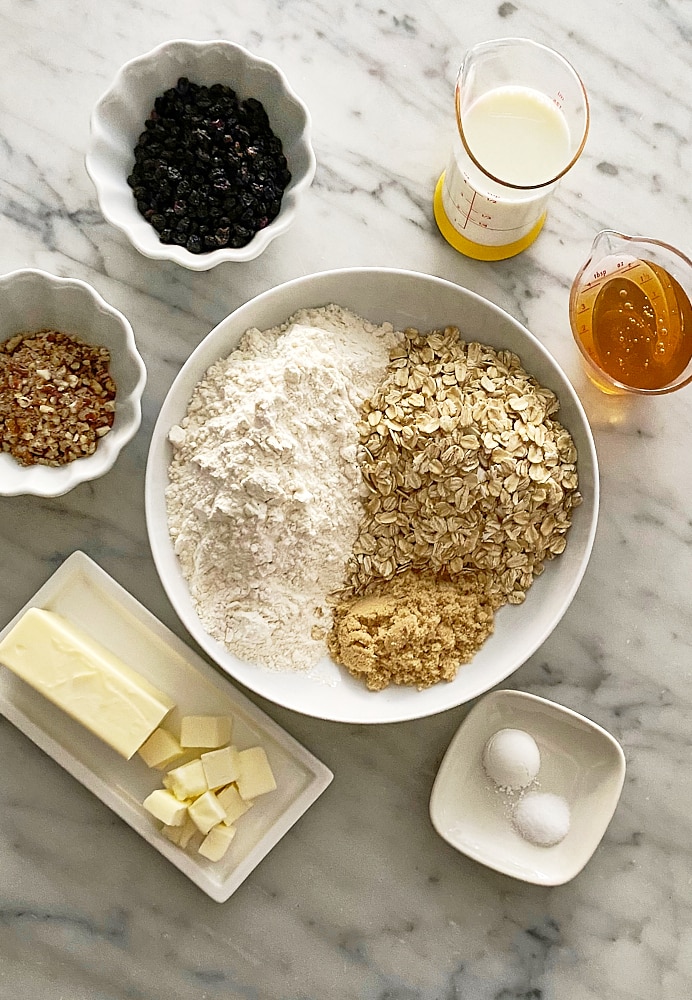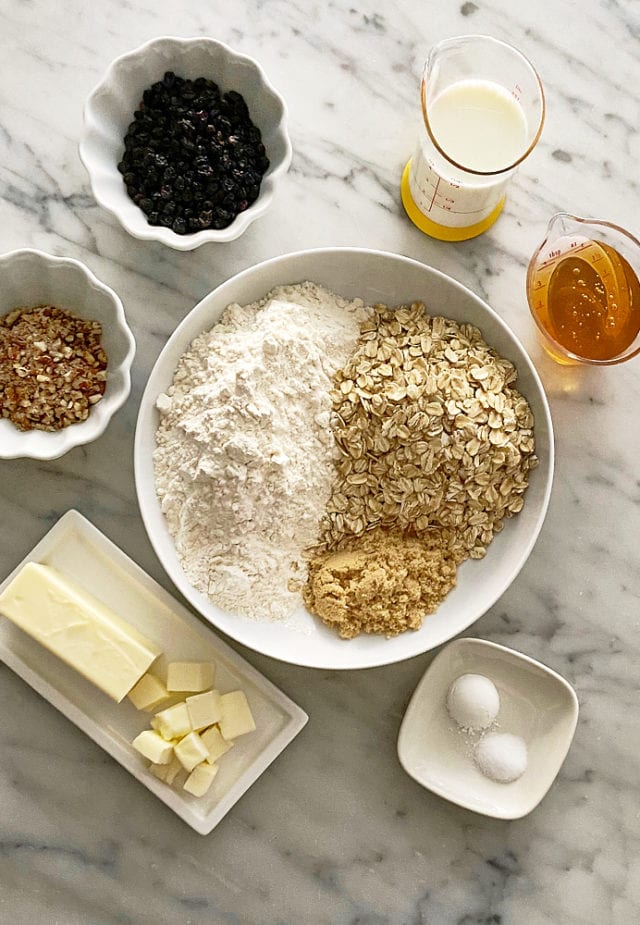 What You'll Need
All-purpose flour – Measure by weight if possible. If you don't have a kitchen scale, use the spoon and sweep method.
Oats – I like old-fashioned rolled oats here for their chewy texture. Quick oats will work in a pinch, but you'll get a different texture.
Brown sugar – Light or dark brown sugar will work.
Baking powder
Salt
Unsalted butter – Make sure your butter is cold. I like to cut it into cubes and then return it to the refrigerator while I gather the other ingredients.
Milk – Whole milk or 2% works best.
Honey
Dried currants – Their size and flavor work really well here. You can certainly substitute another dried fruit if you like. Cranberries would probably be my next choice, but most any dried fruit or a combination would be great.
Chopped nuts – These are optional, but they'll add a little more flavor and a bit of crunch.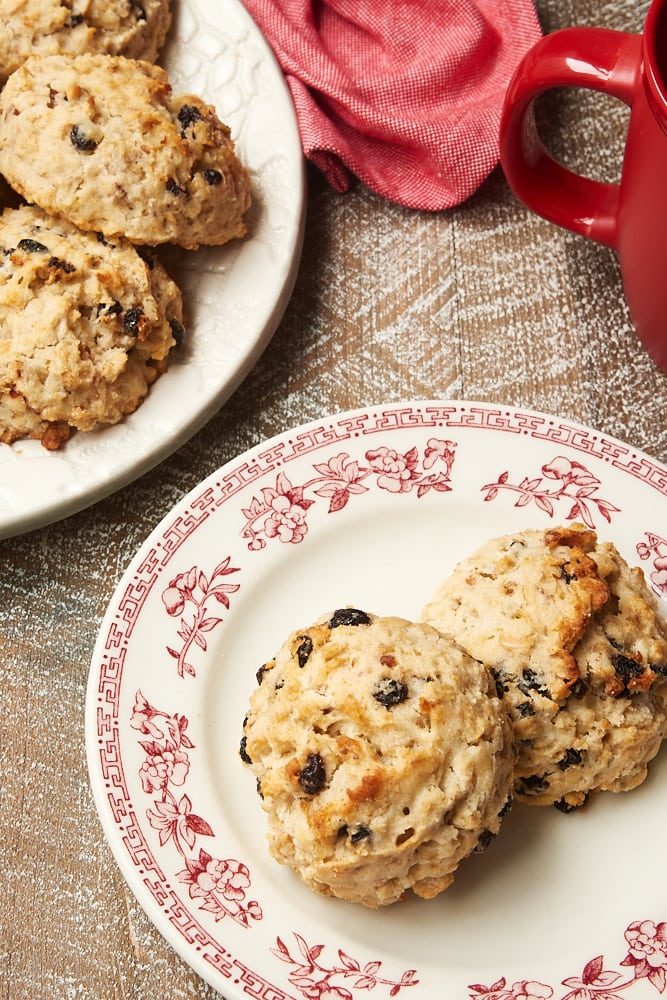 How to Make Currant Oat Scones
I just love how simple these scones are to make. You can have them mixed and in the oven in short order. This recipe is a great candidate for spur of the moment baking, too, as you're likely to have everything you need to make them. And then you'll have a nice anytime treat to enjoy!
Prepare for baking. Heat the oven to 400°F. Line a baking sheet with parchment paper or a silicone liner.
Combine the dry ingredients. Stir togehte rth flour, oats, brown sugar, baking powder, and salt.
Add the butter. Use a pastry blender or a fork to mix the butter into the dry ingredients until the largest pieces of butter are about the size of small peas.
Add the milk and honey. Mix just until a dough forms.
Stir in the currants and nuts. Stir gently just until incorporated.
Portion the dough. Drop the dough by 1/4-cup portions onto the prepared pan, leaving 2 inches between the scones. If you have a 1/4-cup (4-tablespoon) scoop, it works wonderfully here for easy portioning.
Bake. Bake the scones for 12 to 15 minutes. They should be golden brown when done. Serve warm or at room temperature.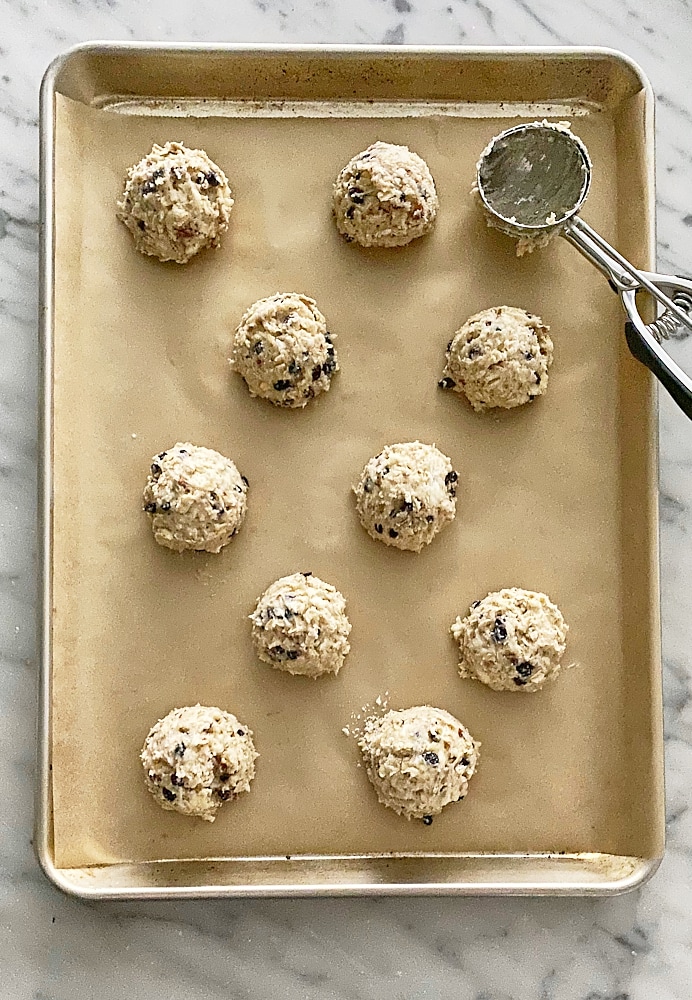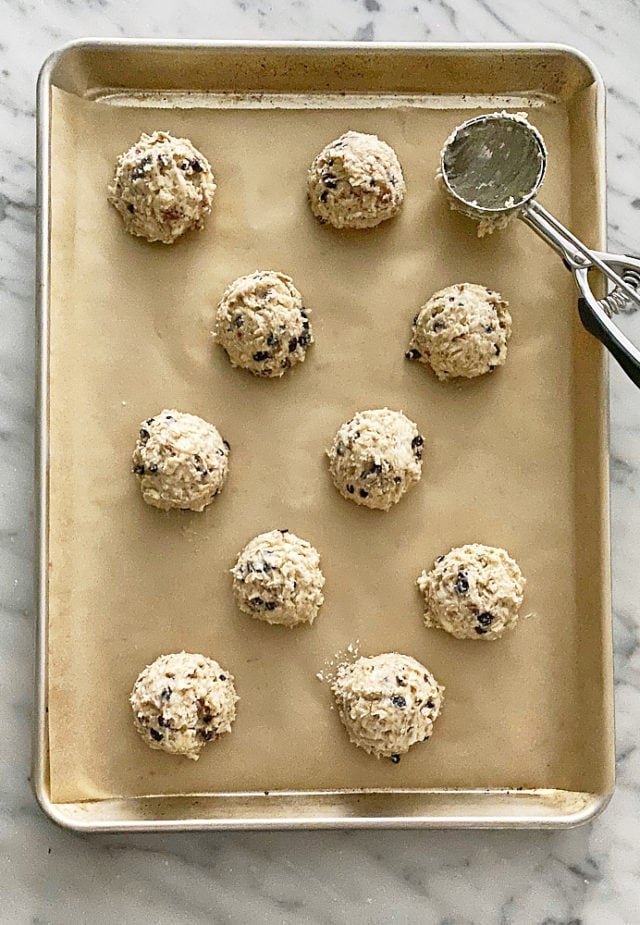 Tips for Success
Measure accurately. This is always true in baking, but it warrants a special callout here as mis-measuring can lead to dry, unappealing scones.
Don't over-mix the dough. That can lead to tough scones.
Change the fruit and nuts if you like. These scones should work with most any dried fruit and nuts. Use your favorites to make a batch to suit your tastes!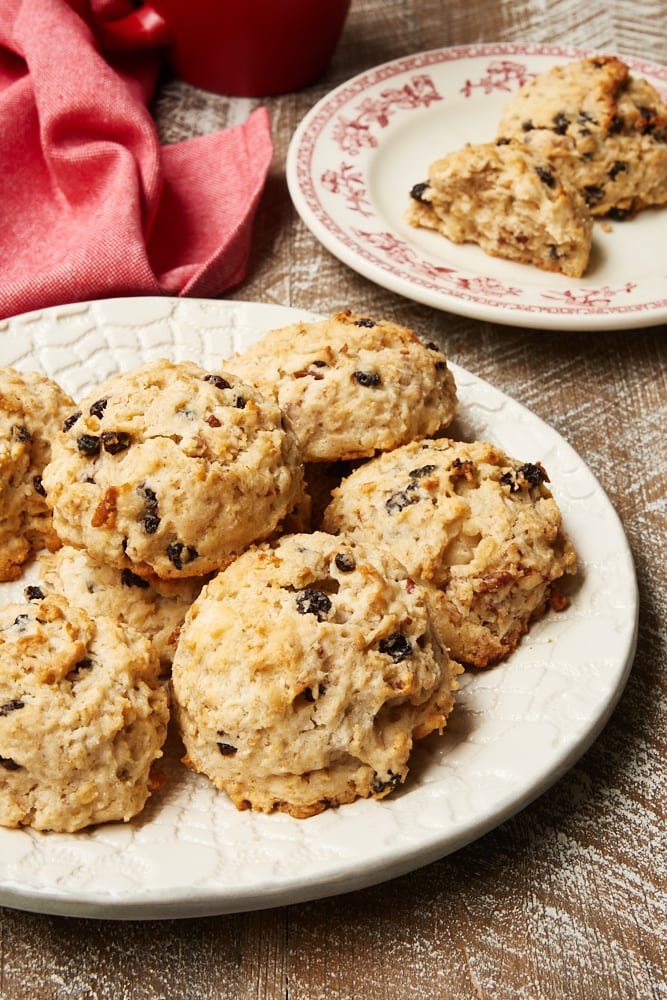 How to Store Leftovers
Place the cooled scones in an airtight container. Store at room temperature for up to 2 days. For longer storage, place the container in the refrigerator. Bring to room temperature or briefly warm in the microwave before serving.
How to Freeze Currant Oat Scones
Place the cooled scones in an airtight, freezer-safe container or bag. They should keep up to 3 months. Thaw overnight in the refrigerator or for an hour or so at room temperature.
You can also try freezing the unbaked scones. Place the portioned dough on a baking sheet, and place in the freezer until frozen. Then place the frozen scones in an airtight, freezer-safe container or bag for up to 3 months. When you're ready to bake, there's no need to thaw. Just add a couple more minutes to the baking time.
More Scone Recipes