These Cranberry Orange Scones are a delicious combination of sweet and tart flavors in a soft, tender scone. Whether for a delightful breakfast or a satisfying snack, these scones are a flavorful treat you won't want to miss!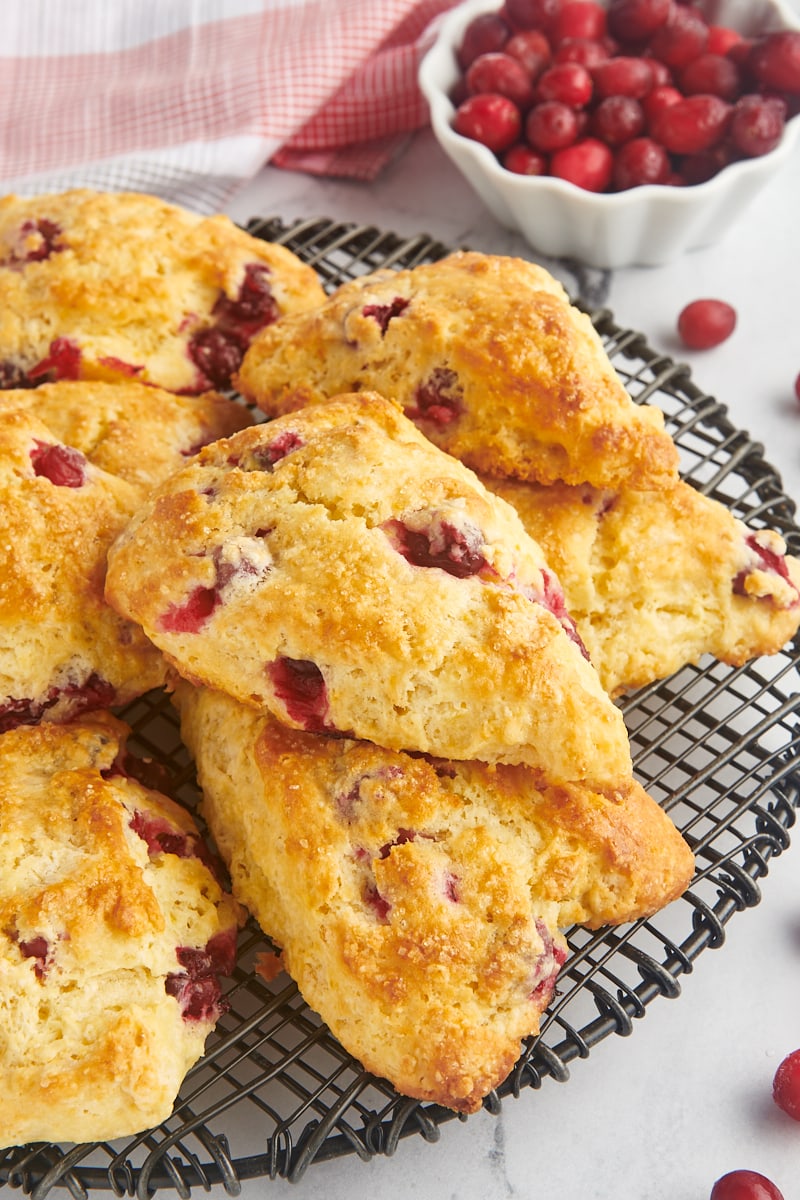 Why You'll Love This Cranberry Orange Scones Recipe
Scones are often unjustly misunderstood as dry and flavorless, but that couldn't be further from the truth when made with care. It's time to banish those preconceived notions because homemade scones can be wonderfully soft, delightfully moist, and bursting with flavor!
Why fall head over heels for these scones? Here are a few irresistible reasons to indulge in their citrusy, cranberry-infused charm.
Flavorful. These scones combine the zesty citrus of oranges with the tartness of cranberries for a burst of delightful flavors.
Perfect texture. No dry scones here! These scones are wonderfully tender on the inside and lightly crisp on the outside, making every bite an absolute joy.
Easy to make. Simple steps and basic ingredients mean you can whip these up in no time, perfect for both beginners and experienced bakers.
Versatile. They're a great breakfast treat, afternoon snack, or even for special occasions like brunch with friends.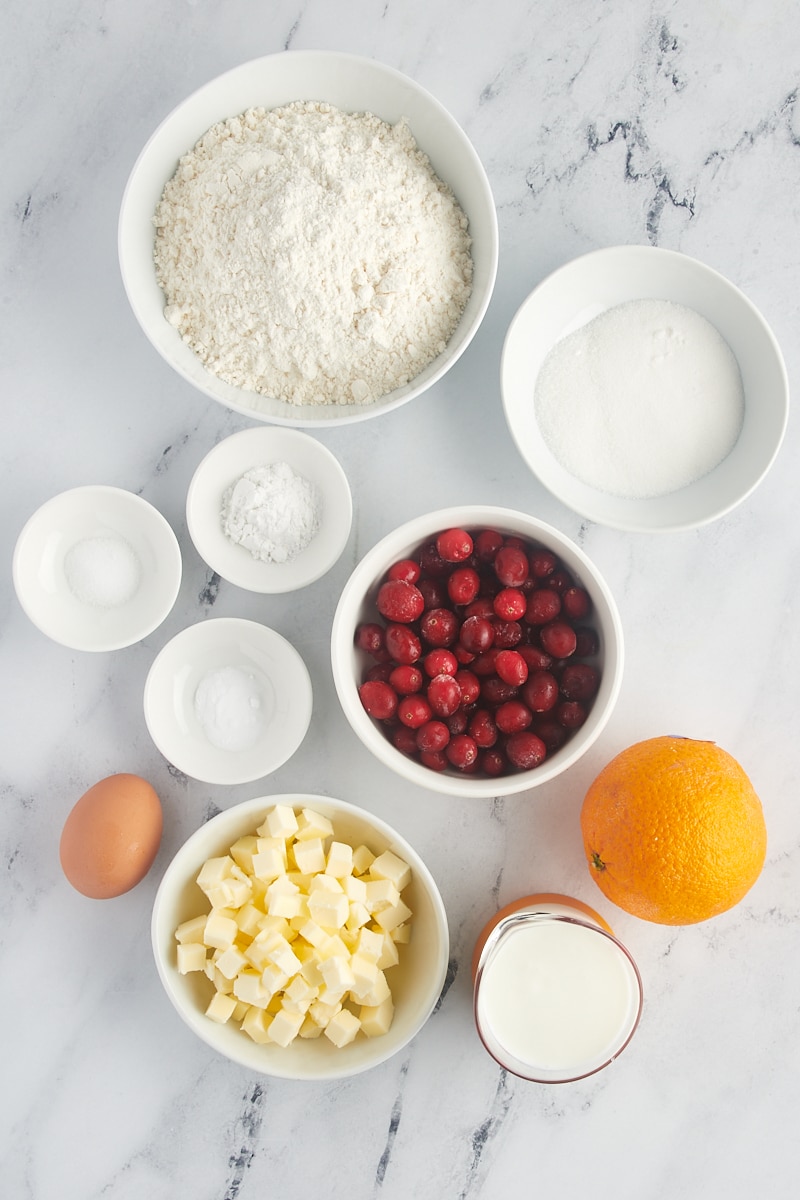 What You'll Need
Scroll down to the recipe card for ingredient quantities and full instructions. Here are some notes about the ingredients needed to make cranberry orange scones.
All-purpose flour – Be sure to measure accurately, either by weight or with the spoon and sweep method. Learn more: How to Measure Flour
Granulated sugar
Orange – You'll need both orange zest and juice for this recipe.
Baking powder
Baking soda
Salt
Unsalted butter – Make sure your butter is cold for mixing. I recommend cutting it into cubes and then returning it to the refrigerator while you gather the other ingredients.
Cranberries – See my note below.
Buttermilk – If you don't have any buttermilk on-hand, you can make a homemade version or try substituting sour cream or Greek yogurt.
Egg – You'll just need an egg yolk for the dough, but save the egg white to use as an egg wash to apply before baking. I recommend baking with large eggs.
Coarse sugar – This is optional, but it adds sparkle and sweetness to the scones. Just sprinkle a pinch or two over each scone before baking. Turbinado sugar is a nice addition to these scones, but another coarse sugar like sanding sugar will work nicely, too.
Confectioners' sugar – If you'd like to add a glaze to these scones, you can make a simple one with confectioners' sugar (also called powdered sugar), a bit of orange juice, and milk.
Milk – For the optional glaze
Can I use frozen cranberries to make scones?
Yes, you can use frozen cranberries if you don't have access to fresh. To use frozen cranberries, use them directly from the freezer without thawing. Thawed cranberries can release excess moisture into the dough, affecting the texture of the scones. Also, because frozen cranberries can lower the temperature of the dough, scones made with frozen cranberries may take a little longer to bake. Keep a close eye on them and be prepared for a slightly extended baking time. Learn more: Fresh vs Frozen Fruits in Baking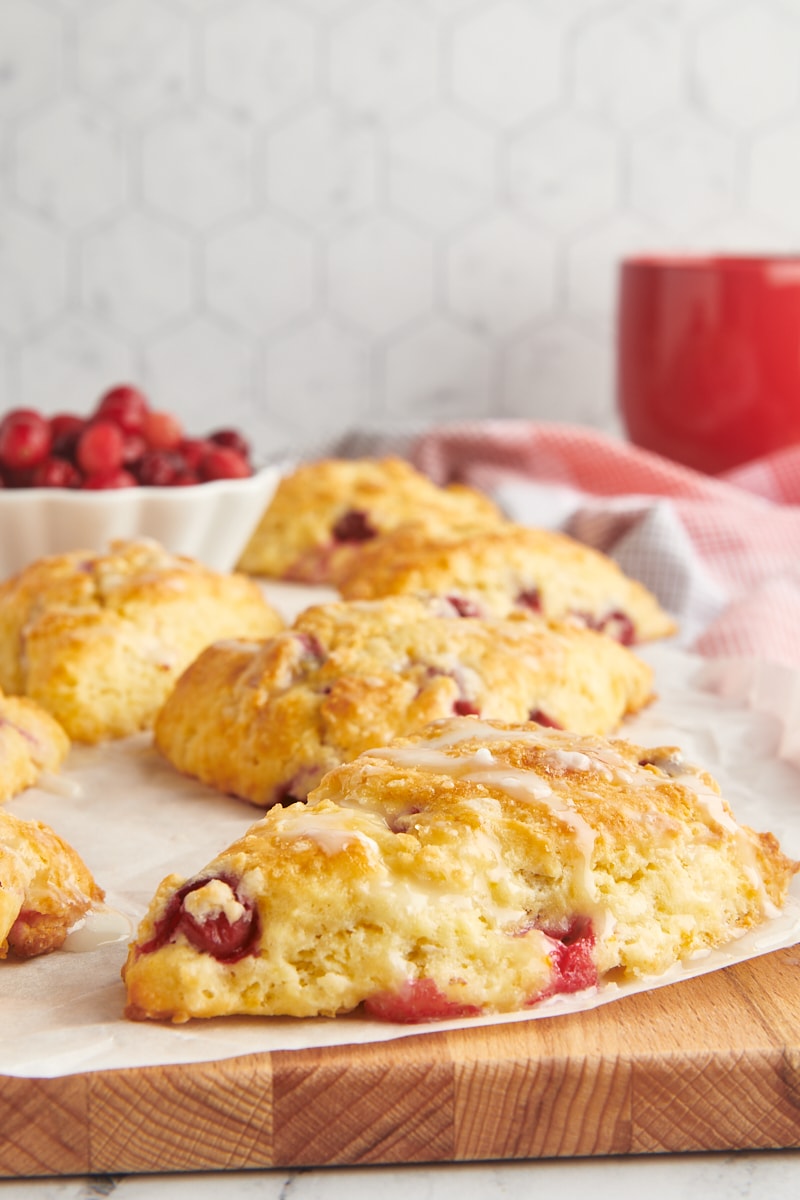 How to Make Cranberry Orange Scones
You'll love how quickly and easily these scones come together! Here's what you'll need to do: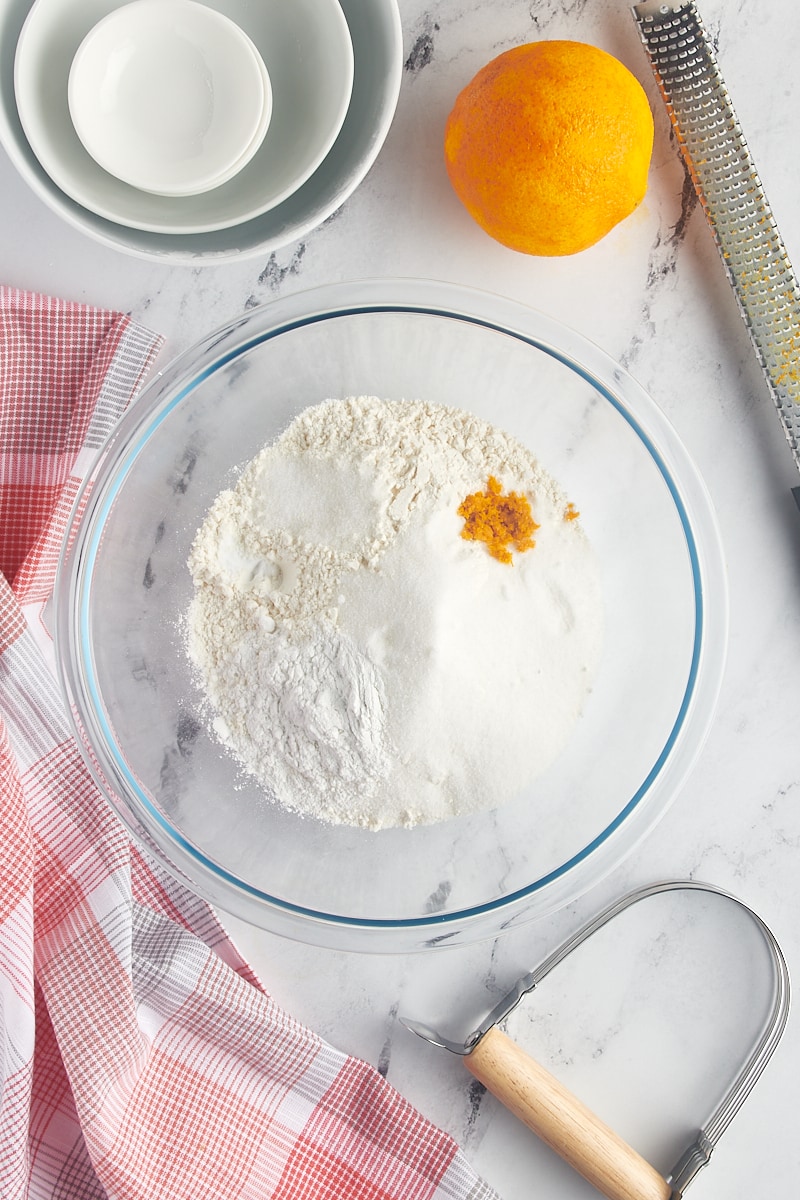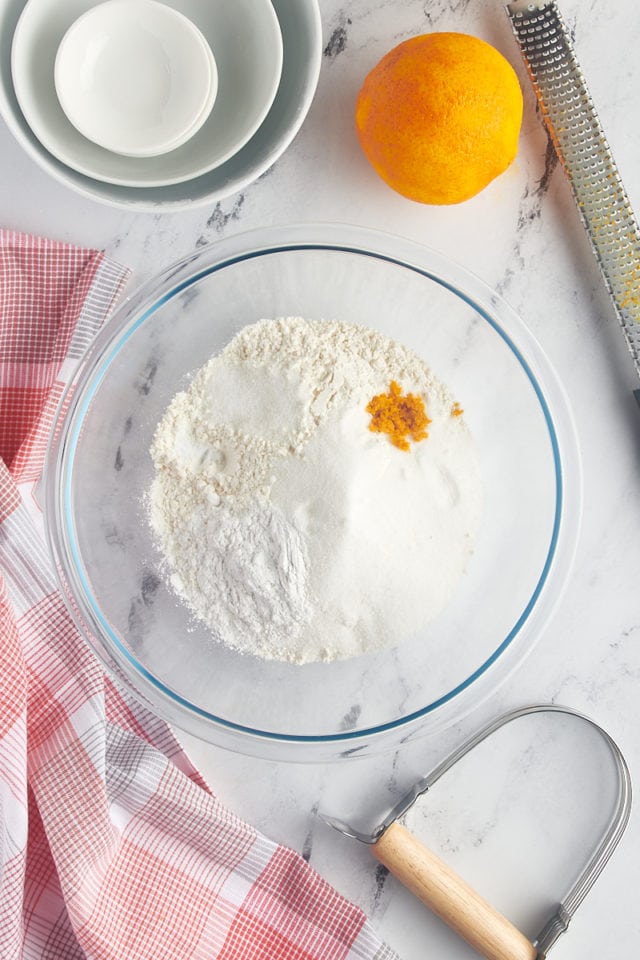 Prepare for baking. Heat the oven to 375°F. Line a baking sheet with parchment paper or a silicone liner.
Combine the dry ingredients. Mix together the flour, sugar, baking powder, baking soda, salt, and orange zest in a large mixing bowl.
Add the butter. Use a pastry blender, a fork, or your fingers to mix the butter into the flour mixture until it looks like coarse meal. You should still see small pieces of butter.
Add the cranberries. Gently fold in the cranberries until they're well-distributed.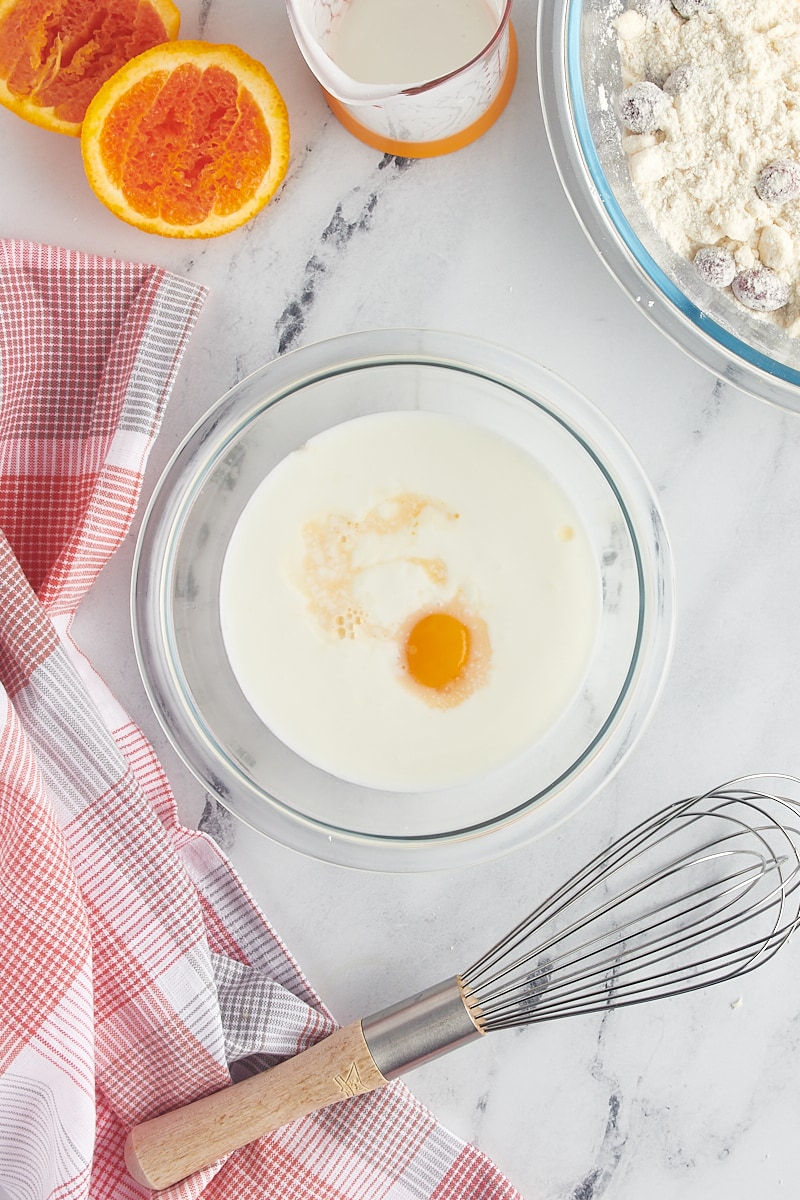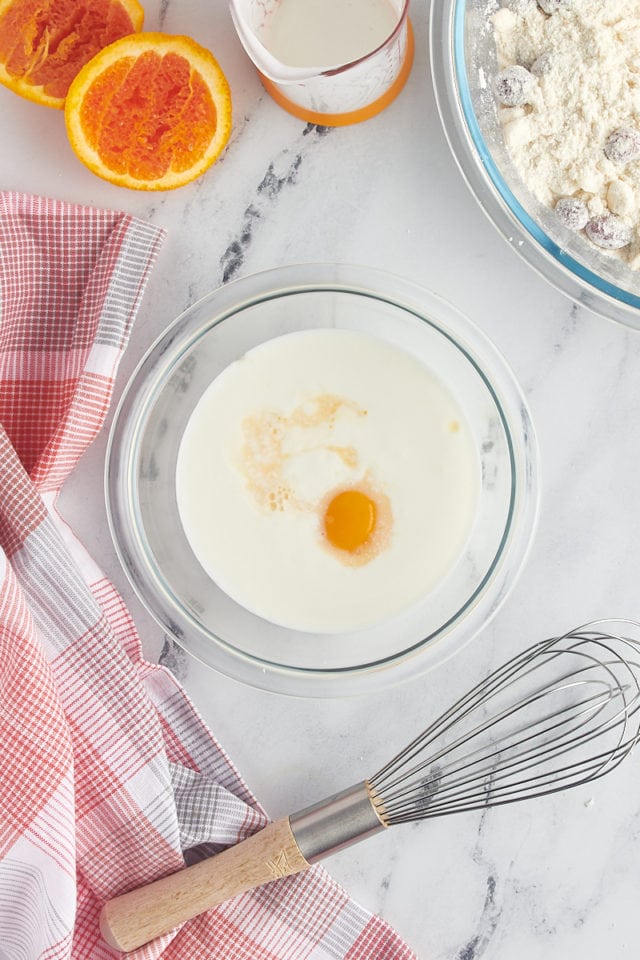 Finish mixing. Whisk together the buttermilk, egg yolk, and orange juice, and add to the flour mixture. Stir just until a dough begins to form. If it's a little loose, that's fine.
Knead the dough. Place the dough on a lightly floured surface. Knead the dough lightly until the dough comes together. If the dough is sticky, you can sprinkle it with a small amount of flour. It should be moist but not sticky.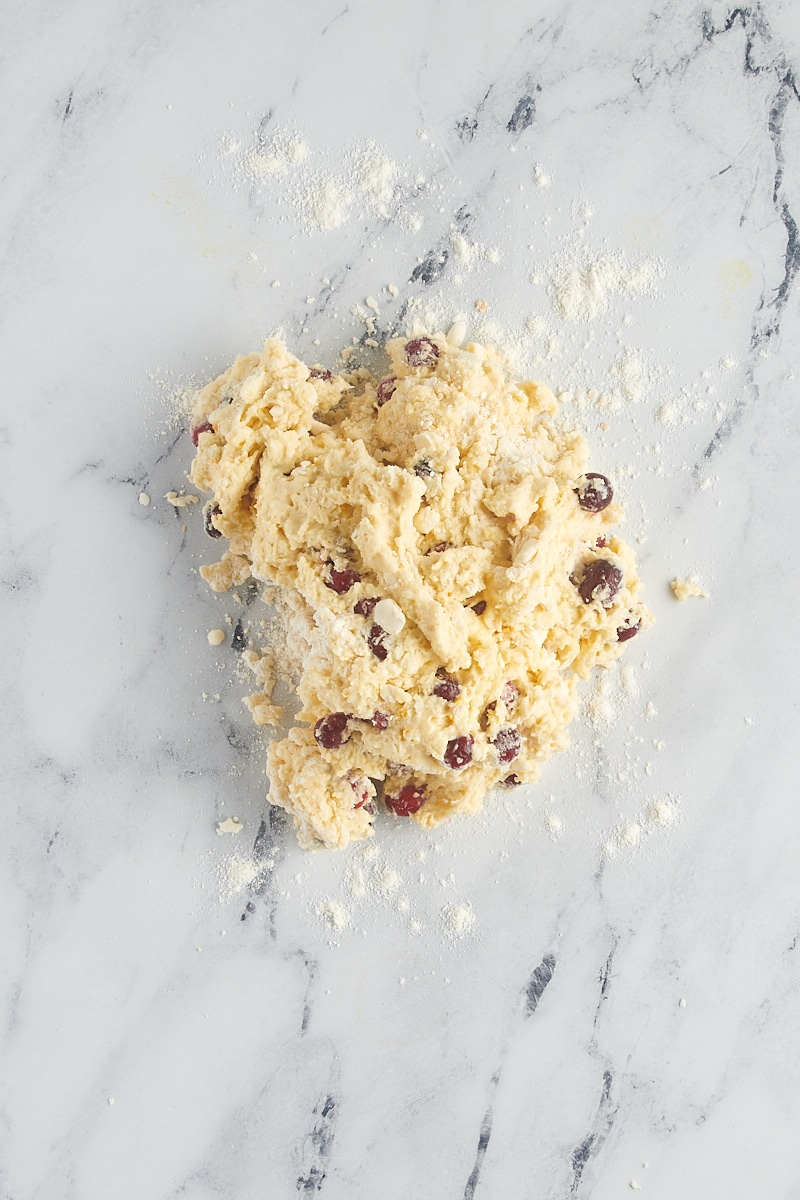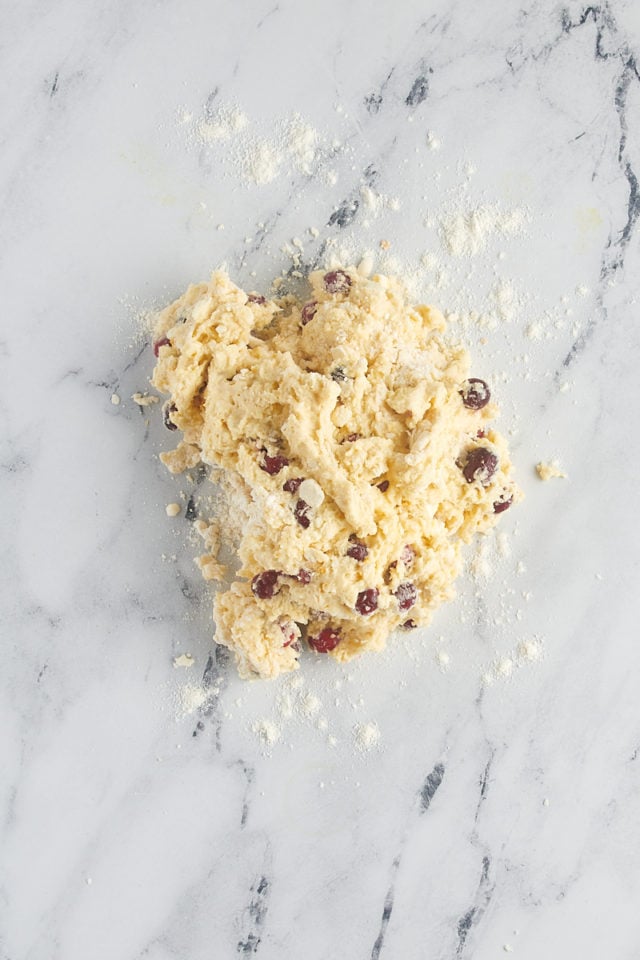 Shape the dough. Pat the dough into a flat disk that's about 7 inches in diameter. Use a bench scraper or a sharp knife to cut into 6 to 8 wedges. Place the wedges on the prepared pan, brush with the egg white, and sprinkle with coarse sugar (if using).
Bake. Place the pan in the heated oven, and bake for 18 to 22 minutes. The scones should be a light golden brown.
Cool. Place the pan on a wire rack, and allow to cool. Serve warm or at room temperature.
Add a glaze. If you'd like to add a glaze, whisk together confectioners' sugar, milk, and orange juice. The glaze should be thick but pourable. Drizzle over the scones after they've cooled completely.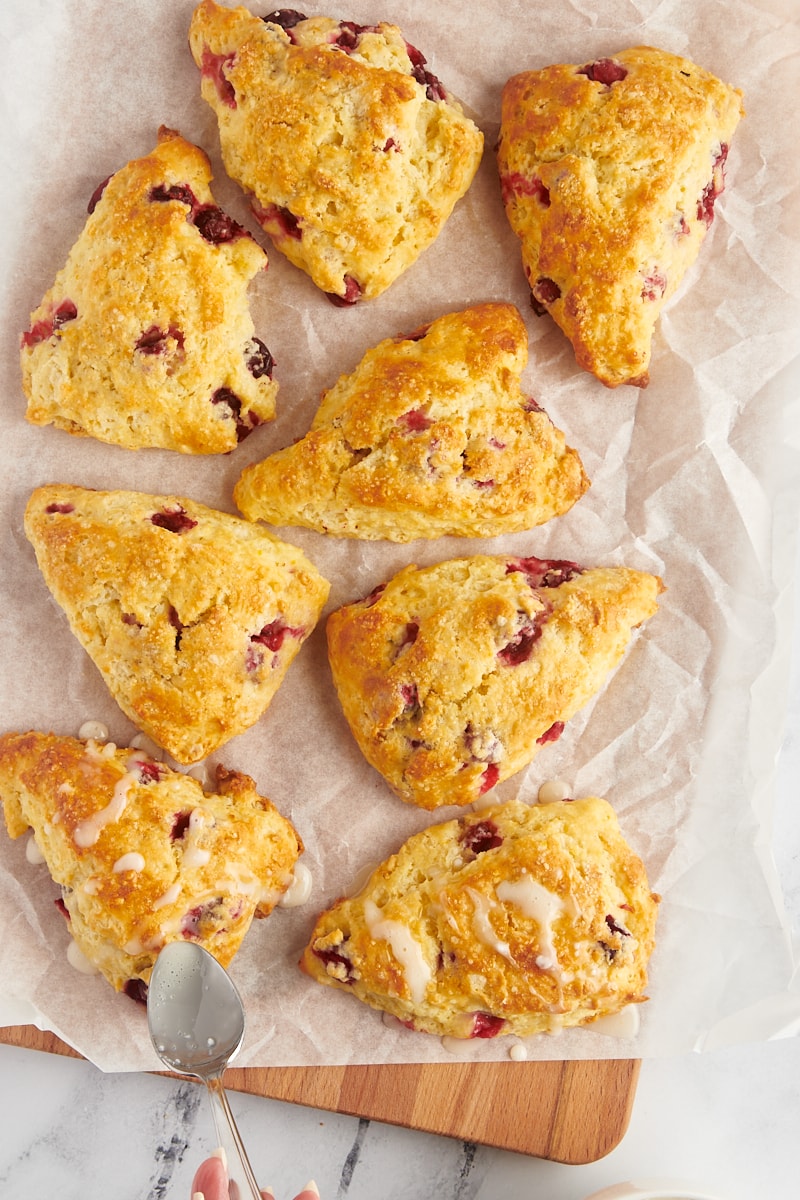 Tips for Success
I think you'll find that these cranberry scones are a cinch to make. Here are a few tips to help make sure yours turn out perfectly.
Keep everything cold. Be sure the cold ingredients are kept cold so your scones will be tender and flaky. If your kitchen is warm, you may want to chill you bowl and utensils briefly before mixing.
Don't over-mix. Mix and knead just enough to form a dough, because too much mixing will make the scones tough. A few dry bits in the dough is perfectly fine.
Change how the scones are arranged on the pan. For soft, tall scones, leave the cut wedges close together in a circle. (You may need to reapply the cuts after they've baked.) For crisper scones, separate the wedges over the pan.
Add the glaze when serving. For best results, wait to add the glaze until you're ready to serve the scones. Regardless of when you add the glaze, make sure your scones are completely cooled first.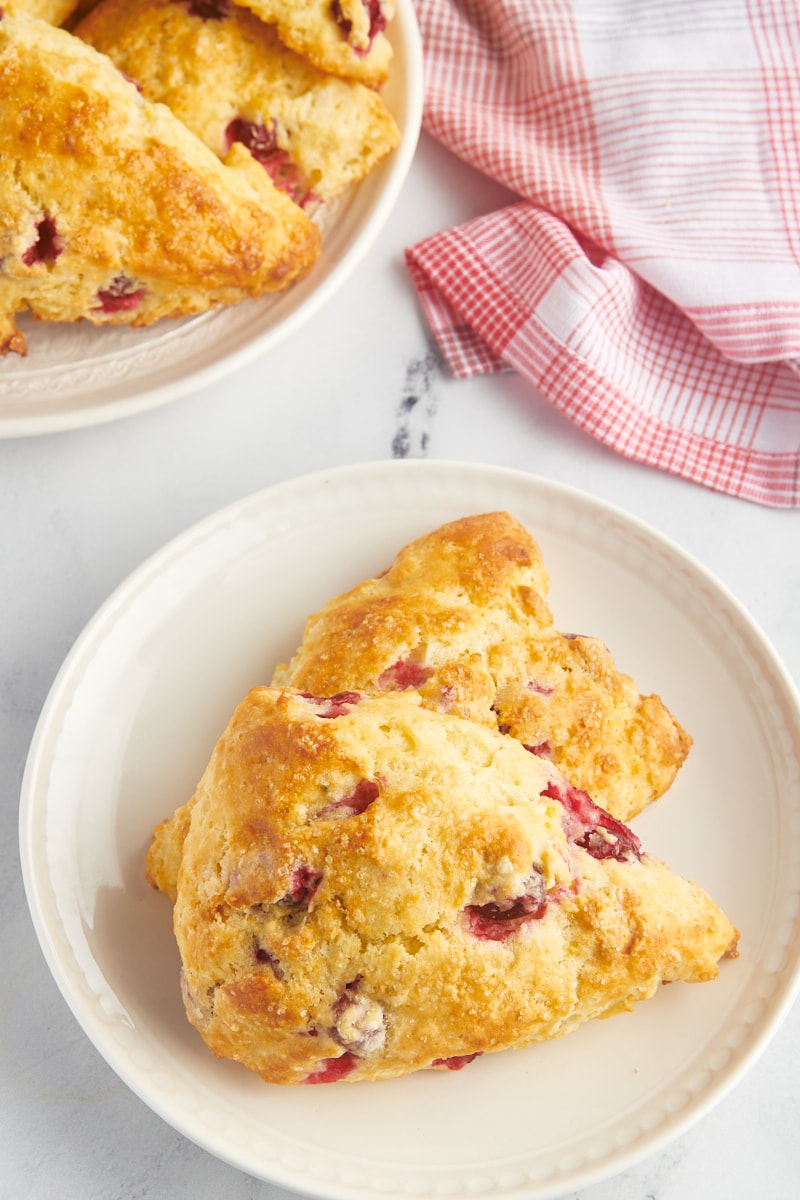 Variations
I think you'll love these scones just as they are, but there are many tasty variations you can make, too. Here are a few ideas to get you started.
Lemon. Swap out the orange for lemon zest and juice, creating zesty lemon cranberry scones.
White chocolate. Fold in white chocolate chips for a sweet twist that pairs beautifully with cranberries.
Cinnamon sugar. Before baking, sprinkle the tops of your scones with a cinnamon-sugar mixture for a cozy, spiced flavor. Here's how to make cinnamon sugar.
Nuts. Add a handful of chopped pecans or walnuts to the dough for a delightful crunch.
Mini scones. Make smaller scones for a bite-sized option that's perfect for gatherings.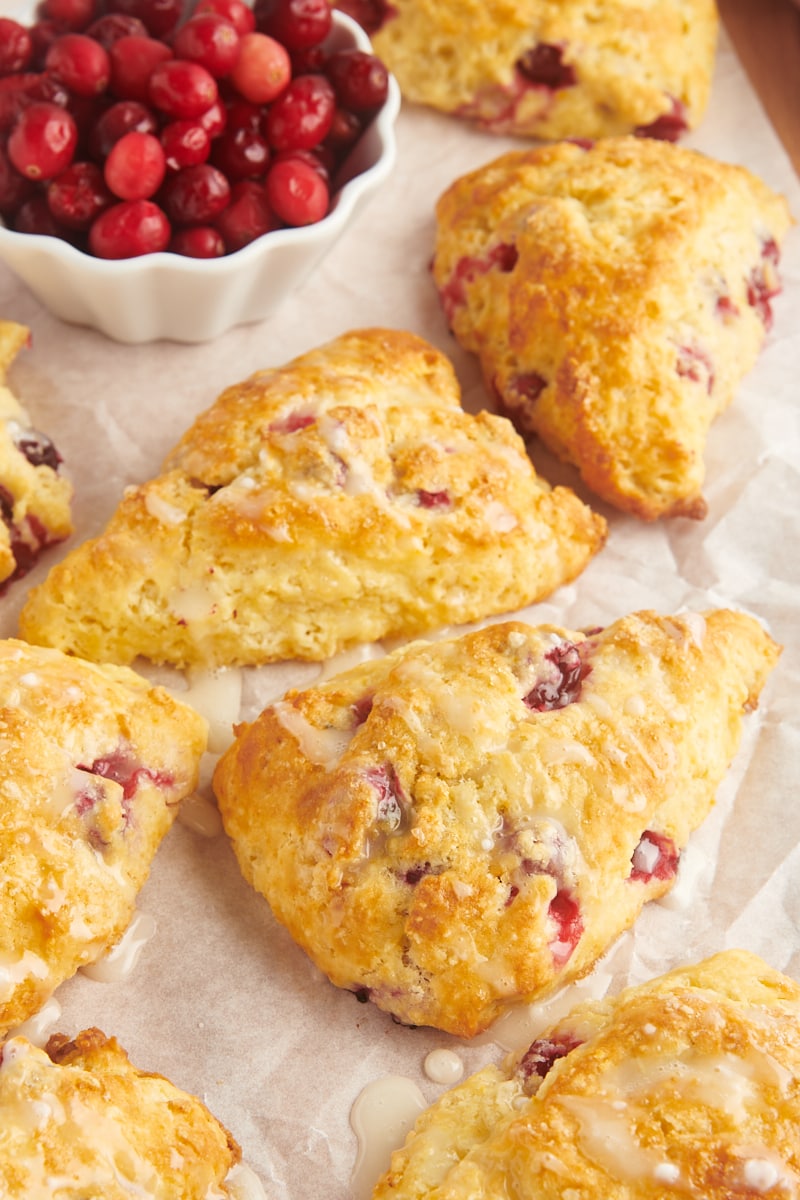 Serving Suggestions
You can serve these cranberry scones just as they are for a not-too-sweet treat. If you want to bump up the sweetness and citrus flavor, you can add the sweet orange glaze. Either way is delicious, so just choose which you prefer. Instead of the glaze, you could serve these scones with lemon curd, a drizzle of honey, or even whipped cream.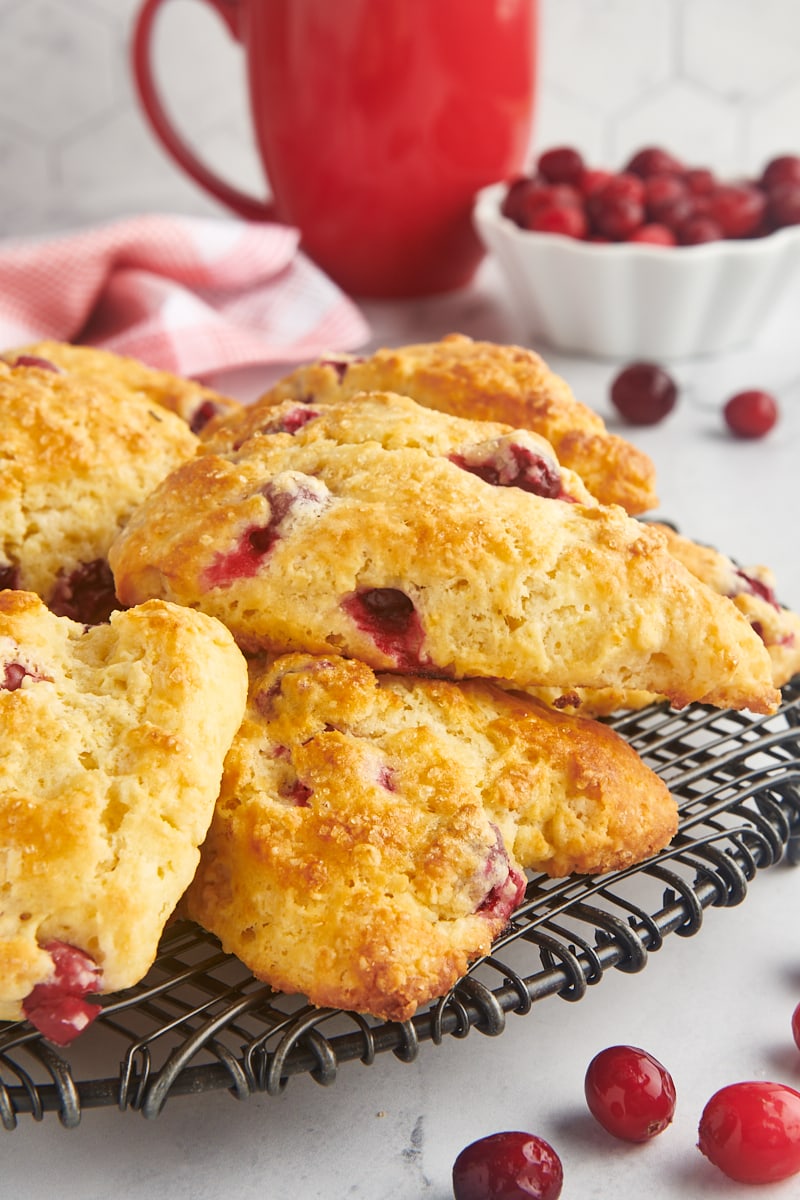 How to Store
These cranberry orange scones are best enjoyed on the day they're baked. If you plan to consume them within a day or two, store them in an airtight container at room temperature. Make sure they are completely cool before sealing them in the container to maintain their texture. For longer storage (up to a week), it's best to refrigerate them. Place them in an airtight container or a resealable plastic bag. To prevent moisture loss, you can also wrap them in plastic wrap before sealing them in the container.
If you need to store the scones after the glaze has been added, allow the glaze to set before storing them to prevent it from becoming too sticky. If you've already glazed them and want to refrigerate or freeze (see below), place them in a single layer on a baking sheet in the freezer for a short time to set the glaze. Then, transfer them to an airtight container or wrap them as described above.
Can These Scones Be Frozen?
Yes, you can freeze these scones. Wrap them individually in plastic wrap and place them in an airtight container or a freezer bag. Label with the date for reference. They can be frozen for up to three months.