January 1, 2008
Quick Sticky Biscuits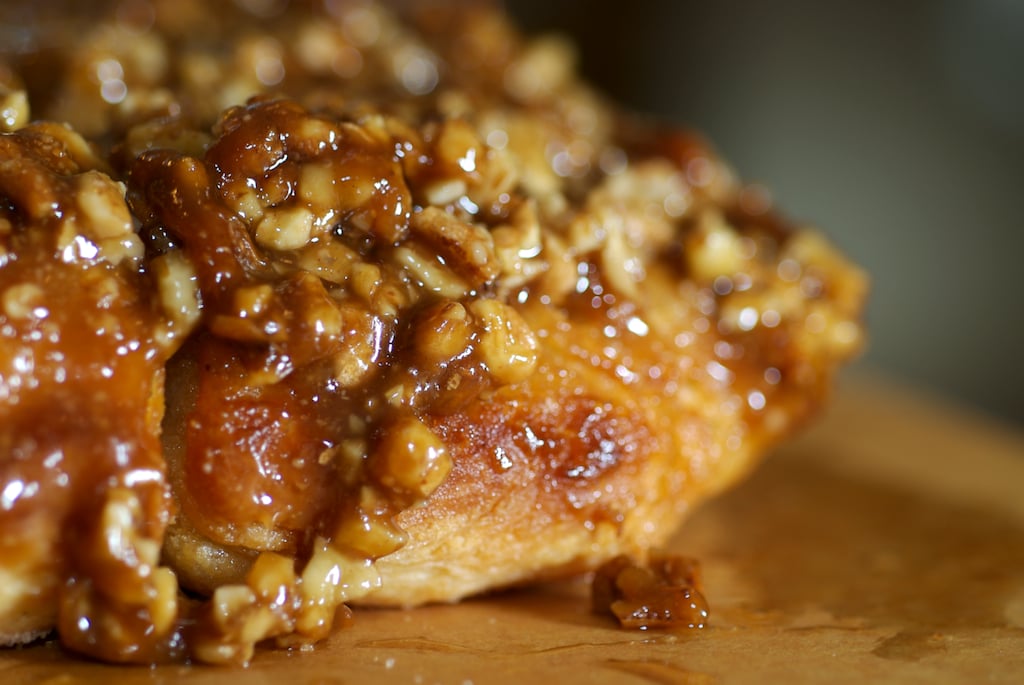 I first saw Sticky, Chewy, Messy, Gooey at a bookstore a few months ago. After a brief flip-through, I added it to my ever-growing cookbook wish list. Finally, I bought a copy and sat down with it to give it a good study. My thoughts about this book can really be summed up in one sentence. This has to be one of the most decadent cookbooks I've ever read.

For my first foray into its recipes, I chose these biscuits. Calling them biscuits just seems insulting. They are so much more than that. Actually, to me, the biscuits play a very small part in the recipe. They are surrounded by cinnamon and sugar, and topped with a sticky caramel-pecan sauce that would make dentists squirm.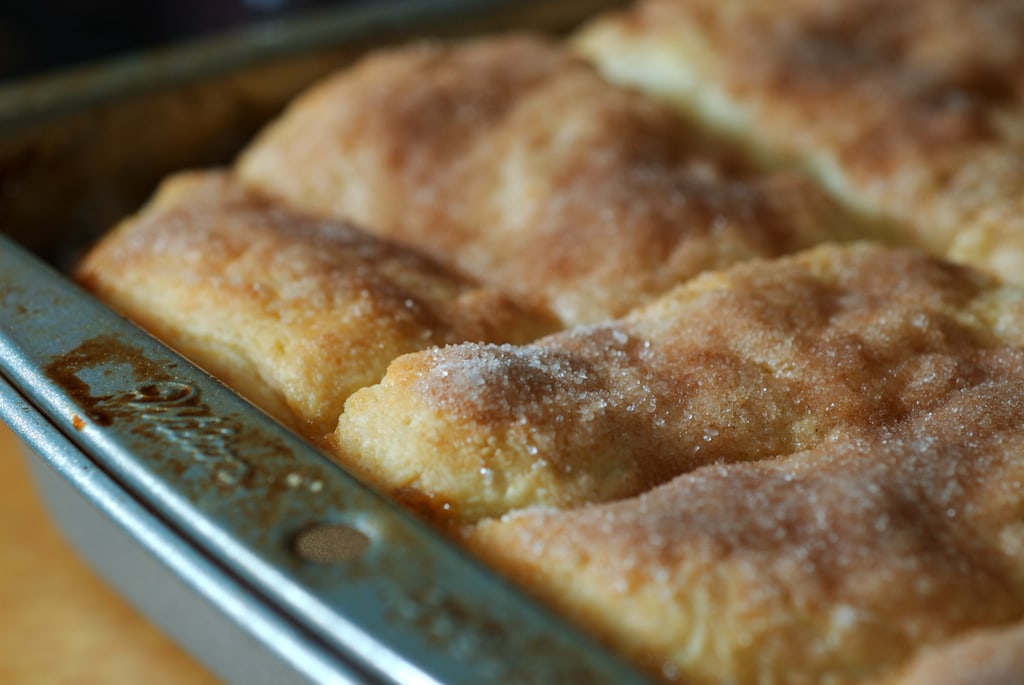 Quinn and I made these as a joint effort. I don't know that I'm comfortable calling them "quick." I suppose they are quicker than a similar recipe made with yeast. But, don't think you'll have these mixed up and in the oven in no time. Just think of "quick" as a relative term.
Anyway, the real story is the final result. Oh, wow, these are good. All that sugar and cinnamon and caramel and pecans! This is definitely a dish to be shared. Very rich and indulgent, these are certainly a good example of a little goes a long way.
Quick Sticky Biscuits
Yield: 12 biscuits
Prep Time: 40 minutes
Cook Time: 25 minutes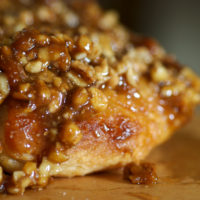 Ingredients:
For the pecan sauce:
1 cup firmly packed light brown sugar
1/2 cup dark corn syrup
3/4 cup unsalted butter
1 & 1/2 cups chopped pecans, toasted
For the biscuits:
4 cups all-purpose flour
2 tablespoons baking powder
1/2 teaspoon baking soda
1 & 1/2 teaspoons salt
1 cup very cold or frozen unsalted butter, cut into 16 pieces
1 & 1/2 to 2 cups buttermilk
For the topping:
1/2 cup granulated sugar
1 teaspoon ground cinnamon
1/2 cup unsalted butter, melted
Directions:
To make the pecan sauce:
Spray a 9″x 13″ pan with cooking spray. Set aside.
Place brown sugar, corn syrup, and butter in a saucepan. Cook over low heat. When butter is melted, increase heat to high and bring to a gentle boil. Cook 3-5 minutes, until thickened. Stir in pecans. Pour into pan and spread evenly. Set aside.
To make the biscuits:
Preheat oven to 425°.
Sift together twice the flour, baking powder, baking soda, and salt. Cut in the butter using a pastry blender. Blend until mixture mostly looks like coarse crumbs, with some of the butter the size of small peas.
Make a shallow well in the center of the flour mixture. Pour in 1 & 1/2 cups of buttermilk. Blend with a fork to form a soft dough. If dough is too dry, add the remaining 1/2 cup of buttermilk.
Turn the dough onto a lightly floured surface. Knead a few times, then pat into a 3/4-inch thick rectangle. Using a sharp knife, cut the dough into 12 square biscuits.
To make the topping:
Stir together sugar and cinnamon. Brush the tops of the biscuits with about half of the melted butter. Sprinkle with about half of the cinnamon-sugar.
Place the biscuits, cinnamon-sugar side down into the pan. Brush the tops (that were the bottoms) of the biscuits with remaining butter and sprinkle with remaining cinnamon-sugar.
Bake about 15-17 minutes. The biscuits should be golden brown and puffy, and the pecan sauce should be bubbling around the biscuits.
Cool slightly, then invert onto a serving plate. Remove pan to allow sauce to fall around the biscuits. Scrape any remaining sauce from the pan onto the biscuits. Serve immediately.