You've never had biscuits and gravy like this before! Cream Cheese Biscuits and Chocolate Gravy is a sweet spin on the classic recipe, with pillowy soft biscuits smothered in a rich, pudding-like gravy.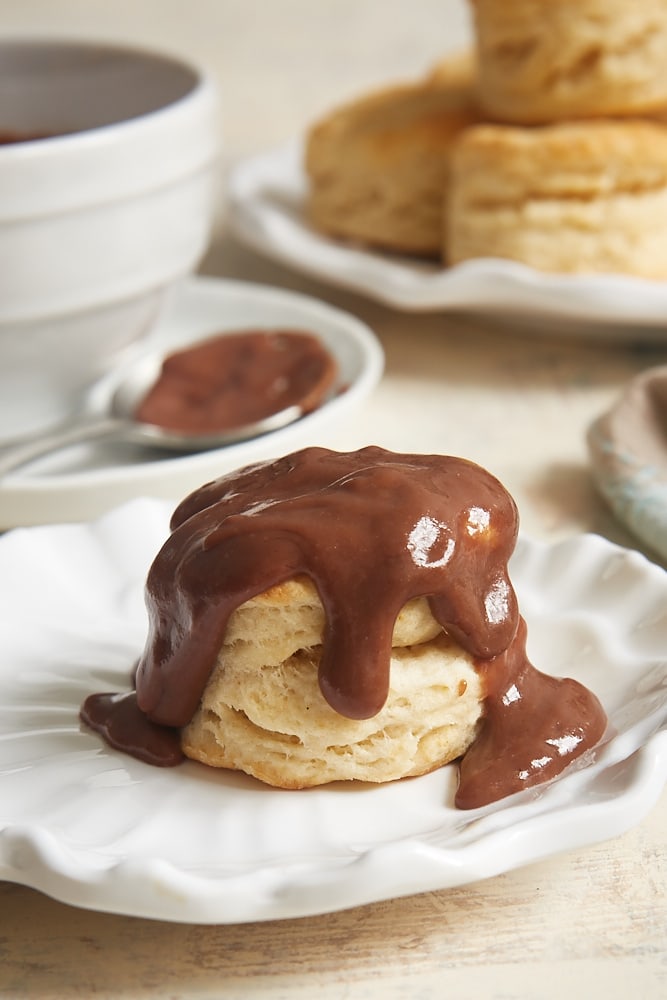 Easy Chocolate Gravy and Biscuits
Yes, that's right. Chocolate gravy. This is not to be confused with chocolate sauce! Chocolate gravy is thicker and richer, with a consistency a bit like cook-and-serve pudding before it's refrigerated. I admit that I don't know the exact origin of this recipe, but some say it's just as much of a Southern classic as the savory version. I've tried many chocolate gravy recipes over the years, and this one is my favorite!
As for the biscuits, they're similar to a traditional biscuit, but made softer and bolder with a bit of cream cheese added to the dough. The flavor complements the chocolate gravy without competing with it, which is exactly what we want in a recipe like this. The biscuits mix up quickly and don't require any rolling—instead, just pat the dough out on a lightly floured surface and cut it into circles.
This is one of my favorite lazy breakfast recipes, but it's also a fun treat to whip up for Christmas morning or a holiday brunch. Who could possibly pass up a gravy boat full of chocolate?!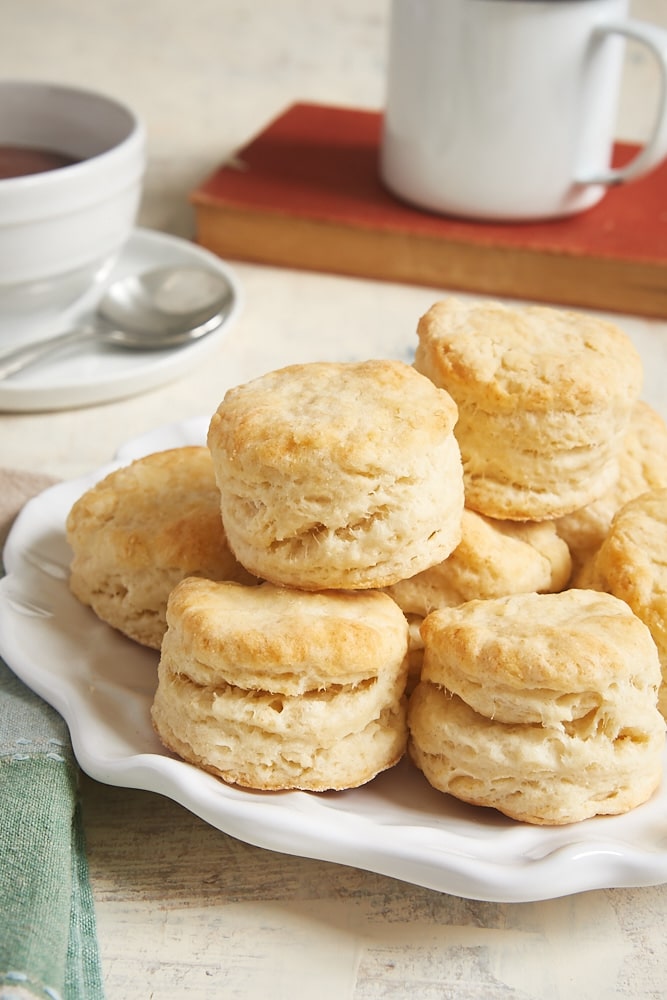 What You'll Need
You can substitute your own favorite biscuit recipe here, but I recommend this one because it has a nice, neutral flavor that's neither sweet nor too savory (as a traditional buttermilk biscuit might be). Here's what you'll need:
For the biscuits:
All-purpose flour
Baking powder
Salt
Cream cheese – The cream cheese should be softened to room temperature so the dough is easy to mix.
Unsalted butter – The butter will also need to be softened! Take it out at the same time as the cream cheese and let both sit on the countertop for 30 to 45 minutes.
Milk
For the chocolate gravy:
Granulated sugar
All-purpose flour
Unsweetened cocoa powder – Either Dutch process or natural will work in this recipe.
Milk – I recommend whole milk for the creamiest gravy.
Water
Unsalted butter
Vanilla extract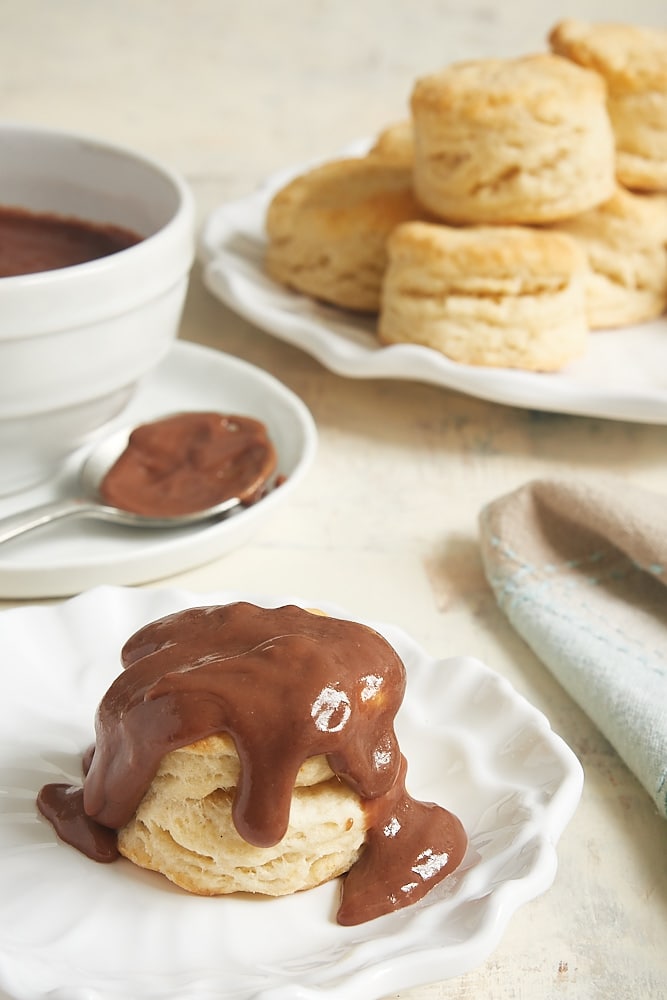 How to Make Cream Cheese Biscuits and Chocolate Gravy
If you want to get a head start on this recipe, you can make the cream cheese biscuits the day before, then whip up the gravy just before eating.
To make the biscuits:
Prepare. Preheat your oven to 425°F and line a baking sheet with parchment paper or a silicone liner.
Combine the dry ingredients. In a large mixing bowl, whisk together the flour, baking powder, and salt.
Add remaining ingredients. Add the cream cheese and butter to the dry mixture. Incorporate with a pastry blender, fork, or your fingers, just until combined. Pour in the milk and stir until the dough comes together.
Shape the dough. Turn out the dough onto a lightly floured work surface, then pat it to about a 3/4-inch thickness.
Cut the biscuits. Use a 2-inch round biscuit cutter to cut biscuits, then pat the scraps back together and cut out the remaining biscuits.
Bake. Transfer the cut biscuits to the prepared baking sheet and bake for 14 to 16 minutes, or until golden brown.
To make the chocolate gravy:
Heat chocolate mixture. Whisk together the sugar, flour, cocoa, milk, and water in a medium saucepan over medium heat. Bring the mixture to a boil, stirring constantly, then continue to cook 3 to 4 minutes more, or until it's thickened.
Finish gravy and assemble. Remove the saucepan from the stovetop and stir in the butter and vanilla. Spoon the warm chocolate gravy over the biscuits.
Tips for Success
Here are some tips and tricks I've picked up along the way while making this recipe:
No biscuit cutter? Not a problem! You can use a round cookie cutter instead, or, in a pinch, invert a glass or cup and use the rim to cut your biscuits. Be sure not to twist the cutter so you'll get nice, tall biscuits. If these aren't an option either, you can cut 2-inch circles with a knife.
Soft vs. crisp biscuits. If you want biscuits that have a soft exterior, you can place them closer together on the baking sheet. For a crispier outside, space them further apart, as this allows hot air to circulate around them and make the exteriors crisp.
Make it your own. Garnish with glazed pecans, sliced strawberries, raspberries, homemade whipped cream, or anything else you'd like to add.
How to Store and Reheat Leftovers
Store the biscuits in an airtight container at room temperature for up to 2 days. The chocolate gravy can be covered and refrigerated for up to 3 days. Warm the biscuits in the microwave briefly or in the oven at 350ºF for 5 to 10 minutes; the gravy can be reheated in the microwave or on the stovetop over medium heat.
Can This Recipe Be Frozen?
Yes, you can freeze both the biscuits and the gravy. Place the biscuits in a freezer bag, and freeze the gravy in an airtight container or freezer bag. Freeze for up to 2 months. To serve, let the biscuits sit on the countertop until they come to room temperature and let the gravy thaw in the refrigerator overnight, then microwave or heat it on the stovetop.
More Biscuit Recipes