Mini Cream Cheese Pound Cakes are as simple or as fancy as you want. Dress them up with different toppings for endless possibilities!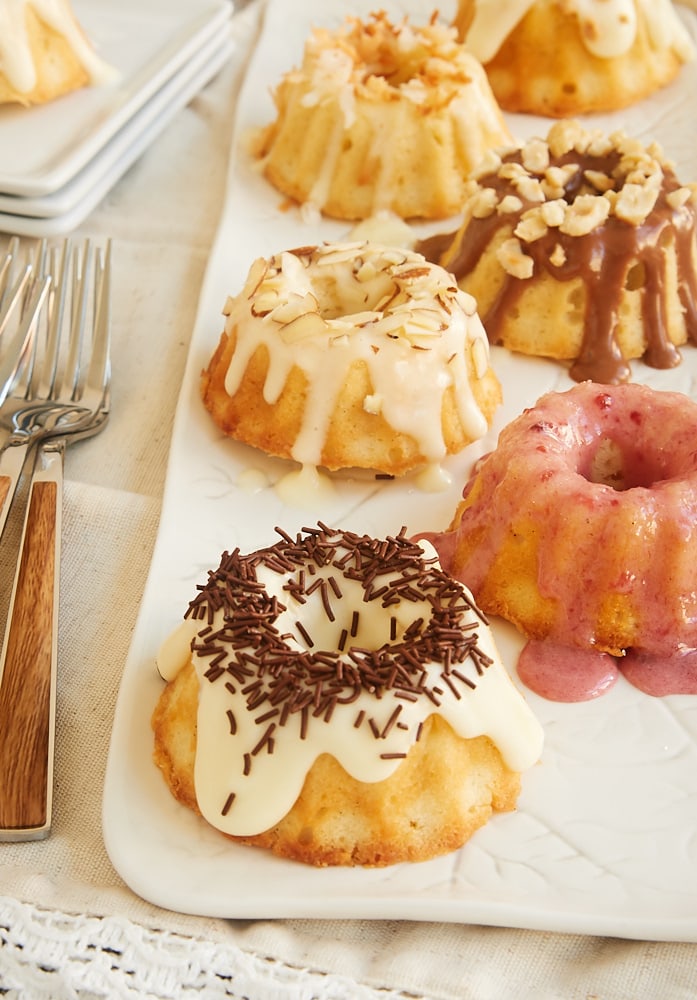 Individual Cream Cheese Pound Cakes
A little bit of time spent browsing the pages of BoB will quickly reveal my affinity for mini versions of desserts. Their adorableness is only part of their appeal. I also love them to make serving simpler and to give as gifts.
These Mini Cream Cheese Pound Cakes are a perfect choice when you've got a hankering to bake some mini treats. The cakes themselves are simple and sweet and really just wonderfully delicious. Topping them with glaze is where the real fun starts. You can go with a simple glaze or up the ante with a whole slew of glaze options featuring your favorite flavors!
I turn to these Mini Cream Cheese Bundt Cakes time and again when I need simple desserts for a crowd or when I'm putting together homemade gifts. With all the different topping options, you can alter these for most any occasion and taste!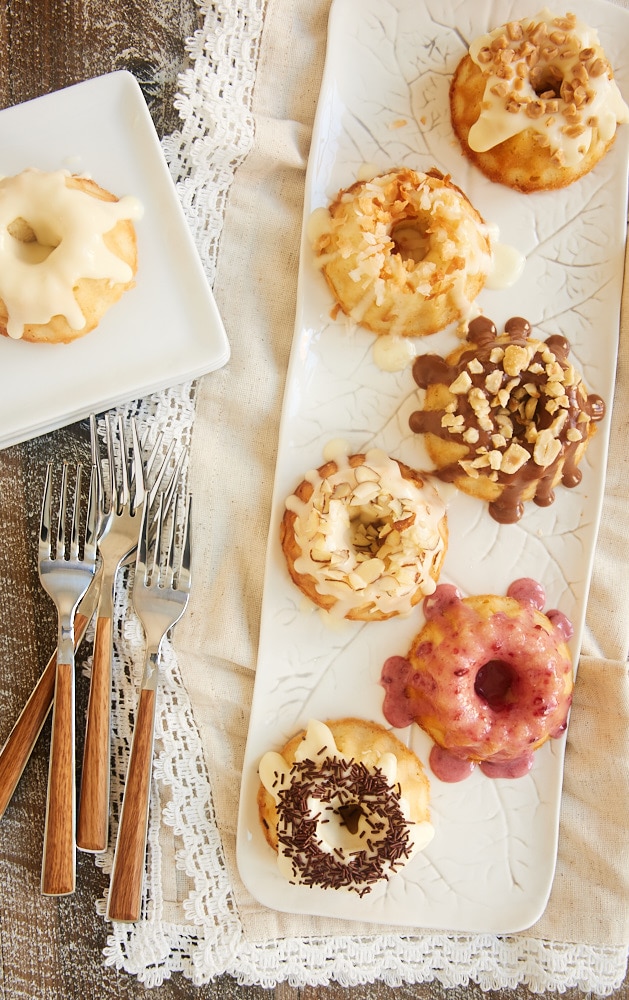 What You'll Need
For the mini cakes:
All-purpose flour – Measure by weight for best results. If you don't have a kitchen scale yet, use the spoon and sweep method.
Salt
Unsalted butter – Set out the butter about half an hour before baking to allow it to soften.
Cream cheese – Bring the cream cheese to room temperature so it will mix smoothly.
Granulated sugar
Eggs
Vanilla extract or vanilla bean paste
For the glaze:
Confectioners' sugar – Sift for a smooth glaze.
Heavy cream
Various garnishes – Add a topping or a variety of toppings if you like. Nuts, coconut, chocolate, toffee bits, sprinkles… Just about anything!
How to Make Mini Cream Cheese Pound Cakes
Prepare for baking. Heat the oven to 350°F. Grease mini Bundt pans. (Each cavity should have a 1/4-cup capacity.) I recommend a cooking spray with flour, like Baker's Joy or Pam for Baking.
Combine the dry ingredients. Whisk together the flour and salt.
Combine the wet ingredients. Beat the butter and cream cheese until creamy, using an electric mixer. Gradually add the sugar while mixing, and mix well. Add the eggs, one at a time, mixing just until the yellow of the egg disappears. Mix in the vanilla.
Add the dry ingredients to the wet ingredients. With the mixer on low speed, gradually add the flour mixture. Mix just until combined.
Fill the pans. Divide the cake batter evenly among the pans, filling each cavity 3/4 full. You'll use about 2 & 1/2 tablespoons of batter per cavity.
Bake. Bake the cakes 18 to 20 minutes, or until a toothpick inserted into the center comes out clean.
Cool the cakes. Place the pans on a wire cooling rack and allow the cakes to cool for 10 minutes. Then transfer the cakes from the pan to a wire rack to cool completely.
Make the glaze. Stir together the confectioners' sugar and 3 tablespoons of the cream. Continue adding cream, a small amount at a time, until the glaze is the consistency you want.
Glaze the cakes. Drizzle the glaze over the cooled cakes. Add any garnishes you like.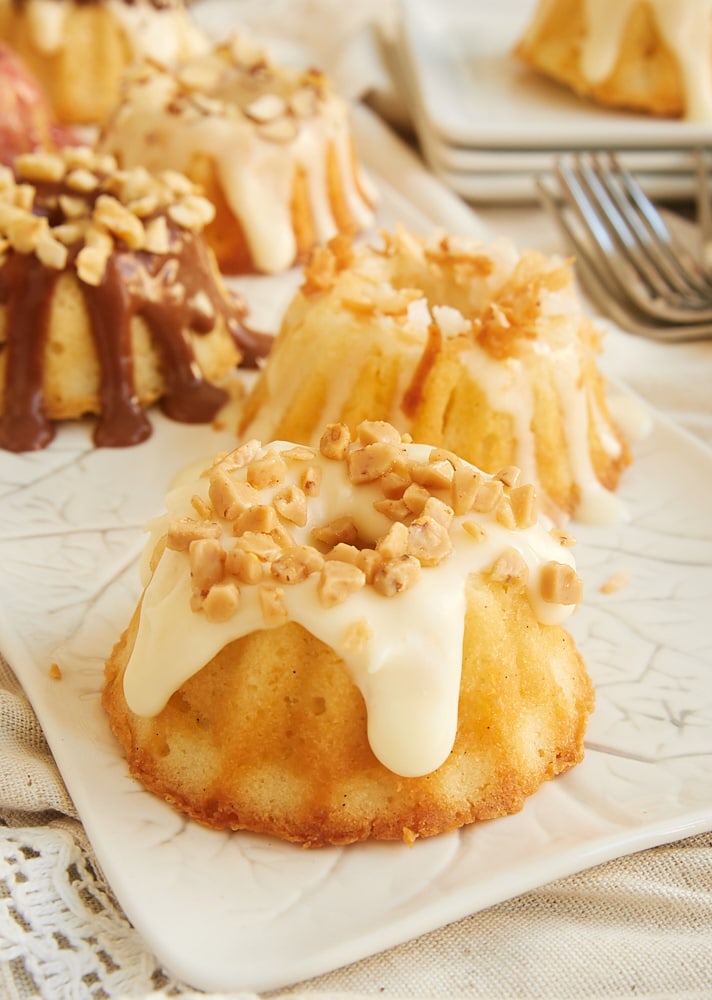 More Topping Ideas
The simple glaze recipe I've included is a lovely pairing with these little cakes. For something a little different, here are some more ideas for topping these Mini Cream Cheese Pound Cakes.
Simple and sweet: Skip the glaze and just add a sprinkling of confectioners' sugar to each cake.
Almond: Add 1 teaspoon of almond extract to the glaze and top with sliced almonds.
Vanilla bean: Add 1 teaspoon of vanilla bean paste to the glaze.
Fruity: Add 2 to 3 tablespoons of your favorite fruit preserves to the glaze.
Chocolate-hazelnut: Add 1 or 2 tablespoons of chocolate-hazelnut spread to the glaze. Add a small amount of cream or milk as needed to get the desired consistency. Top with chopped toasted hazelnuts.
Caramel: Make your own or use your favorite store-bought brand. Top with chopped nuts or toffee bits.
Chocolate ganache: You can never go wrong with chocolate!
Coconut: Use 2 tablespoons of coconut milk in place of the cream in the glaze. Top with toasted coconut.
More ideas: Find lots more glaze options in the Recipe Index.
These cakes with all their different toppings and glazes are certainly eye-catching. If you're going for variety, I would suggest picking a few variations. Don't go overboard, or you'll spend way too much time making all the different glazes.
Tips for Success
These little pound cakes are quite straightforward to make. I do have some tips about the pan that will prove helpful.
Grease the pans well. I have the best luck with a baking spray with flour, like Baker's Joy or Pam Baking. Make sure to coat all the nooks and crannies of your pan!
Don't over-fill the pans. Otherwise, you might end up with a mess in the oven.
If you're re-using pans, be sure to let them cool completely between batches.
Measure your pan. If you're not sure of the capacity of your mini Bundt cake pan, then you can easily measure that by filling one of the cavities with water and measuring how much it can hold. The ones I use for this recipe have a 1/4-cup capacity. If you use a pan with a different capacity, you will likely need to adjust the baking time.
Don't have a mini Bundt pan? A standard muffin pan also has cups with a 1/4-cup capacity. The shape will obviously be different, but the baking time should be about the same.
How to Store Mini Pound Cakes
While these cakes are likely best within a day of baking them, the unglazed cakes should keep for up to 3 days at room temperature in an airtight container. For longer storage or for storing with the glaze, place them in a single layer in an airtight container in the refrigerator. Keep in mind that storing the glazed cakes is likely to make the cakes soggy.
Bring the cakes to room temperature before serving.
How to Freeze Mini Pound Cakes
For best results, freeze these cakes without any glaze or topping added. Wrap the unglazed cakes in plastic wrap and place in an airtight, freezer-safe container. Thaw overnight in the refrigerator or for a couple of hours at room temperature. Stored properly, the cakes should keep in the freezer up to 3 months.
Find more cake recipes in the Recipe Index.
More Mini Bundt Cake Recipes